This gorgeous curry is a family favourite as it's quick and simple to prepare in under 30 minutes, and is packed with vitamins from the veggies and protein from the tofu. 
This week we made this yummy curry again, but this time replaced the rice with Cauli Rice, which comes in pouches and has all the health benefits of homemade cauliflower rice, plus the convenience of being ready to cook, long-life and perfect every time.
If you're looking for easy ways to cut down on the carbs, it's simply a great alternative to rice, potatoes or pasta.
With up to 75% fewer calories than rice and a natural source of vitamins, minerals and dietary fibre, Cauli Rice makes it easy to create healthier versions of your favourite meals.  
Cauli Rice is gluten-free, preservative-free and vegan, and a packet counts as one of your 5 a day. It's also super-speedy to cook, taking just 2.5 minutes in the microwave.  There are a variety of flavours to choose from, making it a versatile store cupboard go-to for lots of your everyday recipes.
Here's how to make this spicy, deliciously creamy, low-carb curry.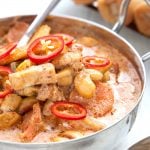 Vegetarian low-carb red curry with cauliflower rice
A creamy, spicy vegetarian Thai-style red curry, served with cauliflower rice.
Print
Ingredients
1

tbsp

vegetable oil

1

medium green pepper

deseeded

1

large carrot

6

baby sweetcorn

160

g

marinated tofu

handful cashews

3-5

tbsp

vegetarian Thai red curry paste

according to how much heat you like

1

can reduced fat coconut milk

2

packs Cauli Rice

total 400g cauliflower rice

1

red chilli

optional

1

lime

optional
Instructions
Heat the oil in a wok until very hot.

Cut the pepper into inch pieces, the carrot into thin slices and the sweetcorn lengthways and add to the wok for a couple of minutes until just taking on colour.

Add the tofu and cashews, fry until heated through, then add the paste and stir through.

When it starts to release a strong, hot aroma, add the coconut milk and simmer gently for a couple of minutes, then turn of the heat.

Meanwhile, cook the Cauli Rice according to the pack instructions (it only takes 2 1/2 minutes in the microwave).

Divide the Cauli Rice between four plates,making a well in the centre of each. Ladle the curry on top.

Serve with a wedge of lime and a few thin slices of fresh chilli, if desired.
CauliRice is available in the UK at CauliRice.com as well as Asda, Sainsbury, Tesco and Wholefoods amongst others. Let me know if you try it!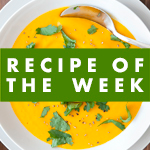 This is a commissioned post for Cauli Rice.