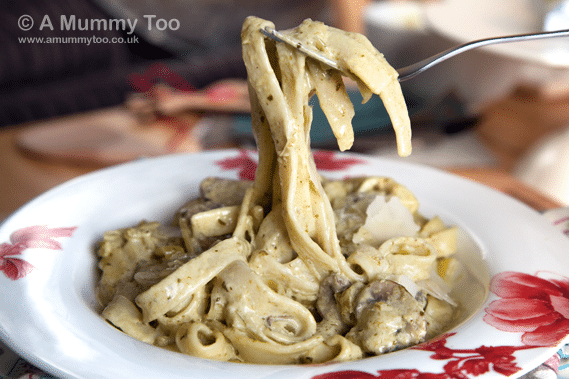 Mush-troom! – Miss J, 2
In a quest to spice up our mealtimes, we've been working our way through Sacla's Big Book of Pesto (RRP £14.99) which contains over 70 great recipes, cleverly incorporating Sacla's range of pestos, sauces and antipasti jars. It's full of creative meal ideas, from snacks, to quick lunches, to winter warmers and grilled goodies.
The dish we made from the Sacla Big Book of Pesto today is tagliatelle with gently fried chestnut mushrooms and leek in a crème fraîche and green pesto sauce. Delicious!
Here's what to do. It makes 2 generous portions of 3-4 modest ones.
Ingredients
200g dried tagliatelle
Pinch of salt
1 tbsp olive oil
150g chestnut mushrooms, sliced
1 large leek, finely sliced
150g crème fraîche
100g classic basil pesto (Sacla Organic Basil Pesto is suitable for vegetarians)
fresh Parmesan to serve
Instructions
In a large pan of salted boiling water, cook the pasta according to the packet instructions. Drain well, reserving a few spoonfuls of the cooking water.
Meanwhile, heat the oil in a large frying pan over a medium-high heat. Add the mushrooms and toss around in the hot pan for a couple of minutes, until they start to brown. Stir in the leek and lower the heat to medium. Cook gently for about 5 minutes, until sweet and soft.
Add the drained pasta to the mushrooms and leek, and stir together with the crème fraîche, pesto and a couple of tablespoons of the pasta cooking water. Serve, scattered with parsley and plenty of Parmesan.
Let me know if you try it!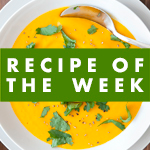 Disclosure: we were sent Sacla's Big Book of Pesto for review. The recipe is reproduced with kind permission from the publishers. No payment was received. All posts are 100% honest.