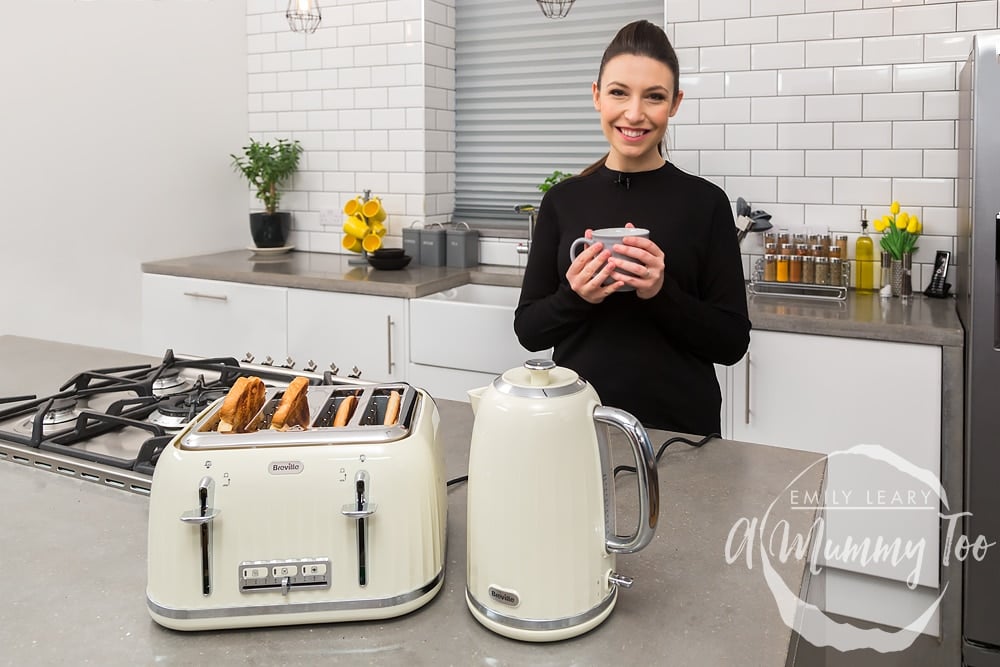 Every kitchen in the UK is different, but almost every single kitchen has two vital items: a kettle and a toaster.
In fact, I'm willing to wager that the kettle is the most popular kitchen appliance in the UK. How could it not be? Can you imagine the shame of not being able to offer someone a cup of tea? What would the neighbours say?!
For me, both my kettle and toaster are essential items, used multiple times through the day, so they need to work well, be well made and look great. They're the criteria I kept in mind when testing out Breville's Impressions 4-Slice Toaster and 1.7L Jug Kettle.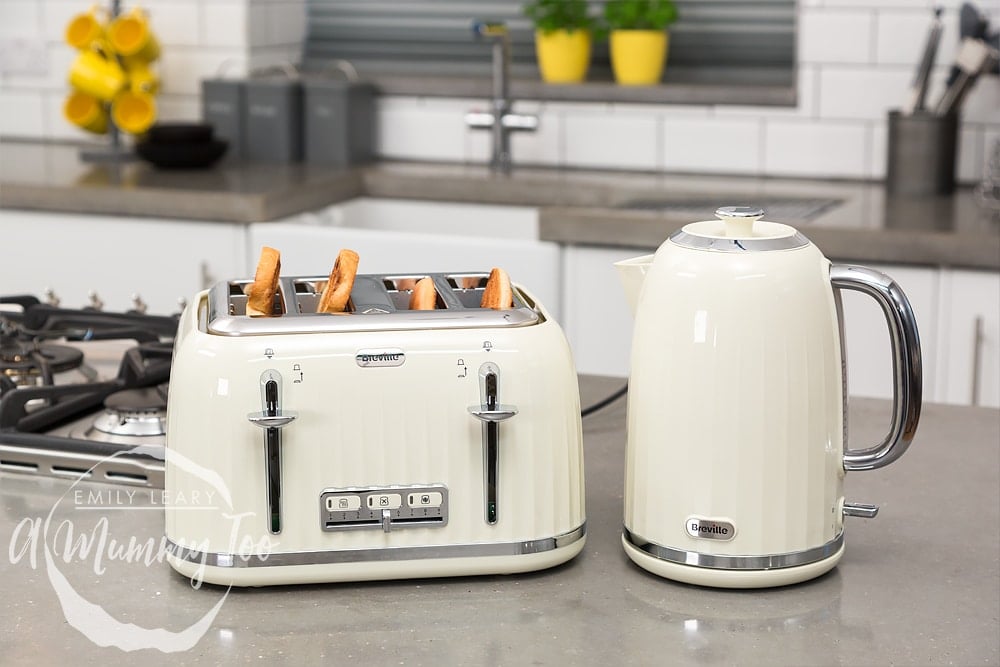 As you can see, I was able to tick off the 'looks great' criteria as soon as I unboxed the items.
The shape of both appliances is visually pleasing, with glossy paint laid over sweeping curves with subtle grooves and accents of polished chrome.
There's a modern country kitchen feel to the Vanilla Cream tones, but both the toaster and kettle are also available White, Black, Venetian Red or Damson, so there's an option to fit well in any kitchen.
Breville Impressions 1.7L Jug Kettle.
Tea is practically sacred in our household, from my morning cup of green tea, to the lemon and ginger that gets me through til lunchtime, to the cup of peppermint I enjoy after dinner and the camomile I curl up on the sofa with, my love of tea keeps my kettle very busy indeed.
A big plus point with the Breville Impressions 1.7L Jug Kettle (RRP £43.98 or £38.99 from Breville.co.uk) is the lid, which lifts off easily - no hinge to battle with.
Another handy feature is the fill gauge, which has markings on both sides of the transparent window so it's easy to see what you're doing whatever hand you're using to fill it up - it's the little things.
It holds up to 8 cups of water - more than enough for most family's needs, and 3 cups worth of water - out family standard requirement of a morning - boils in just...drumroll please...93 seconds. Not bad.
Going from my previous kettle to this one, I can say that the Breville is certainly faster, and anything that cuts the time it takes between me craving a cup of tea and drinking a cup of tea is bound to be high in my estimation.
One more little thing: it pours well, even when full - no more soaking the hob when filling a saucepan!
Breville Impressions 4-Slice Toaster
I'm not sure what the record in our house is for 'most toast needed to be toasted at once', but with four toast residents, it's definitely in double figures.
As such, we're very much in need of a lovely looking toaster that can easily accommodate 4 slices of bread (or crumpets, or bagels...) and toast them quickly and evenly. The Breville Impressions 4-Slice Toaster (RRP £43.98 or £38.99 from Breville.co.uk) delivers on both fronts.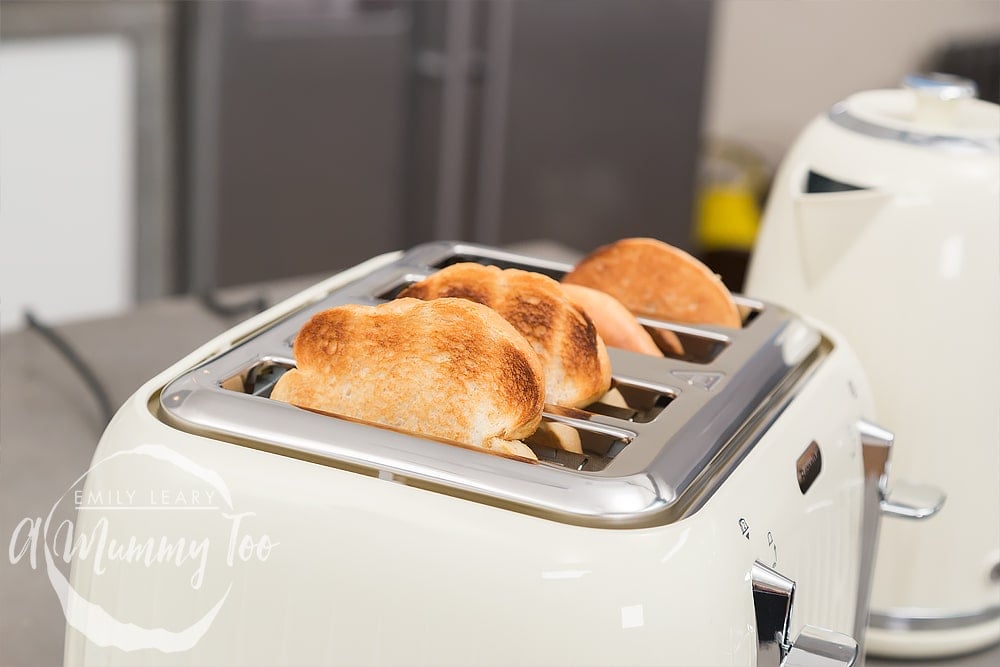 There's a browning dial on the toaster, as you'd expect, but the handiest function is that you can pull the toast up without having to cancel the whole thing.
Not only that, but the same function means you can lift the cage up super high - so no more fishing around for small items or playing 'whizz it into the air and try to catch it'. Game changer.
And should the worst happen in the morning - forgettng your toast so it's gets cold *gasp* the Breville Impressions Toaster has a handy little button to give your toast a fresh burst of heat without burning.
Overall, this a fab pair of essential kitchen appliances. I'm really happy with them, and they've happily taken up residence on our kitchen counter.
Pin for later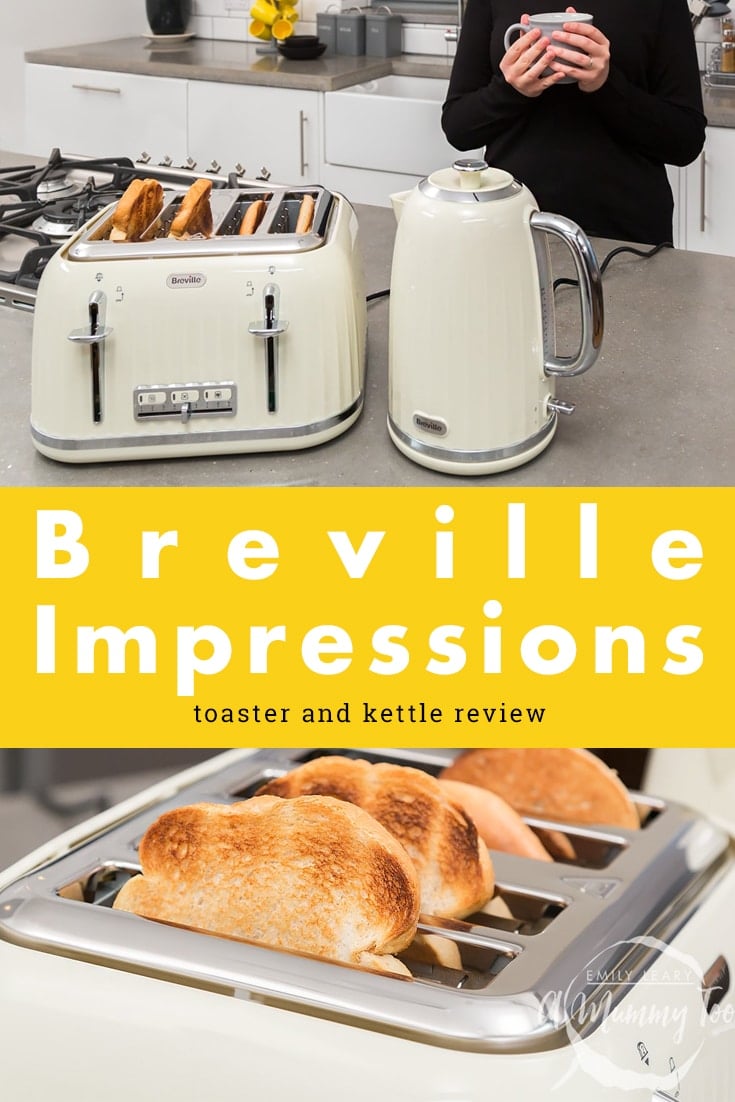 This is a commissioned post for Breville.