If you'd like a comic subscription for your kids full of great illustrations, engaging stories, and with no plastic tat taped to the cover, you need to check out The Phoenix.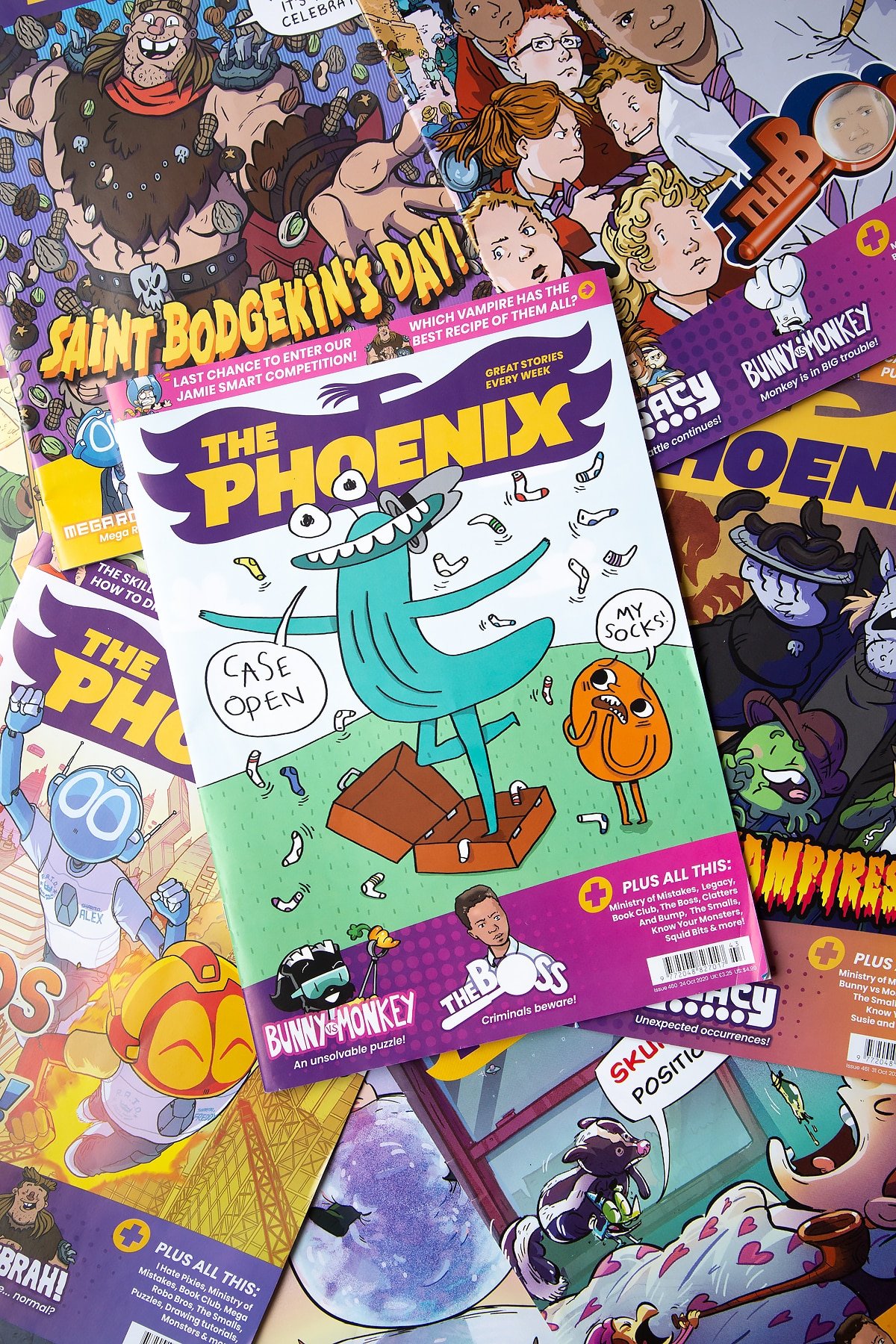 Do you find it's incredibly hard to find the right gifts and treats to please older kids? They're generally over cuddly toys, trading cards and collectibles. Often, they've moved on to expensive tech, but they can't spend their lives in front of screens, so what else is on offer to keep them entertained at home?
The Phoenix is a super-fun weekly comic that can be subscribed to so that an issue arrives directly to your door every week. The comics are targeted at children between the ages of 7 - 14, so they're spot on for that tricky age where you're never quite sure what to get them.
Since November, Miss J (9) has received a copy every week and we're excited to share with you what we thought.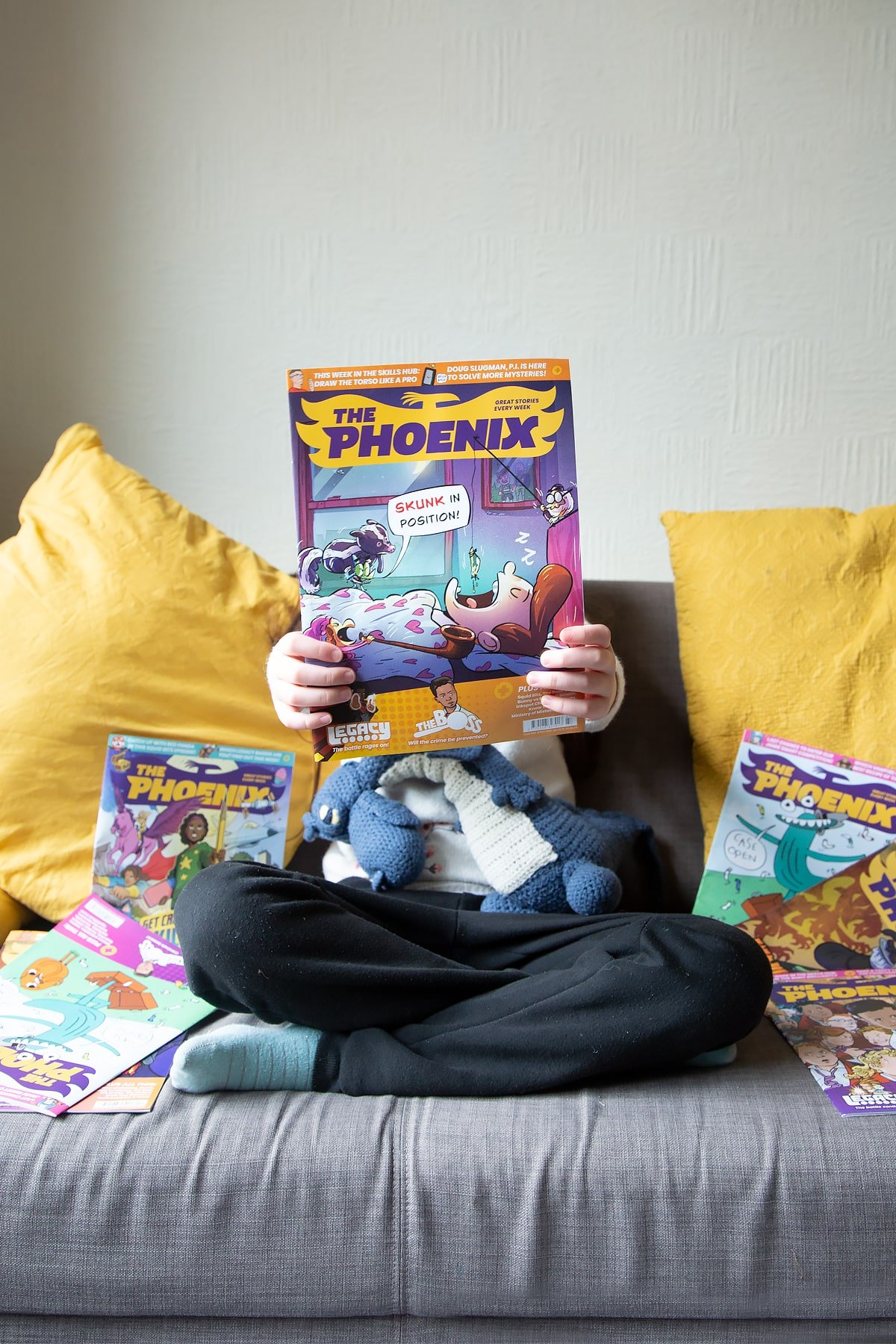 Our favourite things about The Phoenix comics
Every issue of the Phoenix is packed with brilliant stories to engage young readers.
They truly encourage reading. Many of the storylines run across multiple issues, meaning J can't wait for the next one to arrive. No wonder they're recommended by charities like Read for Good and The Book Trust
The Phoenix will land on the child's doorstep every week throughout the year, addressed directly to them. What kid doesn't love getting mail?
It's not just stories! The Phoenix also includes amazing artwork, mind-bending puzzles, and how-to-draw guides, which inspire kids to get creative.
With discounts for long-term subscription, they're more affordable that many other kid's magazines and better quality too.
Cancelling a subscription is quick, easy and hassle free - though I don't think Miss J will ever want to!
For extra keen The Phoenix fans, merchandise, back issues and full graphic novels can be purchased, which will prove rather handy when birthdays and Christmas come around!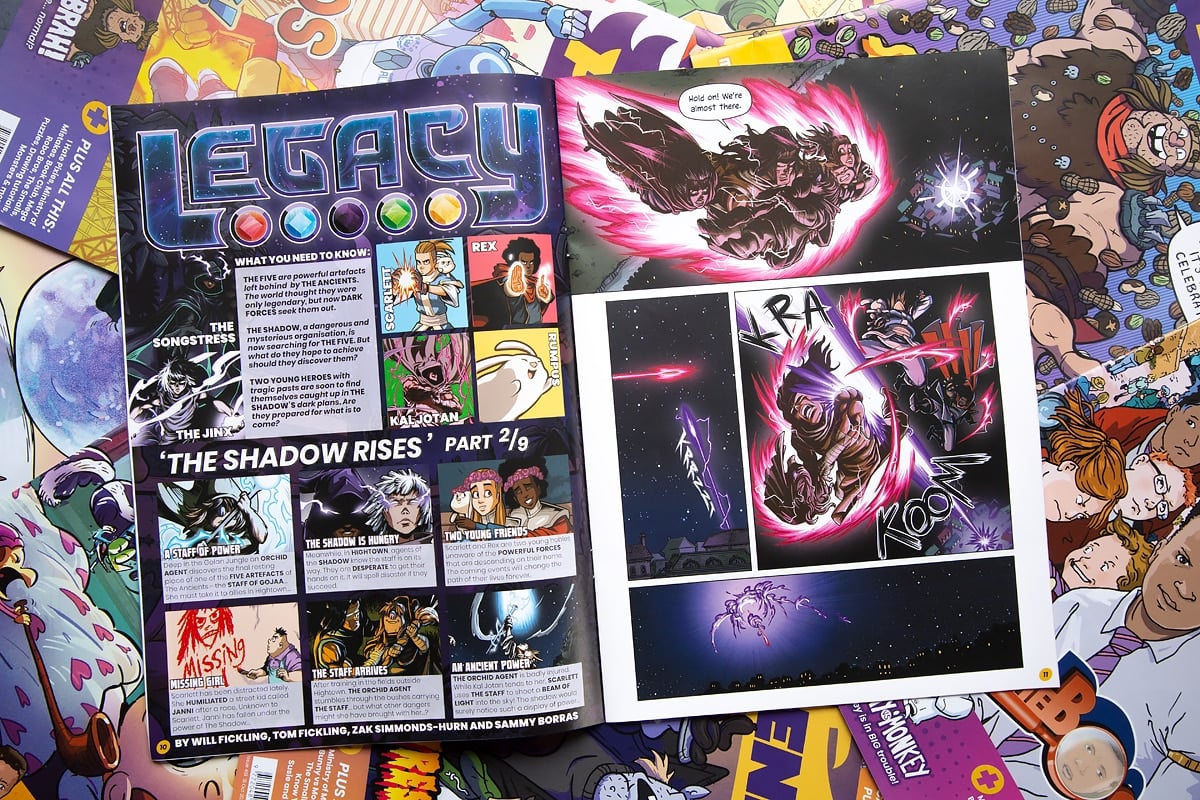 Who is The Phoenix comics for?
Phoenix comics are perfect for both boys and girls between the age of 7 and 14. Now that's a broad age range, so obviously there's some wiggle room there, but as you can see from the illustrations, there's a broad range of narrative and illustration styles to win over kids of all tastes.
The good news is, kids don't have to love reading to enjoy The Phoenix comics. Since this is an old fashioned comic (in the best possible way), each page is predominantly image-based, so while the written words are well crafted, there's not a huge amount to get through per page.
There's also puzzles and jokes to keep kids busy when they're not in the mood to read stories.
Miss J is a strong reader, but with the pandemic meaning she's studied at home a lot, she's been less likely to pick up a book in the evening. Nevertheless, she loved The Phoenix comics the moment they arrived and was immediately engaged, which is a big plus.
And Miss J's experience is a common one. If you head over to Toppsta, you can see what other kids think of the comics. If you're not familiar with Toppsta, think of it as GoodReads for kids - a chance to see independent reviews from real kids. Impressively, The Phoenix has more than 50 reviews with an average of 5 out of 5 stars.
What's included in an issue of The Phoenix?
With a subscription a Phoenix Comic will drop on your doorstep every week. It tends to be on a Friday, just in time for the weekend, although this varies depending on where you live.
The Phoenix comes wrapped in a special paper envelope decorated in the same style as the comics, so it looks cool before you even get it open it. And it's addressed to the child themselves, along with a fun adjective e.g. "The Amazing Joe Bloggs" or "The Fantastic Jane Smith!" From there, the excitement begins.
Every 32-page issue is packed with both stand-alone stories and ones that run in a series across multiple copies, week after week. The long-running ones are J's favourite and she keeps us posted on all the latest plot developments.
The artwork inside a copy is The Phoenix is simply incredible. As a bit of a comics nerd myself, I was blown away by the quality. They're not quickly thrown together images, they're art!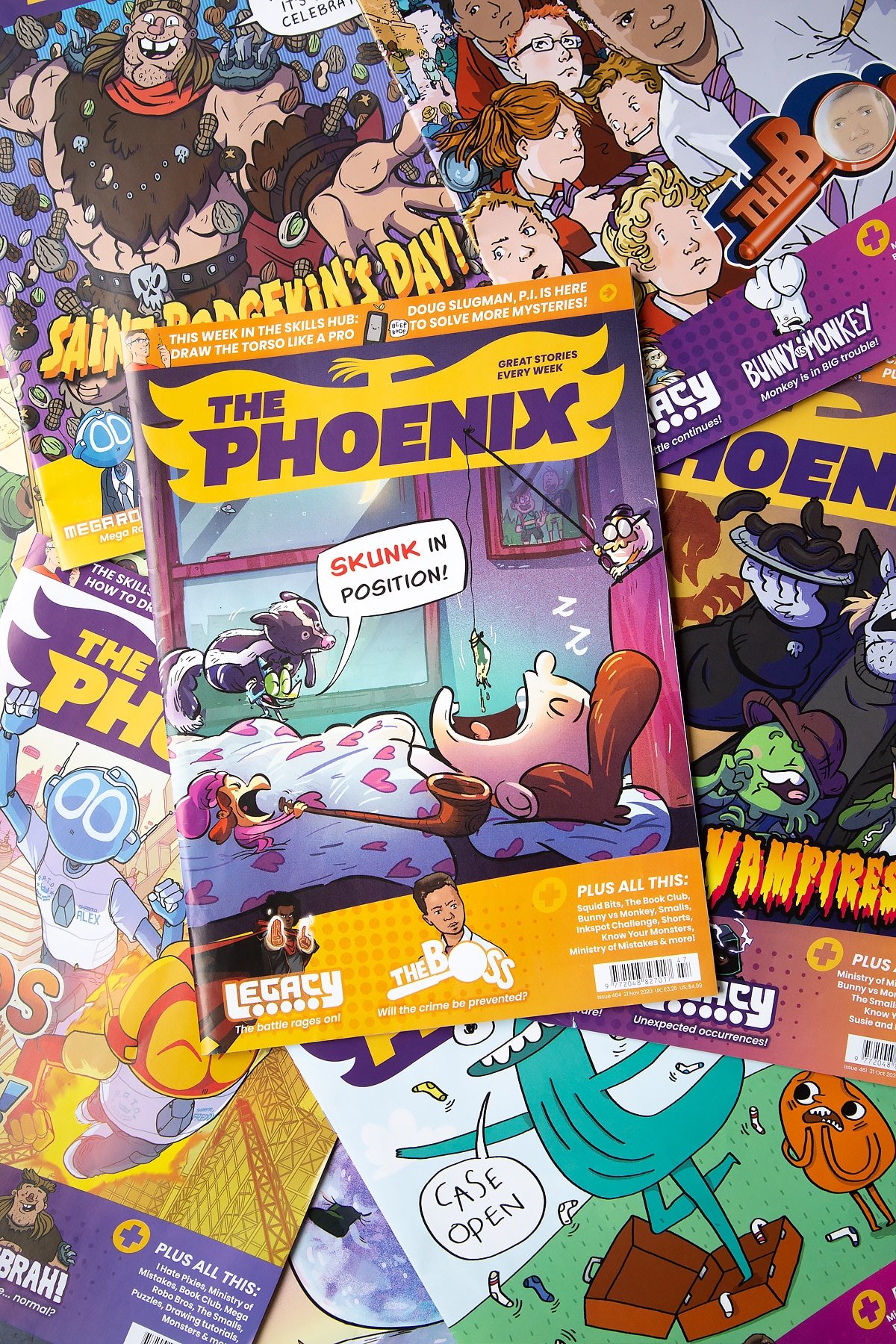 In fact, The Phoenix comics are created by some of the best comic creators in the UK, including the UK's leading children's comic book artist and writer Jamie Smart. This makes The Phoenix a pleasure to read, and the quality and vibrance of the imagery makes it great for encouraging kids to get away from screens.
Miss J has even been trying out some of the illustration styles thanks to the how-to-guides in every issues that help kids learn how to draw their favourite characters.
Another big plus? You won't find any adverts in The Phoenix comics. This is something I've noticed becoming increasingly rare in other magazines comics, which often retail for more than double the cost and yet contain a lot less actual content due to multiple adverts and promotions.
How much do The Phoenix comics cost?
You can buy single issues of The Phoenix from stockists including Waitrose and WH Smith. However, the easiest way to get copies of The Phoenix and make sure you don't miss a single issue is to take out a subscription.
There are currently three The Phoenix subscriptions to choose from;
The Trial - £1.00 for 6 issues, then a £9.99 monthly direct debit thereafter
Half A Year - £54.99 for 26 issues (works out at just £2.11 per issue)
1 Year - £99.99 for 52 issues (works out at just £1.92 per issue)
Tempted? Order yours now!
Get Your Kids to Eat Anything
My debut cookbook, Get Your Kids To Eat Anything is available now from all good bookshops!
It's so much more than a cookbook, it's a 5-Phase programme designed to take you through a meaningful, simple and sustainable journey to end fussy eating.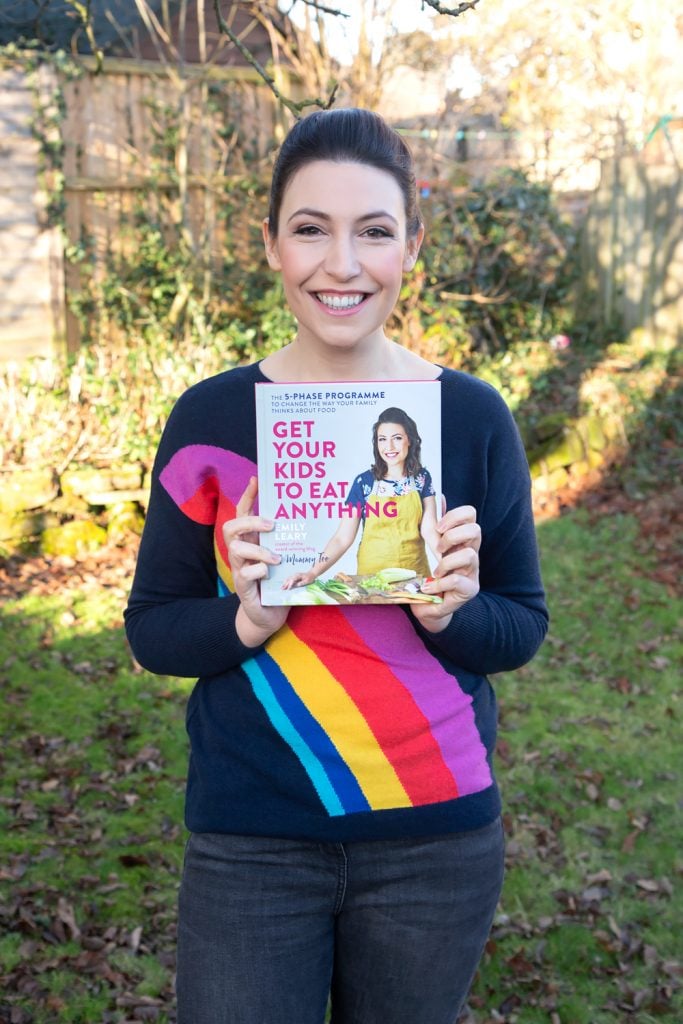 Since its release in March 2019, Get Your Kids To Eat Anything has been changing mealtimes in households across the country and has become an Amazon #1 best-seller.