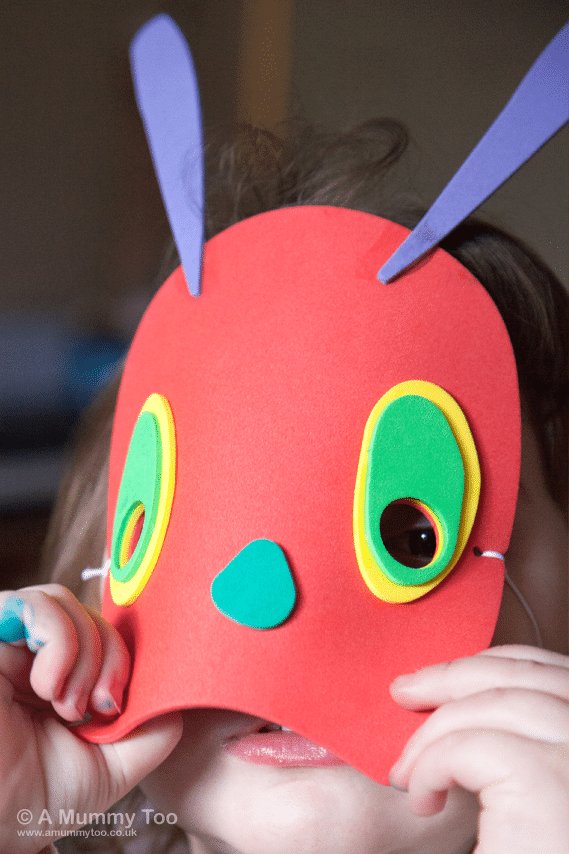 Roooooooooar! – Miss J, 2
Miss J, JD, Mark and I are enjoying being one of the official families testing a range of products released to commemorate The Very Hungry Caterpillar's 45th anniversary on 21st March 2014. This week we've been having fun indoors with The Very Hungry Caterpillar calendar and play mask.
The Very Hungry Caterpillar Make and Play Mask (RRP £6.99)
Our favourite item in The Very Hungry Caterpillar so far, the Make and Play Mask as pictured above (available from Amazon) gave us a great afternoon of crafty fun. The pack contains instructions, foam pieces, glue and elastic so that you can make yourself one caterpillar and one butterfly mask.
It's quite easy to make and Miss J and I made the caterpillar together, which she then wore for most of the afternoon! For the butterfly mask, rather than following the instructions, I just let Miss J stick the pieces however she wanted and scribble extra detail with felt tips. The result was a little messier than the intended design, but still distinctively Eric Carle and she was very proud to wear something she made completely on her own. I think this would make another great stocking filler.
The Very Hungry Caterpillar Calendar (RRP £9.99)
The Very Hungry Caterpillar 2014 Calendar (available from Amazon) would make a perfect Christmas gift. It features original illustrations by Eric Carle throughout, and there's lots of room to write your family engagements, with separate columns to devote to each of up to five family members. At the back there's a sticker sheet and rewards section, which could be a great motivator if your child is learning to be more independent. Miss J now has hers on the wall in her new bedroom.
That's it for this now. I'll have more to show you soon but in the meantime, you can keep up to date with the latest celebrations via The World of Eric Carle Facebook Page.
Disclosure: we were sent the above products for review. No payment was received for this post. All posts are 100% honest.