Can we have spaghetti and veggie meatballs? – JD, 5
We are a family of pasta lovers. If I'm honest, I don't think three days goes by without pasta of some form making an appearance on our menu, so how could I resist all the yummy pasta dishes submitted to #recipeoftheweek last week?
Answer, I couldn't! So, here are three irresistible spaghetti recipes, followed by your chance to join in on a piping hot, oven fresh #recipeoftheweek linky.
First to the table is Hungry Happy Healthy, serving up this positively divine looking Tomato and Basil Summer Spaghetti. It's simple to make, sounds delicious and it's vegetarian – a triple win in my book!
That cheeky Mummy Mishaps has made it into my favourite three recipes for a second week running. I know, I know, it's an outrage, but these Cheesy Courgette & Carrot Balls on tomatoey pasta just look too good not to shout about.
And finally, a bit of a twist for you because this 'spaghetti' dish contains no pasta! It's Courgette Noodle Carbonara from Delicieux. It's super low carb, which makes up for all that lovely cream, I reckon.
Do you have a recipe to share? Come and link up with #RecipeoftheWeek!
If you blog, here's the place to show off YOUR cooking skills! Pick a recipe YOU created from any time at all and add it to the directory below for others to find.
Meaty, vegan, fatty, low-calorie – all recipes are welcome.
You share the goods, then I generally go round reading, commenting, Stumbling, Pinning and drooling over everyone's entries.
I then pick my favourite three to feature the following week!
It's that simple – just link up below and let's share the love.
Link up your post using the Linky tool below
Add the "Recipe of the Week" badge to your post so that readers can find other great recipes.
Take a little time to read and comment on each other's recipes.
Come back next Saturday and we'll do it all over again.
Enjoy!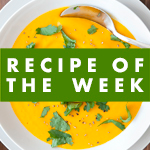 [html]
<div align="center"><a href="https://www.amummytoo.co.uk/2013/09/three-irresistible-spaghetti-recipeoftheweek" target="_blank"><img alt="Link up your recipe of the week" src="https://www.amummytoo.co.uk/wp-content/uploads/2013/01/recipe-of-the-week.png" /></a></div>
[/html]