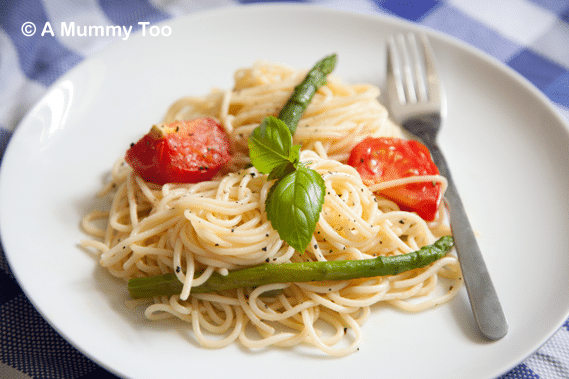 Today I have a simple, quick pasta recipe for you. It feeds 3-4, uses that cupboard staple, dried spaghetti, and can easily be made vegan if you're following a dairy/egg/meat-free diet like me. If you're not veggie, you could add some chicken breast for extra protein.
The asparagus and garlic add a distinctive, full flavour that contrasts well with the sharp, sweet tomatoes.
Here's what to do:
Ingredients
10 frozen asparagus spears
6 cloves of garlic
1tbsp olive oil
300g spaghetti
Pinch rock salt
Plenty pepper
3 vine tomatoes
2 tbsp butter (or vegan margarine, as I used)
A few sprigs of fresh basil
Instructions
Put the pasta on to boil
Peel the garlic and chop into 1mm slices
Chop the tomatoes into quarters
Warm the oil in a large frying pan and fry asparagus for just 60 seconds on high
Toss in the tomatoes, garlic and half a cup of the pasta water, season well and bring to the boil for a couple of minutes
Lift the al dente spaghetti out of the water and into the frying pan
Add the  butter/margarine and boil briefly until the liquid has absorbed and evaporated
Serve and top with more freshly milled pepper and a little fresh basil
It's a really fresh, satisfying meal – I hope you try it.
Add your #recipeoftheweek
Do you have a recipe to share? Here's the place you can do it! Pick one from the past week, or any time at all. Meaty, vegan, fatty, low-calorie – all recipes are welcome, just as long as you haven't linked them up to #recipeoftheweek before.
You share the goods, then I generally go round reading, commenting, Stumbling, Pinning and drooling over everyone's entries. It's that simple. So just link up below and let's share the love.
Link up your post using the Linky tool below
Add the "Recipe of the Week" badge to your post so that readers can find other great recipes.
Take a little time to read and comment on each other's recipes.
Come back next Saturday and we'll do it all over again.
Enjoy!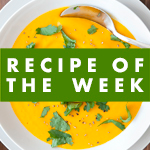 [html]
<div align="center"><a href="https://www.amummytoo.co.uk/2013/05/tomato-asparagus-garlic-spaghetti" target="_blank" rel="nofollow"><img alt="Link up your recipe of the week" src="https://www.amummytoo.co.uk/wp-content/uploads/2013/01/recipe-of-the-week.png" /></a></div>
[/html]