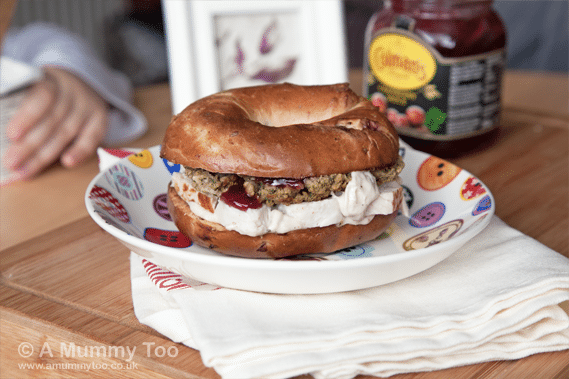 Best. Sandwich. Ever – Mark
Here's a great way to use up the festive leftovers or get you in the holiday mood – turkey, peppered mayo, cranberry sauce and stuffing sandwiched in a toasted orange & cranberry bagel.
New York Bakery Co has created a the mouth-watering Cranberry & Orange flavour bagel for the festive season and it's well worth picking up. The limited edition bagel is bursting with juicy cranberries, zesty orange pieces and a hint of spice.
You might not think it would work with a savoury sandwich, but the peppery mayo really brings the whole thing together. I used Hellman's Mayonnaise with a twist of Pepper, which has the pepper right in the bottle, but you could always use regular mayo and stir in a good pinch of black pepper.
To make the sandwich…
Ingredients
1 Orange & Cranberry bagel
1 tbsp Approx 50g cooked turkey
Approx 25g sage & onion stuffing
1 tsp cranberry sauce
1 tbsp peppery mayo
Instructions
Halve the bagel and toast lightly
On the bottom half spread the mayo, then pile on the turkey, followed by the stuffing
Dot on the cranberry sauce and add extra mayo if desired.
Disclosure: we were sent the bagel and mayo for review. No payment was received. All posts are 100% honest.