Most kids love to play outdoors, don't they? Mine are no exception and we're all for encouraging them to get outside as much as possible. Not just when we head out to a forrest or park, but in the garden too.
We've found that having some outdoor play equipment can really extend the amount of time they spend outside; as well as giving them more scope to get some exercise and develop their motor skills, play equipment is great for sparking imaginative games and role play.
Outdoor play equipment can be a significant investment, so you want to make sure it actually gets played with!
This month, we tried out Plum's new 'Create Your Own Swing Set' interactive tool, which is really different from most play set products as it allows you to design a play frame that's perfectly suited to your children's ages, as well as the space you have available.
Read on to see how we got on – there's also a great giveaway, with one winner receiving up to £300 to build their own bespoke Plum Swing Set!
Designing our set
The 'Create Your Own Swing Set' service is available via the Plum website, and is super-simple to use.
We don't have a whole lot of room in our garden, but my mum's garden is a great size, so we decided we'd place it there. It's a win-win as not only do my kids (aged eight and four) visit regularly, but so does my brother, his wife and their two boys ages 11 months and two years.
I wanted to create a set which appealed to the wide age range the four cousins represent and this is where the design service comes into it's own; you can customise to your heart's content until you've found the perfect combination for you – so much better than having to choose from a couple of standard combinations which may not be entirely suitable.
The first stage is to choose your frame. Plum frames are made from natural round pole timber, which is pressure-treated to improve strength and durability (it also makes them look lovely). Cross-braces run across the frame legs to give extra stability, and it's even supplied with anchors so you can concrete it into the ground.
The result is a frame which looks and feels really sturdy and robust, which is after all exactly what you need from something that your kids are going to dangle from.
There are three sizes to choose from. We went for the Triple Frame option initially.
Next, you choose the trim colour for the braces, bolt caps and covers. Yes, you really do have that level of choice. There are two lovely bright colours to choose from, Lime and Teal. We went for Teal. As you can see, your view of your set actually updates with your choices as you work, so you know exactly what you're going to end up with.
Now for the fun bit; choosing your accessories. There are lots of options here; standard swing, baby swing, tumbling trapeze, double glider swing, rope ladder and nest swing. With the exception of the baby swing everything is suitable for ages 3 and up. For double and triple frames, the accessories you choose will determine how many different ones you can fit in.
At this point, I switched from Triple Frame, to a Double Frame with Slide Deck, which added an 8ft slide into the left hand position, and allowed us enough room to add a baby swing and a single swing. Again, we were able to specify the slide's colour.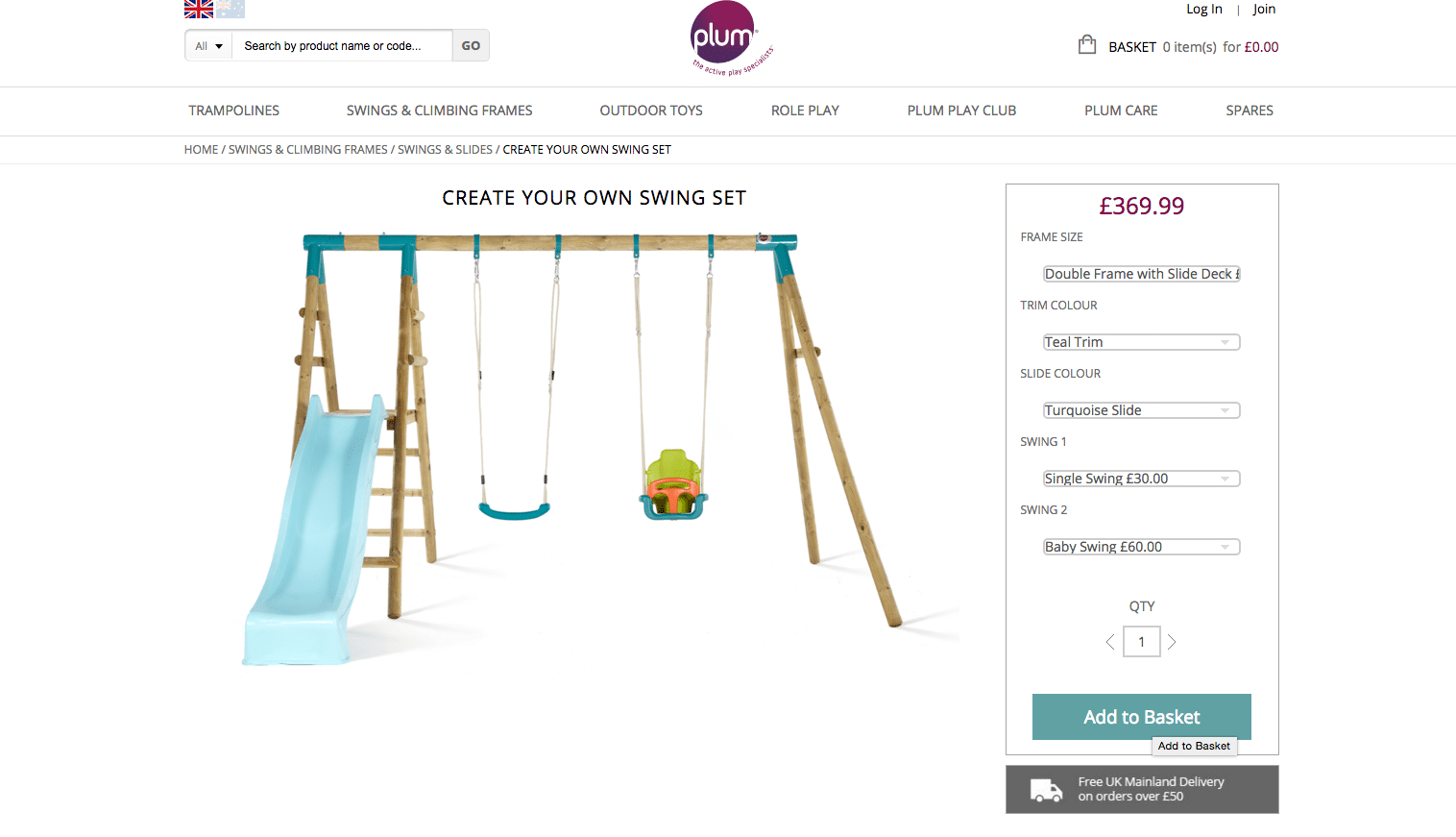 The online tool not only updates the visuals as you go along, it also updates the total cost, so you can play around with the options to stay within a budget.
When you're happy with your swing set, you just add it to your basket and complete the checkout process. Delivery is free for orders over £50, which is brilliant for such a bulky, heavy order.
Putting our swing set together
Once our swing set arrived, putting it together was reasonably straightforward, but not a quick task!
I think we've become too used to off the shelf flat-packs and so expected to find the holes are pre-drilled. Not so! A bit of basic DIY was required, and you'll need to get our your tool kit. We used an electric drill, a mallet, a socket set, spanners, a ladder, a tape measure and a spirit level.
You'll definitely need to the kids occupied elsewhere while you're building the set as the beams are heavy. However, don't be put off! The instructions are perfectly clear and we were able to get through the build in about four hours spread across the day.
Now for the fun!
By the time we finished building, it was almost bedtime and started to rain. The kids were disappointed, but my brother's family were due to visit first thing and before we knew it, it was morning and all four cousins were flying out into the garden, raring to go!
We had such a gorgeous day, playing in the sun, chasing each other in and out of the trees, watching the children climb, slide, swing and laugh. The slide deck even became the designated safe point where the monster (think tag with more roaring) couldn't get you. So much fun!
And all the while, we didn't have to worry because the frame and all the components are so sturdy, safe and well thought out.
There are no sharp corners, no tripping hazards, and the swing hangers are made from galvanised steel, so they won't rust, and neatly encircle the wooden frame, so they minimise wearing on the wood too. Very reassuring.
There's so much attention to detail too. Everything that's coloured co-ordinates, the wood is beautiful natural, the soft polyhemp ropes are kind to little hands, and the whole thing just looks gorgeous. It blends into the garden beautifully, rather than drawing the eye for all the wrong reasons.
Now, kids grow pretty fast, so over time our lot will inevitably become more adventurous with their acrobatics.
The support parts of the baby swing can be removed to become a regular swing seat as baby A grows. And I love the fact that we can easily change the accessories, without having to buy a whole new frame, so we'll be able to extend the life of the product at relatively low cost, something that we just couldn't do with an off-the-shelf play frame.
I'm really happy with our Plum swing set. From a parent's point of view, it ticks all the boxes on safety, design, appearance and adaptability. And the kids love it. I think the amount of use it's getting is directly attributable to the fact that it's perfectly suited to their ages, it has made a really positive impact on how they use the outdoor space. I have a feeling we'll be spending most of the summer at Grandma's house!
What do you think – would a Plum swing set get your kids playing outdoors more often?
Win £300 towards your own Plum Swing Set
Would you love to win the chance to design your own swing set for your garden? You could!
For your chance to win, just complete the widget below.
Good luck!
Plum is providing the sets for review and giveaway.