Oooh, store-bee! – Miss J,1
We've been enjoying the sunshine this weekend, which has been thirsty work and called for milkshakes! This recipe makes enough for two large sundae-style glasses of milkshake, and with 200g of strawberries per glass, I'm pretty sure it'll count as one of your five a day.
Here's what to do…
Ingredients
400g fresh strawberries
225g vanilla ice cream
Instructions
Wash and top the strawberries (save 2 for later)
Chuck them in the blender (we used our Vitamix) and whiz until smooth
Add the ice cream and whiz again until it has an even pink colour
Pour carefully into the glasses and add a straw to each
Grab the two strawberries you saved earlier and make a slit from the tip to 3/4 of the way up
Attach the strawberries to the side of the glass
Simple, refreshing, delicious. If you wanted, you could add sugar or syrup, but I don't think it needs it as the strawberries are so sweet this time of year.
Add your #recipeoftheweek
Do you have a recipe to share? Here's the place you can do it! Pick one from the past week, or any time at all. Meaty, vegan, fatty, low-calorie – all recipes are welcome, just as long as you haven't linked them up to #recipeoftheweek before.
You share the goods, then I generally go round reading, commenting, Stumbling, Pinning and drooling over everyone's entries. It's that simple. So just link up below and let's share the love.
Link up your post using the Linky tool below
Add the "Recipe of the Week" badge to your post so that readers can find other great recipes.
Take a little time to read and comment on each other's recipes.
Come back next Saturday and we'll do it all over again.
Enjoy!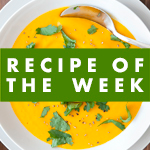 <div align="center"><a href="https://www.amummytoo.co.uk/2013/07/two-ingredient-strawberry-milkshake-recipeofthweek" target="_blank" rel="nofollow"><img alt="Link up your recipe of the week" src="https://www.amummytoo.co.uk/wp-content/uploads/2013/01/recipe-of-the-week.png" /></a></div>