It's Week Three of my ten-week Dr. Oetker #EvenBetterBaking series, in collaboration the gorgeous Stacey Solomon and this week, I have a gorgeous, decadent triple layer chocolate fudge cake to show you.
With simple, elegant decoration and a deeply smooth frosting – it's a real show stopper. Here's how to make it.
Ultimate chocolate fudge layer cake
A delicious, indulgent, impossibly chocolate fudge layer cake.
Author:
Emily Leary & Dr. Oetker
Recipe type:
Cookies, cakes and bakes
Ingredients
For the Cake:


100g (3.5 oz) Dr. Oetker Fine Cooks 72% Extra Dark Chocolate
100g (3.5 oz) Dr. Oetker Fine Cooks 35% Milk Chocolate
250g (9 oz) Plain Flour
275g (9.5 oz) Caster Sugar
300ml (0.5 pint) Buttermilk
125g (4.5 oz) Unsalted Butter softened
3 Medium Eggs, beaten
Dr. Oetker Bicarbonate of Soda Sachets x 2 (2 tsp)
5ml Dr. Oetker Madagascan Vanilla Extract (1 tsp)
For the Decoration:


100g (3.5 oz) Dr. Oetker Fine Cooks 72% Extra Dark Chocolate
300g (10.5 oz) Dr. Oetker Fine Cooks' 35% Milk Chocolate
450ml (0.75 pint) Double Cream at room temperature
Instructions
Preheat the oven to 180°C (160°C Fan, Gas Mark 4). Grease and line the bottom of 3 x 20cm (8 inch) Victoria sandwich tins.
Break the Dark Chocolate and Milk Chocolate into pieces and place in a large heatproof bowl. Put the bowl over a saucepan of barely simmering water and leave to melt. Remove the bowl from the pan of water and leave aside for 10 minutes to cool.
Meanwhile, put all the other ingredients, except the decoration ingredients, in a large bowl and mix well together until well combined. Beat in the melted chocolate.
Divide the mixture between the prepared tins and smooth the tops. Put the tins on shelves in the oven and bake for 25-30 minutes until risen and firm to the touch. Cool for 10 minutes before removing from the tins and transferring to a wire rack to cool completely.
To decorate, break the Dark and Milk Chocolate into a large heatproof bowl and melt as above. Remove the bowl from the pan of water and leave to cool for about 20 minutes until slightly warm.
Whilst whisking the chocolate, gradually pour in the cream, whisking until thick and glossy.
Sandwich the 3 sponges together using ⅔ of the chocolate cream and place on a serving plate. Spread the remaining cream on top and leave in a cool place for several minutes to firm before serving. For a firm finish, chill the cake for 30 minutes before serving.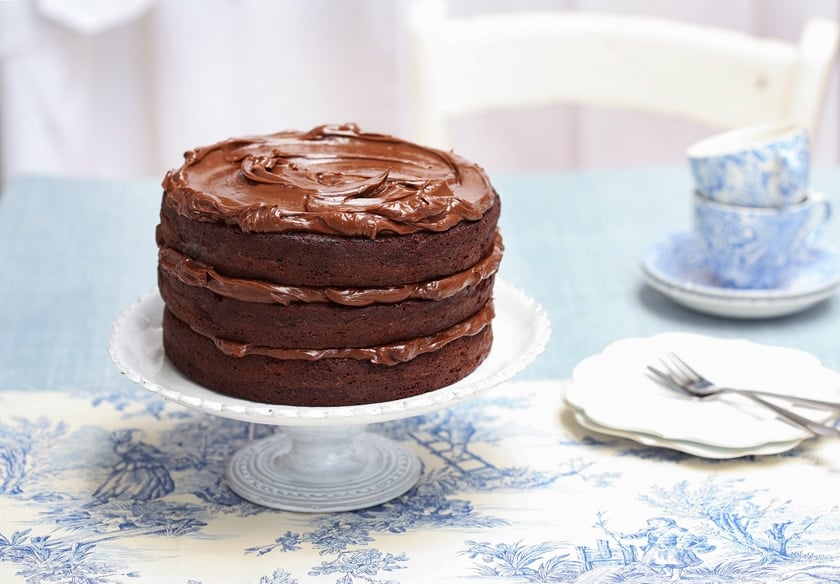 Enjoy!
Bake with Dr. Oetker to win! (UK only)
Send your bakes that you have made using Dr. Oetker products and tell them what inspired you to make it with #Evenbetterbaking.
Each week Dr. Oetker will pick a Star Baker who will win a goodie bag, and entry into their prize draw to win an Ultimate Baking Hamper worth £500.
To keep up to date with all the latest Even Better Baking news, follow @droetkerbakeson Twitter, DrOetkerBaking on YouTube or like www.facebook.com/DrOetkerBaking.
This is a commissioned post for Dr. Oetker. Recipe & photography courtesy of Dr. Oetker.