Do you celebrate Valentine's Day? We do. Yes, I get that it's a commercial concept, thought up to separate the gullible from the contents on their wallets, but I like it. It's something to look forward to and an excuse to do something romantic.
The thing is, JD's four now, and if we celebrate something without him, he notices.
Until recently, we could go out in the evening and JD would be unmoved, more concerned with the fact that he'd be seeing his grandma, whom he adores. But as he's hit four - and I suppose because Little Miss J has arrived - he doesn't like to be left out.
We hope to make it out for a couple of hours this Valentine's Day and since we've got that to look forward to, I wanted to find a way to make it fun for JD too.
So, I sat down with him and explained what the day is about. Then we looked at the imagery, discussed the colours (mostly reds), the flowers (mostly roses), the shapes (mostly hearts - he taught me a clever way to draw them). It was fun and vaguely educational.
Next, we made treats - any excuse, right?
Valentine's white chocolate and strawberry icing heart
We bought a heart-shaped silicone cake tray and some heart-shaped cookie cutters at the supermarket the other day, so we made up a really simple and quite pretty recipe (pics below):
Print Recipe
Valentine's chocolate heart gift
A chocolatey, strawberry flavoured chocolate heart that's easy for kids to help with and perfect for Valentine's Day.
Ingredients
100

g

red sugar paste

(fondant)

225

g

white cooking chocolate

10

g

milk chocolate
Instructions
Roll out some red sugar paste to about 5mm thick.

Cut six hearts with the smallest cutter and set aside.

Melt the white chocolate.

Pour the white chocolate into the mould and spread evenly with the back of a spoon.

Take two squares of milk chocolate and finely grate over the top.

After about 30 seconds, when the chocolate is just starting to thicken, carefully place the icing hearts on top and press gently so that they sink in level but don't disappear.

Put the whole thing in the fridge to set for 15 minutes before turning out and storing somewhere cool in an airtight container.
* Note: nutritional information is estimated, based on publicly available data. Nutrient values may vary from those published. Cuisines identify the primary region of inspiration for a dish.
Tried this recipe?
Snap a pic and tag @amummytoo on Instagram, Twitter or Facebook. I can't wait to see your posts!
More valentine's recipes to try
Strawberry hot chocolate pudding
A delicious strawberry chocolate pudding baked to perfection with heart shaped strawberries on top to style. Perfect for a special occasion like Valentine's Day, Mother's Day, Father's Day or a birthday.

Get the recipe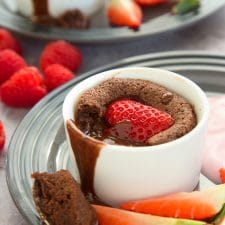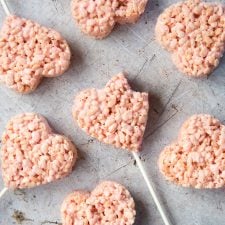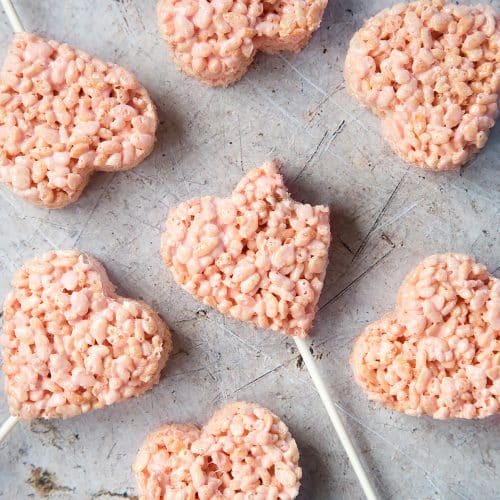 Get Your Kids to Eat Anything
My debut cookbook, Get Your Kids To Eat Anything is available now from all good bookshops!
It's so much more than a cookbook, it's a 5-Phase programme designed to take you through a meaningful, simple and sustainable journey to end fussy eating.


Since its release in March 2019 Get Your Kids To Eat Anything has been changing mealtimes in households across the country and has become an Amazon #1 best-seller.