I'm full, which is weird! – me
I am trying SO hard to eat well right now, but it's pretty easy to stray.
Tonight I had a meal that felt really greedy but was actually pretty much as innocent as you can get. This dish uses an amazing pasta that's available in health food shops and contains only 7.7 calories per 100g. It's very chewy, which takes some getting used to, but it's worth it for the lovely feeling of being full without the guilt.
The 'pesto' is super easy to make too and uses savoury yeast for flavour and nutrition, liquid aminos for a truly vegan seasoning, while fresh basil, baby spinach and garlic give that classic pesto flavour.
I'm really pleased with the results. If you're vegan, coeliac, or on the 5:2 diet, this is a perfect dish for those days when you need something filling.
Here's what to do (feeds one):
Ingredients
60g baby spinach (14 calories)
1 pack of Slim Pasta spaghetti (16 calories)
1/2 tsp olive oil (20 calories)
8 tsp water (0 calories)
1 rounded tbsp Engevita savoury yeast condiment with B12 (40 calories)
1 small handful fresh basil (2 calories)
1 spray of Liquid Aminos vegan soy sauce alternative (1 calorie)
1/2 clove garlic (1 calorie)
(Calories are estimated)
Instructions
In a large pan over a low heat, put the spinach, basil, oil, and garlic and half the water and cook until totally wilted – add the rest of the water if it goes dry
Tip into a blender, add the liquid aminos and yeast and blitz for a few seconds
Drain and wash the 'pasta', then cook over a medium heat for 2-3 minutes
Stir the sauce through and serve
Simple, yummy, filling. Will you try it?
Add your #recipeoftheweek
Do you have a recipe to share? Here's the place you can do it! Pick one from the past week, or any time at all. Meaty, vegan, fatty, low-calorie – all recipes are welcome, just as long as you haven't linked them up to #recipeoftheweek before.
You share the goods, then I generally go round reading, commenting, Stumbling, Pinning and drooling over everyone's entries. It's that simple. So just link up below and let's share the love.
Link up your post using the Linky tool below
Add the "Recipe of the Week" badge to your post so that readers can find other great recipes.
Take a little time to read and comment on each other's recipes.
Come back next Saturday and we'll do it all over again.
Enjoy!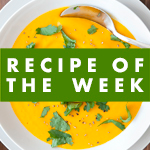 <div align="center"><a href="https://www.amummytoo.co.uk/2013/05/vegan-gluten-free-99-calorie-pesto-pesto" target="_blank" rel="nofollow"><img alt="Link up your recipe of the week" src="https://www.amummytoo.co.uk/wp-content/uploads/2013/01/recipe-of-the-week.png" /></a></div>