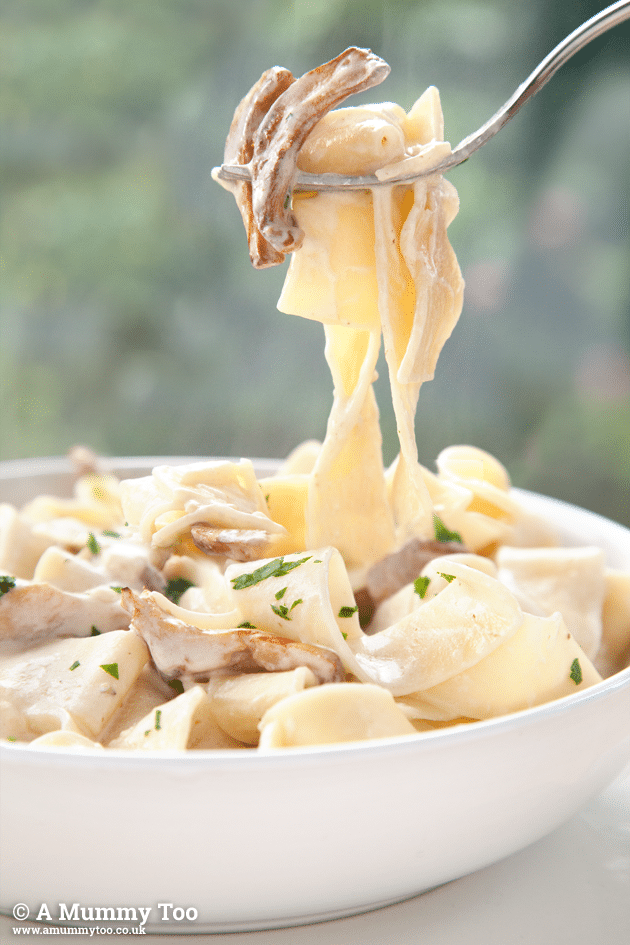 Is it meat? – Miss J
This is a dish I love – the golden chanterelle mushrooms add a little meatiness to the al dente pasta while the white wine and garlic lend a kick to the creamy sauce.
It's delicious, quick, feeds two and is ready in under 10 minutes.
Ingredients
250g parpadelle dried pasta
30g butter
1 tbsp oil
100g Girole wild mushrooms
1 clove garlic
100ml white wine
150g cream cheese (I used, Philadelphia Light, stirred to soften)
250ml milk
salt and pepper
A little chopped parsley
Spoonful of parmesan cheese, if liked
Instruction
Put the pasta in to cook in plenty of boiling water – it will take about 8 minutes, just time enough to prepare the sauce
Heat the butter and oil over a medium heat in a pan until the butter is bubbling gently
Cut the mushrooms into halves or quarters and tip into the pan. Fry for minute, add the finely chopped garlic, then fry for another minute or so until soft
Add the wine and sizzle until evaporated
Add the milk, cream cheese, salt and pepper and stir until it thickens – this will happen fast!
Lift the pasta out of the boiling water and into the sauce and stir until coated
Transfer to a warm bowl, sprinkle with the chopped parsley and serve with a little parmesan cheese, if you like
If you love mushrooms, also check out my spinach and mushroom puff pie with thyme, white wine and black truffle oil, my Thai green curry noodle soup, or my spiced mushroom rice.