As usual last week's #recipeoftheweek entries were full of tons of variety, not just in flavours, but where those flavours came from too. I think there was barely a corner of the world not represented by something utterly delicious, so from tacos to pasta, chilli to fish and chips this week is a celebration of the amazing variation you can find throughout the world.
This is THE place to link up your recipe posts for lots of tweet, comment and Pinterest love. At the bottom of this post is the latest #recipeoftheweek 'linky' – use it to add any recipe posts you would like to share.
Remember, to enter #recipeoftheweek, your posts don't have to follow a particular theme – absolutely all recipes are welcome every single week :)
But first, here are my selections from last week's entries.
Baked Spinach & Ricotta Stuffed Pasta Shells
To Italy first for Jo's Kitchen Larder delicious pasta shells with home made tomato sauce and super creamy ricotta filling.
Fish and Chips
Over to England now for Marilyn's Treats' fish and chips with perfectly chunky chips and fish in a nice light batter.
Leftover Roast Lamb Shepherd's Pie
Easy Peasy Foodie's classic Shepherd's pie is a fantastic way of using up leftover lamb and turning it into something succulent and tasty.
Gluten-Free Vegan Pesto Pasta
Over to Italy again for Strength and Sunshine's vegan pesto pasta that combines traditional flavours with a hint of nutritional yeast for a savoury delight.
Simple Asian-Style Mushrooms With Ginger
yumsome's Asian inspired mushrooms are delicious, nutritious (30% of your daily fibre!) and very, very tasty.
Belly Pork Chilli Con Carne
A little of Spain and a little of America combine to make Fish Come From The Sky's delicious chilli con carne with pork belly.
Slow cooker beef tagine
Off to Morocco now for Blogger by the sea's beef tagine that's slow cooked to perfection.
Homemade Pizza
A Wee Pinch of Sugar has a wonderful recipe for an Italian classic that's packed with flavour and topped with plenty of veg.
Chicken Adobo and Black Bean Tacos
Mexico now for The Bearded Hiker's delicious tacos that can be made any time with whatever meat you have available.
Afghan-inspired Kidney Bean Slow-Cooker Casserole
Afghan-inspired flavours make Jess Eats & Travels' casserole full of spice, heat an deliciousness.
Chilli non-carne
Cooking with Kids' Spanish and America flavours combine in this vegetarian take on a classic to make something healthy and delicious.
Now, on to #recipeoftheweek…
Got a recipe to share? Join in with #recipeoftheweek!
RECIPE OF THE WEEK IS FOR EVERYONE – there is no theme, just join in.
You can add any of your recent recipe posts to #recipeoftheweek. Here's all the info you'll need:
Link up any of your recipe posts using the linky below – click the blue button that says 'Add your link'. All recipes are welcome, old or new. There is no theme, just please don't re-add posts you've added before
Add the "Recipe of the Week" badge to your post so that readers can find other great recipes (the code is at the bottom of this post)
Join me in taking time to read, comment, Stumble and/or Pin some of the other entries, if you like them. I read, tweet & pin everyone's and discover amazing new recipes along the way
Come back next Monday and we'll do it all over again
I also pick my favourite entries to showcase the following week.
Enjoy!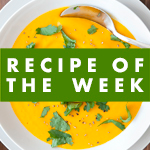 [html]
<div align="center"><a href="https://www.amummytoo.co.uk/world-foods-recipeoftheweek-26-4-mar"><img class="alignnone" src="https://www.amummytoo.co.uk/wp-content/uploads/2013/01/recipe-of-the-week.png" alt="Link up your recipe of the week" width="150" height="150" /></a></div>
[/html]