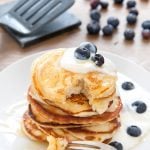 Print Recipe
Fluffy, gorgeous coconut yogurt pancakes
Deliciously fluffy yogurt pancakes with a hint of coconut that make for a wonderfully light texture.
In a bowl, whisk the egg, and yogurt together until well combined.

Add the milk and whisk again.

Add the flour and baking powder and whisk again a final time until smooth.

Leave to sit for a few minutes. Bubbles will form on the surface.

Put 1-2 tsp of coconut oil in a non-stick frying pan and place over a high heat.

Reduce to medium and add 4 ice cream-scoop-size dollops of batter.

Fry until golden brown underneath, then flip with a slotted spatula and fry until cooked on both sides.

Repeat until all the pancakes are cooked, piling on a plate to create a tall tower. Drizzle with more yogurt and a scattering of blueberries.