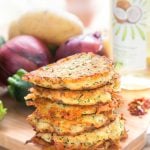 Print Recipe
Spicy courgette latkes
A twist on traditional potato latkes, these have the addition of chilli and courgette (zucchini), resulting in a crispy outer and spicy, juicy, pancake-like inner.
Peel the potatoes and onion, top and tail the courgettes, then grate on the medium side of a grater.

Put the grated vegetables in a clean, cloth tea towel.

Twist and squeeze over a bowl until no more liquid comes out.

You can throw the liquid away, or decant it into a sealed container for use in a soup later. Return the grated veg to the bowl.

In a separate bowl, mix the eggs with the flour, garlic and a pinch of salt and pepper until smooth. Don't worry if there are a few lumps.

Pour the egg mix onto the grated vegetables and mix well.

I find a fork works best for this job, just make sure you get right down to the bottom of the bowl so that everything is evenly coated.

Sprinkle on the chilli flakes and mix well again.

Pour the oil into a frying pan until it's about 1/2 inch deep, then place over a high heat.

Turn down to medium and use an ice cream scoop to pick up the batter, flatten off on top and dolloping into the pan - it should start to sizzle immediately, but if you find they're browning almost immediately, turn the heat down some more.

Fry for about 5 mins until browned underneath, then use a slotted spatula to flip them oven and fry for a couple more minutes until evenly browned on both sides.

Drain on paper towels and repeat until all the batter is used up before serving. They're wonderful for lunch with a crunchy pepper salad.