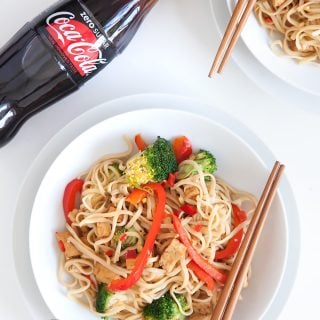 Print Recipe
Coca-Cola Zero Sugar tofu and vegetable noodle stir fry
A simple, nutritious noodle stir fry, packed with veg, and low in sugar thanks to the addition of Coca-Cola Zero Sugar
In a small bowl, mix the soy sauce, Coca-Cola Zero Sugar, ground coriander, lime juice and water.

Heat the oil in a large wok. Add the broccoli and red peppers and stir ­fry for 5 minutes. Meanwhile, cook the noodles according to pack instructions.

Add the tofu, bean sprouts, mangetout, spring onions, ginger, chilli and garlic to the wok.

Stir ­fry for a further 2–3 minutes.

Once the noodles are cooked, drain, then add to the stir­ fry and mix well.

Pour the Coca-Cola Zero Sugar sauce over tofu and vegetable mix. Mix well and simmer for a couple of minutes.

Transfer to bowls and serve with cool glasses of Coca-Cola Zero Sugar.