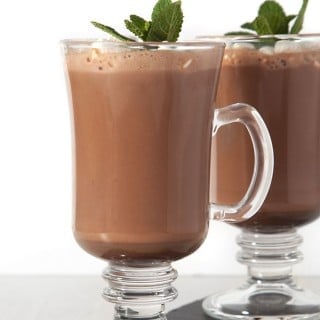 Print Recipe
Peppermint hot chocolate
This peppermint hot chocolate is sweet, flavourful and satisfying. Here's how to make two deliciously minty mugfuls.
In a pan, warm the milk, sugar and peppermint extract over a medium heat until just coming up to the boil, then turn the heat right down.

In a bowl or mug, mix the cocoa with a couple of spoonfuls of the milk until you have a paste, then pour the mixture into the milk – this is what helps avoid lumps.

Whisk vigorously until froth forms on the surface (my favourite part) then decant into mugs.

Top with marshmallows and a sprig of mint if you wish.