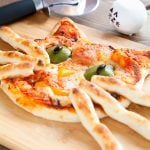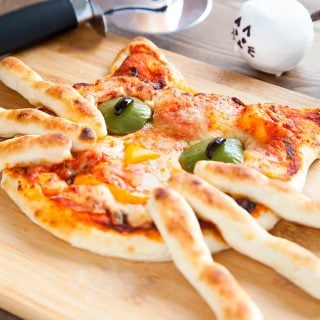 Kitty Pizza
Prep Time:
2
hours
30
minutes
Total Time:
2
hours
42
minutes
A super adorable kitty pizza with breadstick whiskers that are perfect for plunging into dips. Easy to make with a handy printable template!
Print Recipe
Add the flour, yeast and salt into bowl and mix together

Add 200ml (6.8floz) of lukewarm water and bring together in the bowl with a wooden spoon or by hand

Turn the dough out on to a floured work surface and knead for a few minutes until smooth and return to the bowl.

Cover with a wet tea towel or cling film for an hour.

Preheat the oven to 200C/400F (180C/360F fan), turn the dough out and divide into two equal parts.

On floured work surface roll the dough out until just larger than the kitty template (which download here as a pdf or as an image).

Place the template over the dough.

Cut around the template with a sharp knife to form the head.

With the leftover dough roll out six breadsticks around 4 inches long for the whiskers.

Cut the green peppers into two circles (I used a very tiny biscuit cutter), and add a slither of olive for the pupils. Make the nose and mouth out of the orange pepper.

Add the pizza sauce, mozzarella and vegetables to make a face. Lay the breadsticks on top of the pizza for whiskers.

Bake for 12 minutes or until the crust is golden brown.