I just don't feel right – me
It's been quiet on here for the last week or so. The truth is I haven't been well for some time. As many of you know, I have irritable bowel syndrome (IBS), but recently I've suffered from myriad symptoms that I thought I'd long since left behind. Extreme pain and chronic exhaustion being the worst of them. I haven't felt like doing much at all for the last six weeks but I ploughed on, and then this last week it finally got on top of me. I need to make a change before it impacts on my life, work and family.
So what am I going to do about it? I'm going back to being vegan. Bear with me, there's method in my madness…
I'm vegetarian, as you all probably know, but my family are not. For two years earlier in my twenties I was vegan because hospital stays and laboriously completed food charts showed me that eggs and milk were my main triggers (along with white flour to a lesser degree). As a vegetarian, veganism seemed a small step to take. It was tough to adjust but the impact on my health was immediate. I got stronger, healthier, happier. Over the years, I've tentatively reintroduced dairy, eggs and white flour into to my life – I'm a foodie, it's hard not to, but somewhere on the way things have gone wrong,  it's time to take a step back to what I know is right for my body. So here goes. I'm vegan. That's that.
Now, please don't all run away at once. I know this is a foodie blog and refined flours and sugars, butter, cream, cheese and eggs feature in most of my recipes. To an extent, that will have to change. You will see more brown rice, dairy alternatives, egg replacement etc, but you don't have to use those – where not so obvious, I'll try to highlight how you can switch the recipe to non-vegan if you want to.
I will not evangelise about the politics of veganism – I'm not here to tell you what's right or wrong. My family will continue to eat dairy, eggs, meat and fish, so you won't see me on my high horse. I'll still feature dairy products, creamy cakes and even meat recipes from time to time, as I always have, because this blog is about my whole family and our experiences, not just mine. All that I'd ask is that while you're here – be you impartial observer, staunch vegan, avid meat-eater or somewhere in between – you're respectful of everyone's views, challenges and lifestyle choices.
Ok that's enough of that. Now, here's what we had for dinner tonight…
Chilli non carne with long grain brown rice
A simple meal, nothing technically impressive, but a nutritious, high protein, dairy-free, egg-free and meat-free meal – and that's what I need right now.
Ingredients
1 tbsp olive oil
1 pack meat-free mince (any version that contains no eggs or dairy)
Pinch nutmeg
1 tsp hot chilli powder (plus some extra to finish)
1 tsp oregano
3 tins of chopped tomatoes
8 blocks of frozen spinach
Half a handful of basil
Seasoning to taste
Enough long grain brown rice for four people
Instructions
Warm the oil in a large pan
Fry the mince with the until completely defrosted
Add the tomatoes, nutmeg, chilli and oregano and simmer for 10 minutes
Add the spinach and simmer for another 5-10 minutes until the spinach is fully cooked through
Meanwhile, cook the rice
Just before serving, stir in the basil and season to taste
Dish up the rice, top with the chilli, then for the grown ups, sprinkle with a little more chilli powder(or lots if you like it hot)
If you like, you could add a drained can of kidney beans and maybe some butter beans, carrot slices or sweetcorn when you put in tomatoes. It would work with anything you like really!
Add your #recipeoftheweek
Do you have a recipe to share? Here's the place you can do it! Pick one from the past week, or any time at all. Meaty, vegan, fatty, low-calorie – all recipes are welcome, just as long as you haven't linked them up to #recipeoftheweek before.
You share the goods, then I generally go round reading, commenting, Stumbling, Pinning and drooling over everyone's entries. It's that simple. So just link up below and let's share the love.
Link up your post using the Linky tool below
Add the "Recipe of the Week" badge to your post so that readers can find other great recipes.
Take a little time to read and comment on each other's recipes.
Come back next Saturday and we'll do it all over again.
Enjoy!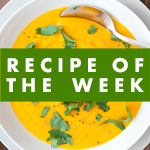 <div align="center"><a rel="nofollow" href="http://www.amummytoo.co.uk/2013/04/vegan-chilli-recipe-and-recipeofweek-13-19-april" target="_blank"><img alt="Link up your recipe of the week" src="http://www.amummytoo.co.uk/wp-content/uploads/2013/01/recipe-of-the-week.png" /></a></div>