I'm going to show you how to make a really simple Christmas cake…
Recently, I spent an amazing day in the kitchen recording videos for the launch of Flora's new web tool, Handy by Flora, which allows you to watch and control any recipe video from YouTube on your laptop hands free.
This means when your mitts are covered in dough and you need to pause or rewind, you can do so with a wave of your hand and avoid trashing your laptop. I think it's rather clever.
One of the recipes we filmed was for this simple Christmas cake, which is packed with fruit and easy to ice. Please check it out and let me know what you think.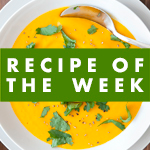 This is a commissioned post for Flora. Image and video via Flora.