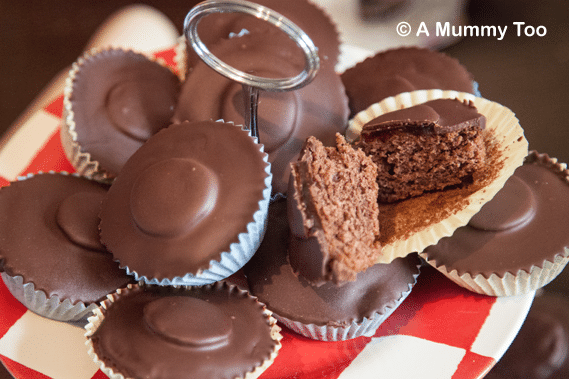 These went down a storm at work – Mark
Today, as part of 'A Mummy Too cooks with', I'm bringing you a recipe from Jenny of Mummy Mishaps that is nothing short of genius, combining cake, chocolate and orange jelly to create a sort of Jaffa cake from scratch.
Here's what we did…
Ingredients
1 packet of orange jelly (you can get vegetarian jelly in most health food shops)
1 tbsp of orange marmalade
125ml boiling water
200g unsalted butter
4 eggs (we used 3 large eggs, which worked fine)
200g caster sugar
175g self raising flour
25g cocoa powder
120ml Coca Cola
125g Plain chocolate
125g Milk chocolate
Instructions
Make the jelly by either heating the cubes, marmalade and boiling water in a pan over a low heated, or by microwaving for 2 minutes, giving it a good stir to ensure it's completely dissolved.
Line a large flat dish or baking tray with grease proof paper and pour the jelly on. Once cooled, put in the fridge to set completely – ours took about an hour
Preheat the oven to 180oC/160oC
Cream the butter and sugar together until pale and creamy
Add the flour, eggs and cocoa powder and mix well to combine all of the ingredients
Stir in the cola – it fizzes a bit so make sure you have a big enough bowl
Divide the cake batter in to your paper cupcake cases. We used about a tablespoon per case and it was enough for 24 cakes
Cook in the oven for approx 20 minutes, then cool completely on a wire rack
Melt the chocolate gently, either in a microwave at 30 second intervals or over a saucepan of water then set aside
Remove the jelly from the fridge and using a very small pastry cutter or bottle lid, cut out rounds of jelly and put one on each cupcake. Jenny's recipe has the orange jelly going right to the edges, but the small rounds were JD's idea and work great too. If you want bigger rounds, you'll need to double the jelly ingredients back up
Top the jelly with the melted chocolate then place in the fridge to cool and set the chocolate completely
Everyone here loves the finished cakes – they're ridiculously tasty and the addition of Coke is a stroke of genius, creating a light sponge with an unusual flavour that makes the cakes all the more special.
And what does Jenny make of our efforts?
Oooh, Emily, they look good enough to eat! I am so glad you all liked them and that my method worked, as I made the recipe up as I went along!

Only adding a small amount of jelly is a good idea would make a yummy Jaffa surprise when you bit into each cake! I only wish I had one to try myself!
I think I can safely call this round of 'A Mummy Too cooks with' another success. If you'd like to take part, please read the details of how it works and then get in touch.