So Pancake Day is coming up and that means homes throughout the land will be whipping up a big bowl of batter and serving up towers of yummy, sweet crêpes. Woohoo!
Of course, the traditional topping for a pancake in the UK is good old lemon and sugar, but I think we can get a bit more adventurous than that and take the opportunity to introduce some fun fruit to our kids' (and our own) diets this Shrove Tuesday.
To get the kids enthused about a fruity breakfast, we let them take charge of making up the batter and then once we'd fried up the crêpes, we laid out bowls of fruit and let the kids' imaginations run wild.
This is Miss J's effort (with a little help) and a classic in our house. I'm pretty sure any plate of food can be made more fun by making a face with it.
JD tried out lines of fruit rolled up to create a long tubular pancake, which he then sliced up like pancake sushi.
And this one is mine, a crêpe filled with fresh strawberries and topped with a cheeky drizzle of chocolate sauce.
So good! And at the end of it all, not a bite remained. I'd call that a success.
More pancake recipes to try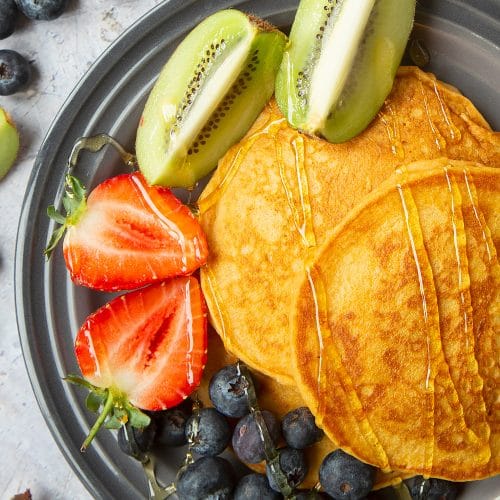 Get Your Kids to Eat Anything
My debut cookbook, Get Your Kids To Eat Anything is available now from all good bookshops!
It's so much more than a cookbook, it's a 5-Phase programme designed to take you through a meaningful, simple and sustainable journey to end fussy eating.


Since its release in March 2019 Get Your Kids To Eat Anything has been changing mealtimes in households across the country and has become an Amazon #1 best-seller.