This is honestly the best vegetarian mince chilli! It's rich, packed with veg and delicious. What's more, it's sure to satisfy even the meat-eaters in your family, thanks to the use of Quorn or soya mince.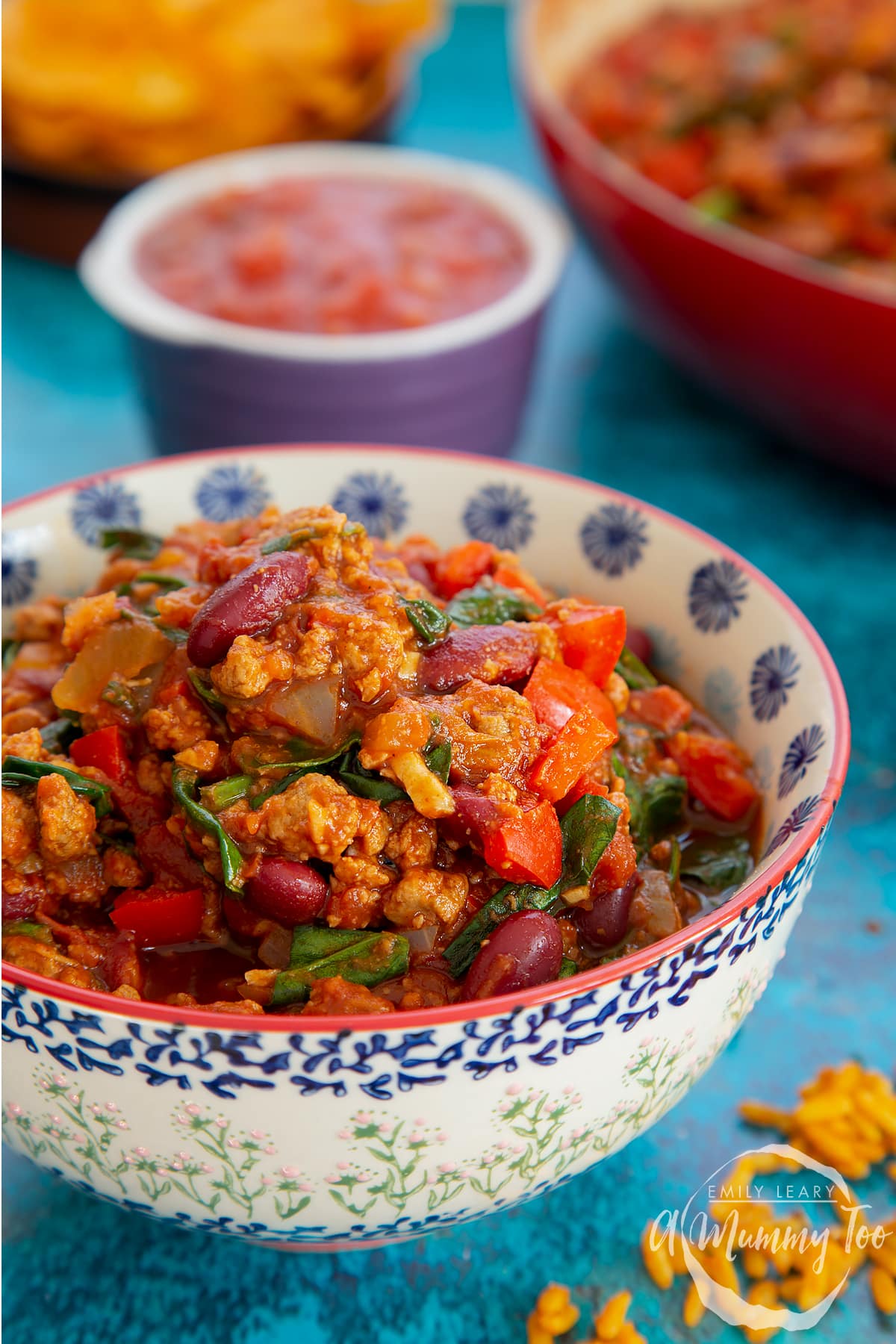 This is a meat-free recipe, of course - a vegetarian take on chilli con carne - and depending on your choice of mince, it can even be vegan.
I really love meat-free mince, but it does need to be prepared in the right way if it's to bring good flavour and texture to the final dish. Here, you'll fry your mince with chilli, onion and garlic for the perfect base. It's just yummy.
This particular chilli also has an extra layer of flavour thanks to the use of a perhaps surprising spice: cinnamon!
The use of cinnamon is not unusual in Mexican cooking, and in this recipe is bring an extra flavour dimension that is SO worthwhile. I love the warmth and slightly sweetness it brings to this spicy dinnertime favourite.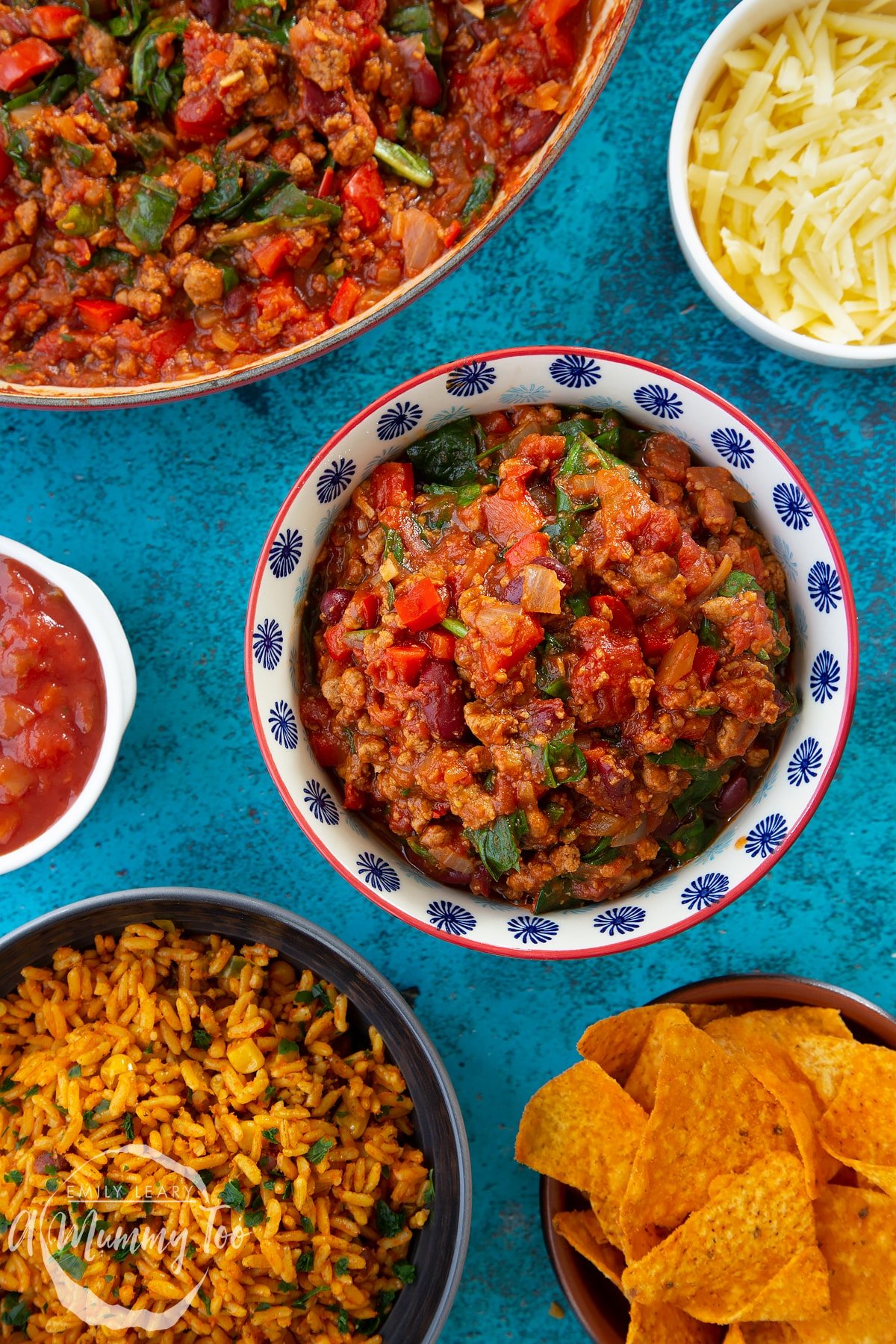 This vegetarian mince chilli is not only delicious, it also happens to be low in calories (less than 270kcals per bowl) and high in protein. Win win win!
Here's how to make it.
Ingredients
Equipment
Instructions
Warm the oil in a large pan over a medium heat.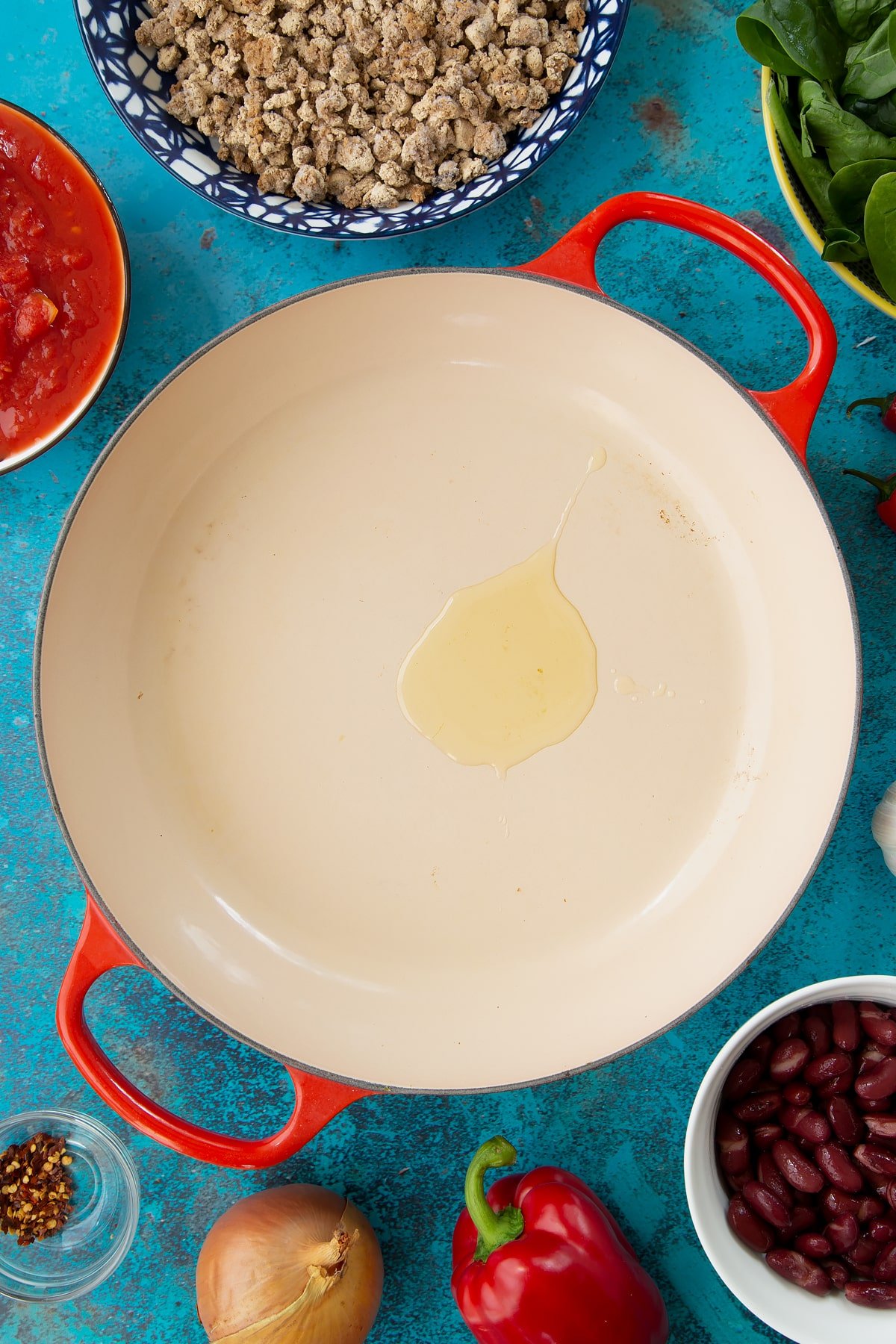 Add the onion.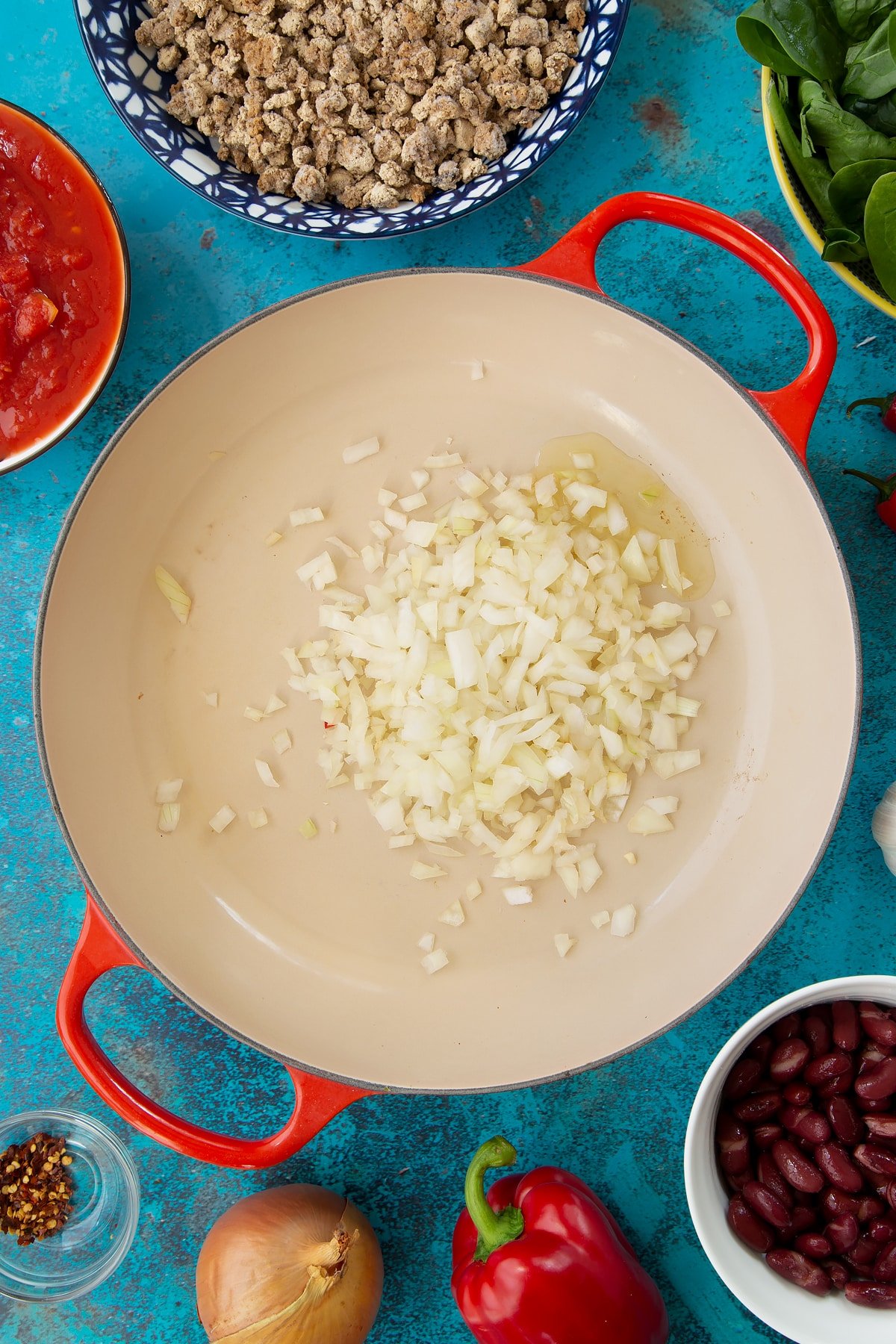 Fry for 2-3 minutes until just beginning to soften.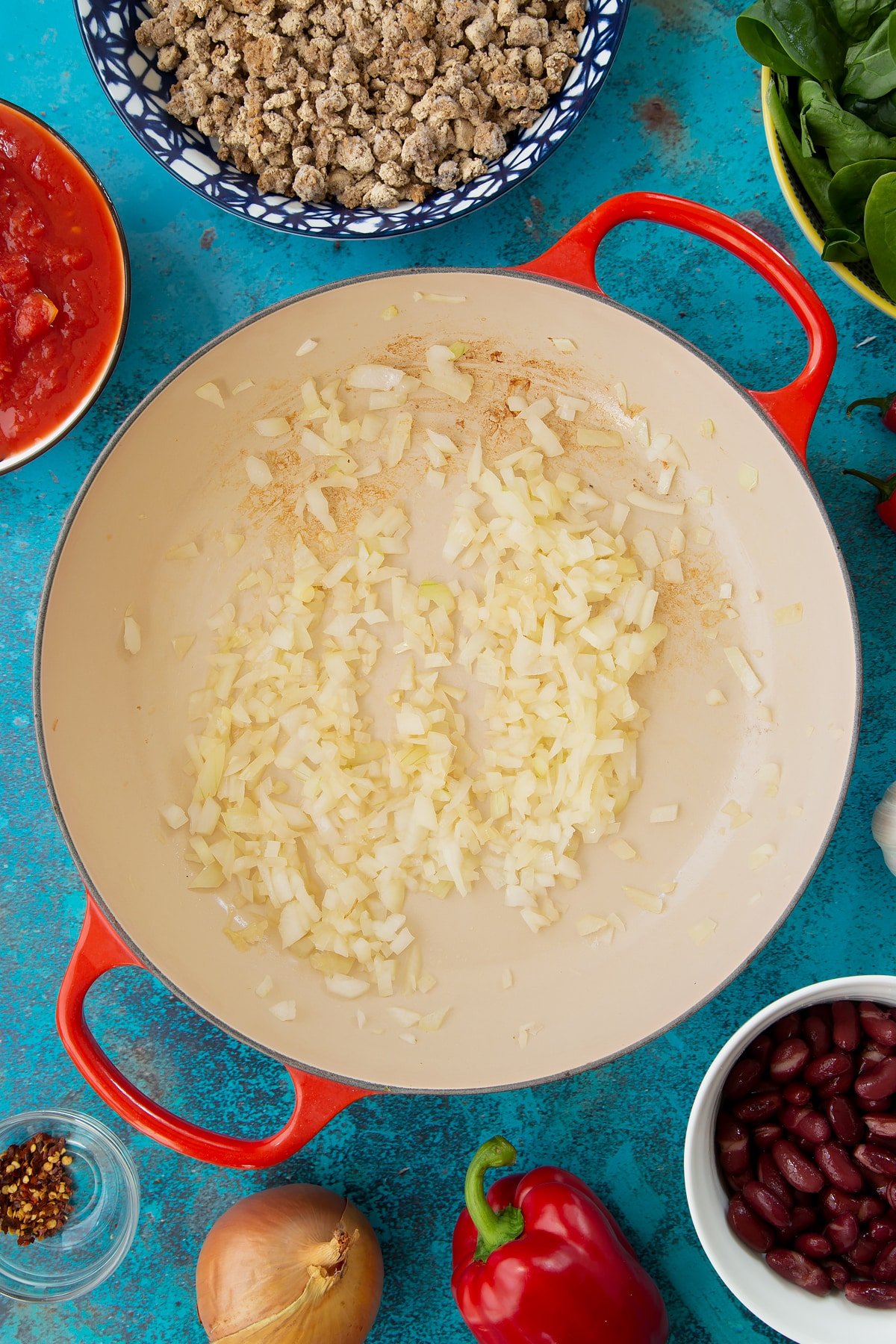 Add the peppers, garlic, fresh chilli, chilli flakes.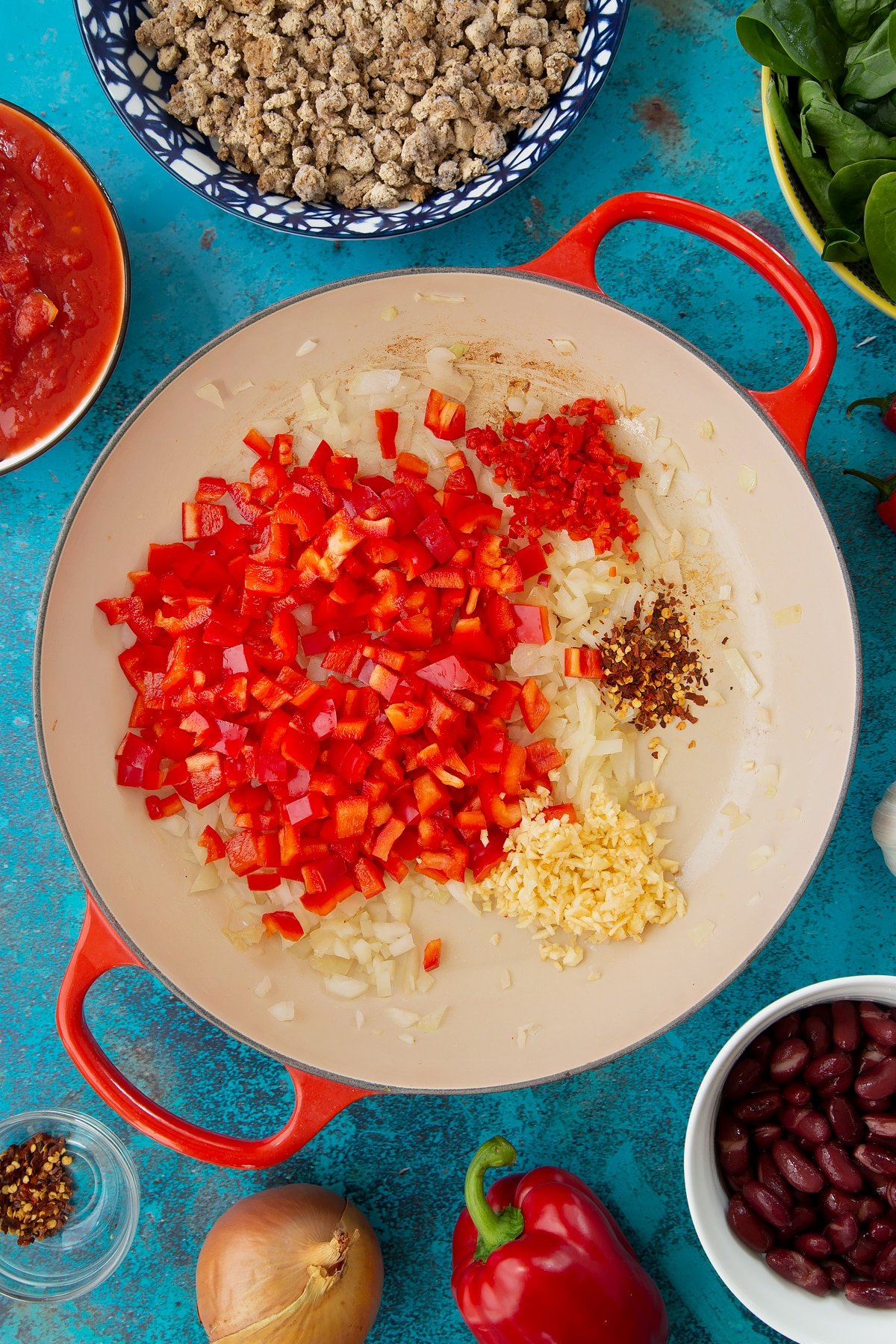 Fry for a further 2 minutes.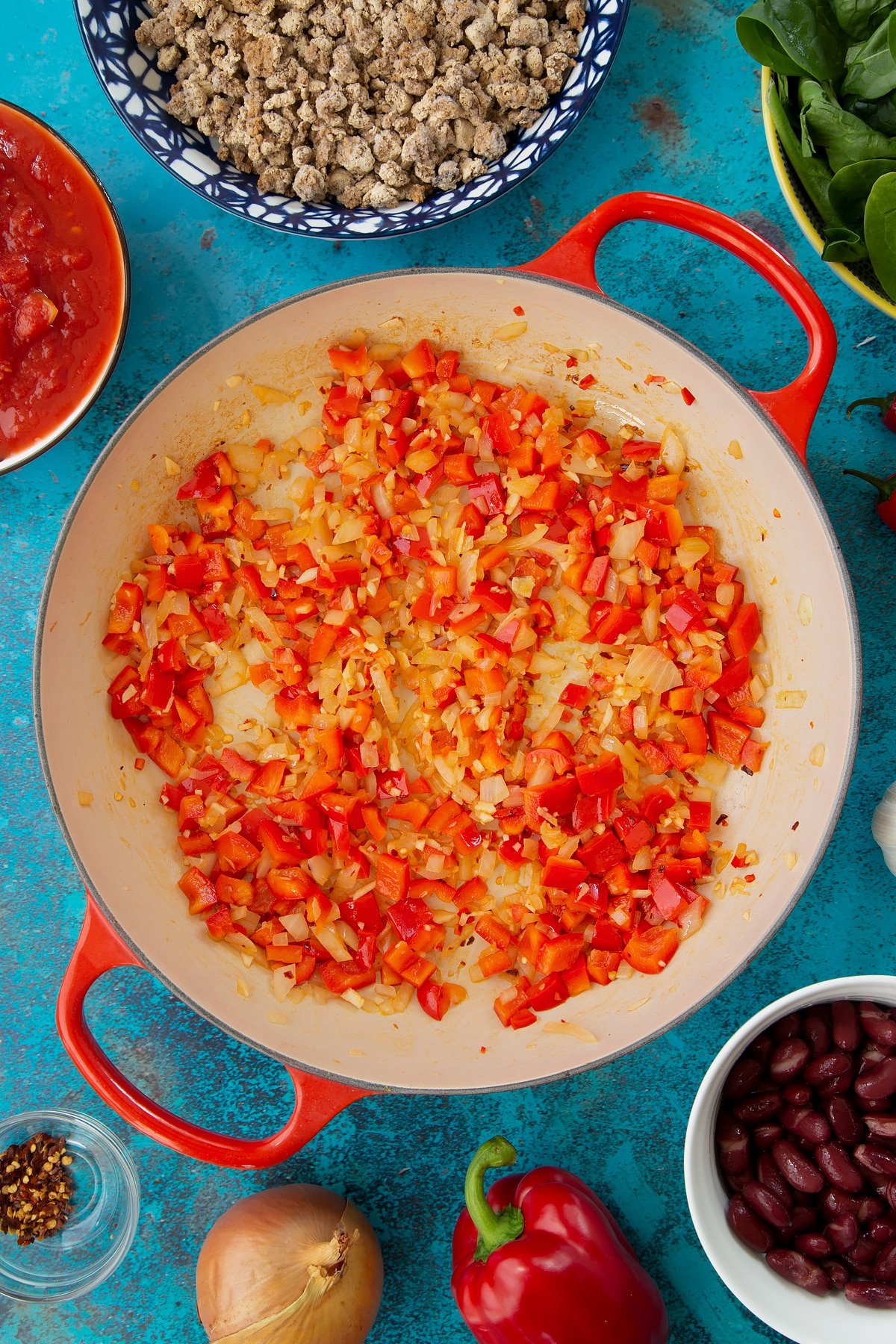 Add the mince.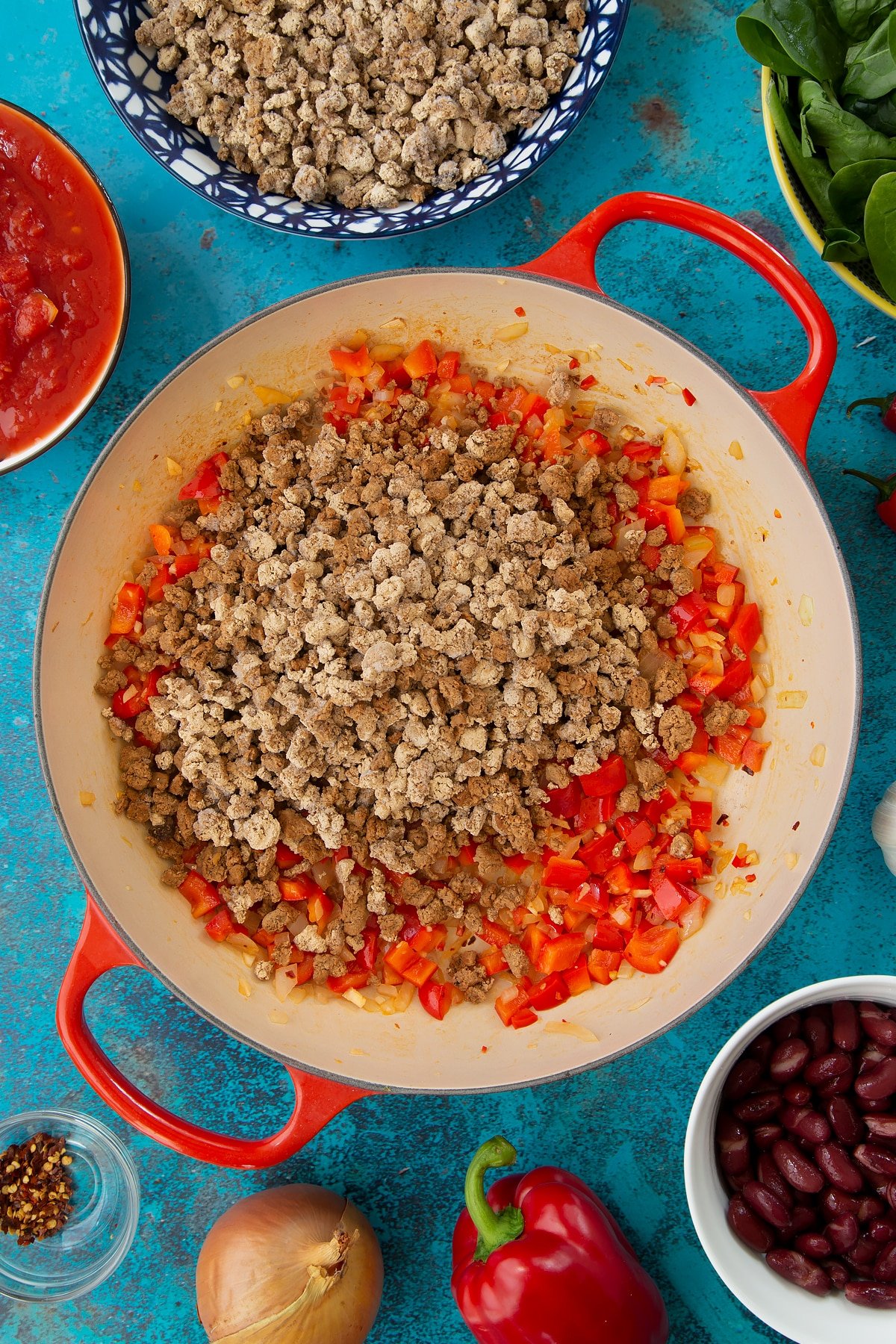 Fry for a few minutes until heated through. Give it a taste - it should have taken on the flavour of the veggies it's fried with. If not, fry a little longer.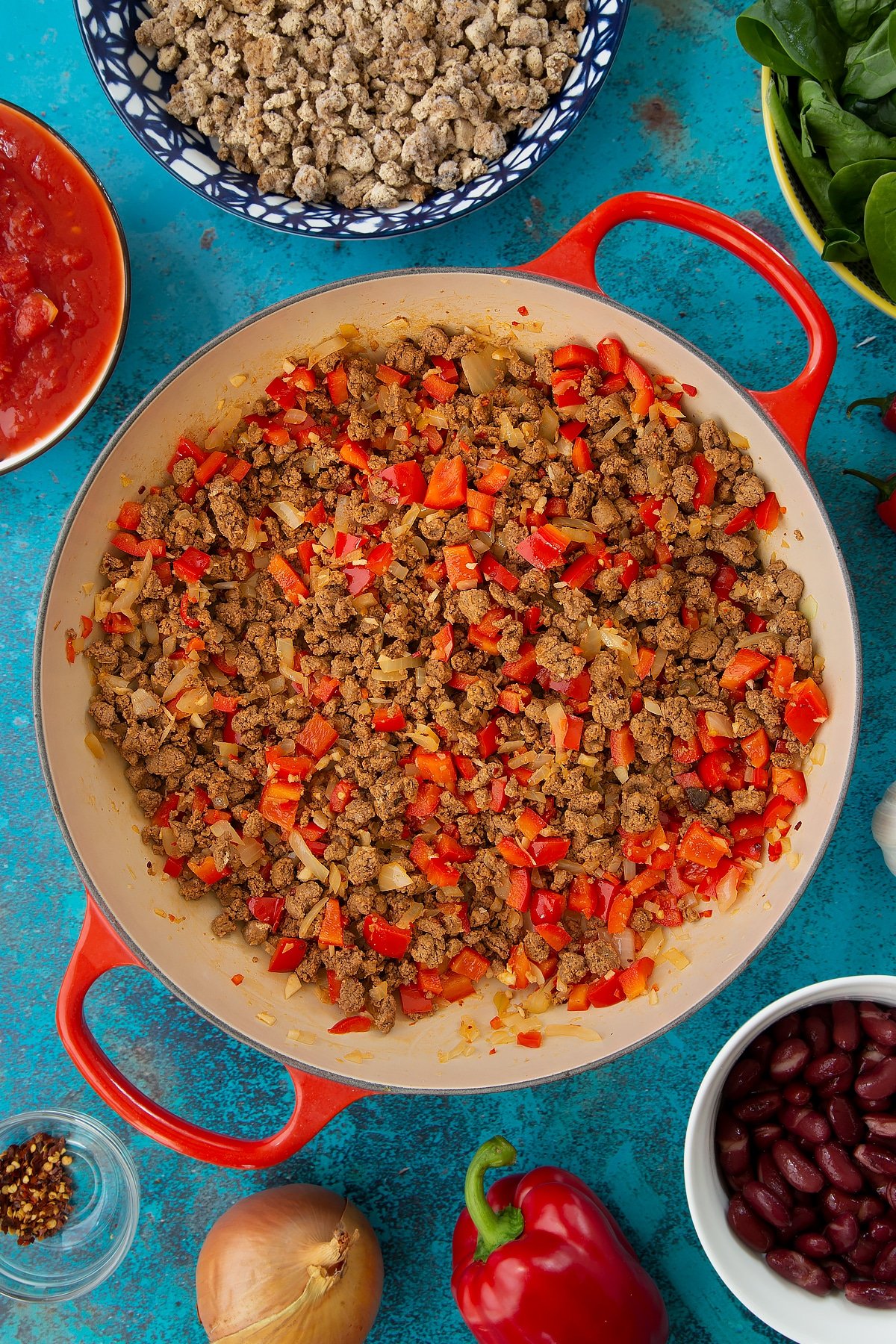 Add the kidney beans, gravy granules, chopped tomatoes, cinnamon and tomato puree.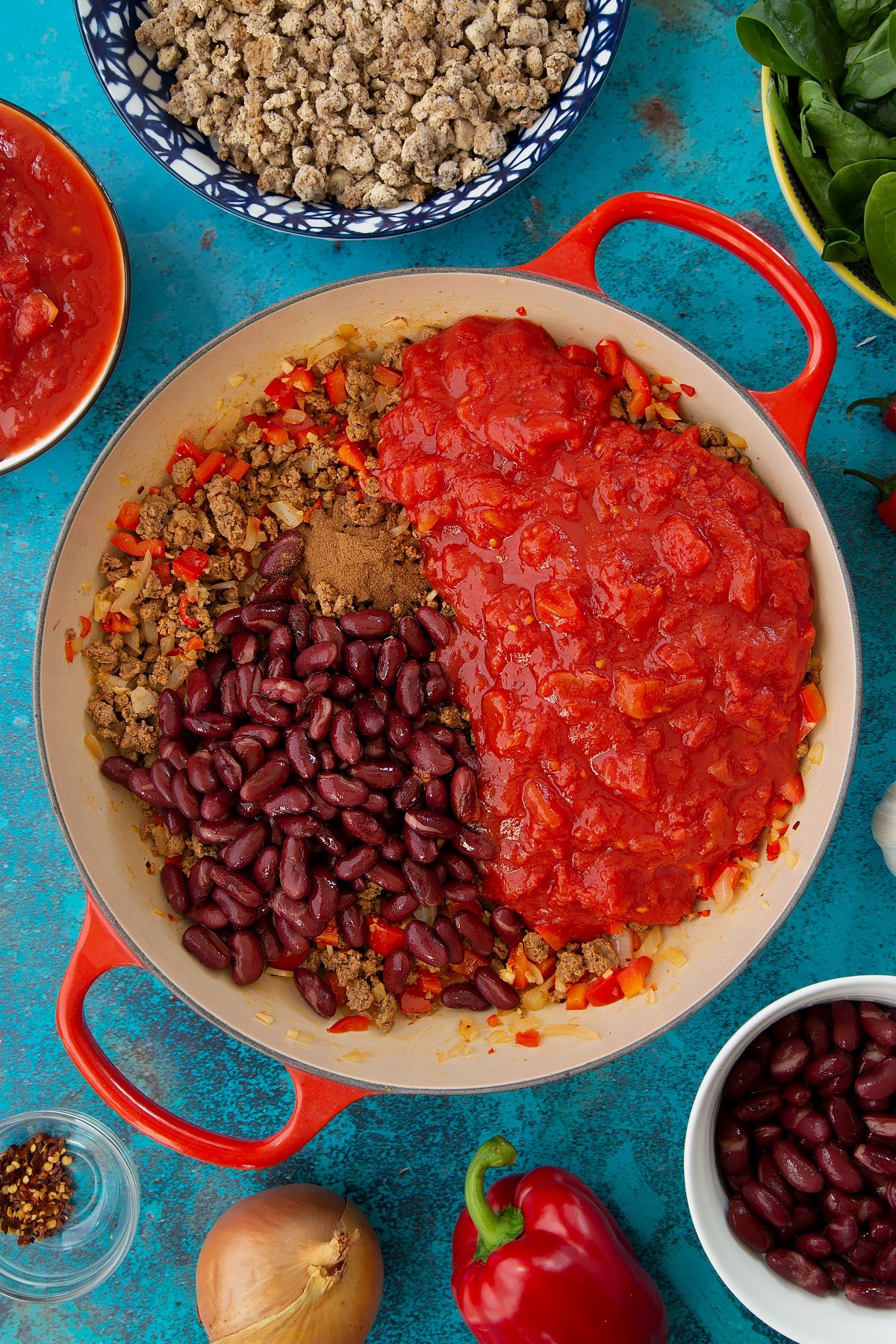 Add the stock.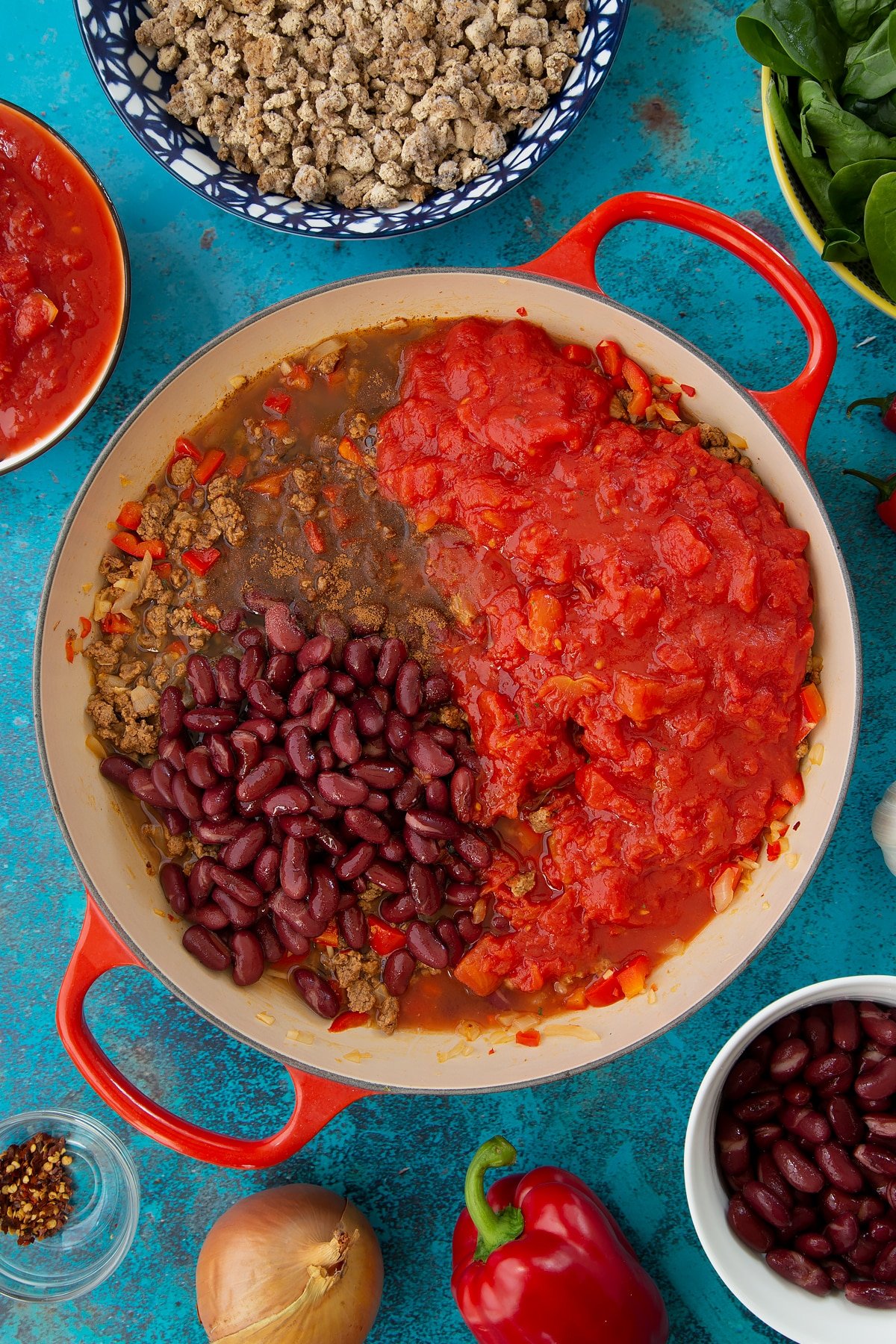 Mix well.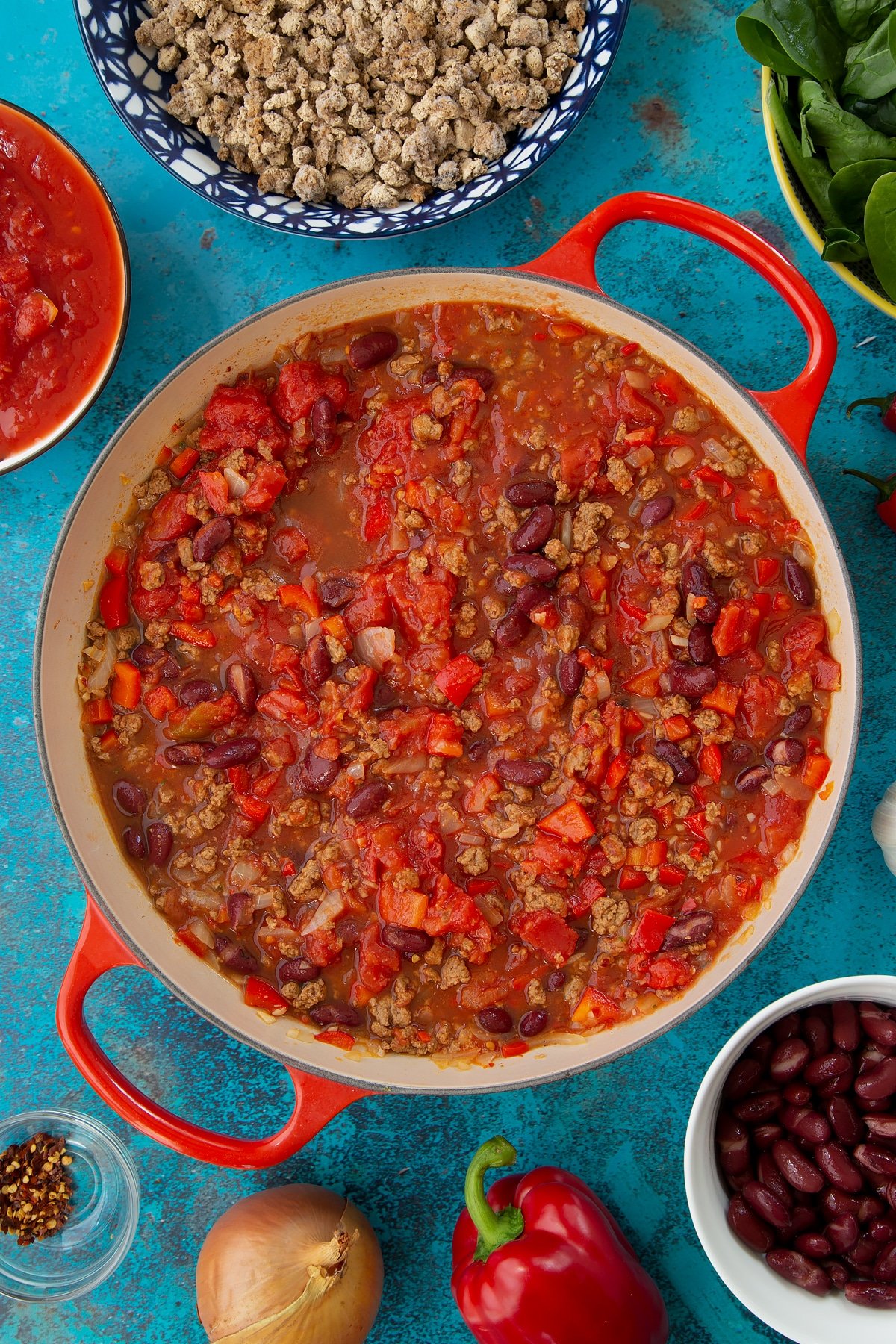 Bring almost to the boil, turn down to a very gentle simmer and stir in a pinch of salt and pepper.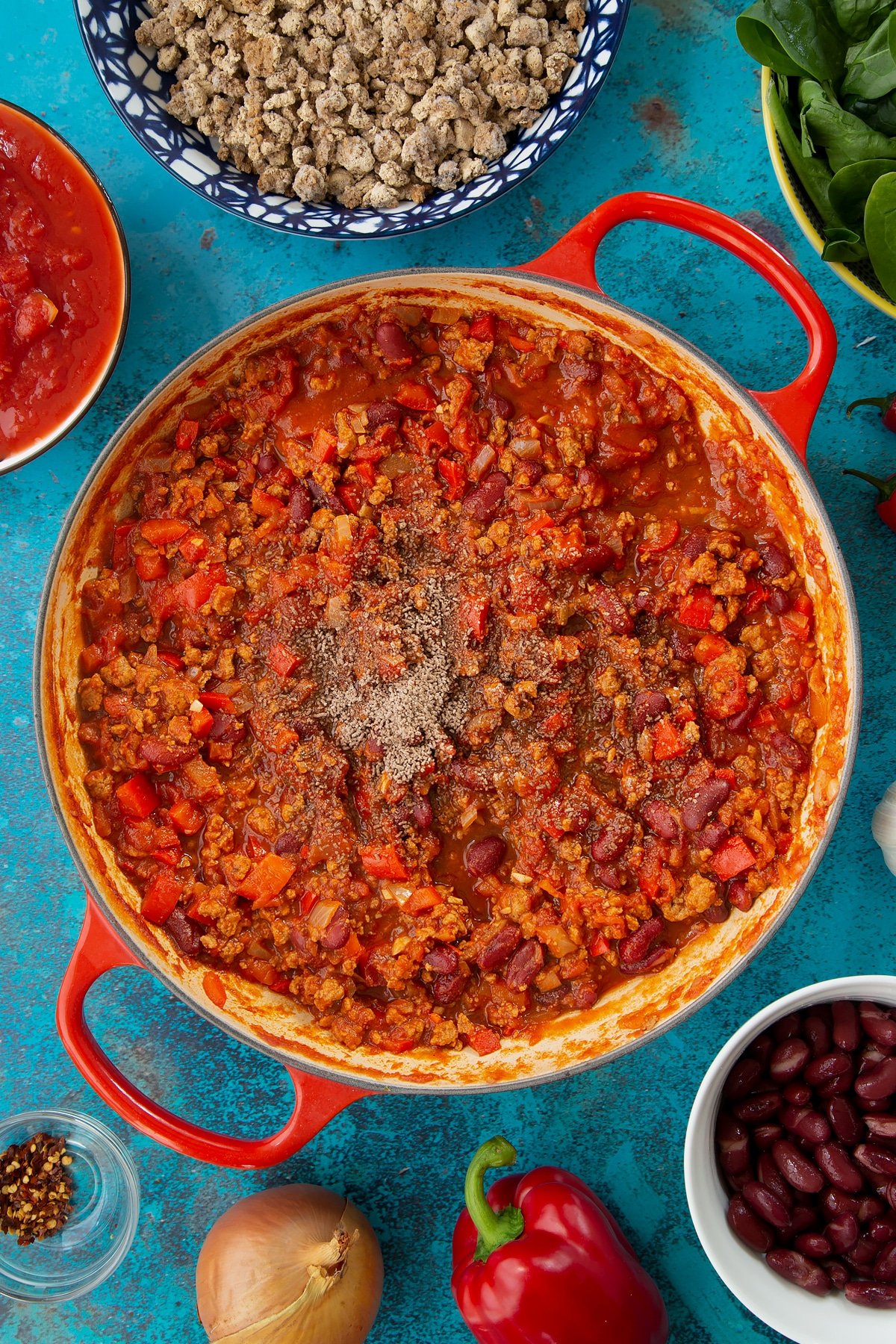 Allow to cook slowly for 20-30 minutes until thickened, rich and delicious.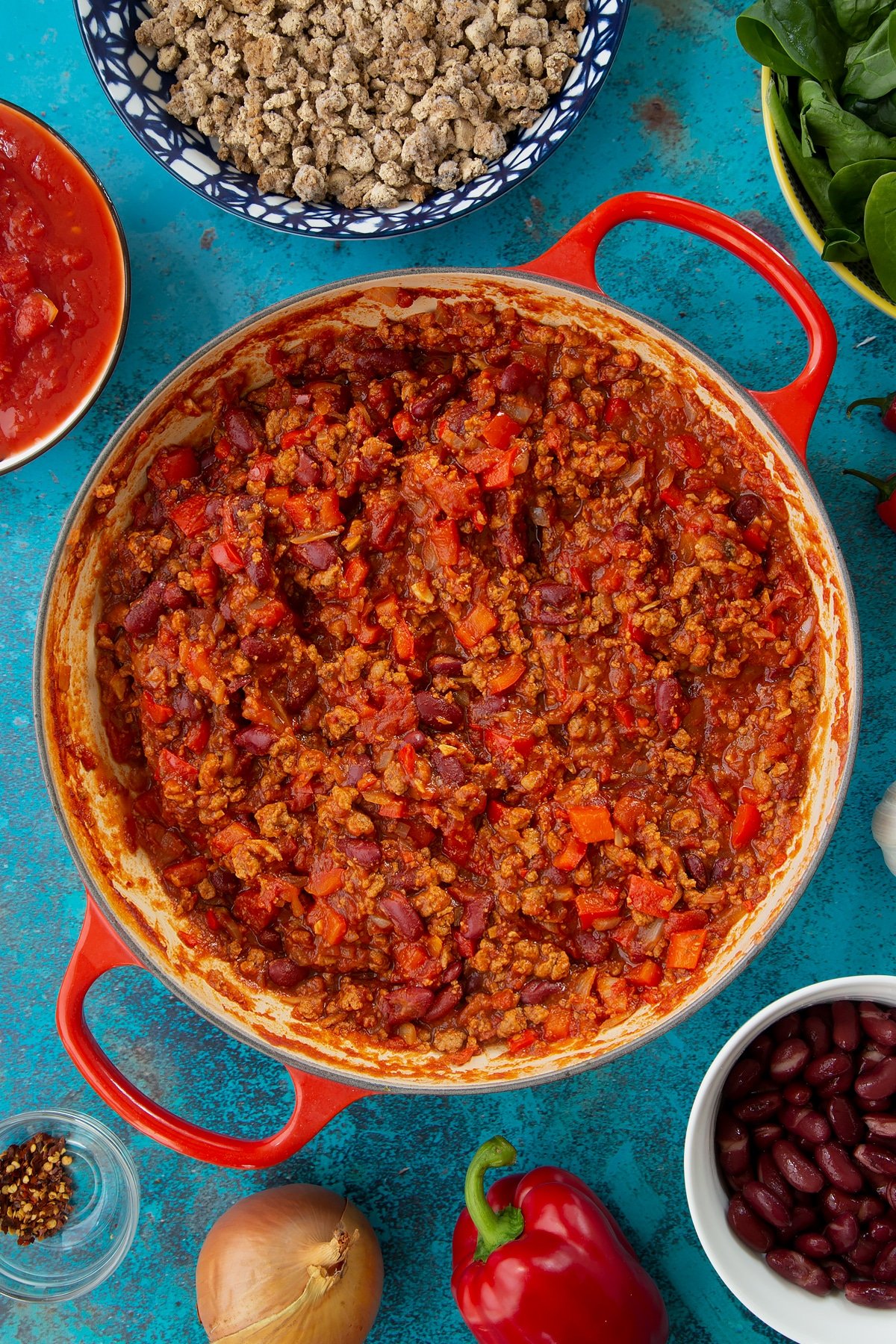 Add the spinach.
Pop on the lid and allow the spinach to wilt, then stir through.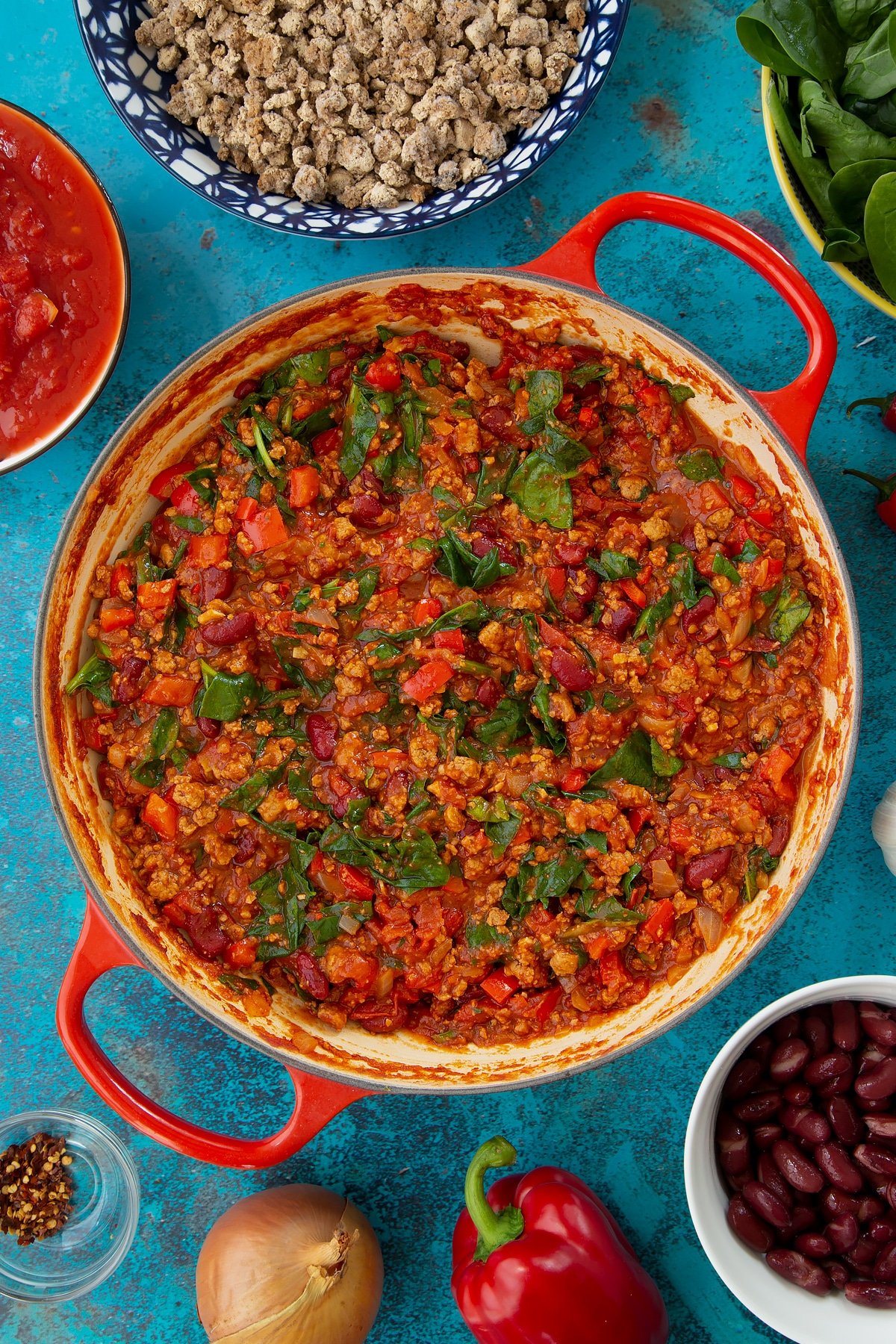 Season to taste and serve into bowls.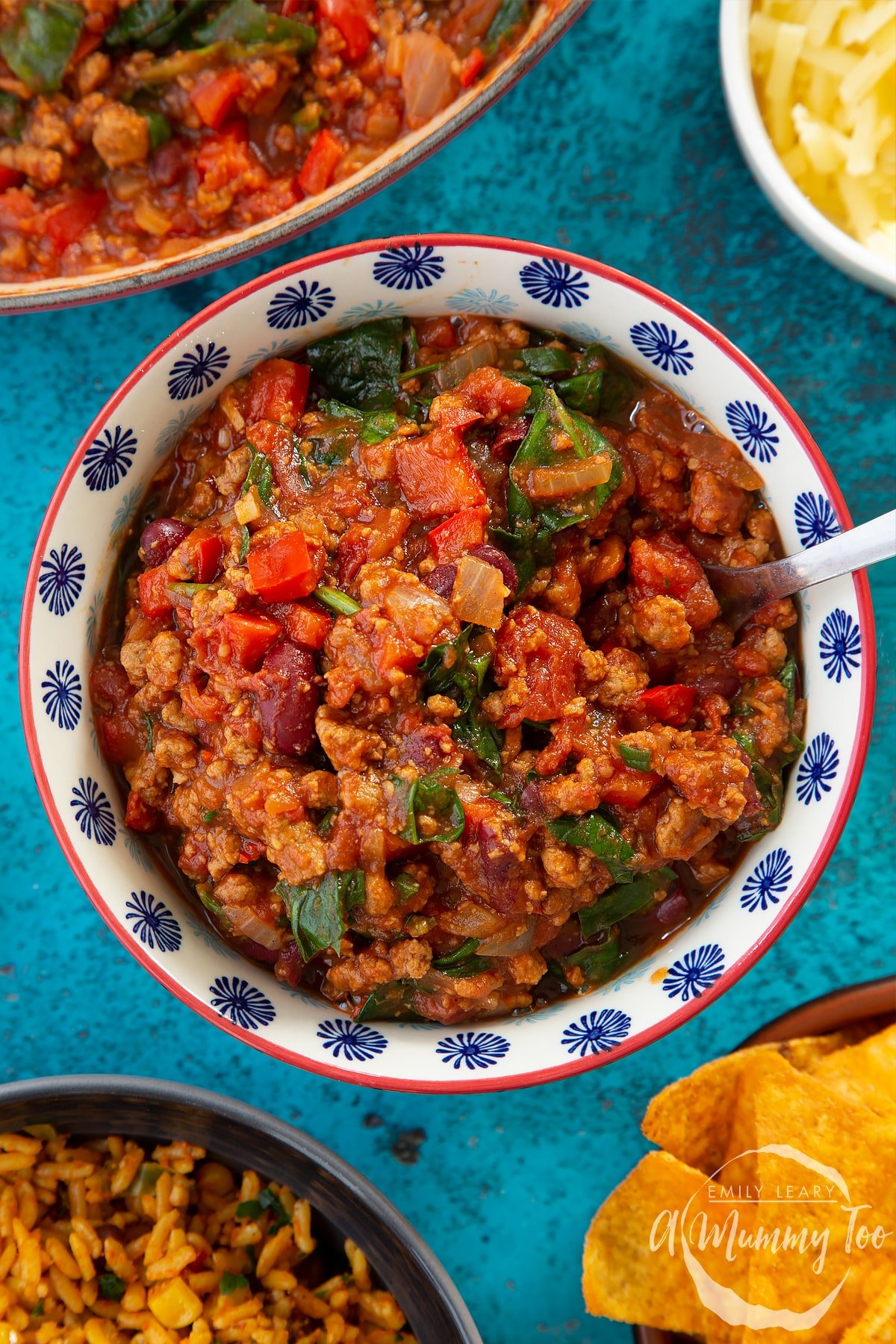 Dig in! It's best enjoyed piping hot.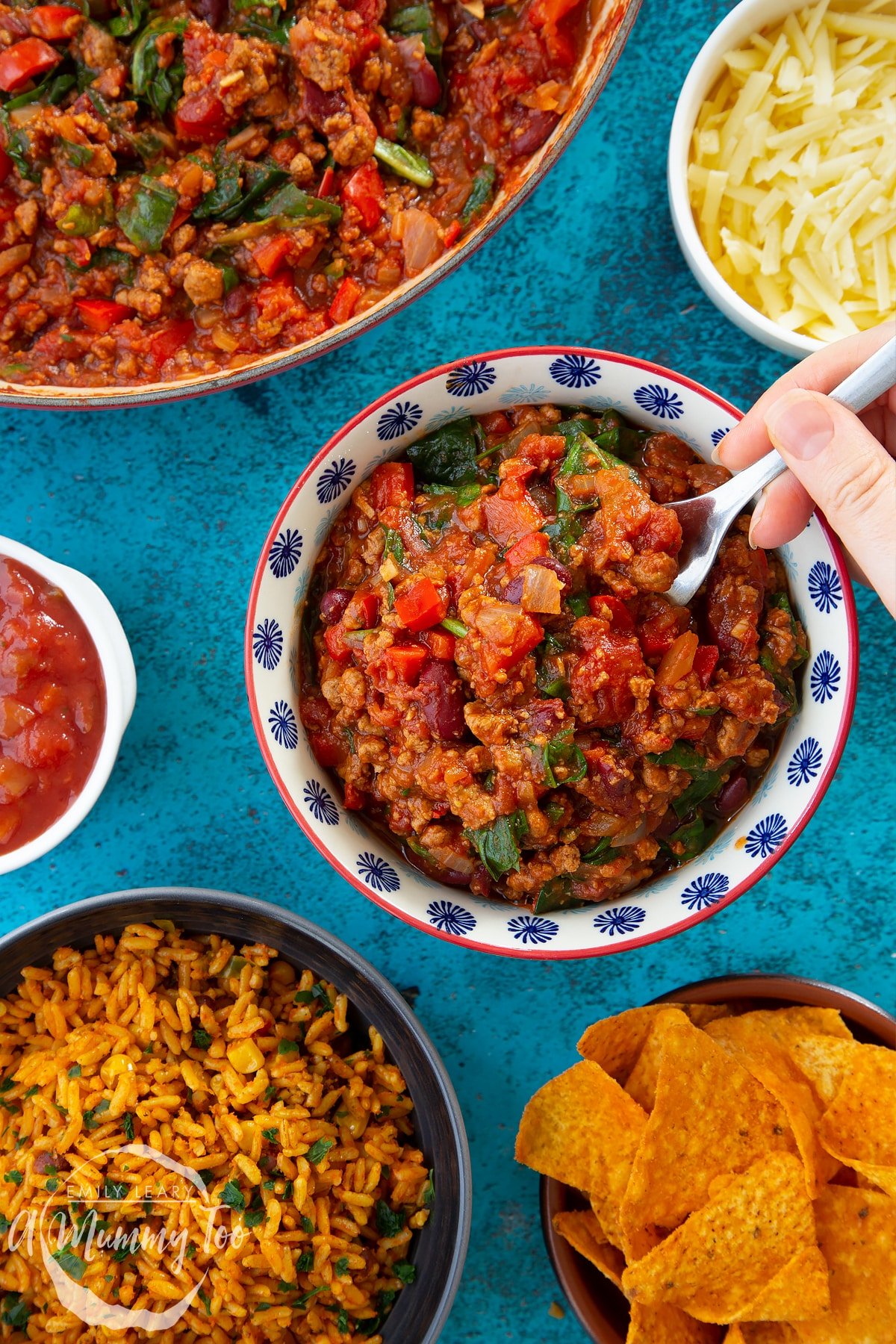 Pointers, tricks and troubleshooting tips for the perfect vegetarian mince chilli
Is vegetarian mince chilli easy to make?
Yes, this vegetarian chilli is easy to make. Gather all your ingredients and with just a bit of chopping, you're ready to go. The whole chilli is cooked in one pot.
Start by softening the onions, then add the peppers, garlic and chilli, followed by the mince. Once these have cooked for a few minutes and the mince has absorbed some flavour, add the tomatoes, kidney beans, stock, cinnamon, gravy granules and tomato puree.
Mix well and bring to the boil, season to taste and then turn down so the chilli can simmer for 20-30 minutes allowing the sauce to thicken and the flavours to really develop, yum.
When the sauce has reduced you can add the spinach to wilt for a few minutes and then a final stir before serving. This chilli is best served hot so get it into bowls and enjoy!
Will I need any special equipment to make vegetarian mince chilli?
This vegetarian mince chilli doesn't require any special equipment. You should be able to easily find everything in the average kitchen.
The main things you will need are: weighing scales and measuring spoons, a chopping board and a knife, and a large saucepan and wooden spoon.
The full list of suggested equipment can be found in the recipe card towards the bottom of this page.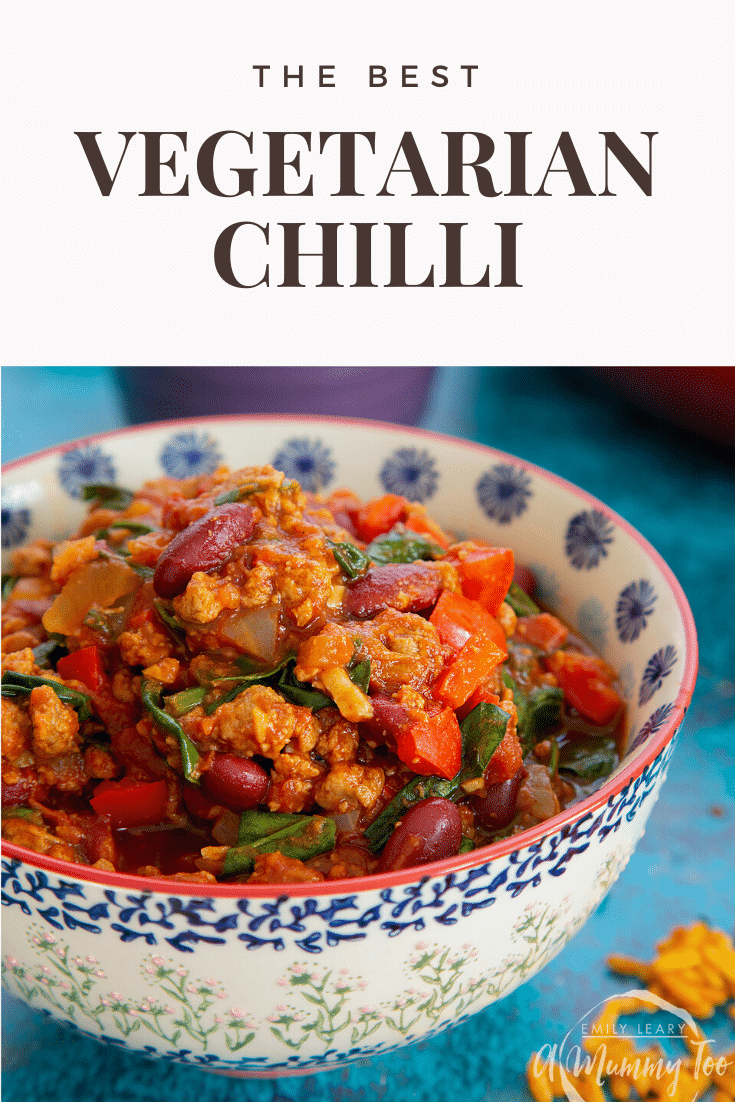 Where can I buy vegetarian mince?
There's a wide range of vegetarian mince available in most supermarkets and specialist health food stores these days. Most are made from soya or Quorn and they all work well in a recipe like this, so choose whichever brand you like best.
Most vegetarian mince can be found in the freezer section of the supermarket, and sometimes in the chilled aisles too. There is more choice than ever so if you're new to using vegetarian mince, give a few a try to see which one you like best. Some of the supermarkets' own-brand versions are really good.
Is this recipe suitable for vegans?
To make this recipe vegan, make sure you use mince that is suitable for vegans. That means that as well as checking that the mince is meat-free, you'll also need to ensure that is contains no animal-derived elements like egg, honey or milk.
You'll also need to make sure the vegetarian gravy granules and vegetable stock are suitable for vegans, as they can sometimes contain milk products.
The other ingredients in this recipe are all naturally vegan, but do check the labels on everything you use to be certain.
Is vegetarian mince chilli gluten-free?
Not all vegetarian mince is gluten-free. Quite a lot of vegetarian meat alternatives use gluten-based ingredients, so check the ingredients carefully.
When cooking for someone who needs to follow a gluten-free diet, it's important to check the label on every single ingredient used to ensure it's gluten-free. In this recipe, the mince, gravy granules and vegetable stock are the elements most likely to contain gluten.
Is vegetarian mince chilli keto-friendly?
This vegetarian mince chilli is not keto-friendly. This is because the vegetarian mince, kidney beans and tomatoes contribute a higher level of carbohydrate than is suitable for a ketogenic diet.
Is vegetarian mince chilli healthy?
Yes, this vegetarian mince chilli contains just 270 calories per bowl, is low in saturated fat and is a good source of protein.
If you're following a restricted calorie diet, you could try serving on its own, with a crunchy salad, or with some cauliflower rice instead of regular rice .
Is vegetarian mince chilli safe to eat while pregnant?
There is nothing in this vegetarian mince chilli that should pose a risk to a pregnant woman if the ingredients are in good condition and the dish is prepared and cooked hygienically and safely.
Advice varies in different countries, in the UK the NHS has a fantastic resource for foods to avoid whilst pregnant.
This website does not offer medical advice. Always consult your health professional if you have any concerns.
What goes well with vegetarian mince chilli?
There are so many delicious things that go well with vegetarian chilli. You could keep it simple with steamed rice, grated cheese and a little sour cream.
Alternatively, you could get creative and use your chilli as part a sharing platter of loaded nachos.
Make a base of plain nachos, then add your vegetarian mince chilli and grated cheese, grill for a few minutes to melt the cheese and then add sour cream, guacamole and chillies to serve.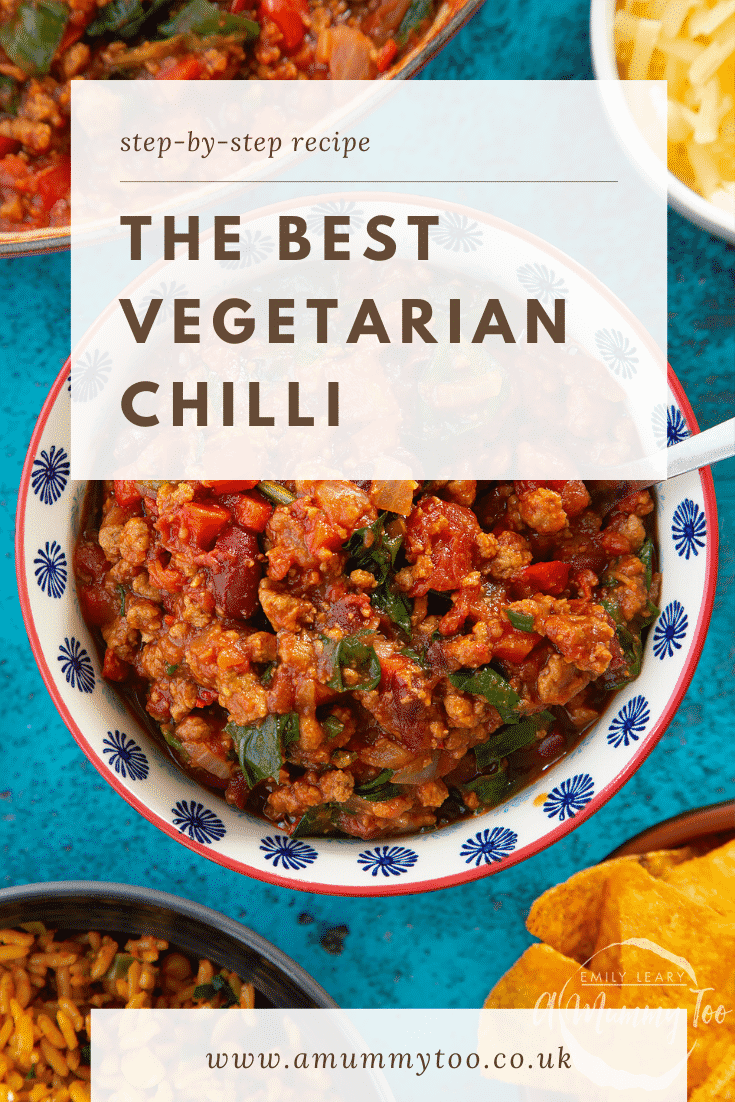 Can I make this recipe without vegetarian mince?
The vegetarian mince is one of the main elements of the dish so it shouldn't really be left out.
However, you could replace the mince with more beans, if you wish. I recommend using a mix of different beans so that your chilli doesn't become overloaded with kidney beans.
You could also try a mix of different chopped vegetables like mushrooms, courgettes and carrots. Add them in when you would the mince and fry off with the onions, chilli and garlic before adding the tomatoes and other ingredients.
Can I add extra vegetables to this recipe?
Yes, by all means, add more vegetables. I find finely chopped mushrooms work well in chilli but you can pretty much use whatever you have in the fridge.
Try to avoid overloading the pan with too extra vegetables as this can mean there isn't enough sauce to make it a decent chilli. You might need to add another tin of tomatoes if there isn't enough sauce. This recipe freezes well so don't worry if you make more than enough for one meal.
How should I store vegetarian mince chilli?
Once cooled, this vegetarian chilli transferred to suitable sealed container and placed in the fridge within 2 hours of cooking. It will keep in the fridge for up to 3 days.
Can I freeze vegetarian mince chilli?
Yes, you can freeze vegetarian mince chilli. Doublecheck your packet of vegetarian mince as some might not be suitable for freezing once cooked.
Your vegetarian chilli needs to cooled and placed in a sealed container in the fridge or freezer within 2 hours of making. If you decide within 3 days that you'd like to freeze it, you can go right ahead.
I like to divide my chilli into small freezer-safe pots or reusable freezer bags so that I can retrieve and defrost individual portions when I need them. Don't forgot to label the containers with what's inside and the date - its amazing how similar things can look once frozen!
You can keep your vegetarian chilli in the freezer for up to a month.
How long does vegetarian mince chilli keep?
This vegetarian chilli, if cooled and stored correctly will keep up to 3 days in the fridge, and for up to a month in the freezer.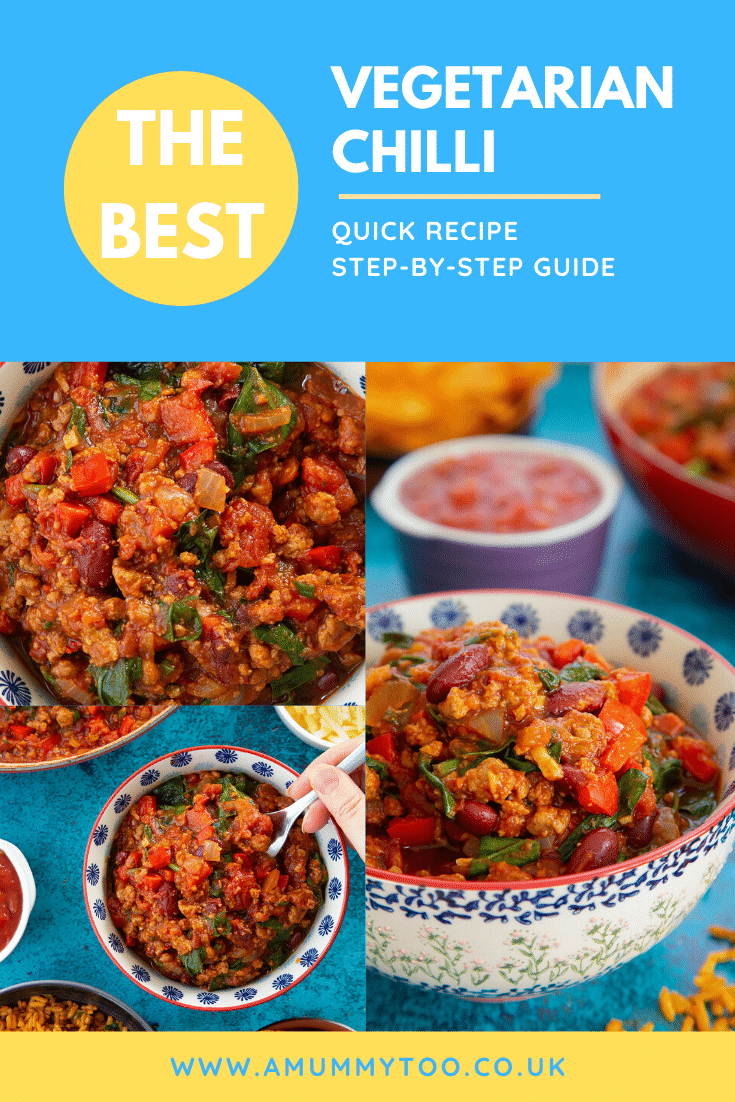 Can I leave vegetarian mince chilli out on the counter?
No, this dish must not be left out on the counter. Once the chilli has cooled, any leftovers should be well covered or transferred to a sealed container and placed in the fridge.
Can I make this vegetarian mince chilli ahead?
This vegetarian chilli reheats well, so you could make it the day before and chill it in the fridge until you're ready to heat and serve.
When I make this chilli, I sometimes make a double batch so that I can freeze enough for a full family meal to have another day. Its' so helpful to have some meals in the freezer for nights when you just need to get something quickly on the table.
What is the best way to reheat vegetarian mince chilli?
If your chilli is frozen, it's best to get out what you need the night before and place it in the refrigerator to defrost overnight. However, if you're in a hurry, you can use the defrost setting on your microwave to gently defrost your chilli before cooking.
Vegetarian mince chilli can be reheated in the microwave or on the hob.
When reheating in the microwave, make sure to use a microwave safe dish. Cover it but don't seal it - that way you'll stop any spits of splashes from escaping, but you won't trap too much steam. Heat on full for 2 minutes then give it a stir and heat in further 1 minute blasts stirring after each burst until the chilli is piping hot all the way through.
If you're reheating on the hob, pop your chilli into a saucepan over a low to medium heat and heat for about 5-10 minutes. Stir regularly to prevent it from sticking or burning. You might need to add a small amount of water if the sauce is looking too thick.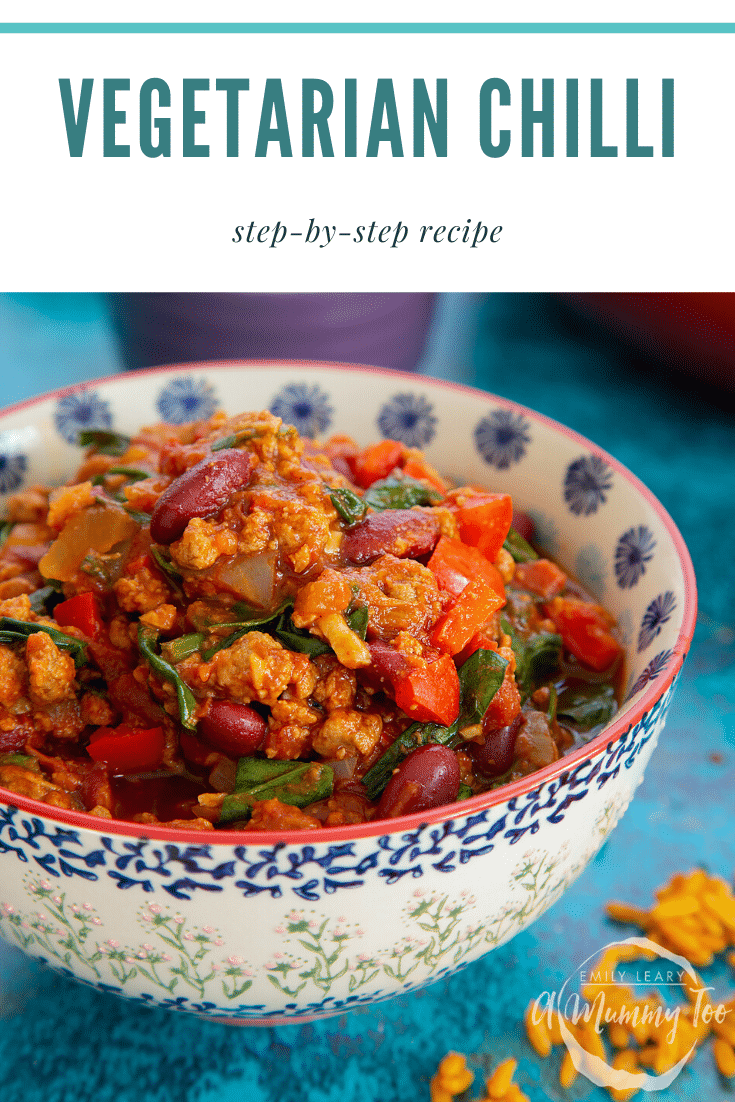 Can I make vegetarian mince chilli in a different quantity?
Yes, it's super simple to make more or less of this vegetarian chilli. All you need to do is scroll down to the bottom of this page where you will find the recipe card.
On the recipe card is the amount of servings, now click or hover over that and a little slider will appear, you can adjust this to get the number of servings you need.
Don't forget that if you're making more, you will need a bigger saucepan or even multiple pans!
How can I make sure my vegetarian mince chilli is perfectly cooked?
When making something like this vegetarian mince chilli, I like to get all my ingredients weighed out and prepared before I start cooking. That way, I know I have everything to hand and it can go straight into the pan when the recipe calls for it.
Take your time to soften the onions at the start, and make sure to allow the mince time to not only defrost if frozen but also absorb the flavours from the chillies, onion, garlic and peppers.
It's helpful to have little tastes as you go. Try a little of the onions to make sure they're soft and sweet. Try a little of the mince when it's first heated through, then again a few minutes later when it's fried with the veggies. You'll be able to notice the difference and how it's taken on the flavours in the pan, so you'll be sure when it's time to add the rest of the ingredients.
Once everything is in the pan, make sure to give it plenty of time to simmer so that the rich deep flavours have time to develop fully. Stirring occasionally can also help make sure the sauce doesn't stick to the bottom of the pan.
Why did my vegetarian mince chilli turn out dry?
There is quite a bit of liquid in this recipe so your chilli shouldn't turn out dry. Make sure to add the stock and don't leave the pan simmering for hours as this will cause all the liquid to evaporate. If you feel like you'd prefer a saucier chilli, you can of course add more stock or tomatoes and a little more of the gravy granules.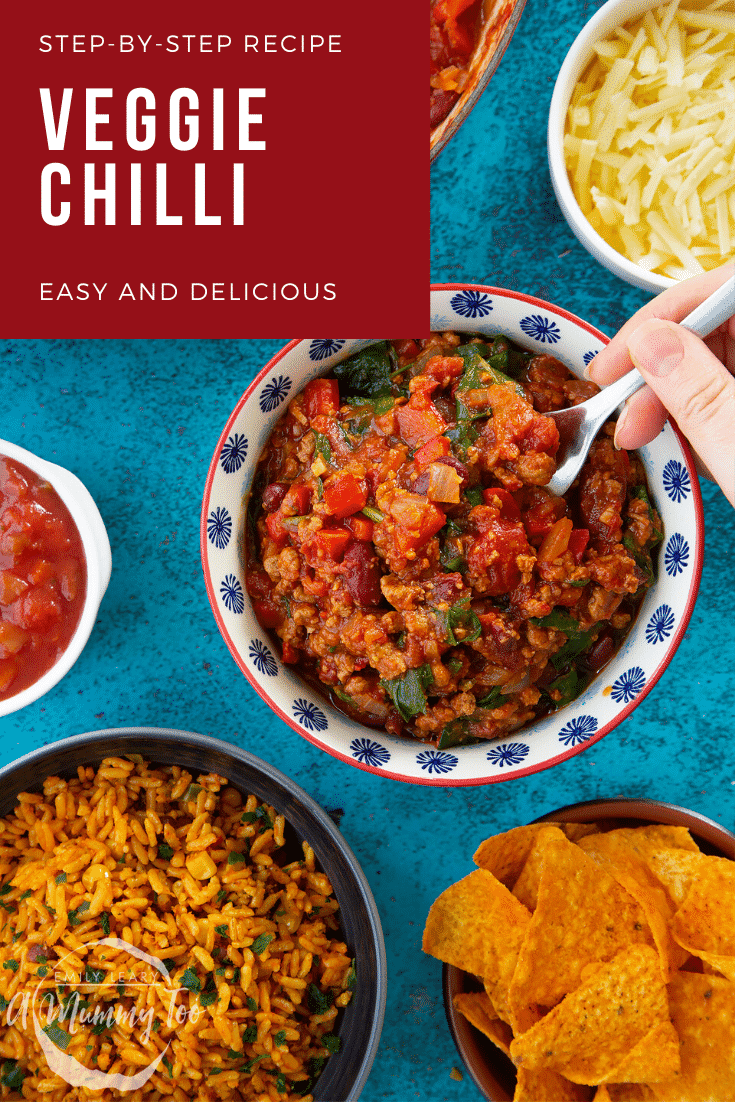 Why did my vegetarian mince chilli turn out watery?
If you chilli was watery, it could be because too much stock was added, the chilli wasn't left to simmer long enough or the heat was too low so the sauce wasn't simmering.
For a good simmer, you want gentle popping bubbles every now and then on the surface of the sauce. If the sauce is very watery you can leave it to simmer for longer until it reaches the consistency you like.
Remember to stir every 10 minutes or so to make sure the sauce isn't sticking to the bottom of the pan.
If your sauce needs a little thickening boost, you can stir in some extra gravy granules.
Why didn't my vegetarian mince chilli taste spicy?
Fresh chillies can vary quite a lot in their heat. If you're not familiar with the variety your supermarket has delivered, taste a tiny bit when you're chopping them up to give you an idea of how potent they are.
Once you start cooking, add in the recommended amount unless you're sure straight off that you'll need more. Once you've added the mince and fried it off, have another taste and add more chillies if it's not spicy enough for you.
Remember, the chillies will continue to release more flavour as they cook and while you can always add, you can't take away, so put in a little at a time and keep tasting throughout the process until you're happy with it.
How can I add/change the flavours in this vegetarian mince chilli?
To add an extra dimension to your chilli you could try adding a tiny bit of 70% dark chocolate at the end at the same time as you add the spinach. It only needs a small piece, about half a square. This adds more richness to the dish and really compliments the sweet, spicy and savoury combinations already happening with the chillies and cinnamon.
What is the origin of chilli con carne?
The exact origins of chilli con carne are unclear - as with a lot of dishes, the exact nature of chilli has changed and developed over time as people move around.
Chilli con carne's origin story probably starts somewhere between Mexico and Texas with definite Spanish influences thrown in to make this comforting, warming bowl of yumminess.
Chilli con carne literally translates from Spanish to English as to "chilli with meat" and it's usually a rich stew of chillies, tomatoes, beans and beed mince.
Of course, I've gone off the traditional track by using vegetarian mince, but I've kept those great flavours.
Print this vegetarian mince chilli recipe
Pin this vegetarian mince chilli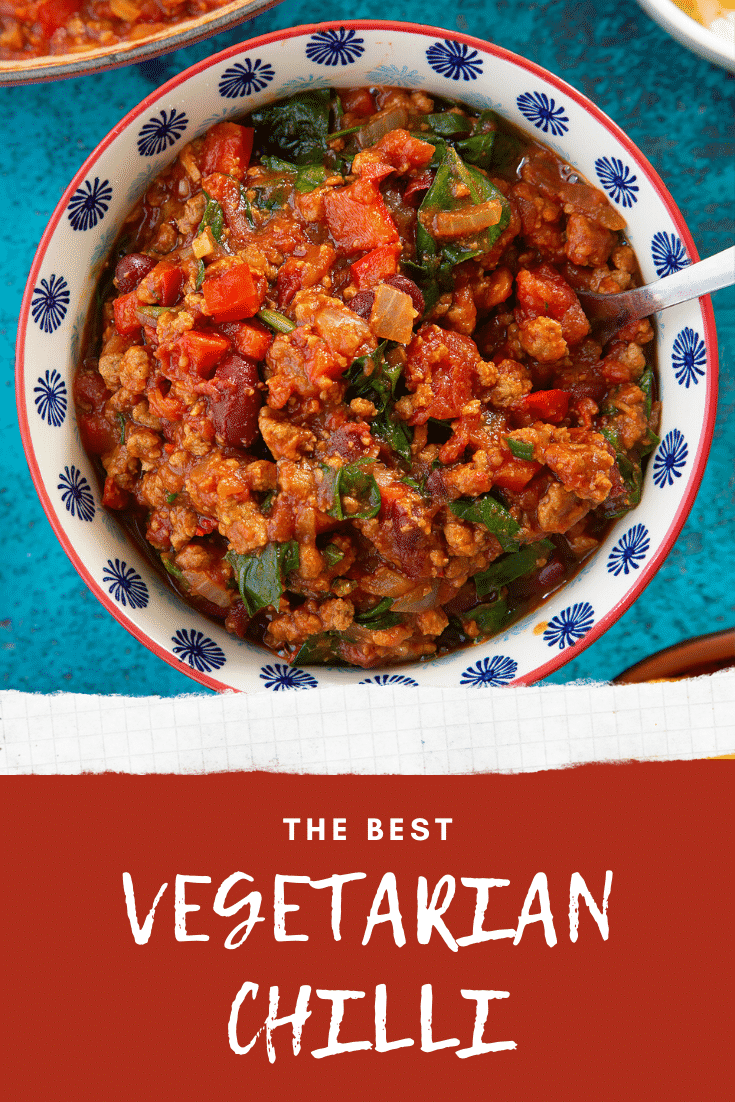 More chilli recipes to try
Get Your Kids to Eat Anything
My debut cookbook, Get Your Kids To Eat Anything is available now from all good bookshops!