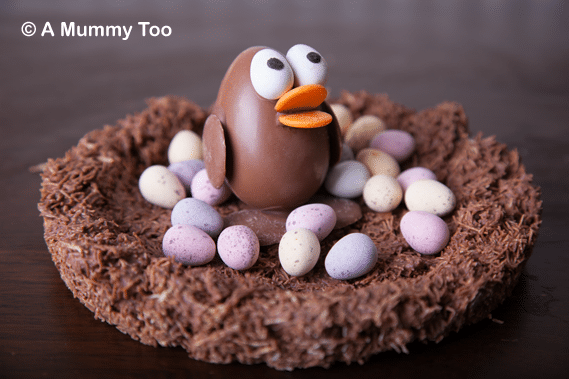 Now he just needs a worm! – me
For Easter this year, we've been practicing modifying the Cadbury's Creme Egg chicks we usually make to produce this cheeky little fellow. It makes for a great family craft activity and the chick, the eggs and the nest are all completely edible. Here's what to do.
Ingredients
4 giant chocolate buttons
1 Kinder Egg
200g dark chocolate
4 Shredded Wheat biscuits
2 chocolate orange buttons
Pack of Cadbury's Mini Eggs
Black writing icing pen
A little butter for greasing
Instructions
Make the nest
Melt the chocolate
In a large bowl, crush the shredded wheat and then stir in the chocolate, keeping back about a 1/2 tbsp to use with the chick
Grease a sandwich tin and press the shredded wheat mix into it, so it's slightly higher around the sides, then place in the fridge to set
Make the chick
Turn an empty cereal bowl upside down
Place two chocolate buttons side by side on the base and dab a little melted chocolate in the middle between the two
Unwrap the Kinder Egg and sit it on top, widest end at the bottom – we used a cold stick of butter to lean the egg again while it set
Dip the bottom edge of another button into the chocolate and stick on the side of the chick to make a wing
Repeat to make the other wing
Trim a little off the edge of an orange button, dip the trimmed edge in chocolate and stick on to make one half of the beak
Repeat to make the other half of the beak
Put a generous blob of chocolate above the beak and stick on two white Mini Eggs, pointy end up, to form the eyes
Use the black icing pen to draw on the pupils
Bring it all together
Get your nest out of the fridge and run a knife around the edges
Turn upside to tip out – if it's stuck, run the hot tap over the base of the tin for a couple of seconds and it should drop out into your hand
To release the chick from the bowl, hold it carefully supporting the body and feet and turn the bowl upside down, then run a little hot water into the bowl – the chick should release almost immediately
Put the nest on a clean surface, fill with the remaining Mini Eggs and stand the chick in the middle
You're done!
NOTE: this is so much easier if you have a cool room to work in and the chocolate you use as 'glue' is almost setting, not hot and runny.
I do hope you try this – it's super easy and the result is really effective.