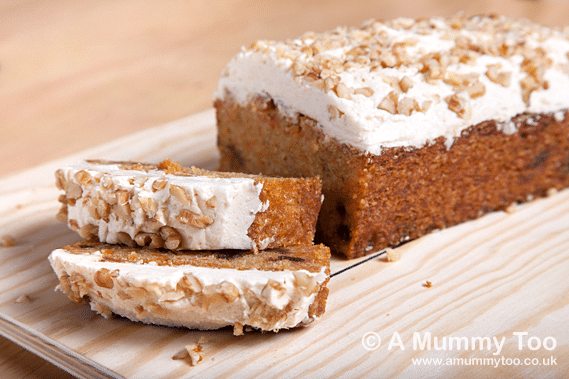 Well done mummy, you made a good cake – JD, 5
It can be incredible challenging to bake without gluten, eggs and dairy, but when you throw fruit or veg into the mix, it seems to become easier.
This week, inspired once again by Great British Bake Off, I made a gluten-free, dairy-free, egg-free, vegan-friendly carrot and date loaf with cinnamon walnut frosting.
It's crunchy and chewy on the outside, soft and moist on the inside with just a hint of spice. Delicious. I'm really pleased with the result.
Here's what to do to make your own.
Ingredients
For the sponge:
175g Pure Sunflower Spread (or any vegan margarine)
175g demerara sugar
3 heaped tsp Orgran No Egg natural egg replacer
6 tbsp water
175g gluten free plain flour
4 tsp gluten free baking powder (we used Doves Farm)
1/2 tsp mixed spice
150g carrots
2 tsp pineapple juice
75g dates
For the topping
70g Pure Sunflower Spread (or any vegan margarine)
1/4 tsp cinnamon
1/2 tbsp – 1 1/2 tbsp soya milk
250g icing sugar (powdered sugar)
25g walnuts
Instructions
Preheat the oven to 180C fan assisted
Beat together the spread and demerara sugar until well combined
Mix the egg replacer with the water until smooth, then beat into the butter mix
Sift in the flour, baking powder and mixed spice and fold through
Grate the carrot and roughly chop the dates, then fold through the batter with the pineapple juice
Transfer to a lined loaf tin
Bake for 1 hour, then transfer to a wire rack to cool completely
To make the frosting, beat together the spread with the sifted icing sugar, cinnamon and a little of the the soya milk – add the rest of the soya milk a little at a time if the frosting feels to stiff
When the loaf is completely cool, spread the frosting on top evenly
Chop the nuts roughly and sprinkle evenly over the frosting, patting gently to secure
Eat!
Disclosure: we were sent some Orgran No Egg natural egg replacer (£2.69 for 200g, available in Holland & Barrett, Booth's NI, Ocado, Amazon, Naturally Good Food and independent health food stores) to trial. No payment was received for this post. All posts are 100% honest.