The answer to this question is... kind of! Can you freeze store-bought chicken salad? Probably not.
However, you can freeze some types of chicken salad. There are just a few factors you may want to consider before whipping up a batch.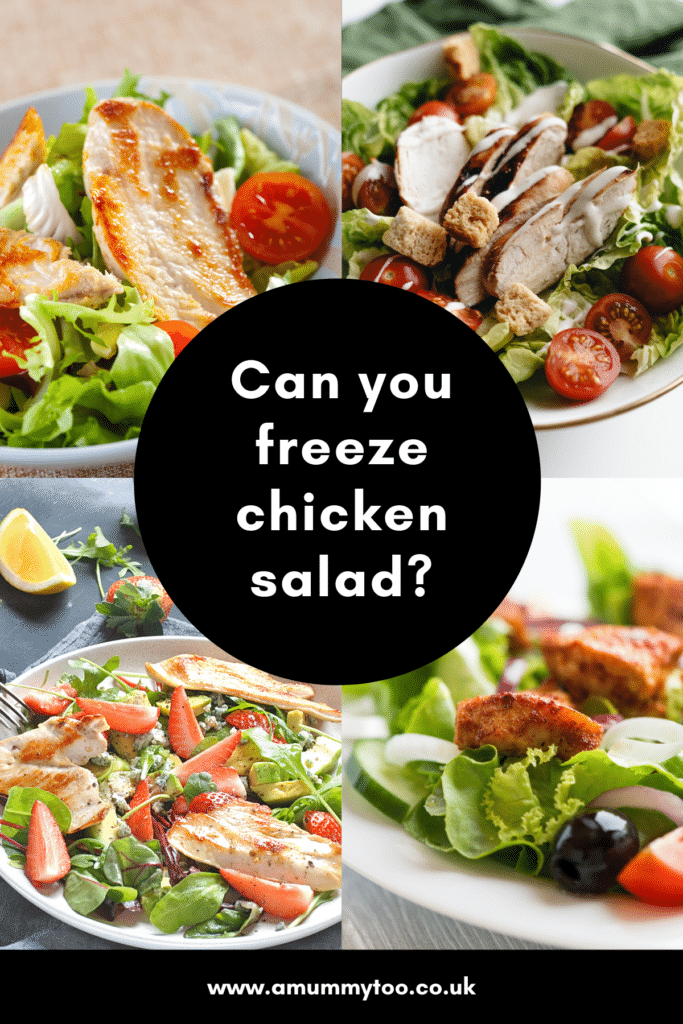 There are many different types of chicken salad and your ingredients will determine whether or not it's a good idea to freeze!
Chicken salad obviously has cooked chicken at its heart, sitting alongside various other things like salad leaves, avocado, fresh chopped veg and herbs, boiled eggs, as well as fresh or dried fruit and different nuts and seeds. Often mixed with a mayonnaise-based dressing.
All these different elements can make it difficult to decide whether or not to freeze your chicken salad, as each ingredient will freeze with varying degrees of success.
For example, things with a high water content like most fruits, tomatoes, cucumber or lettuce don't freeze well at all. In these circumstances, it could be an idea to just freeze partly made chicken salad ready to add to fresh veg and dressing when it's defrosted.
Make sure your chicken salad is safe to freeze
If you've cooked the chicken yourself make sure it was within the 'use by' date before cooking, stored correctly and cooked thoroughly. It should then have been placed in an airtight container, cooled down and placed in the refrigerator within 2 hours of cooking.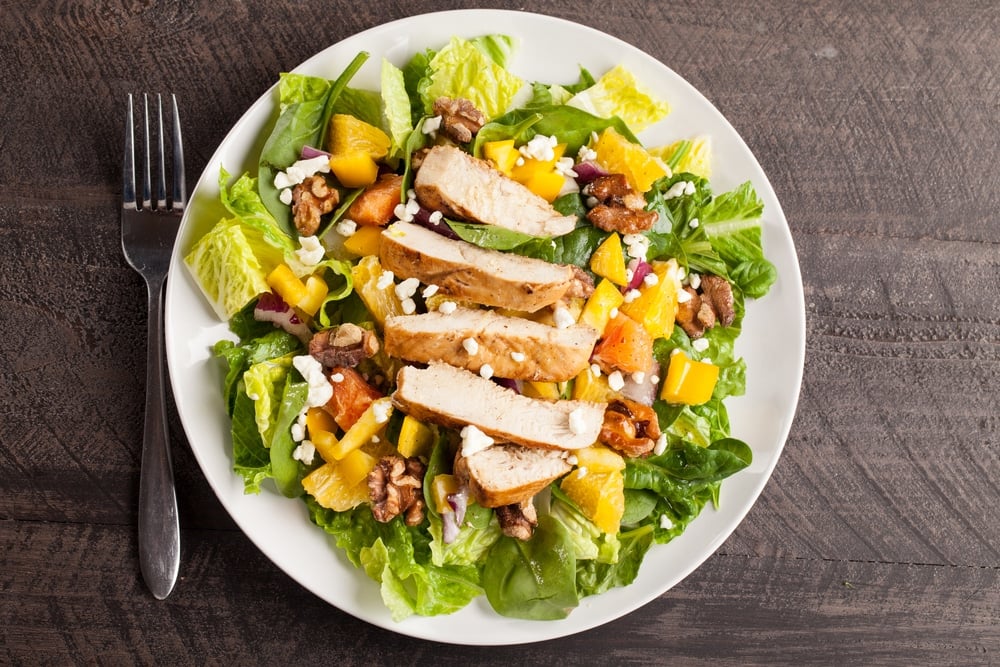 Cooked chicken can keep for up to 3 days in the refrigerator, but if you intend to freeze some do so as soon as the chicken has cooled.
Always follow any packaging instructions if you've bought pre-cooked chicken or chicken salad as this may vary and may not be suitable for home freezing!
Mayonnaise is often another key ingredient in chicken salad which doesn't freeze well - it tends to separate which can cause a watery mess when defrosted.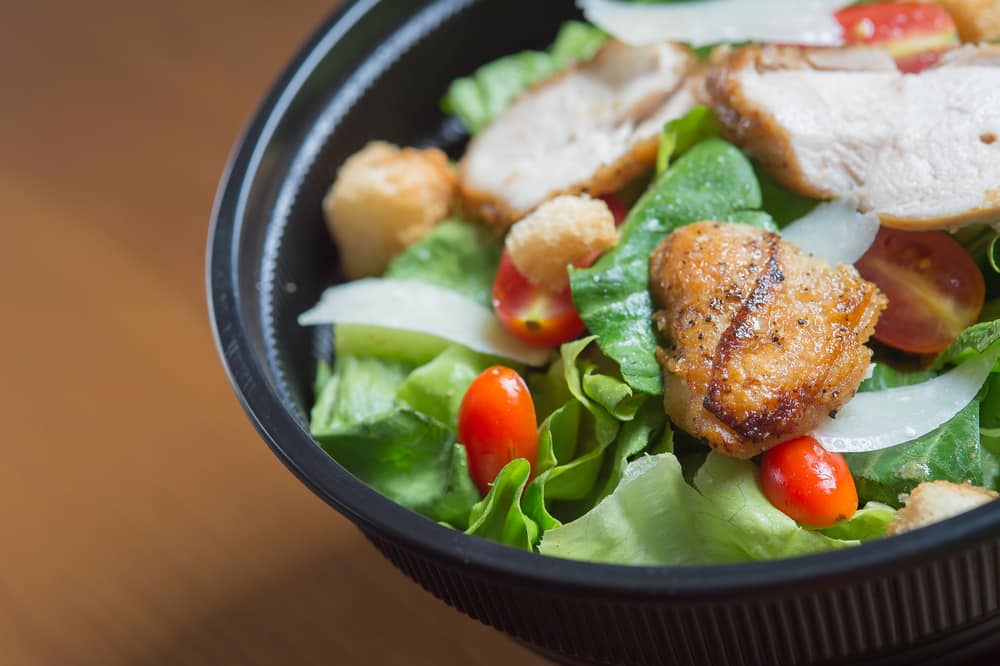 If your chicken salad has been left out of the fridge for any length of time, say at a BBQ or party, it is not safe to freeze.
Prepare chicken salad for the freezer
As I've mentioned above not all the ingredients will freeze equally well.
So if you're planning to freeze some chicken salad I would recommend making up chicken salad starter packs with the ingredients that do freeze well like the chicken, nuts and seeds. Then these can be defrosted and added to fresh crunchy veggies and dressing when your ready to enjoy!
Ensure the steps have been followed above to make sure your chicken is safe to freeze in the first place.
When you're ready, split the chicken into portions, either individual or family size depending on how you want to use it. Then add all the lovely nuts and seeds you want to mix in!
Freezing nuts and seeds is actually a really good way of storing them. It preserves the natural oils and stops them going stale which tends to happen if left in the cupboard too long.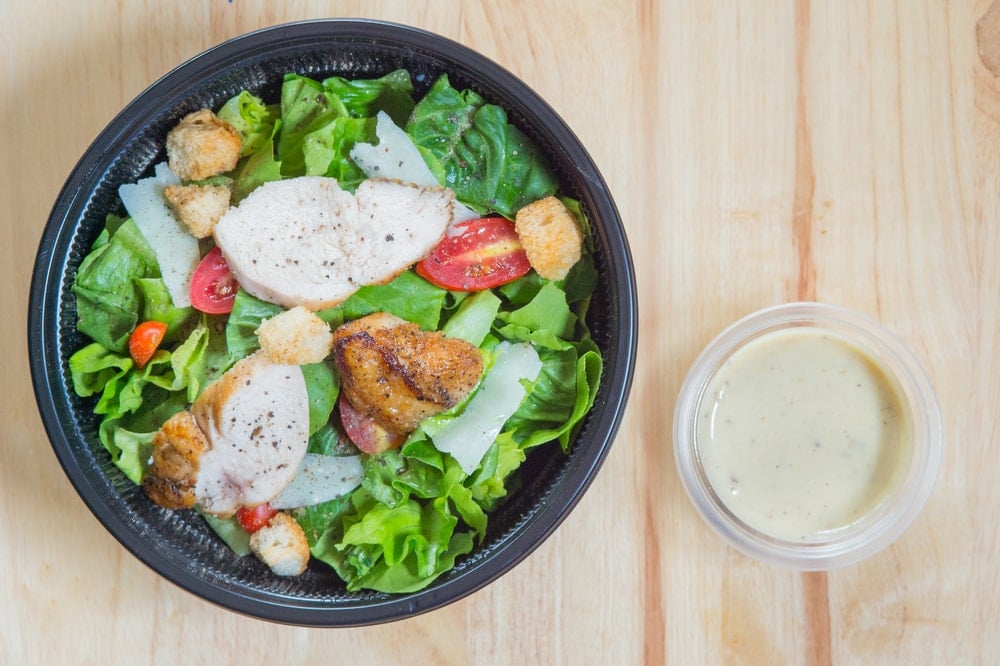 Again, if you've bought your chicken salad at the store, check the manufactures instructions to see if it is suitable for home freezing. If it is put the chicken salad into a freezer-safe container or bag and make sure to freeze it the same day its opened!
The best container to freeze chicken salad in
You can use any freezer-safe bag or container to freeze your chicken salad starter packs.
Consider your portion sizes and try and use a container that is roughly the same size. That way, you don't end up with a massive tub taking up loads of space in the freezer.
Whatever container you're using make sure to get out as much air as possible to reduce the risk of freezer burn. If you're using containers you can even press a layer of cling film over the top of the chicken mix to create a better seal before putting on the lid.
Another thing to consider is thawing time. If you've got a large portion it might be a good idea to use a big freezer bag. Spread it out in the bag so it's flat rather than using a container. It will freeze quicker, and thaw quicker too!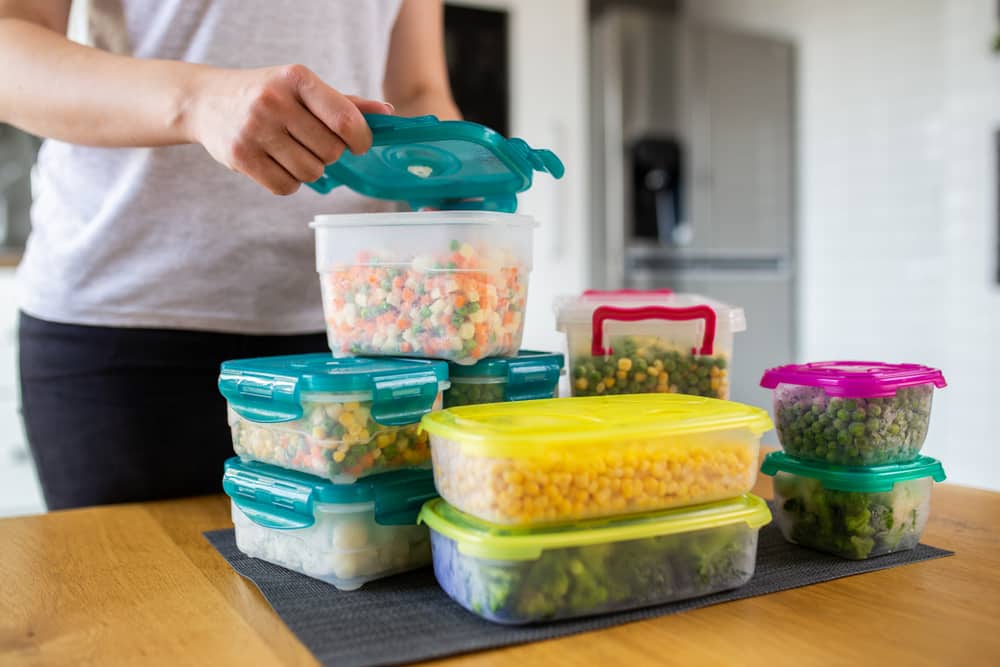 Always be sure to label the container or bag with the date and what it is!
How long can you freeze chicken salad?
Cooked chicken can be kept in the freezer for up to 2 months. Follow the steps above to make sure the chicken is frozen safely and stored correctly.
Never re-freeze previously frozen chicken.
How to defrost it
When you're ready to enjoy your chicken salad, just pop your container or bag on a plate in the fridge. Then let it defrost overnight.
As you probably won't be heating up the chicken it's really important to defrost the chicken slowly and thoroughly.
Before adding the rest of your fresh salad ingredients make sure the chicken is thoroughly defrosted. Check the chicken doesn't smell bad or feel slimy. These are signs it may have gone off and is no longer safe to eat.
Now you're ready to add whatever crunchy veg and herbs you have in the fridge. You can also add some mayonnaise - don't forget to season with some salt and pepper!
Ideas for your chicken salad
Chicken salad is such a great crowd-pleaser for parties and can be enjoyed in loads of other ways too! Give some of these ideas a try:
Use it as a super satisfying filling for jacket potatoes.
Stuff it into a fresh baguette with lettuce and tomato for a delicious sandwich.
Try adding some dried fruit like cranberries or raisins for a fruity burst.
Cold chicken salad tacos are great fun for the kids to build and perfect if they're not that into spice. Gather together yummy things like your chicken salad, grated cheese, lettuce, chopped tomato, avocado, peppers. Then fill those taco shells!
Chicken salad wraps are also a brilliant lunch, use a tortilla or pita and add all your favourite crunchy veg. You can wrap them in tin foil for packed lunches to help keep everything where it's meant to be!
For more tips on freezing food to reduce waste, check out my other how to freeze food articles.
I hope this post helps you to make the most of your salad and your freezer space! Have you tried freezing chicken salad? Let me know how you get on and feel free to ask any questions in the comments below!