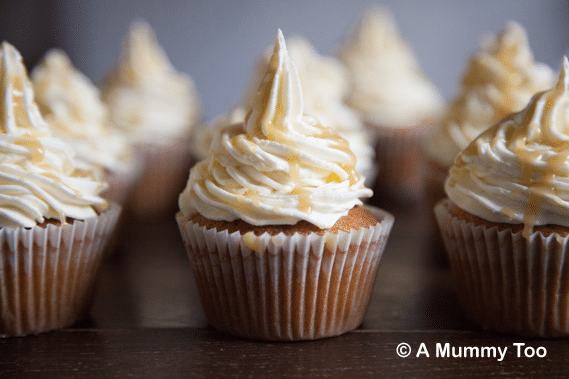 Whenever we frequent a certain big coffee chain, Mark always orders the same drink: the caramel latte with squirty cream and caramel sauce. It's a beast of a drink and I always steal some of the topping before he gets his first sip.
Anyway, I was home with two poorly kids this week, so we kept busy with lots of TV and duvet time and a little bit of baking. These cakes are the result. The sponge is flavoured with coffee and vanilla, the frosting is white chocolate vanilla buttercream, and the sauce is a sort of caramely fudge.
If you fancy creating these caramel latte cupcakes, yourself here's what to do…
Ingredients
For the sponges
175g slightly salted butter, softened
200g caster sugar
3 medium free range eggs
1tbsp hot water
1tsp instant coffee
3 tbsp milk
1tsp vanilla extract
1 tsp baking poweder
200g self raising flour
For the frosting
150g slightly salted butter, softened
380g icing sugar
1 tbsp milk
1 tsp vanilla extract
100g white chocolate
For the sauce
60g slightly salted butter
60g light brown sugar
60ml double cream
You'll also need
12 hole muffin tray
12 muffin cases
Icing bag and star nozzle
Instructions
Make the sponges
Preheating the oven to 180C (160C fan assisted)
In a large bowl, beat the butter and sugar together until light and fluffy
Next, beat in the eggs and vanilla
Stir the coffee and hot water together until dissolved, then add the cold milk and pour into the batter, mixing well
Stir in the flour and baking powder
Transfer the mix evenly into the muffin case lined muffin tray
Bake for 20 minutes until springy on top
Cool completely on a wire rank
Make the frosting
Beat the icing sugar and butter together until well combined, pale and fluffy
Add the milk and beat again
Melt the white chocolate, allow to cool a little and then add to the mix while still beating
Transfer to your piping bag and pipe tall swirls on each cake
Make the sauce
Heat the butter and sugar over a medium heat until melted, stirring continuously
Add the cream and warm back through until it's gently bubbling
Keep stirring and heating until it thickens enough to coat the spoon
Take off the heat and allow to cool a little
When room temperature, drizzle over the cakes (I used a clean squeezy ketchup bottle) and leave to set – it will go tacky but not hard
Ta da! Worth a try for the coffee lover in your life?