These Easter chocolate chicks are simply made from creme eggs and chocolate buttons – don't they look great?! They're a popular treat and lots of fun for the family to make together, so they make a great family-friendly Easter activity.
My chicks have been super popular every Easter since 2012, so I thought I'd make a video to show you just how easy they really are! Below the video you'll find the ingredients list and some instructions – plus you can print the recipe card to save for later.
Easy creme egg Easter chicks – video tutorial
If you're feeling extra creative, you can use the offcuts to make different types of crest or use different coloured writing icing pens for extra detail.
Enjoy!
We love these adorable chocolate Easter chicks! How would you decorate yours?
Here's the full details on how to make them.
Print Recipe
Easy creme egg Easter chicks
Follow this simple recipe to create your own creme egg Easter chicks!
Ingredients
5

creme eggs

1

pack of orange flavour chocolate buttons

from the baking aisle

6

squares of cooking chocolate

2

packs of white chocolate buttons

2

packs of milk chocolate buttons

1

black writing icing pen
Instructions
Melt the cooking chocolate and get a clean teaspoon ready

Turn a clean, empty mug or bowl upside down (this bit's important!)

Place two orange buttons side by side on the upturned mug/bowl

Using the teaspoon, put a small blob of melted chocolate behind the two buttons, where they meet

Stick a creme egg on top, pointy end up

Using the melted chocolate as glue stick on: Two milk chocolate buttons (for the wings), one milk chocolate button (for the tail at the back), two white chocolate buttons (for the eyes), one orange button (cut into a triangle, for the beak), one orange button (cut into a crescent, for the crest)

Draw the pupils on with the icing pen, then dab with a wet finger to flatten

Allow the chicks to set and then free them from the bowl by turning it right way up again and filling with a little boiled water – carefully pull on the chick after a few seconds and it should come off whole.
* Note: nutritional information is estimated, based on publicly available data. Nutrient values may vary from those published. Cuisines identify the primary region of inspiration for a dish.
Tried this recipe?
Snap a pic and tag @amummytoo on Instagram, Twitter or Facebook. I can't wait to see your posts!
More Easter recipes to try
Healthier Easter chocolate nest cookies
These are easy to make, with plenty of opportunities for the kids to get involved with mashing, measuring and mixing. They're made healthier with bananas and oats, but still offer the satisfying Easter chocolate hit we all love!
Get the recipe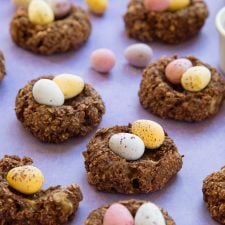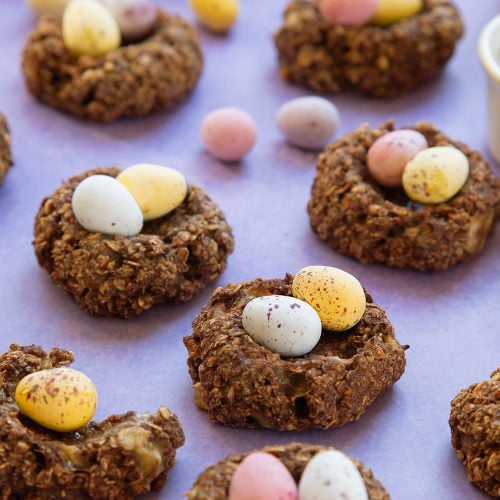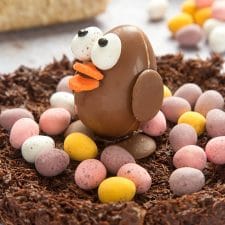 Get Your Kids to Eat Anything
My debut cookbook, Get Your Kids To Eat Anything is available now from all good bookshops!
It's so much more than a cookbook, it's a 5-Phase programme designed to take you through a meaningful, simple and sustainable journey to end fussy eating.


Since its release in March 2019 Get Your Kids To Eat Anything has been changing mealtimes in households across the country and has become an Amazon #1 best-seller.
If you enjoyed this recipe you'll love my chocolate chick in a wheat nest family craft activity.