If I were to make a list of my top foodie crushes, MiMi Aye would certainly feature.
MiMi is a creative, inspiring, versatile and passionate food writer and recipe creator. What's more, her insights and commentary into the world of food is one of the reasons I visit Twitter - every foodie should have her on their radar.
British-born to Burmese parents, MiMi Aye has spent her whole life soaking up Burmese food, language, and culture through numerous trips to see family and friends back home, as well as in the UK.
Her latest book MANDALAY: Recipes & Tales from a Burmese Kitchen expertly brought Burmese food firmly into the spotlight and attracted a host of accolades, including winning a 2020 Gourmand World Cookbook Award, and being named among the Best Books of 2019 by The Observer, The Financial Times and The Mail on Sunday.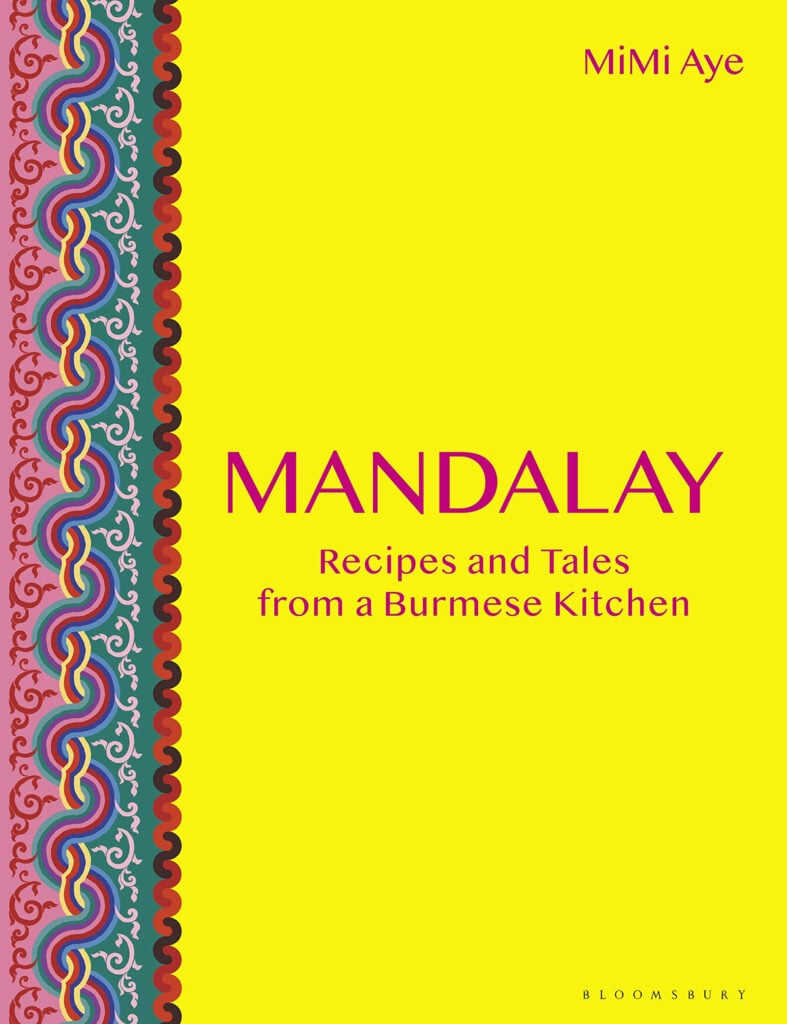 MANDALAY has proved a huge hit among fellow chefs too. It was described by Nigella Lawson as 'a really loving and hungry-making introduction to a fascinating cuisine', by Jay Rayner as 'a gorgeous book full of narrative and recipes, [which] schooled me lightly in a culinary Burma', and by Tom Parker-Bowles as 'a glorious revelation . . . autobiography, history and recipes all rolled into one magnificent whole . . . a brilliant, beguiling book'.
I caught up with MiMi to discuss cooking, kids and more.
MiMi, it's lovely to have you here. For those who don't know you, can you sum up a little of your background and how you came to be a food writer?
Though I was born in the UK, I've regularly visited Burma to see family and friends, so I've spent my life soaking up the food, language, and culture back there as well as here. As with many other cultures, the Burmese show their love by feeding each other, but I've had even more of a foodie upbringing than most because my mum is an exceptional cook and my dad an exceptional eater!
Seriously though, as both my parents are doctors, they were posted all around Burma for work and picked up regional tastes which they then brought back to the rest of the family. So I had the advantage of having a broader palate than many Burmese people and I've always loved learning and talking about food as much as eating it.
This desire to talk about food translated into me starting a blog in 2009 which led to me being commissioned to write my first book NOODLE! in 2012.
Mandalay is a brilliant cookbook full of delicious recipes, but it's also a personal account of how food and family are interwoven. What led you to settle on this format?
Interwoven is the right word – there was no way I could separate food from family, especially as these are recipes I grew up with, but also recipes that are cooked in local Burmese homes too. That's why I was keen to put everything in context – to show that food, culture, even geography is still intertwined.
Mandalay isn't a nostalgic time capsule or diaspora cooking – it's how the Burmese eat today.

The connections between food, home and family come through in your writing. Is the process of cooking, serving a meal and eating together as a family as important as what's on the plate?
Definitely – I mention that even when serving rice, you scoop the first symbolic portion to one side for your loved ones and elders, even if they are not there with you.

What recipe or dish transports you to your happy place?
Mogok Pork and Round Rice Noodles (Mogok Meeshay) – it's from my mother's hometown of Mogok and it makes me think of her. Whenever we get off the plane in Yangon, it's the first dish my family has ready on the table for us and it makes us feel loved and like we've come home.

Smell can be so evocative. Are there any recipes that bring you to a particular place or time while making them?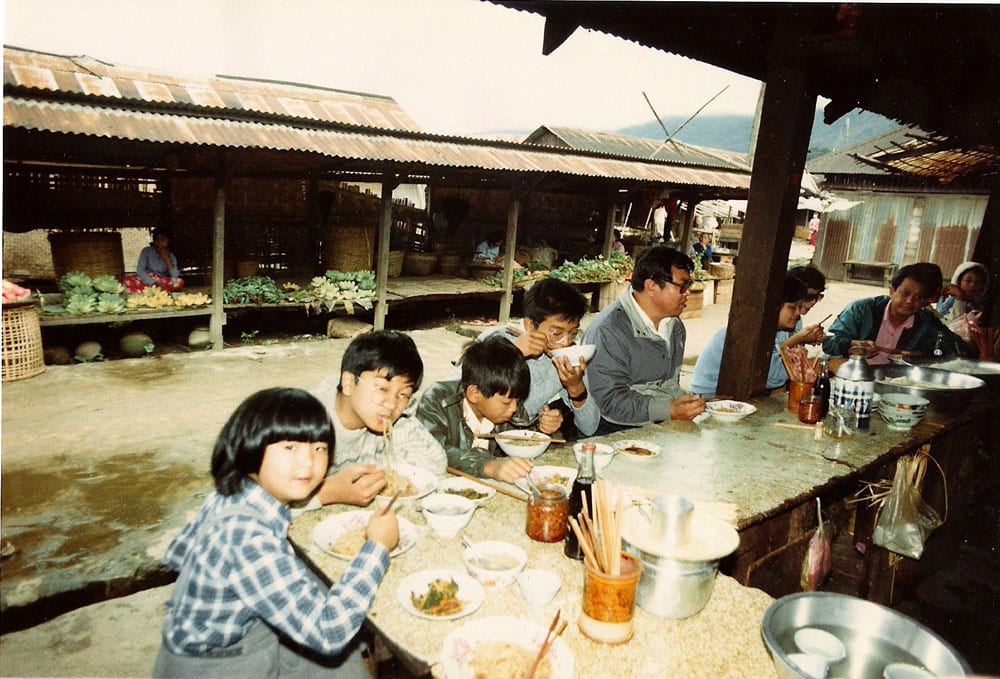 Wood-Ear Mushroom and Glass Noodle Soup (Kya Zan Chet). It's a smoky, fragrant broth that brings me back to family road trips in Burma, as it's a favourite, warming dish served at truck stops, especially around the chilly Shan State.

Are your kids as fascinated by what's going on in the kitchen as you were as a child? Do they like helping out in the kitchen?
Less so but only because our kitchen is less accessible than my mum's kitchen which has a step down to it that I would sit on to watch her as she cooked.
My kids are fond of baking (which is actually very un-Burmese as we have no tradition of ovens) – standard things like biscuits and cupcakes and my daughter even made up her own recipe for Cheesy Rolls which went viral recently when she asked me to post it online to help cheer everyone up.

What is your children's favourite recipe? Do you have to encourage them to eat vegetables or other foods that may not be too keen on?
They love the Classic Pork Curry from my book which is sweet, mild and very comforting.
As for vegetables, I definitely try to get them to eat them but they go through annoying phases of liking and then disliking a particular thing. The only vegetables they consistently enjoy are sweetcorn and baked beans!

Do you have any tips for introducing new flavours to kids?
Stick blender it! As I discussed with Nigella Lawson in my podcast The MSG Pod, new textures are half the battle, so if I turn it into mush, I find my kids are more willing to try a new flavour. Sad but true.

What would you say is the best recipe to cook first for someone who has never experienced Burmese cooking and just bought a copy of Mandalay?
The Braised Butter Beans (Pe Gyi Hnat) – dead easy, barely any ingredients and so popular that they've been given the name "Magic Beans" by fans!

What's your go to snack when you don't feel like spending ages in the kitchen?
Crisps, crabsticks or Herta frankfurters straight out of the packet!

What are some of the most unique/defining dishes or techniques in Burmese cooking you wouldn't quite find anywhere else in the world?
I think our salads are pretty unusual – star ingredients include pickled tealeaves (lahpet), ginger, and lemons! As for techniques, our most defining one is si pyan (the oil returns) for curries – where you add oil at the start and simmer in a way that it rises back at the end.

A COVID-19 question...Has your approach to cooking or what you're making changed at all during lockdown?
I've definitely adapted my cooking to use easy-to-find ingredients as everything became scarce during lockdown – I even developed a store-cupboard version of the Burmese national dish mohinga which I'm really proud of.

With many people spending more time at home in the last year, have you found yourself making more elaborate meals than you normally would, or is the reverse true?
The reverse, thanks to being locked down with two small kids!

As you've been regularly visiting Burma throughout your life, what big changes have you noticed when it comes to food trends and technologies?
Baking and dairy! We're not a country which historically did ovens or fresh dairy, so I've been in awe of all the amazing bakeries springing up in Burma over the last few years eg Yangon Bakehouse and Petit Rangoon! Note that the semolina cake recipe that you've posted is a riff on an Indian dessert, uses condensed milk and ghee and is generally finished on the stove!
I'm also really happy to see the rise in more regional cuisines being available in major cities. We have over 130 ethnic groups in Burma, but food has been very localised until relatively recently. For example, you could barely find Shan food in Yangon till the last decade – I'm part Shan, so this has been of particular interest to me!

If you were to set up as a street food vendor, what would you sell?
Oodles of noodles! There are so many iconic Burmese noodle dishes (soups, salads, sauced) and I would love to do a different one each day of the week!

Thinking about the recipes in Mandalay, what would you recommend making in advance or in bulk so that families can have dinner or snacks at hand quickly on busy days?
The curries for sure – they can be made in the slow cooker, instant pot, even the oven and then the sauces can be reduced to thicken on a vigorous heat just before eating.

Are there any kitchen gadgets could you not live without or do you prefer to keep things simple? I assume from our previous chats that a rice cooker would be near the top of the list?
Yes to a rice cooker – just set and forget while you get on with the rest. I also love my mini-chopper – though I love the poetry of pounding away with my pestle and mortar, it's great to be able to whizz in an instant! And like I said, Nigella got me hooked on a stick blender.

What 5 things are always in your cupboard?
Fish sauce, gram flour, turmeric, paprika, MSG.

Who has inspired you in the kitchen past and present?
Growing up, my mum and my gran, Ken Hom, and Madhur Jaffrey. Right now it's Nigella Lawson (as always), Chrissy Teigen, Jack Monroe and Asma Khan – though they probably inspire me as much outside of the kitchen as inside.

I'm forever finding new and surprising dishes and recipes both home and abroad. What's your latest discovery, be it an ingredient or dish?
I'm not a fan of the word "discovery", because of the implication that it didn't exist or had no value until I or someone else happened upon it – there's a much longer discussion to be had there, of course, relating to neo-colonialism and balance of power.
But the thing that I'm obsessed with right now is a 50p salad topper from a brand called Good 4 U which is a mix of Mung Bean, Lentil, Adzuki Bean and Chickpea Sprouts. I have been throwing this into and onto literally everything I eat!
MANDALAY: Recipes & Tales from a Burmese Kitchen is available to buy on Amazon right now.
You can find MiMi on Twitter, Instagram or Facebook, or over on her blog, Meemalee.net. MiMi also co-hosts the food and culture podcast The MSG Pod and she hosts supperclub and online community Burmese Food & Beyond.
Get a taste of MANDALAY with this recipe for Sanwin-Makin.
Sanwin-Makin (Golden Semolina Cake)
This is sanwin-makin (also known as golden semolina cake)! It's a Burmese sweet treat made from semolina, condensed milk and coconut milk, and it hovers delightfully somewhere between cake and confectionery.
Get the recipe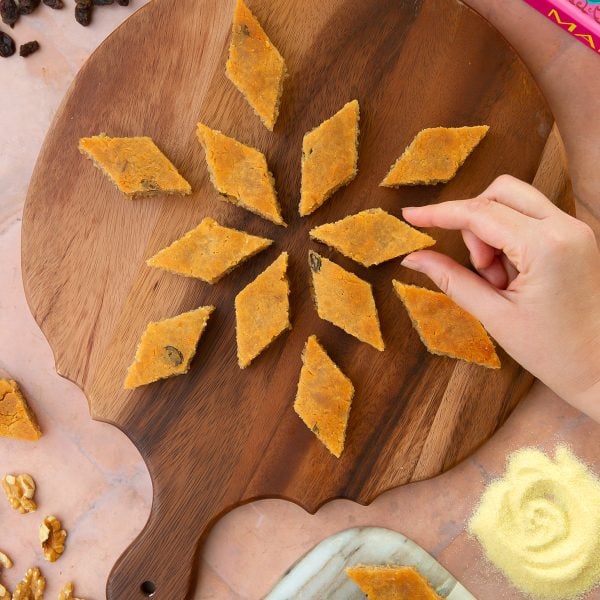 6 FUN recipes to make with kids - a FREE family baking eBook!
Have a free copy of my family baking eBook! With 6 easy recipes and bonus activities to get kids into the kitchen - and keep them busy for hours!