This Nutella buttercream is ultra smooth and light with a gorgeous chocolate hazelnut flavour.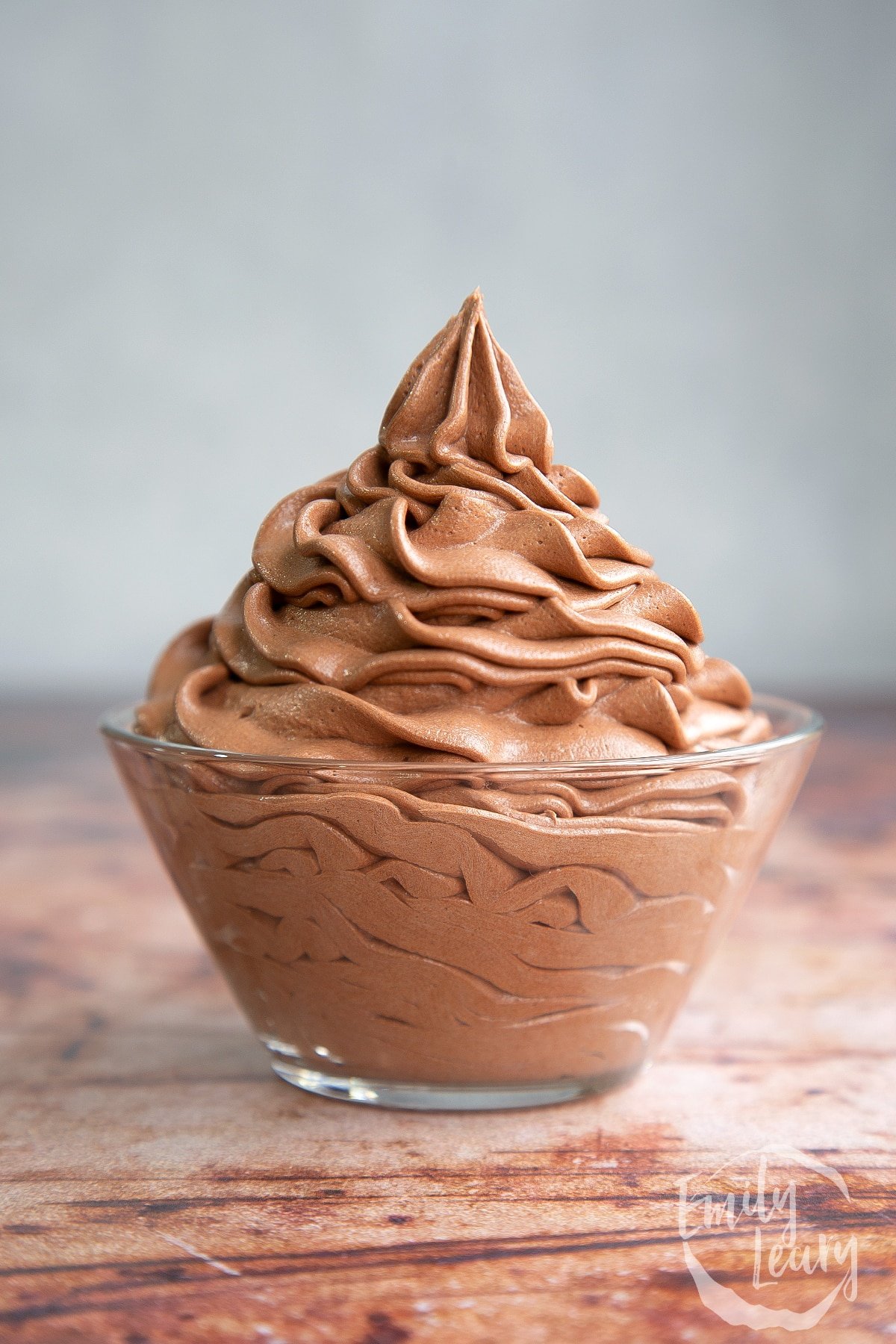 It's so, so simple to make. You'll just need butter, icing sugar, milk and, of course, Nutella!
You won't need any special equipment either, just weighing scales, measuring spoons, a mixing bowl and an electric whisk!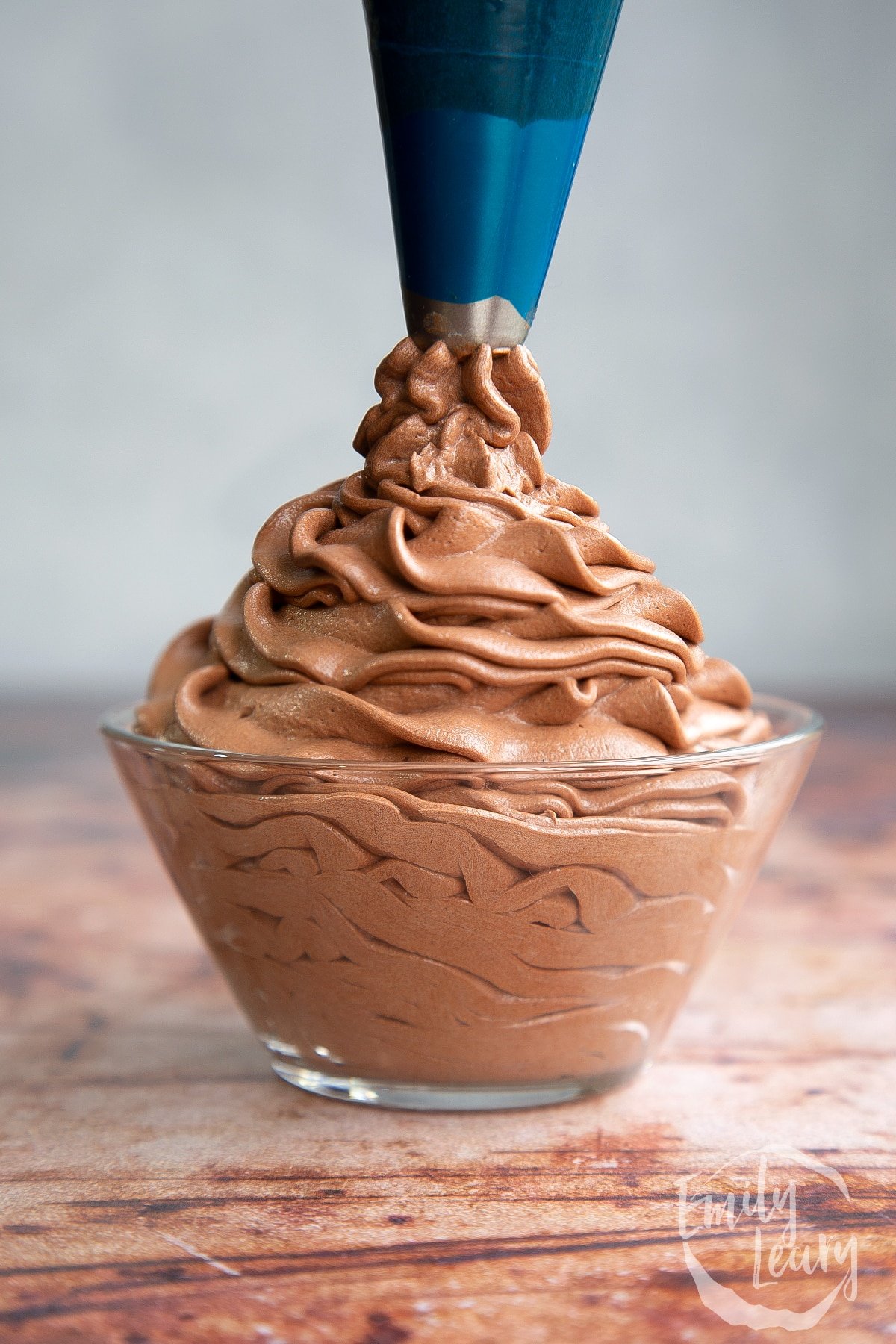 To make the frosting, you'll just pop everything into the mixing bowl with a little hot water and whip until super light and creamy. It's incredible how quickly it comes together and just how delicious it is with that distinctive Nutella flavour.
Here's the full, easy Nutella buttercream recipe.
Ingredients
150

g

(

2

stick + 3 tbsp

)

slightly salted butter

softened

300

g

(

2⅓

cups

)

icing sugar (powdered sugar)

powdered sugar

25

g

(

¼

cup

)

cocoa powder (dutch processed)

1

tbsp

whole milk

1-2

tbsp

hot water

120

g

(

⅓

cup + 1 tbsp

)

Nutella
Instructions
Put the butter, icing sugar, milk, Nutella and a tablespoon of recently boiled water in a large mixing bowl.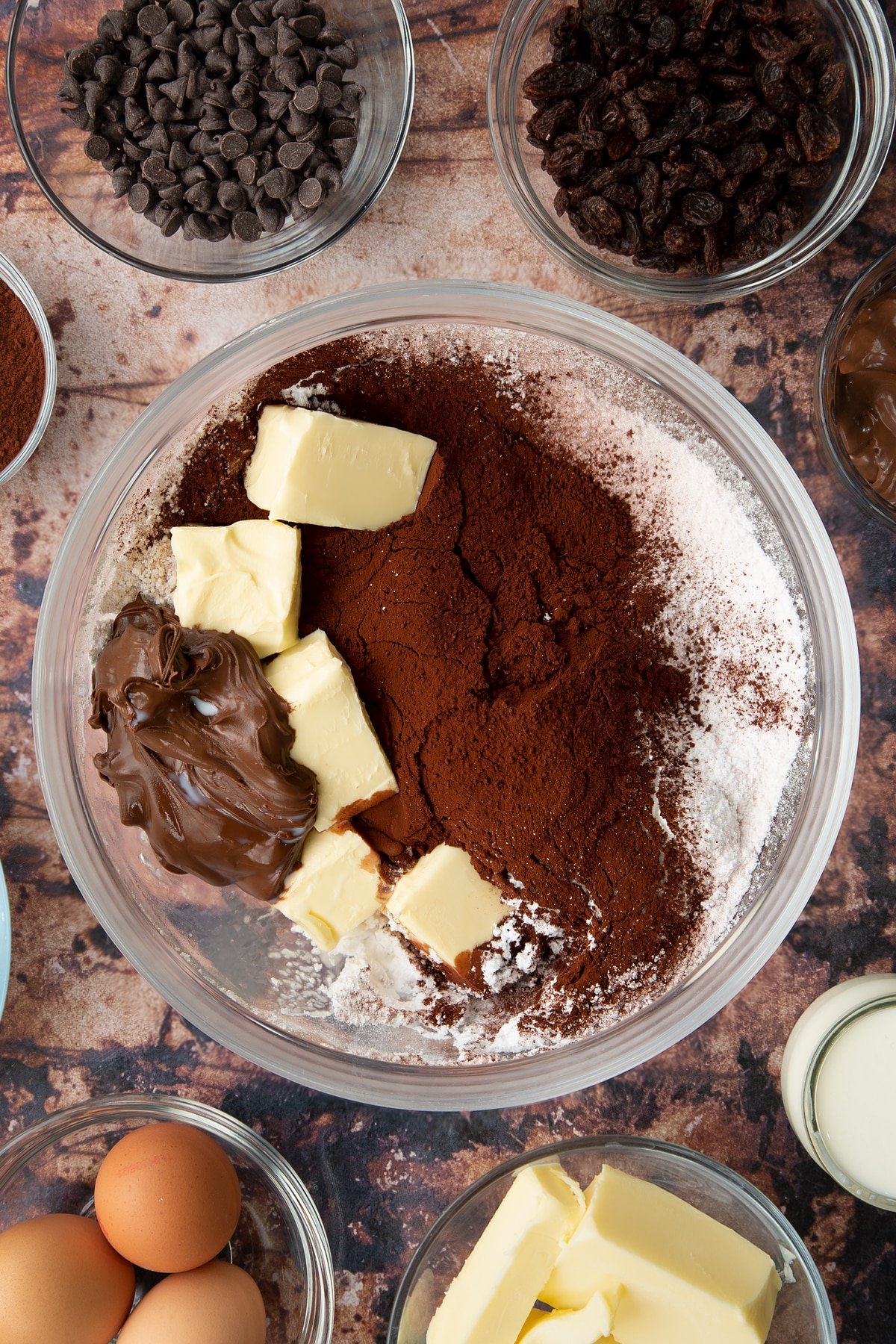 Beat until light and smooth – it's quickest to use an electric whisk.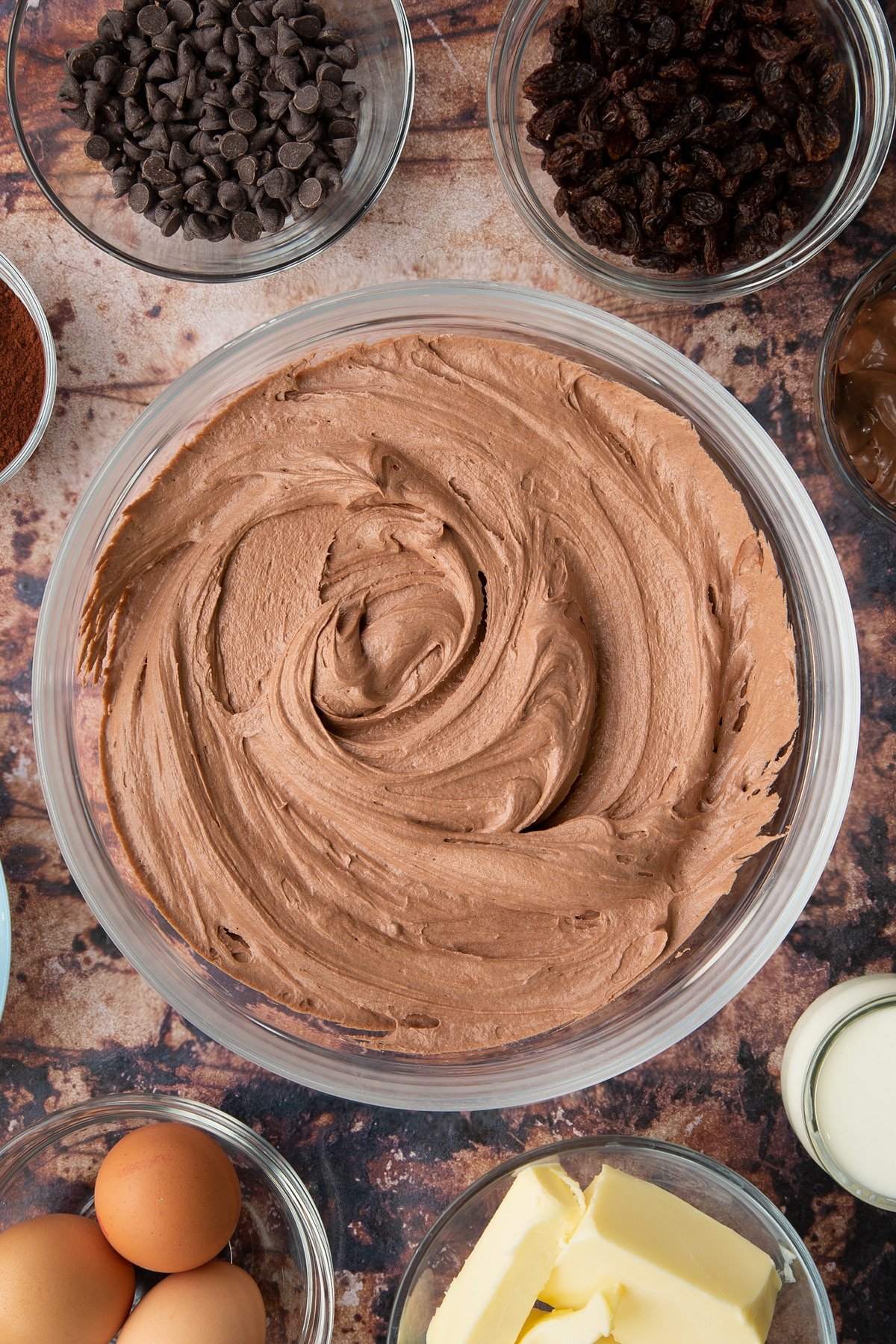 If you'd like to use on cupcakes, transfer into the piping bag with the nozzle in place and twist. Pipe the frosting on top of the 12 muffins in generous, rising swirls – sharing it all evenly.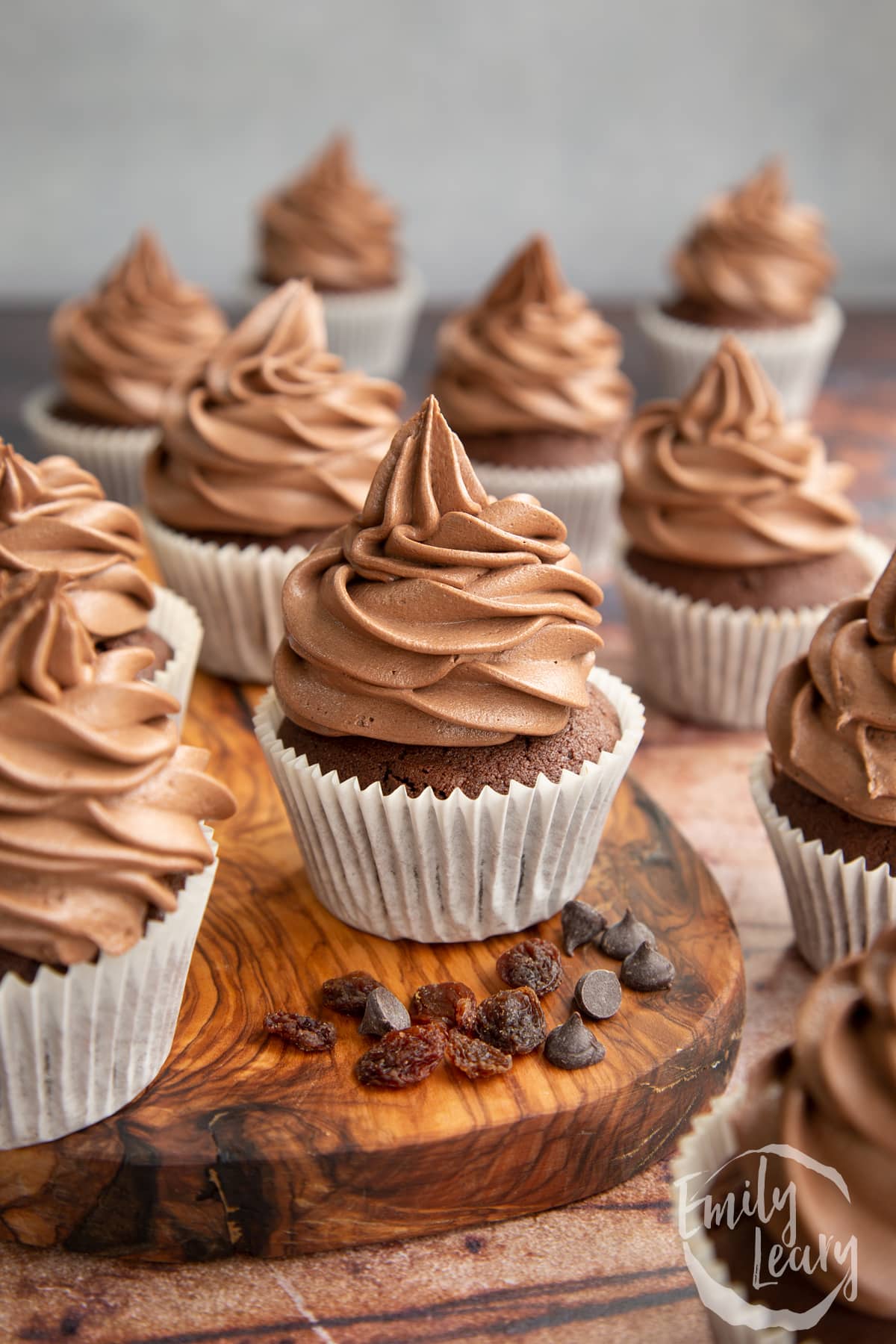 Enjoy!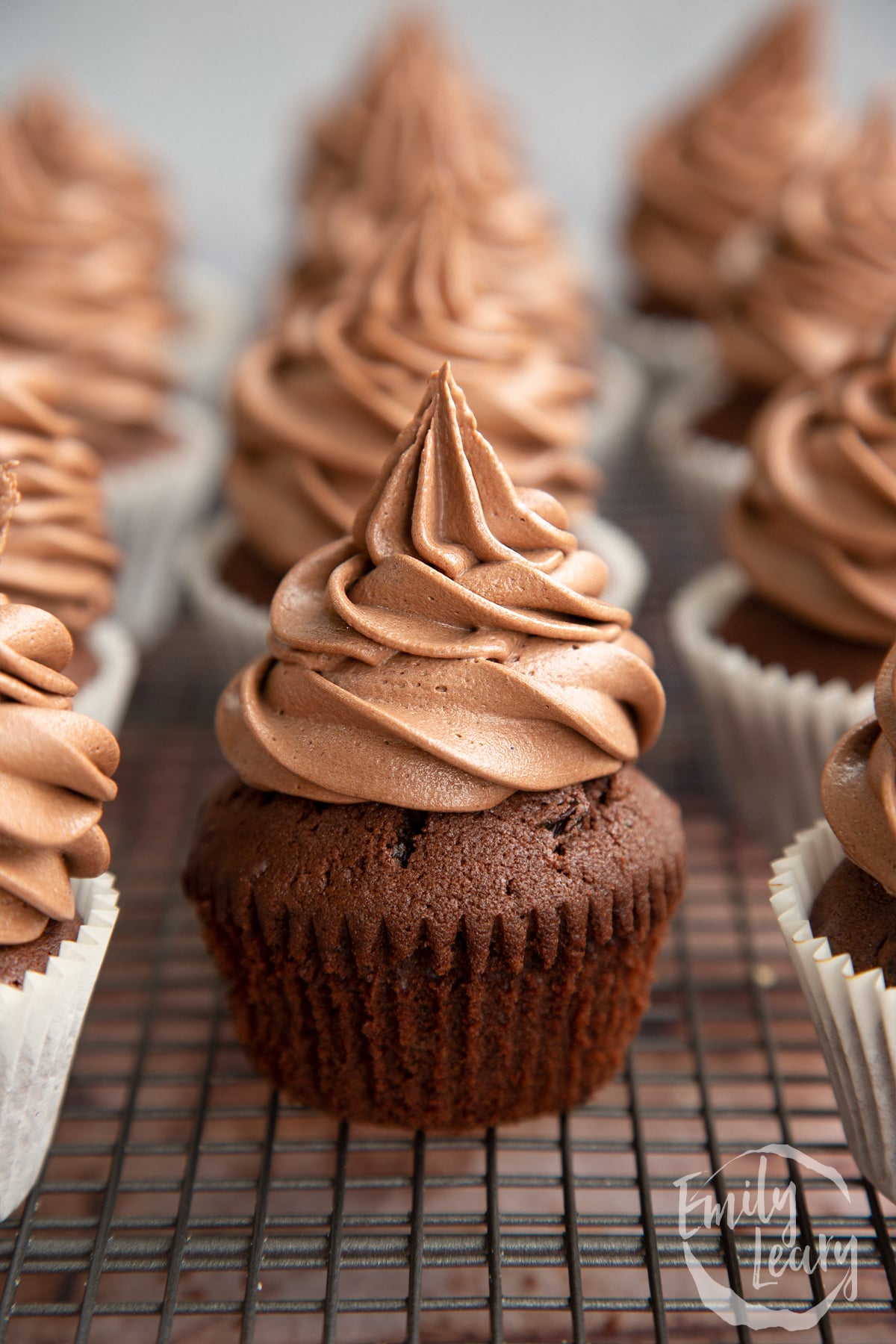 Pointers, tricks and troubleshooting tips for the perfect Nutella buttercream
Is Nutella buttercream easy to make?
Yes! This recipe is so simple as there's no cooking involved. All you have to do is whisk together your ingredients and then you'll have a bowl of deliciously creamy Nutella buttercream that you can use to top your favourite baked goods or enjoy a cheeky spoonful straight from the bowl!
Will I need any special equipment for making Nutella buttercream?
No, this recipe is super simple so you'll only need a bowl and a mixer. Feel free to mix the buttercream by hand but I'd recommend using an electric whisk or stand mixer for the best results - and to save your arms from all that beating!
What is Nutella?
Nutella is a cocoa and hazelnut sweetened spread. Nutella is often marketed as being ideal for spreading on toast, but it was originally invented by a chocolatier and baker so it works in many baking recipes or here with buttercream.
As Nutella is made with hazelnuts this recipe isn't suitable for people with nut allergies. Nutella also contains milk powder so it isn't vegan either.
How can I tell if butter has gone off?
When butter spoils it begins to change colour, develop a strange tangy smell and may even have areas where the butter becomes translucent as the water and fat content separate. Fresh butter should be a pale, creamy yellow colour and it should be firm and only have the delicious and distinctive buttery aroma. So you should be able to tell if your butter has gone off almost as soon as you open the packet.
Butter begins to spoil when it is too warm. The warmth allows bacteria within the butter to thrive and multiply. The bacteria then begin to consume the butter and release enzymes that break down the proteins. This process causes the separation of the fat and water and releases lactic acid which causes a strange tangy smell.
Some of these bacteria can be harmful to humans and cause food poisoning. So to avoid any dangerous bacteria developing you should always keep butter in the fridge and only use fresh butter. When keeping butter in the fridge you should also make sure to keep it sealed and away from any potential contaminants like raw meat.
Equally important is to make sure you don't have any crumbs in your butter, as bread contains gluten and can often contain nuts. So if you're cooking for someone with allergies you may inadvertently include harmful contaminants through these stray crumbs.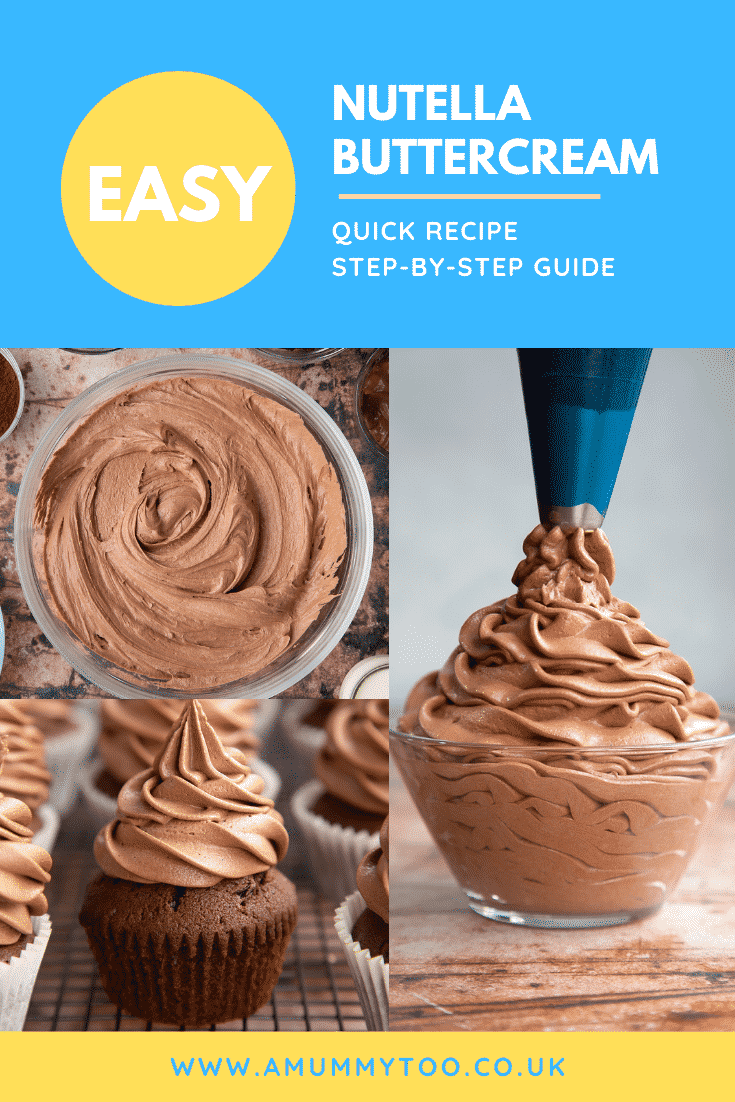 Is Nutella buttercream suitable for vegetarians?
Yes, this recipe is fine for vegetarians to eat. Nutella contains hazelnuts, cocoa, milk powder and palm oil. So there are no animal-derived products in the recipe. Some vegetarians don't eat palm oil because the process in which it is harvested causes the destruction of animal habitats. However, Nutella uses 100% RSPO certified palm oil which doesn't contribute to deforestation.
Double-check all of your ingredients labels to make sure that they are suitable for vegetarians. Don't forget to check anything extra that you intend to serve the recipe with.
Is Nutella buttercream suitable for vegans?
This recipe isn't suitable for vegans because the recipe calls for butter, milk and Nutella, all of which contain dairy.
There is a vegan chocolate hazelnut spread by Vego, which you could use with vegan butter and vegan milk to make this recipe.
When you replace dairy butter with vegan butter you should make sure that you buy a vegan alternative with similar fat content to dairy butter (around 80%). This is to ensure that the vegan butter behaves in a similar way to dairy butter, which is important for buttercream as it could split.
However, I'm not sure how vegan butter and vegan Nutella would react when mixed together. Both the Vego spread and vegan butter have different water content and the Vego has a higher fat content (36g per 100g) than Nutella (30g per 100g), so a vegan buttercream might not come together as well as a dairy buttercream.
Feel free to give it a go and let me know how it goes. I love to hear about how your experiments or versions of my recipes turn out!
Is Nutella buttercream gluten-free?
Yes, this recipe only contains Nutella, butter, sugar, milk and cocoa powder which should all be gluten-free. However, you should always double-check all of your ingredients labels to make sure that they are gluten-free.
If you're cooking for someone who can't eat gluten you should always remember to check the labels of any sauces or sides you want to serve with your bakes. Or in this case, make sure you only use this buttercream with a gluten-free bake.
Is Nutella buttercream keto-friendly?
No, this buttercream contains a lot of sugar in the ingredients so it isn't suitable for a ketogenic diet.
Is Nutella buttercream healthy?
This recipe is decidedly decadent and not very healthy due to its high fat and sugar content. Nutella got in a bit of trouble a few years ago for marketing Nutella as a healthy breakfast product, and while it does contain a lot of good nutrients and protein, the amount of sugar offsets any health claims.
There's nothing wrong with enjoying this buttercream as a treat as part of a healthy and balanced diet - just bear in mind that you probably shouldn't eat it for breakfast every day!
Is Nutella buttercream safe to eat while pregnant?
This buttercream contains no ingredients that would be of concern for someone who is pregnant. However, it is quite high in sugar and pregnant people are often advised to avoid eating too much sugar.
Make sure that all of your ingredients are in good condition and this meal is prepared safely and hygienically.
A Mummy Too does not offer medical advice. Please seek help from a medical professional if you need further information or have any concerns.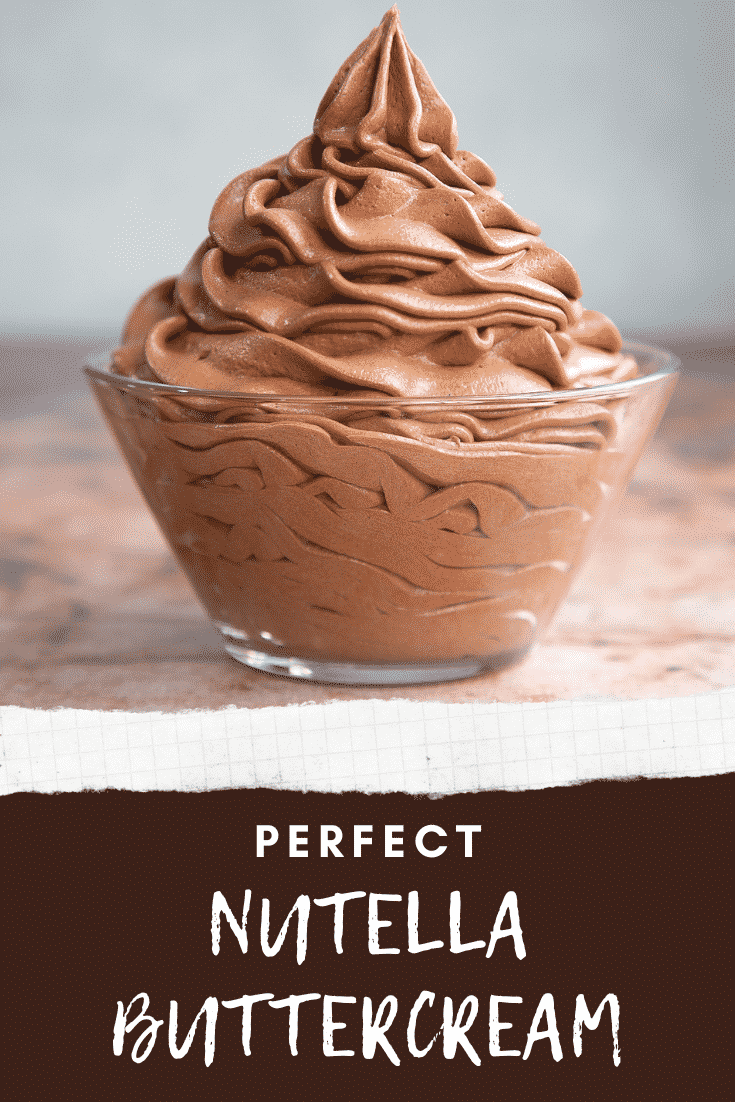 What goes well with Nutella buttercream?
Depending on how much you love Nutella, this buttercream will go with anything you like. You could use it on cakes, biscuits or pancakes. Or even spread it on brioche bread for an extra special version of Nutella on toast.
As it's so rich, it might need something creamy to cut through it, so maybe it would work well in a sandwich cake with cream or even swirled through an ice cream sundae!
Where can I buy Nutella?
Nutella is available and popular worldwide, so you can usually find it in most supermarkets or smaller grocery stores. Nutella is usually kept in the same aisle as jam, honey and peanut butter.
Many supermarkets offer their own version of a chocolate hazelnut spread, so if you can't find Nutella in stock then feel free to substitute it with an off label version as long as the ingredients are similar in ratios.
If you can't find any chocolate hazelnut spread in the store, you can always find it on Amazon or if you order your food through an online grocery delivery service like Ocado.
Does it matter if I use baking margarine or butter in the buttercream?
While it's sometimes possible to make buttercream with margarine if you use margarine for this recipe it will be too soft. So it's best to use butter (or vegan butter alternative) to get the right texture for your buttercream.
Can I add extra chocolate to this recipe?
The Nutella buttercream gets its chocolatey flavour from the cocoa powder in the recipe and in the Nutella itself. So there isn't any actual chocolate in the recipe. I don't think it would be a good idea to add any extra chocolate for a couple of reasons. Firstly, taste-wise cocoa powder is like a super-concentrated version of the richness from chocolate, so if you added chocolate it might be too rich to enjoy.
Adding melted chocolate to the buttercream would most likely affect the texture as it would melt the butter and then set when cooled, so you might end up with a grainy buttercream. Equally, extra chocolate would increase the amount of fat in the recipe, potentially causing the buttercream to split anyway.
How should I store my Nutella buttercream?
You should always store buttercream in the fridge so that it doesn't melt or spoil. This recipe is made with fresh dairy butter, so it's important to keep it chilled to avoid it getting too soft or spoiling at room temperature.
When you want to use your stored buttercream it will need to be mixed again so it becomes nice and fluffy. So once you remove it from the fridge it's best to let it sit out for 10 minutes and let it soften a little before you mix it.
How long does Nutella buttercream keep?
Your Nutella buttercream should keep in the fridge for around 5-7 days as long as you keep it in an airtight container.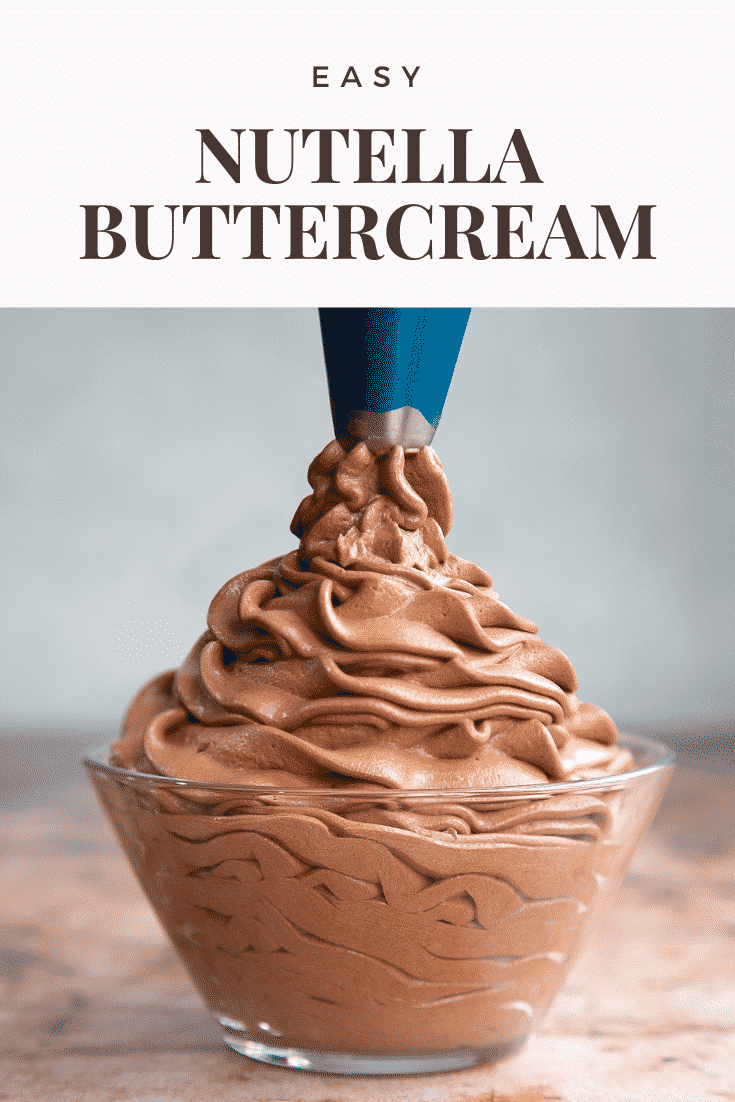 Can I leave Nutella buttercream out on the counter?
No you can't leave your buttercream on the counter as it contains butter. If you leave the buttercream out the butter will melt and eventually spoil.
You should always refrigerate buttercream and any cakes you have topped or filled with buttercream too.
Can I make Nutella buttercream ahead?
This recipe only takes 10 minutes to make. If you make it ahead you'll need to let it sit for 10 minutes or defrost it after getting it out of the fridge or freezer before mixing it again. So to be honest there's probably not much point in making it ahead! However, it's completely fine to make it ahead if you want. It will keep in the fridge for 5-7 days, or in the freezer for
Can I keep Nutella buttercream in the refrigerator?
Yes, keeping your Nutella buttercream in the fridge is the most suitable way to store it. It will keep for 5-7 days in the fridge if you store it in an airtight container.
When you want to use your buttercream, take it out of the fridge and let it rest on the counter for 10 minutes then mix it again. Letting it rest for a few minutes will ensure it is soft enough to mix without it splitting or turning grainy.
Can I freeze Nutella buttercream?
Yes! You can usually freeze buttercream for up to 3 months according to various sources. So this buttercream should keep for that long too.
Make sure to take it out of the freezer and defrost it in the fridge the night before you want to use it. Then re-whisk it with your electric whisk or stand mixer to get some of its fluffy texture back.
What is the best way to defrost Nutella buttercream?
The best way to defrost your Nutella buttercream is to place it in a sealed container in the fridge for several hours. So an ideal method would be to defrost it overnight to ensure it's fully defrosted before you use it.
Once it's defrosted, bring the frosting out of the fridge for 5-10 minutes and then re-whisk it so it regains its smooth and light texture.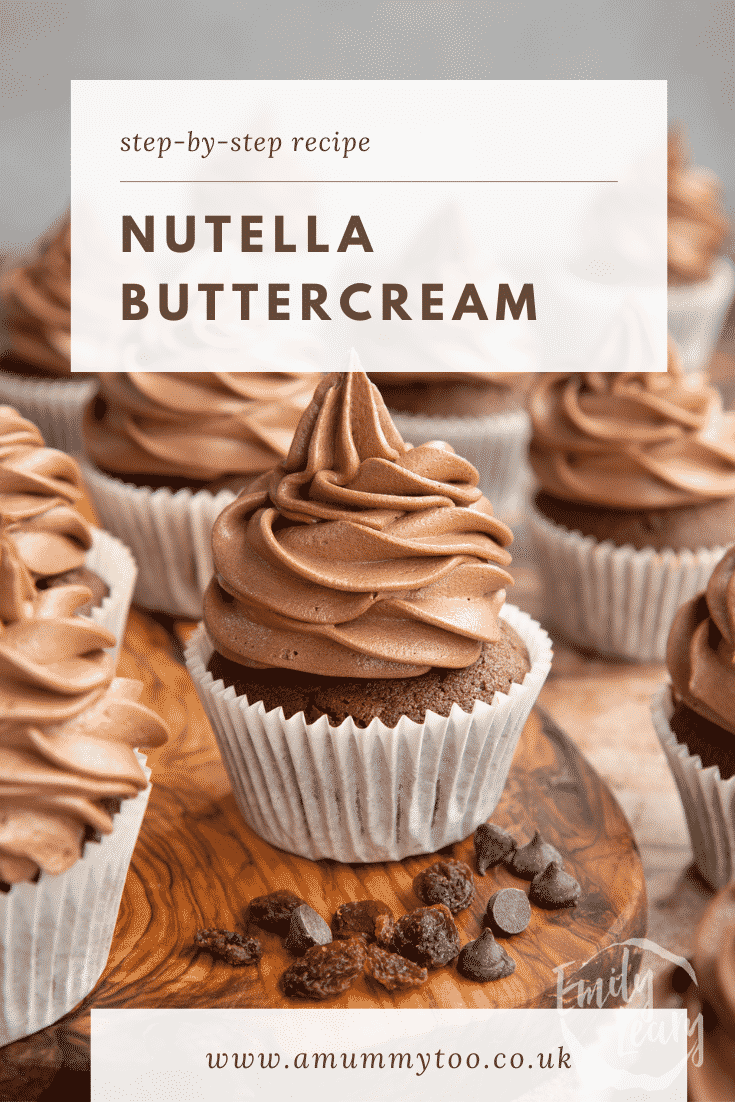 Can I make Nutella buttercream in a different quantity?
Yes, if you want to make more or less buttercream then that's fine. This recipe is especially ideal for scaling up or down as there's no cooking involved.
If you go to the recipe card below this section I have a tool that can help you work out the number of ingredients for a different sized portion.
On the serving size near the top, you'll see the number of servings. To change this to the number you want to make just click on it and a little slider will pop up.
You can move the slider up or down to get the amount you want to make. Then all the ingredient quantities will automatically update for you so that everything is in the right ratios.
Can I make Nutella buttercream in a stand mixer such as a KitchenAid or Kenwood Mixer?
Yes, a stand mixer would be perfect for making this buttercream as the recipe requires you to do a lot of mixing.
If you do use a stand mixer make sure you stand by it and monitor the way the ingredients are being mixed, as if you overbeat the mixture it can split or become too loose.
If you don't have a stand mixer then feel free to mix it by hand with a whisk. It will take longer but as long as you make sure there are no lumps then it should turn out just fine.
If you're mixing the buttercream by hand try not to hold the bowl against you as the warmth of your body will heat the butter up and cause it to melt or become too loose.
Can I make Nutella buttercream with a food processor?
A food processor isn't really suitable for mixing buttercream. If the butter is overmixed it can cause the buttercream to split, so it's better to use a stand mixer or electric whisk. Equally getting buttercream out of a food processor can be very fiddly and messy!
How can I make sure my Nutella buttercream turns out perfectly?
This is a super simple recipe so there isn't much to get wrong. However, the recipe does depend on you getting the ratios and the mixing right.
Buttercream works because it is a perfect balance of fats and liquid and if this balance is off then it can split, become too loose or too stiff. So take care when you add your ingredients to the bowl. I find it useful to measure everything out into individual bowls before I begin making a recipe. If you measure everything out before you begin you don't have to worry about working out measurements while making your recipe.
Equally, if your buttercream is too warm or too cold, then the way the liquids and fats combine will be interrupted. Incorrect temperature can cause either a loose, sloppy buttercream (too warm) or a stiff, curdled buttercream (too cold). So make sure you use softened but not melted butter and your butter is cold but not so cold that it won't break down and mix into a smooth buttercream.
Why did my Nutella buttercream split?
If your buttercream has split then it's most likely due to the temperature of the butter. This Nutella buttercream recipe calls for softened butter, not melted butter. This means that your butter should be soft enough to put a finger indent into it, but not so soft that it's liquid or it can't hold its shape.
On the other hand, if you've tried to make your frosting with very cold butter, it may have tiny lumps or seem 'gravelly'. This is because the butter is too cold to break down into smooth paste with the Nutella and dry ingredients. Luckily it's pretty easy to fix. All you need to do is let your buttercream sit at room temp for a while until the butter is softened a little, then continue mixing.
If you tried to make the frosting with melted butter, it won't come together in the same way and may seem liquid or split. Again, it's just as simple to fix as the butter being too cold. You just need to chill the mixture in the fridge for 15-30 minutes until the butter has set then try whisking it again.
Why did my Nutella buttercream or turn very loose?
If your buttercream is very loose then it may be because you have added too much water or it has gotten too warm.
You only need to add 1-2 tbsp of hot water to the mix to loosen things slightly, so make sure that you don't add more than the recipe states!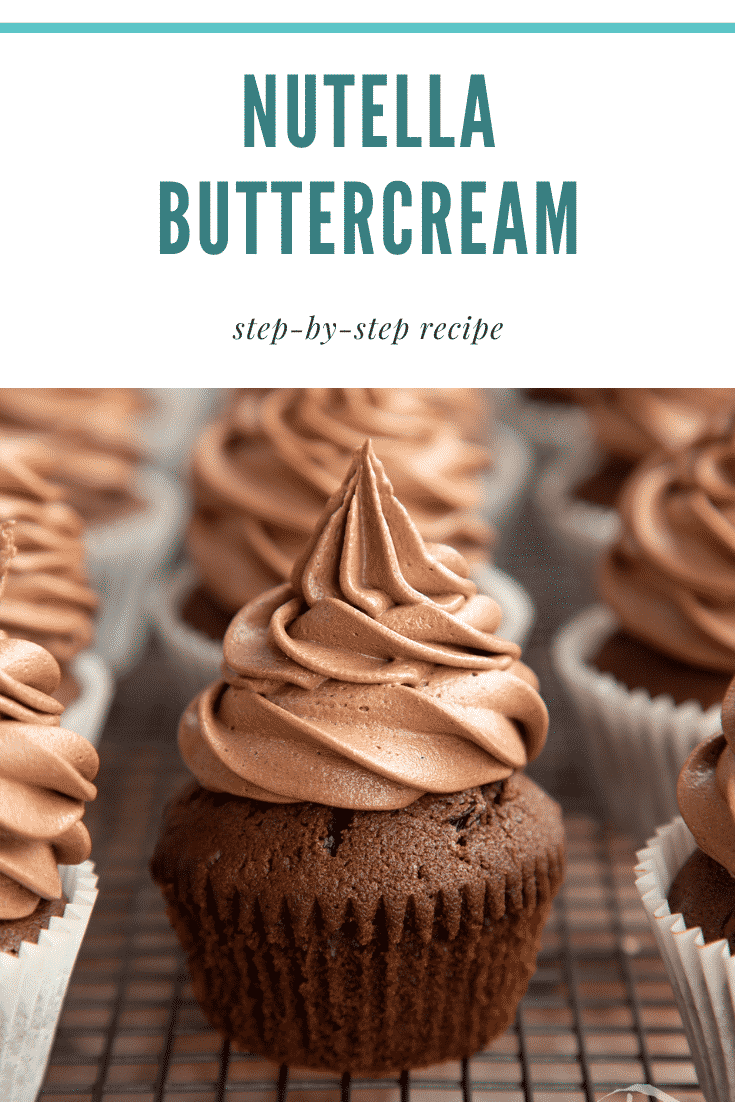 How can I add/change the flavours in Nutella buttercream?
If you want to add or change the flavours to this buttercream there are a few ways you can change things up.
The easiest way to add flavour would be to add some orange zest or dry spices like cinnamon or nutmeg, which would be great if you're making this for Christmas. Half a tsp would be enough to notice the flavour but you can regulate the amount by taste.
Or you could add 1 tsp of liquid food flavouring like orange, vanilla or any flavour you think would go with Nutella.
Who invented Nutella?
Nutella was invented by the Ferrero company, owned by Pietro Ferrero. You might recognise his surname because his company also invented Ferrero Rocher - and Kinder chocolates and Tic Tacs. So you could say that he was almost like the real-life Willy Wonka!
Print this Nutella buttercream
Print Recipe
Nutella Buttercream
This Nutella buttercream is ultra smooth and light with a gorgeous chocolate hazelnut flavour.
Servings:
12
cupcakes worth
Ingredients
150

g

(

2

stick + 3 tbsp

)

slightly salted butter

softened

300

g

(

2⅓

cups

)

icing sugar (powdered sugar)

powdered sugar

25

g

(

¼

cup

)

cocoa powder (dutch processed)

1

tbsp

whole milk

1-2

tbsp

hot water

120

g

(

⅓

cup + 1 tbsp

)

Nutella
Instructions
Put the butter, icing sugar, milk, Nutella and a tablespoon of recently boiled water in a large mixing bowl.

Beat until light and smooth – it's quickest to use an electric whisk.
Notes
If you'd like to use on cupcakes, transfer into the piping bag with the nozzle in place and twist. Pipe the frosting on top of the 12 muffins in generous, rising swirls – sharing it all evenly.
Nutrition
Calories:
246
kcal
|
Carbohydrates:
32
g
|
Protein:
1
g
|
Fat:
13
g
|
Saturated Fat:
9
g
|
Polyunsaturated Fat:
1
g
|
Monounsaturated Fat:
3
g
|
Trans Fat:
1
g
|
Cholesterol:
27
mg
|
Sodium:
95
mg
|
Potassium:
78
mg
|
Fiber:
1
g
|
Sugar:
30
g
|
Vitamin A:
315
IU
|
Calcium:
18
mg
|
Iron:
1
mg
* Note: nutritional information is estimated, based on publicly available data. Nutrient values may vary from those published. Information on this website should not be taken as medical advice. Cuisines identify the primary region of inspiration for a dish.
Tried this recipe?
Snap a pic and tag @amummytoo on Instagram or tag @EmilyLearyCooks on Twitter. I can't wait to see your posts!
Pin this Nutella buttercream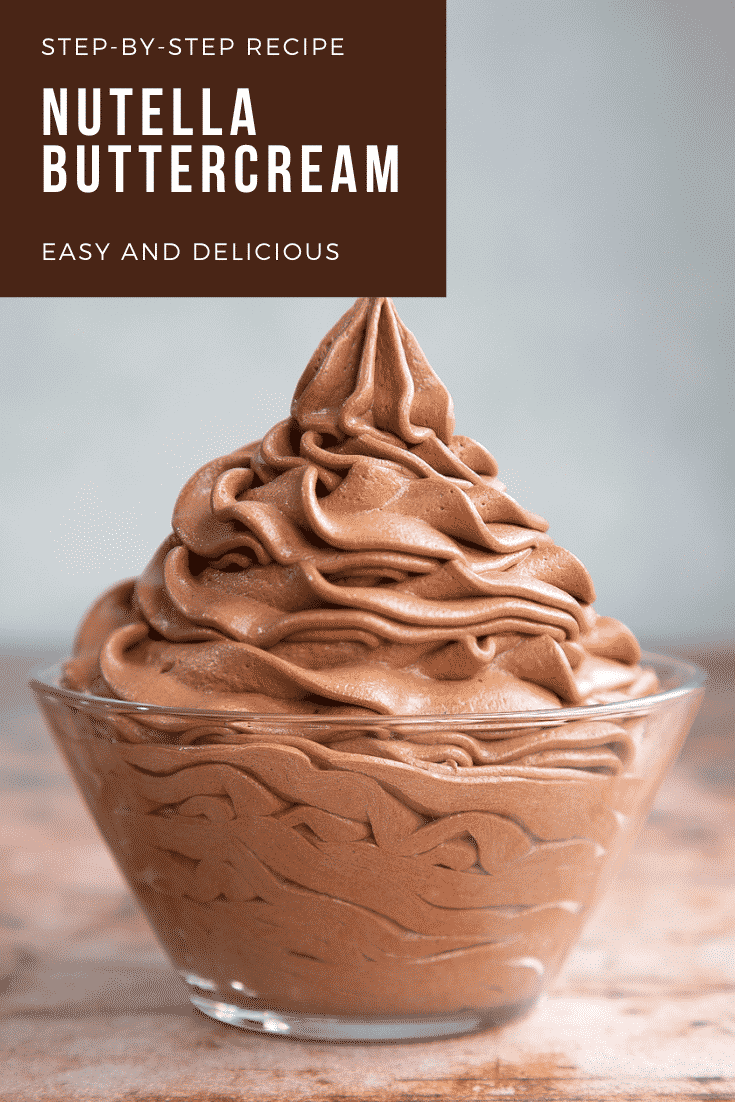 Cupcake recipe to try with this buttercream
Reindeer Cupcakes
These reindeer cupcakes are so much fun and so easy to make. You'll love the chocolate sponge, rich chocolate frosting and the simple toppings that come together to make the cure Christmas reindeer faces.
Get the recipe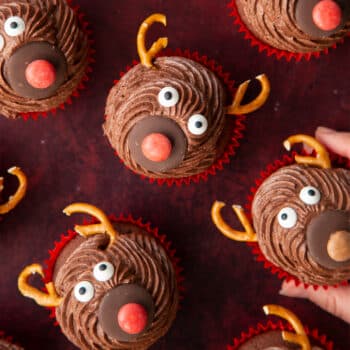 Baileys Chocolate Cupcakes
From the rich chocolate sponge, to the smooth and creamy Baileys frosting, these really are the ultimate Baileys chocolate cupcakes.
Get the recipe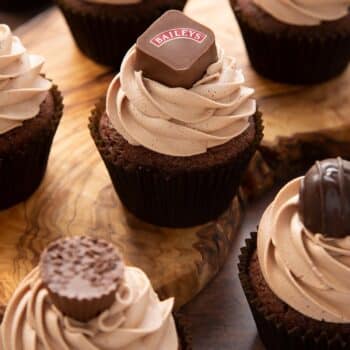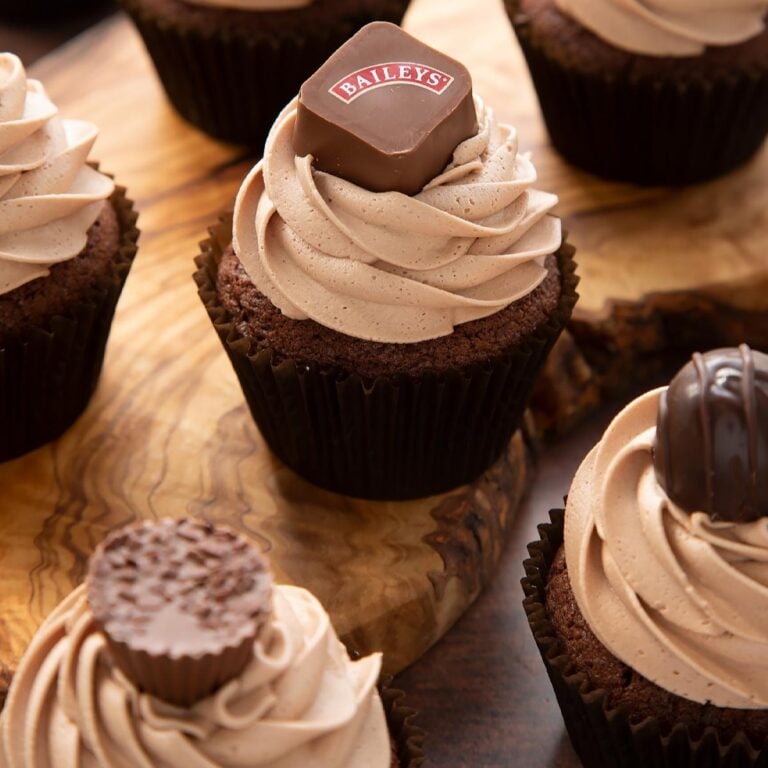 Chocolate Walnut Cupcakes
Fancy some delicious chocolate walnut cupcakes? Try these! They have a deeply chocolatey yet beautifully light sponge, flecked with creamy, sweet walnut pieces and topped with a perfectly smooth chocolate frosting.
Get the recipe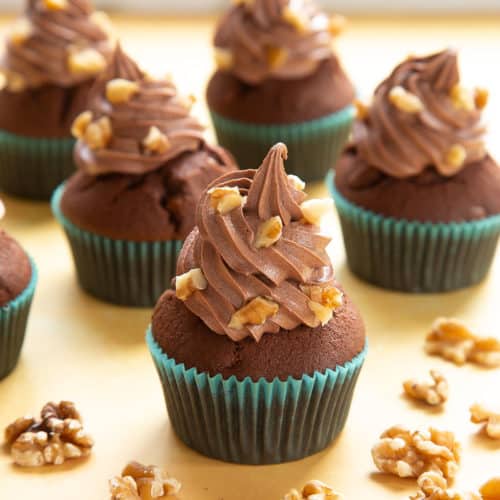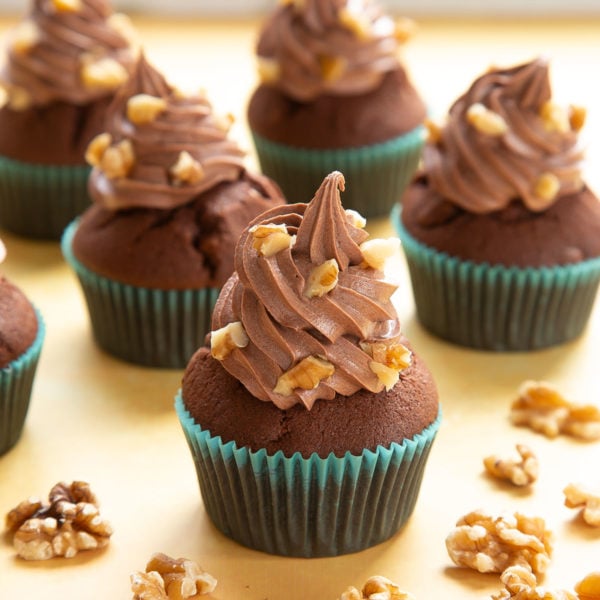 Vanilla Fudge Cupcakes
The flavoursome and tender vanilla fudge cupcakes are dotted with fudge chips and topped with delicate vanilla buttercream.
Get the recipe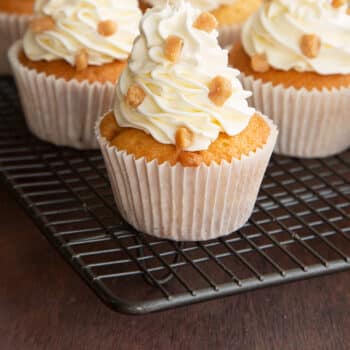 Spiced Christmas Cupcakes with Marzipan Frosting
Christmas cupcakes with a light, crisp, spiced sponge and a moreish white chocolate marzipan icing.
Get the recipe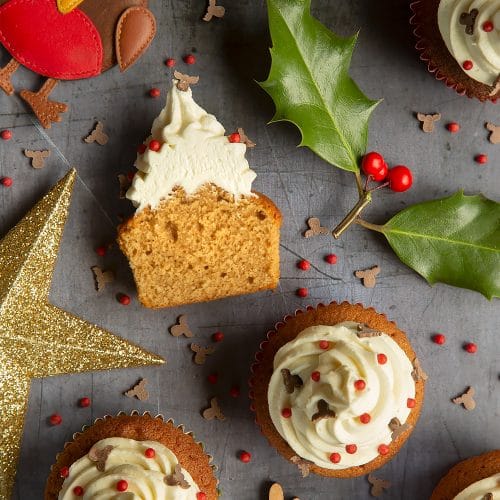 6 FUN recipes to make with kids - a FREE family baking eBook!
Have a free copy of my family baking eBook! With 6 easy recipes and bonus activities to get kids into the kitchen - and keep them busy for hours!