Did you know you can BAKE porridge? You can and it's amazing. These baked oatmeal, apple and cinnamon porridge squares are a great place to start.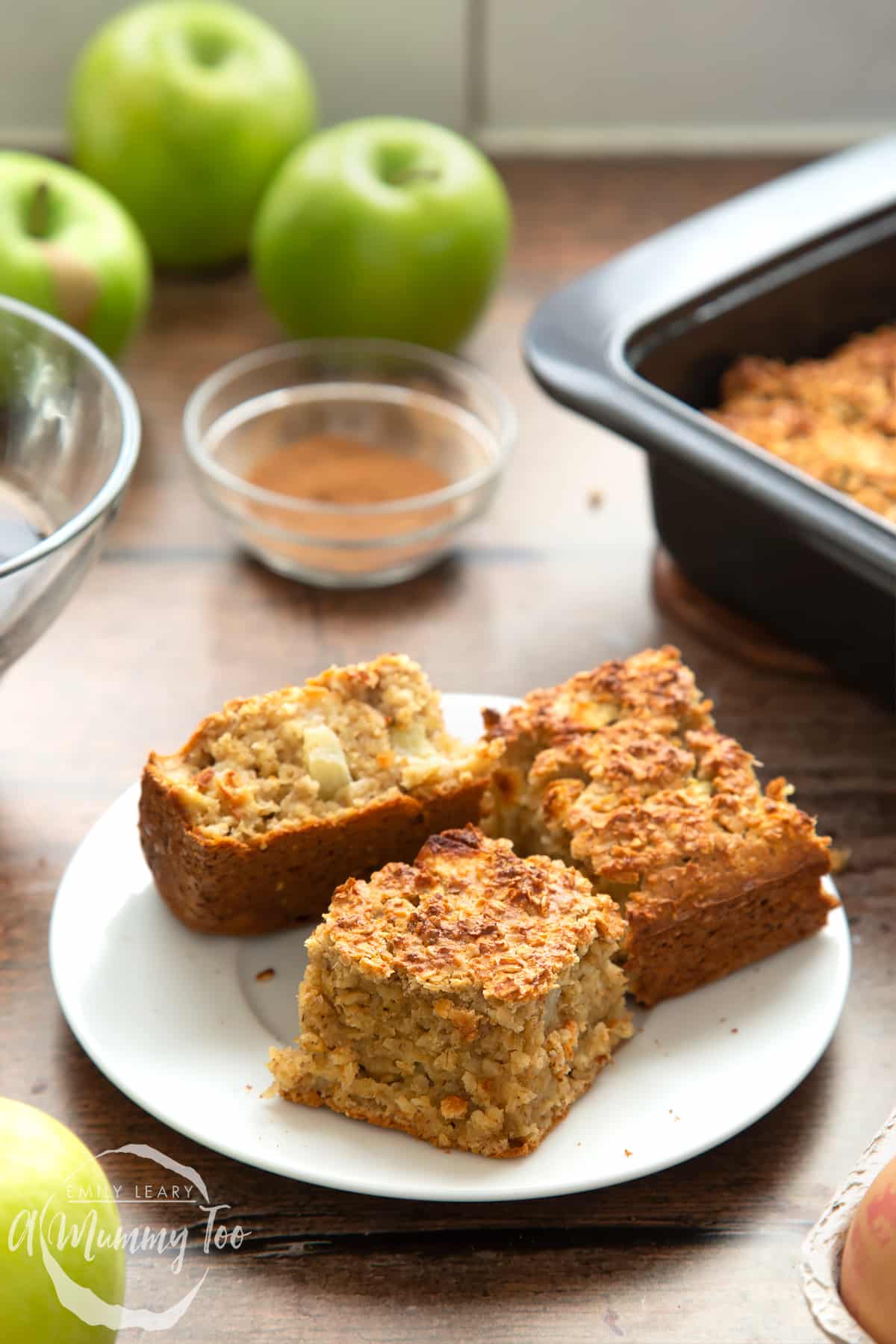 Just whip up your favourite porridge, sweetened with a dash of maple syrup, add eggs, pop in a greased tray and bake for an incredibly delicious breakfast
Here I've flavoured with cinnamon for warmth and added a couple of chopped apples for a delicious way to one of your five a day.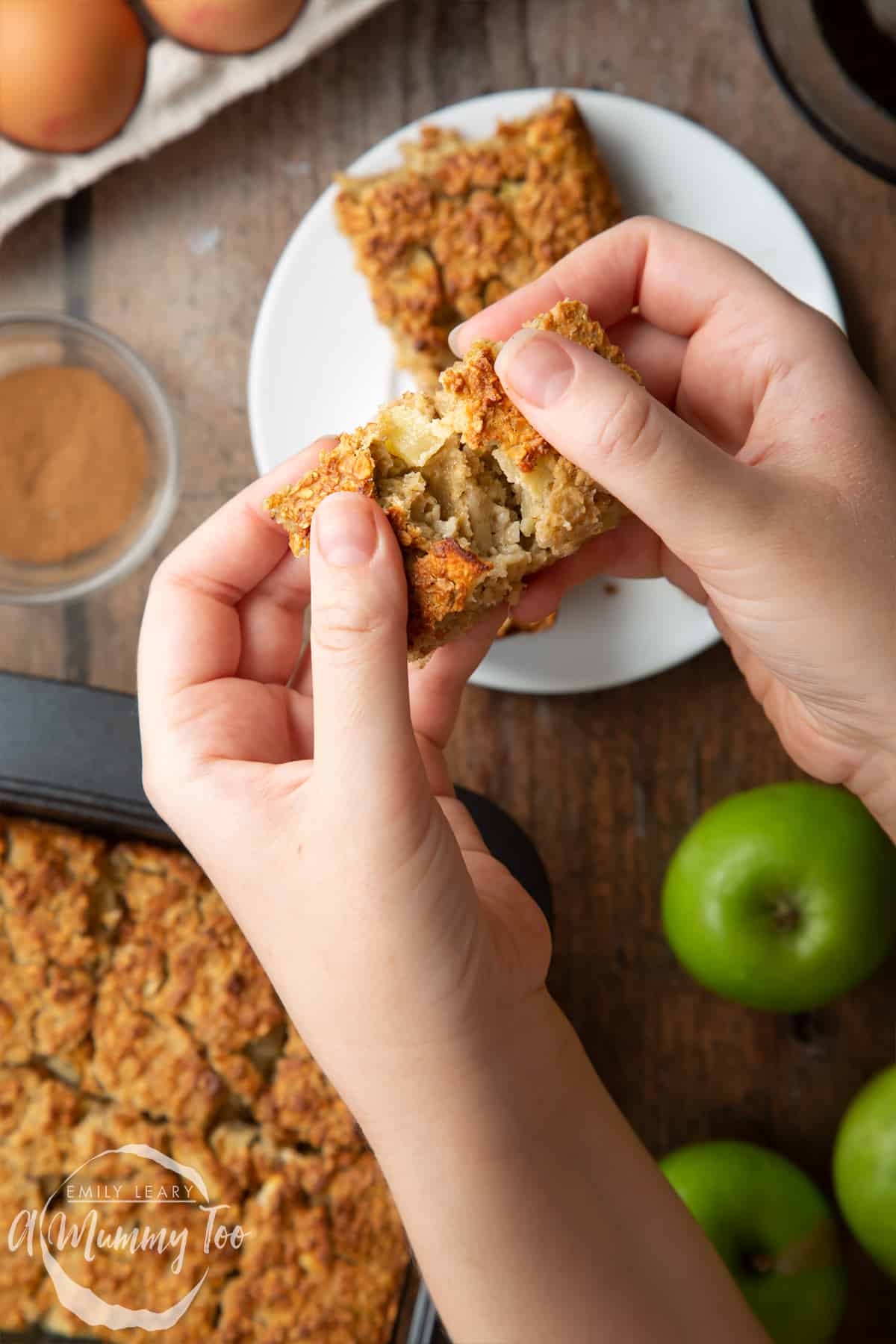 It's so good! I love having a box of them in the refrigerator so that I've always got a satisfying breakfast to grab on the go.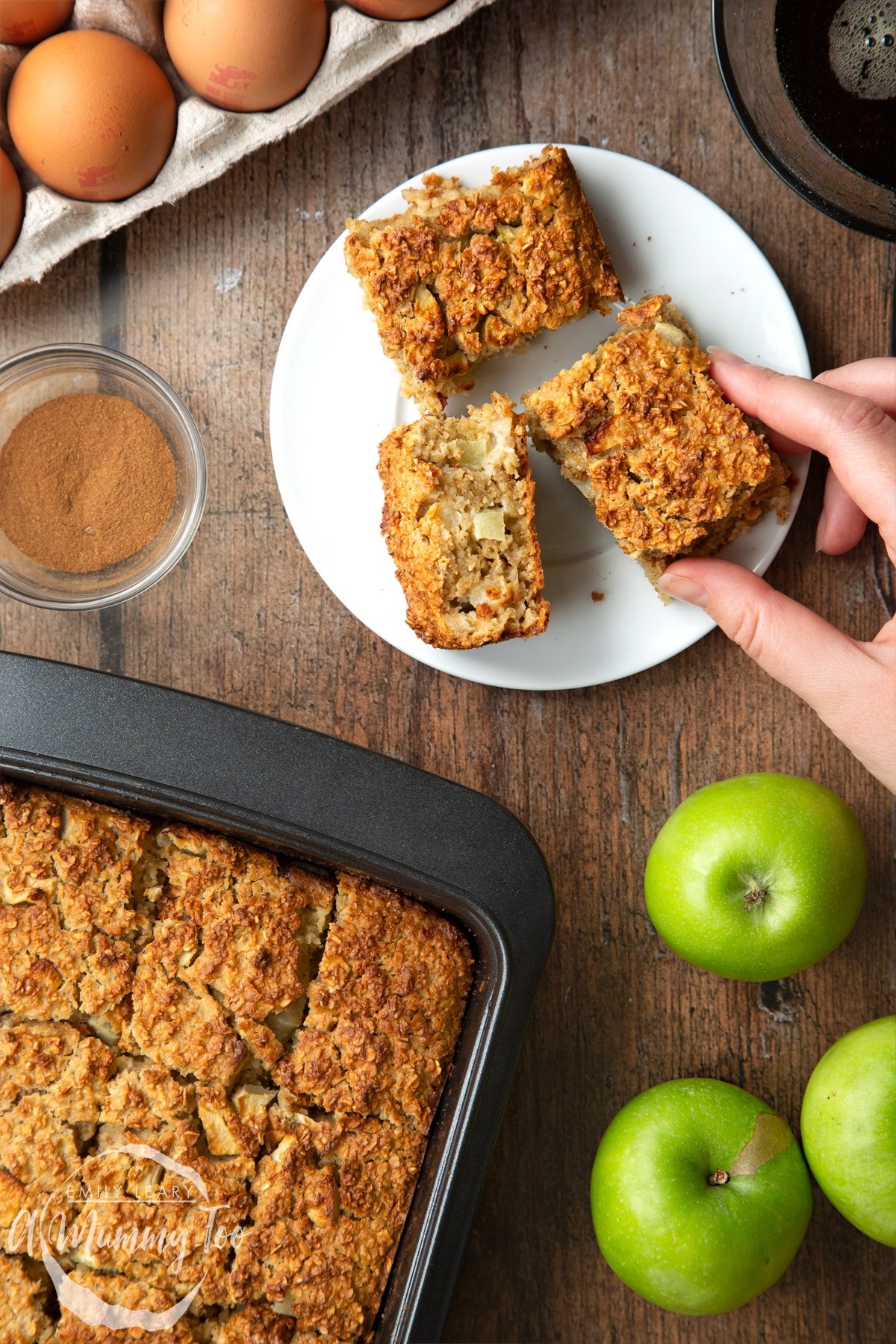 Here's how to make them!
Ingredients
Equipment
Instructions
Preheat the oven to 200C (180C fan).
Put the oats, cinnamon, salt and baking powder in a large bowl.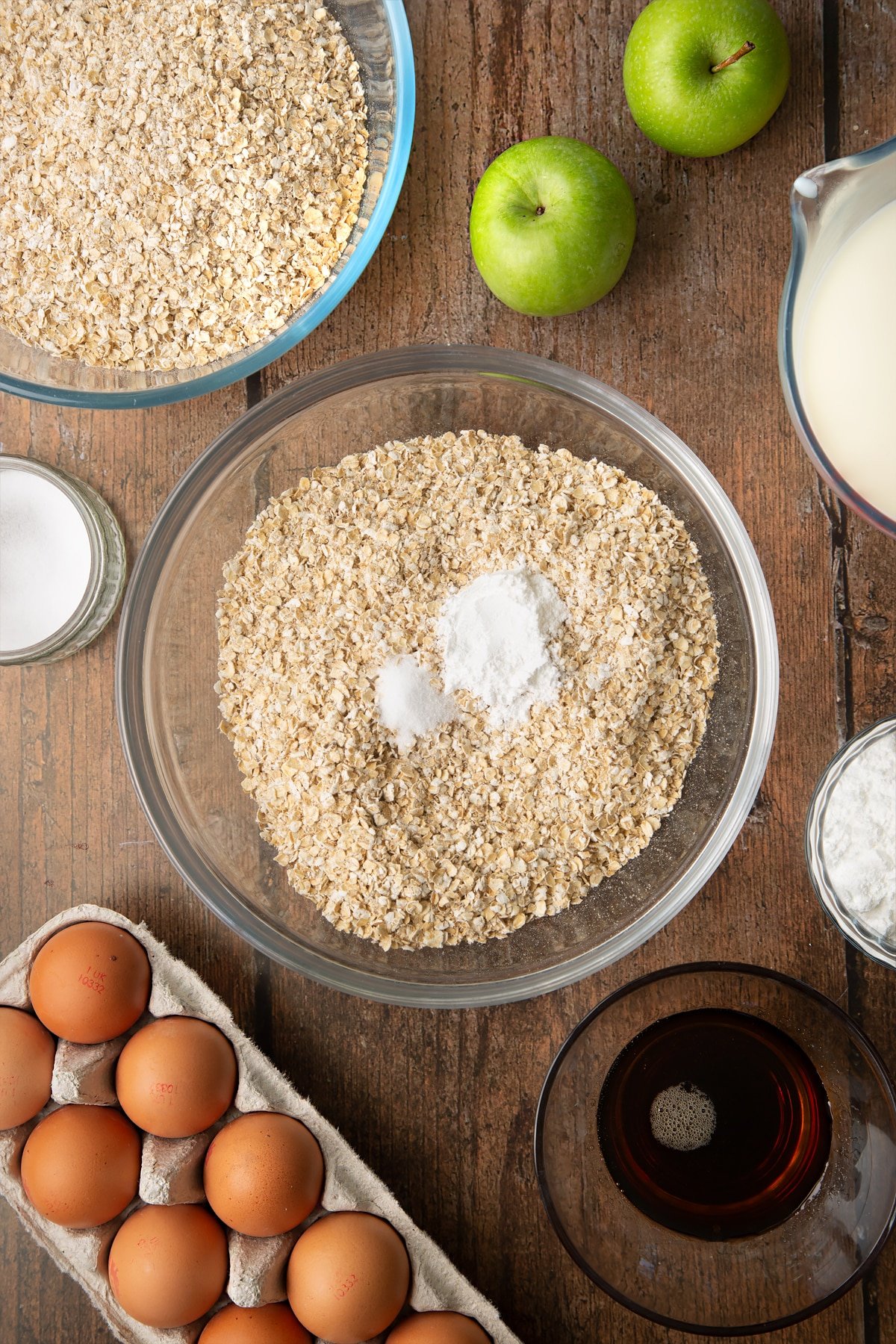 Stir to combine and make a well in the centre.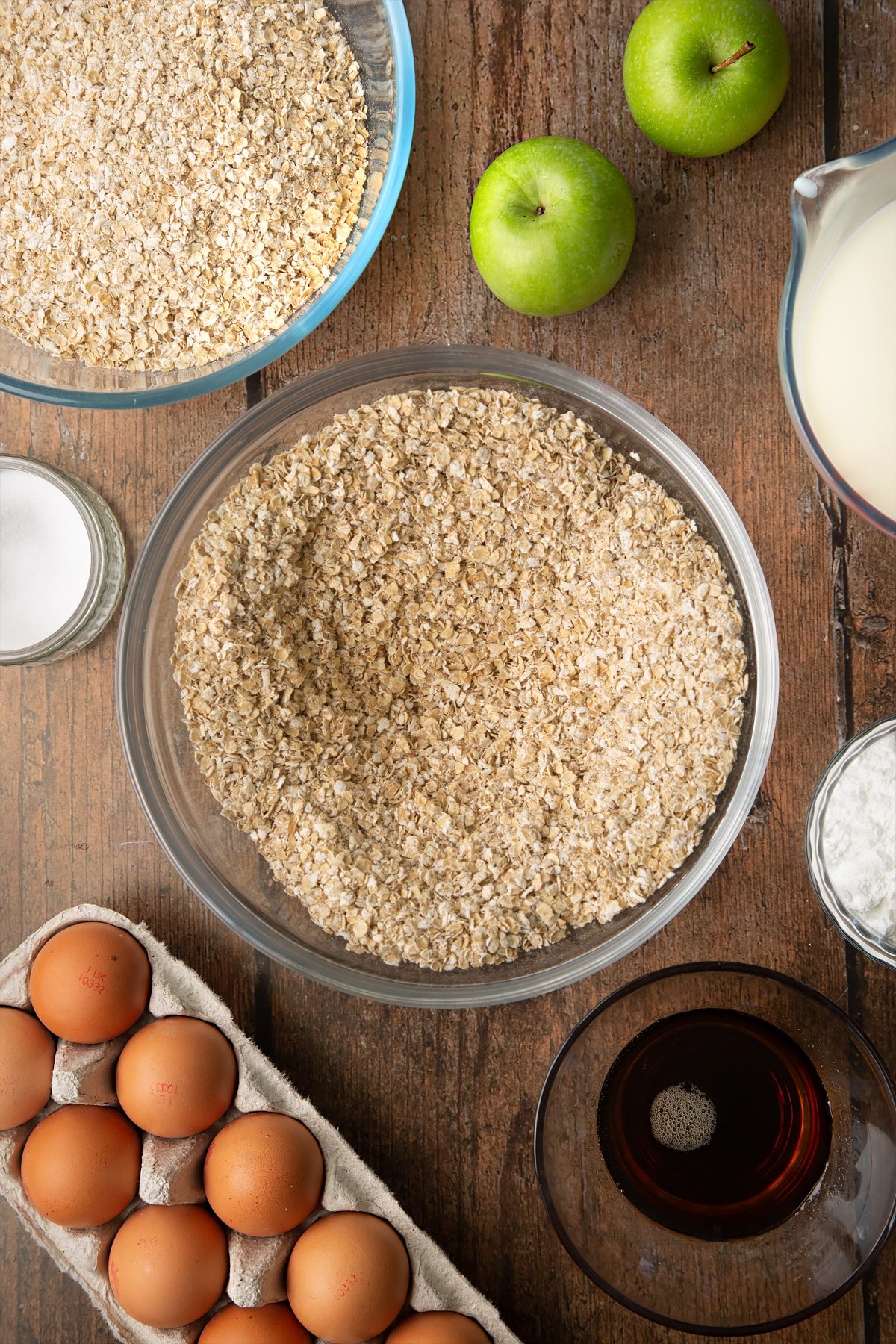 Add the milk, eggs and maple syrup.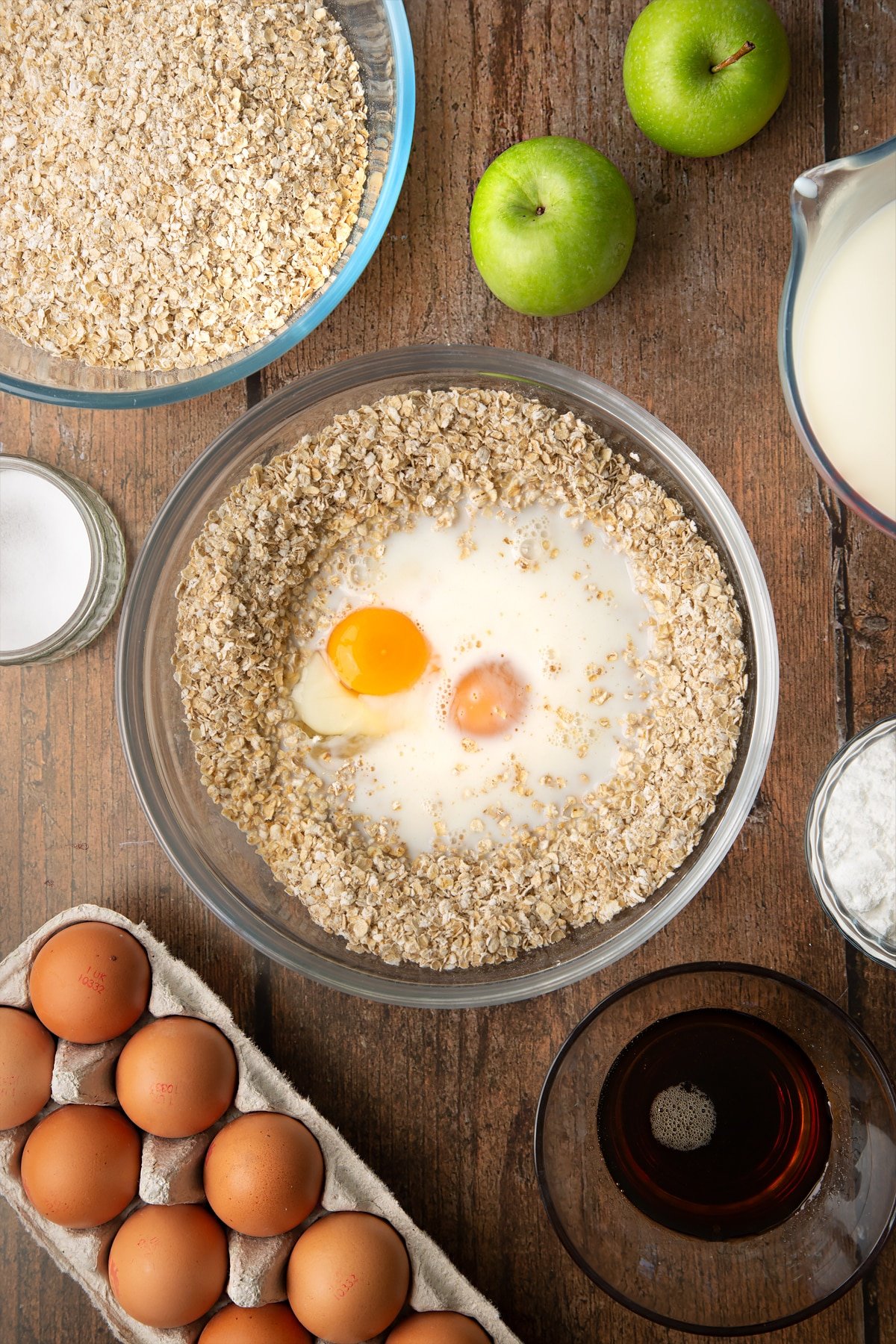 Mix the liquid in the well, slowly incorporating the oats.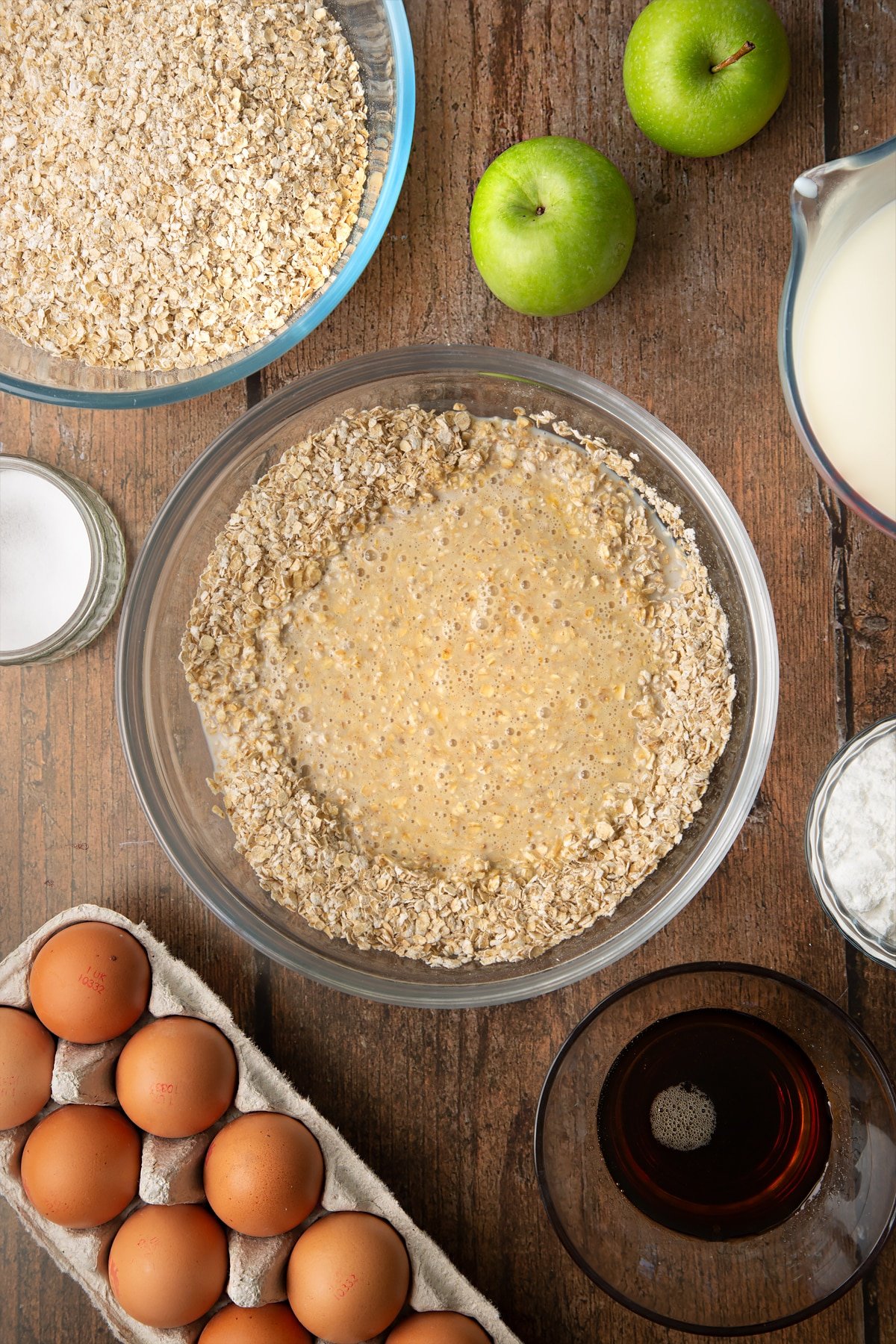 Until evenly combined.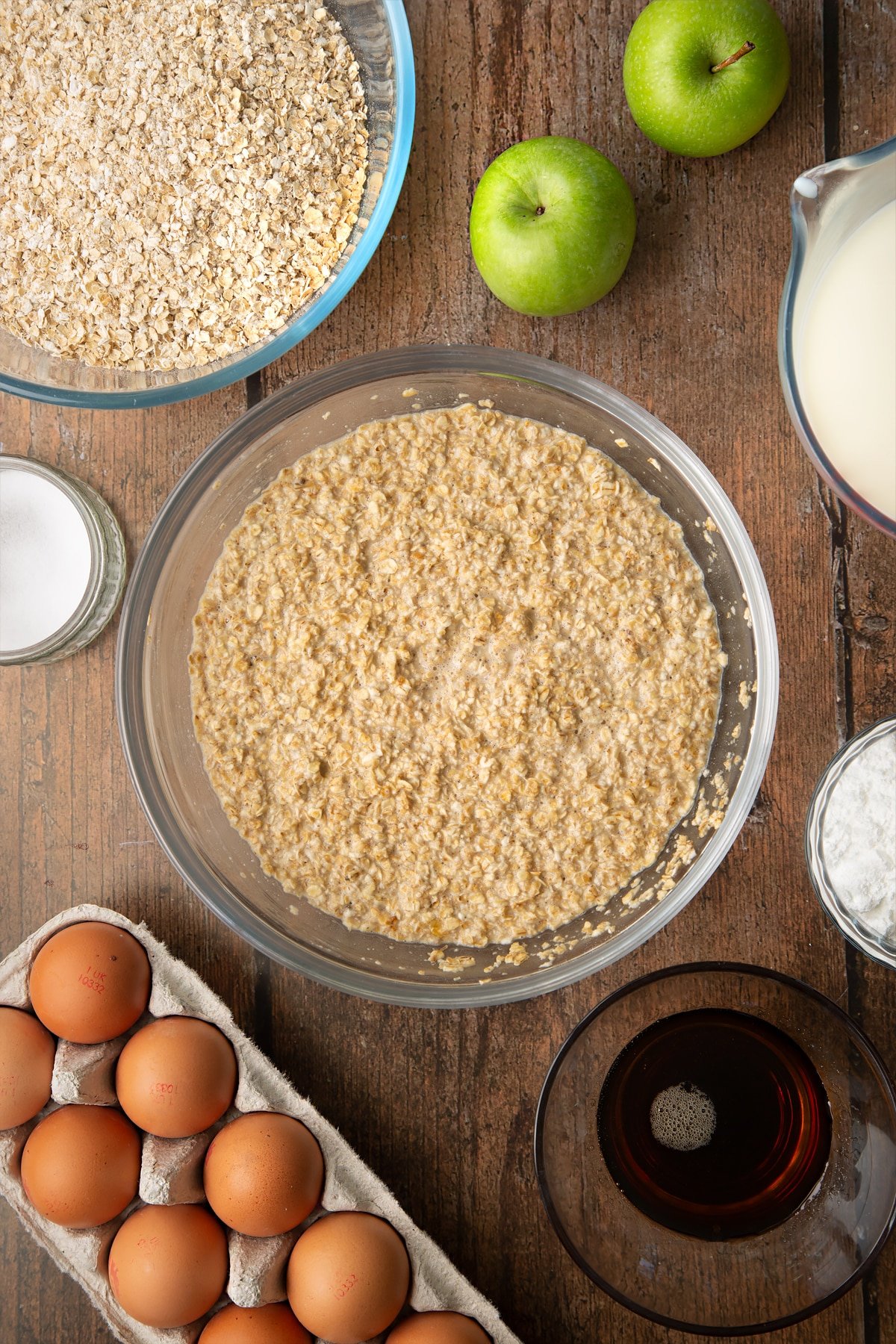 Add the apples.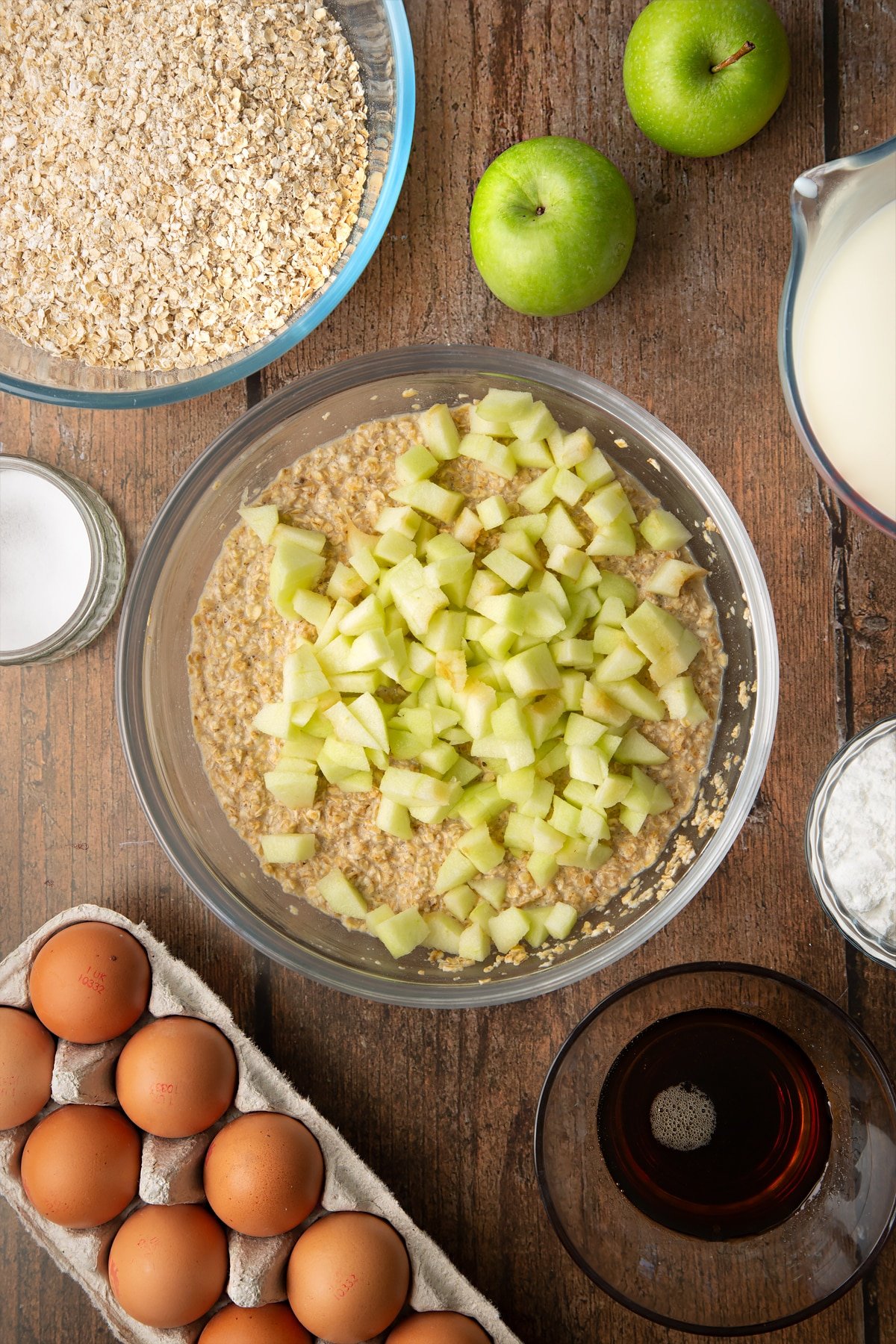 Mix well.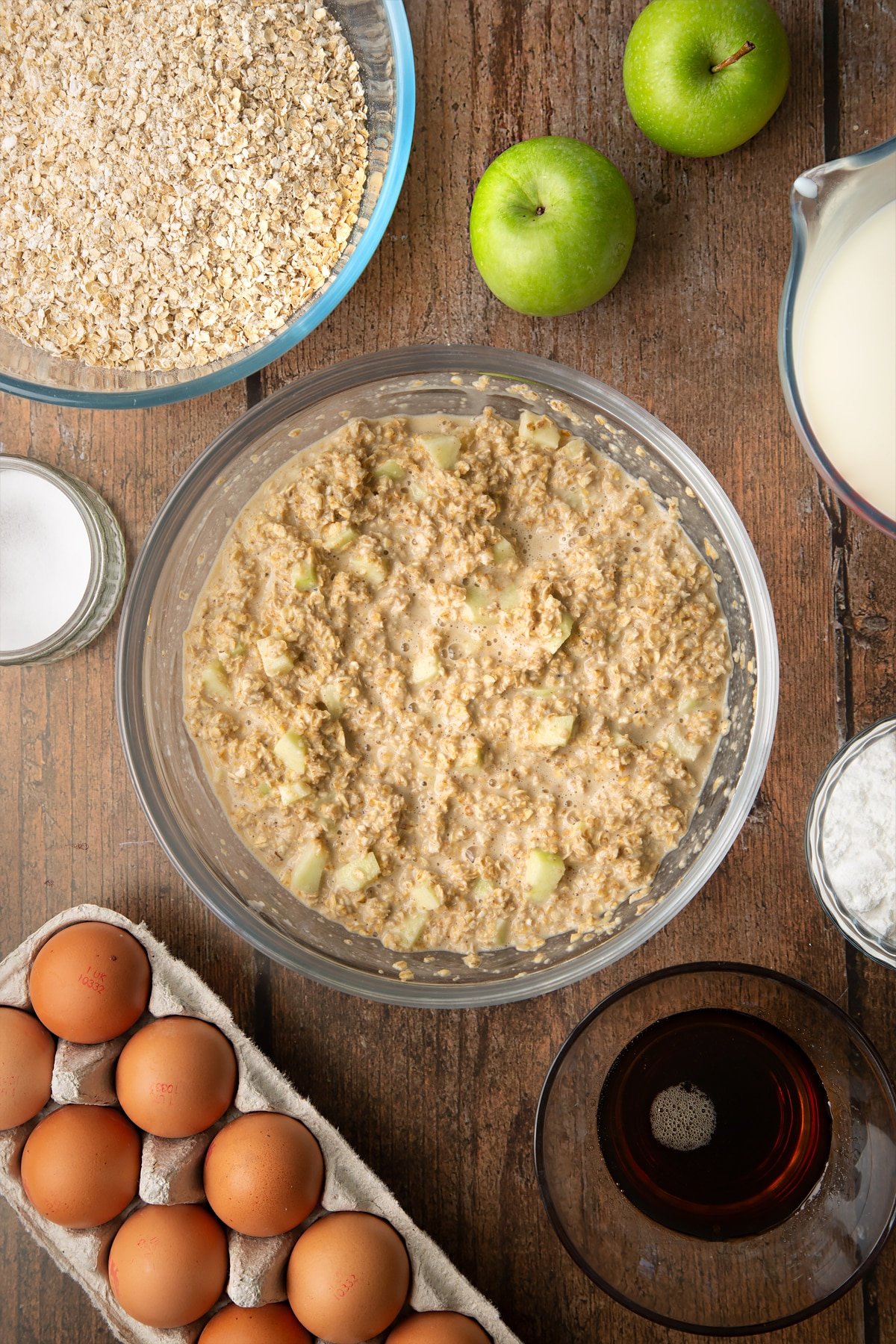 Pour the mix into a greased non-stick tray measuring approximately 30cm x 23cm (12 inches x 9 inches).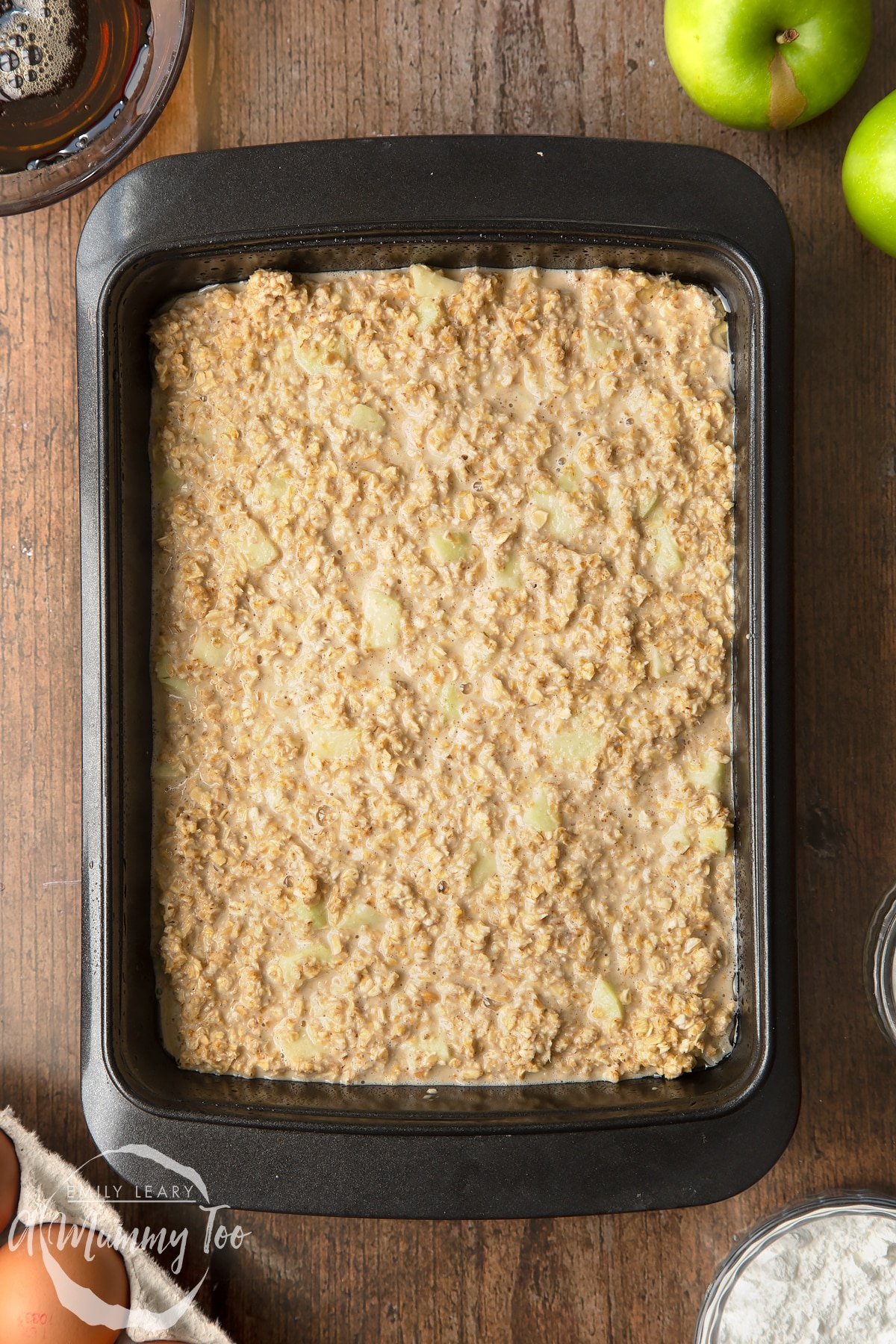 Cover the tray with foil and bake for 30 minutes, then remove the foil and cook for another 15-30 minutes until golden brown on top and set through.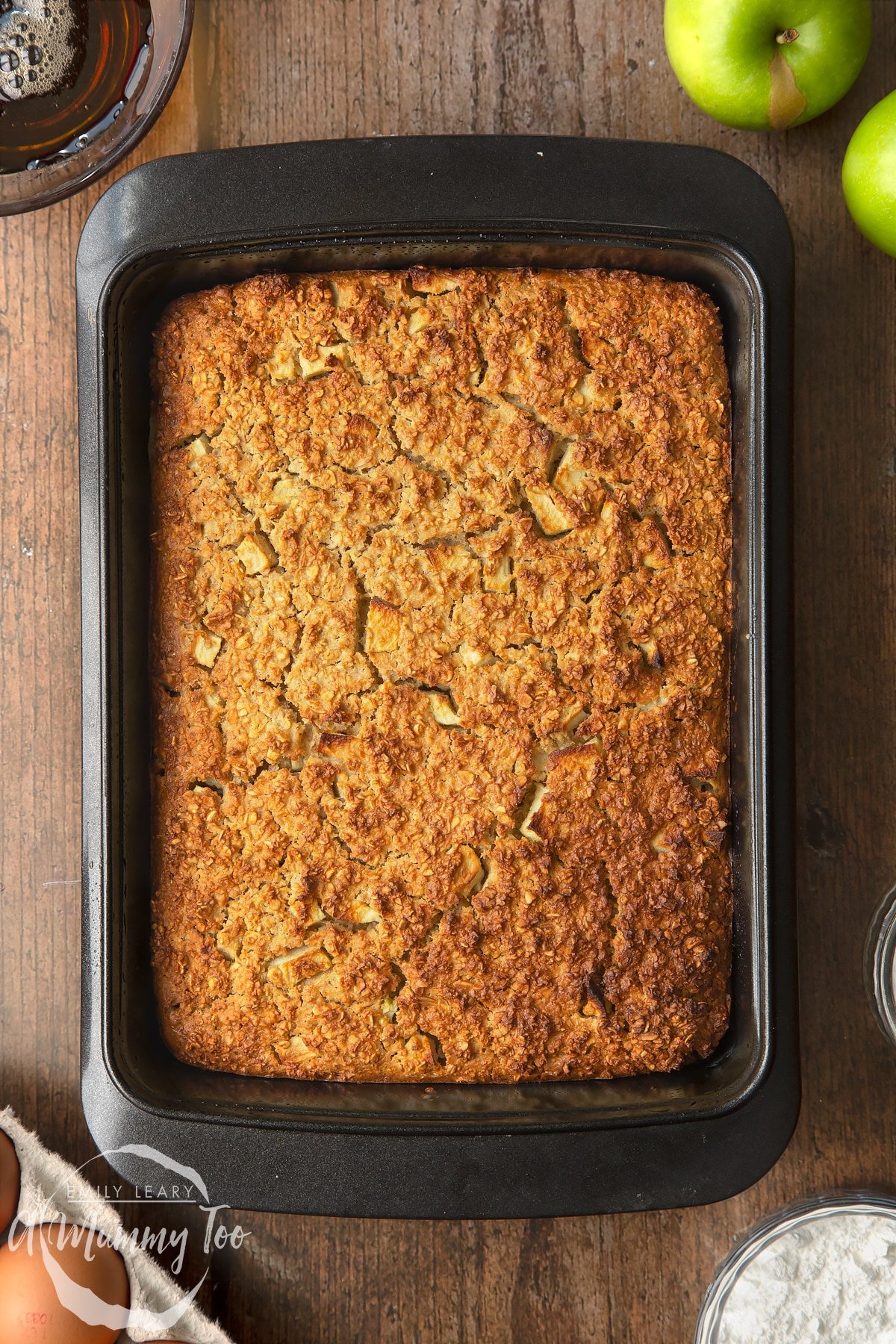 Allow to cool completely, then cut into 16 equal pieces.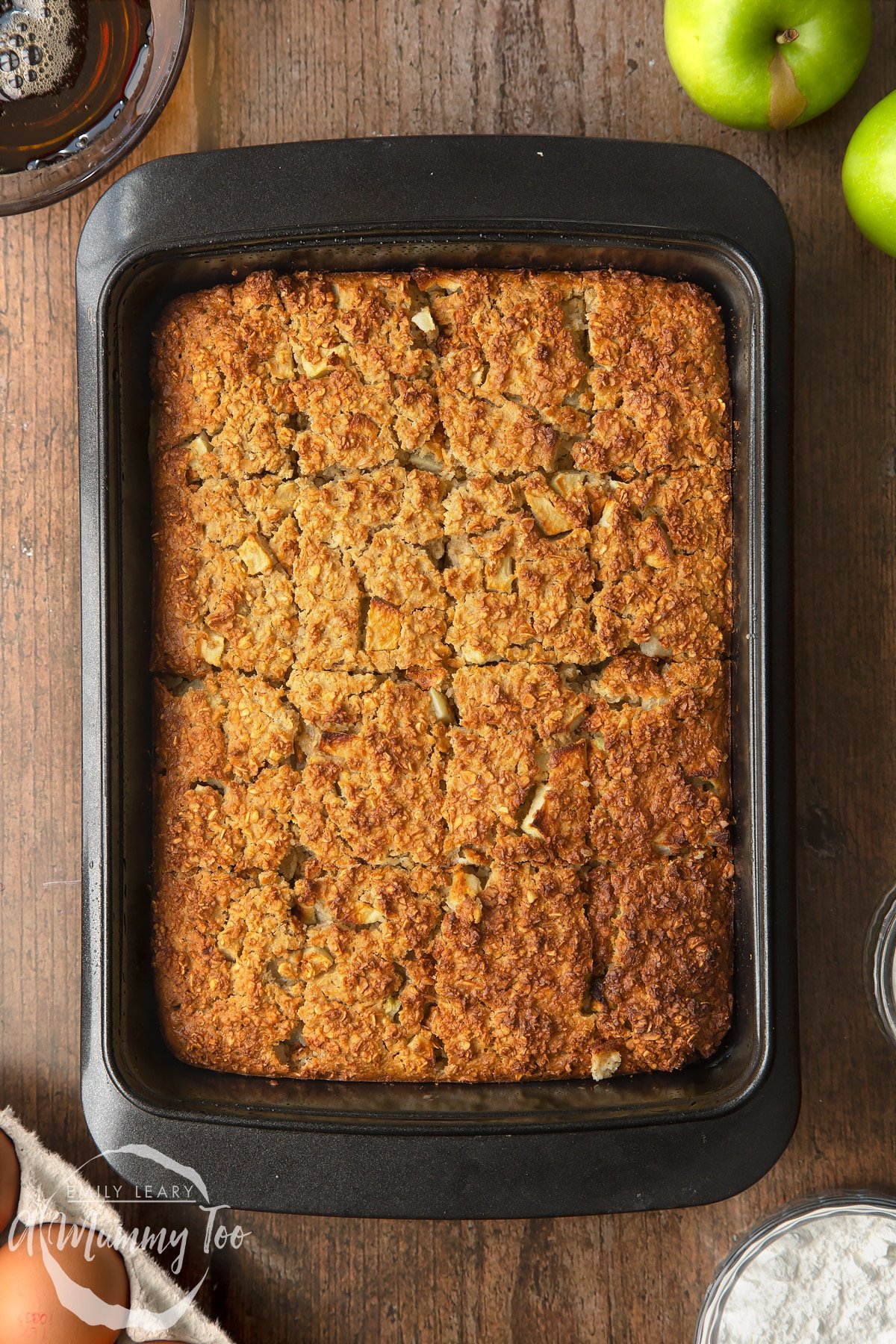 The squares should lift out of the tin easily.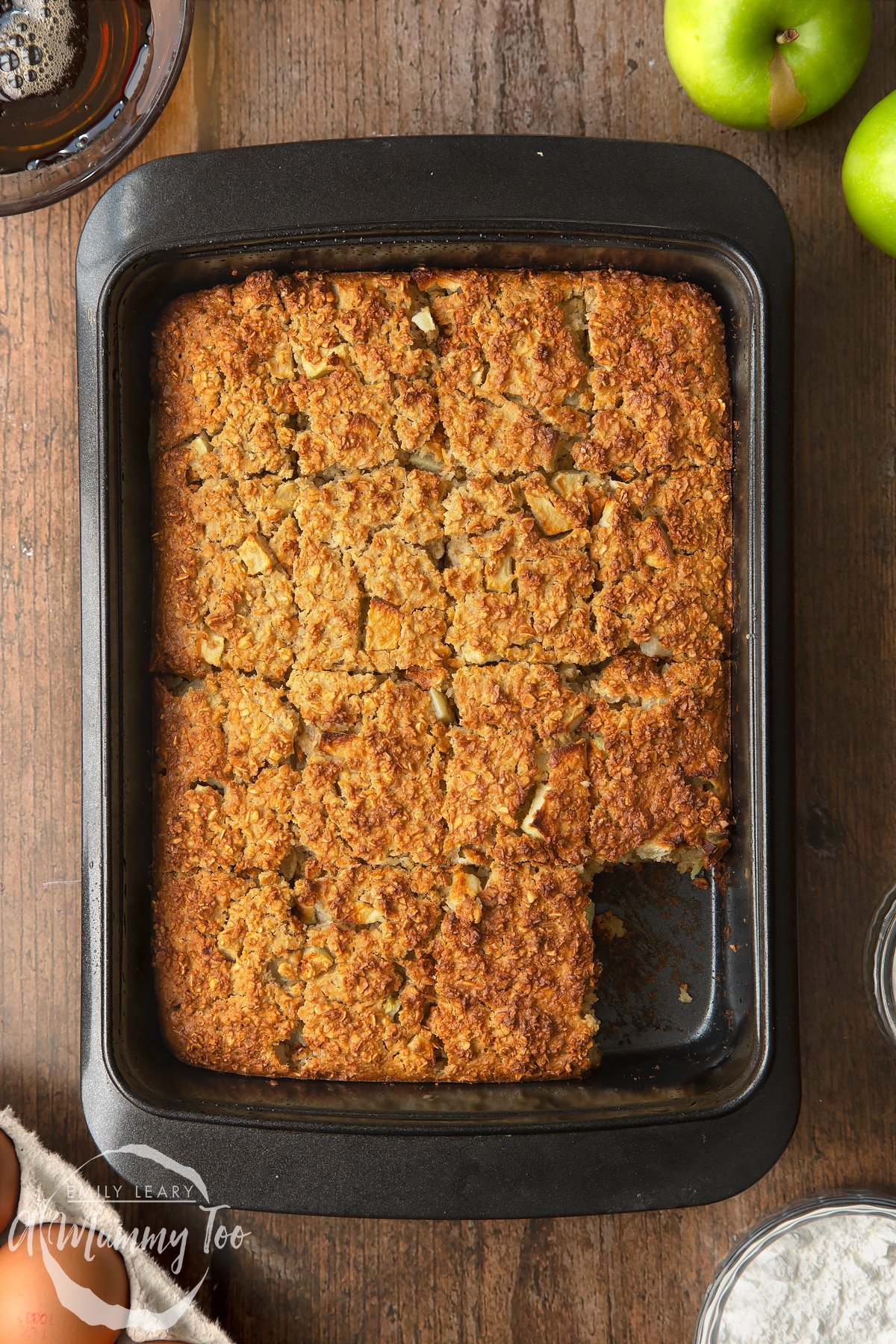 Enjoy hot or cold. Store in an airtight container in the fridge.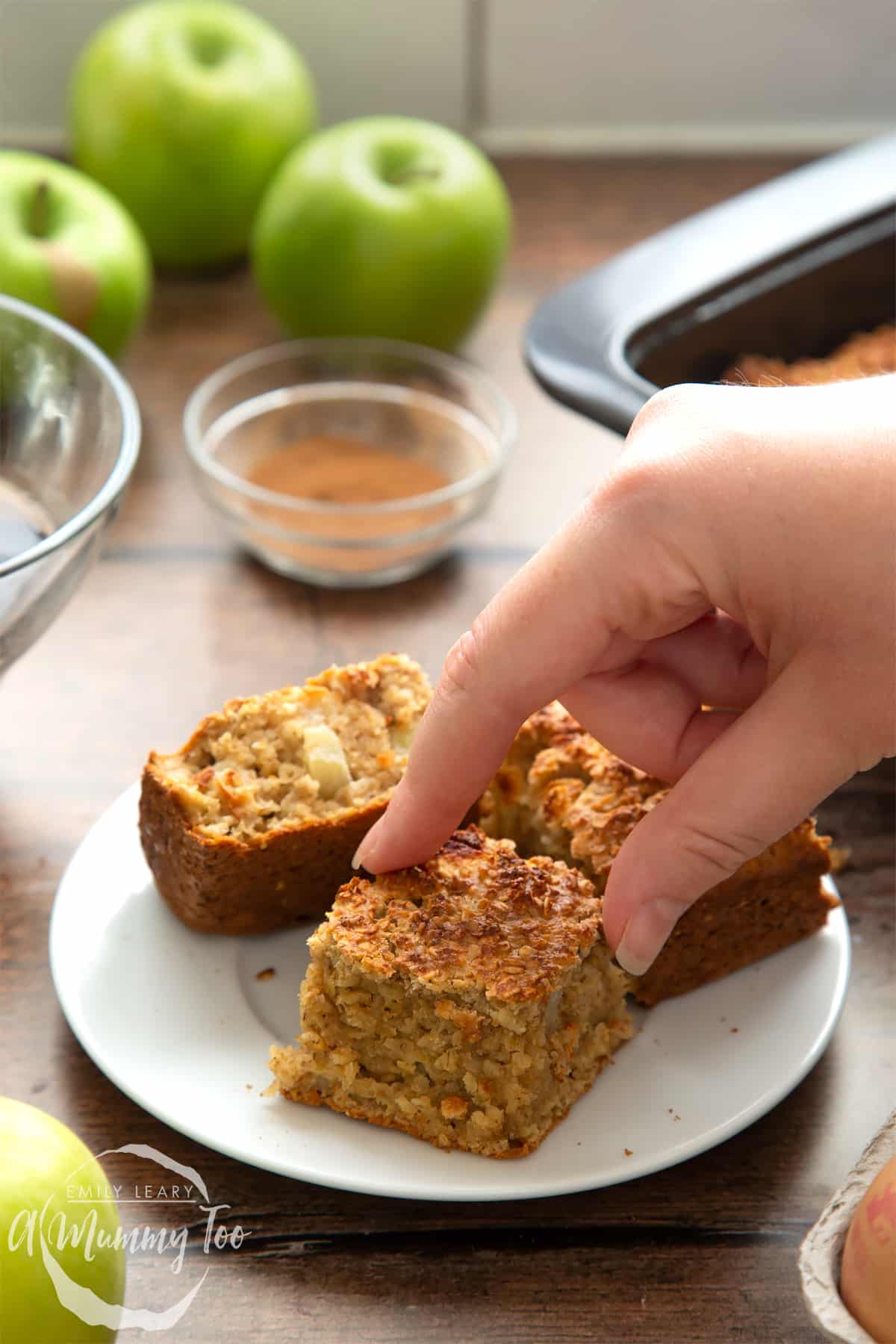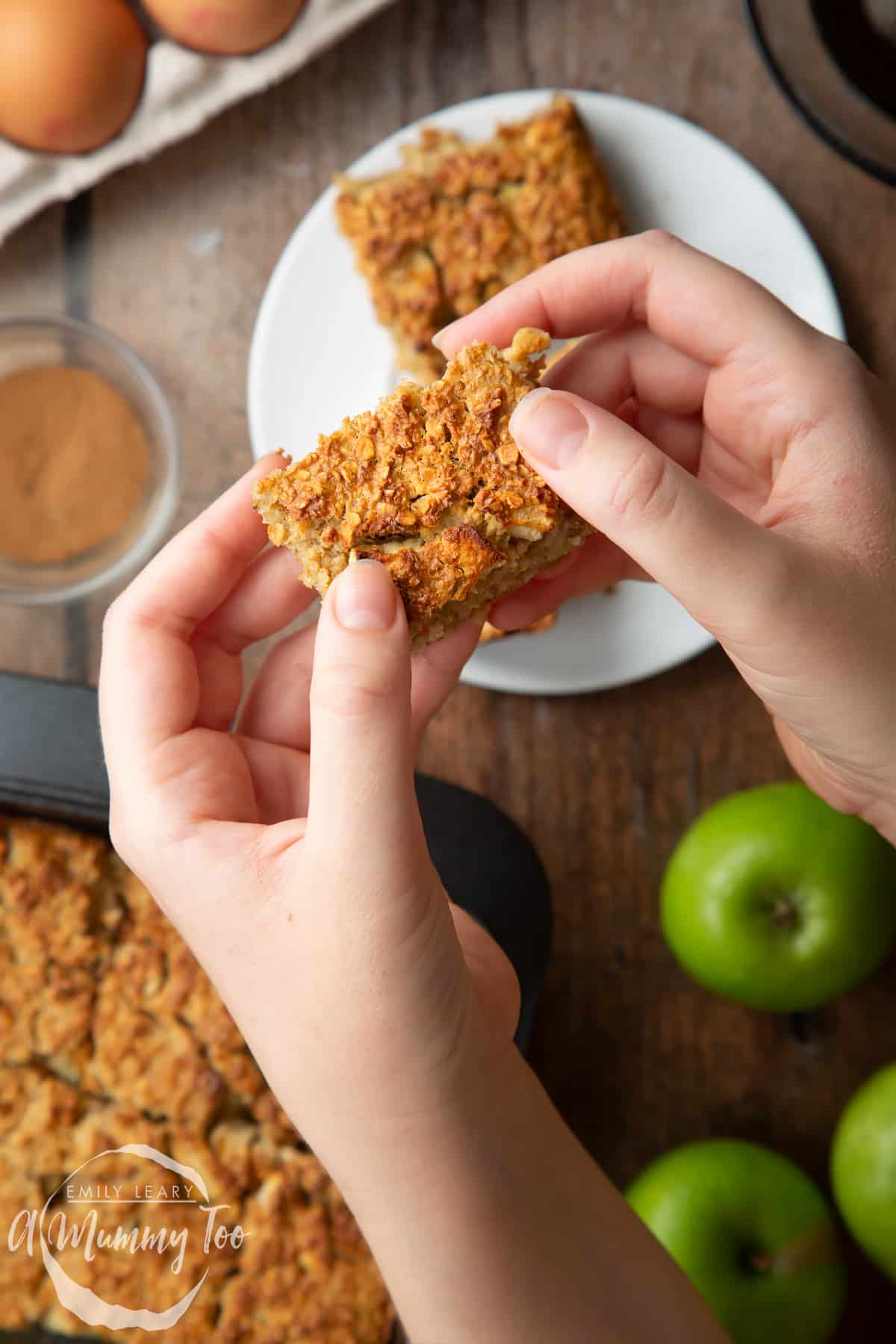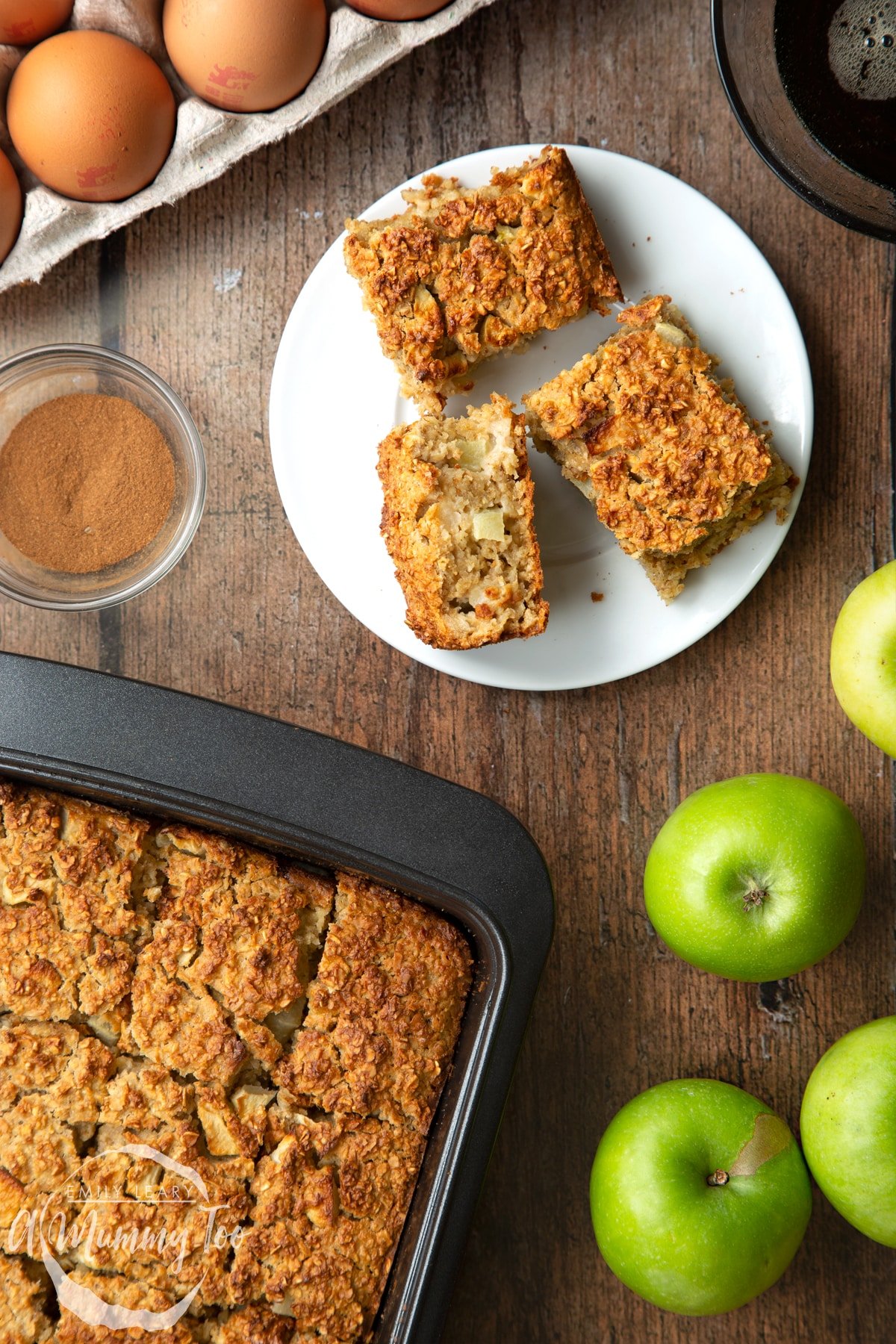 Pointers, tricks and troubleshooting tips for the perfect porridge squares
Are porridge squares easy to make?
Yes. These parts squares are super easy to make.
You will make the porridge in a single bow before pouring into a greased tin, baking and then cutting into squares. It could not be more simple!
What's more, you'll only need really simple ingredients: porridge oats, milk, eggs, maple syrup or honey, salt, baking powder, cinnamon, and a couple of chopped apples.
Will I need any special equipment to make porridge squares?
You definitely don't need any special equipment to make this recipe, just weighing scales, measuring spoons, a knife and board to prep your apples, a mixing bowl and spoon and something to bake your porridge in.
What kind of oats should I use?
For these porridge squares, I recommend using rolled oats.
Rolled oats are the most common type of porridge oats found in English supermarkets. They're made from oat groats that are de-husked and pressed under heavy rollers.
You could also use jumbo oats, which are slightly larger and slightly less crushed than standard rolled oats. They will work in largely the same way, but give a bit more texture and possibly a more crumbly bake.
Finally, you could use steel cut oats (sometimes called Irish oats) for this recipe. Steel cut oats are de-husked and then chopped into sesame seed sized pieces rather than being rolled, so they have more texture.
I haven't tried using steel cut oats for this particular recipe, so if you do, let me know how you get on.
How can I tell if my apples are ripe or have gone off?
The apples you buy in the supermarket are almost always ripe and ready to eat.
They should have a healthy green skin with no brownings, dents, unusual colouring or visible mould.
Many apples in the UK are sold with a thin wax coating on them to keep them shiny. Always wash your apples well before eating, even if you intend to peel and discard the skin.
If your apple has no signs of rot, the next thing you can do is feel it. It should feel firm all the way around. Small, slight soft spots may just be minor bruises acquired during transit, but more significant softening could be a sign of decay.
Cut the apple open. If there is just a slight browning at the point of the slight softening it's probably fine to eat, or you can just cut the bruised piece off.
If the bruised part has gone very mushy or shows signs of infestation then you should discard the whole apple.
Note: when you first cut into the apple, it should be a bright, white, but it is completely normal for it to turn brown quickly as it oxidises and this does not mean it is unsafe to eat.
The only remaining thing to look out for is a strange odour or taste. If you detect either, it's best to discard your apple.
If your apple seems fine in all of the above respects and has been handled hygienically then it is safe to eat.
Are porridge squares suitable for vegetarians?
Yes, these porridge squares are suitable vegetarians as they contain no meat products.
Are porridge squares suitable for vegans?
These porridge squares are not suitable for vegans as they contain dairy milk and eggs.
However, you could replace the milk with a plant based milk and the eggs with one of the following alternatives (each = 1 egg, so multiply as needed for any given recipe).
1 tablespoon of crushed chia seeds or flax seeds mixed with 2 tablespoons of water and left for 10 minutes in the fridge.
3 tablespoons of aquafaba (the water you get in a tin of chickpeas).
3 tablespoons of applesauce (bear in mind this will add sweetness).
Note: I have not tested all of these replacements with this particular recipe, so let me know how you get on.
Are porridge squares gluten-free?
If you use gluten-free oats and gluten-free baking powder then this recipe is indeed gluten-free.
Make sure to check the label on all the other ingredients as they may have been processed in a factory that handles wheat products.
Are porridge squares keto-friendly?
Oats are the main ingredient in this recipe, which means it is high in carbohydrates and therefore not suitable for a ketogenic diet.
Are porridge squares healthy?
The recipe is relatively low in fat and sugar, and although high in carbohydrates, these are largely derived from oats.
Oats have a low Glycemic Index, meaning the energy they provide is released into the blood more slowly than, say, from a dish that's high in simple sugar.
We love to enjoy them as part of a healthy, balanced breakfast or as a snack to enjoy on the go.
Are porridge squares safe to eat while pregnant?
There is nothing in this porridge squares recipe that should present a risk to pregnant people if the ingredients are in good condition and have been stored correctly, and the recipe is cooked hygienically and safely.
You should certainly make sure all dairy products use are pasteurised.
Egg safety varies from country to country and you should always seek country-specific advice. The NHS has a great resource that will help review the latest advice regarding foods that are safe to eat while pregnant in the UK.
Note: this website does not offer not medical advice and you should always check with your health professional.
Are porridge squares suitable for babies and toddlers?
If feeding to babies and toddlers, I'd recommend leaving out the pinch of salt as well as the syrup, particularly honey as it is not recommended for babies under one.
Without the salt and sweetener, this baked porridge recipe could be a good option for weaning babies and toddlers.
Always give food at an appropriate size and shape for your baby or child. Cut small, round foods, like grapes and cherry tomatoes, into small pieces.
Always keep babies supported upright while eating and supervise your baby when they're eating in case they start to choke.
The NHS has some excellent advice on feeding babies.
This website does not offer medical advice: always consult your health professional if you have any concerns.
What goes well with these porridge squares?
These porridge squares can be eaten on their own, both at home or on the go. They can also be enjoyed hot or cold.
I love them cool with a cup of tea in the morning, especially when I haven't got time for a more elaborate breakfast.
You can also turn them into more of a dessert by heating them and serving with vanilla ice cream.
Can I make porridge squares without apples?
You can indeed make these porridge squares exactly as directed but leave out the apples, if you wish.
I think the apples are a lovely addition, lending flavour, texture and moisture to the back, but they are not essential in helping the recipe to hold together.
I haven't got apples can I use a different fruit?
You can substitute in another firm fruit, such as pears, like for like and get a great result.
If using delicate berries, such as raspberries, I would recommend scattering on the top, rather than stirring through, which could cause them to break up.
Can I add extra fruit to my porridge squares?
You can indeed add extra fruit to your porridge squares.
However, there will always come a point where the amount of fruit starts to compromise the structural integrity of the bake.
Therefore, if you want to more than, say, one extra apple's worth of fruit, I would recommend scattering it on top, rather than stirring it through the batter.
How should I store porridge squares?
Your baked and cooled porridge squares should be transferred to a sealed container and placed in the refrigerator within two hours of making.
How long do porridge squares keep?
Properly stored in the refridgerator, your porridge squares should keep for 3-5 days.
In the freezer, they should keep for up to three months.
Can I leave porridge squares out on the counter?
As this recipe is a sort of set porridge containing milk, it is not suitable to leave out on the counter and must be refrigerated within two hours of making.
Can I make porridge squares ahead?
You can indeed make porridge squares ahead as the keep well in a sealed container in the refrigerator for 3-5 days.
Can I keep porridge squares in the refrigerator?
Yes, you should definitely keep your porridge squares in the refrigerator so that they remain fresh. Make sure they're in a sealed container that so that they are not contaminated by other items in the fridge.
Can I freeze porridge squares?
Yes, you can freeze porridge squares.
Make sure they're completely cool and transfer them to a sealed, freezer-safe container and into the freezer within two hours of making.
If you would like to avoid your squares sticking together, I recommend separating the layers with a sheet of baking paper.
What is the best way to reheat porridge squares?
You can eat the porridge squares straight from the refrigerator. They are very nice cold. Frozen squares can be placed in the refrigerator overnight to defrost.
If you wish to warm them, or need to defrost them, you can place a single square on a microwave-safe plate, cover loosely and microwave in a bursts of 15 seconds until warm.
Alternatively, you can place your porridge squares you want to reheat on a baking sheet in a 200C (180C fan) oven for about five minutes from chilled or 10 minutes from frozen.
I recommend cutting them in half once heated to ensure they are safely heated all the way through.
Can I make porridge squares in a different quantity?
You can indeed change this recipe to make more or fewer porridge squares.
To do so, simply scroll down to the recipe card found at the bottom of this page and click or hover over the servings number. A slider will appear that you can use to adjust the serving number, which will also automatically adjust all the ingredient quantities you need.
If you make a significantly larger or smaller amount, bear in mind that this will affect the cooking time.
Can I make porridge squares in individual portions?
If you prefer, instead of cooking your porridge squares in a single tin and then cutting into individual portions, you can spoon the mixture into greased muffin trays, thereby making individual porridge muffins.
Can I make porridge squares in a stand mixer such as a KitchenAid or Kenwood Mixer?
You can certainly mix up all of the ingredients in a stand mixer if you wish.
However, porridge squares require very little elbow grease and no specialist equipment, so it's just as easy to use a bowl and a wooden spoon.
Can I make porridge squares in a food processor?
No, I wouldn't recommend using a food processor.
Doing so would turn the mixture into a puree, breaking down oats and apples, resulting in a very dense bake.
It's much more pleasant to simply stir the ingredients together to allow the oats and apples to keep their texture.
How can I make sure my porridge squares are perfectly cooked?
It's important that your porridge squares have a chance to cook all the way through before they over-bake on top. That's why I advise covering with foil for the first half of baking.
You'll know your porridge are perfectly cooked when they look golden brown on top and feel firm if you press down on the surface.
Why did my porridge squares turn out dry/hard/burned/overcooked?
I find this recipe really forgiving when it comes to baking times, but if your porridge square overcooked, it's likely that either they baked for too long or the oven was too hot, causing them to dry out or burn.
Don't forget to cover with foil during the first half of baking and make sure that you used the correct amounts of ingredients as too little liquid can also affect the final bake.
Why did my porridge squares turn out wet/soft/undercooked?
An overly wet bake could be a sign that you used too much liquid, so follow the ingredient quantities carefully. The eggs, too, are very important as they help to bind the recipe together.
If your porridge squares are still squidgy after the recommended baking time, pop them back in the oven for longer. It might be that your oven is running cooler than the dial suggests (this is more common than you might think!)
If you remembered to use foil for the first half of baking but find that your bake is burned on top while seemed undercooked underneath, it's likely that your oven is running hotter than the dial suggests.
I recommend investing in an oven thermometer, so that you can get a better handle on the actual temperature in your oven.
Why didn't my porridge squares taste very sweet?
This recipe is a breakfast rather than a dessert, so it is only supposed to be gently sweet. You can add a little extra sweetness if you wish.
How can I add/change the flavours in these porridge squares?
There are lots of ways you can change the flavours in these porridge squares!
You could use mixed spice or ginger instead of cinnamon, add any combination of nuts and seeds for crunch, or experiment with different fruits both mixed in and on top.
It's such an adaptable recipe, it could be different every time you make it!
Print this recipe for porridge squares
Pin this recipe for porridge squares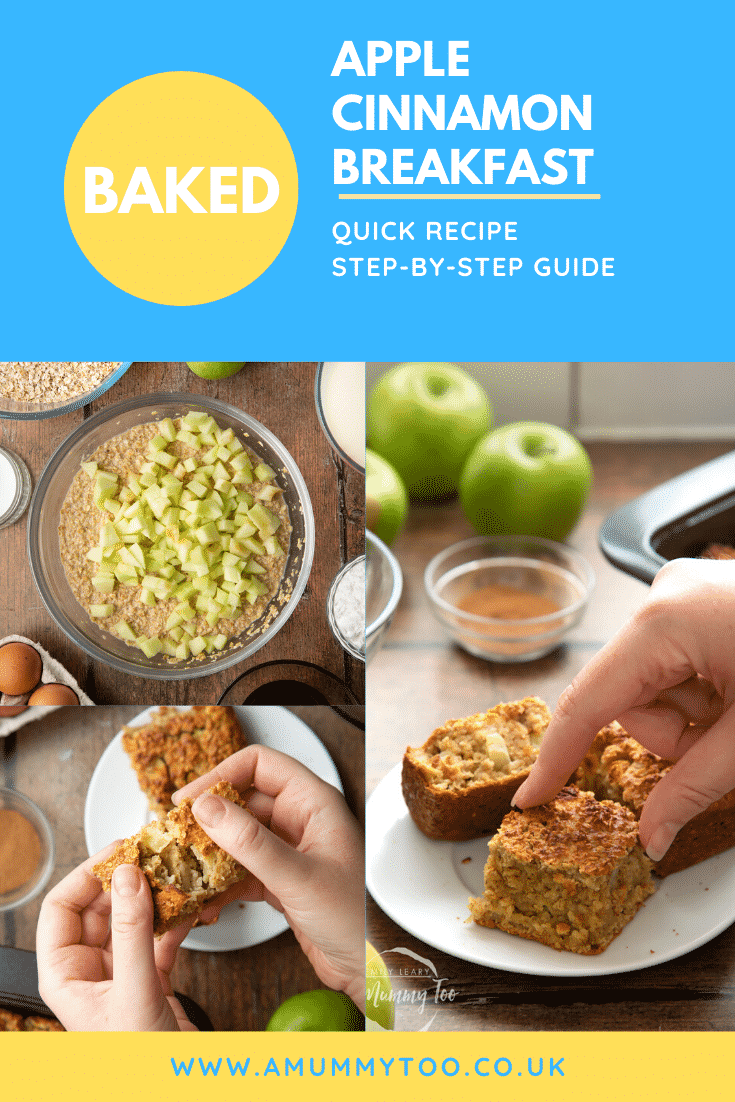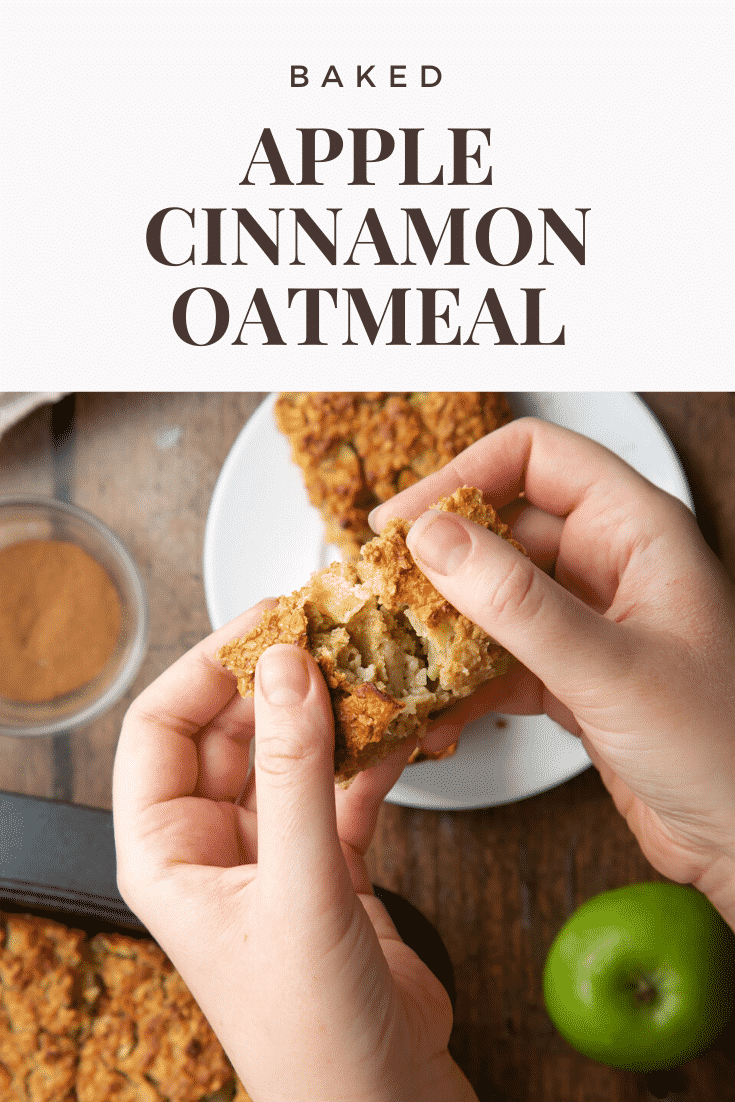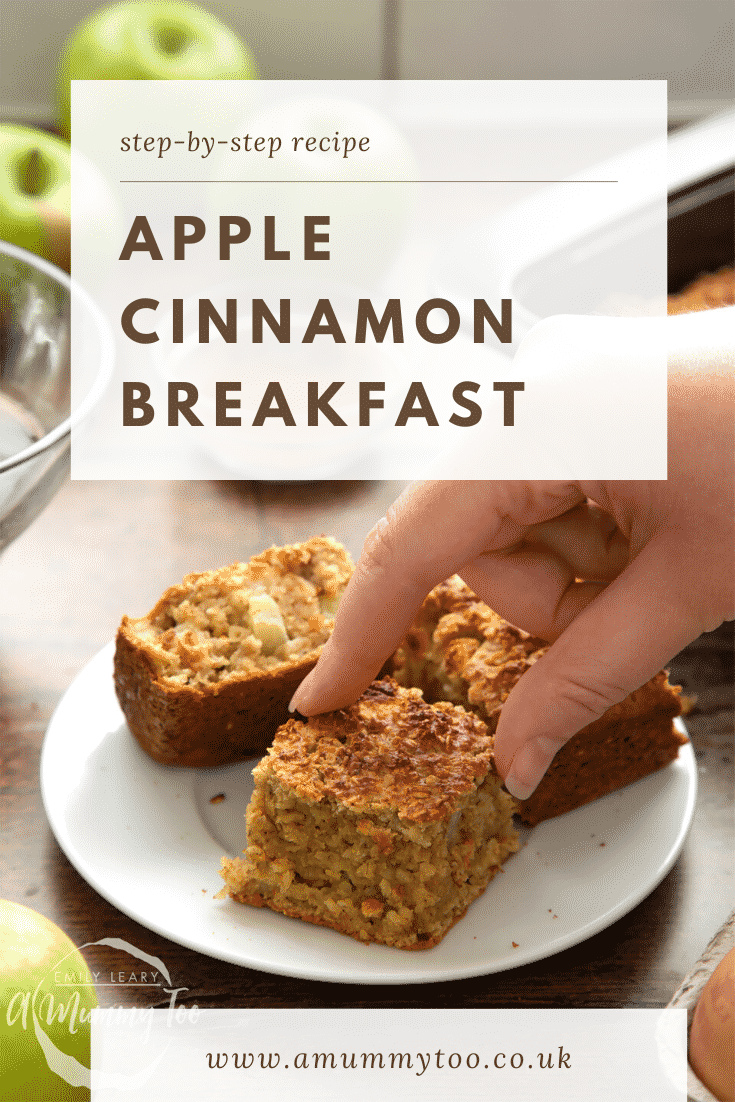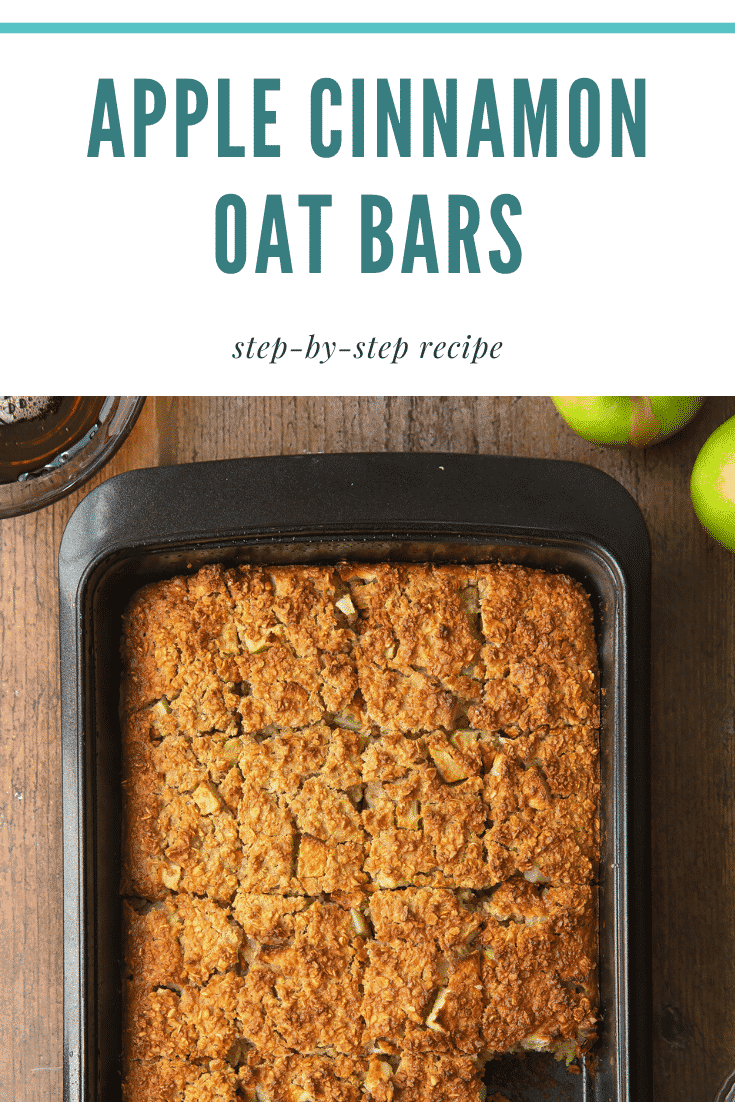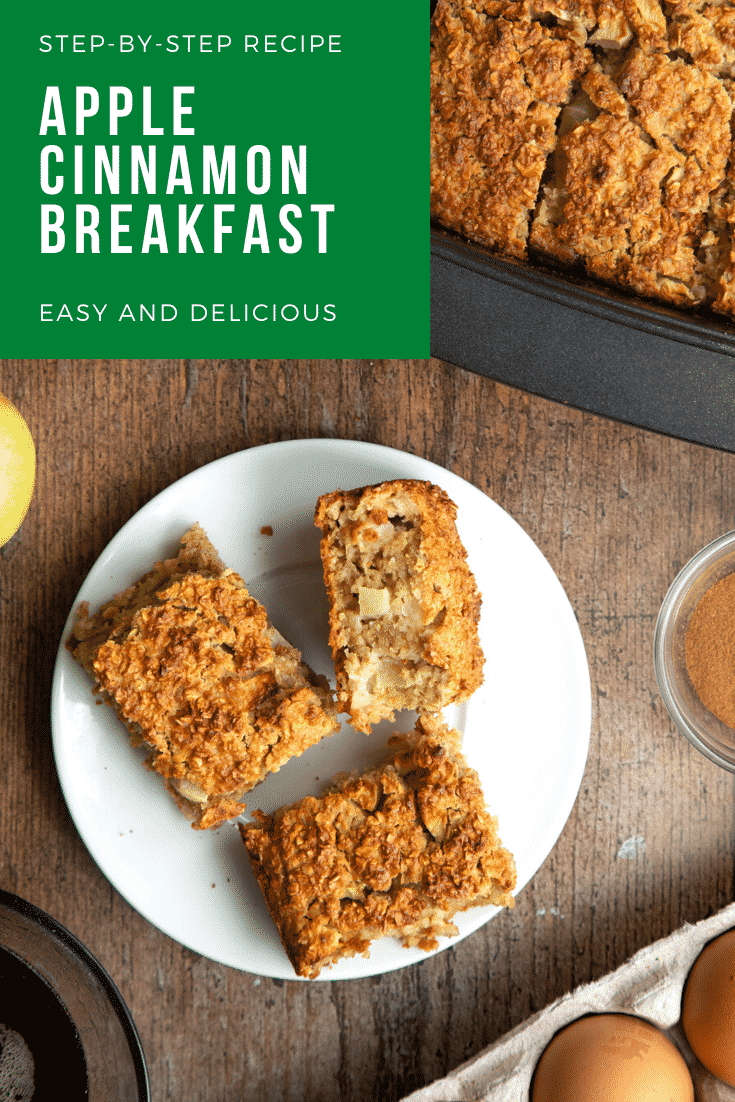 More super cinnamon recipes to try
Get Your Kids to Eat Anything
My debut cookbook, Get Your Kids To Eat Anything is available now from all good bookshops!
It's so much more than a cookbook, it's a 5-Phase programme designed to take you through a meaningful, simple and sustainable journey to end fussy eating.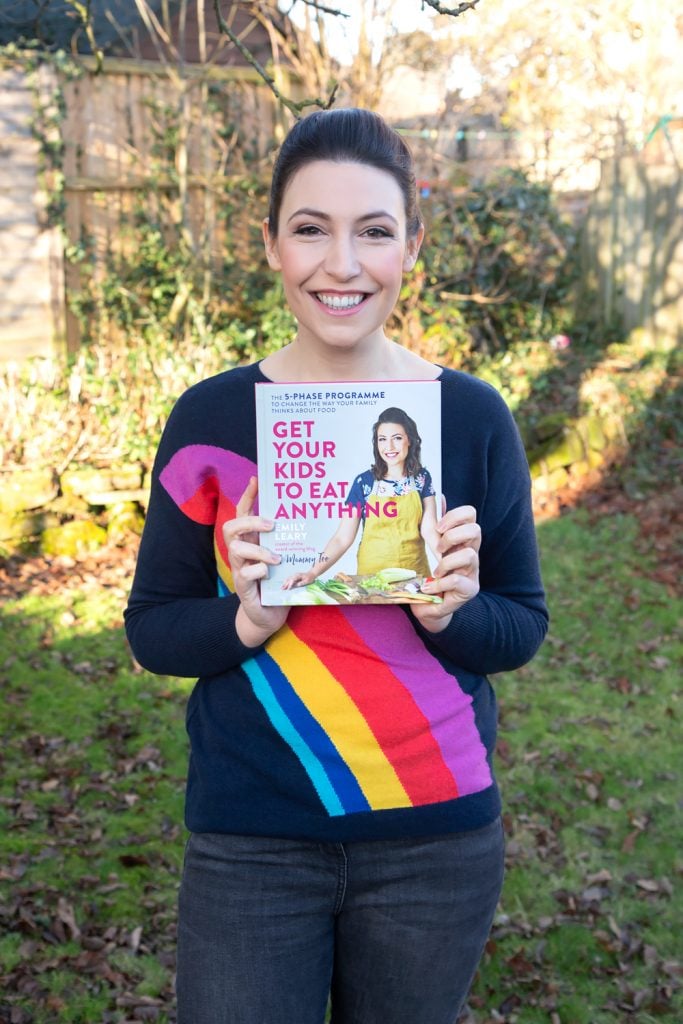 Since its release in March 2019, Get Your Kids To Eat Anything has been changing mealtimes in households across the country and has become an Amazon #1 best-seller.