You've seen it on menus, you've maybe even tried cooking with it, but you know there's so much more to learn. Here's everything you need to know about tofu.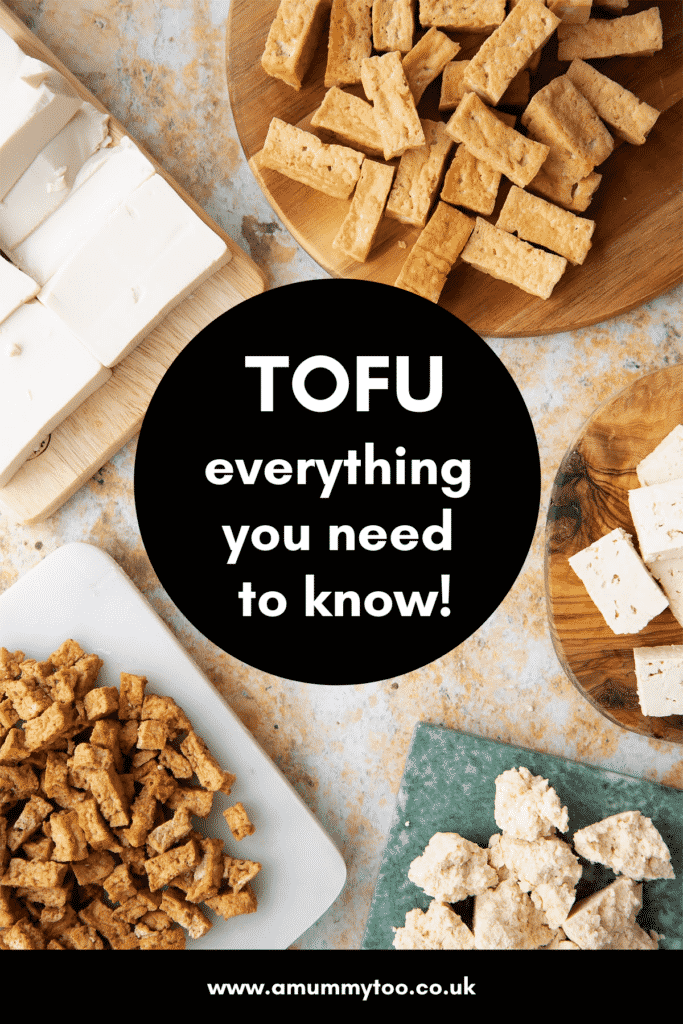 What is tofu?
Tofu is a neutral-tasting, source of protein made from soybeans. It's almost entirely fat-free and relatively cheap to produce, so it's often a popular meat alternative.
It was invented in China over 2,000 years ago and spread to Japan, Vietnam and beyond over the next few centuries. So it has become a staple ingredient in South East Asian and Asian cooking.
Depending on the dish, the type of tofu you use, and how you cook it, you can change the texture of tofu from smooth and soft to crisp and crunchy.
You can also use softer versions of tofu to create a vegan version of scrambled eggs or use silken tofu similarly to cream cheese to make cheesecakes and other dishes.
Tofu is like a flavour sponge, so you can use it to make sweet or savoury dishes. So just think of it as a blank canvas for you to use however you like!
How do you make tofu?
To make tofu, producers cook white soybeans into soy milk. They curdle the milk and press it to create tofu. It's a similar process to dairy cheese making.
The process begins with soaking soybeans and grinding them into a porridge-like mixture. Next, water is added to the mix, and it's heated and strained, becoming soy milk.
A coagulant is added to the soy milk to trigger the curdling process. This process is much like the curds which form in dairy milk to create cheese, meaning lumps of proteins form within the soy milk. And these curds give tofu its spongy, firmer texture.
It's thought tofu was first made by someone accidentally seasoning soy milk with impure sea salt, causing it to curdle into tofu. The curdling is triggered by magnesium and calcium found in seawater, which causes the amino acids and oils in soy milk to thicken (*science*).
Traditionally, a form of seawater called 'Nigari' was used to create tofu. Though now, producers use more industrial methods and ingredients than seawater.
You can make different types of tofu by increasing or decreasing the curdling and pressing to create denser (firm) or looser (silken) tofu.
What does tofu taste like?
Tofu in its original state is almost entirely tasteless. It has a mild taste of soy milk, though that's a fairly neutral taste.
Usually, blandness in food is a negative, but the blandness of tofu makes it such a valuable and versatile ingredient.
For example, you can use silken tofu to make sweet dishes like cheesecakes or as a savoury alternative to scrambled eggs. It's all about the way you season and cook it.
What's the difference between the different types of tofu?
There are many different types of tofu, though generally there are only two kinds available in supermarkets (firm/extra-firm and silken). This means it can be confusing to someone who hasn't used it before.
Using the right style for a recipe is key as some types have an unsuitable texture for certain recipes.
The best way to think about it is like using different cuts of meat for various recipes, i.e. you wouldn't put a rasher of bacon in a pork curry!
To avoid ending up with something like a scrambled egg when you wanted an alternative to chicken, you need to use the correct type of tofu for your recipe.
So here's a breakdown of the most popular types of tofu and how suitable they are for different dishes: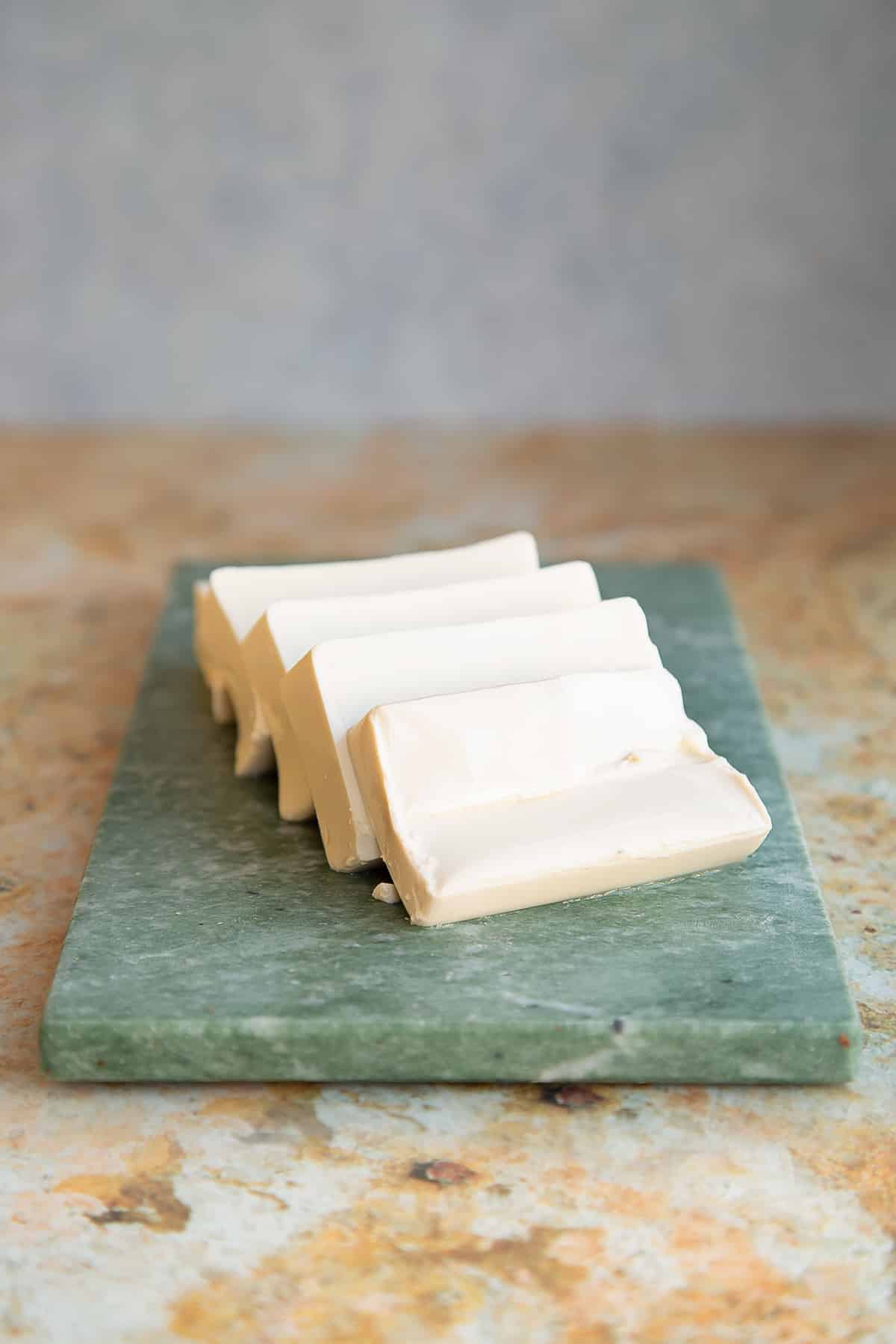 Silken tofu
Also known as soft tofu or Japanese tofu.
What is it?
Silken tofu is sometimes called "Japanese style" or "soft". It's the softest form of tofu because it contains a lot of water, and it isn't as curdled or pressed during production. As a result, it has a texture similar to a set custard or creme caramel.
Like all other types, it's tasteless - so you could use it to make savoury dishes or desserts. Its softness also allows silken tofu to act as a thickener or replicate the texture of dairy-based creamy sauces.
How long does it keep?
Silken tofu often has a shelf life of over a year. It doesn't need to be refrigerated, so it's usually sold in sealed cartons on the ambient aisles.
Once opened, you should use it within 3-5 days.
You can freeze your silken tofu to keep it for longer but once thawed the texture will be slightly different (see the freezing tofu section below for more information).
Where can I buy silken tofu?
You can usually find it in the 'world foods' section of your local supermarket, or sometimes it's kept with sauces and tinned beans.
Do I need to cook it?
Tofu is safe to eat raw, so there are many cold tofu dishes in Korea, China and Japan, with spicy seasonings poured over the top in dishes like salads. You can also use uncooked silken tofu to make vegan no-bake cheesecake.
If you aren't used to the texture, this probably sounds a bit adventurous. But don't worry; I've detailed several ways to cook with it below, from sauces to vegan scrambled eggs.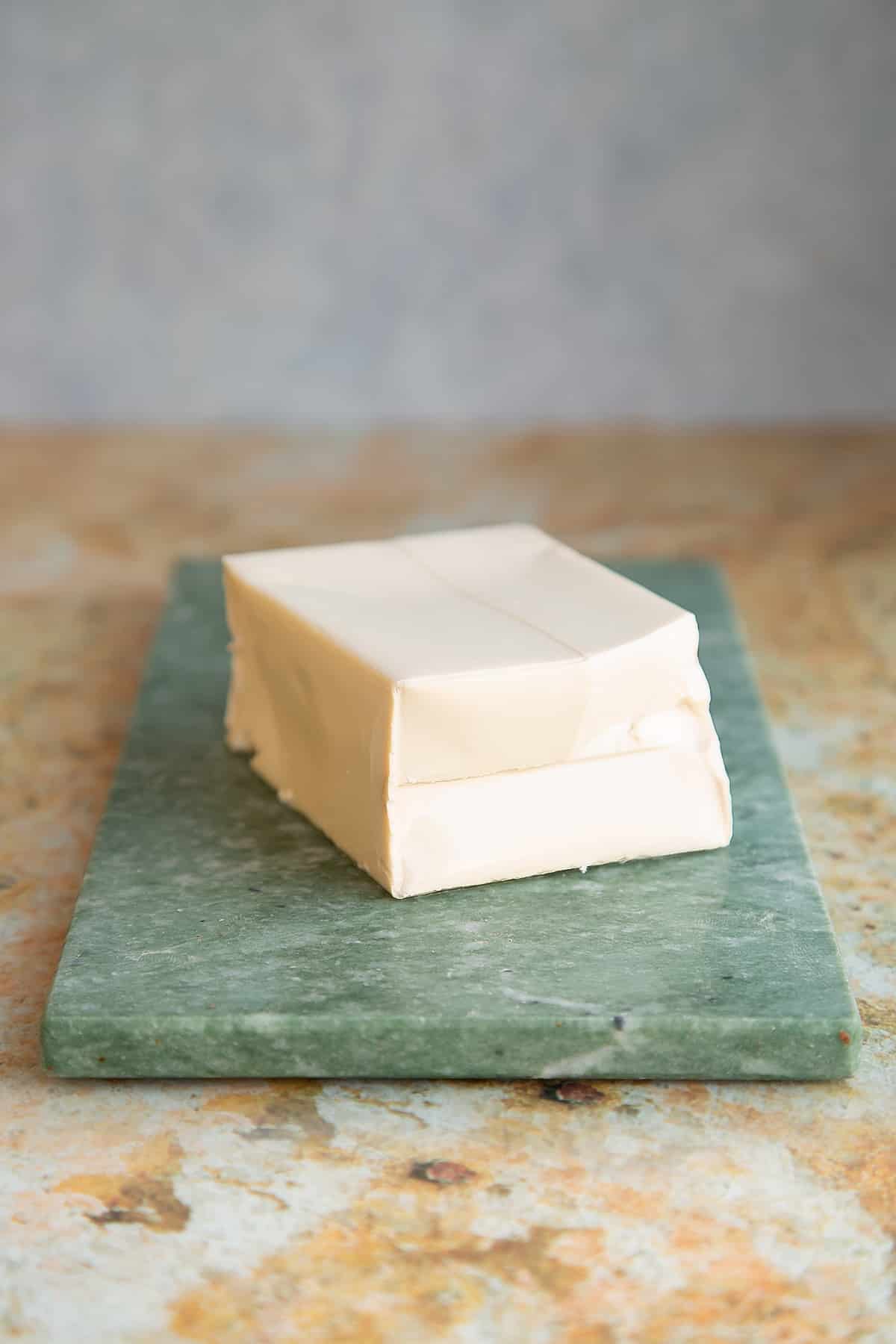 Firm tofu
What is it?
Firm tofu is more firm than silken tofu. It's more firm because it has bigger curdles, and it's pressed for longer. This process results in denser tofu, more able to hold its shape in cooking.
However, 'Firm' is a relative term that can vary between different brands. It usually has a similar texture to paneer cheese, though sometimes it can be looser if stored in water.
So depending on the brand you buy, you might need to press (squeeze) some of the water content out of a block of firm tofu. (See below for more information on pressing tofu)
How long does it keep?
You need to keep firm tofu in a refrigerator. Most firm tofu bought from the supermarket usually has a shelf life of around 1 month. Once the packet of tofu is open it will keep for 3-5 days in the refrigerator. Or to make it last longer, you can freeze your tofu for up to 6 months.
Where can I buy firm tofu?
While most widely available brands of tofu are 'extra-firm', you can usually buy firm tofu from a supermarket. Many supermarkets in the UK offer their own brand of tofu. Somewhat confusingly, Tesco even offers firm tofu and medium-firm tofu.
Do I need to cook it?
While technically you don't need to cook tofu, firmer styles of tofu are much nicer when you cook them. When you cook firmer tofu you can get a crispy golden outside to complement the creamier inside.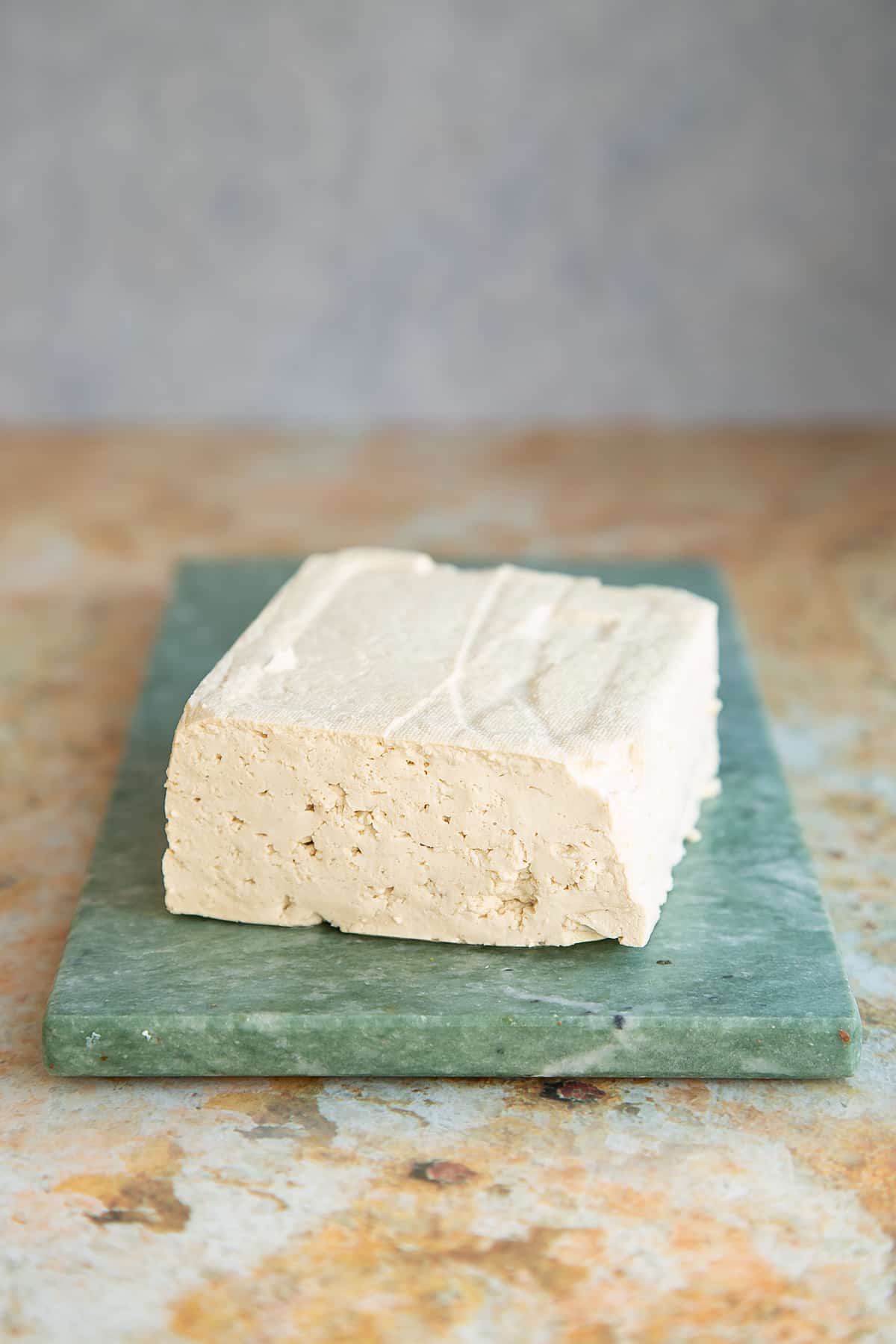 Extra-firm tofu
What is it?
Extra-firm tofu is made with thicker soymilk, and it's pressed more, so it has more close-knit soy curds, which give it a denser texture. It's a similar texture to halloumi cheese or meat.
"Extra-firm" varies in texture depending on the brand. So some brands of extra firm tofu are very dense, meaning you won't always need to press it.
How long does it keep?
Extra-firm tofu typically has a 1-month shelf life and you'll need to refrigerate it. However, once you open a packet of extra-firm tofu, it will keep for 3-5 days in the refrigerator. Or, to make it last longer, you can freeze your tofu for up to 6 months.
Where can I buy extra-firm tofu?
You can usually buy firm tofu from a supermarket, and many supermarkets in the UK offer their own brand of tofu.
Extra-firm tofu is the most commonly available style of tofu in UK supermarkets, as it requires little preparation. So look out for brands like Tofoo, Cauldron, Clearspring, Taifun or Dragonfly in your nearest supermarket.
If you live outside of the UK, you'll most likely find it in a local supermarket, though the brands will vary.
Do I need to cook it?
Again, you don't need to cook tofu, but most styles are much nicer when you cook them. When you fry or bake extra-firm tofu you can get a lovely crispy outside and the inside will get a little creamier.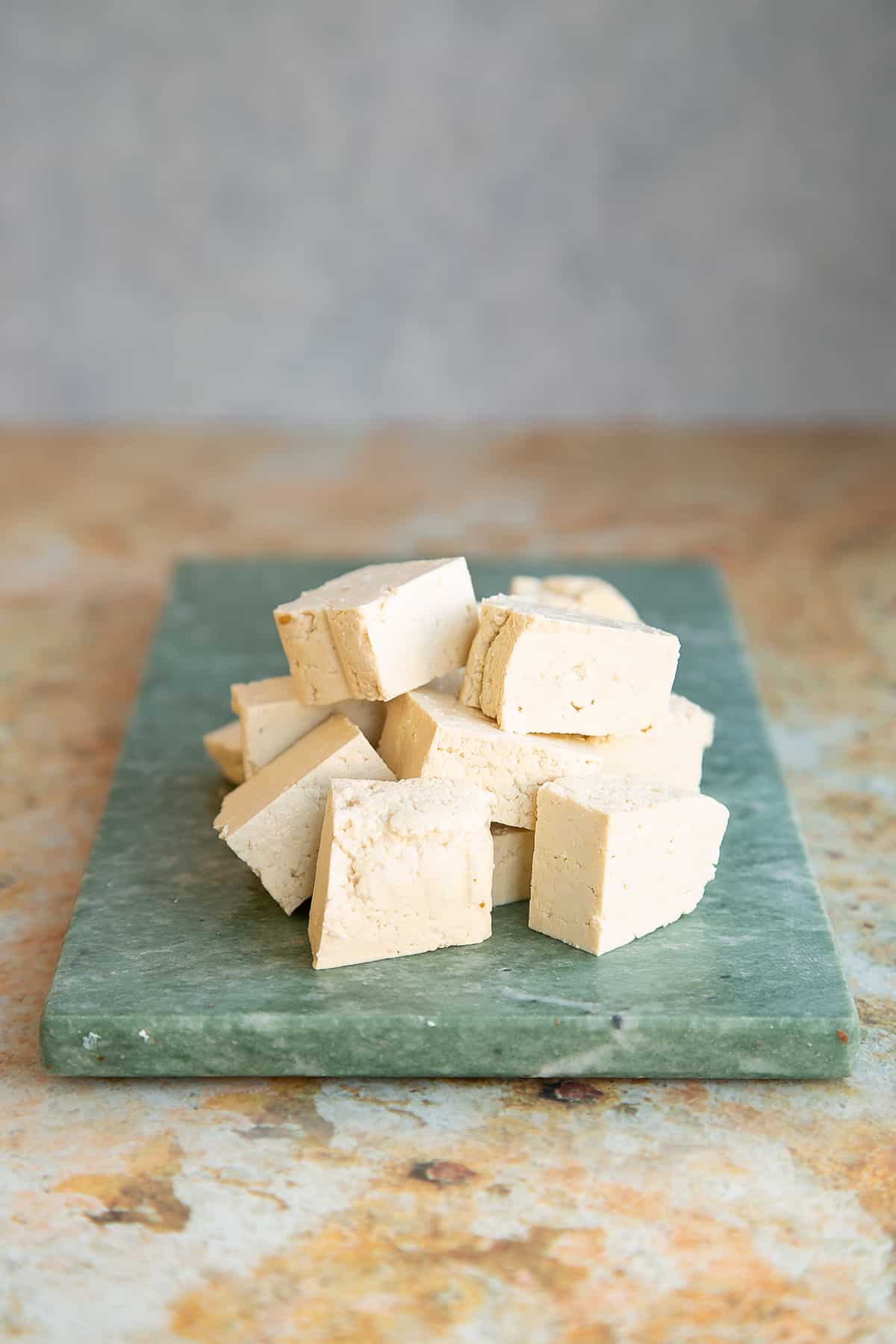 Marinated tofu pieces:
What are they?
Marinated tofu pieces are sliced and marinated pieces of firm tofu. They often come pre-cooked, usually fried or baked, though they can come uncooked too.
How long do they keep?
Marinated pieces will usually have a couple of weeks on the Use-By date on the packet. Once you open marinated them, most brands advise that you eat them within 24 hours.
Several brands of marinated pieces state that they aren't suitable for home freezing on the packet, though there are some brands that you can freeze.
Where can I buy marinated tofu pieces tofu?
You can use marinated pieces in stir-frys, but they also work for a curry.
Popular supermarket brands like Cauldron or Tofoo use ingredients like soy sauce as a marinade. So it would be best if you looked out for one with a more neutral flavour if you're cooking something which would clash with soy sauce.
Do I need to cook them?
Marinated pieces are often already cooked, meaning they don't need to be fully cooked. So they're perfect for quickly tossing through a stir fry.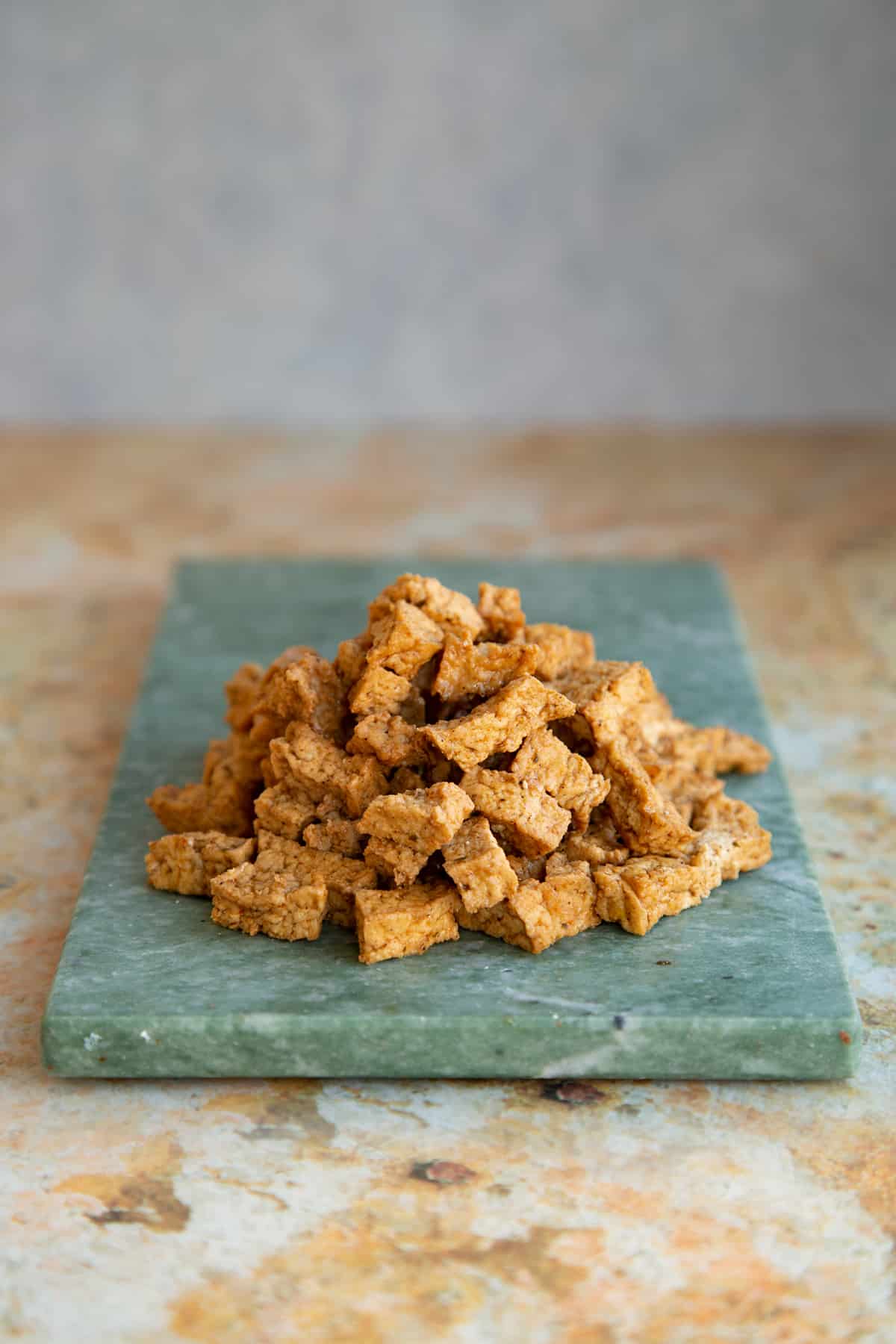 Tofu knots
What are they?
Tofu knots are strips of tofu that come in a knot shape. Because of their uneven surface and shape, they're ideal for stews and dishes like curry, as their shape helps them cling to the sauce and absorb flavour.
How long do they keep?
Knots usually come dried for frozen, so they have a very long shelf life, usually over 1 year. Once you've cooked your knots, you can refrigerate them for up to 5 days and reheat them only once.
Where can I buy tofu knots?
Knots aren't typically available in Western supermarkets or grocery stores. However, you can usually buy tofu knots from your local Chinese supermarket or from online food retailers.
Do I need to cook them?
Yes, you need to cook tofu knots as they usually come dried or frozen. So if you didn't cook them you'd probably break a tooth trying to eat them!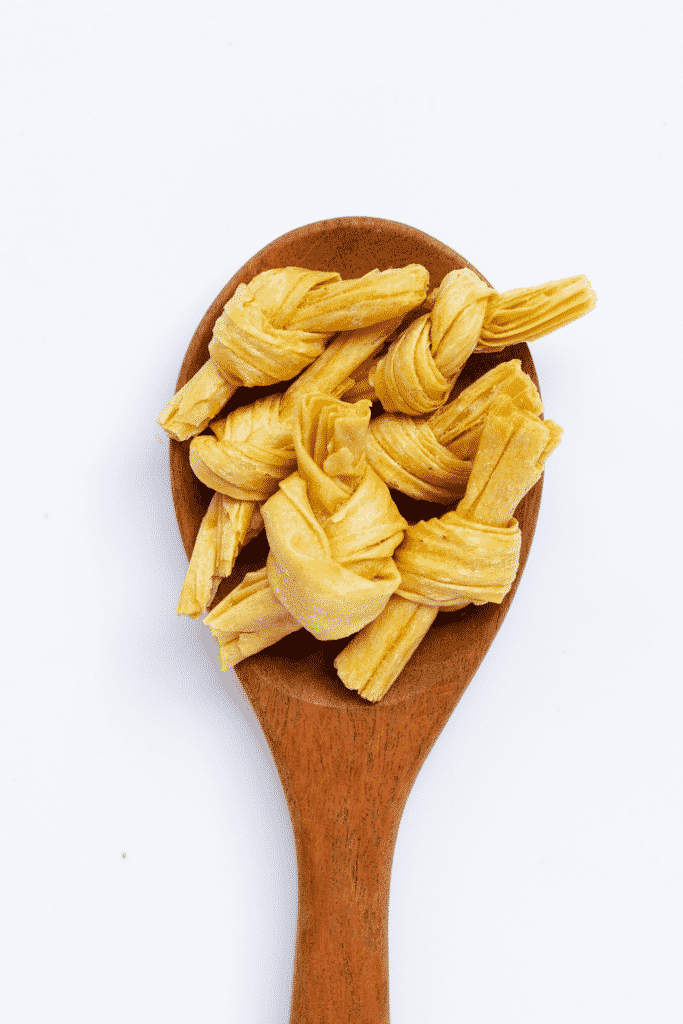 Tofu skins
What are they?
Tofu sheets are also known as "Tofu sheets" or "beancurd sheets" but technically they aren't tofu. Instead, they're made using dried soy milk.
When making tofu, the skin that forms on the soy milk is carefully removed and dried out in flat layers to produce thin sheets.
How long do they keep?
Tofu skins come dried, so they have a very long shelf life as there's no water content to contribute to spoilage. Like all tofu, once you've cooked skins they should keep for up to 5 days in the fridge.
Where can I buy tofu skins?
Tofu skins are available in most Chinese supermarkets, but you can also various forms of tofu skins, like Inari, rolled bundles or sheets on Amazon.
Do I need to cook them?
Tofu skins come dried, so you'll need to heat and rehydrate them. You can cook skins by cutting them into smaller pieces, or you can roll or bundle them to cook in stews and sauces, similar to tofu knots.
Tofu skins also come in a thicker, pocket format, called Inari. They're used in several types of sushi where they're filled with rice and vegetables. So, if you make sushi you could try using them as an alternative to nori.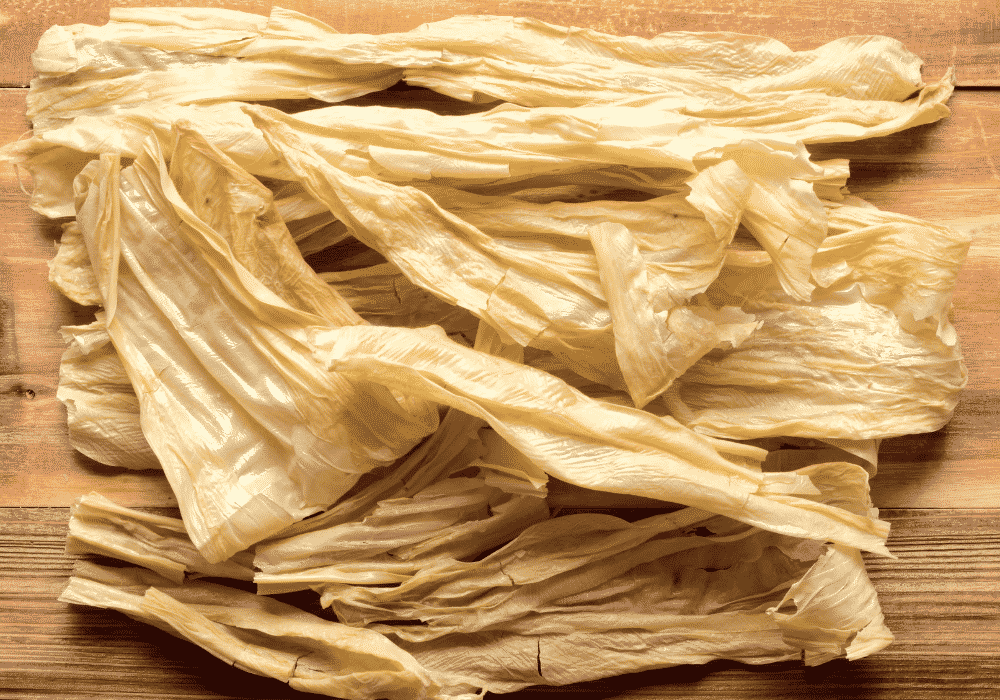 Tofu puffs (or tofu cubes)
What is it?
Puffs are cubes of tofu that are deep-fried, sort of like the chicken nugget form of tofu. You'll find Chinese supermarkets in the refrigerator or freezer sections.
Puffs hold their shape because they're fried, and you can crisp them up again by frying them. Despite their crispy outside, they have a very light, spongy internal texture, so they absorb flavour well while holding together in sauces and stews.
How long do they keep?
Puffs tend to come refrigerated or frozen. So depending on the format they can last from 2 weeks to 6 months after purchase.
Where can I buy tofu puffs?
Again, puffs aren't as widely available as silken, firm or extra-firm tofu. Though you can reliably find them in Chinese or Japanese supermarkets as they're popular ingredients for Chinese hot pot cooking or Japanese ramen dishes.
Do I need to cook them?
Puffs are pre-cooked, but they're best heated up. You can fry them to crisp up the outside or you can toss them into a broth and the heat from the soup will warm them up.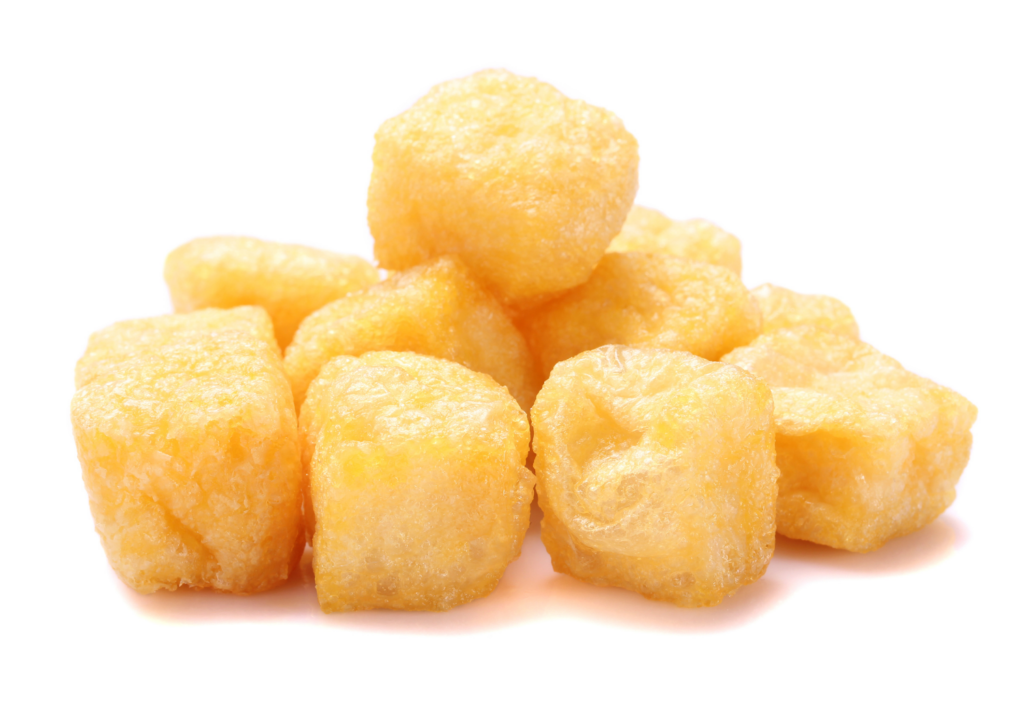 Smoked tofu
What is it?
Smoked tofu is precisely what the name suggests, firm tofu left in a smoker. The smoking process helps remove water, making it much firmer, so you won't need to press it.
So if you like a smoky flavour, you can use smoked tofu like you would firm or extra firm tofu.
How long does it keep?
Supermarket brands of smoked tofu tend to have a 1-month shelf life if unopened. Though once opened, Tofoo advises that you use their smoked tofu within 48 hours.
Independent brands of smoked tofu can have a longer shelf life as they tend to be more thoroughly smoked and preserved. For example, Viana smoked tofu is much firmer than Tofoo's smoked tofu as it's most likely smoked for longer for a deeper flavour.
You can freeze smoked tofu to make it last longer, though the texture of the tofu will change once defrosted (see the section on freezing tofu below).
Where can I buy smoked tofu?
You can buy lightly smoked or smoke flavoured tofu in supermarkets. However, if you want tofu that has been smoked for a more dense texture, you'll have better luck in health food stores or online.
Do I need to cook it?
Smoked tofu is safe to eat uncooked, but it's much nicer when it's cooked. The smokey flavour gives it a meatiness, so it lends itself well to frying or baking.
How to prepare tofu for cooking
There are a few ways to prepare tofu, depending on the style and recipe you use. You can press it, freeze it and brine it to improve the texture. Pressing is the most common way to prepare tofu and remove extra water, and while brining and freezing work to remove water too, they can produce different results.
Why do I have to press tofu?
You will need to press some varieties because they contain a fair amount of excess water, which needs draining before cooking. However, there are some styles, like extra firm and smoked tofu, which don't have much excess water. So it depends on which kind of tofu you use.
If you're using firm tofu or tofu that comes stored in water, then you'll most likely need to press it. On the other hand, if you're using vacuum-packed extra-firm or firm tofu, you probably won't need to press it.
You don't need to press marinated pieces or puffs as they're already pressed and cooked. Equally, you won't need to press smoked tofu, knots or skins as they have low water content.
How to press
Sometimes tofu can contain too much excess water, hindering its ability to absorb flavour and cook. So one of the most time tested ways to remove this excess water is to press your tofu.
Pressing is easy, it just requires a little patience. That said, it usually only takes around 30 minutes to get the excess water out of a standard-sized block of tofu.
First, unwrap your tofu and drain any excess liquid it came in.
Then wrap the tofu in a clean tea towel or muslin cloth.
Next, put the wrapped tofu on a large plate with a raised rim or lip. It's essential to use a plate with a lip as it will stop any pressed water from dripping all over your kitchen counter!
Now, place an empty casserole dish or frying pan on top of the wrapped block.
Place 4-6 cans or jars of soup/beans/ anything to weigh down the block. Leave the tofu like this for 30 mins.
After 30 minutes, remove the weights and unwrap the block. It should have lost a lot of water and decreased in size by around 1/3.
Some people then place the tofu between two chopping boards and squeeze it further, but this can cause the block to break up - so if you want neat slices, you shouldn't do that.
You can press your tofu the day before you're cooking with it. After you press it, put the block into a sandwich bag or sealed container and keep it in the fridge.
Using a press
You can use the above method to press your tofu, or if you cook with it a lot, you could buy a tofu press. A tofu press is a compact way to remove the excess water from tofu, so if you eat a lot of it, it can save you a lot of fuss.
However, a tofu press isn't an everyday bit of kit, so you won't find one in your local kitchenware store. Luckily you can find them pretty easily online or from Amazon.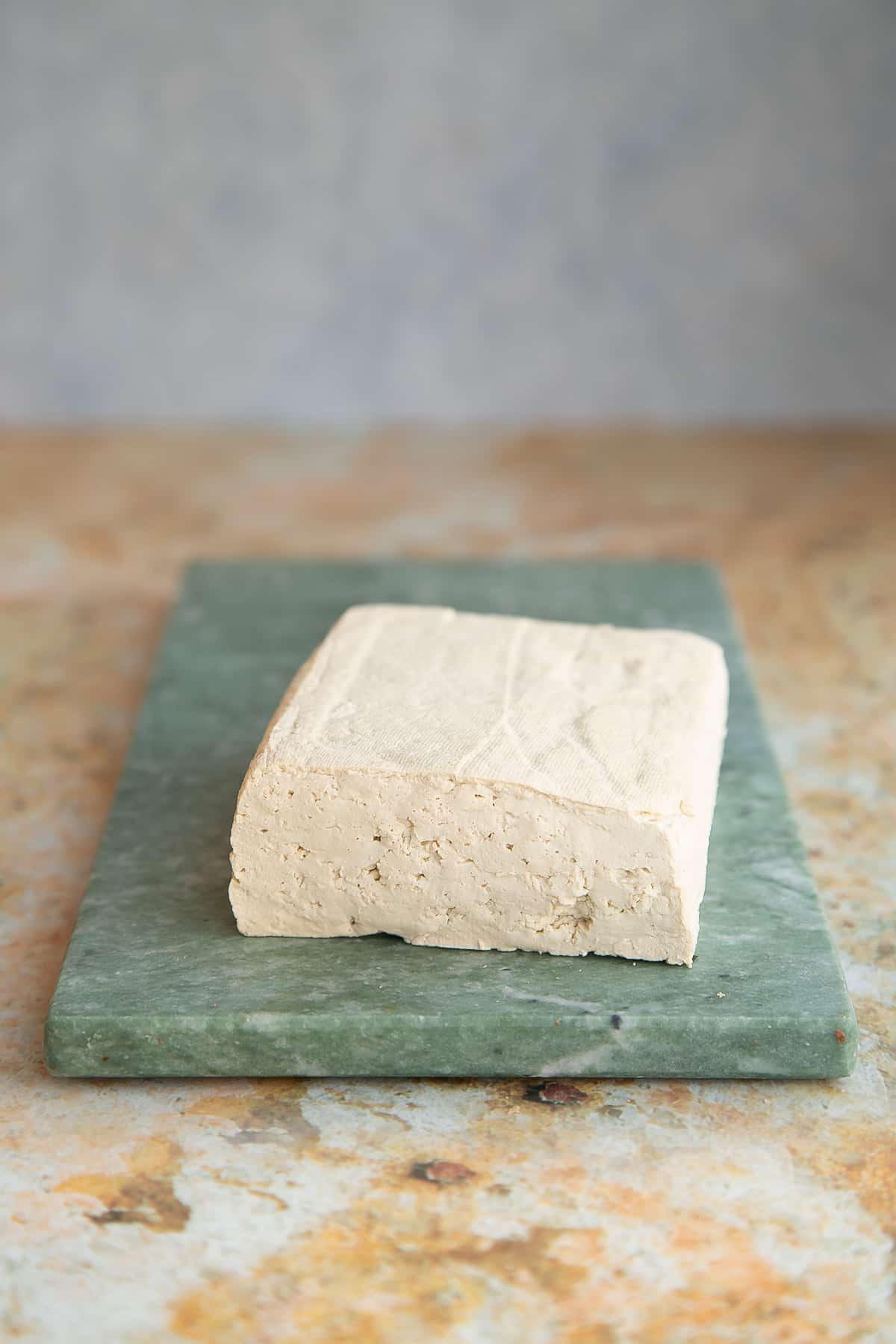 How I press and prepare tofu
I tend to prepare extra firm or pressed tofu by pressing it and pre-frying it. This method gives the tofu a little bite and stops it from dissolving into sauces and curries.
Instructions
Peel/cut the lid off (assuming you're working with the widely available 500g Cauldron brand) and pour out the liquid.
While it's still in its box, press down firmly on the tofu with the palm of your hand and turn the pack upside over the sink to drain off more liquid.
Still in the box, cut across and lengthways down to the bottom, making inch wide squares.
Tip the tofu out on to kitchen roll and pat dry
Drizzle with dark soy sauce (optional)
In a wok or heavy-gauge pan on a high heat, add 2 tbsp of vegetable oil.
Tip in the tofu. Be careful! It may spit at first, so take the pan off the hob for a second while you add the tofu to reduce the risk of oil splashes.
Return to the hob and fry for a minute, then turn all the pieces
Fry for another minute, then add your veggies, if desired, for a final minute.
Drain on kitchen roll
DONE! The tofu will still be soft, but it'll hold its shape much better and taste yum!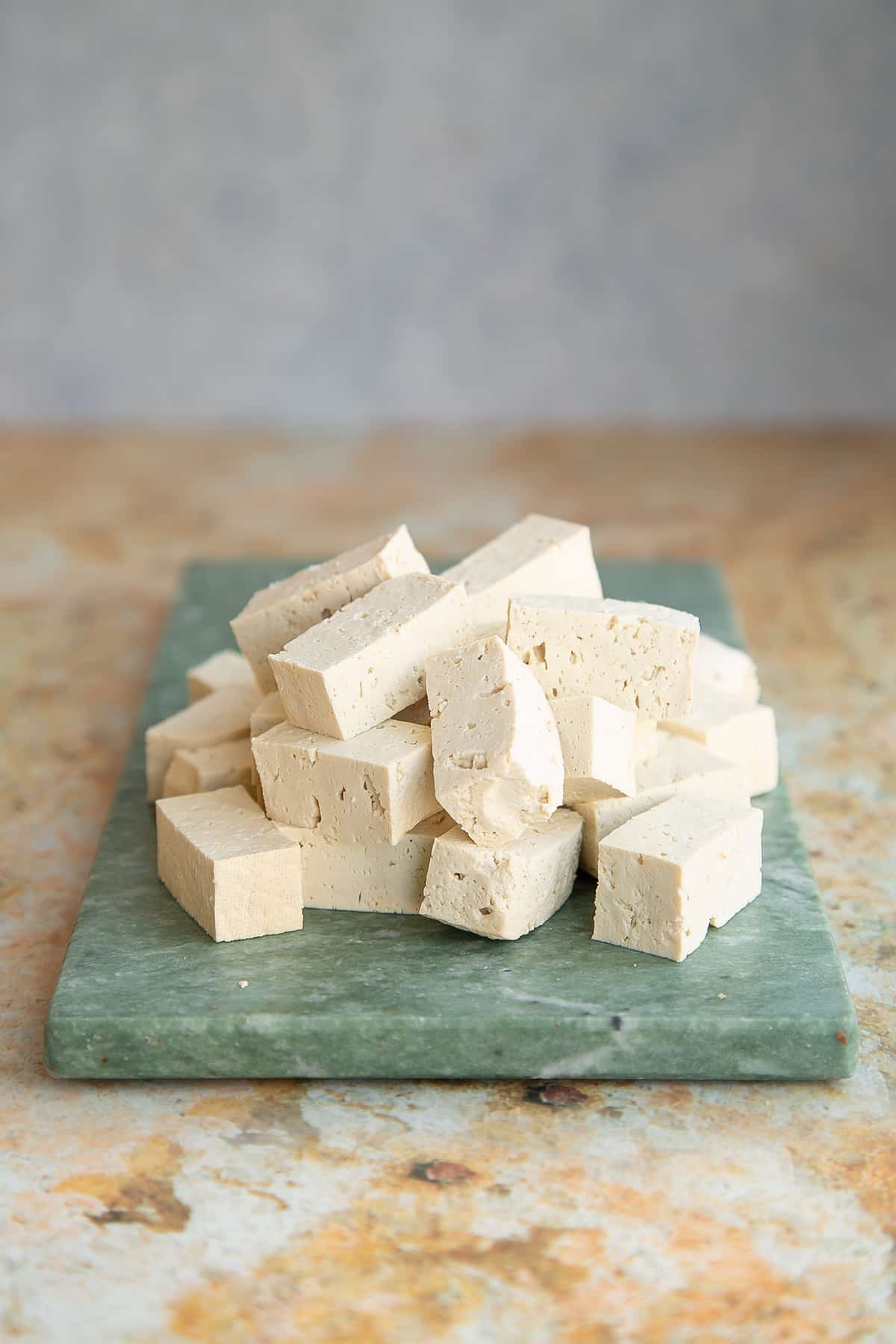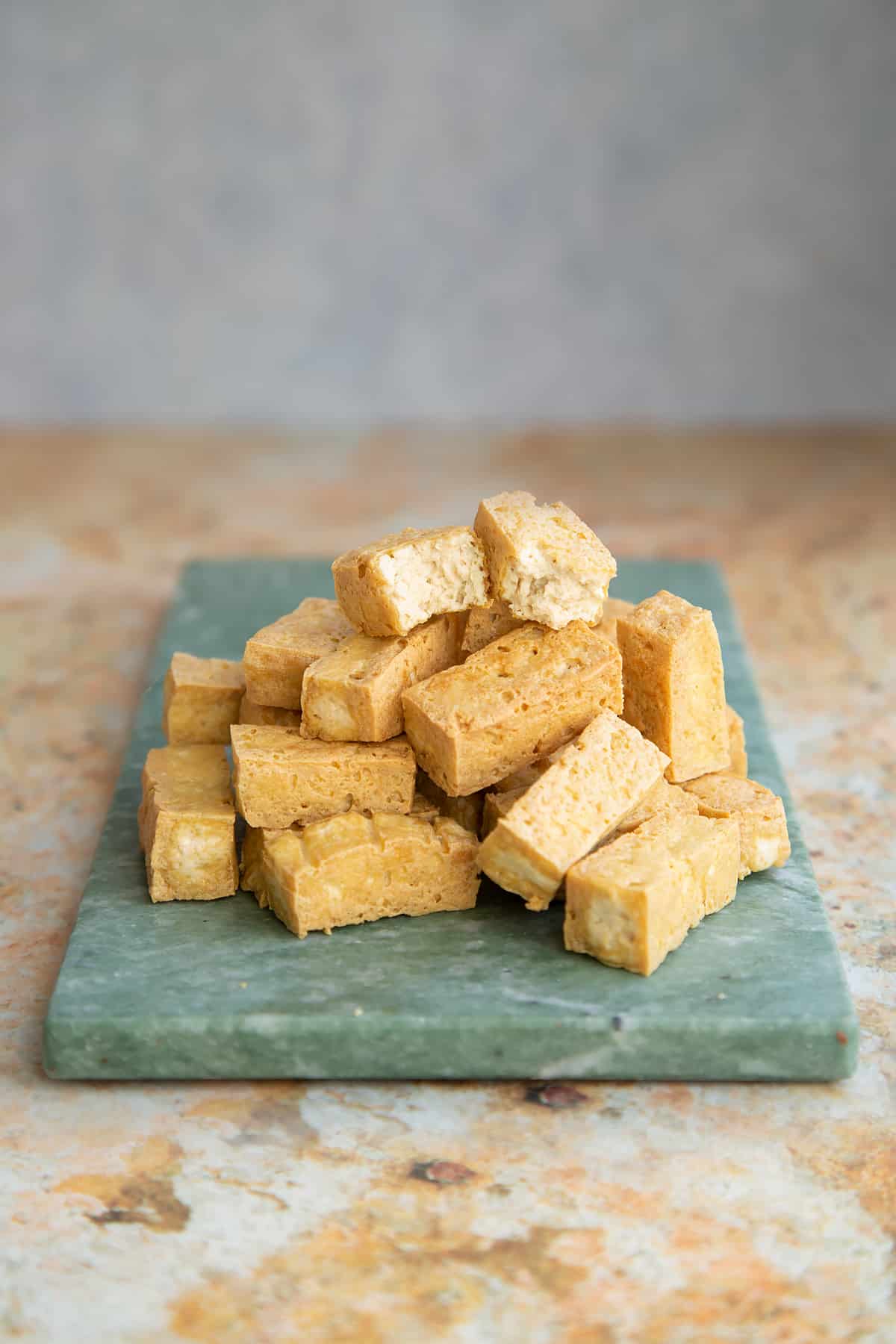 How do I brine tofu?
Another way to remove water content from tofu is to brine it. As I said before, it can be helpful to think of the different types of tofu as like different cuts of meat. So it makes sense that you can prepare tofu in the same way as meat like marinating or brining.
Sometimes, people brine meat to add more flavour and a more succulent and tender texture. So you can apply a similar principle to brining tofu as you would with meat.
While wet brining involves soaking food in liquid, it actually helps to remove excess liquid from food, as the salt draws out the water. As a result, the food in the brine releases its water and then absorbs some of the seasoned brine, adding more flavour and giving it a better texture.
Brined tofu tends to have a more succulent and tender texture while still retaining its shape when cooked. So it's an ideal method for removing excess water and adding flavour.
Tofu is a blank canvas, so adding flavour at every stage is vital. So you can use this stage to infuse your tofu with the spices you might have in your curry.
Peppercorns, garlic and chilli are good universal seasonings for a brine, so build from there depending on the recipe you're making.
Brining method
To brine, follow the method below and feel free to add your seasonings.
First, slice the tofu into ½ inch (1 cm) thick, 1 ½ inch x 2 inches (4×5 cm) rectangles and pat them dry with some kitchen towel.
Next, you need to make the brine by dissolving ¼ cup salt in 4 cups boiling water. At this stage, you can add your seasonings like whole peppercorns, cinnamon, chilli, bay leaves, garlic cloves, slices of onion or whatever spices you're going to use in your curry.
Let the water cool for 10 minutes before adding the tofu, so you don't end up with semi boiled tofu.
Then place the slices into the brine and leave it for 1-2 hours.
After 1 to 2 hours, remove the slices from the brine, and let them sit on a clean tea towel or pieces of kitchen towel for 5 minutes to drain.
Freezing tofu for texture
When you freeze and defrost tofu it changes texture. This is because when it freezes, the water within it expands - causing the texture to become more porous.
This extra porosity gives it a more meaty texture and helps it to absorb flavour more easily when you cook with it.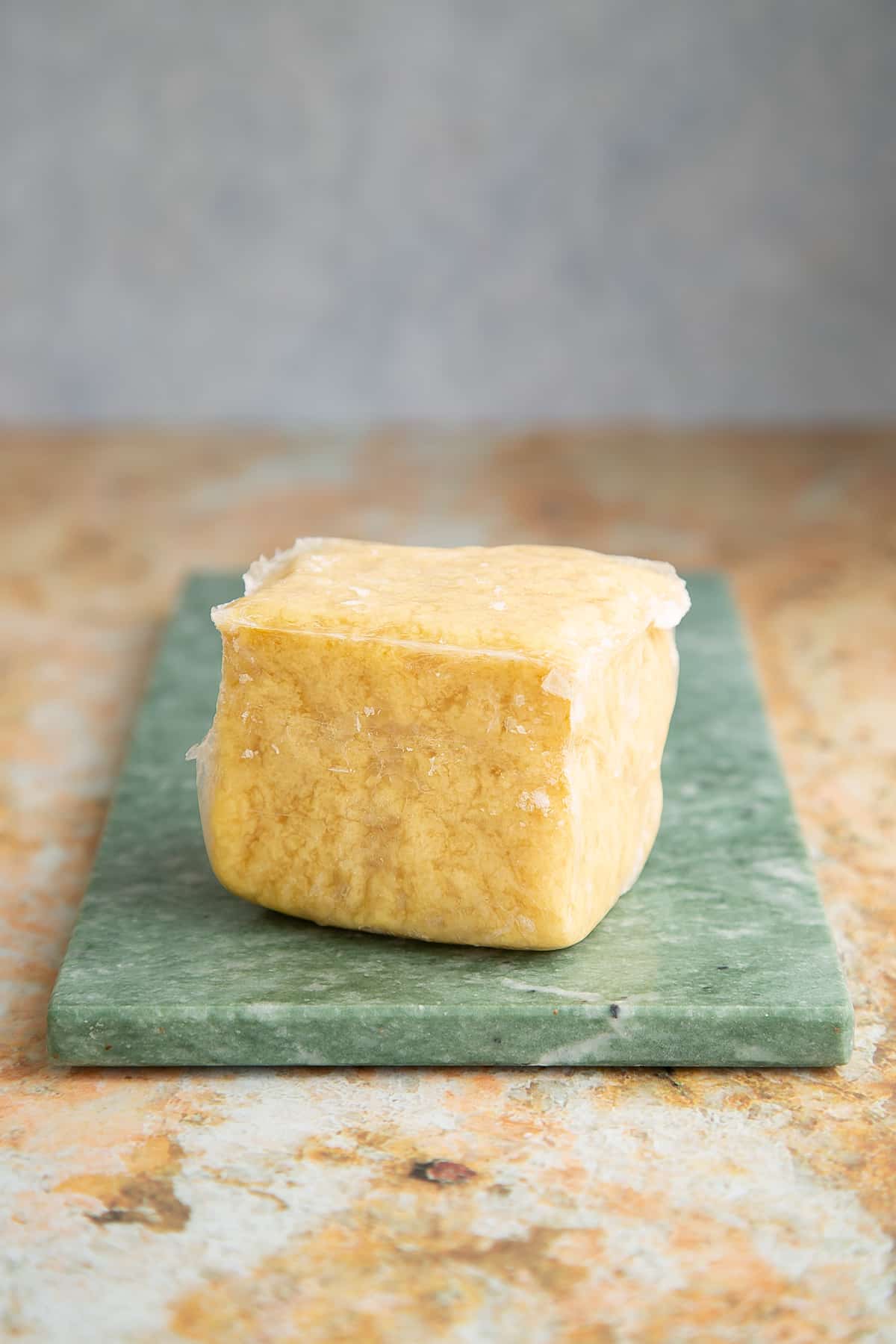 Freezing for better texture
There are different ways to freeze tofu to change it's texture. In the picture below, you'll see that I froze mine in a block, inside the original packaging.
However there are many ways to do it, so here are a few suggestions for freezing your tofu:
Freezing the whole block
When you freeze tofu in a whole block, the freezing tends to have more of an impact on the texture.
This is most likely because there is more water to expand within the block compared to individual slices - and more water expansion makes for a more porous texture.
However, while freezing a whole block saves space in the freezer, it also commits you to defrost the whole block at once.
Slice and steam
Some sources recommend slicing and steaming your tofu before pressing it and then freezing it.
It's thought that steaming before freezing sets the tofu structure, making it more difficult to stretch when it freezes. So this resistance to stretching could make for an even meatier texture.
Another benefit of pre-slicing is that it's easier to defrost an individual portion if you're only cooking for yourself.
Most sources recommend pressing after defrosting it, to remove the excess water which will seep out of the newly expanded pockets within the tofu.
There's no need to press the block before you freeze it, as freezing will draw the water out of the tofu.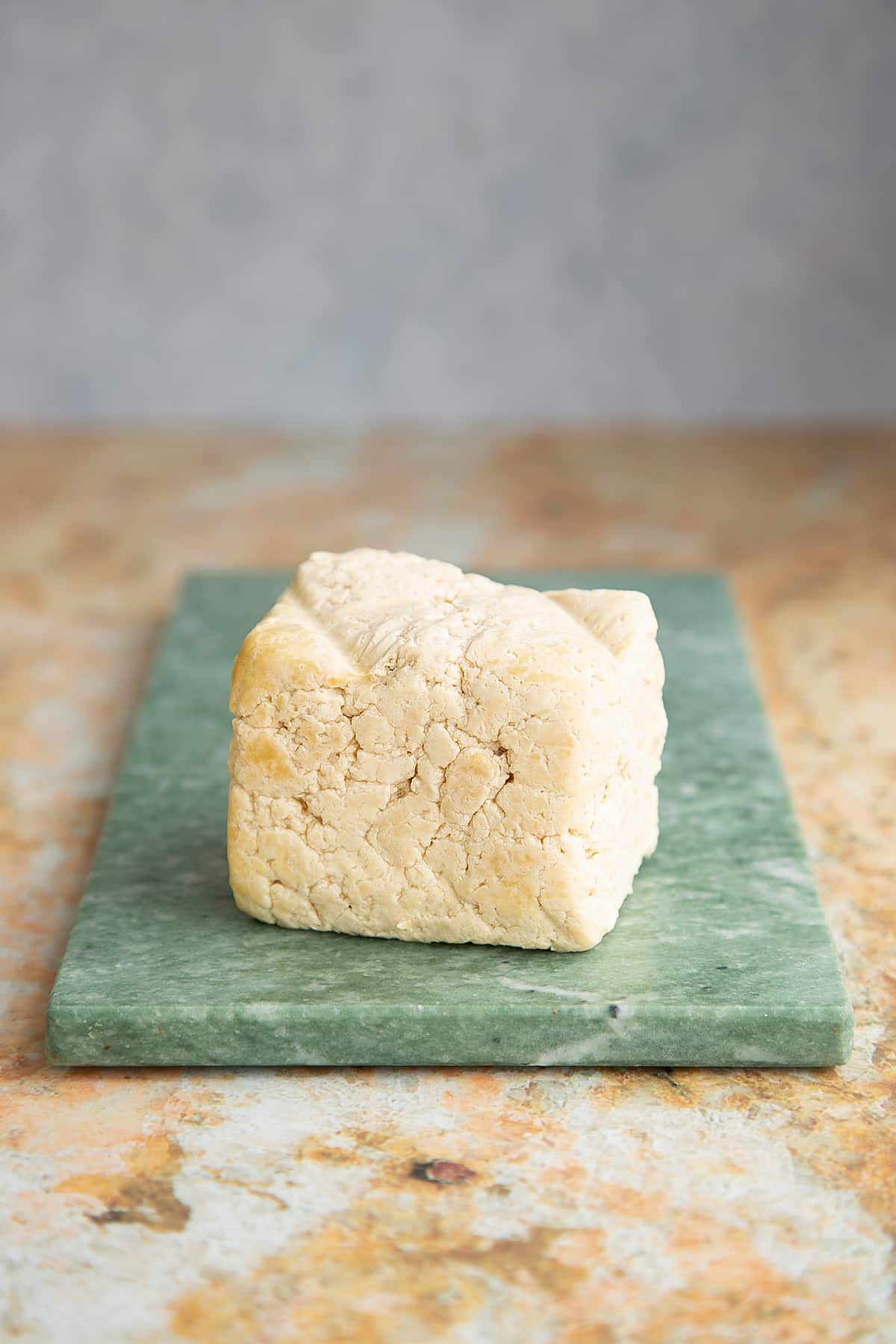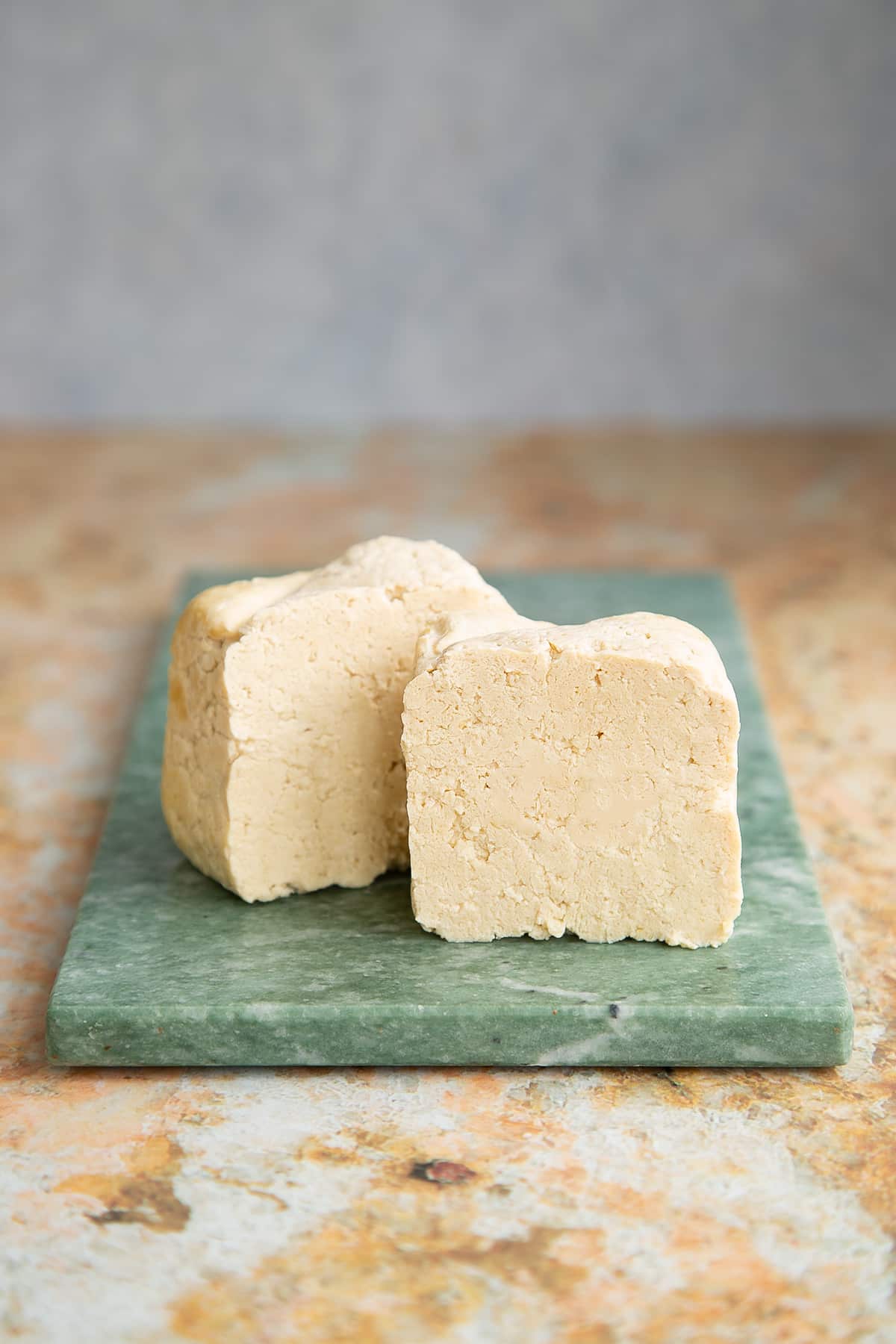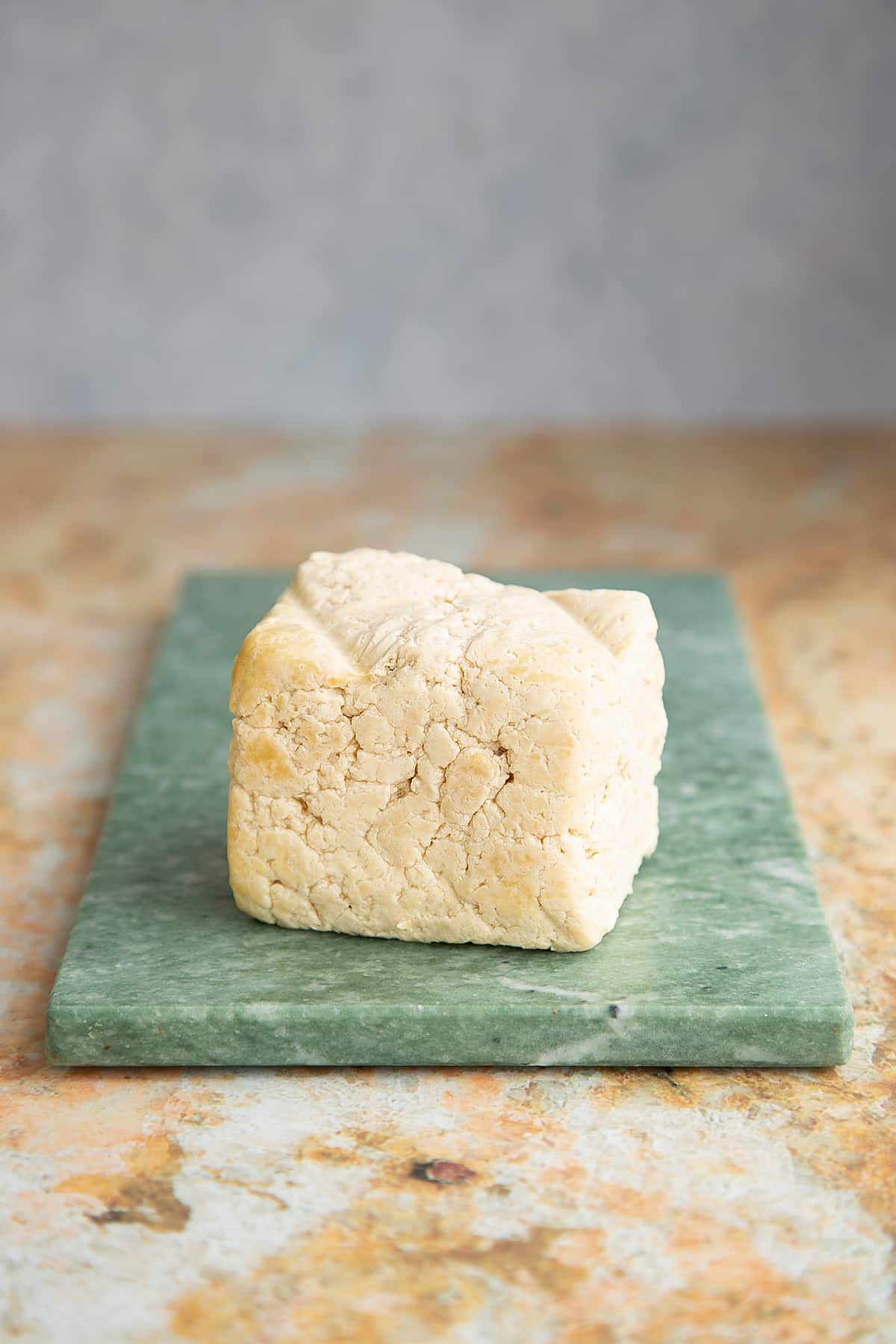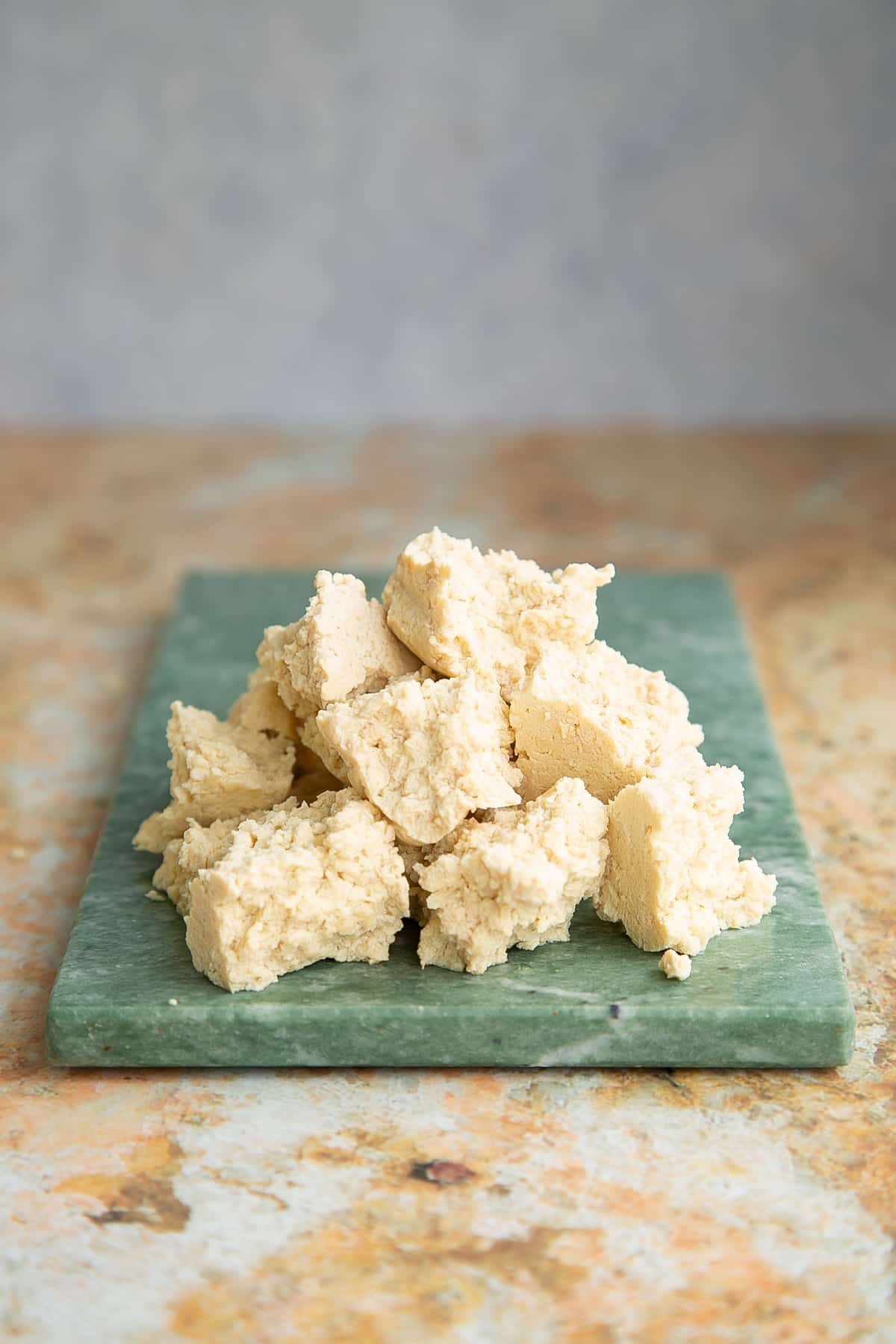 6 FUN recipes to make with kids - a FREE family baking eBook!
Have a free copy of my family baking eBook! With 6 easy recipes and bonus activities to get kids into the kitchen - and keep them busy for hours!