Almonds pair perfectly with apricot, and one of my favourite ways to combine them is in this soft, juicy apricot oat slice recipe.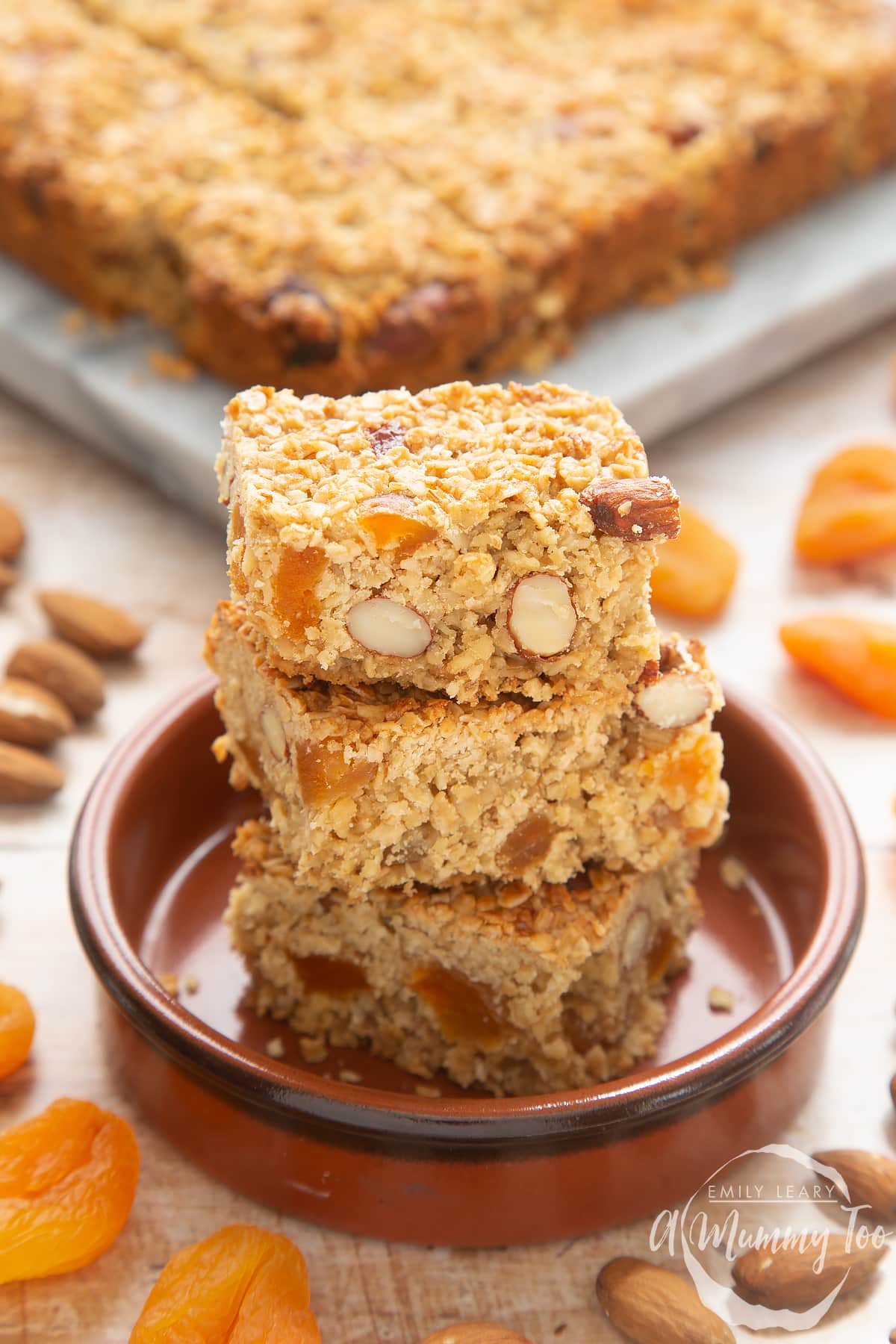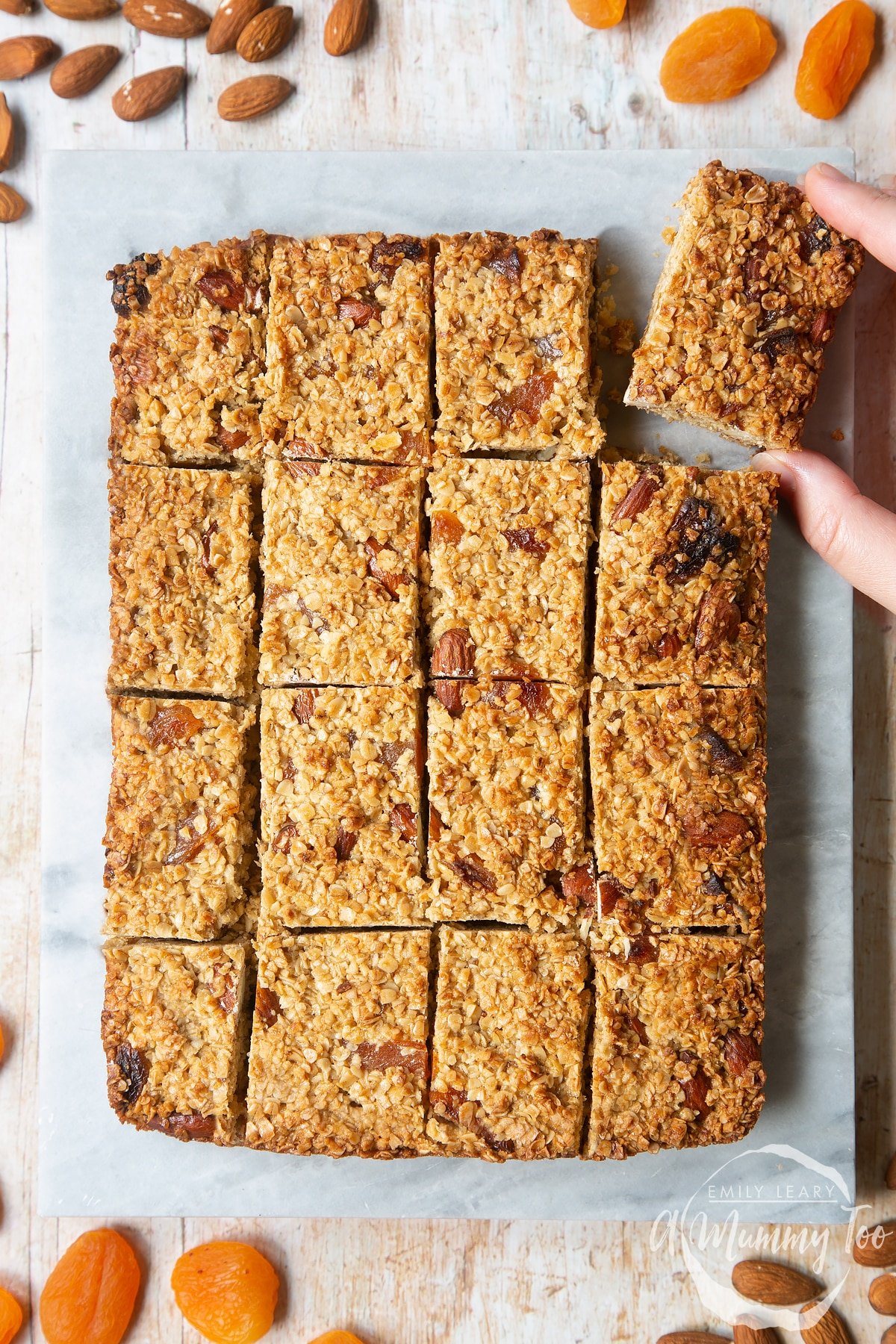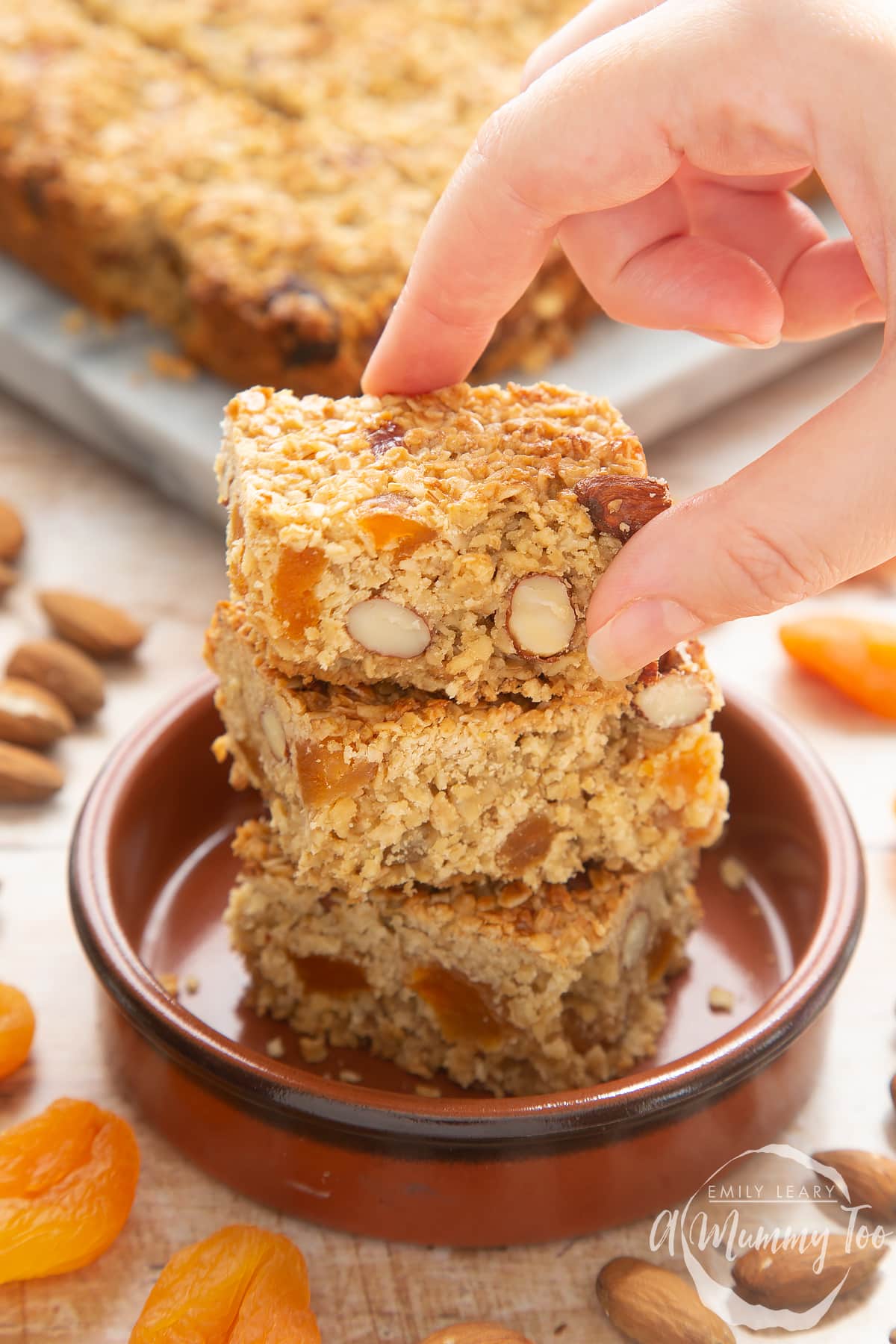 These flapjack-like bites are sweet and oaty, with the almonds adding a gorgeous crunch.
Here's how to make them.
Ingredients
Equipment
Instructions
Preheat the oven to 200C/390F (180C/355F fan assisted)
Put the butter, vanilla and syrup in a microwave safe bowl.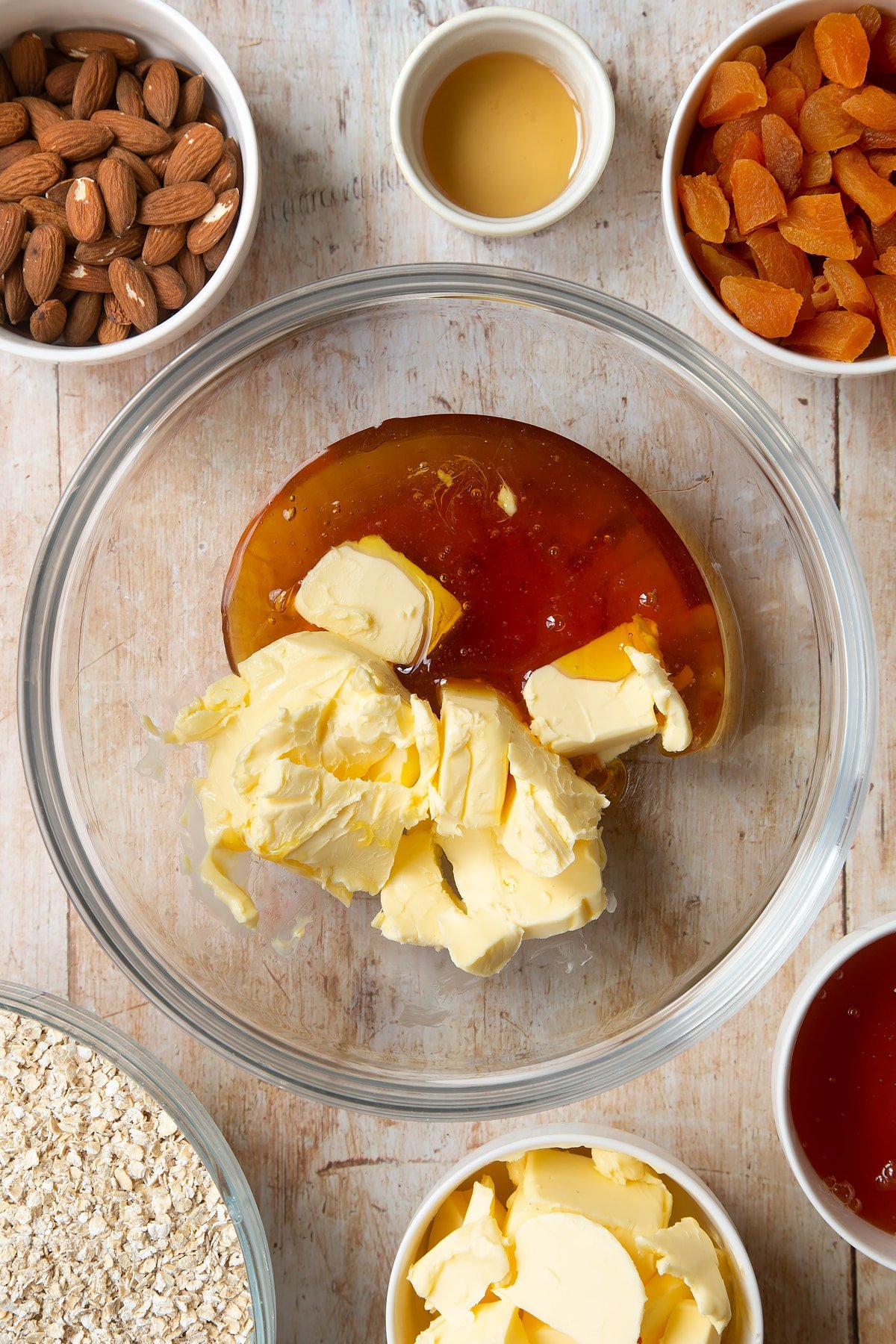 Melt in 30 second bursts, stirring between each burst until the butter has dissolved.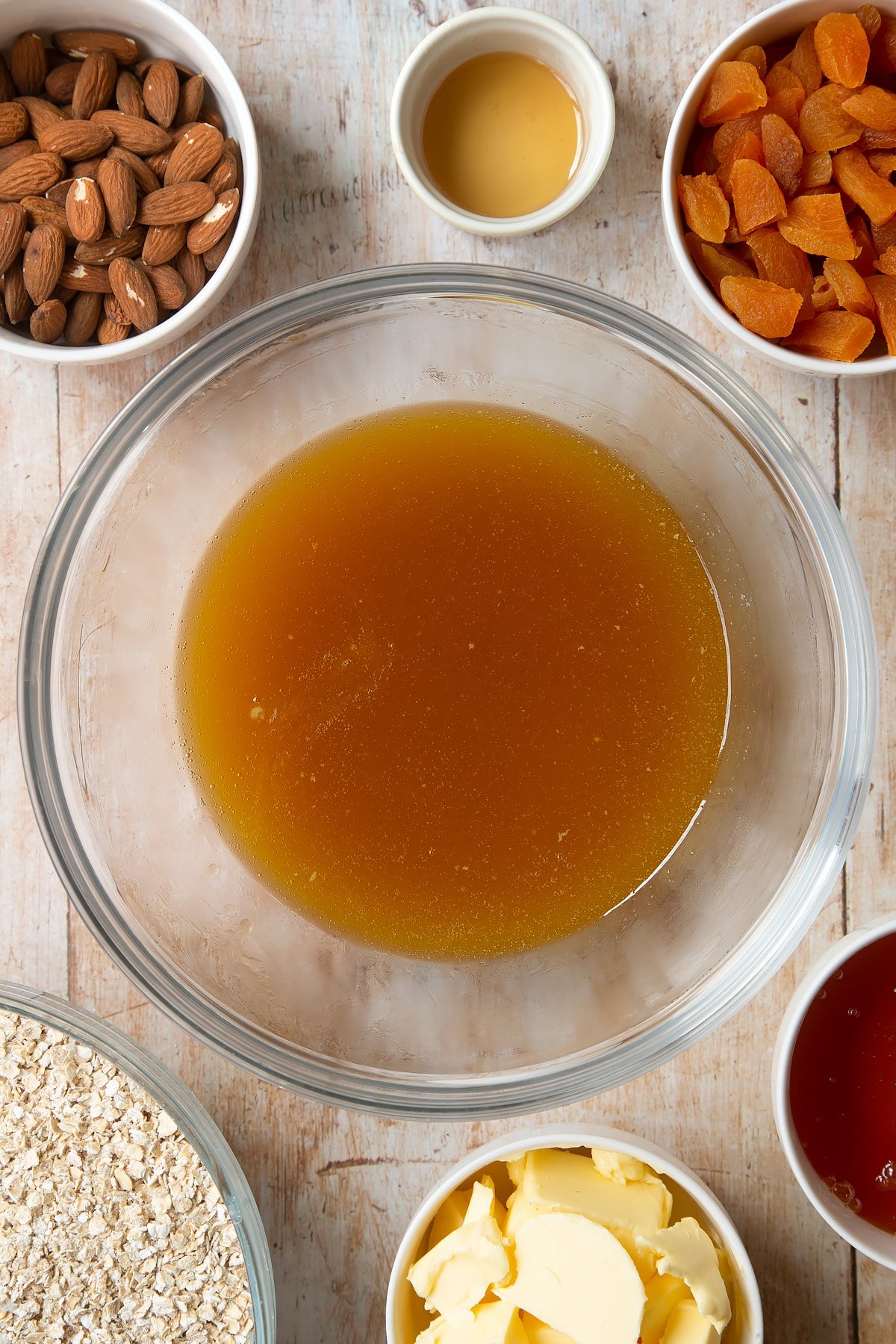 Add the apricots and nuts.
Add the oats.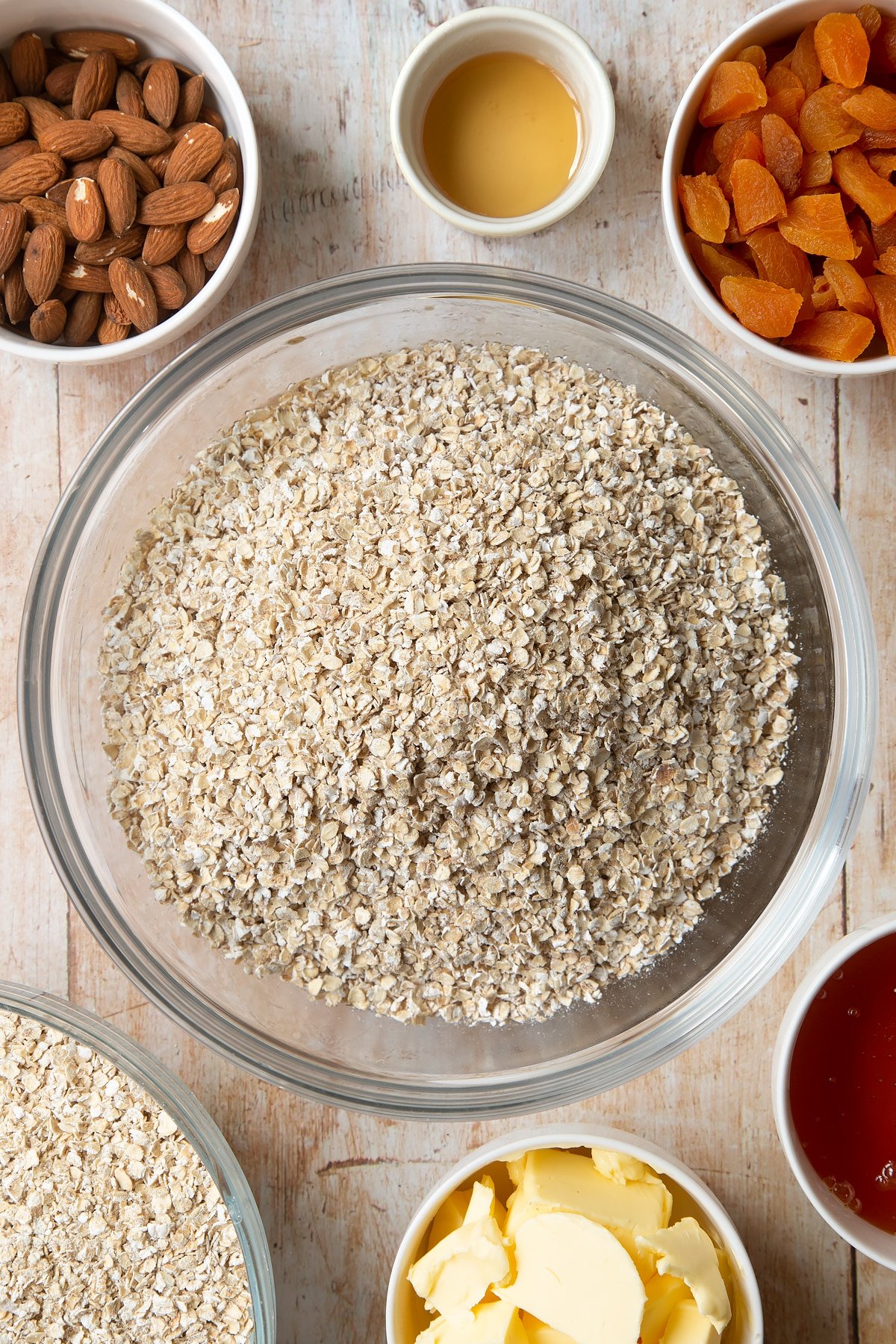 Mix well.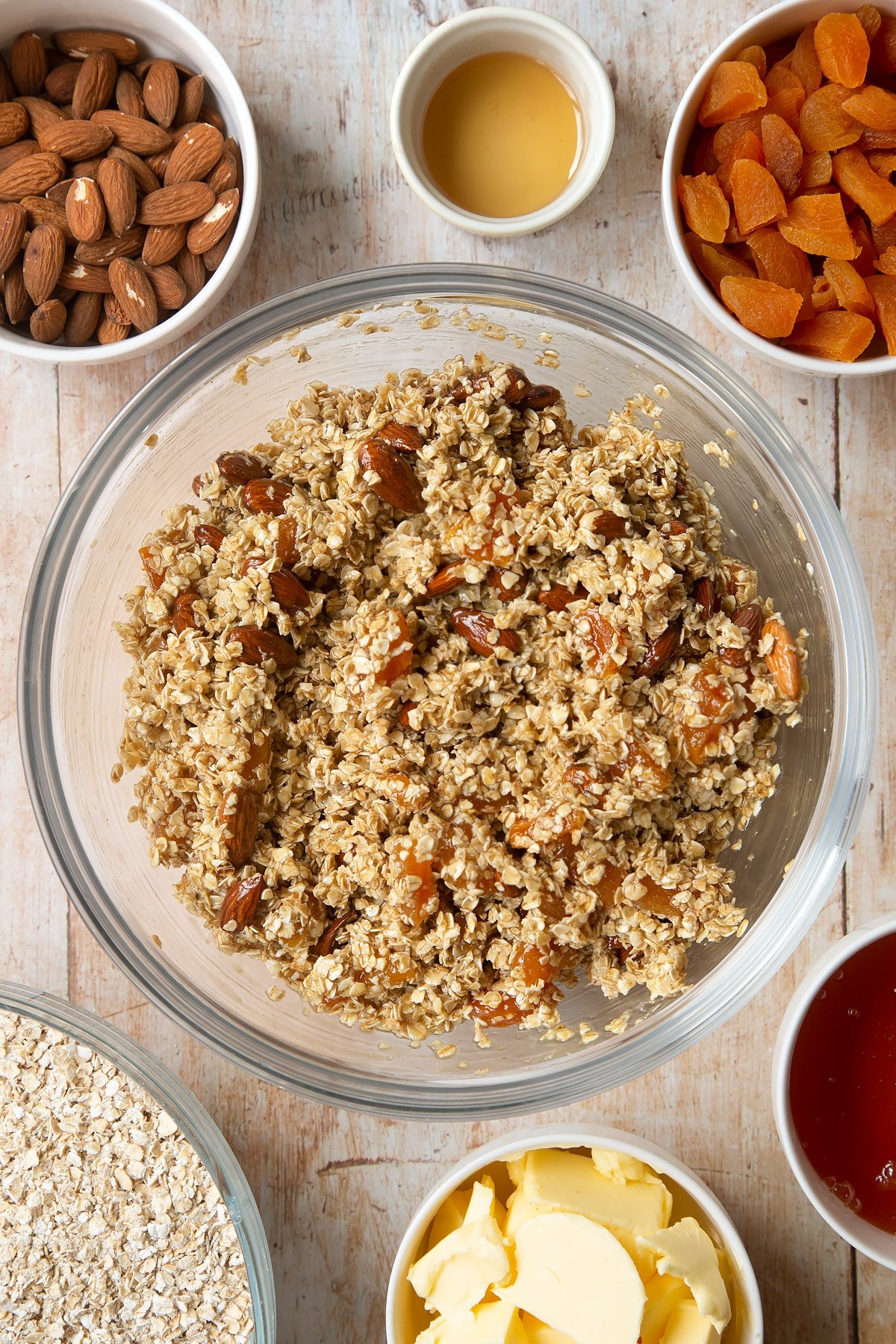 Add the egg.
Stir through.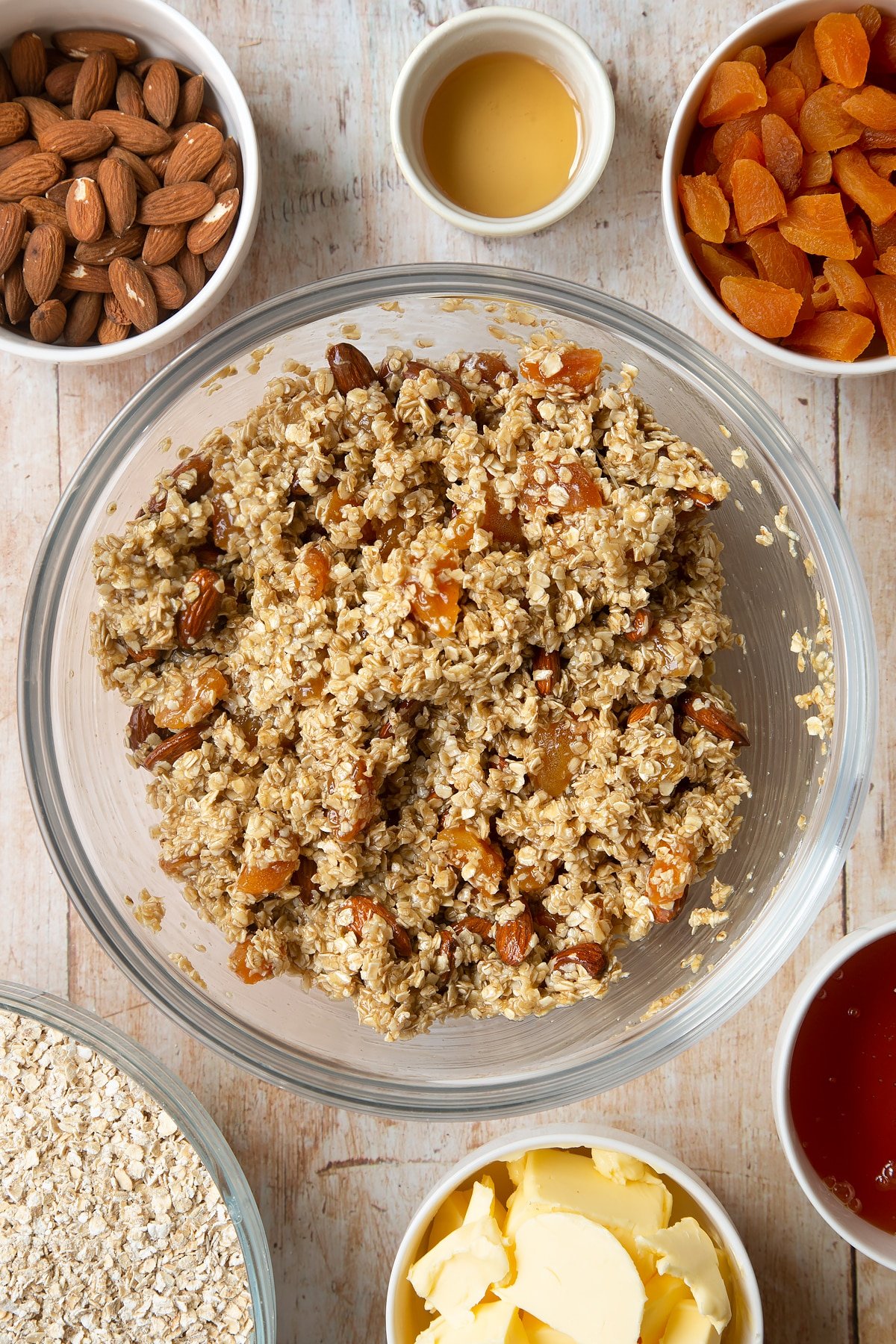 Transfer the mixture to the greased tin.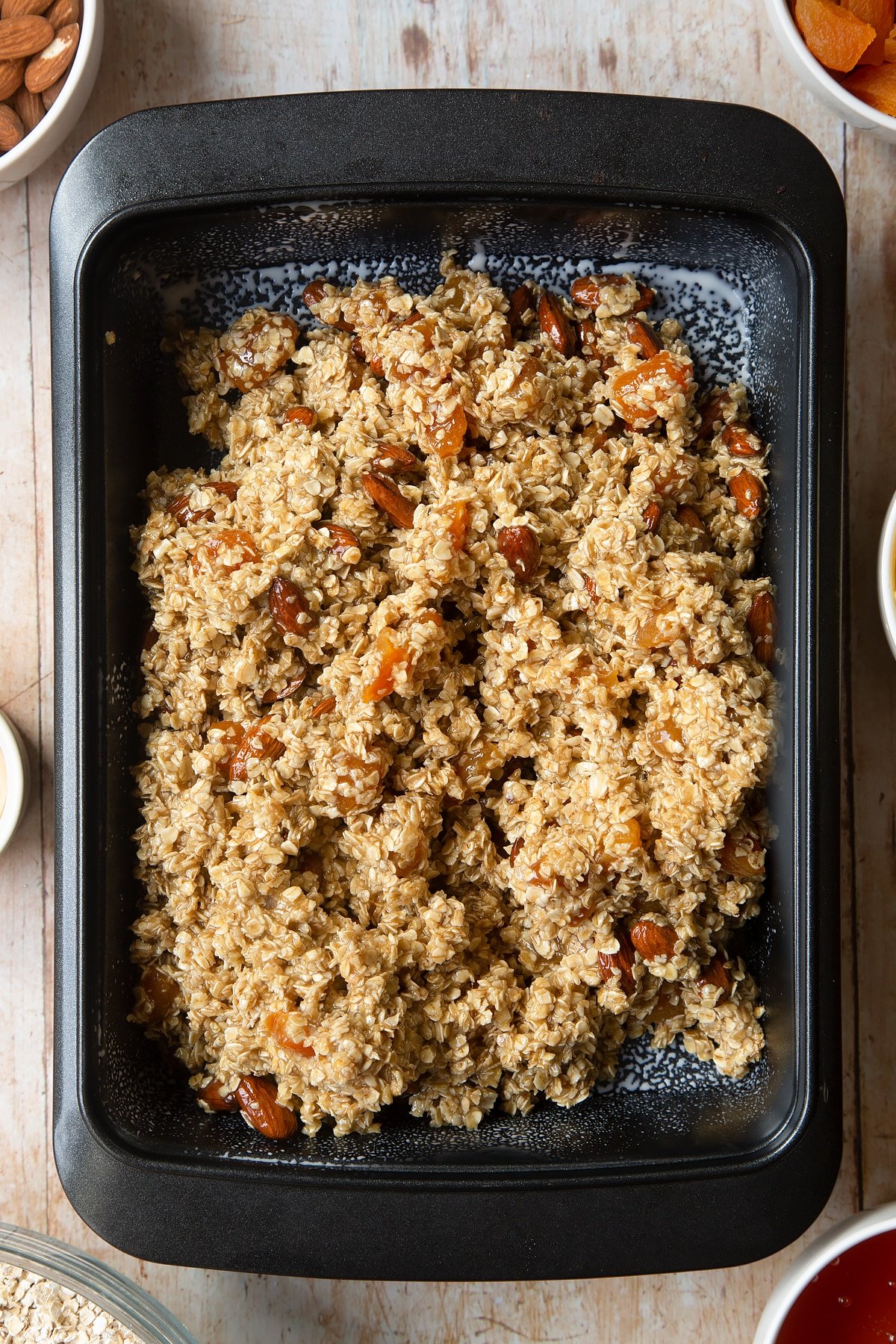 Press down firmly all over.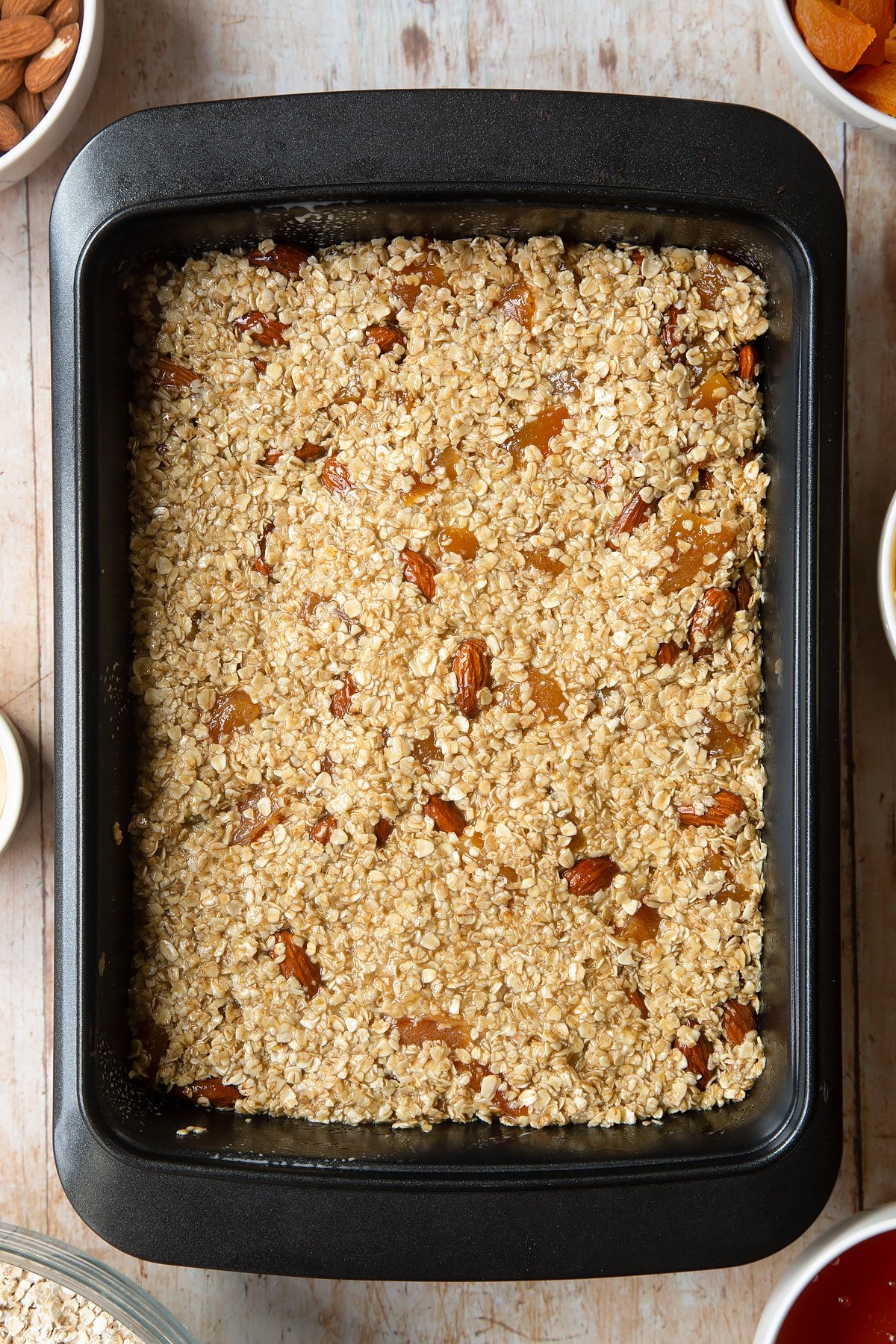 Bake for 20-25 minutes, then leave to cool completely in the tin.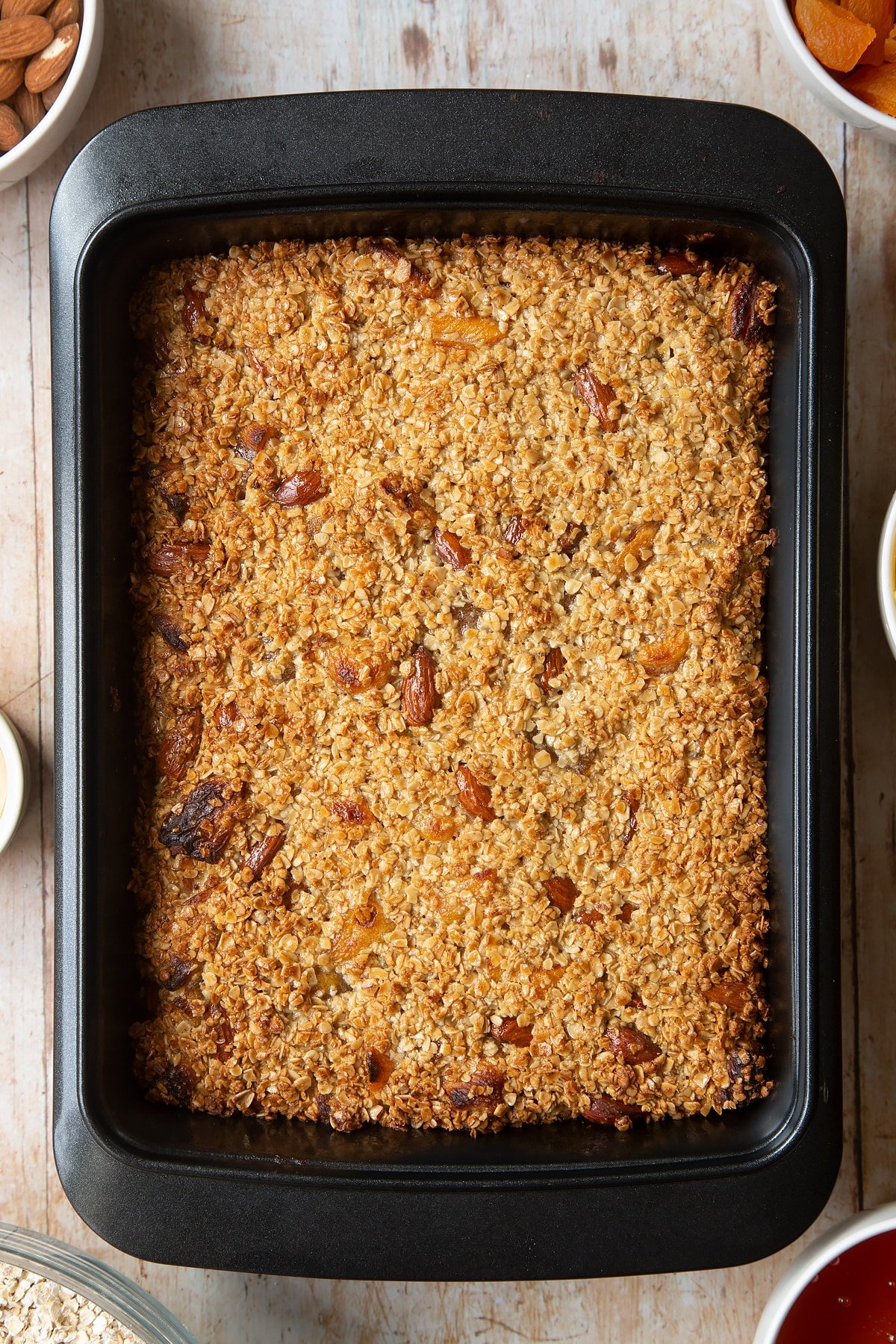 When cooled, tip out onto a board.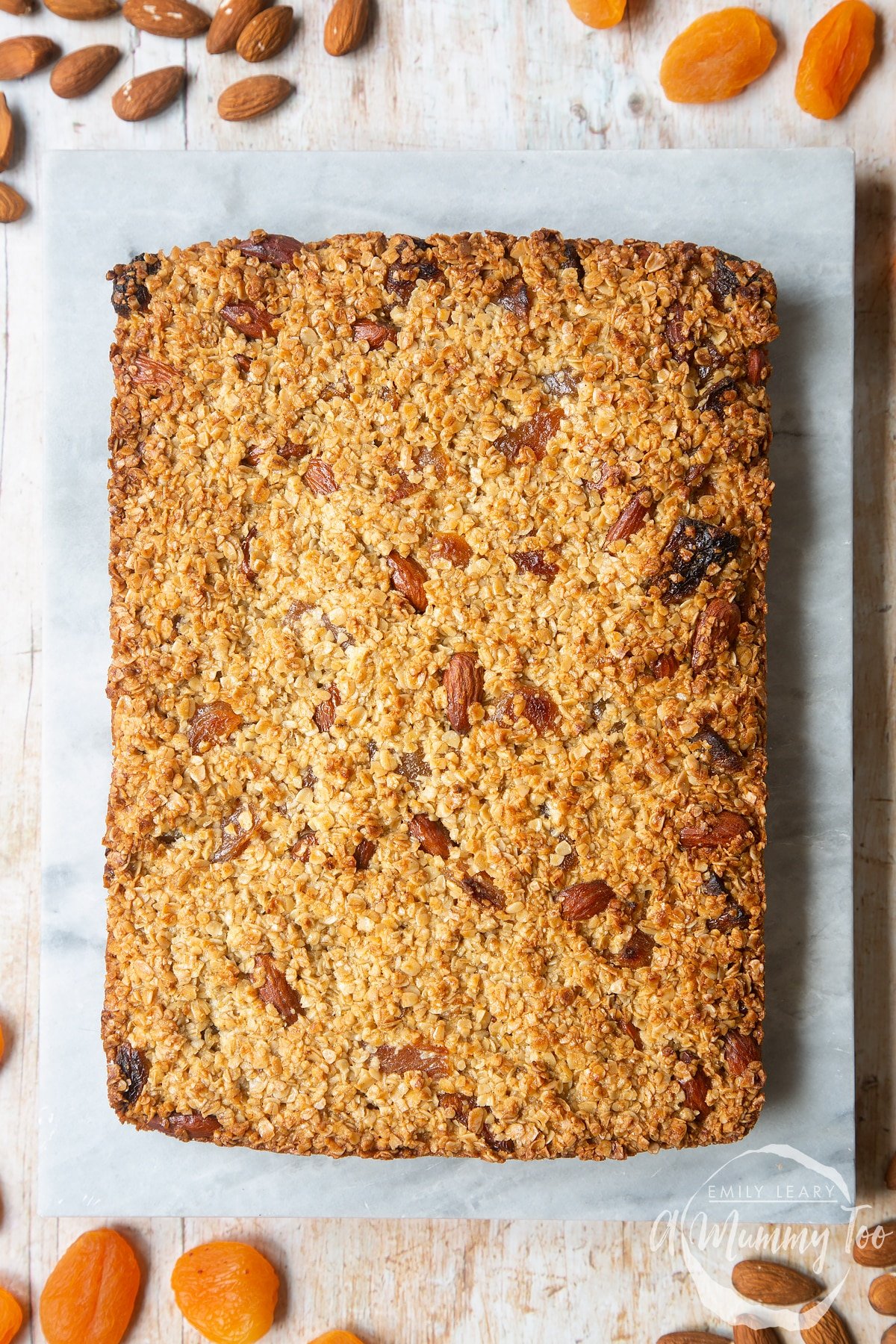 And cut into 16 squares with a sharp knife.
Let me know if you try this yummy apricot oat slice. It's perfect for a decadent breakfast treat!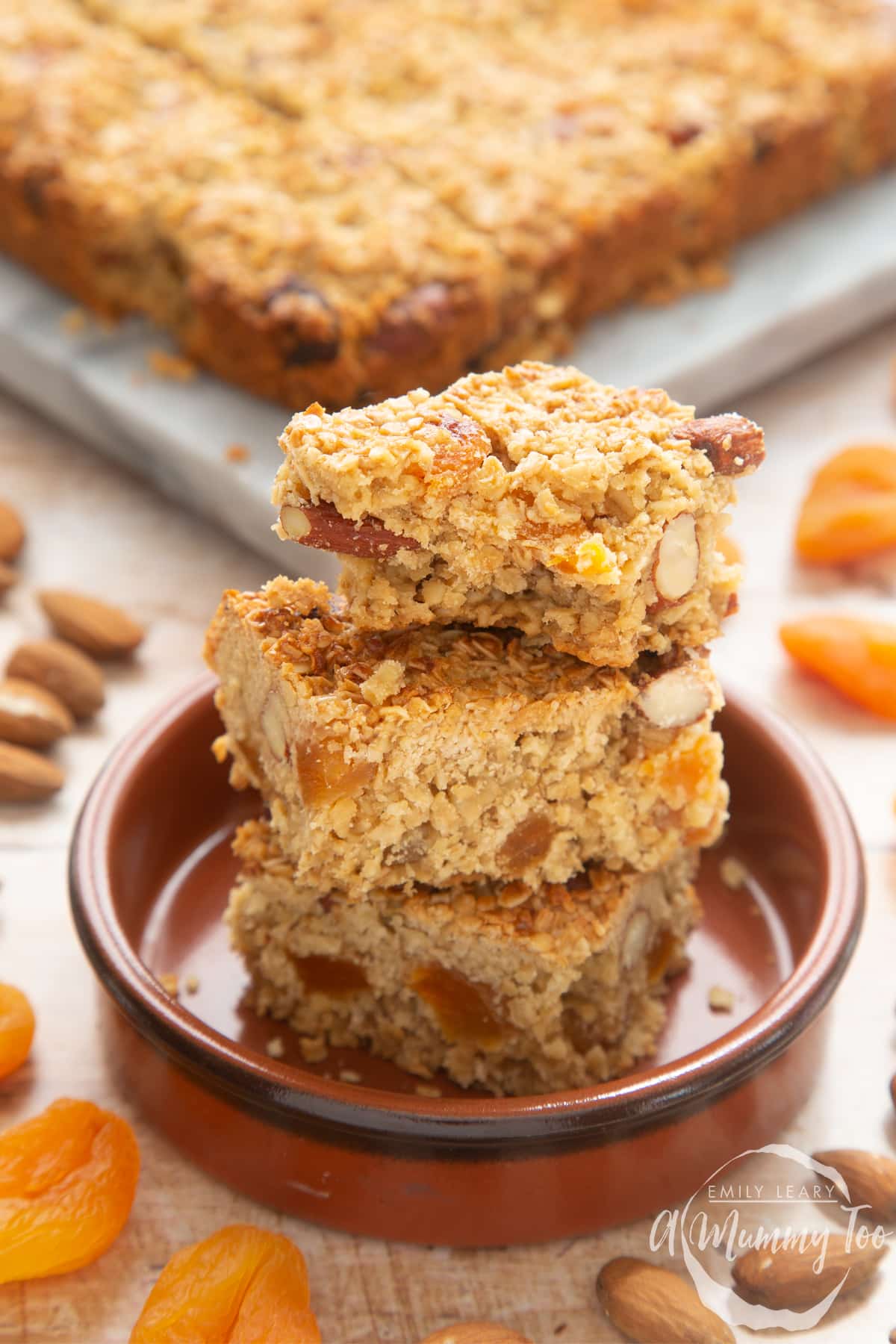 More reasons to enjoy almonds
Almonds are believed to lend all sorts of health benefits when eaten as part of a balanced diet:
Heart health - the thiamine in almonds supports proper function of the heart, while the linolic acid and plant sterols are thought to help maintain healthy blood cholesterol levels. Almonds are also low in saturated fats and naturally sodium free.
Energy - almonds are packed with protein, carbs and unsaturated gat. They're also high in calcium, copper, magnesium, manganese, phosphorous and riboflavin and contain iron, niacin and thiamine to support a normal, energy-yielding metabolism. Finally, folate, iron, magnesium, niacin and riboflavin in almonds may help to reduce tiredness and fatigue.
Other benefits - the nutrients in almonds may support antioxidant activity in cells, help maintain healthy skin and support normal psychological and nervous system function.
Almonds are also naturally gluten free.
What's your favourite way to enjoy almonds?
Note: this website does not offer medical advice and any information given should not be taken as a substitute for advice from a medical professional.
Pointers, tricks and troubleshooting tips for the perfect apricot oat slices
Are apricot oat slices easy to make?
These apricot oat slices are very easy to make requiring just a single bowl to mix all the ingredients in, and a small baking tray to bake them with. The whole recipe is pretty forgiving, but what do you remember to check your oat slices regularly during the bake as they can go from golden brown to having burnt edges in just a few minutes.
Will I need any special equipment for apricot oat slices?
These apricot slices don't require anything that you shouldn't have in a standard kitchen, but it's best to check the equipment list found near the top of the page just in case.
Where can I buy golden syrup?
In the UK where golden syrup originated it is available in all supermarkets and the majority of smaller shops. world so there's a good chance you should be able to find it in a store near you no matter where you are Although the name may differ slightly as will be the ingredients which may be from sugar cane or sugar beet
Are apricot oat slices suitable for vegetarians?
These apricot slices are suitable for vegetarians as is, with no alterations needed.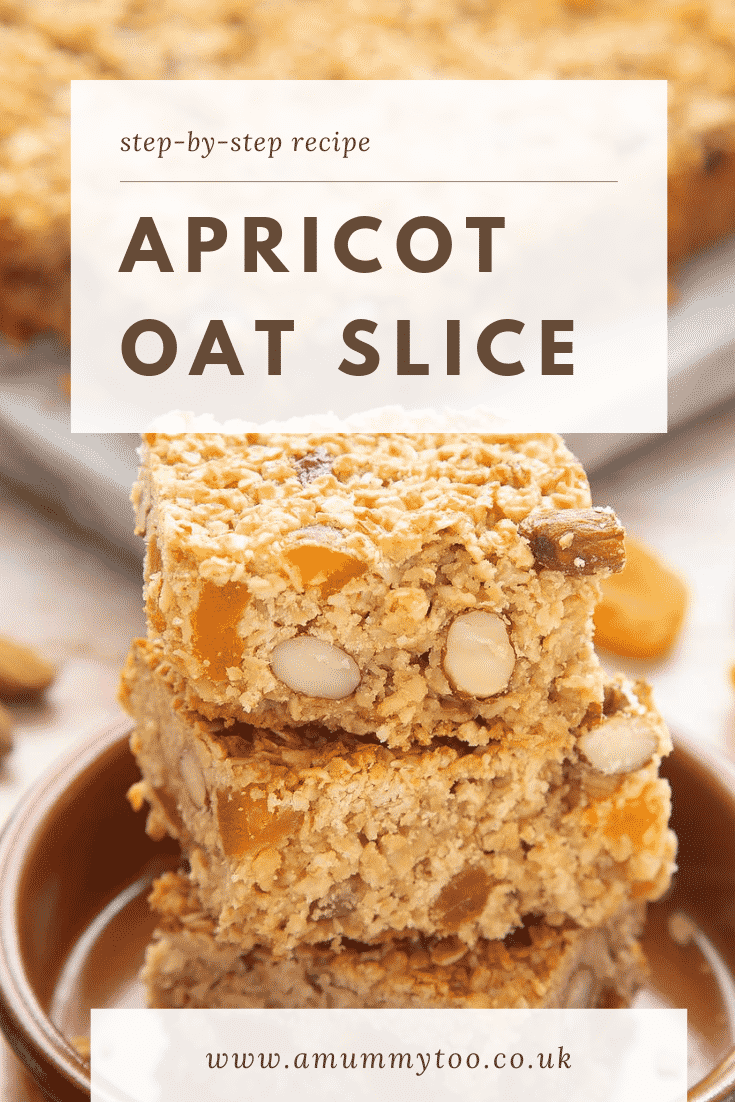 Are apricot oat slices suitable for vegans?
these out slices are not suitable for vegans as they contain butter and and an egg and while I haven't tried it I believe it would be possible to substitute these ingredients for a vegan alternative with great results use a vegan plant butter with a low no moisture content if possible and replace the egg with any of the following
For the egg, you'll need to substitute it for one of these alternatives (each = 1 egg, so multiply as needed for any given recipe). My personal preference for pancakes is crushed chia seeds, but all of these suggestions can work:
1 tablespoon of crushed chia seeds or flax seeds mixed with 2 tablespoons of water and left for 10 minutes in the fridge.
3 tablespoons of aquafaba (the water you get in a tin of chickpeas).
3 tablespoons of applesauce (bear in mind this will add sweetness).
Are apricot oat slices gluten-free?
Ingredients in this dish are gluten-free but it's always best to check your ingredients as not all manufacturers can guarantee that cross contamination hasn't occurred during the production with gluten containing products or that day had simply using blue tint additives.
Are apricot oat slices keto-friendly?
Due to the high carb count coming from the boats auntie sugars in the golden syrup and dried apricots please bars and not keto friendly.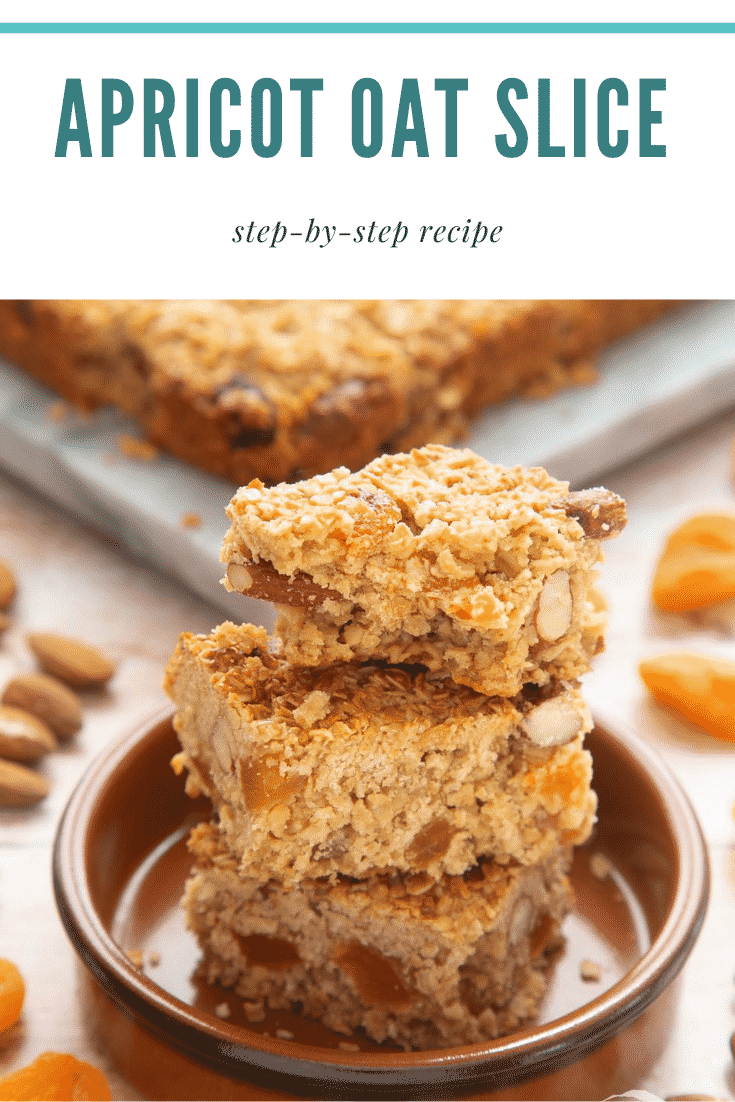 Are apricot oat slices healthy?
While many of the ingredients are packed with things that a good for you, such as the almond and apricots there's also quite a bit of sugar and fat in these bars making them best as a once in a while treat rather than an everyday treat.
Are apricot oat slices safe to eat while pregnant?
There is nothing in this recipe that would usually pose a risk to pregnant people as long as all the ingredients are in good condition and the oat slices are prepared hygienically and safely.
The eggs in this recipe are fully cooked, but egg advice for pregnant and breastfeeding people can vary in different countries, so please check information local to you.
If you have any questions or concerns please speak to a health professional. A Mummy Too does not give medical advice
What goes well with apricot oat slices?
As these are such a great snack all on their own I think nothing more than a cup of tea, coffee or glass of milk is a great pairing. They also make an excellent treat for a lunch box.
If you are especially fond of apricot and almond as a pairing then check out these chocolate apricot balls. https://www.amummytoo.co.uk/chocolate-apricot-balls/
I haven't got dried apricots and/or almonds can I use a different dried fruit or nut?
These apricot slices will work with practically any dried fruit and nut combination - anything from raisins and pecans to figs and hazelnuts will be very tasty.
You could even forgo using nuts and/or dried fruit completely and still end up with a very tasty bar of deliciousness, but I find the combination of chewy fruit and crunchy nuts adds such a great mixture of tastes and textures to the dish that I'd use some of each if possible.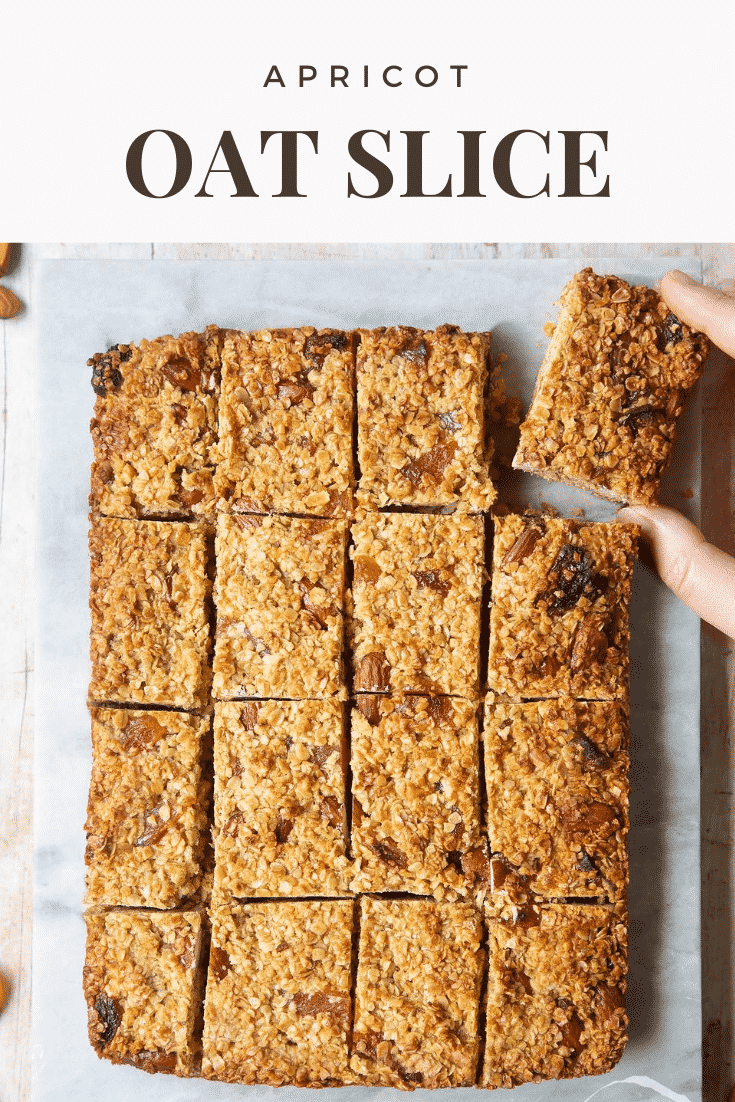 Can I add extra dried fruit and nuts to my apricot oat slices?
I think the ratio of fruit and nuts is these apricot slices are just right, but you can add a little more of either if you want to. Just make sure you don't add too much or the slices will have trouble holding together.
How should I store apricot oat slices?
You should store these slices in an airtight container and somewhere that is cooln dry and out of direct sunlight.
How long does apricot oat slices keep?
If stored correctly (see above) these apricot slices should keep for three days, or if you keep them in the fridge in an airtight container they should last for up to a week.
Can I leave apricot oat slices out on the counter?
These slices can be kept on the counter, as long as they are in an airtight container.
Can I make apricot oat slices ahead?
You can make these slices a day ahead without any problem, just keep them in an airtight container until ready to serve.
To keep everything nice and moist I would suggest cutting them into individual slices as and when you need to serve them, if possible.
Can I keep apricot oat slices in the refrigerator?
You can keep these slices somewhere cool and out of sunlight, but if they are in the fridge it will extend their life by a couple of days, so they will still be good for up to five days. Just make sure to keep them in an airtight container and take them out of the fridge 15 minutes before you want to eat them, which will give them a chance to come up to room temperature.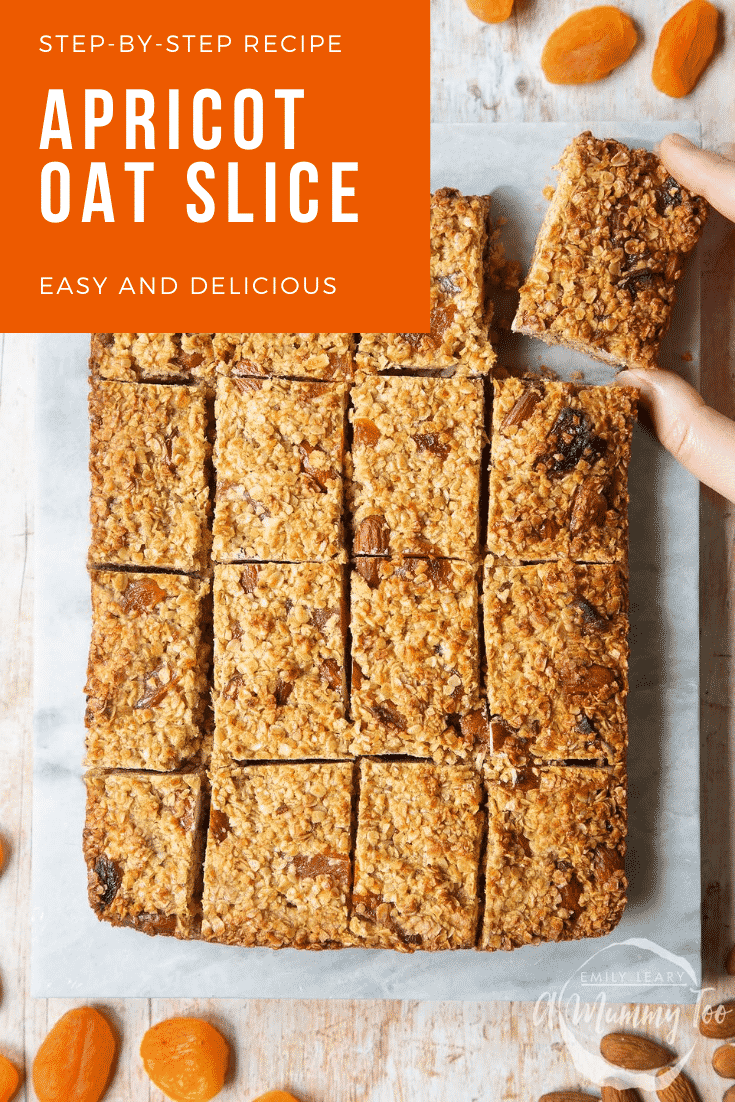 Can I freeze apricot oat slices?
While I haven't tried it, you should be able to freeze these apricot oat slices without affecting the taste or texture too heavily.
I would space them out on a baking tray and give them a couple of hours to freeze before placing them in an airtight container or freezer proof bag. This way they will not stick together and can be taken out individually when needed.
Let me know in the comments how they turned out if you do try freezing them!
Can I make apricot oat slices in a different quantity?
You could make these oat slices in any quantity you wish, but I would suggest the quantities given here (or doubled) are best, as they use up a whole egg.
If you would like to adjust the quantities you can do so using the recipe card found near the end of this page. There is a slider you can use to adjust the serving size, which will also adjust the ingredient quantities needed.
Can I make apricot oat slices in a different tin/tray?
As long as the walls of the baking tray are high enough you can use practically any size tray. You can also use a circular cake pan.
Do be aware that if you are using a particularly large tray your apricot slices will be quite thin and if you're using a very small tray the centre may not cook before the edges start to go past golden brown.
You can even use a muffin tin to make individual oat slices, but do remember they will cook more quickly and to grease each muffin hole with butter to avoid them sticking.
Can I make apricot oat slices in a stand mixer such as a KitchenAid or Kenwood Mixer?
While it only takes a few minutes to mix everything together in a bowl you can happily use a stand mixer too - I would advise using the beater attachment.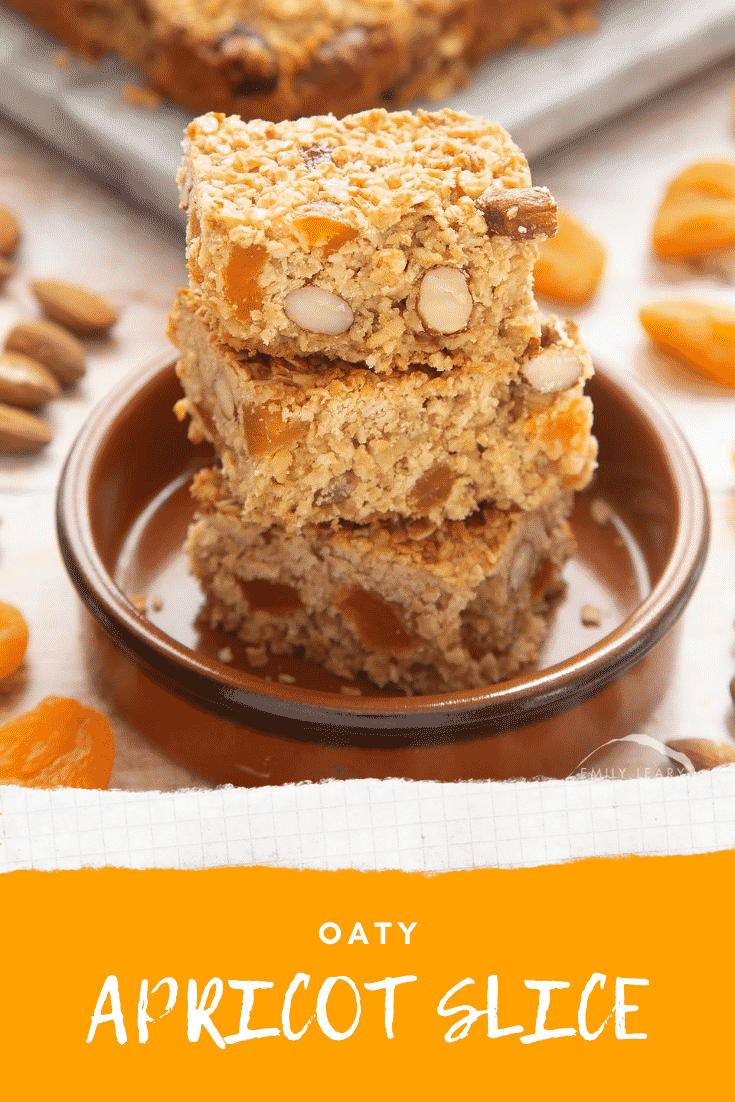 How can I make sure apricot oat slices are perfectly cooked?
The best way to make sure your apricot slices are perfectly cooked is to look for a golden brown colour on top and edges that are just starting to darken up and become a rich brown colour.
The baked but still hot apricot slices will still be quite soft at this point - they will firm up when cooled as the sugar and butter naturally has a different consistency when heated.
Why did my apricot oat slices turn out burned?
The most likely culprit of a burnt or overcooked oat slice is that you simply had the oven on too high, or that you left the apricot slices in for too long, so check both of these things first.
It's also possible that your oven is reporting the temperature incorrectly, as home ovens can be plus minus 10C different to their reported temperature. If possible grab an oven thermometer and calibrate your oven every once in a while. Ovens also tend to have hotspots in them, so you may find that one side catches before the other has time to bake - if this is the case you can turn your tray around halfway through cooking,
Why did my apricot oat slices turn out wet underbaked?
Firstly, don't worry if your apricot slices come out quite soft - they will firm up when cooled as the sugar and butter naturally has a different consistency when heated.
If your apricot slices are wet or underbaked then it's likely that they weren't in the oven for long enough, which can be solved rather simply by giving them an extra few minutes. Oat- based treats tend to be quite forgiving when it comes to cooking times, you just have to watch out for the edges not to catch and start to burn, so putting tin foil over the tray or dropping the temperature by 20C before putting your slices back in should help.
It's also possible that the ratio of ingredients you used was incorrect, so check the photos in the step-by-step guide to make sure that your mixture was a similar consistency to the one in the photos.
How can I add/change the flavours in these apricot oat slices?
The great thing about oat slices is how versatile they are. As mentioned above you can swap out the dried fruit and nuts for anything you like, from raisins and pecans to figs and hazelnuts will be very tasty.
You can also swap out the golden syrup for something with a deeper flavour like honey or black treacle. Maple syrup would also work very well, but as it's thinner than golden syrup I would only use around 150g rather than 200g.
Print this apricot oat slice for later
Here's the recipe for these breakfast oat bars again for you to print at home.
Pin this apricot oat slice for later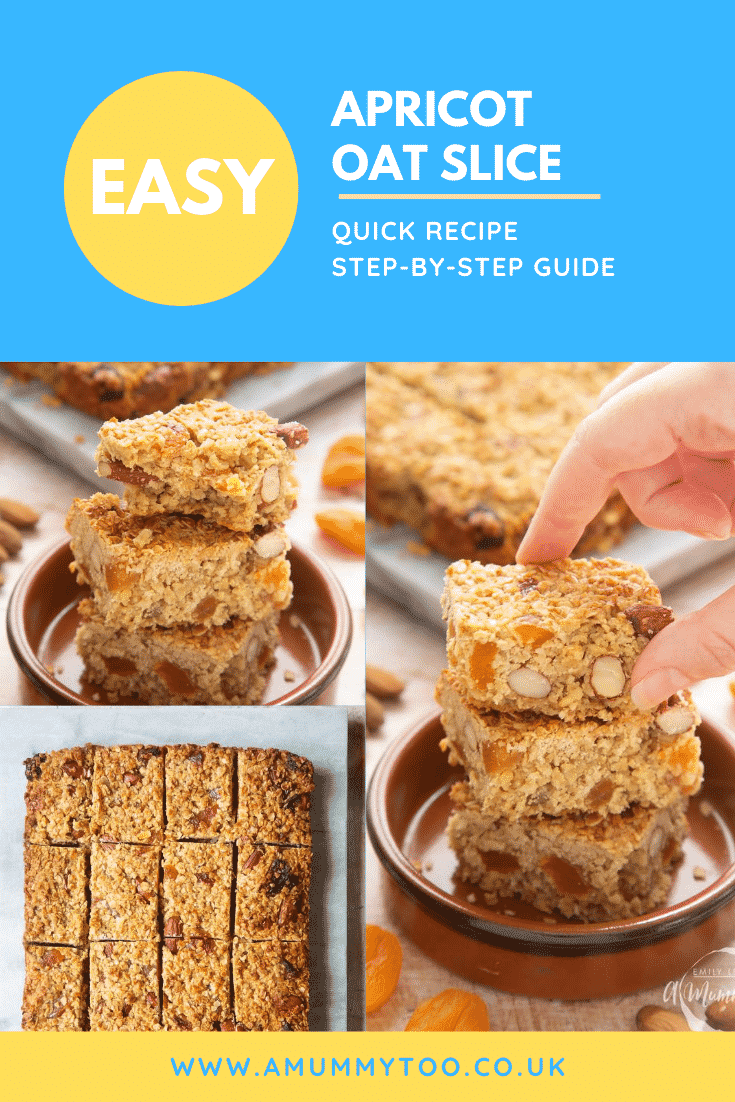 More nutty recipes to try