Got a can of beans, an onion, some peppers and a few spices? If so, then you could be serving quick, kid-friendly baked bean chilli in five minutes!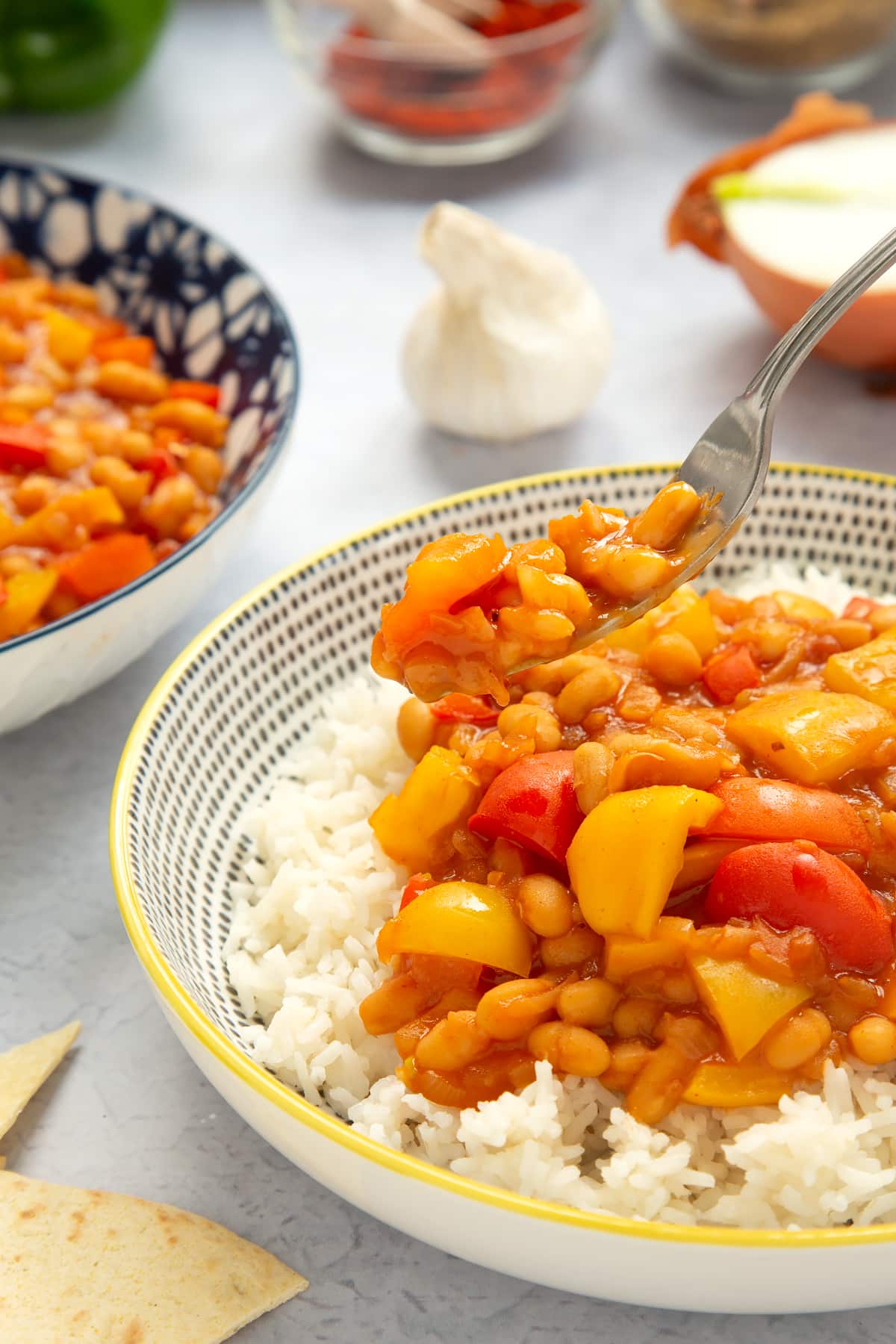 If you want to get the kids involved in some family cooking fun, you can even put them in charge of making this easy, tasty, veg-packed chilli - with adult supervision, of course!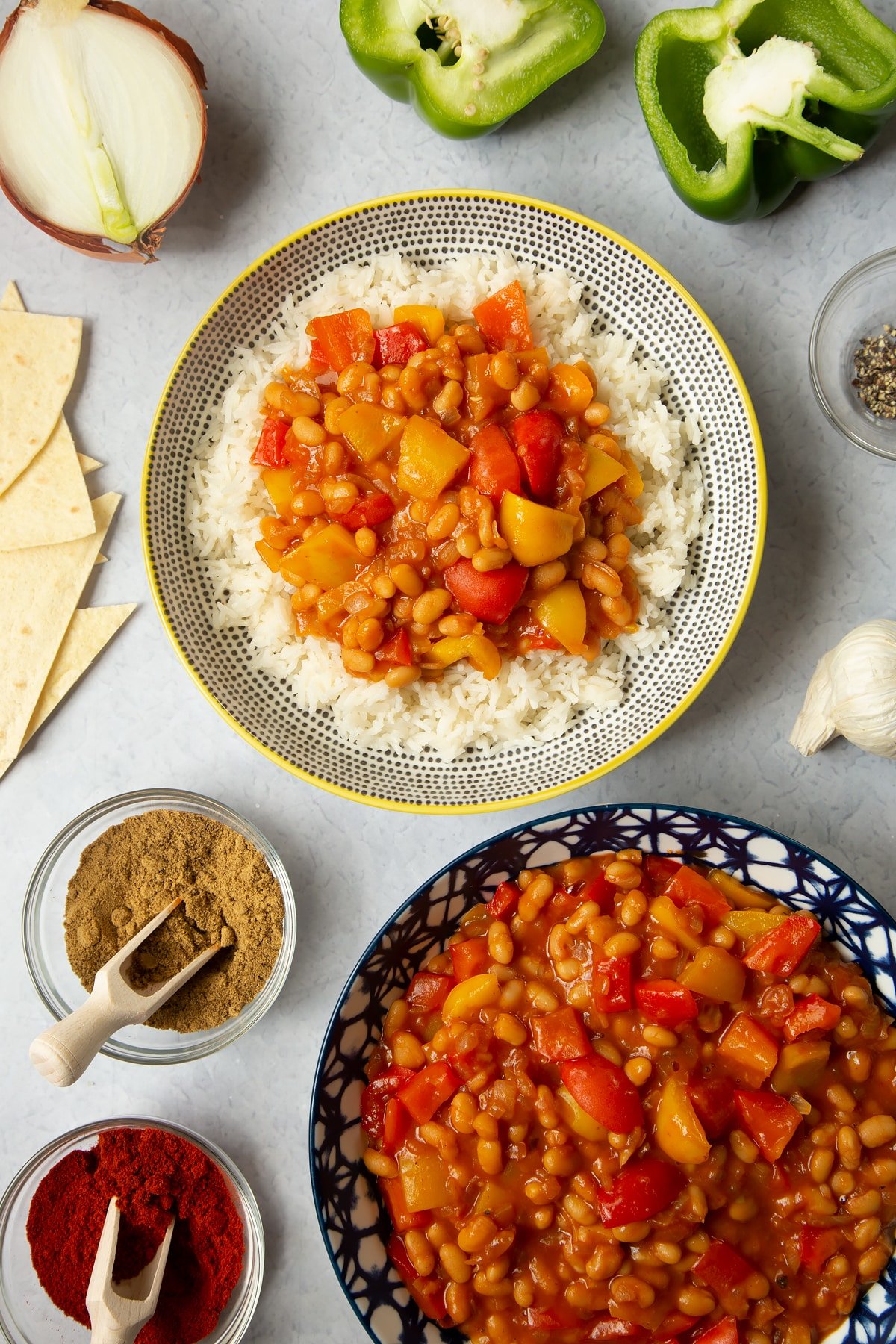 Here's how to make our baked bean chilli.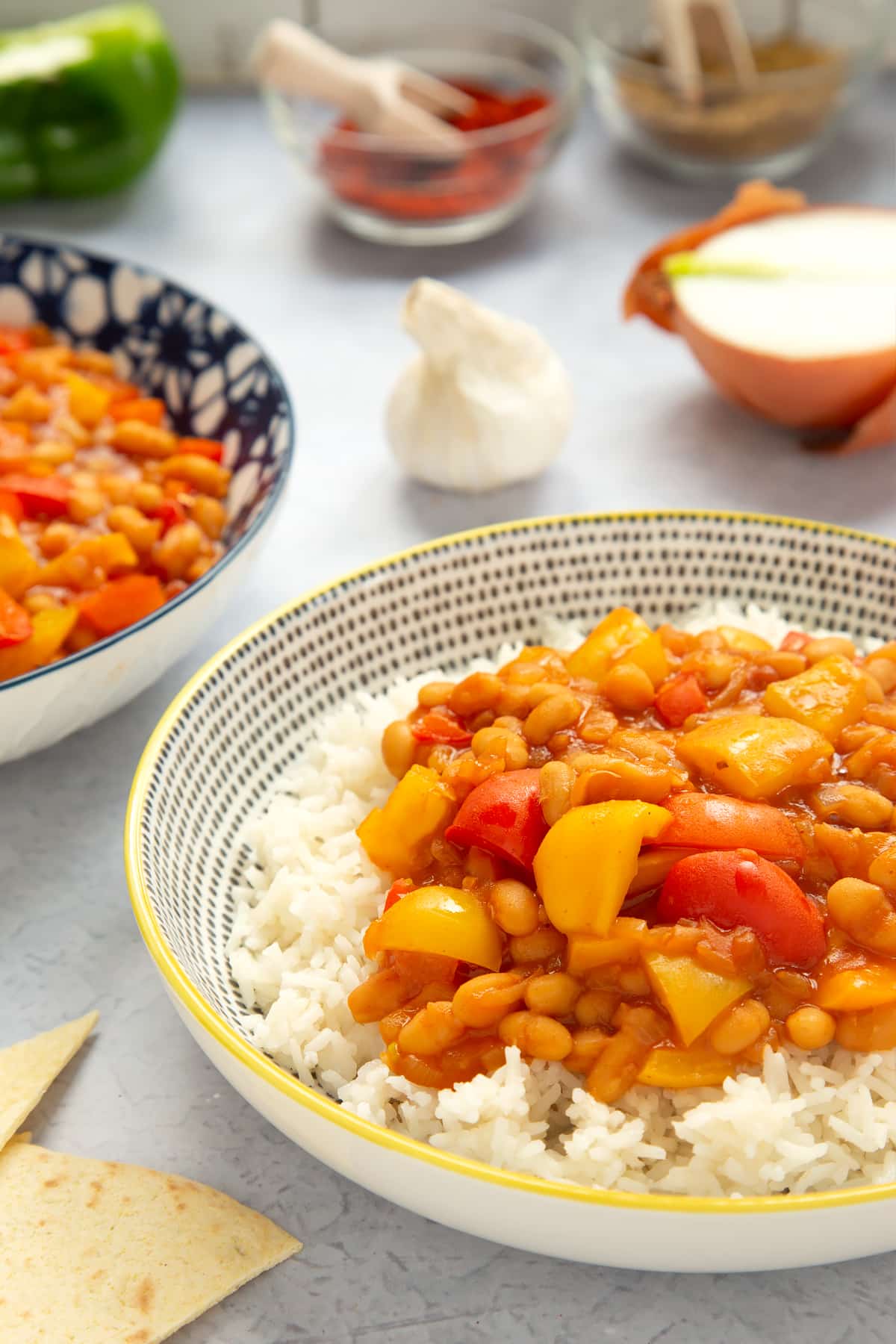 Ingredients
Equipment
Instructions
Heat the oil in a large non-stick pan over a medium heat.
Add the onion.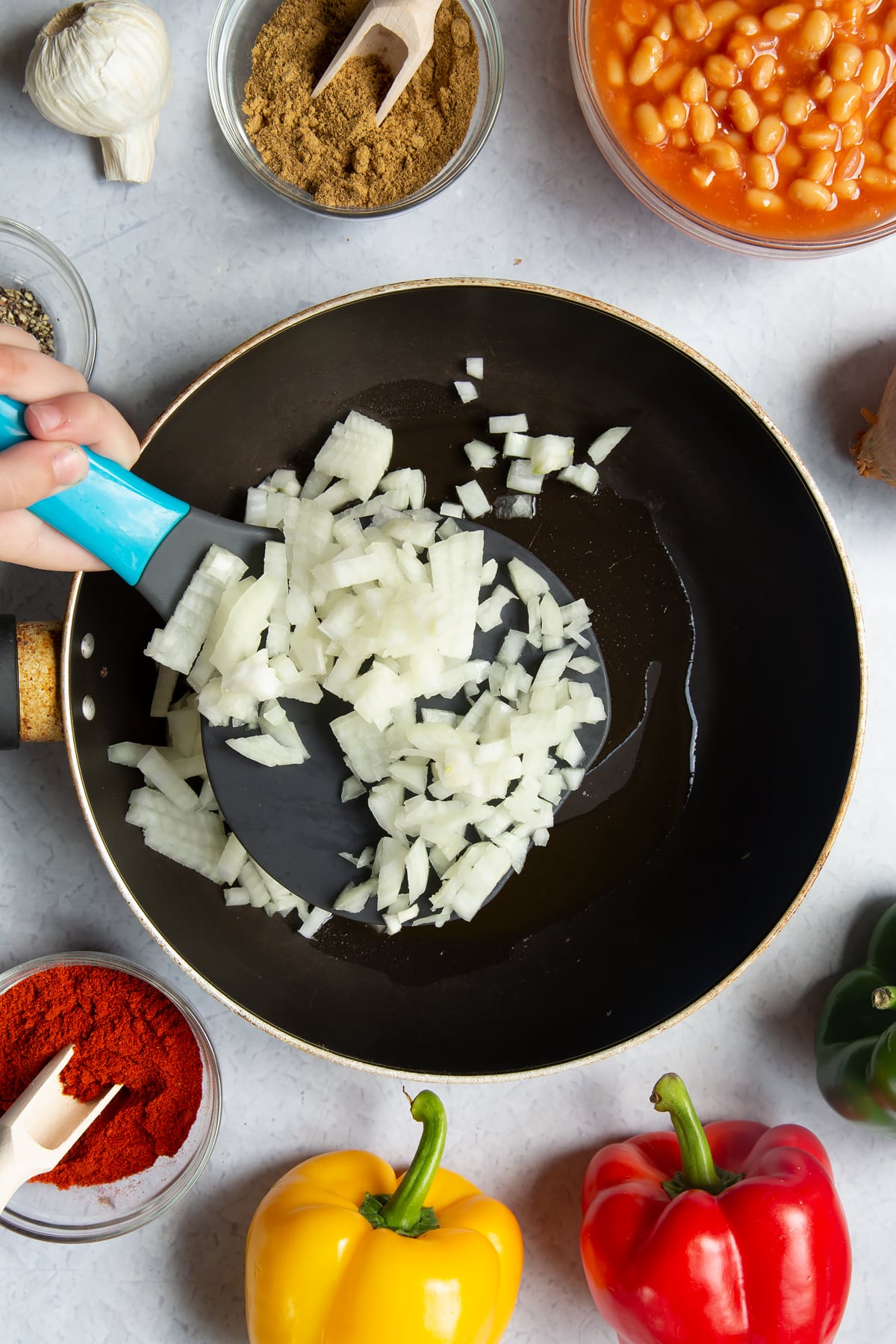 Add the garlic.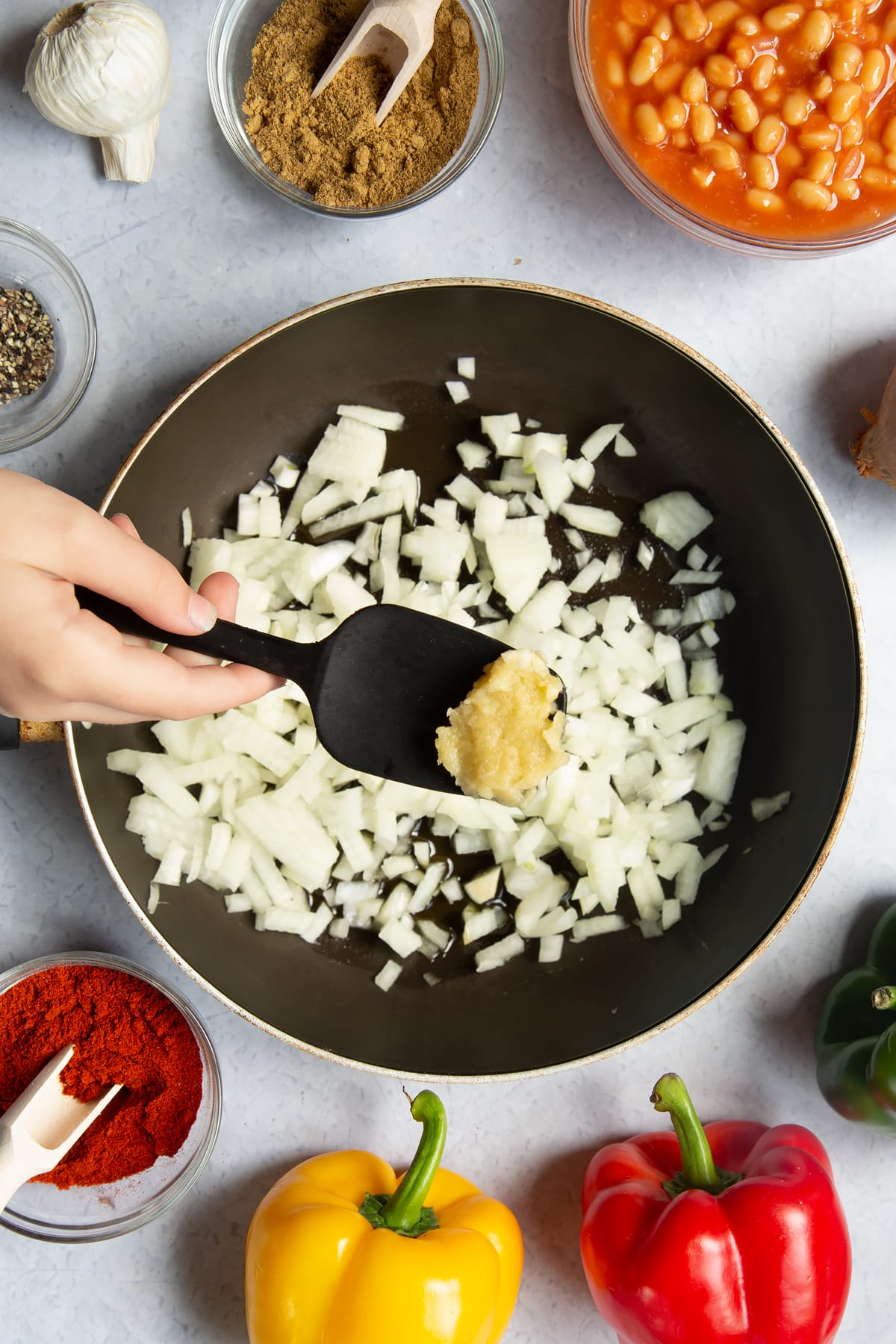 Add the paprika and cumin.
Add a pinch of black pepper.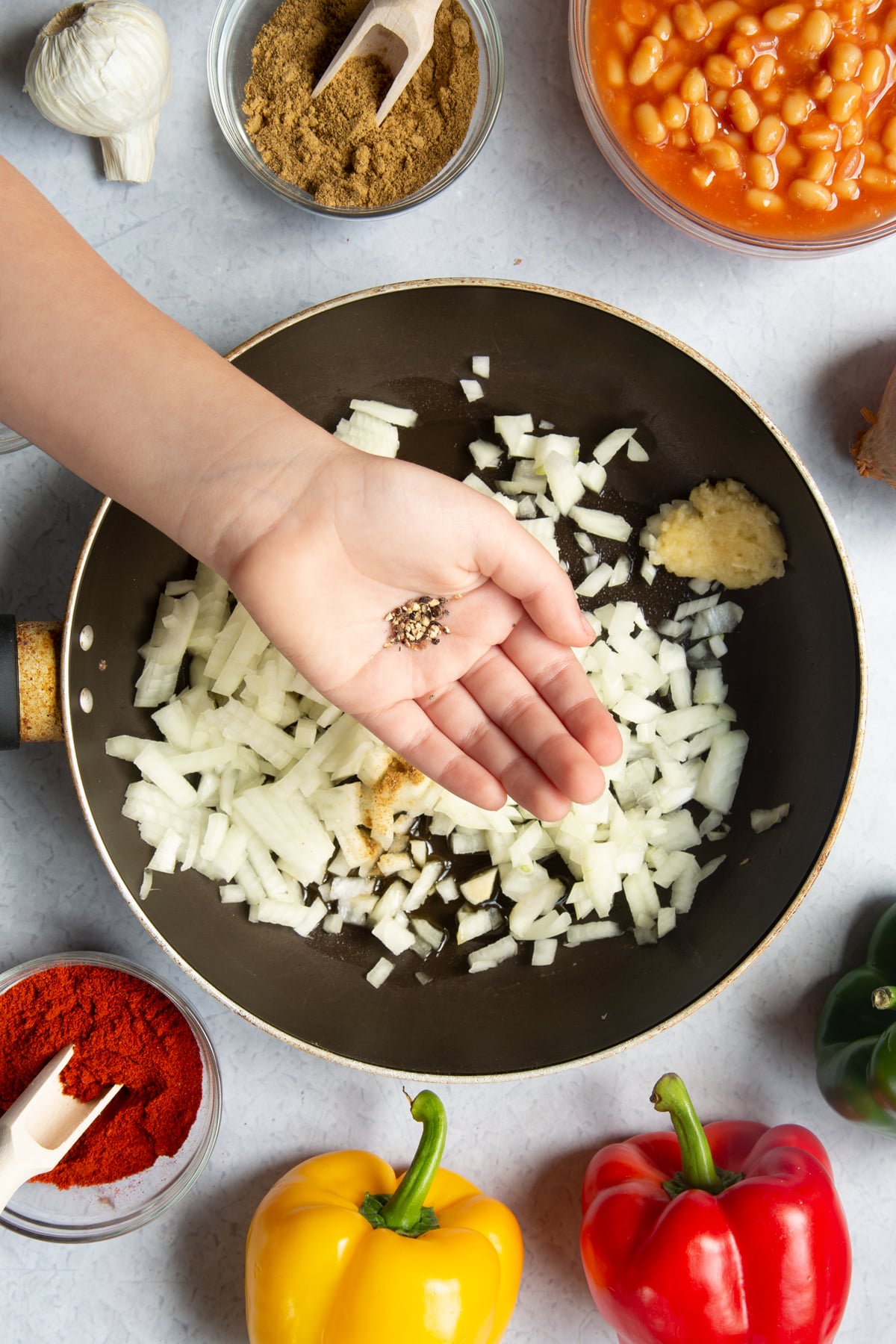 Fry for 1-2 minutes until soft.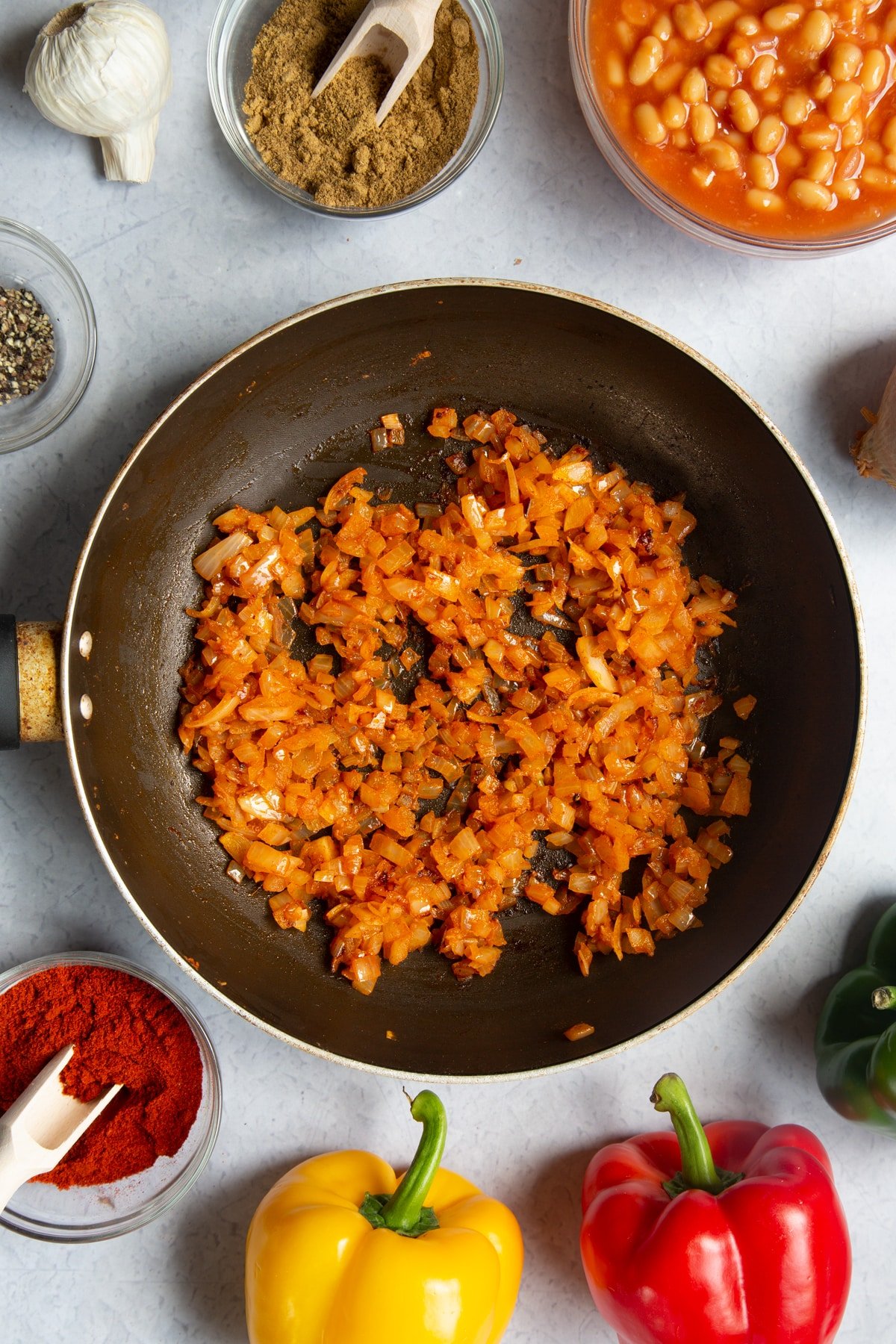 Add peppers.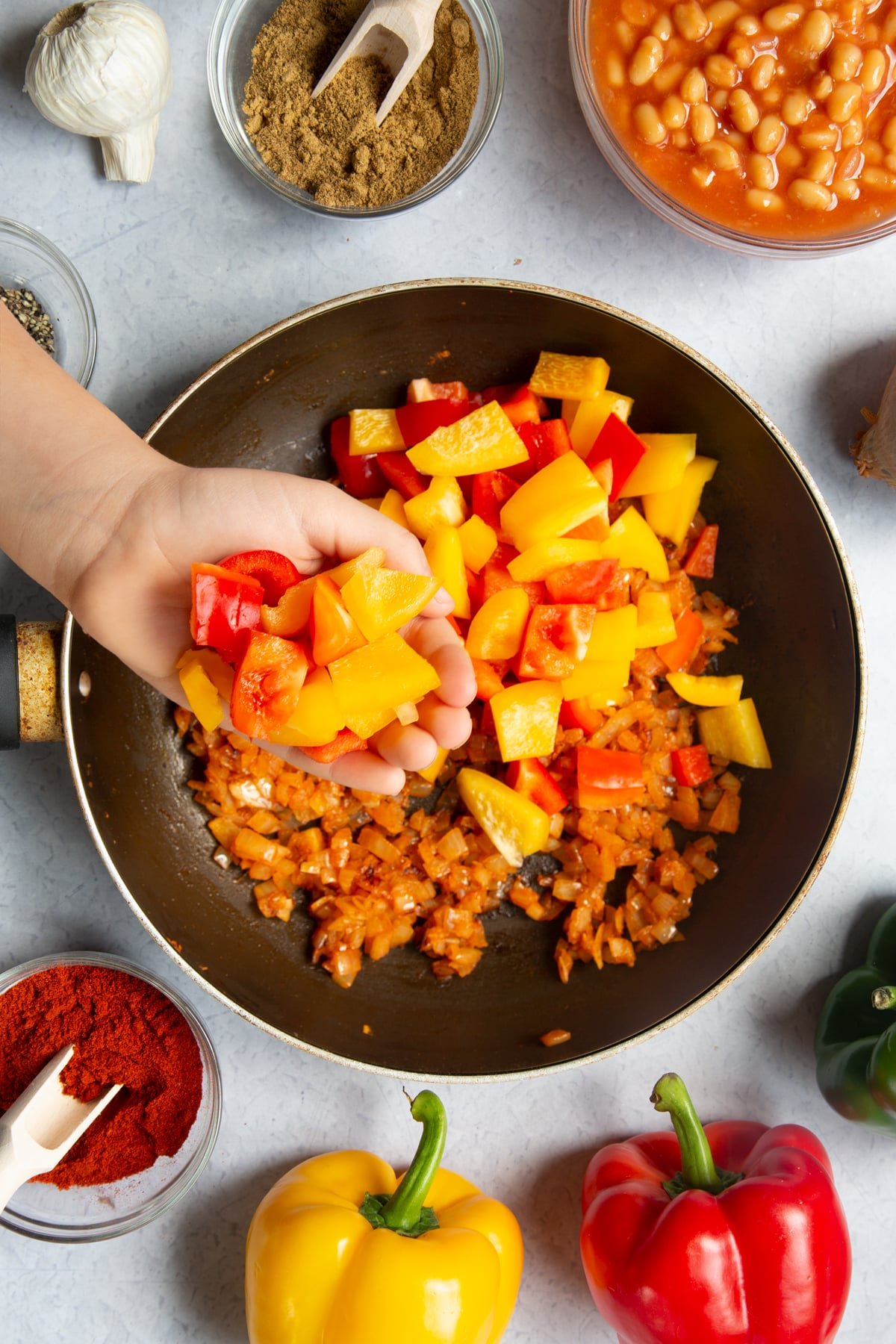 Fry for a further 1-2 minutes until soft.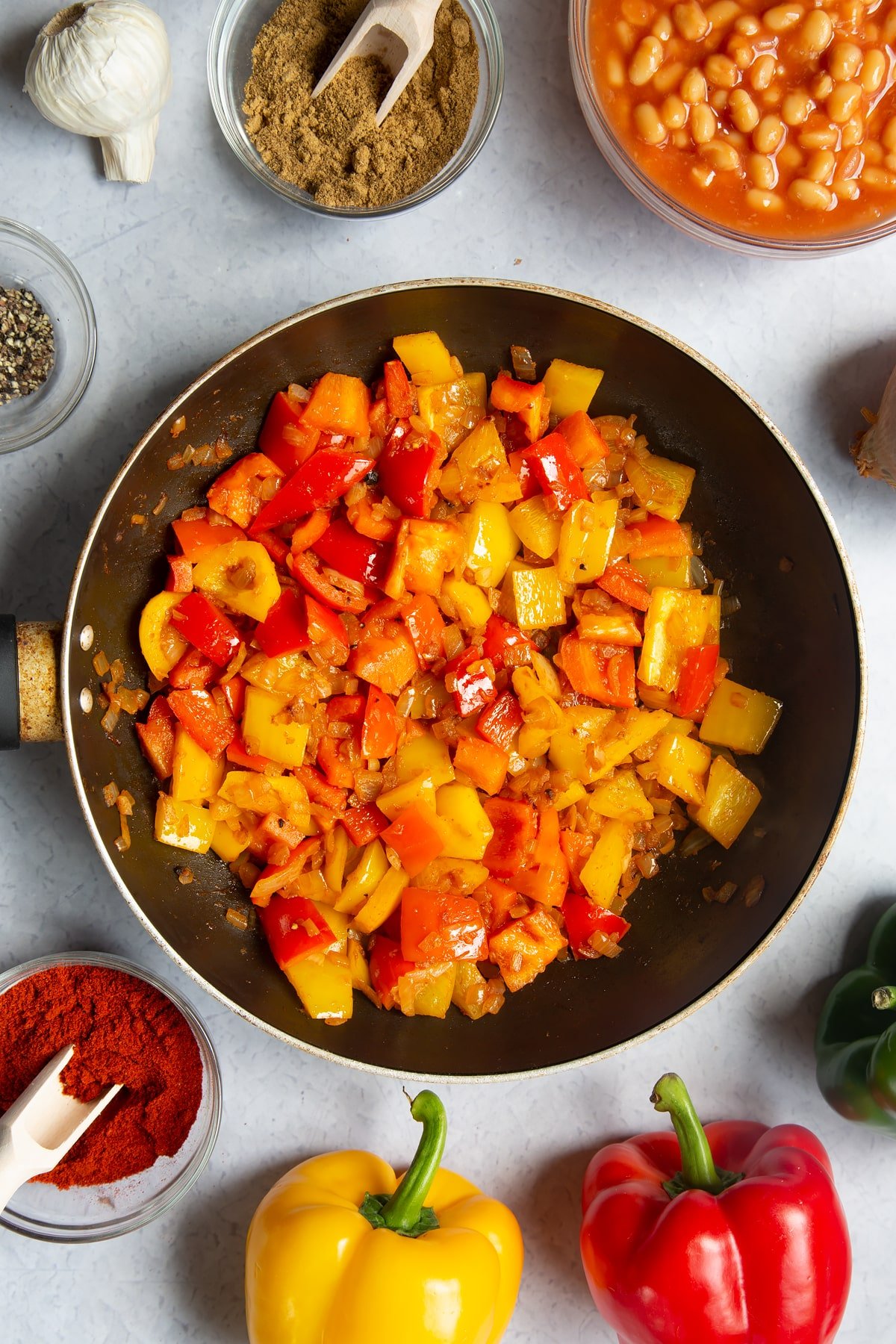 Add the beans, bring to a simmer (don't boil) over a medium heat and cook through for a 1-2 minutes.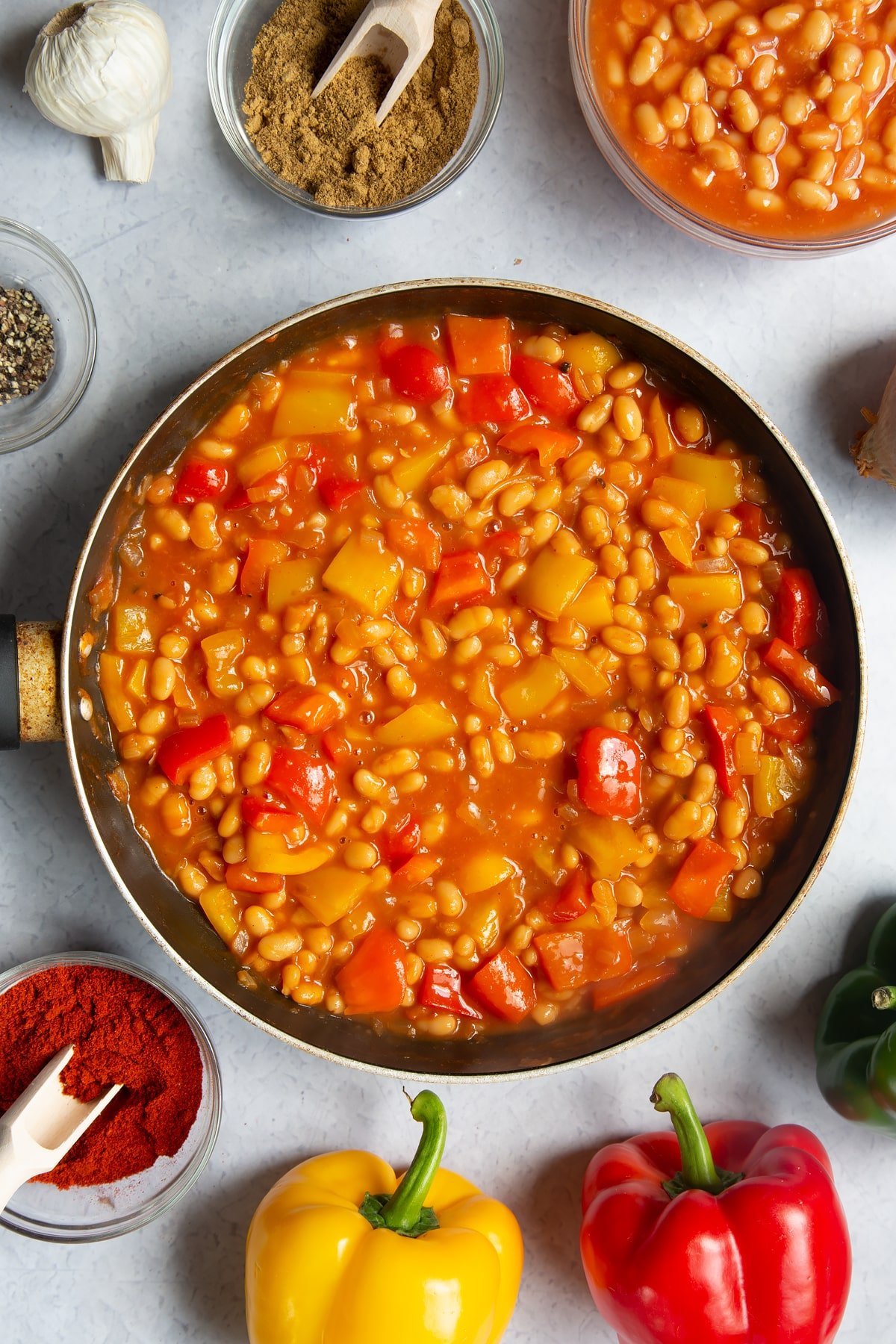 Serve into bowls on its own, or with boiled rice if desired.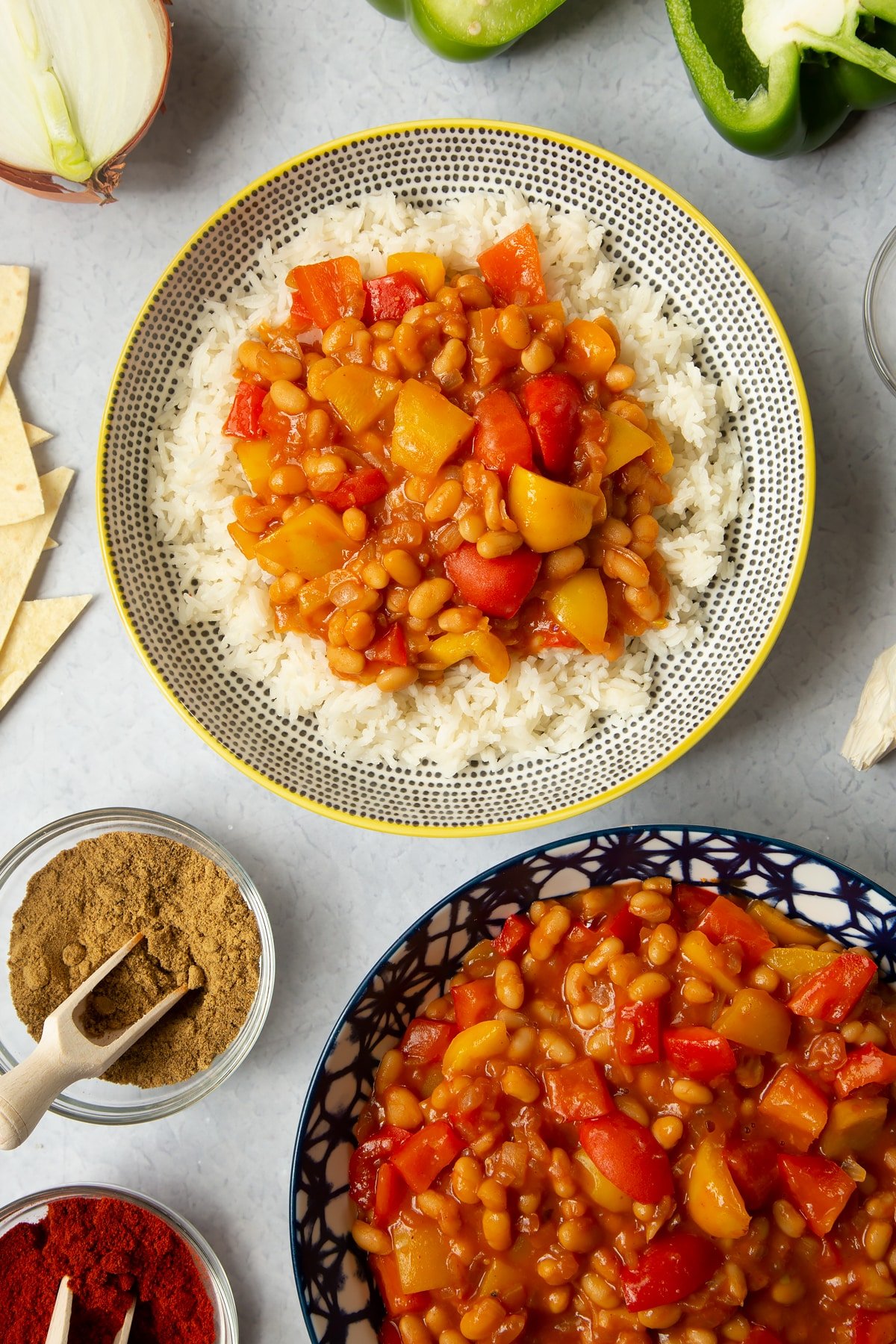 Ta da! Easy, quick and just a bit spicy.
Of course, you can add anything else you like to make it interesting.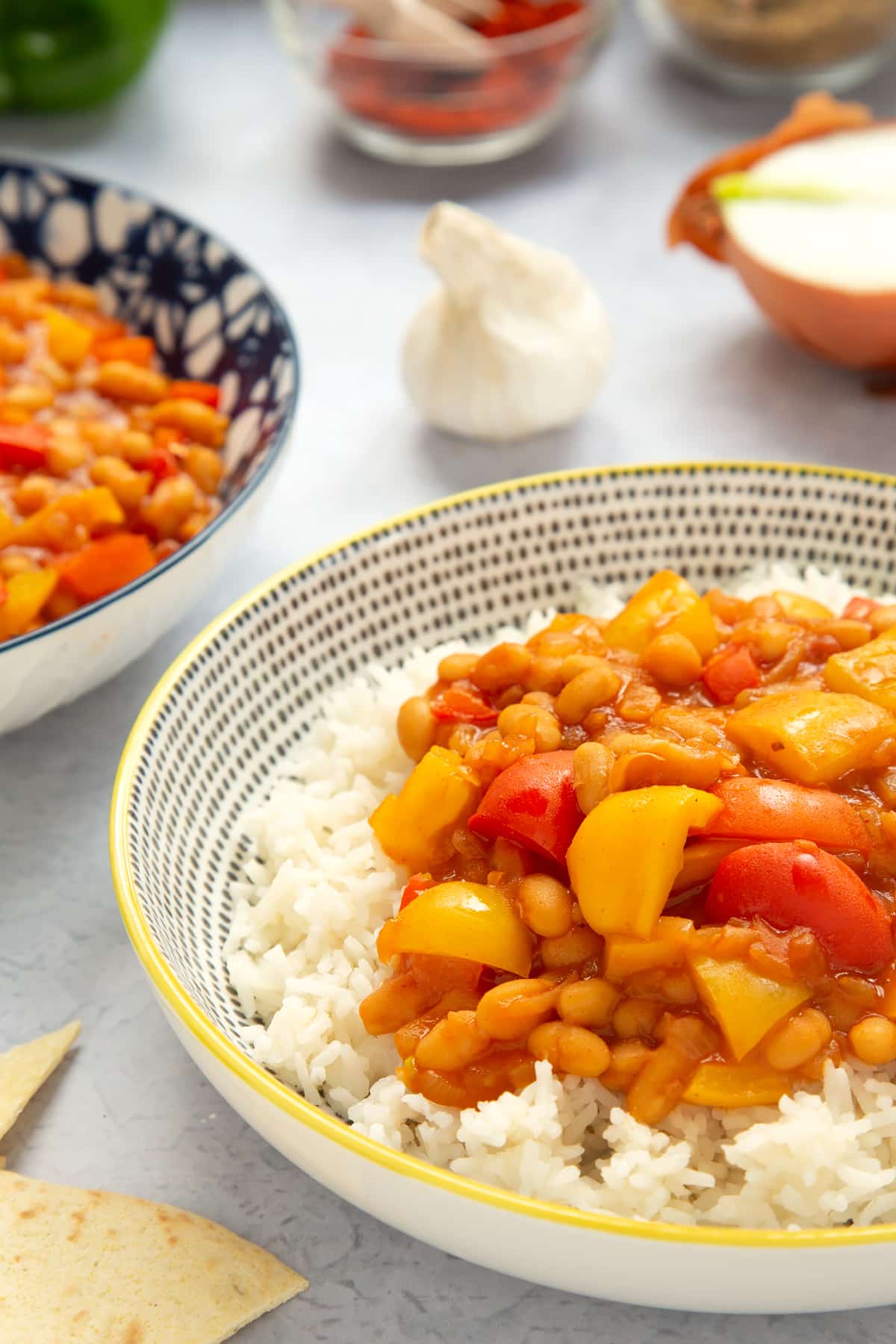 If you want to stretch this meal further, try adding extra veg. Tinned, frozen or fresh will work well.
My favourite trick is to grab those packs of pre-chopped veg from the reduced aisle and microwave before adding to the chilli. Super affordable and nutritious.
This version is vegetarian, but you could also throw in some cooked meat, if you like. Just make sure anything you add is fully heated through.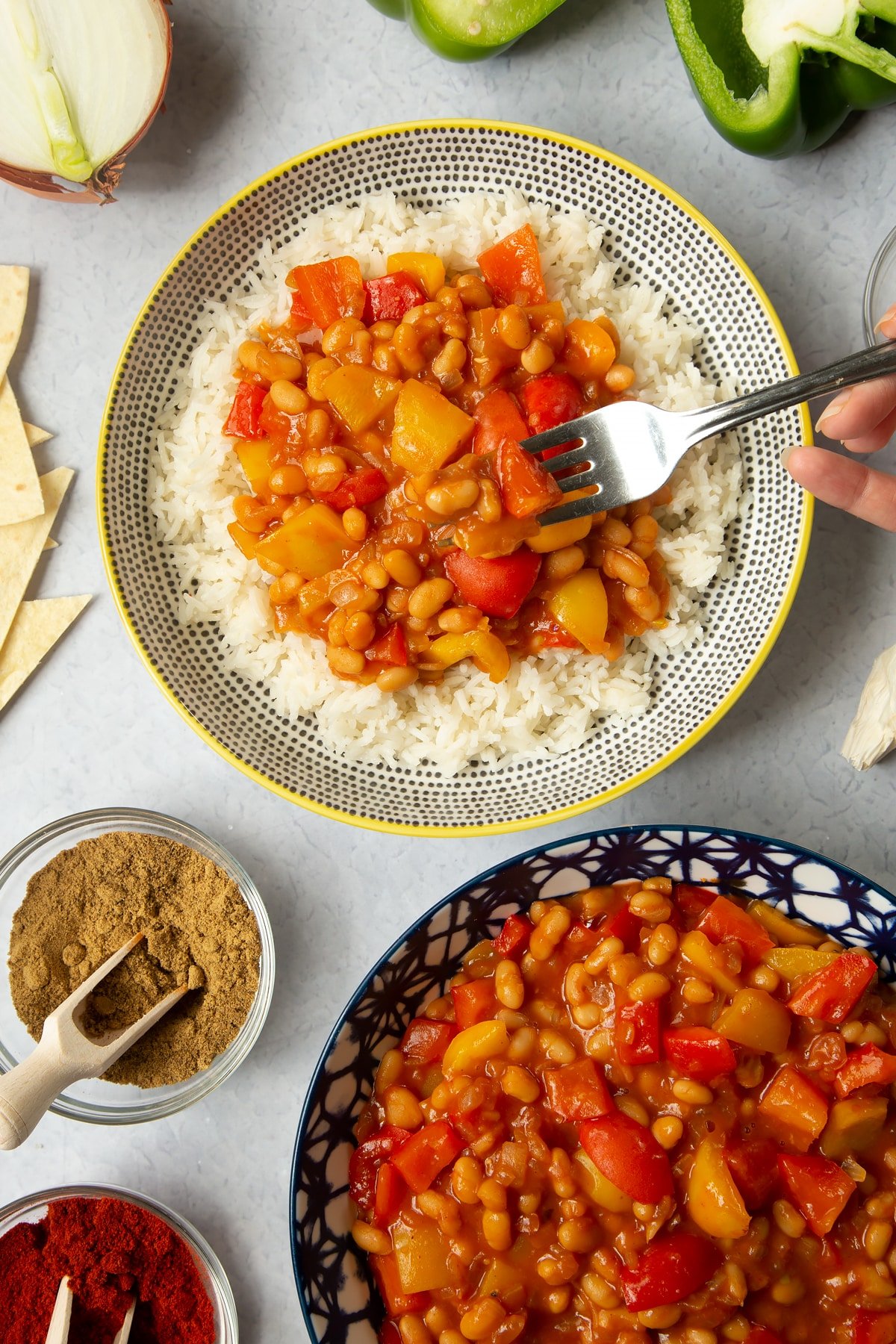 You can even make a larger batch and store it in a sealed container in the fridge to enjoy the next day.
Pointers, tricks and troubleshooting tips for the perfect baked bean chilli
Is 5-minute baked bean chilli easy to make?
Yes! 5-minute baked bean chilli is really easy to make. You'll just sweat the vegetables and spices, add the baked beans, and stir. It's ready faster than you can cook rice!
Will I need any special equipment to make 5-minute baked bean chilli?
No you do not need any special equipment to make this chilli. You just need a kitchen knife and cutting board, a saucepan, a wooden spoon (or other large heatproof spoon), and measuring spoons.

If you do not have measuring spoons, remember that an average sized kitchen teaspoon is about double the volume of a measuring teaspoon. If you measure spices this way, remember it is much less exact than using measuring spoons, so make sure you taste the chilli before serving and alter if necessary, remembering you can always add seasoning, but you cannot take it away. If you do not wish to measure the cooking oil with a spoon, just make sure you use enough oil to thinly coat the bottom of the saucepan.
How can I tell if my peppers have gone off?
Try to avoid buying peppers with wrinkled skins, unless they are being sold at a reduced price and you are going to use them immediately: they will be older than peppers with taught, shiny skins. Also try to avoid buying peppers that have cracks or holes in the skin, as these can go off faster. Store your peppers in the fridge.
Peppers that are slimy or have soft areas, or which smell mouldy or rotten, have gone off. Peppers that do not have cracks or holes in them usually start to rot from the stem, so check for white seepage or white mould there first.
How can I tell if my onions and garlic have gone bad?
Avoid buying onions or garlic that have sprouted green shoots: they will be old. Store your onions and garlic in a cool dark dry place (like a cellar) - if you've bought them sealed in plastic, take them out of the plastic to store them, as plastic collects moisture and that will shorten their lives. Well stored onions and garlic will keep for a couple of months.

If onions or garlic have sprouted, discard them (or compost them or plant them!). If they have dark spots on the skin, soft patches, thread-like white mould, or a musty, mouldy smell, they need to be thrown out.

Old garlic can also get hard and dry, with yellowing, waxy cloves - these cloves are not actually dangerous, but they will be bitter, hard and unpleasant to eat.
Is baked bean chilli suitable for vegetarians?
Yes, there are no meat, poultry or fish products in this 5 minute baked bean chilli recipe, so it's suitable for vegetarians.
Is baked bean chilli suitable for vegans?
Most commercially sold baked beans are suitable for vegans, but double check your tin for vegan certification. Otherwise, 5 Minute Baked Bean Chilli contains no animal products, so it is suitable for vegans.
Is this baked bean chilli recipe gluten-free?
Baked beans do not intrinsically contain gluten, but only some commercially sold baked beans are gluten free: some do contain traces of gluten used to thicken the sauce, or are made in factories that are not certified gluten free. Double check your tin for further information.

The other ingredients in Five Minute Baked Bean Chilli are gluten free.
Is this baked bean chilli recipe keto-friendly?
Baked beans are relatively high in carbohydrates, so unfortunately Five Minute Baked Bean Chilli is unsuitable for a keto diet.
Is 5-minute baked bean chilli healthy?
Yes, Five Minute Baked Bean Chilli is a pretty healthy choice, if enjoyed as part of a healthy, varied and balanced diet.
The vegetables contribute to your 5 a day, and baked beans are a great source of protein, fibre, zinc and B vitamins.
Is baked bean chilli safe to eat while pregnant?
Yes, there is nothing in Five Minute Baked Bean Chilli that should present a problem during pregnancy as long as the ingredients are in good condition and have been stored correctly, and the recipe is cooked hygienically and safely, and served piping hot.
If you make the chilli in advance, keep refrigerated until you reheat, and reheat thoroughly.
The NHS has a great resource that will help review the latest advice regarding foods that are safe to eat while pregnant in the UK.

However, you should always seek advice from your health professional. The NHS also has a well-maintained resource on foods to avoid during pregnancy.
Is baked bean chilli suitable for babies and toddlers?
Yes, baked bean chilli is a great way to introduce babies and toddlers to different vegetables, and baked beans are a great source of protein, fibre, zinc and B vitamins. You may wish to reduce the spices for young children. Low salt baked beans are best for young children.
Just make sure that the vegetables are cut very small. Always give food at an appropriate size and shape for your baby or child. Cut small, round foods, like grapes and cherry tomatoes, into small pieces.
Always keep babies supported upright while eating and supervise your baby when they're eating in case they start to choke.
The NHS has some excellent advice on feeding babies.
This website does not offer medical advice: always consult your health professional if you have any concerns.
What goes well with baked bean chilli?
Boiled or steamed rice is a lovely, simple accompaniment to baked bean chilli. Couscous would also work really well.
Cauliflower rice would be a good way to add more vegetables to this dish, and is lower in carbohydrates than rice or couscous. It could also be nice served on a bed of wilted spinach.
For a special yet simple and healthy meal, you could serve with these flatbreads https://www.amummytoo.co.uk/reduced-fat-mini-garlic-naan-recipe/
Can I make this recipe with different beans?
Yes you can, but please remember it will take 20-30 mins not 5 mins. This is because baked beans come in ready made tomato sauce.
You can make this chilli using a 400g tin of other beans, (or 400g reconstituted dried beans), but you will also need to add a tablespoon of tomato puree and a tin of chopped tomatoes or 400ml passata, when you add the beans. You may also need extra seasoning, so taste as you go.

The tomatoes will need time to cook out, so simmer gently for at least 15 mins, ideally 25 or 30, before serving.
I haven't got peppers, can I use different vegetables?
Yes, you can use all kinds of vegetables in this chilli. Tomatoes would work well, and, like peppers, cook fast.
Mushrooms could be nice, but will add ten minutes to the cook time. Carrots, sweet potatoes or squash would also be suitable: peel, cut into smallish dice, and steam for 10 mins before adding to the onions and sweating till soft, before you add the beans.
Can I add extra spice to this recipe?
Yes, feel free to experiment! Cumin seeds and ground coriander could work well here, as could chopped fresh chilli or dried chilli flakes, and crushed fresh ginger. Add any spices, or fresh ginger or chilli, at the start when you add your other spices.
You could also stir in some fresh chopped coriander leaves at the end.
How should I store 5-minute baked bean chilli?
It is best to store this chilli in the refrigerator or freezer, in an airtight container. Allow the chilli to cool completely before sealing in the container and placing in the fridge or freezer.
How long does baked bean chilli keep?
Well packed, baked bean chilli should keep in the fridge for a couple of days, or in the freezer for about 3 months.
Can I leave baked bean chilli out on the counter?
As soon as the chilli is cooled, it is best to store it in the fridge or freezer,
Can I make baked bean chilli ahead?
You could chop the vegetables ahead of time and store in the fridge in an airtight container. But this is such a speedy recipe to make, you probably don't need to.
Can I keep baked bean chilli in the refrigerator?
Yes. In an airtight container, baked bean chilli will be fine in the fridge for a couple of days.
Can I freeze baked bean chilli?
Yes. Make sure the chilli is fully cooled, then place in an airtight container for freezing. Aim to fill the container as full as possible as this will reduce the likelihood of freezer burn.
Properly stored, they should keep for about three months.
What is the best way to reheat baked bean chilli?
If your chilli is frozen, defrost overnight in the fridge, or in the microwave on a defrost / low setting. Then place in a pan and simmer, without boiling, until piping hot.
Can I make this baked bean chilli recipe in a different quantity?
If you'd like to make more or fewer portions of chilli, no problem! Just click the portion number on the recipe card below (it will say '4' by default) and a slider should appear.
Move the slider up and down to alter the quantity. The measurements for all the ingredients will automatically change to suit the quantity chosen.
Can I make this baked bean chilli recipe in individual portions?
You can buy baked beans in single serving 200g mini pots or 220g small tins. To make an individual portion, use one single serve pot or tin, and alter the rest of the quantities in the recipe by clicking on the portion number, and using the slider to change it from '4' to '1'.
Can I fry/bake/boil this recipe?
I do not advise frying or boiling this baked bean chilli: the sugars in the tomato sauce will quickly burn and become bitter if subjected to strong heat.
Can I make this baked bean chilli in the oven?
You would need to sweat the vegetables on the hob in an ovenproof saucepan. You could then add the beans, stir, cover, and place in a preheated 200C (180C fan) oven for 30 mins.
Can I make this baked bean chilli in the slow cooker?
Given this recipe takes 5 minutes on the hob, it is not necessary to use a slow cooker.
How can I make sure my 5-minute baked bean chilli is perfectly cooked?
This is a simple recipe which should turn out well every time. Just make sure you take the time to properly cook the onions and peppers, so they are getting soft by the time you add the baked beans.
Why did my dish turn out dry?
If your chilli was dry, you may have had the heat up too high so the liquid in the sauce evaporated too much. However, different brands of beans have different amounts and thicknesses of sauce. If this chilli looks like it is going dry, add a little vegetable stock or bouillon (or even just water) to loosen.
Why did beans go mushy?
Beans can go mushy if overheated, or stirred too vigorously. Try to keep the heat at a gentle simmer, and stir gently, without crushing the beans to the sides of the pot too hard.
How can I add/change the flavours in this dish?
You can experiment with spices and other flavourings in this dish: whole or powdered cumin seeds and powdered coriander seeds could work well, as could dried or fresh chilli, crushed ginger, or harissa paste. Also try other mixes of vegetables.
If you are not vegetarian, you could add pieces of cooked meat, cooked bacon or cooked sausage. A spiced sausage like chorizo would go well with these flavours.
What is the origin of bean chilli?
There are many, many stories about the origin of bean chilli: from a mysterious 17th Century nun, La Dama d'Azul (the lady in blue), who would go into trances in her convent in Spain and awake with new recipes, through to Lyman T Davis, a 19th century farmer from Corsicana, Texas, who fell on hard times and had to sell off his bean crop as a stew at 5 cents a bowl. Lyman T Davis' luck turned when oil was found under his farm and he could retire from the chilli-selling business into a life of luxury. But fortunately for us, his concoction survives and has been reinterpreted countless times.
Print this baked bean chilli recipe
Pin this 5-minute baked bean chilli for later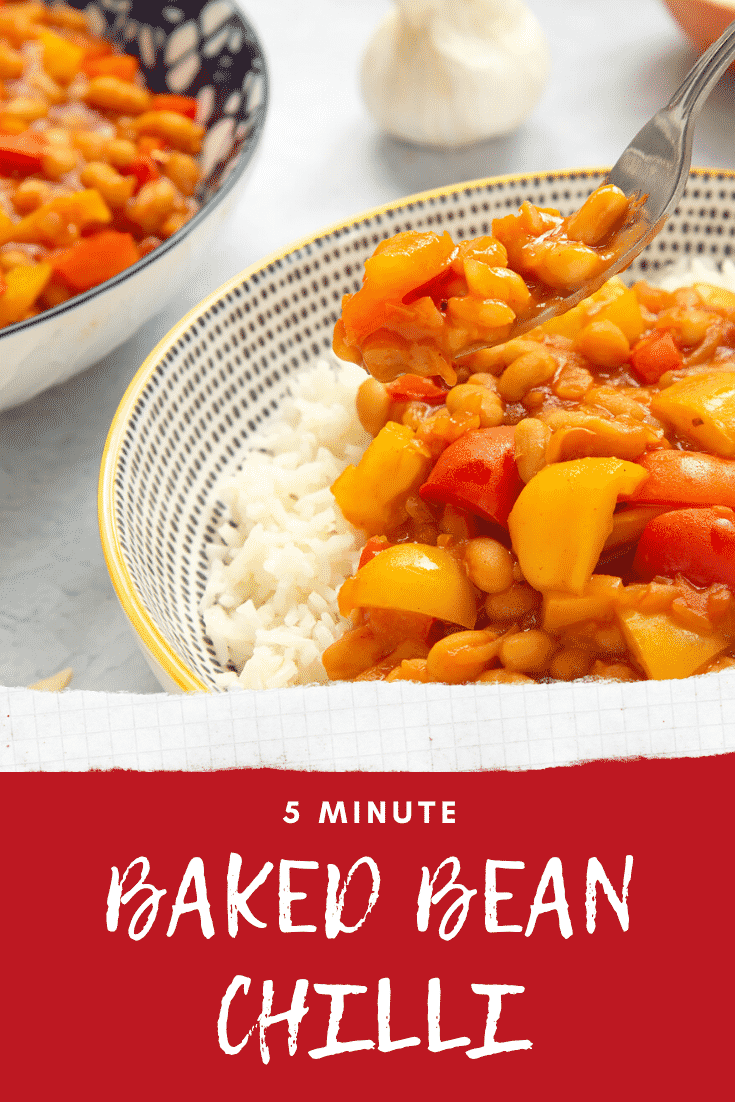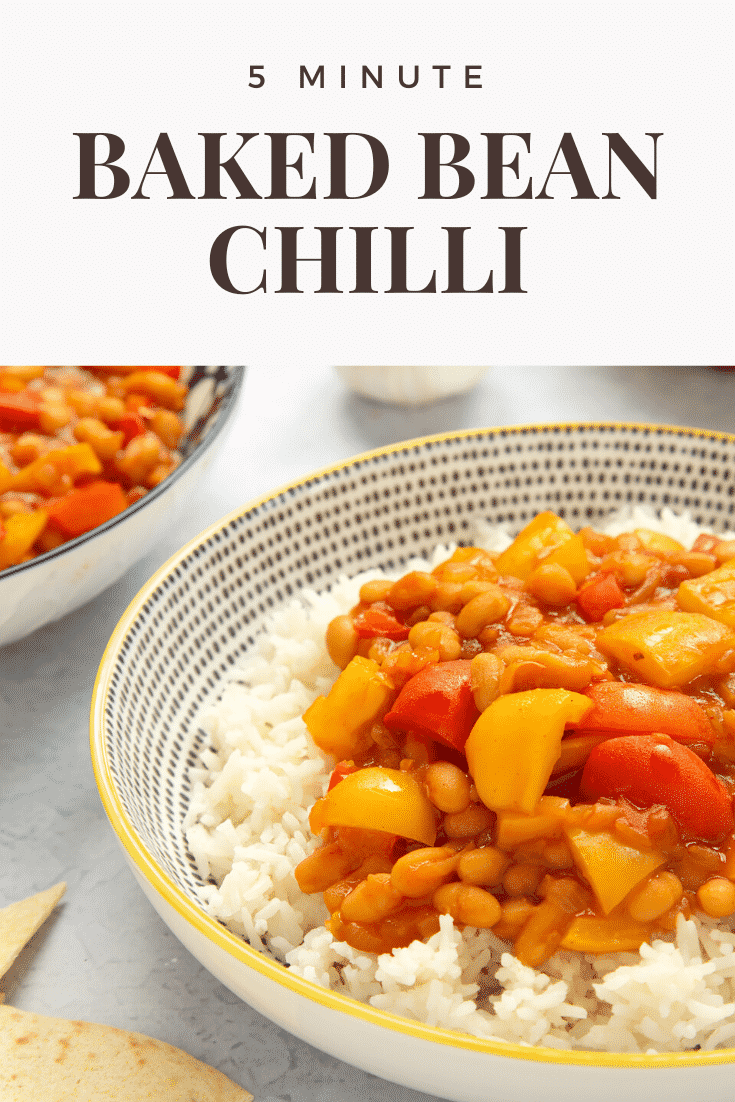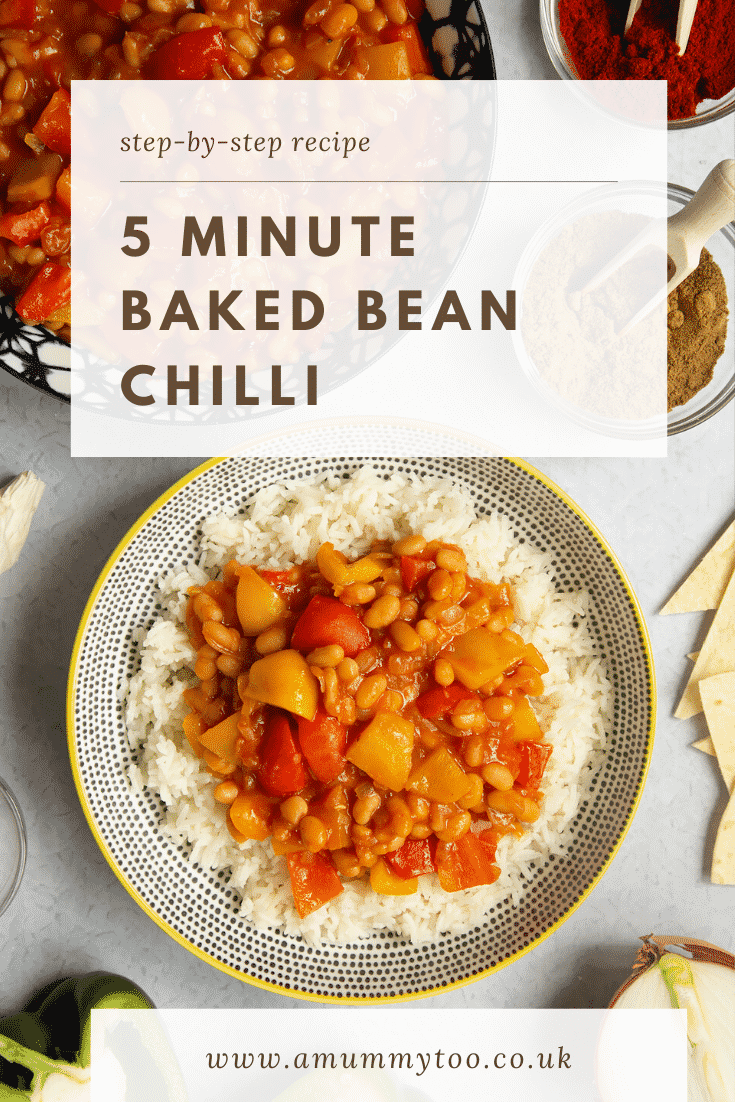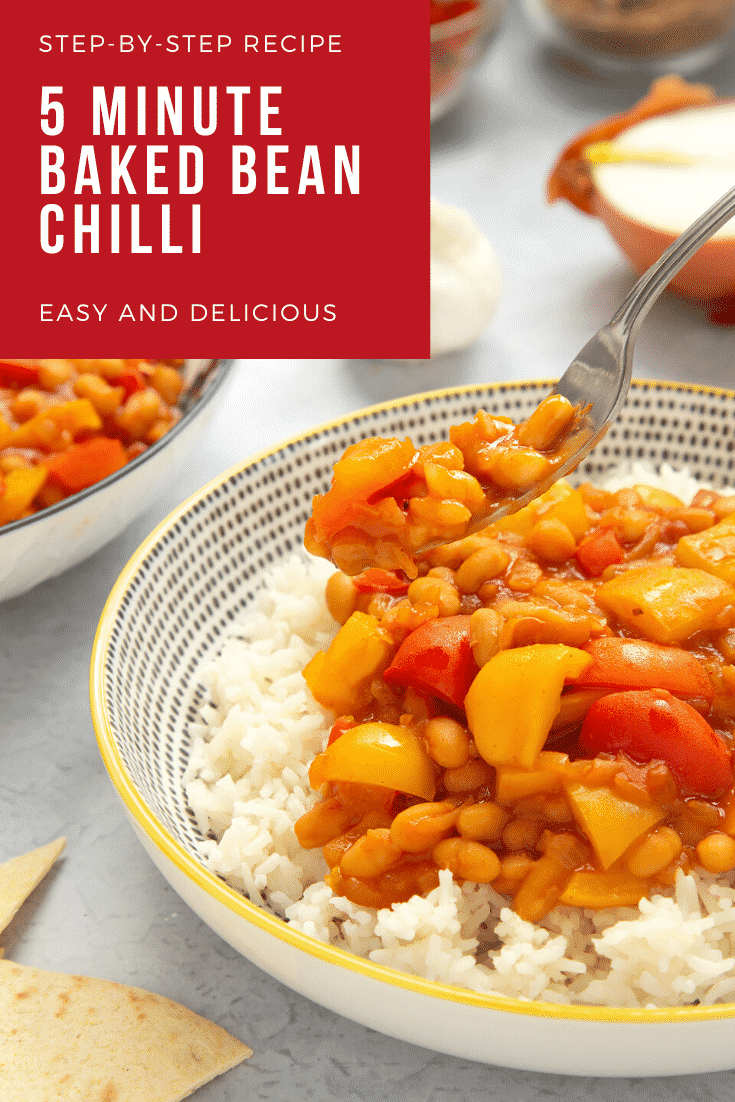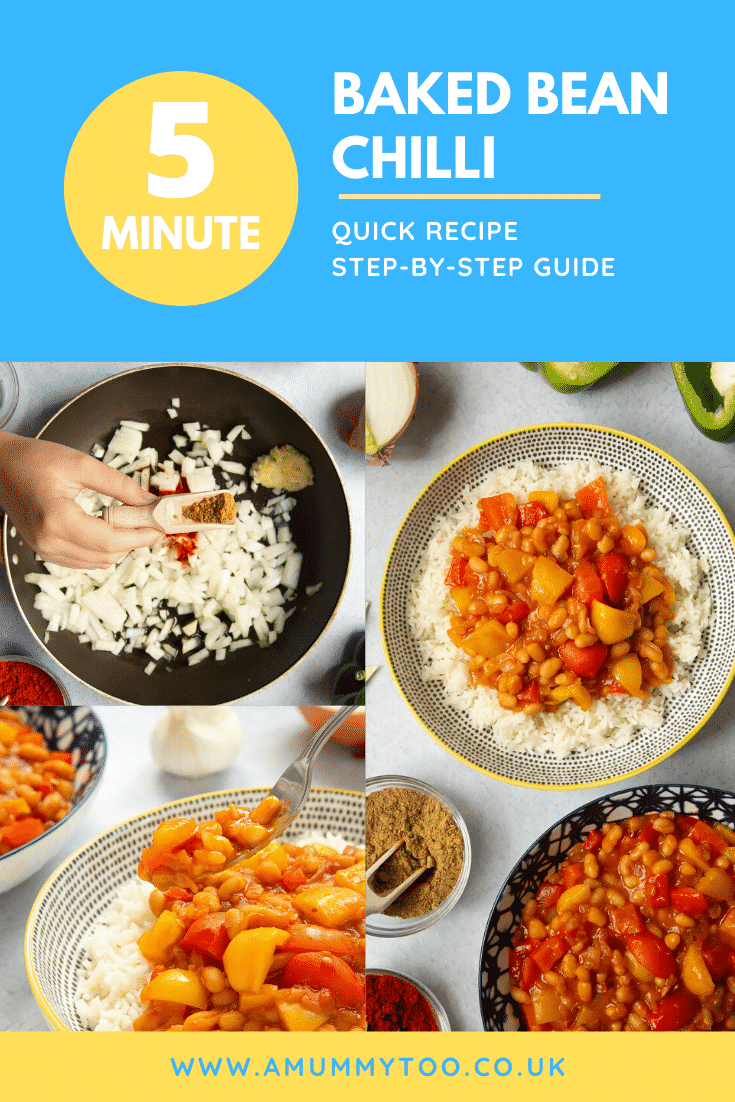 More chilli-spiced recipes to try
Get Your Kids to Eat Anything
My debut cookbook, Get Your Kids To Eat Anything is available now from all good bookshops!
It's so much more than a cookbook, it's a 5-Phase programme designed to take you through a meaningful, simple and sustainable journey to end fussy eating.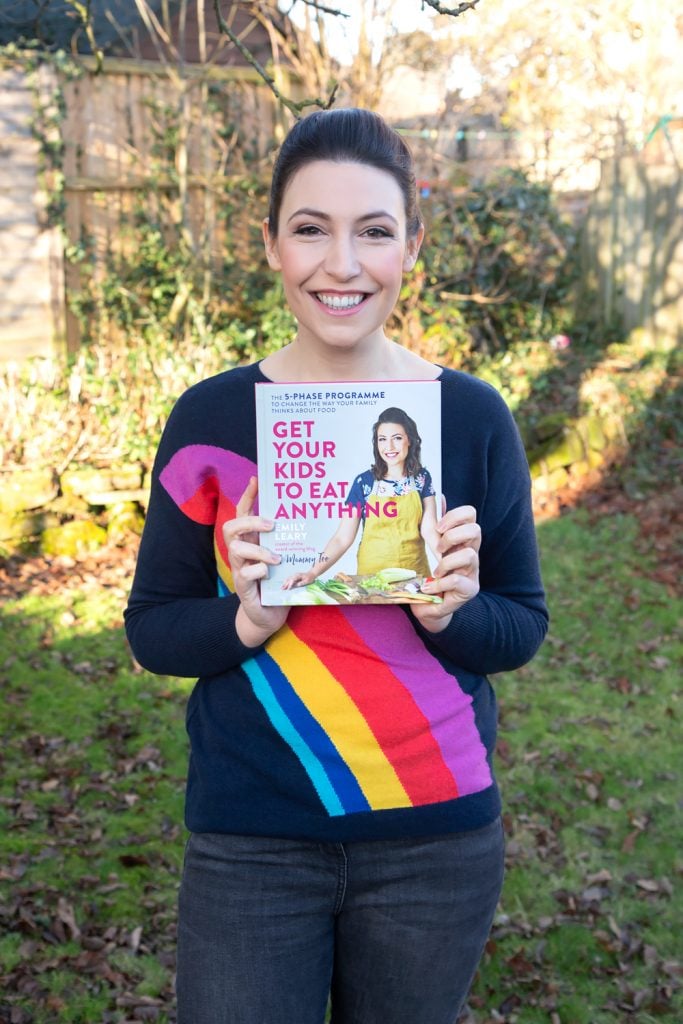 Since its release in March 2019, Get Your Kids To Eat Anything has been changing mealtimes in households across the country and has become an Amazon #1 best-seller.