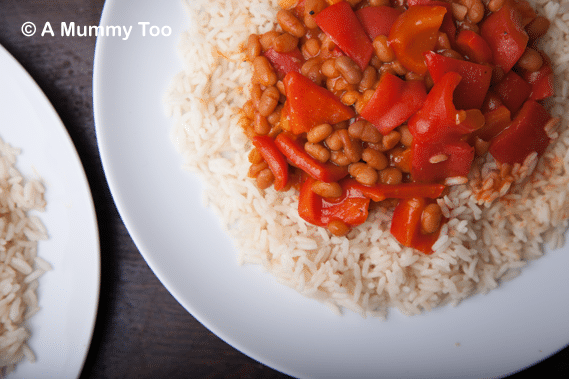 I'll be through in 5 minutes, I have an idea – me
A few weeks back, Heinz sent me a package full of flavoured baked beans: Cheddar Cheese, Garlic and Herbs, Curry, Barbeque and Fiery Chilli. Bit weird, no?
I was super skeptical that I would be able to write anything even approaching positive about them, but actually they're really pleasant. The cheesy one goes particularly well with mashed potato and the garlic and herb variety is subtle and works great on well buttered granary toast.
Now the chilli one turns out to be a bit hotter than I expected – it actually has kick that just begs to be experimented with, which is just what we did.
Here's how to make baked bean chilli for two in 5 minutes:
Ingredients
1 tbsp oil
2 red peppers
2 cloves of garlic
1 tin of Heinz Fiery Chilli Beans
1 pinch black pepper
1 pinch smoked paprika
2 packs of microwave rice (or 1 large pack)
Instructions
De-seed and chop the red peppers into large chunks
Finely chop the garlic
Heat the oil in a large pan and add the peppers, garlic, paprika and pepper
Fry on a high heat for a couple of minute until cooked but not totally soft
Add the can of beans, and leave on a medium heat to cook through for a couple of minutes but don't let it boil
Meanwhile, microwave the rice and spread on to two plates
Top with the chilli and serve
See? Easy, quick and spicy. And of course, you can add anything else you like to make it interesting. We're veggie but you could throw in some cooked meat leftovers and it would work great.
Disclosure: we were sent the range of flavoured Heinz beans for review. No payment was received for this post. All posts are 100% honest.