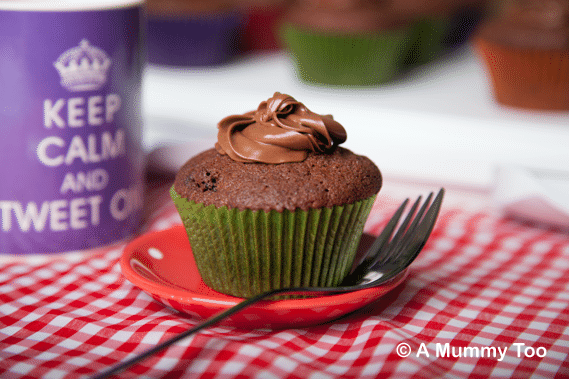 The best thing I've ever tasted – JD, 5
Woohoo! It's Saturday! We've been baking, obviously, and after chucking some rather random ingredients together, came up with these lovely muffins. It's a cocoa batter, flecked with raisins and chunky dark chocolate chips, baked and then topped with a little Nutella. Think light sponge, crispy top and a flavour combination not unlike a bar of Fruit n Nut. YUM!
Here's the recipe, followed by #recipeoftheweek linky.
Ingredients
For the sponge:
175g butter, softened
200g caster sugar
3 eggs
4 tbsp milk
175g self raising flour
25g cocoa powder
1tsp baking powder
90g dark chocolate
70g raisins
For the frosting:
About 1/2 a small jar of Nutella
You'll also need:
A 12-hole muffin tray
12 muffin cases
Piping bag
Star nozzle
Instructions
In a large bowl, beat together the butter and sugar until light and fluffy
Beat the egg and milk together, then add to the mix and beat thoroughly
Sift in the cocoa, flour and baking power and fold through
Roughly chop the dark chocolate and sir into he batter with the raisins
Line the baking tray with the cases and share the mixture evenly between them
Bake for 30 minutes
Allow to cool completely
Put the nozzle in the piping bag and add the Nutella
Pipe a small swirl of Nutella on top of each cake
That's it! Simple and really, really nice with a cuppa.
Add your #recipeoftheweek
Do you have a recipe to share? Here's the place you can do it! Pick one from the past week, or any time at all, just as long as you haven't linked it up before.
I'm really enjoying going round and reading, commenting, Stumbling, Pinning and generally drooling over everyone's entries, so just link up below and let's share the love.
Link up your post using the Linky tool below
Add the "Recipe of the Week" badge to your post so that readers can find other great recipes
Take a little time to read and comment on each other's recipes
Come back next Saturday and we'll do it all over again
Enjoy!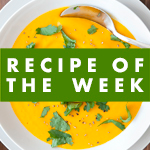 [html]
<div align="center"><a href="https://www.amummytoo.co.uk/2013/03/chocolate-chip-raisin-muffin-with-nutella-frosting-recipe" target="_blank"><img alt="Link up your recipe of the week" src="https://www.amummytoo.co.uk/wp-content/uploads/2013/01/recipe-of-the-week.png" /></a></div>
[/html]