This cute festive printable is FREE to download and comes with three pre-coloured and three ready-to-colour Christmas Characters. They're just the right size for little hands…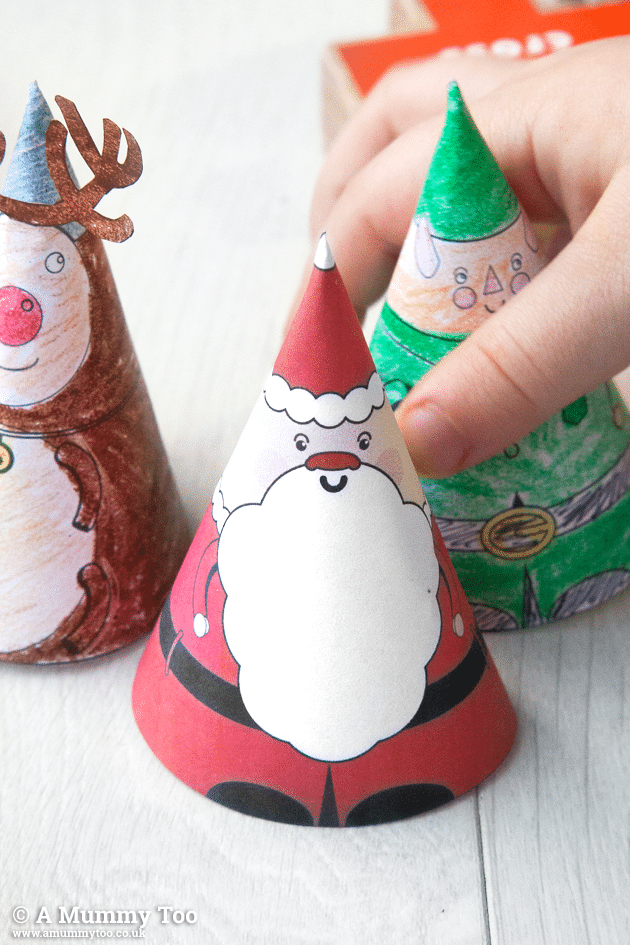 Just print them out, grab some scissors, glue and coloured pencils and then you can…
Use them to act out a Christmas story
Finger puppets are always fun, and everyone gets to easily participate in the story. What does an elf sound like? What does a reindeer sound like for that matter!
Add some scenery with a simple sheet of A4 paper on a table, and with a few markers turn it into anything from the North Pole to the roof of your home .
Make original characters
If you're looking to introduce a few characters that are completely your own creation you can print out the template again, cut the characters out and then simply draw a your own character on the reverse and then glue it inside out.
Decorate your characters
A quick glance in your craft box will give you plenty of inspiration but why not try:
Some glue and glitter would make for a very fancy Santa Claus hat and shiny buckles/bells.
Green, red and brown felt and glue is a great way to jazz up clothes and Rudolph's fur.
Cotton wool and glue will make for an excellent fluffy beard or fuzzy hat trim.
Shiny belt buckles and bells can come from tin foil too. Do you have any chocolate that has been wrapped in foil? It might be a fun colour.
Use them as festive seating markers
Simply add name labels to their tummies to make for fun markers with a personal touch.
Make tree and mantle piece decorations
Thread string through the top and pop them on the tree as extra decorations, or make one pride of place on the mantle piece.
Make nesting dolls
Print them out at progressively smaller sizes and they become super stackable! If you make all three types of character a fun memory game can be to see if you can remember the order you make a stack in.
To download these as a printable, just click here or on the image below, and let me know if you came up with any of your own games!

Get Your Kids to Eat Anything
My debut cookbook, Get Your Kids To Eat Anything is available now.
It's so much more than a cookbook, it's a 5-Phase programme designed to take you through a meaningful, simple and sustainable journey to end fussy eating.


Since its release in March 2019 Get Your Kids To Eat Anything has been changing mealtimes in households across the country and has become an Amazon #1 best-seller.