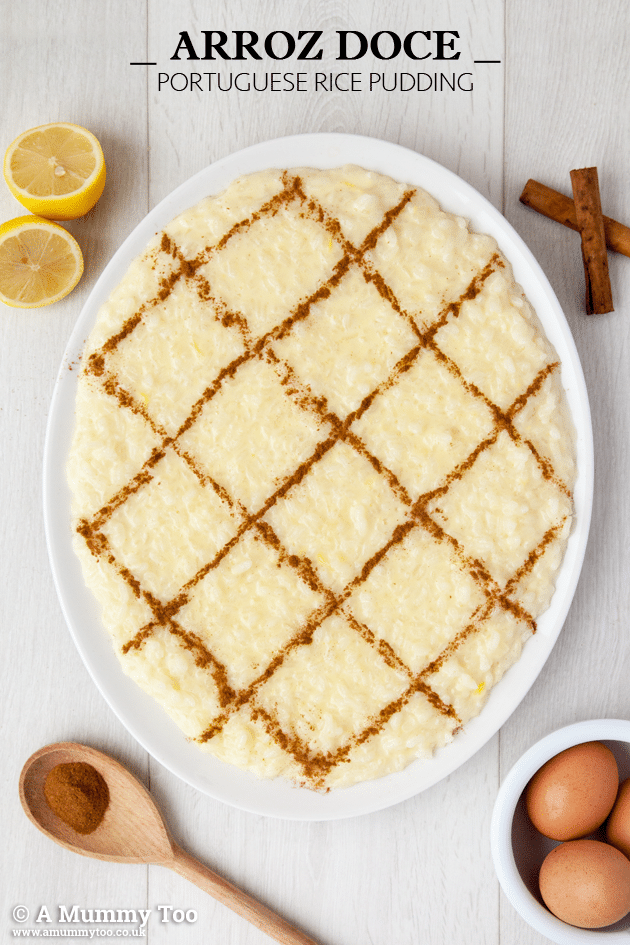 I know it's not everyone's cup of tea, but I LOVE rice pudding. Not so much the thin, out of-the-can gloop, no, I love the home-made stuff that slowly fills the house with a warm, sugary scent long before it's ready to eat.
So, when Expedia got in touch and asked me to take part in their World on a Plate challenge by creating a dish from or inspired by Portugal, I knew straight away what I had to make.
Arroz Doce is a Portuguese rice pudding that is thick, creamy, sweet and served semi-set with a generous sprinkling of cinnamon.
I should confess, I'm not Portuguese and no one with official knowhow has taste-tested this recipe, but I've made many a rice pud, and I researched carefully to tweak my recipe to make it true to the Portuguese method.
Most importantly, I've tasted it, in fact, I've eaten masses of it, and I think it's flippin' lovely, so I'm going to go ahead and share it with you.
Ingredients
500g Arborio rice
2 pts boiling water
rind of 1 lemon – in large strips
2pts whole milk
400g sugar
pinch salt
8 egg yolks
1 tbsp cinnamon
Instructions
Put the rice and lemon rind in a large pan
Cover with the boiling water and bring up to the boil, then cover and simmer for 10 minutes
Strain off the excess liquid through a sieve, then return the rice to the pan and add the milk
Heat on medium-low until bubbling, then stir in the sugar and salt
Bring almost up to the boil, then reduce to a low simmer and cook without the lid this time, stirring very regularly for about 10 minutes
Whisk your egg yolks with a few spoonfuls of the rice so that it doesn't scramble, then stir them into the pot
Now it's a game of patience, keep heating and regularly stirring. After about 40 minutes you'll have lovely thick, creamy rice pudding
Label your pudding onto a large platter and leave to set for a few minutes
Using a pinched thumb and forefinger, carefully sprinkle on your cross hatch cinnamon pattern, or any design you fancy.
Once completely cooled, the pudding will have firmed up enough to serve by the spoonful. DIVINE!
I really hope you try this, and I hope my Portuguese readers will be kind in their judgement!
This is a commissioned post for Expedia