These soft and rich chocolate cakes are topped with smooth, dark purple buttercream and decorated with black fondant toppers to create perfectly spooky spider web cupcakes.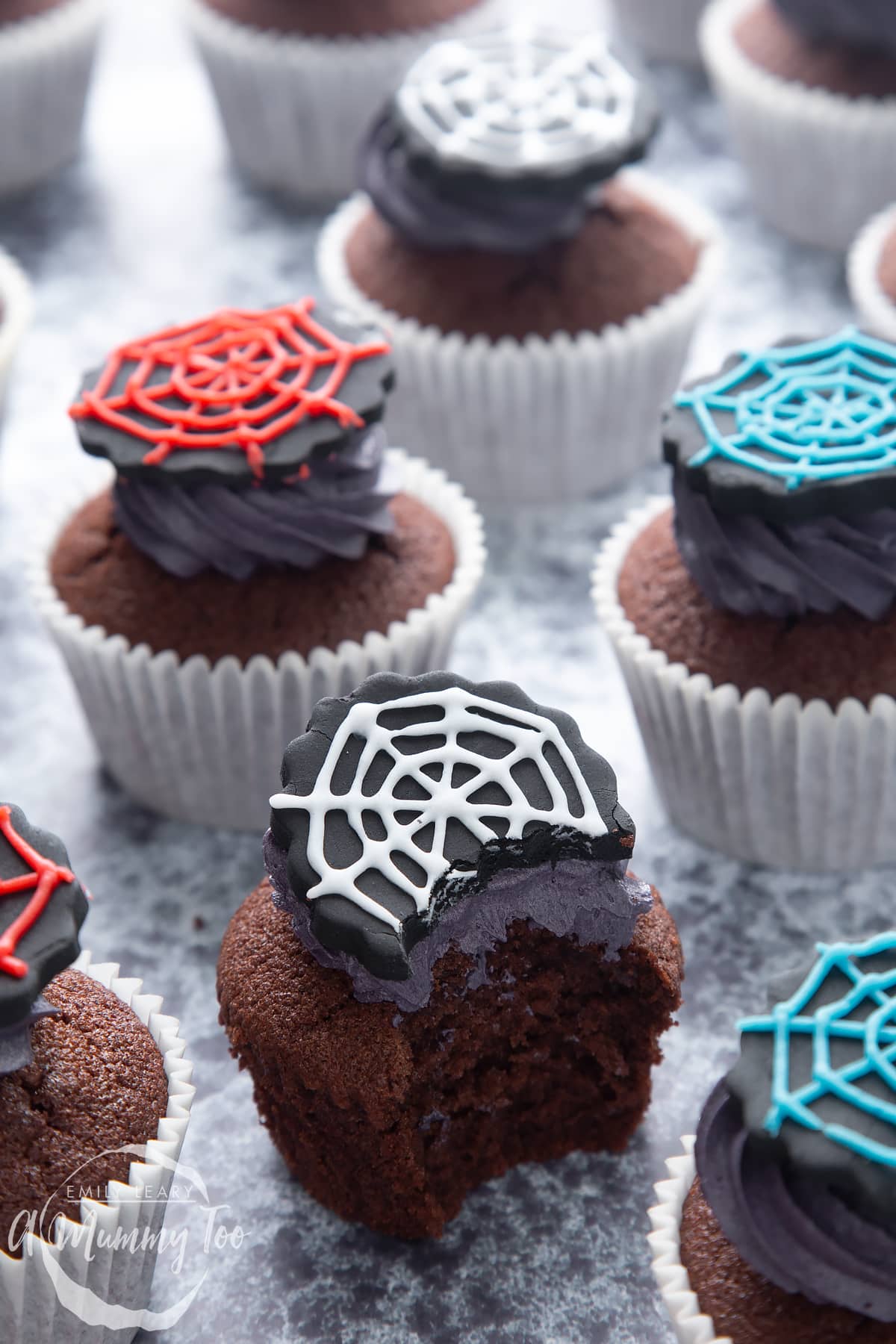 Halloween is such a fun time of year. While you're planning parties, activities or crafts with the family, why not do some Halloween baking too?
These spider web cupcakes make for wonderfully spooky Halloween cupcakes, great for a haunted house theme.
We usually opt for garish greens and scary blood reds in our Halloween baking (like these spooky red cupcakes), but this time, we thought we'd try something a little more understated.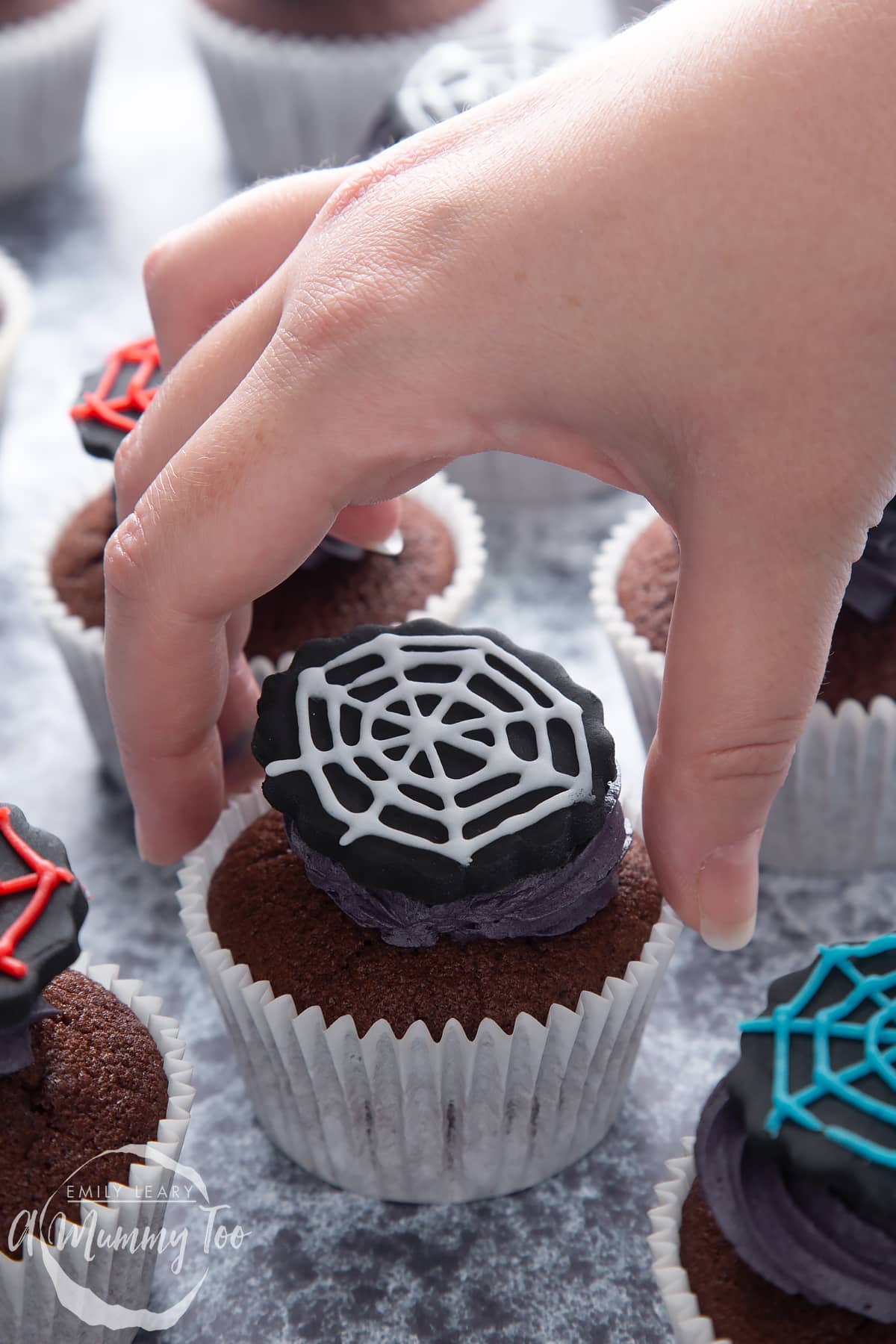 These chocolate sponge cupcakes are delicious and fear not, no eight-legged creatures features in their creation. We loved making them as a family, and we loved eating them too!
Here's the recipe for these creepy crawly treats..
Ingredients
Equipment
Instructions
Preheat the oven to 200C (180C fan).
Put the margarine, sugar, eggs, vanilla and milk in a large mixing bowl.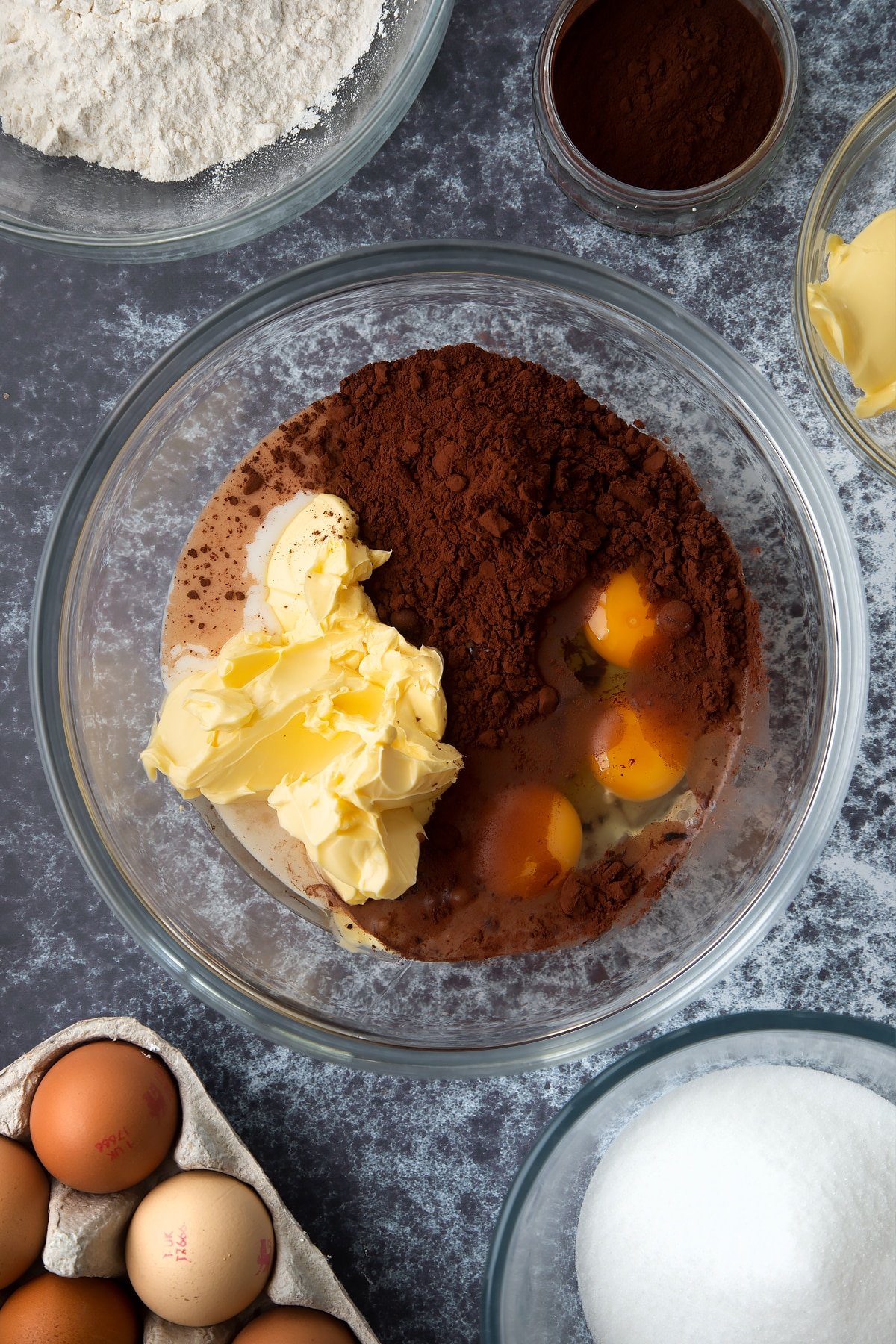 Add the self-raising flour.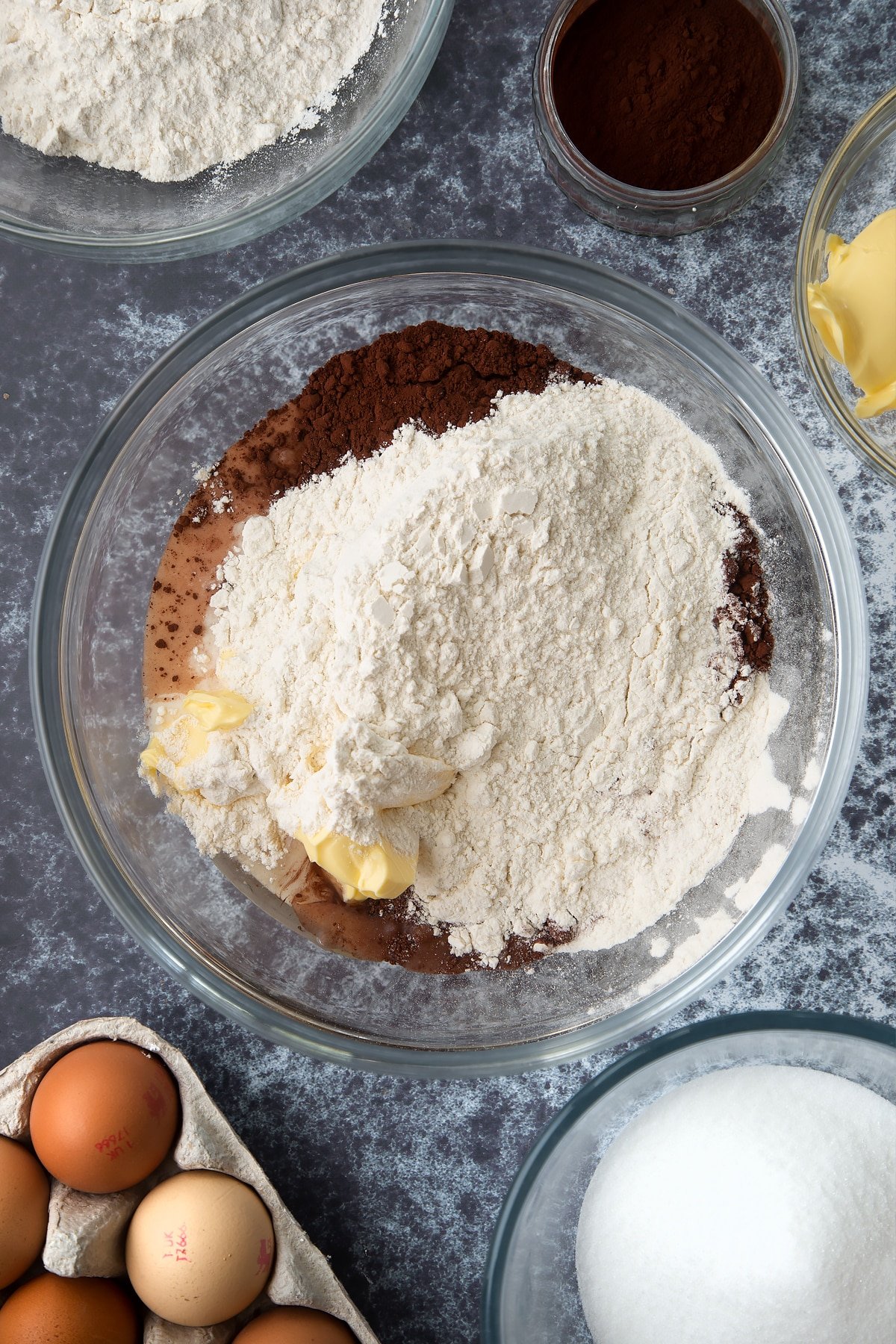 Mix to a smooth batter. I use an electric whisk for this, starting slow to avoid a flour cloud and then speeding up until the batter is light and airy.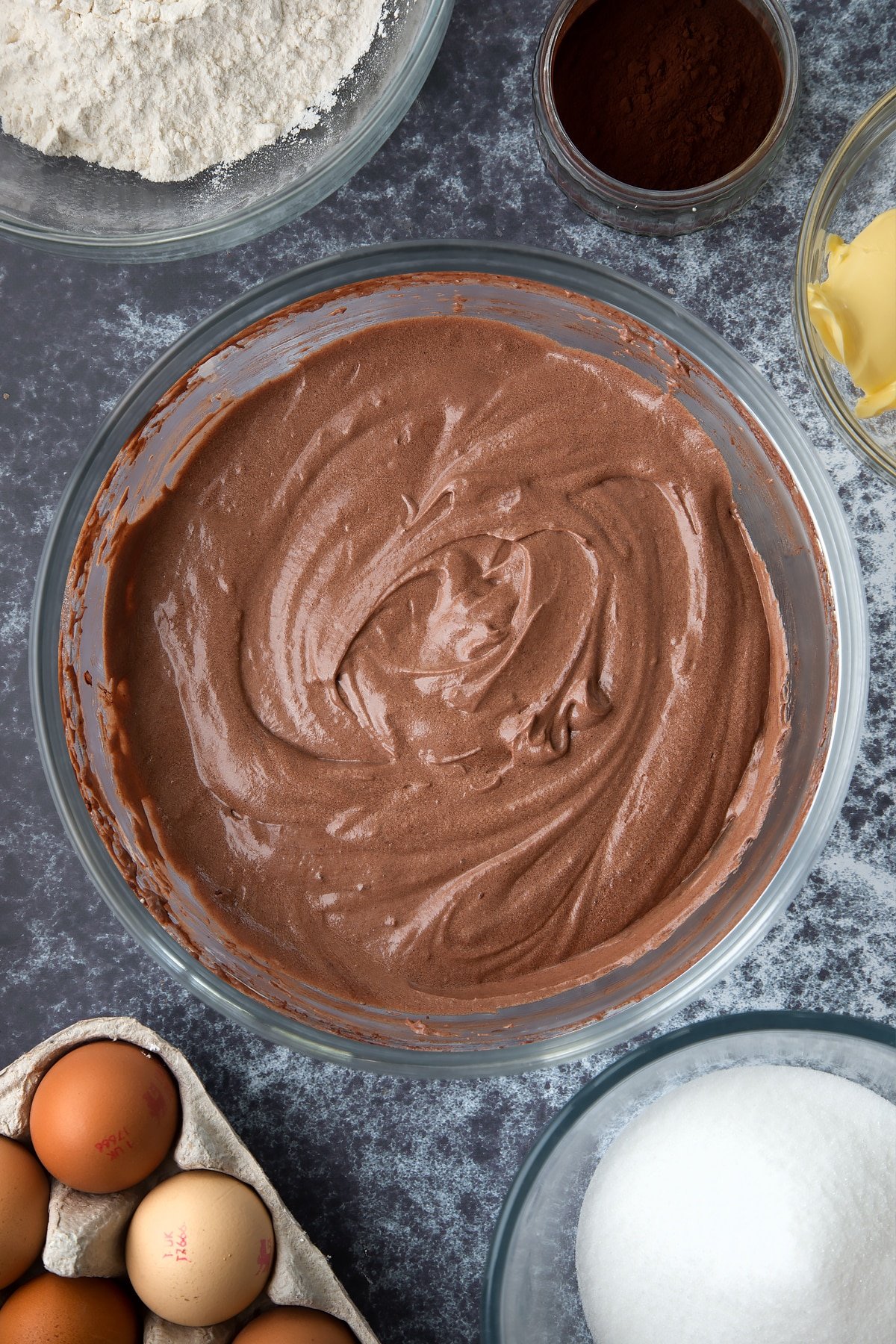 Line a 12-hole muffin tray with cupcake cases and spoon the batter into them, levelling off.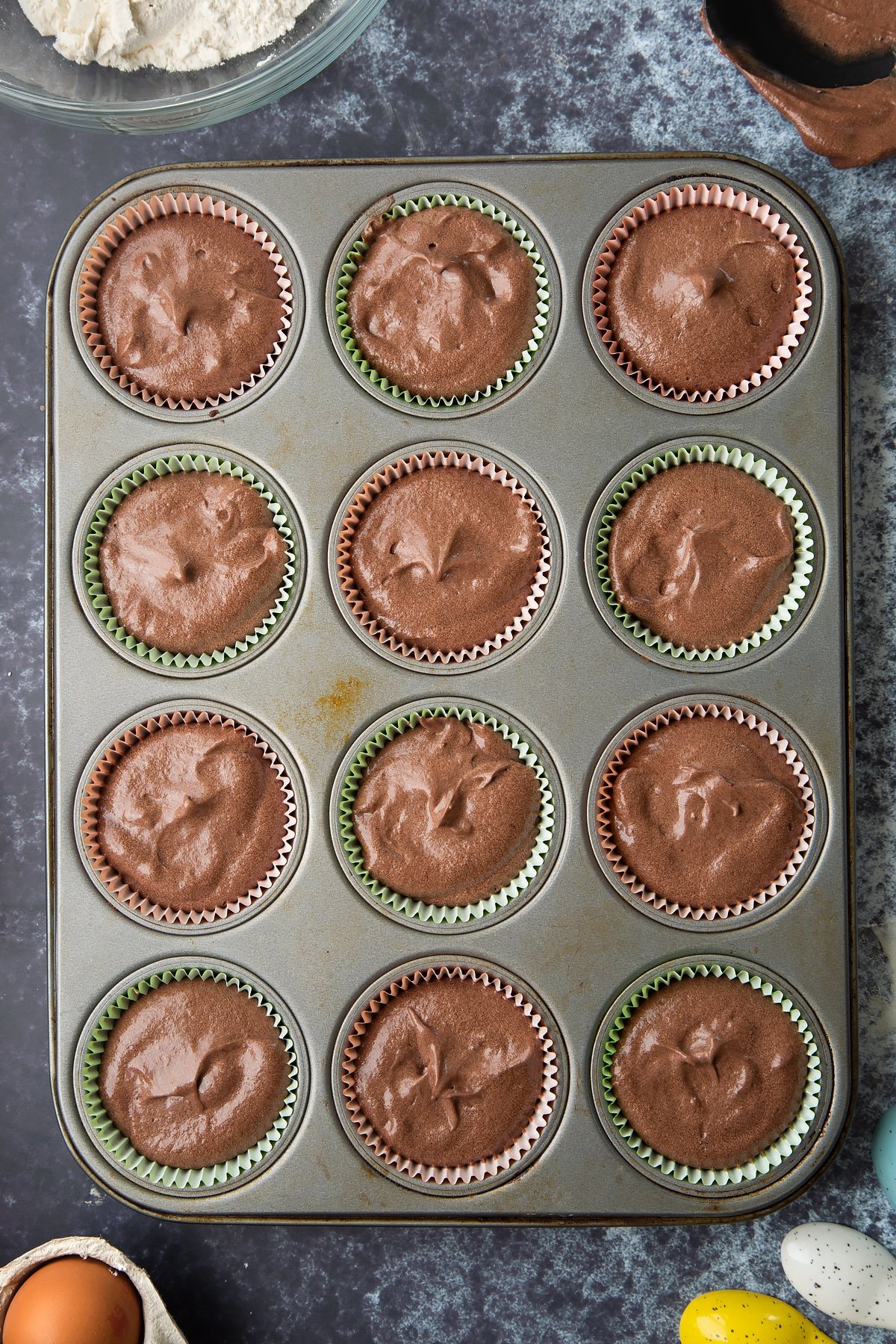 Bake for 20-25 minutes until firm and springy on top. Transfer to a wire cooling rack and set aside to cool completely.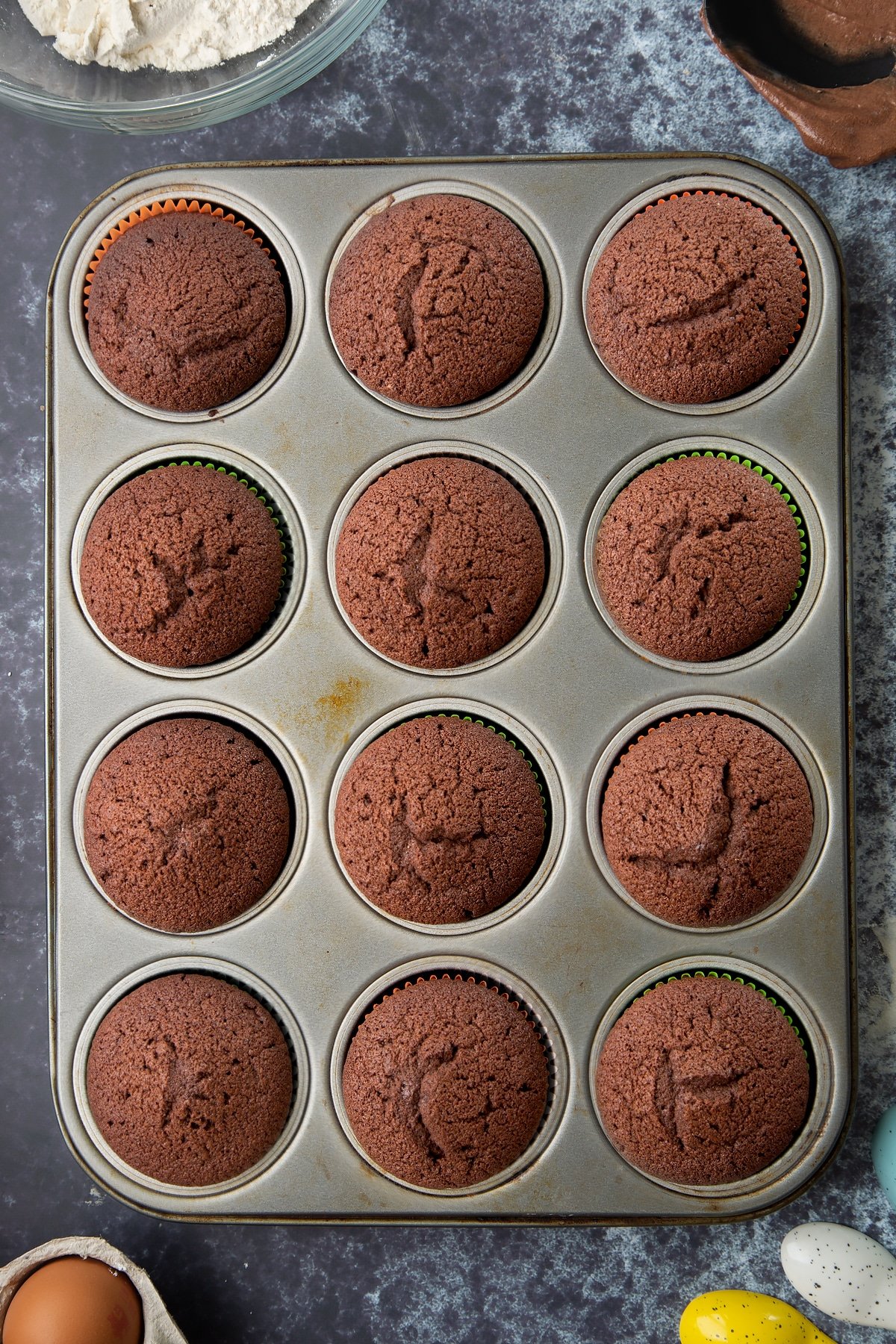 Grab your black sugar paste. If it's stiff, knead it for a little while until smooth and mouldable.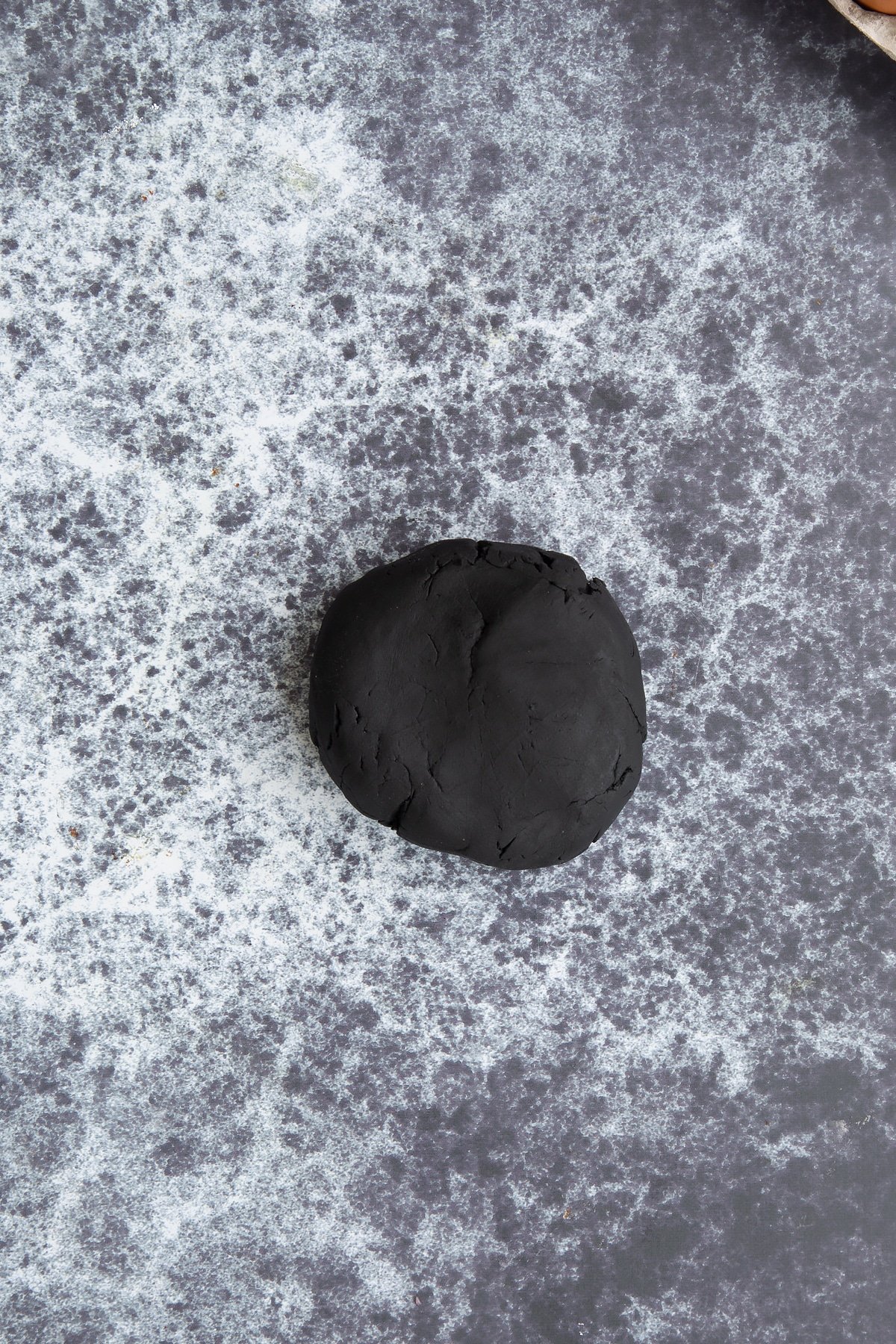 Roll out to about 5mm (1/5 inch) thick.
Cut out 12 discs with your small scalloped cookie cutter.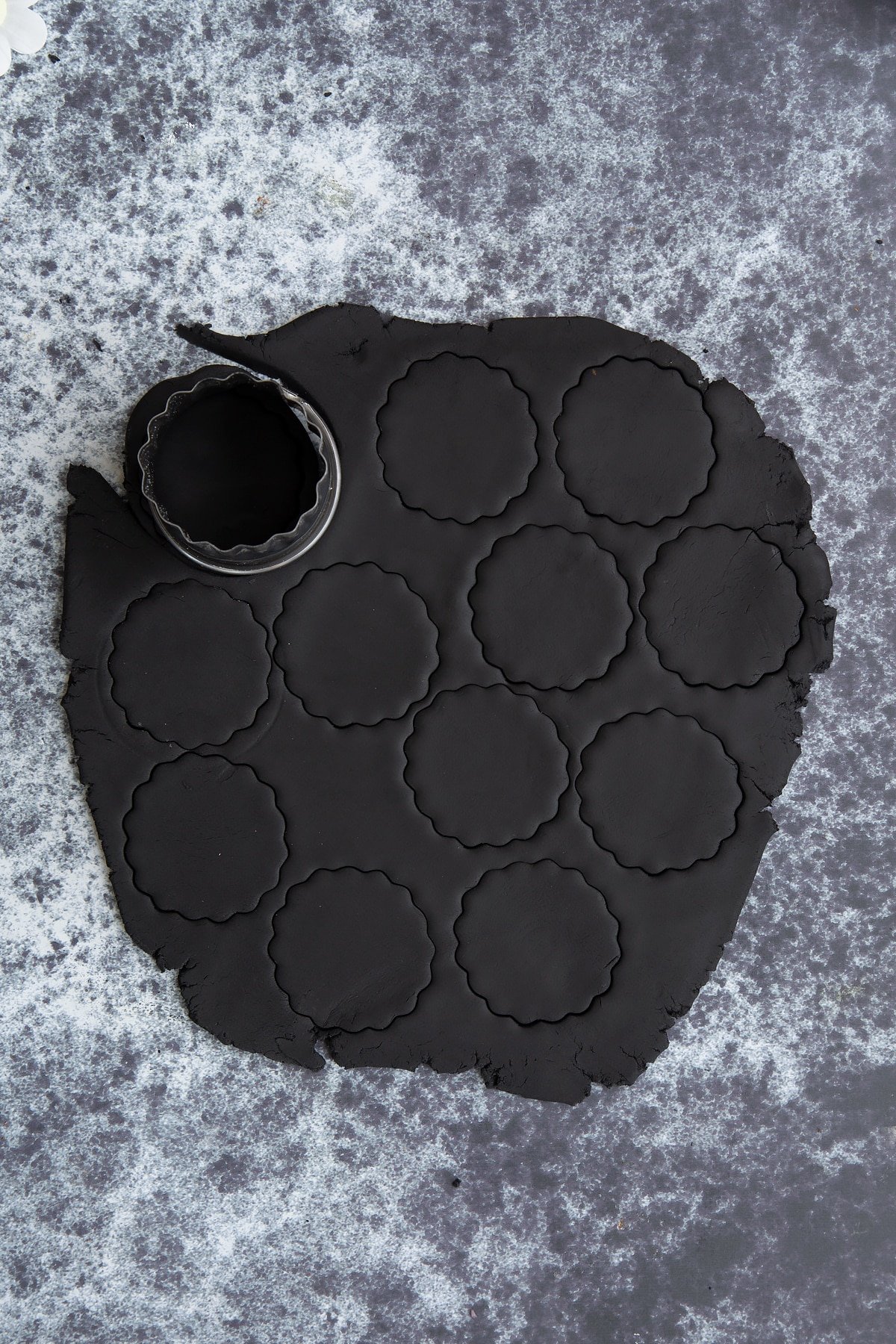 Use your icing pens to draw spider webs on top of the black discs of sugar paste. To do this, start by drawing four lines, each crossing in the centre to create a sort of asterisk, then draw concentric circles to complete the spider web affect. Set them aside to dry.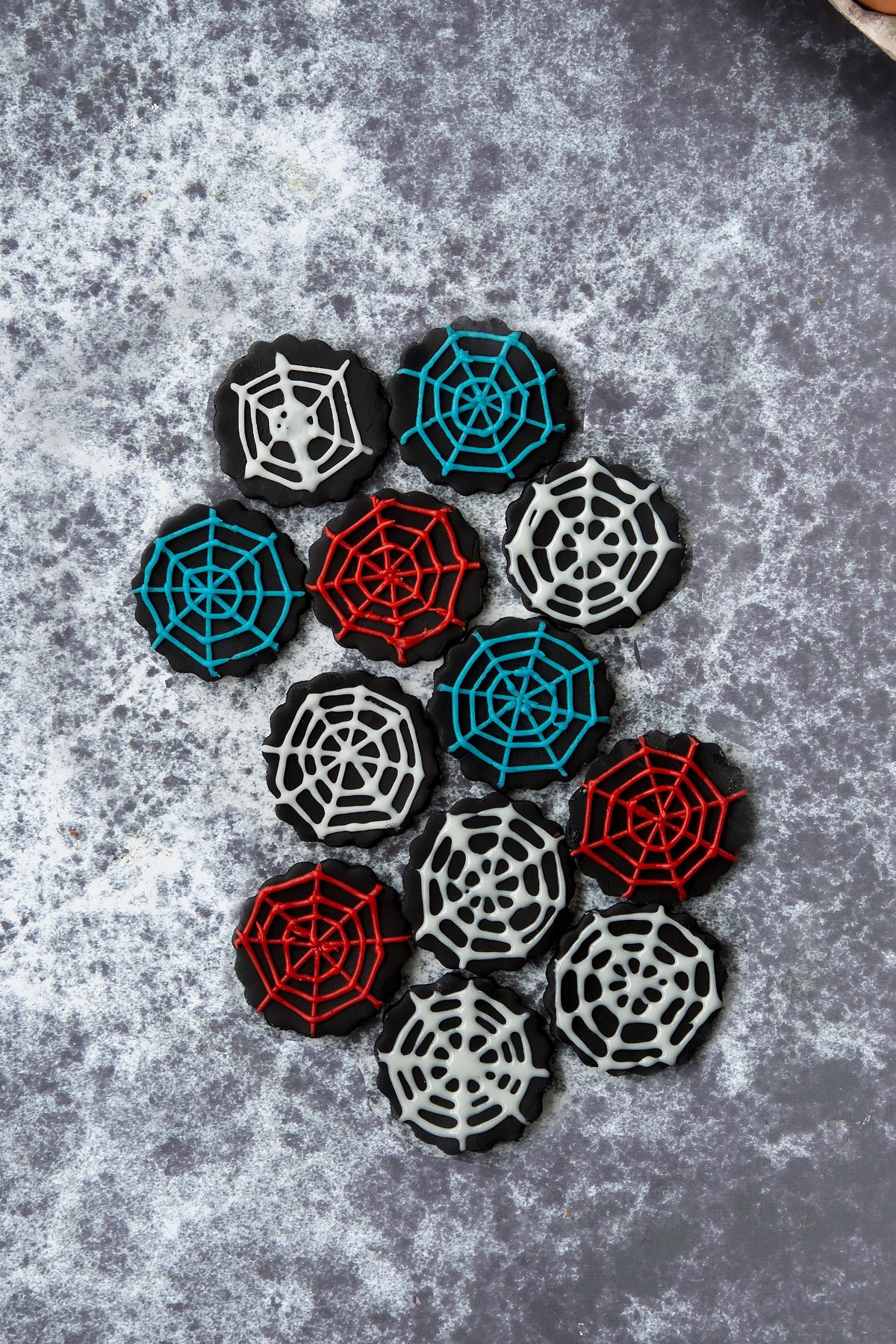 To make the frosting, put the icing sugar, vanilla and softened butter in a large mixing bowl.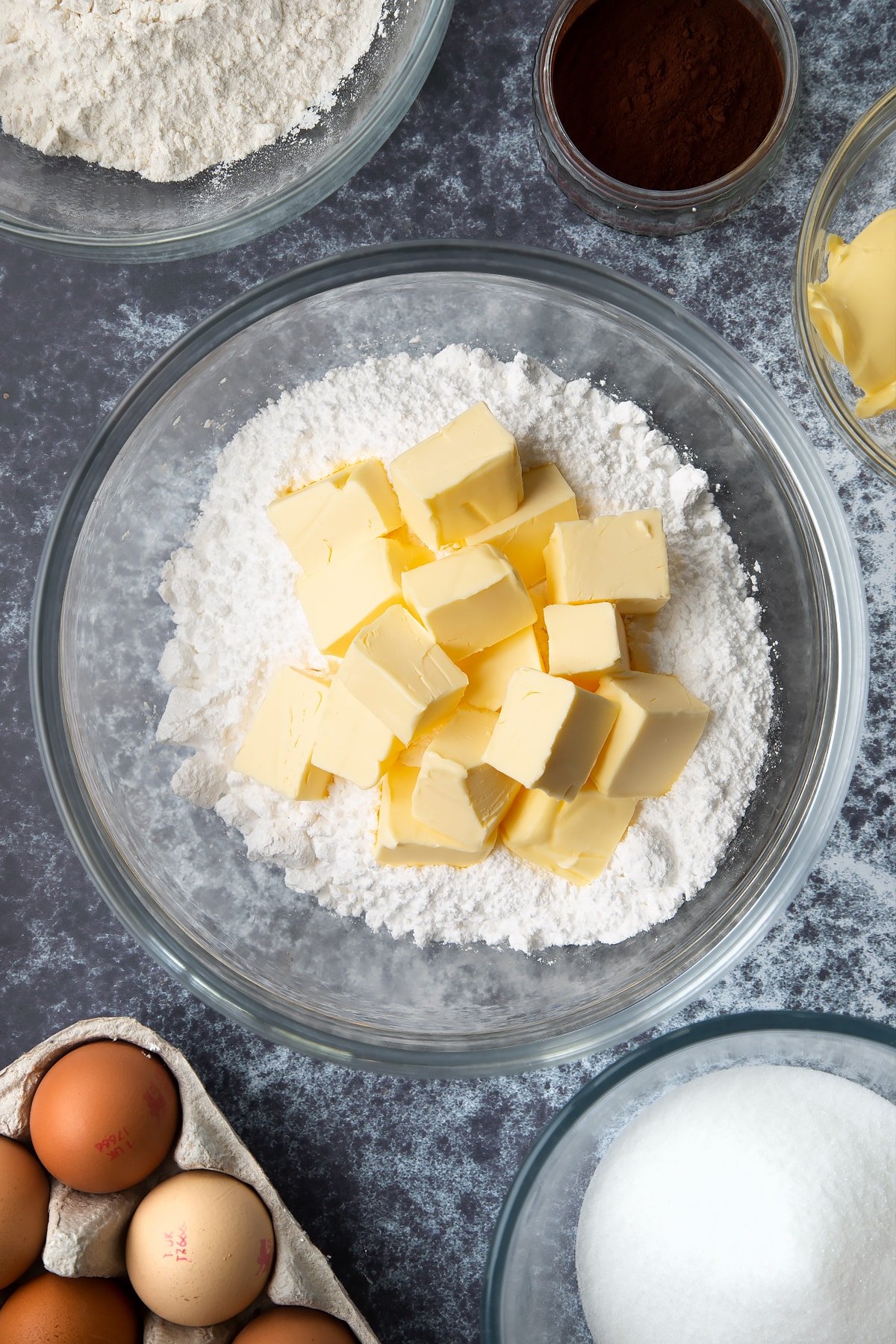 Start whisking slowly, speeding up until it comes together.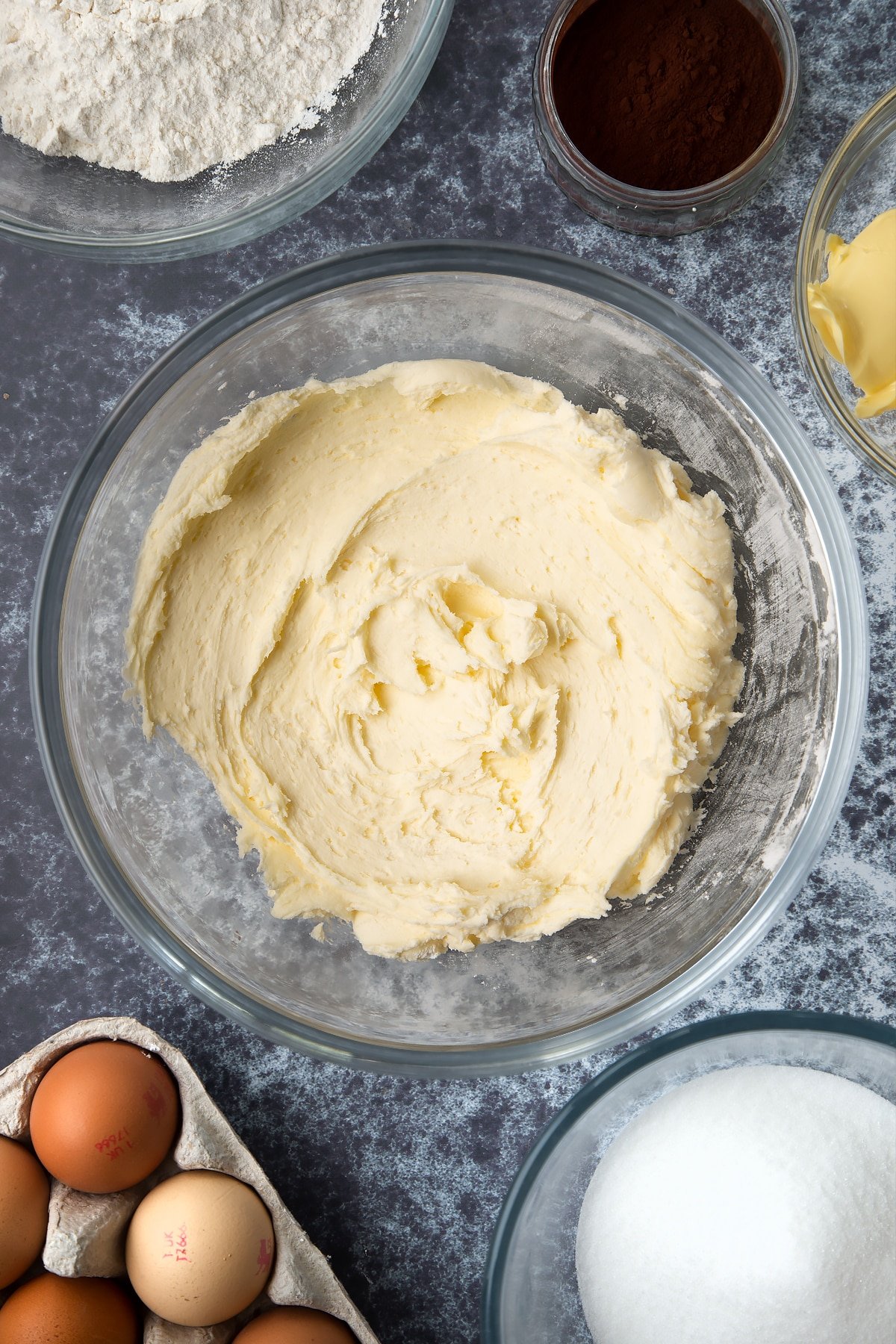 Add the black and purple food colouring.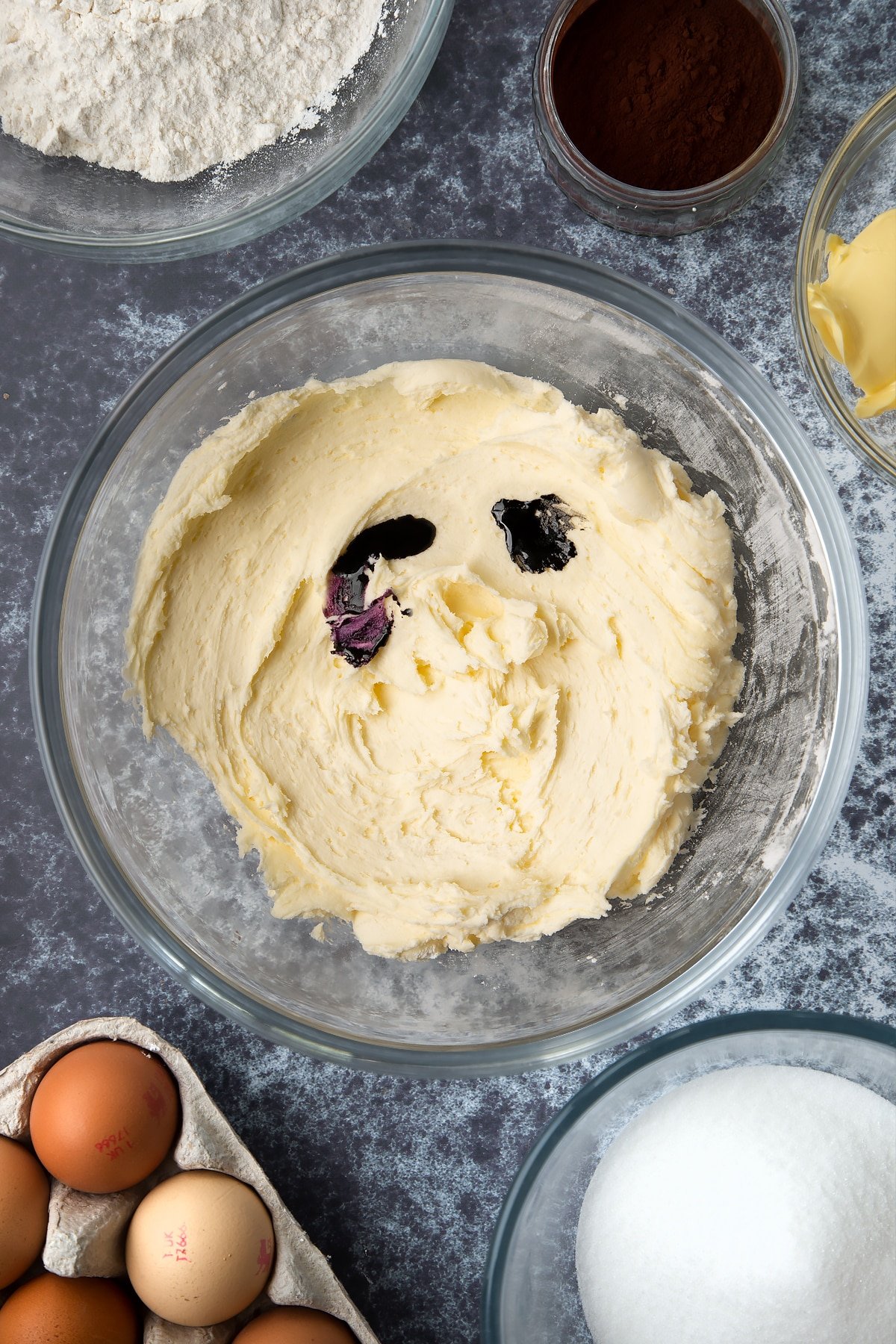 Whisk again until you have a light, airy frosting that has noticeably increased in volume. If your frosting is too stiff, add a tablespoon of milk and beat again.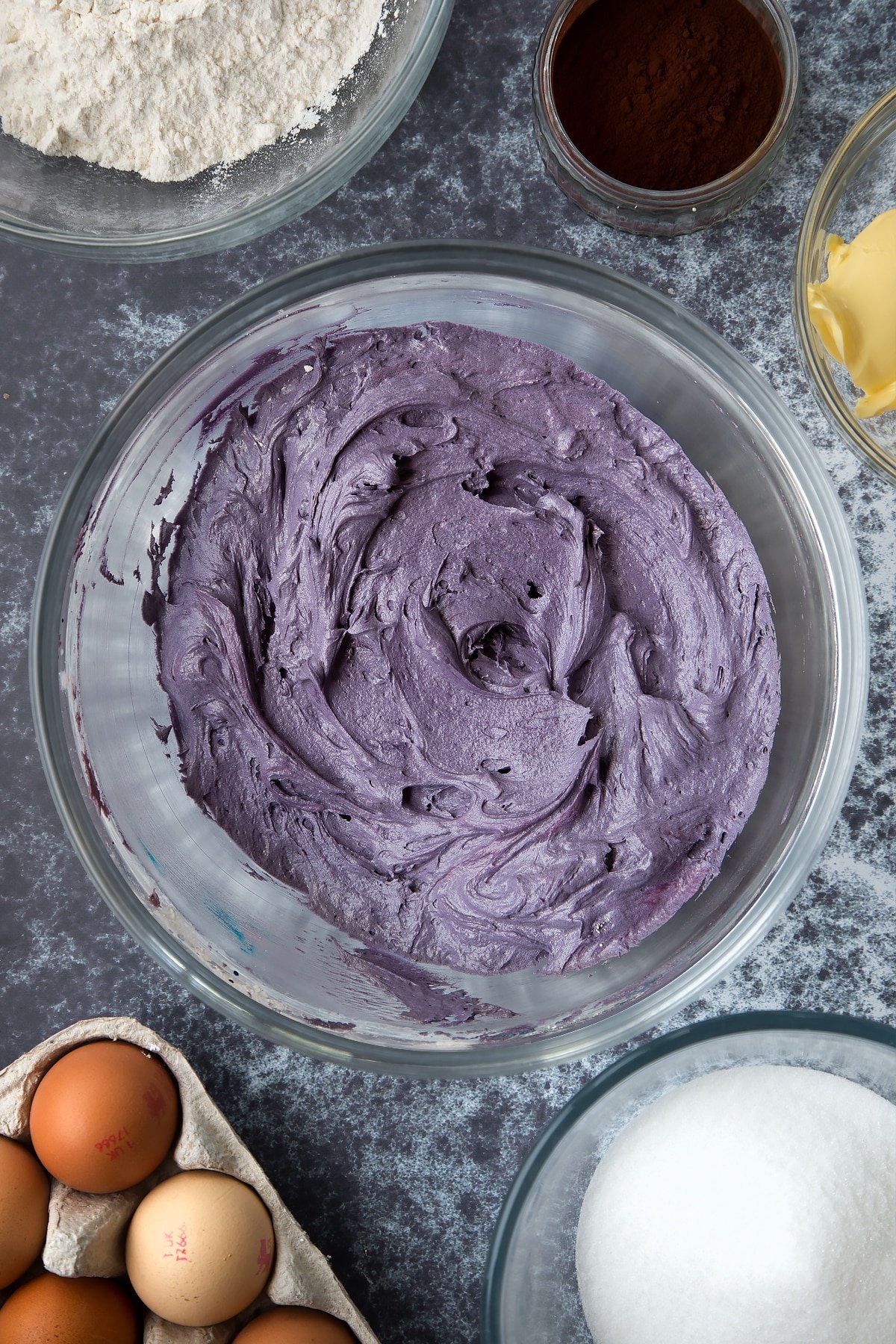 Arrange your fully cooled cakes on a flat surface.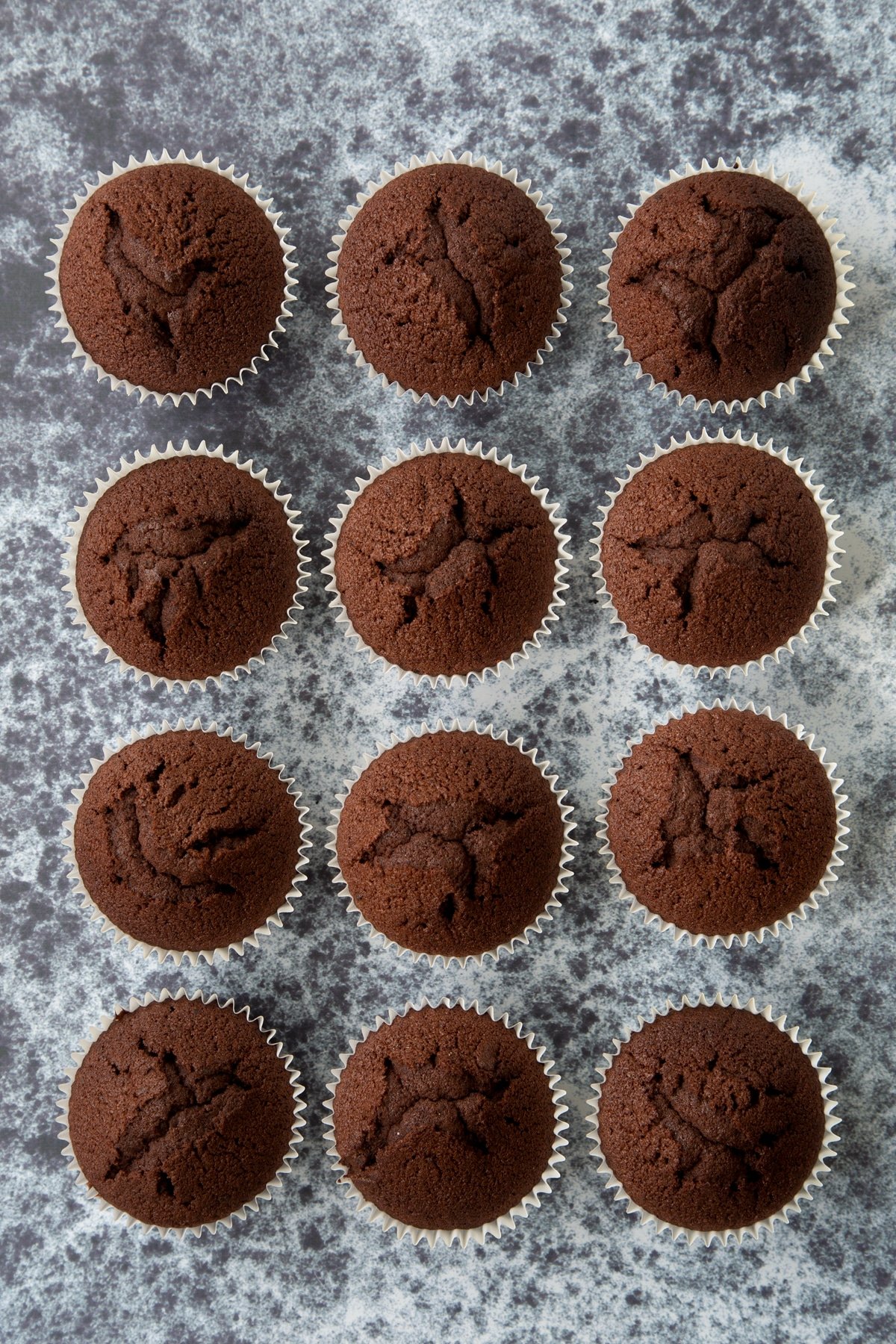 Transfer your frosting to a piping bag with a star nozzle. Now pipe tall swirls on top of your cupcakes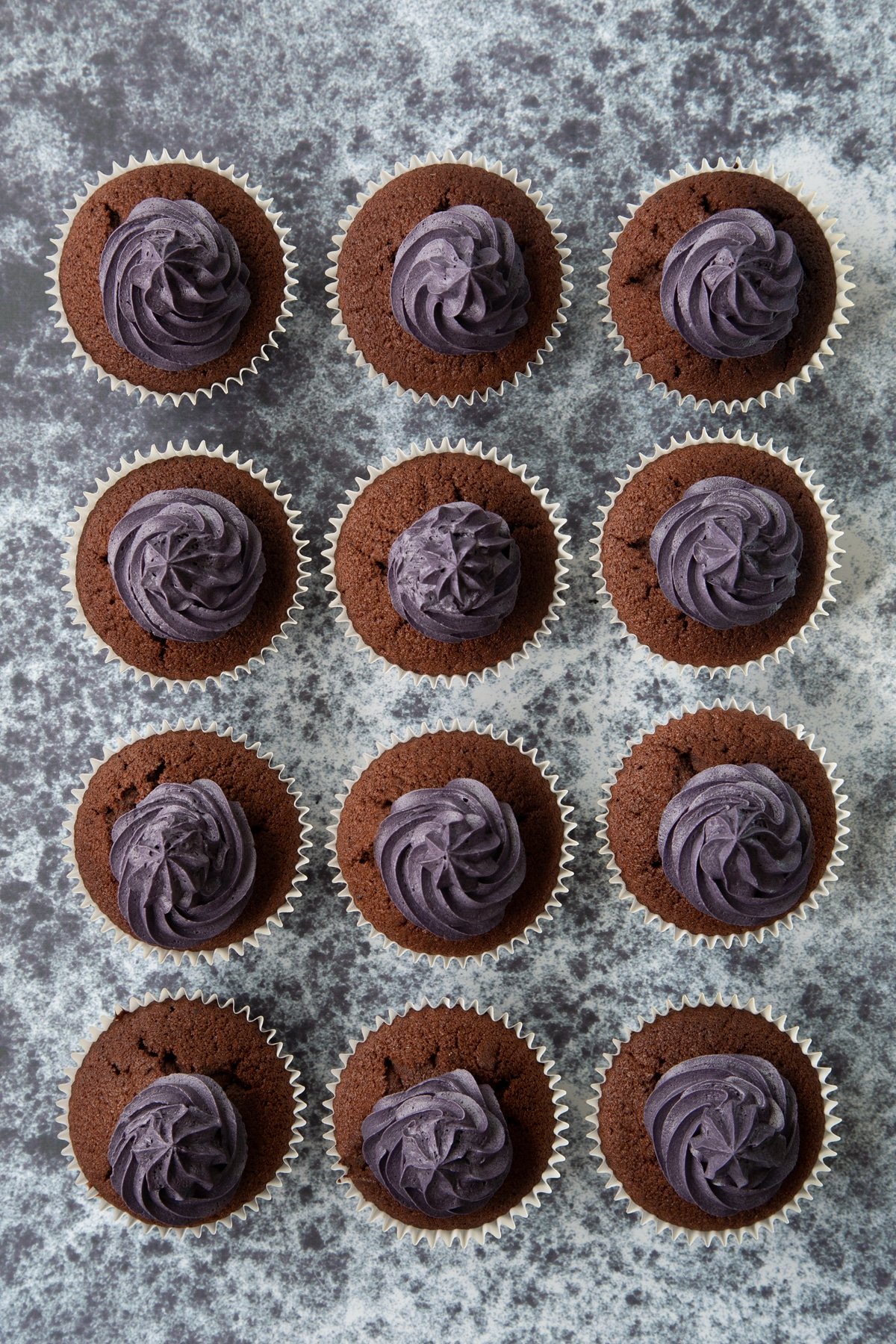 Straight away, before the frosting sets, add the spider web toppers.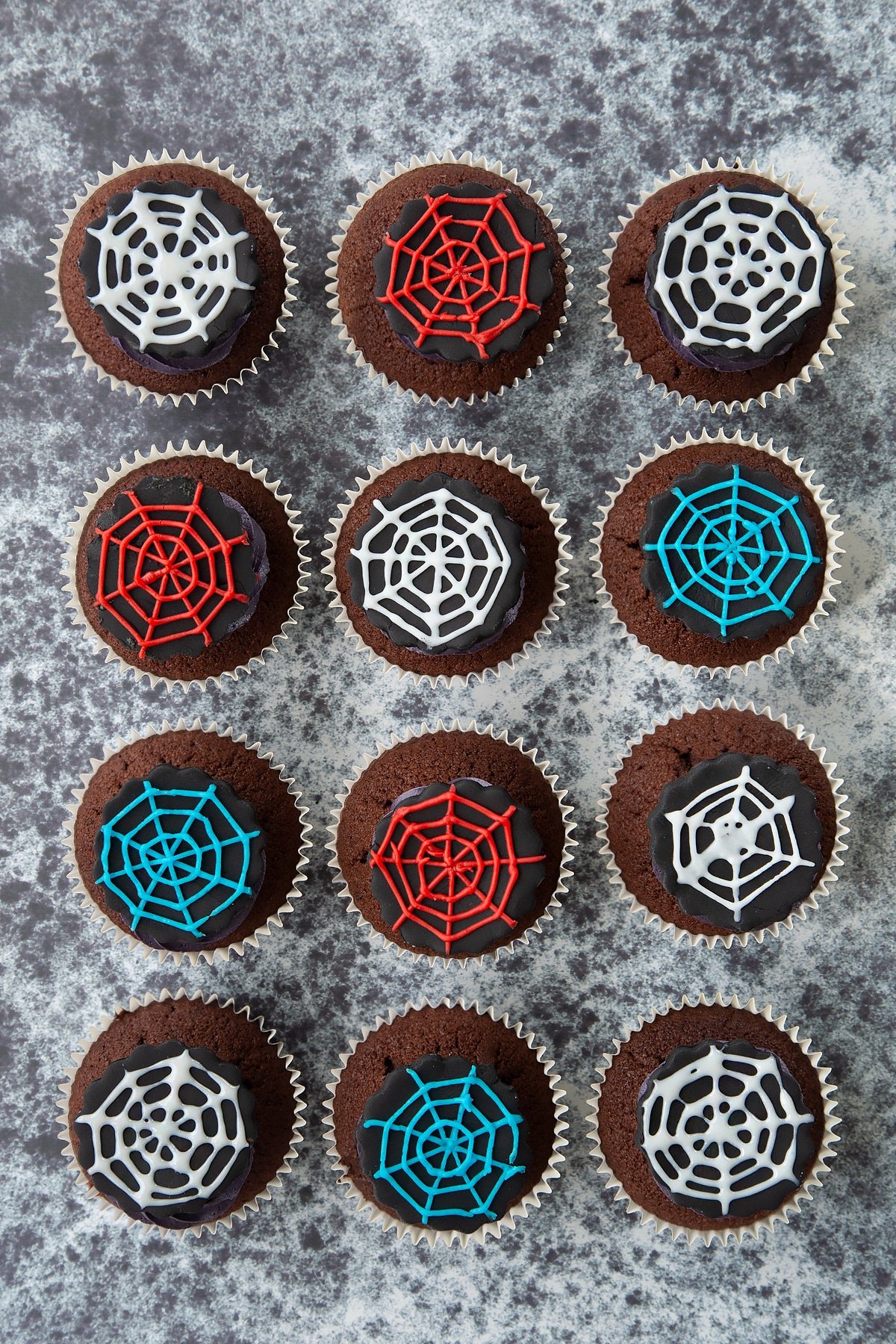 Your cupcakes are now ready to enjoy!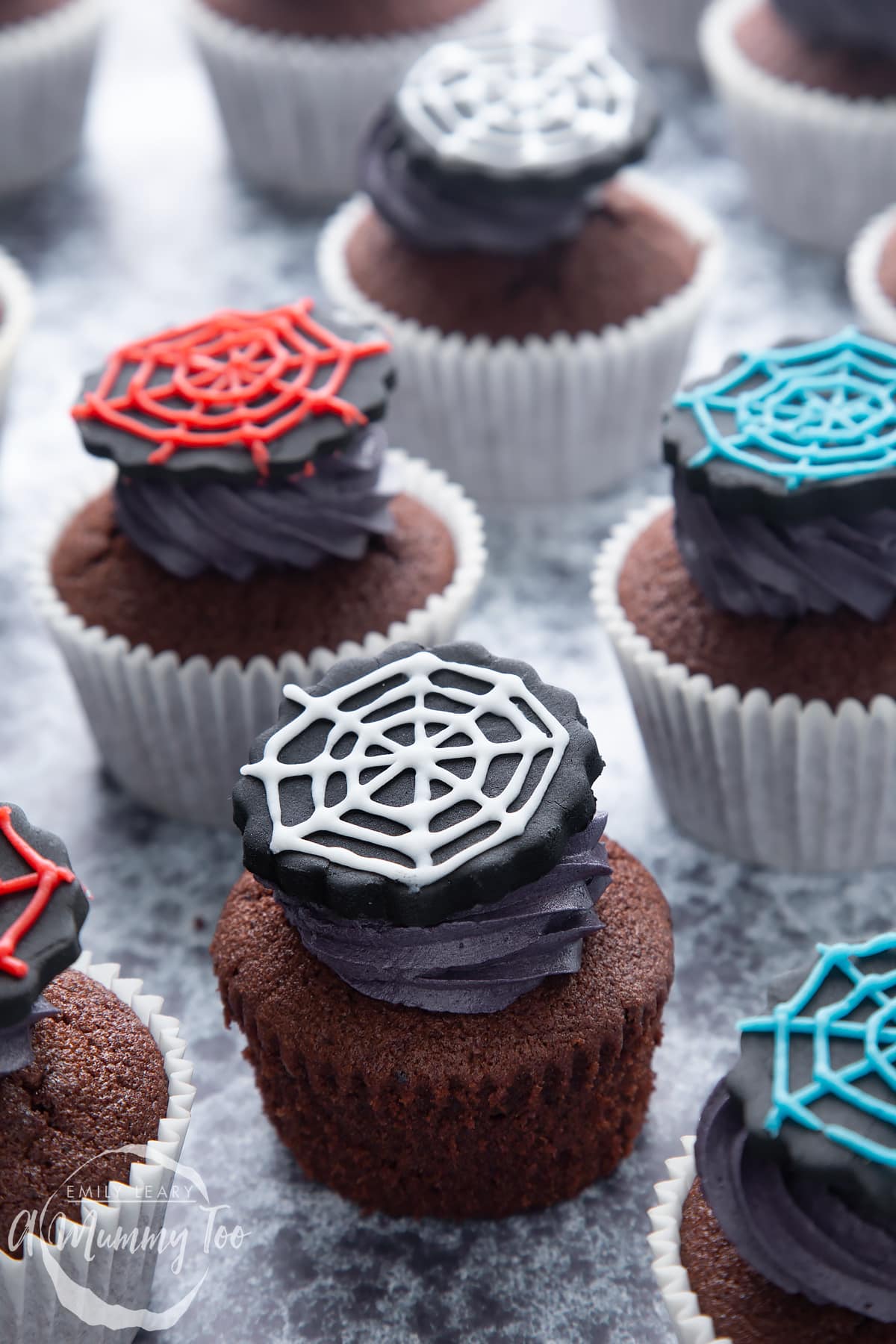 A little bit silly, maybe even a little gross, but lots of fun - will you try them?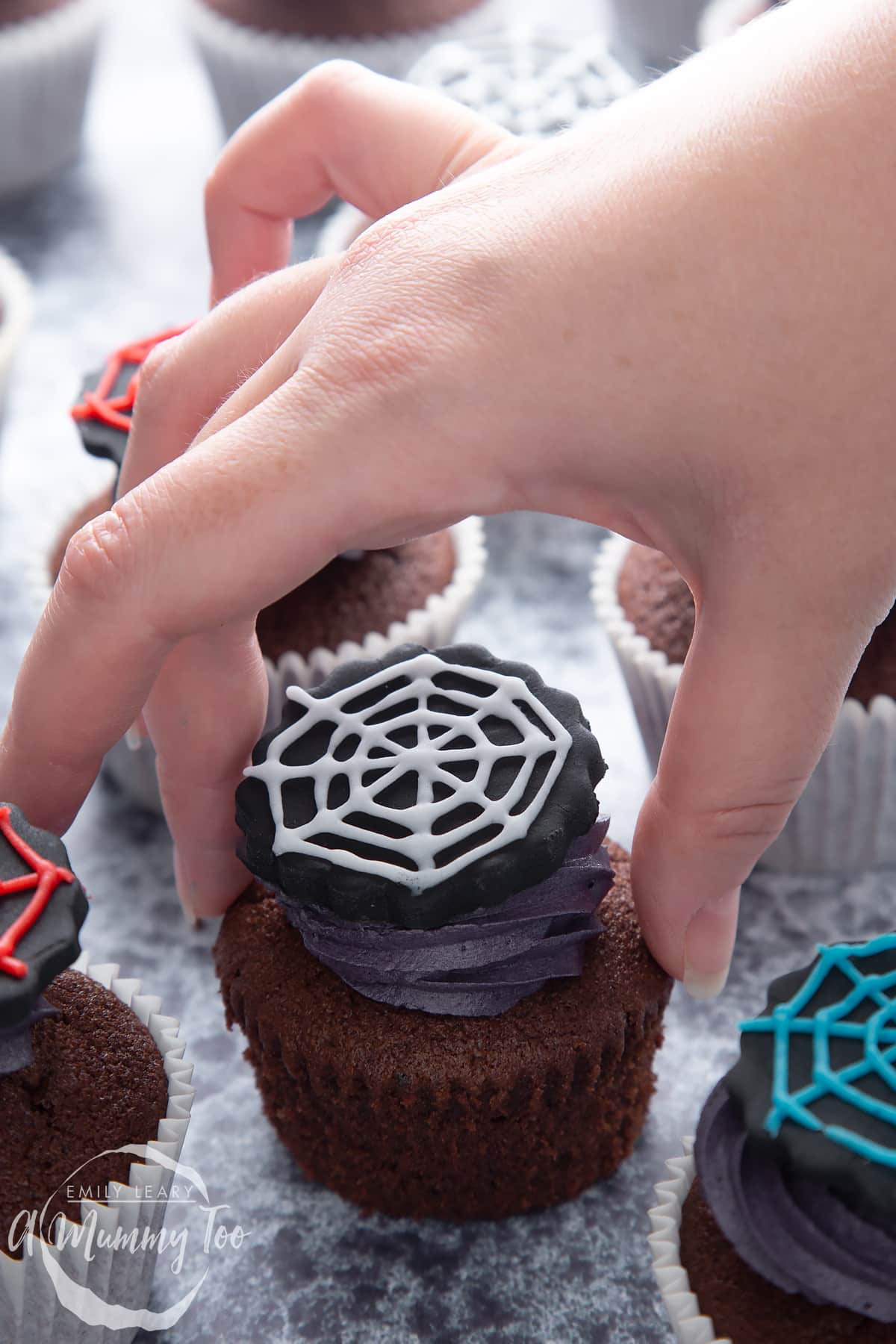 Pointers, tricks and troubleshooting tips for the perfect spider web cupcakes
Are these spider web cupcakes easy to make?
Yes, these spider web cupcakes are easy to make.
To make the cupcake sponge this recipe uses the all-in-one method, so all the sponge ingredients are added to the bowl and carefully mixed at the same time. This is easier than creaming the butter and sugar first and saves a bit of time. I find it also helps to keep track of all the ingredients in one go.
Once the cupcakes are in the oven you will have time to prepare the buttercream icing and fondant toppers which the kids love to help with.
Will I need any special equipment for this spider web cupcake recipe?
This recipe is made easier with some baking equipment not every kitchen will have, but most things you will find in the average kitchen.
The essentials are a large mixing bowl, weighing scales, measuring spoons, a muffin tin and cases - the full list of equipment can be found in the recipe card below.
An electric whisk will make your life easier but if you don't have one a good old fashion fork or regular whisk will do the job.
You will also need a piping bag and star nozzle. If you don't have one you can carefully put the buttercream into the bottom of a large sandwich bag and cut about one centimetre off one of the bottom corners to create your own piping bag. This won't give the star shape to the buttercream frosting but it will still give a lovely neat finish to your cupcakes.
Where can I buy writing icing pens?
The baking section in most big supermarkets should be well stocked with all sorts of exciting goods and knickknacks so you should easily be able to find writing icing pens. They usually come in an assortment of colours in a ready made set.
If you can't find it at your local shop then as usual it'll have to be online shopping to the rescue.
Can vanilla extract go bad?
Do you have a seemingly never ending bottle of vanilla extract in the cupboard? It seems to last forever, and if stored correctly they can keep for a long time, but not indefinitely.
Checking your vanilla extract is still safe to use is simple, first check the 'use by' date which is normally quite long, and then make sure it smells alright, and the contents is still liquid and looks a rich golden brown colour.
Due to the high alcohol content, if stored correctly it is unlikely vanilla extract will go off, but as with anything it is always best to check, especially if its been a while since you dusted off your baking things.
To keep your vanilla extract at its best store in a cool dark place. After use, wipe any residue off the top of the bottle so the cap doesn't get stuck and make sure the cap is securely on so air can't get in and spoil the vanilla extract.
I always try and bottles with real vanilla rather than the synthetic version. It is a little bit more expensive but you only use a small amount when baking and it gives a much richer and fuller flavour than the synthetic ones and is even more noticeable in things like smoothies.
Is this spider web cupcake recipe suitable for vegetarians?
There is no meat, poultry or fish in this recipe so it is suitable for vegetarians. Always double check the labels, particularly when baking with food colouring as some can contain animal derivatives.
Is this spider web cupcake recipe suitable for vegans?
As it is, this recipe uses dairy margarine, and butter as well as cow's milk and chicken eggs so it is not suitable for vegans.
I've successfully used a plant-based margarine and plant milk in this recipe before with perfect results. I find unsweetened soya milk works best.
For the eggs, you'll need to use an egg replacer. I haven't tried making these cupcakes egg-free, but you could try one of the following alternatives (each = 1 egg, so multiply as needed for any given recipe).
1 tablespoon of crushed chia seeds or flax seeds mixed with 2 tablespoons of water and left for 10 minutes in the fridge.
3 tablespoons of aquafaba (the water you get in a tin of chickpeas).
3 tablespoons of applesauce (bear in mind this will add sweetness).
Is this spider web cupcake recipe gluten-free?
This recipe uses wheat based self-raising flour so is not gluten-free.
You could try making this recipe gluten-free by replacing the self-raising flour with a gluten-free self-raising flour.
I haven't tested this recipe with gluten-free flour yet, but I always recommend using a good quality brand, which will usually be made from a blend of different flours such as rice flour and oat flour, raising agents, of course, and usually a binding agent such as xanthan gum.
If making these cakes for somebody who needs to avoid gluten in their diet, then you should also check the label of all ingredients to make sure that they don't contain any traces of gluten. This includes checking the flavouring and decorative elements, such as the cocoa powder and food colouring.
Is this spider web cupcake recipe keto-friendly?
As this recipe contains sugar and flour it is rather high in carbohydrates, so unfortunately isn't keto friendly.
Is this spider web cupcake recipe healthy?
These spider web cupcakes are a Halloween treat which are high in fat and sugar so should be enjoyed in small amounts as part of a balanced diet.
Is this recipe safe to eat while pregnant?
There is nothing in these cakes that should present a risk to pregnant people if the ingredients are in good condition and have been stored correctly, and the recipe is cooked hygienically and safely.
Egg safety varies from country to country and you should always seek country-specific advice. The NHS has a great resource that will help review the latest advice regarding foods that are safe to eat while pregnant in the UK.
However, this website does not offer not medical advice and you should always check with your health professional.
Are these spider web cupcakes suitable for babies and toddlers?
These spider web cupcakes are a high-sugar treat. The NHS have some fantastic guidance on food to avoid feeding babies and small children.
This website does not offer medical advice: always consult your health professional if you have any concerns.
Can I make this recipe without buttercream frosting?
If you've run out of butter, or want to make these cupcakes a little less high in sugar you can leave out the frosting no problem. The cupcakes won't have as much volume but they'll be just as spooky.
To stop the spider web toppers falling off without the buttercream, mix a teaspoon of water with 2-3 teaspoons of icing sugar to make a paste, and use a little dab on the top of each cupcake before adding the spider web toppers.
How should I store these spider web cupcakes?
These spider web cupcakes should be stored as a single layer in airtight containers, try to avoid stacking them up as the frosting will stick them all together.
How long do spider web cupcakes keep?
You can keep these spider web cupcakes in an airtight container for 1-2 days on the counter, or if you have space in the fridge they'll keep for 3-5 days.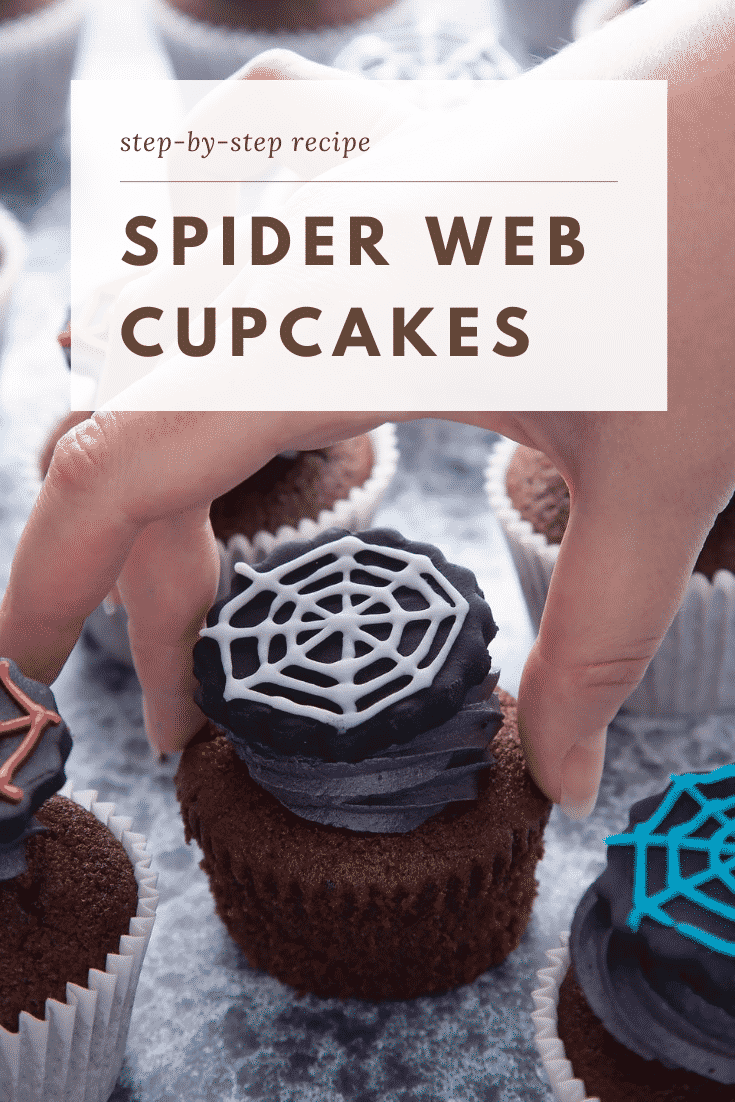 Can I leave spider web cupcakes out on the counter?
It is best to store these cupcakes well covered or in an airtight container to stop the cakes drying out. In a cool and shaded spot on the counter they will keep for 1-2 days.
Can I make these spider web cupcakes ahead?
You can cook the cupcakes the day before, mix up the batter, bake and cool before storing in an sealed container ready to decorate the next day.
The buttercream can be prepared the day before too, store this in an airtight container in the fridge. It might be a bit stiff when you get it out of the fridge so give it half an hour on the side before trying to pipe your frosting.
If you're feeling super organised you could make up double the batter, baking twice as many as needed and then freeze some in a freezer bag ready for the next party.
Make sure to thaw the cakes in the fridge overnight before decorating. And remember you won't be able to re-freeze these cupcakes again.
Can I keep these spider web cupcakes in the refrigerator?
Yes, these spider web cupcakes will keep well in the fridge, keep them in a single layer and cover well. These spider web cupcakes will keep in the fridge for 3-5 days.
Can I freeze these spider web cupcakes?
These cupcakes can be stored in the freezer. Put them in an airtight container in a single layer to freeze.
Once frozen you can transfer them into a freezer bag to save space and put them straight back into the freezer, but do be mindful not to damage the toppers. Then when you're ready to eat them, thaw the cupcakes in the fridge over night.
Do not re-freeze already frozen cupcakes.
Can I make this recipe in a different quantity?
It's simple to make more or less of these spider web cupcakes.
Just scroll down to the recipe card at the bottom of this page and click or hover over the servings, a slider will appear and you can adjust to the amount you want. The ingredient quantities will update automatically.
Can I make this recipe in a different tin/tray?
I haven't tried a different tin, but if you have a mini cupcake tray you could use this instead, spoon your batter into the mini cupcake cases, they will bake quicker than regular size cupcakes so check them after 15 minutes in the oven. Don't forget to use a smaller cutter for the toppers!
A baking tray should work too if you want to make something closer to spooky brownies, but remember that cooking times will vary and the middle of your batter may rise more than the edges in the pan.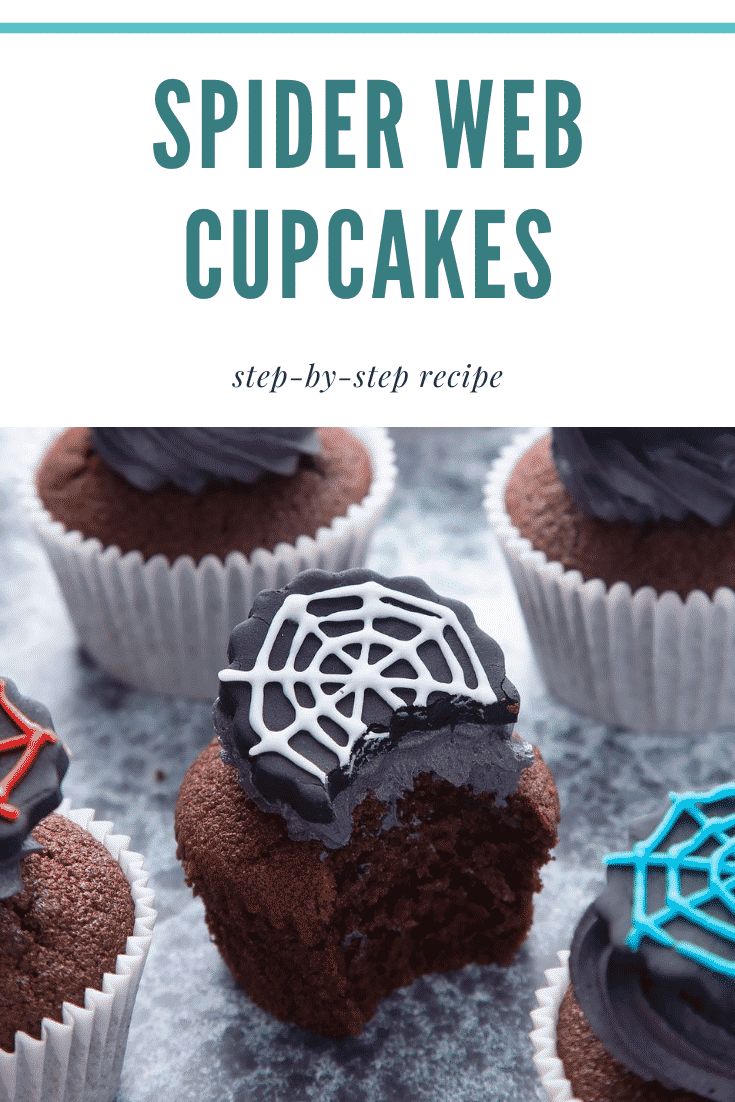 Can I make this recipe in a stand mixer such as a KitchenAid or Kenwood Mixer?
Yes, this cupcake batter uses the all-in-one method so you can put the eggs, sugar, margarine, vegetable oil, milk, cocoa powder and flour into your mixing bowl. Then attach the whisk head to the machine, starting on a low speed mix the batter.
You will probably need to scrape the sides down with a spatula a few times to make sure all the ingredients are incorporated properly.
You can also use your stand mixer for the buttercream, start slow to avoid an icing sugar storm in the kitchen.
How can I make sure these spider web cupcakes perfectly baked?
When baking try to measure your ingredients as accurately as you can with weighing scales, and make sure the batter is well mix. I find it helpful to scrape around the bowl a few times with a spatula after whisking the batter to make sure everything is incorporated and there are no lumps of flour left.
Pre-heat the oven so when baking the cakes have a constant temperature. If you find your oven is hotter at the front or back you could try turning the tray around half way through the cooking time so the cupcakes bake more evenly. Never open the oven door before the cakes have finished rising. You can check this through the door, try to avoid opening the oven more than once, if at all.
When the cupcakes are done they will have risen into a slight dome and may have a crack across the top.
To test if your cakes are done press gently into the top of one of the central cupcakes, it should feel firm and spring back.
If you're still not sure they are cooked through you can carefully push a metal skewer into the centre of a cupcake and pull it back out. When the cupcakes are done the skewer will come out clean. If the skewer comes out with batter on put them back in for a few more minutes.
Why did my spider web cupcakes turn out dry and burned?
This could be a number of things, so first make sure to set a timer when the cupcakes go in so you don't forget to check them.
As cupcakes are quite small they can over cook quickly so keep an eye on them through the glass on the oven door when the cooking time is nearly up.
The oven temperature maybe too hot and the temperature dial is not always accurate so next time try running your oven at 10-20 degrees lower than recommended on the recipe.
Too much flour or cocoa powder in the batter will also make for drier cakes so be careful when measuring out the ingredients.
Why did my spider web cupcakes turn out wet and under baked?
This is probably a simple case of the cupcakes being taken out of the oven too soon, but it could be a number of other things too.
Cupcakes can look deceptively cooked, and its particularly hard with chocolate cupcakes as you don't have the golden brown colour as a guide.
If you are unsure test a cupcake with a skewer, if it comes out with wet batter the cupcakes need a few more minutes.
The oven may be too cold, if you didn't pre-heat the oven before putting the cupcakes in they will bake unevenly and will take longer than the recipe guide as the oven is still getting up to the optimum temperature.
The size of the eggs can also effect how wet the batter is, so if you've used very large eggs instead of medium sized eggs the batter will be wetter. Make sure to measure the wet and dry ingredients carefully to get the right balance.
Why didn't my spider web cupcakes rise?
If the oven is too cold the cakes won't rise properly, and if the oven is too hot they will rise too quickly and not be able to maintain their height. Make sure to pre-heat the oven, and use an oven thermometer if you're concerned the dial on your oven isn't accurate.
When using self-raising flour make sure to store it in a sealed container. Over time the raising agent in the flour loses its reactive properties so if your flour has been in the cupboard for a while it might not work as effectively.
All is not lost however as you can just treat it like plain flour and add 1-2 teaspoons of baking powder per 225g of flour, depending on whether you think its lost a bit, or all of its raising effect.
Sieving the flour can also help add lightness and air to the batter so give that a try next time.
Once the flour is mixed with the wet ingredients the raising agents get to work straight away making little bubbles of carbon dioxide which is a big part of what makes the cakes rise. Make sure to pre-heat your oven so you can get the cakes in as quickly as possible, don't let the batter sit on the side for ages.
Over mixing can also burst those bubbles so try not to be too rough or remix your batter once everything is incorporated.
How can I add or change the flavours of these spider web cupcakes?
You could easily change the flavour of these cupcakes with vanilla extract or instant coffee instead of cocoa powder.
The buttercream can also be changed to chocolate by adding cocoa powder if you want a double chocolate hit.
Play around and see what combinations you can create.
Print this spider web cupcake recipe
Here's that spooky Halloween cupcakes recipe again in printable format:
Pin these spider web cupcakes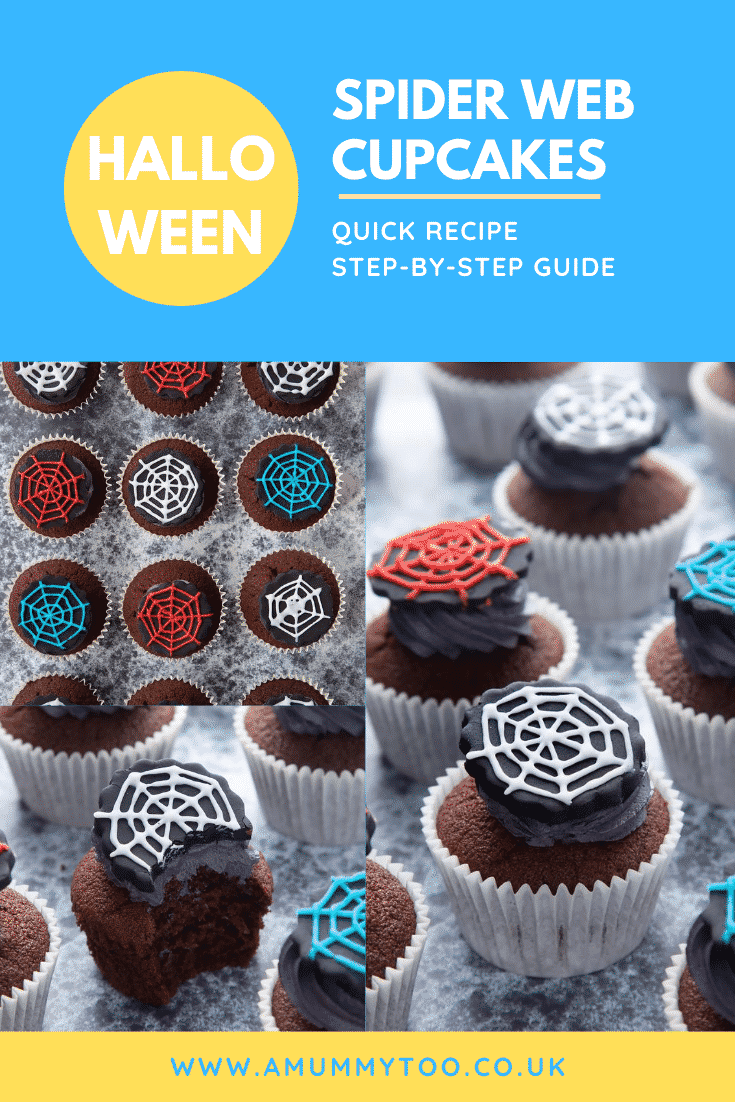 More spooky Halloween recipes to try
If you enjoyed these spooky Halloween cupcakes, try these spooky ideas next!
Get Your Kids to Eat Anything
My debut cookbook, Get Your Kids To Eat Anything is available now from all good bookshops!
It's so much more than a cookbook, it's a 5-Phase programme designed to take you through a meaningful, simple and sustainable journey to end fussy eating.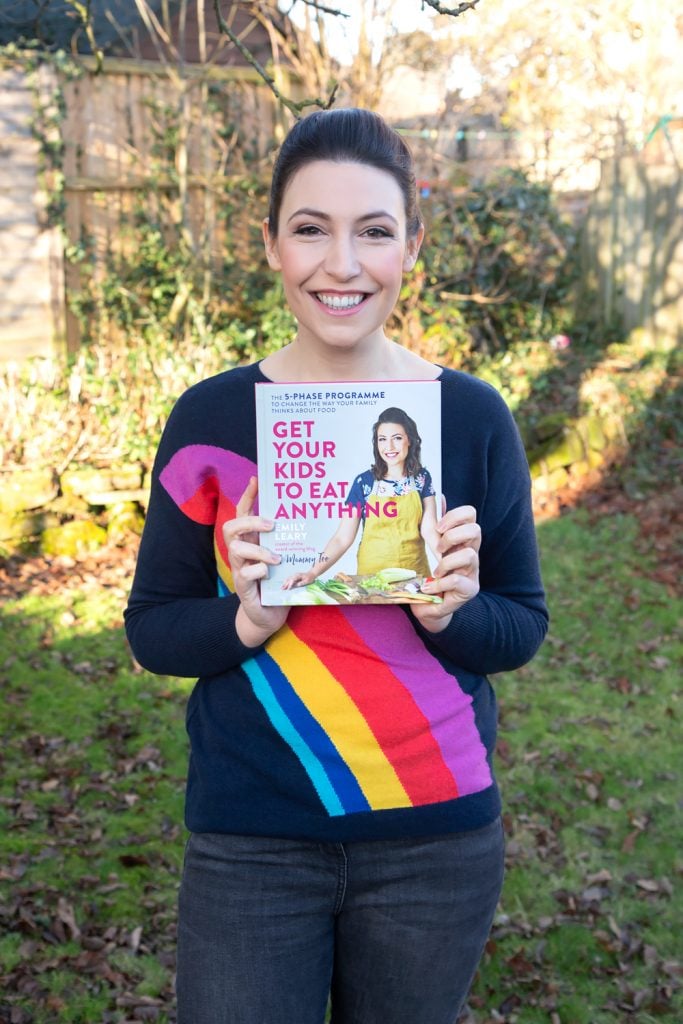 Since its release in March 2019, Get Your Kids To Eat Anything has been changing mealtimes in households across the country and has become an Amazon #1 best-seller.