Oozily delicious chocolate cupcakes filled with green caramel. These slime cupcakes are a sweet, satisfying and deliciously spooky treat!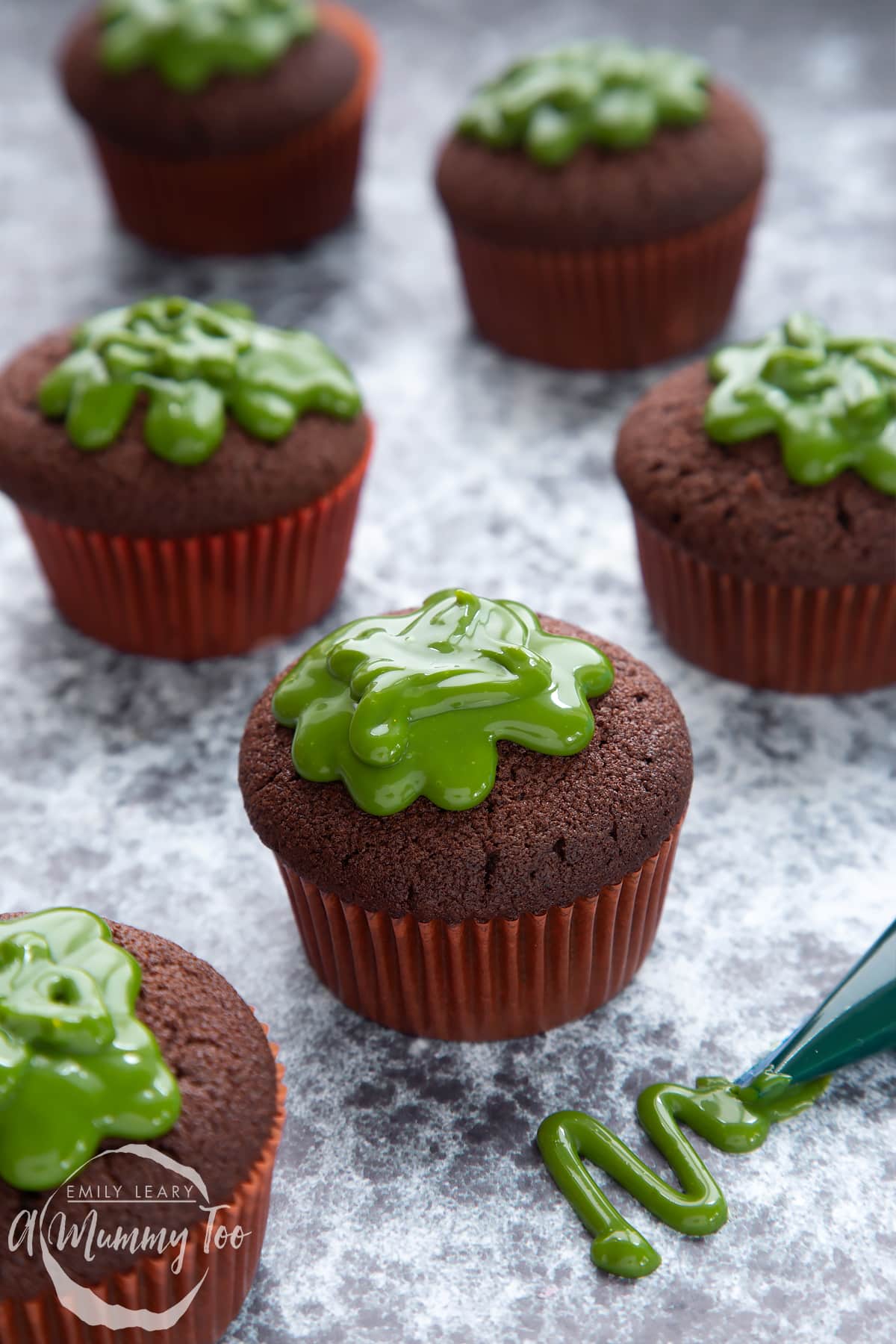 Halloween is so much fun. Every year we try to come up with creative new ways to celebrate.
These slime cupcakes are not only suitably creepy, they're also SUPER tasty as they're made from one of our favourite flavour combinations: chocolate and salted caramel.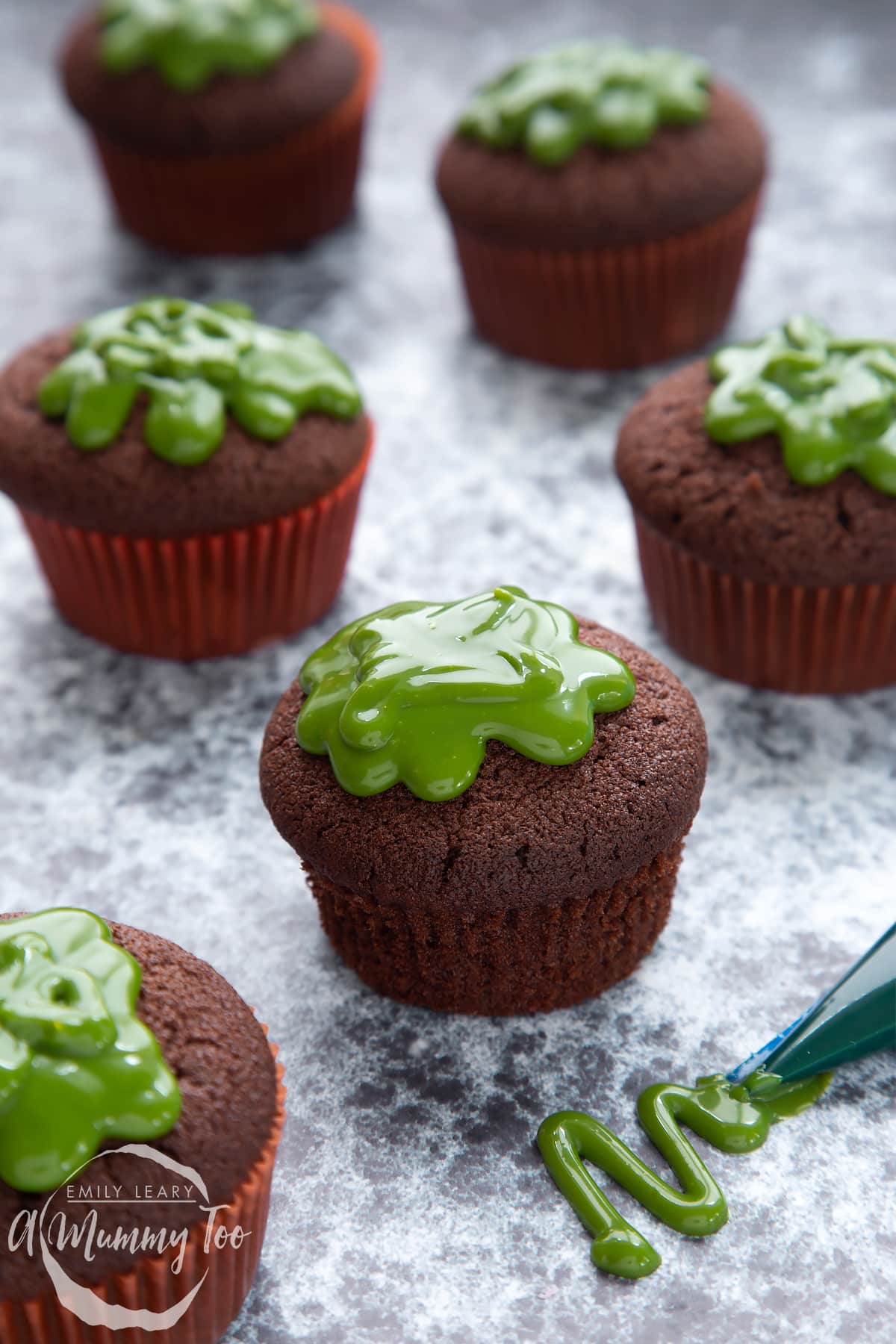 The caramel is piped right into the core of the cakes, so it oozes out when you take a bite. Yummy!
Here's how to make them.
Ingredients
Equipment
Instructions
Preheat the oven to 200C (180C fan).
Put the margarine, oil, caster sugar, milk, cocoa and eggs in a large mixing bowl.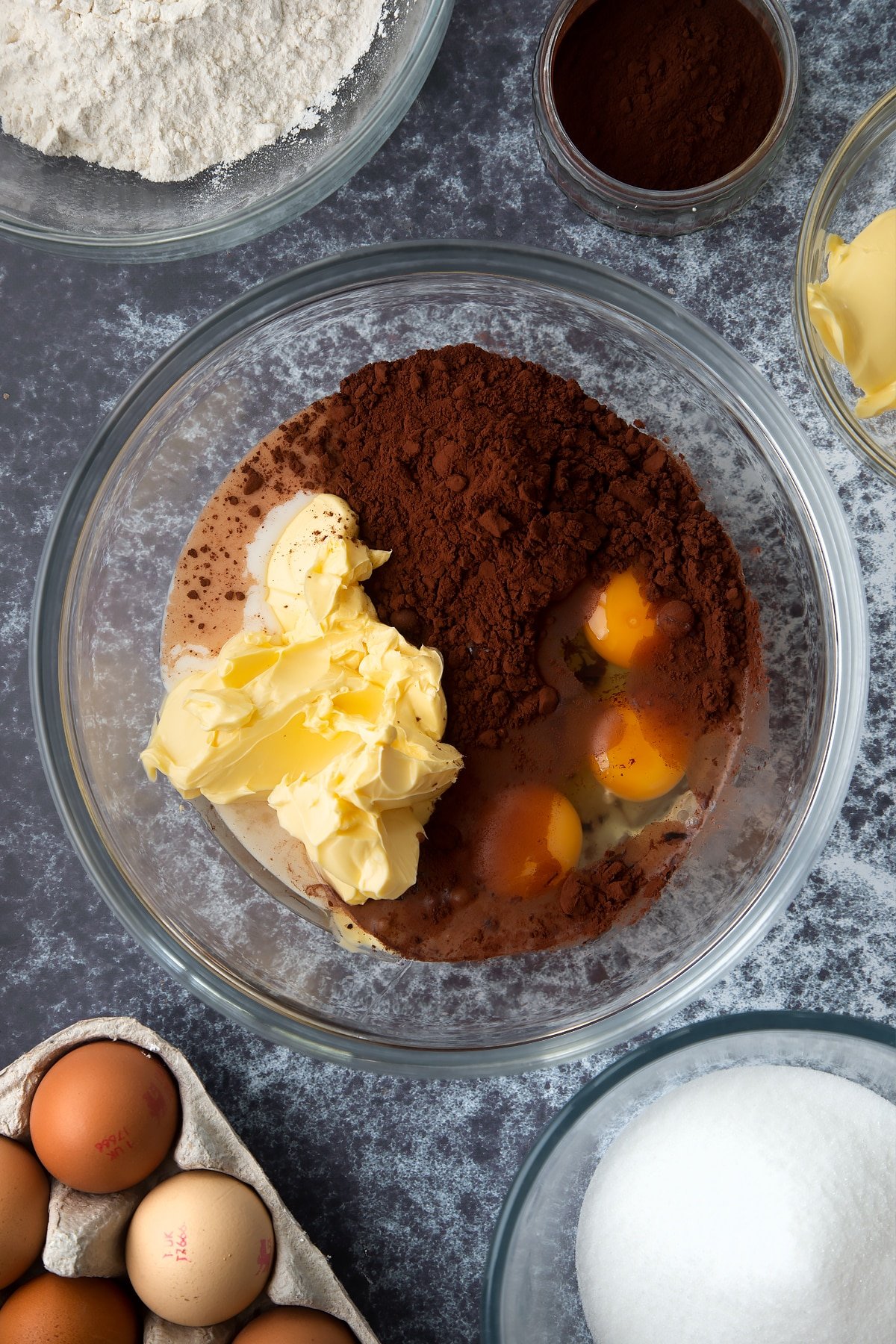 Add the self-raising flour.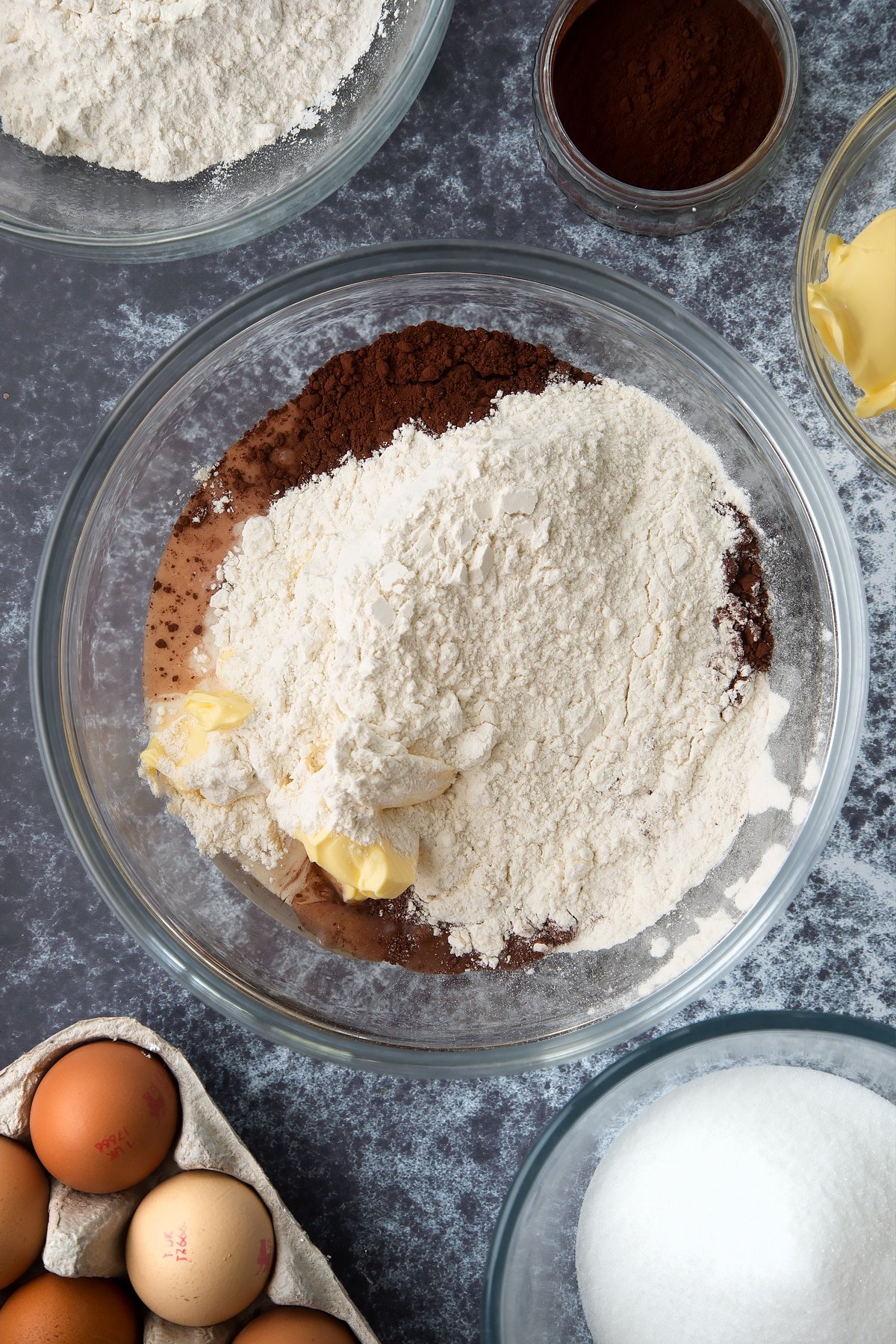 Whisk, starting slowly and then speeding up until you have a light, smooth batter.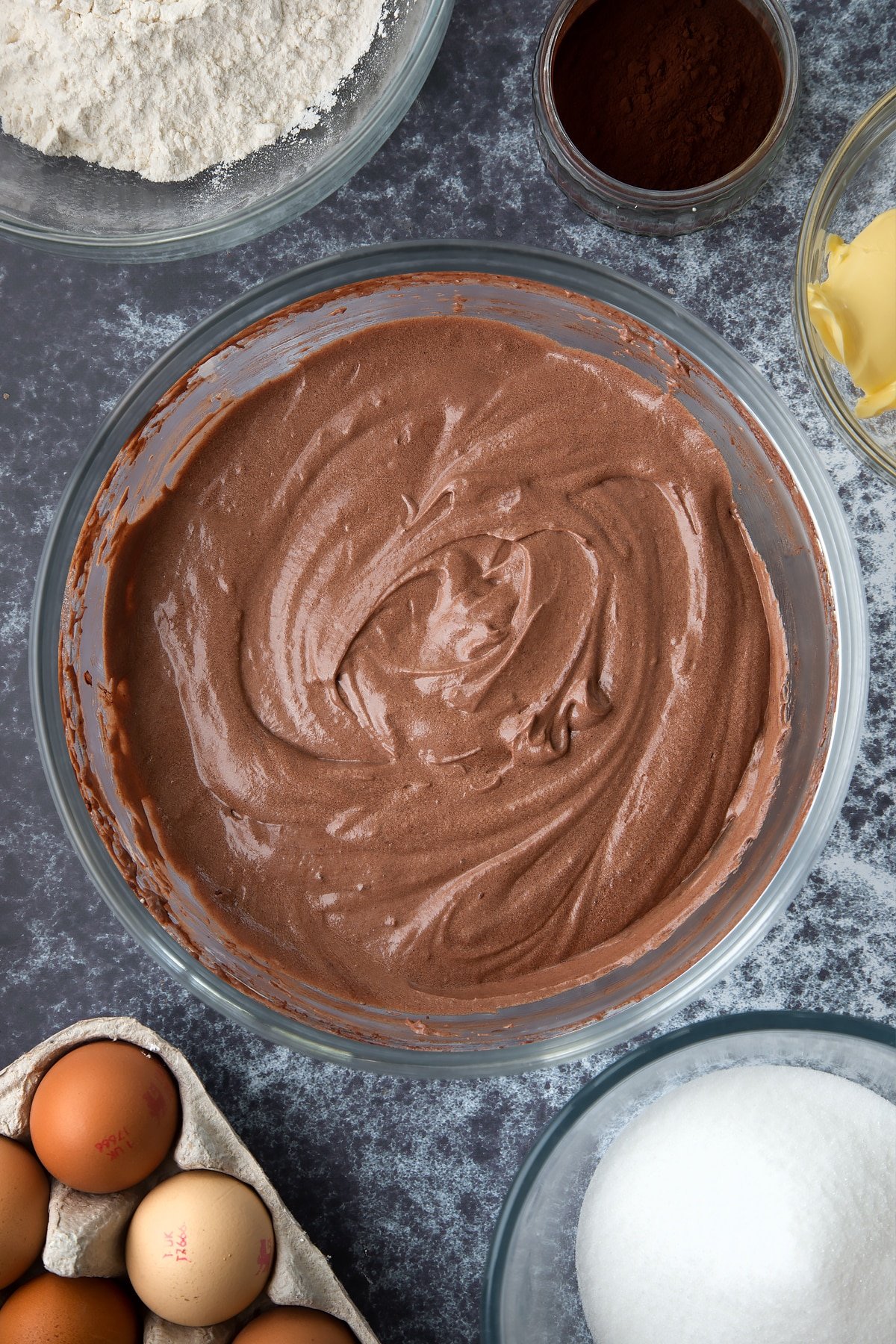 Line a 12-hole muffin tray with cupcake cases and spoon the batter evenly between them. I find the easiest way to do this is with a large ice cream scoop. Don't forget to level off.
Bake for 20-25 minutes until springy to the touch. If you take them out too soon, they'll sink.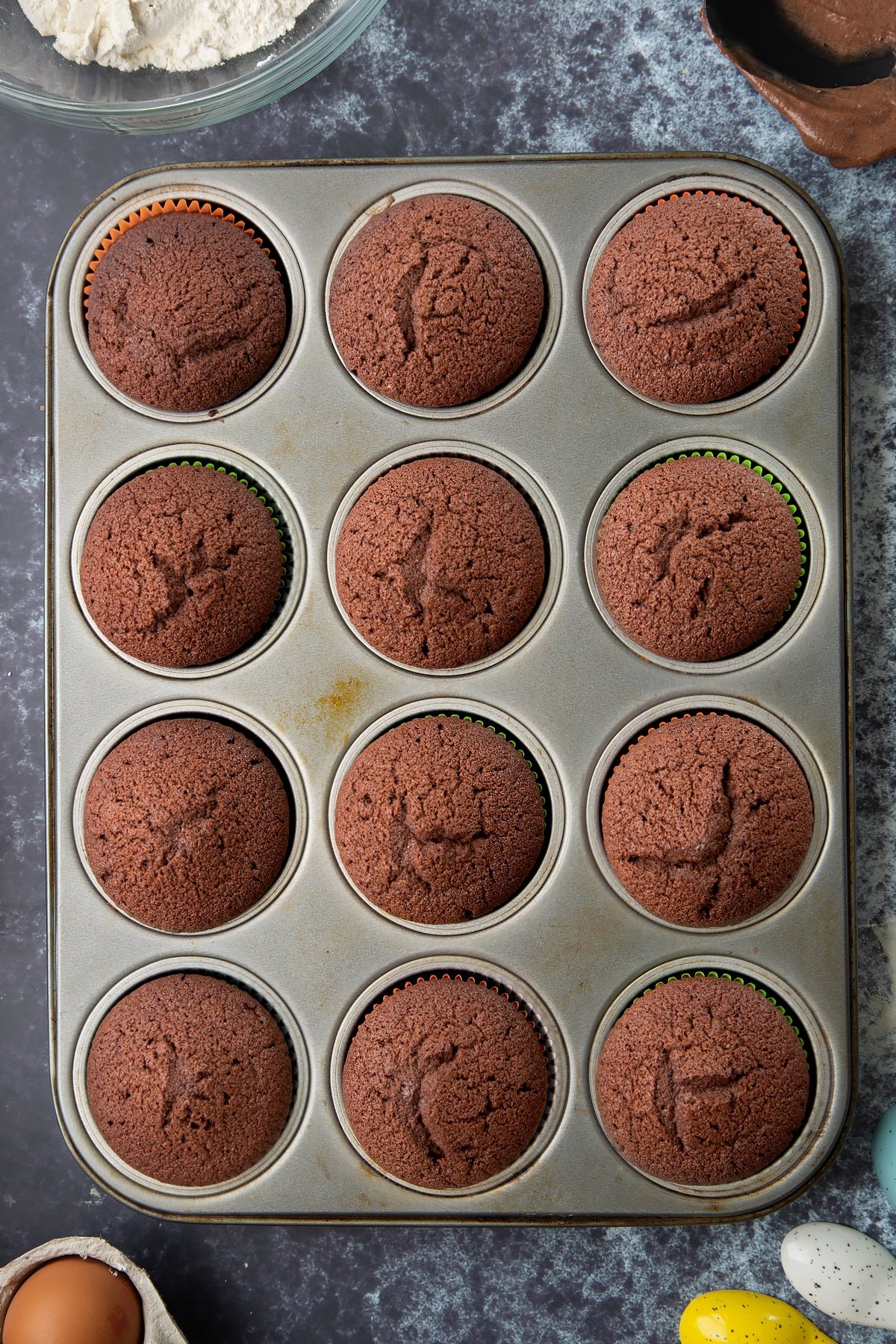 Transfer the cakes to a wire cooling rack and allow to cool completely.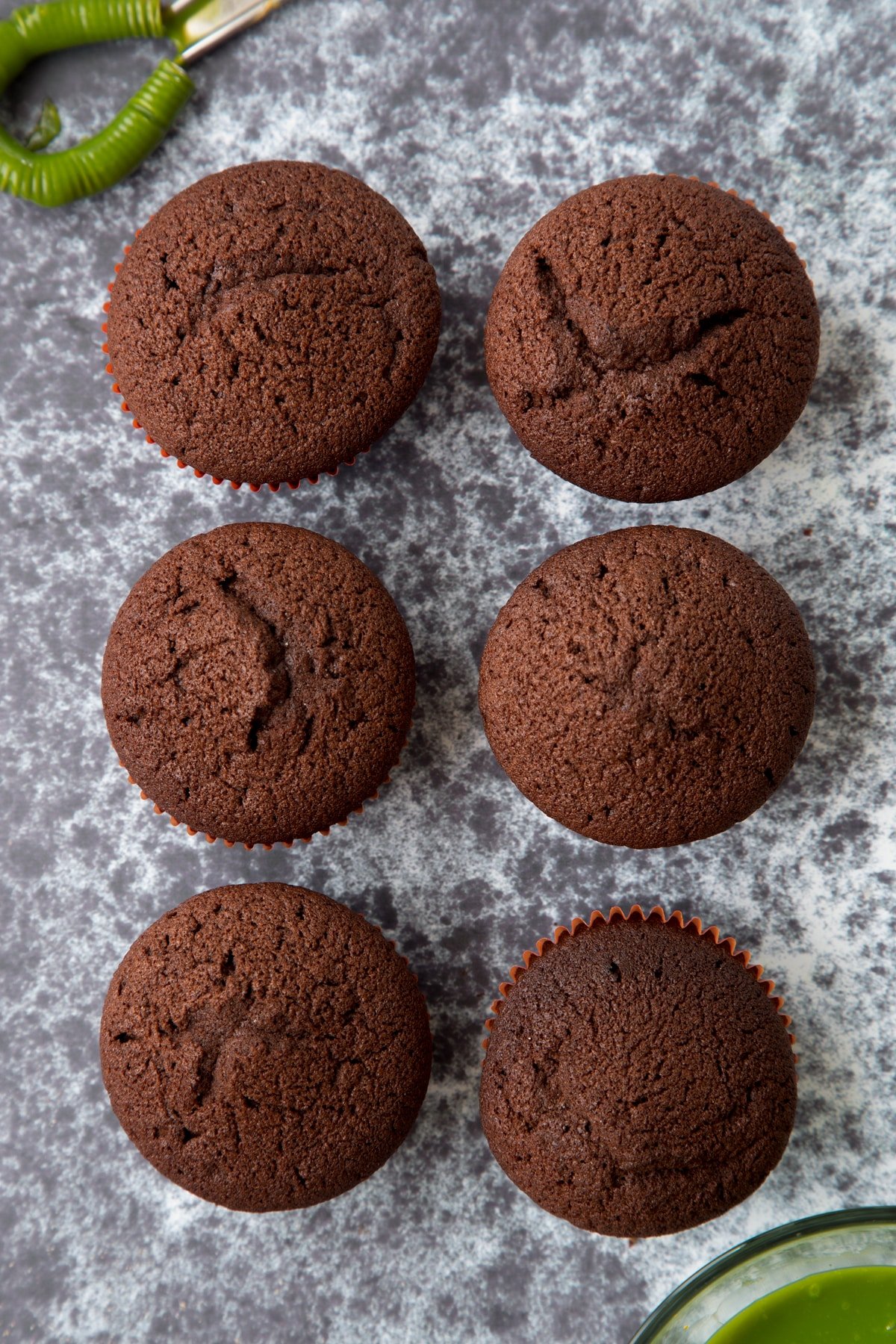 Put the caramel into a bowl.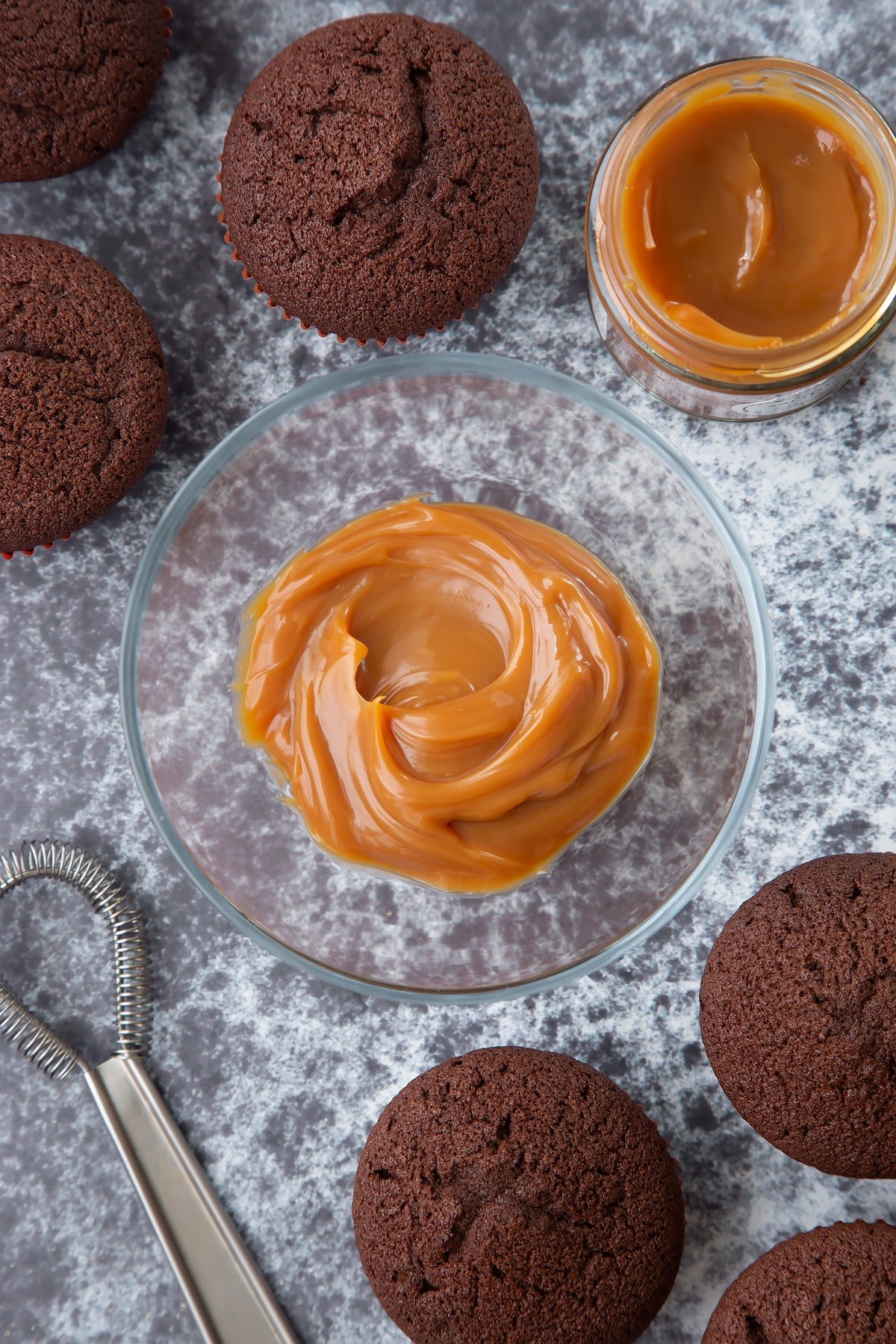 Add the green food colouring. You may need more or less depending on how concentrated your colouring it.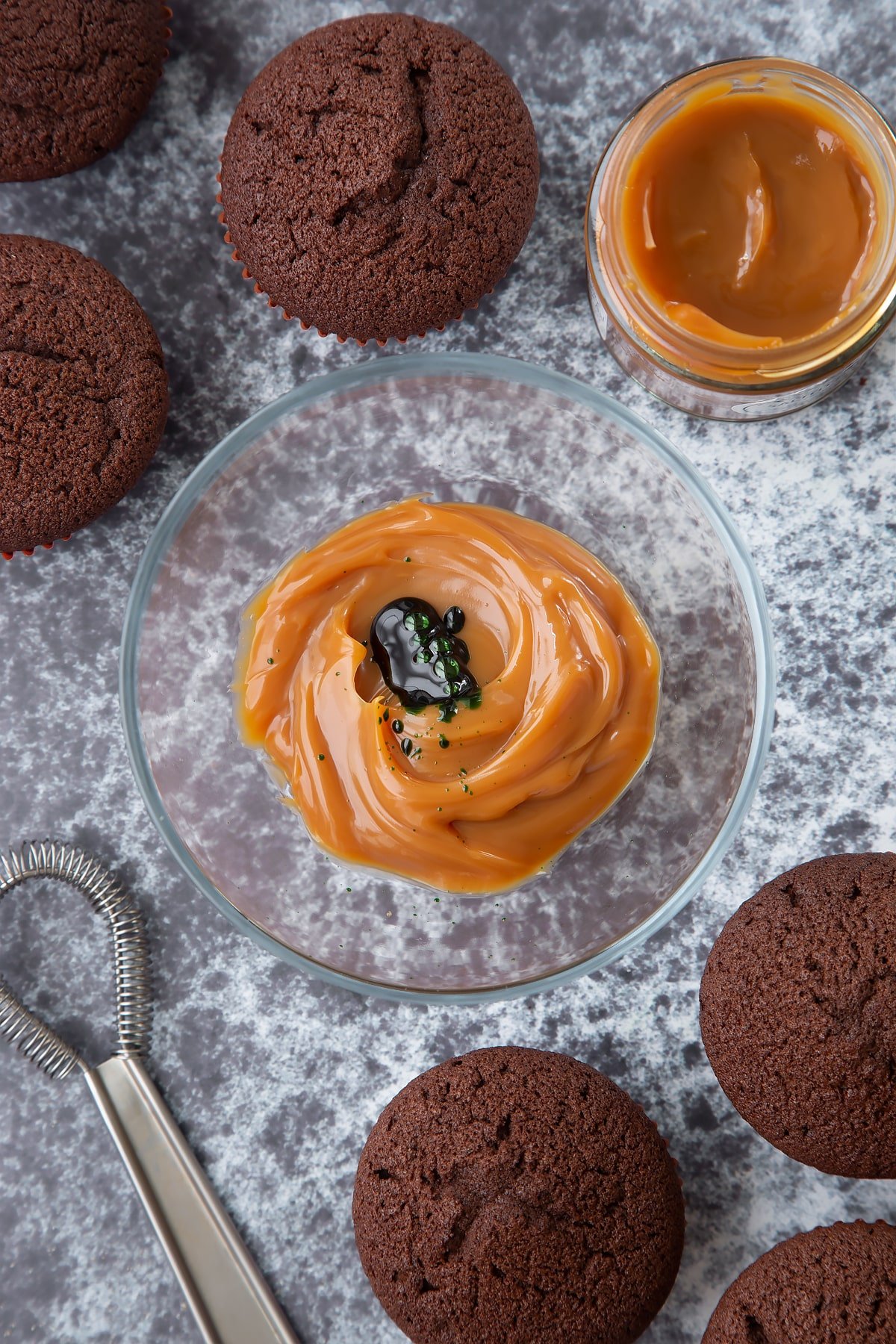 Mix until you have a nicely spooky green colour.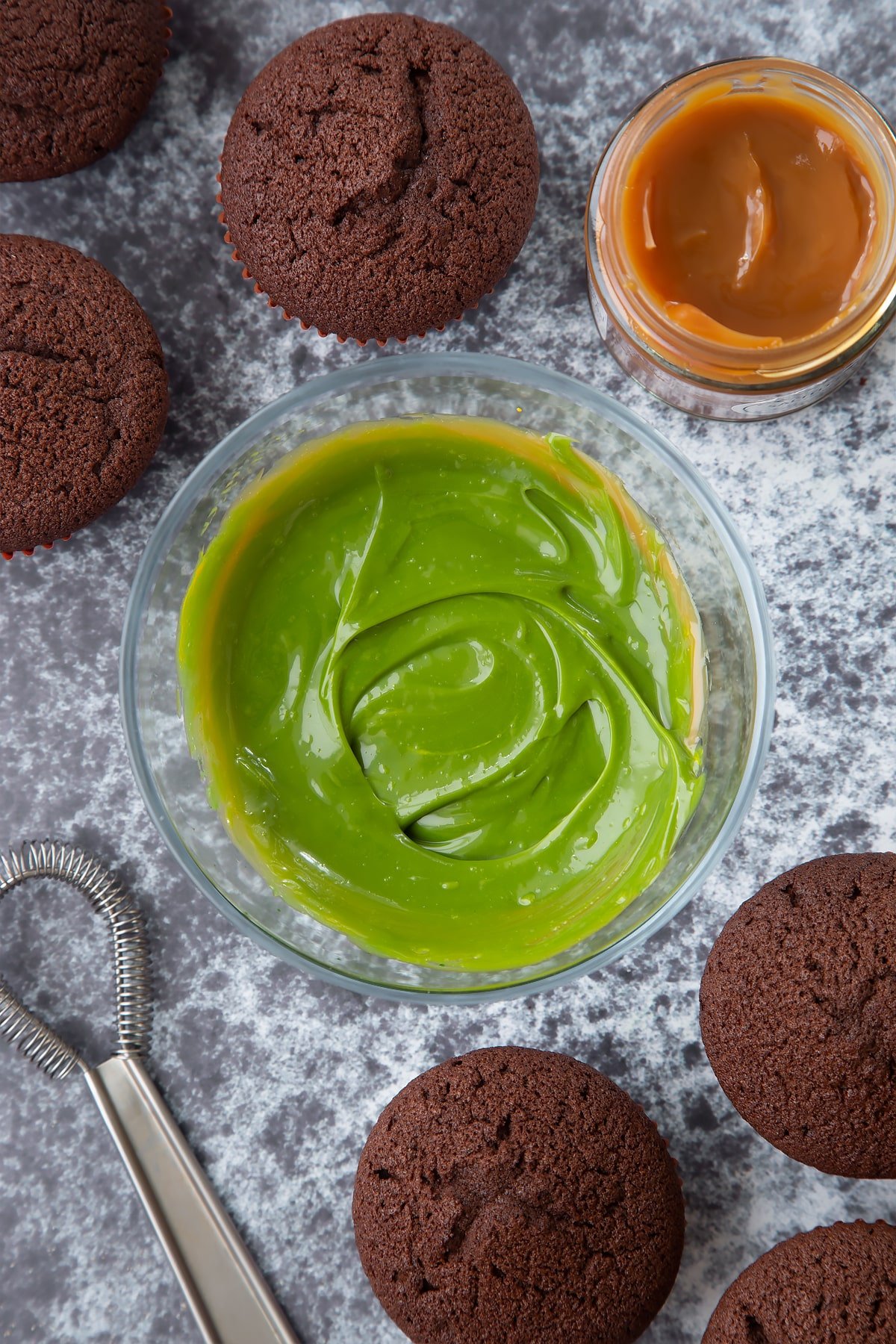 Use an apple corer to make holes in the cakes to about half way down. You can eat the offcuts!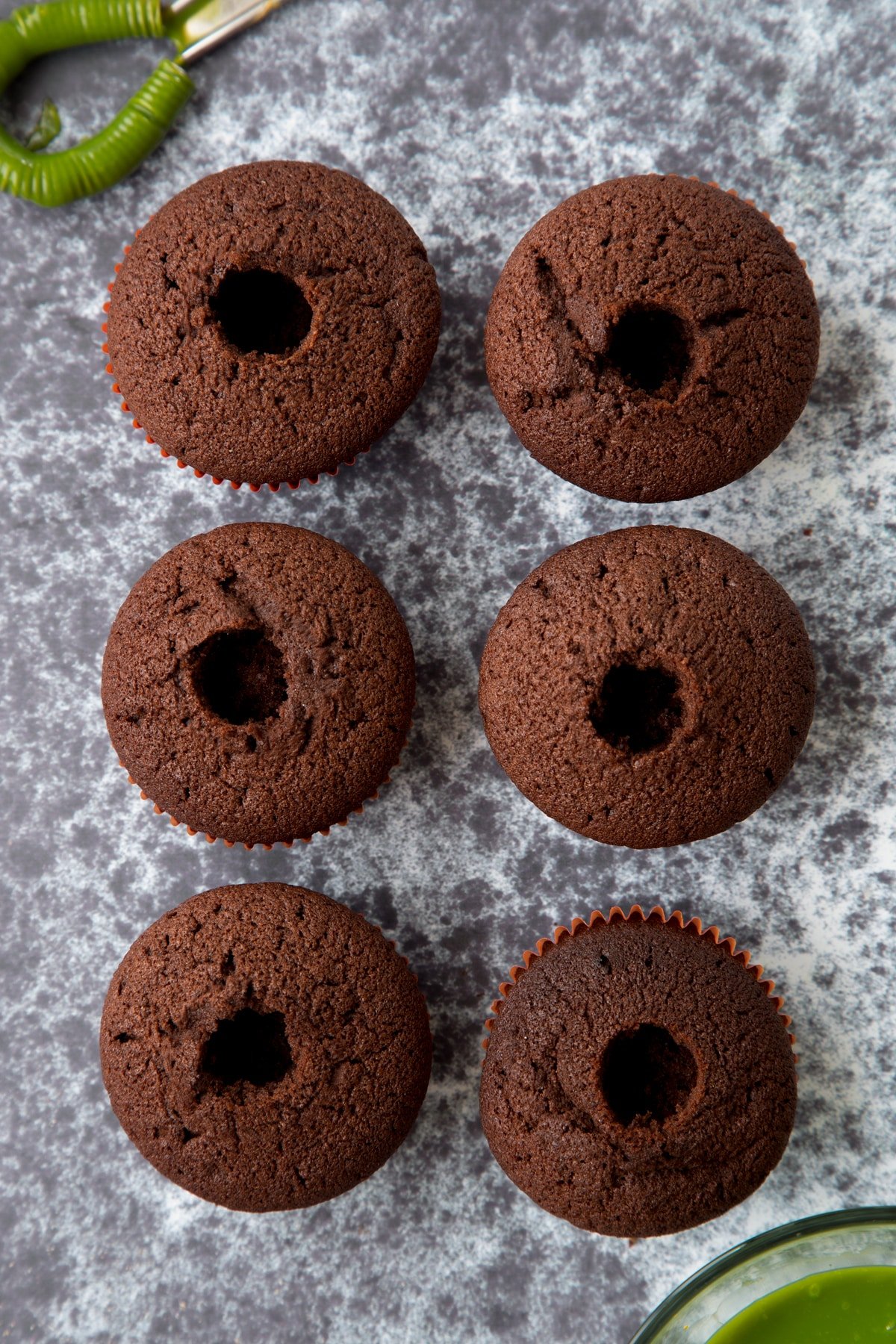 Fill the holes with the caramel, with more caramel spilling on top of the cakes.
You can do this by transferring the slime to a piping bag and piping it into the cakes as I did, or you can simply use a spoon.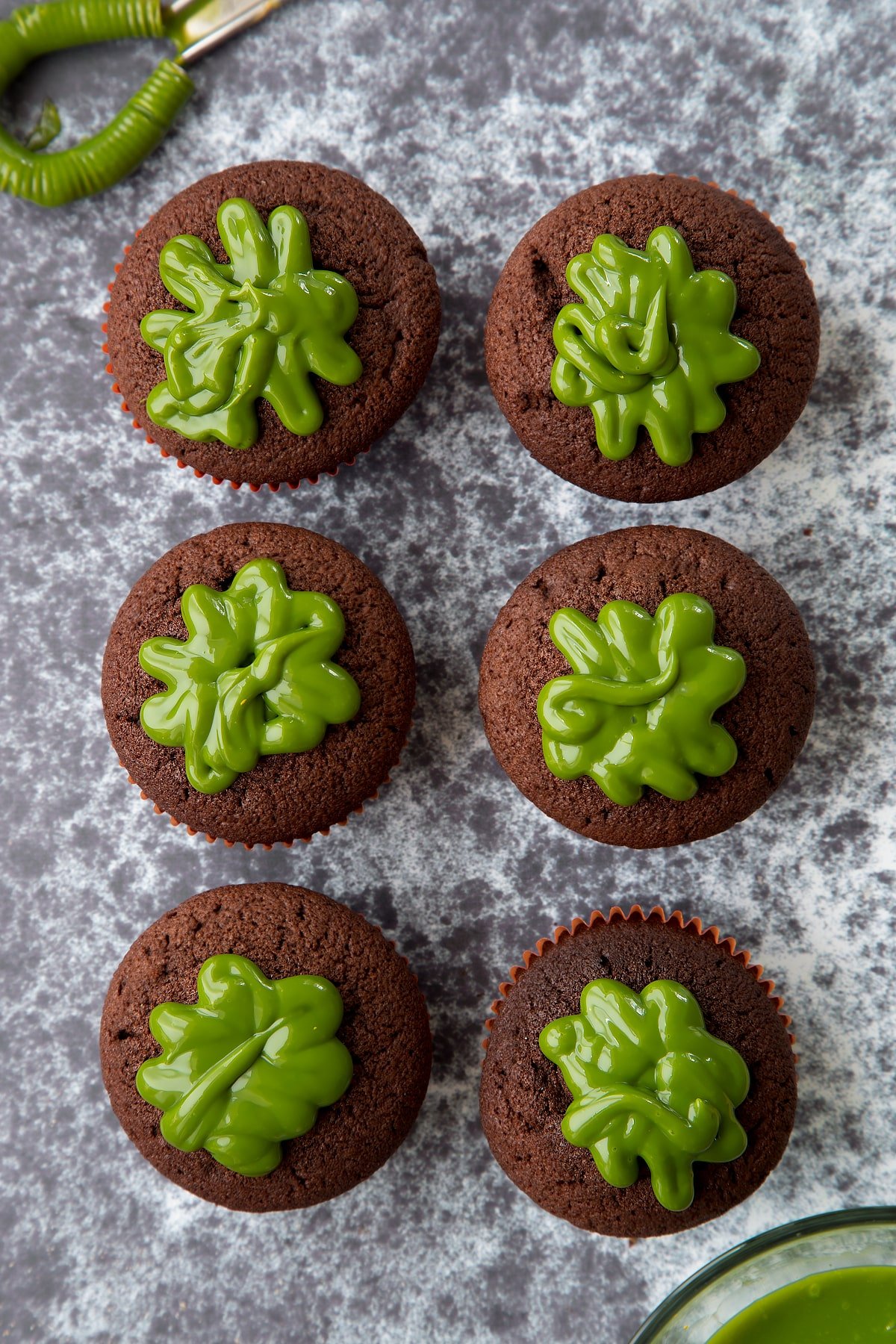 Your cupcakes are now ready to enjoy!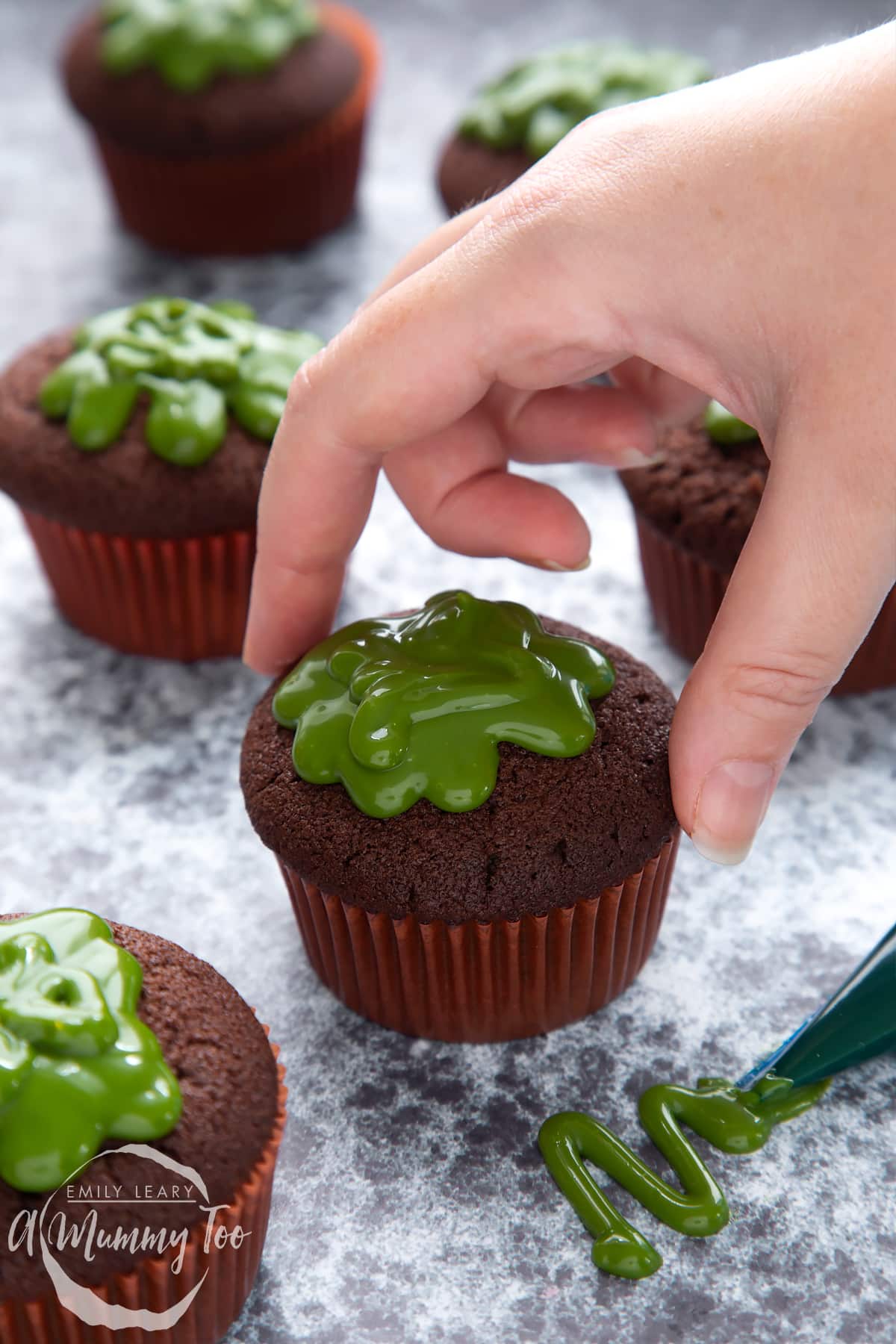 Pointers, tricks and troubleshooting tips for the perfect slime cupcakes
Are slime cupcakes easy to make?
These cakes are really easy to make. The sponge batter uses the all-in-one method, meaning you put all the ingredients in a bowl, whisk and you're ready to bake.
And the slime is simply dyed-green salted caramel, so you'll be enjoying fun slime cupcakes in no time.
Will I need any special equipment to make slime cupcakes?
You really don't need any special equipment to make these easy, fun slime cupcakes.
You can see a full list of the recommended equipment in the recipe card below, but as a minimum, you'll need: weighing scales and measuring spoons, a mixing bowl and whisk, a muffin tray and cases, an apple corer and a spoon.
Where can I buy salted caramel sauce?
I've been able to pick up salted caramel from pretty much every supermarket I've visited or ordered from. It might be described as salted caramel sauce or salted caramel spread. Either will work.
If you can't find any salted caramel try searching for dulce de leche, which is caramel without the salt. Carnation also do cans of caramel now, which are just like if you boiled a can of condensed milk at home.
I haven't got caramel, can I use something else?
If don't like or can't get hold of any sort of caramel, then lemon curd is a great substitute in this recipe, just make sure it's a thick brand as thin curd may soak into the sponge.
Do I have to use gel food colouring? Will liquid colour work?
I always recommend using gel food colouring for multiple reasons.
It's bake stable, so it will hold its vibrant colour even when cooked.
It's typically more concentrated, so you need less of it.
It helps avoid adding too much liquid to a recipe, which might otherwise be adversely affected.
It can colour things like melted chocolate without causing them to split.
In this recipe, you'll not going to be cooking the caramel, so you could use a liquid food colouring. Just make sure you start with thick caramel that can handle being watered down, and be aware that cheap, off-the-shelf liquid colours can be quite weak, so you may not get a vibrant result.
I haven't got green food colouring, what else can I use…?
You could use red food colouring and make sort of oozy, bloody-looking cupcakes instead. That could be pretty scary!
You could also just leave out the colouring entirely if you just fancy a yummy chocolate caramel cupcake and don't care so much about it looking festively frightening.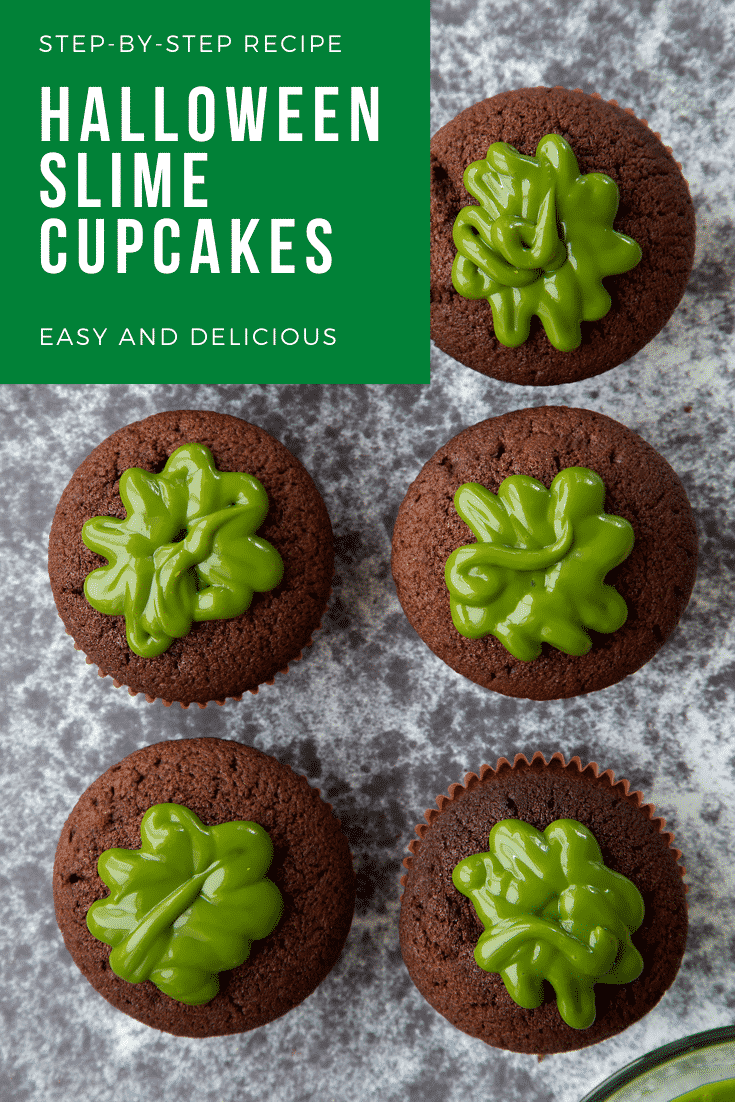 How come you mix all the ingredients for the chocolate sponges together in one go?
Typically, when making cakes, I'll cream the butter, sugar and vanilla (if using), then beat in the eggs, then fold in the flour, raising agents and cocoa (if using).
However, the chocolate cakes in this recipe use the all-in-one method because I've tested it many, many times and for this particular balance of ingredients, it works well. You get a lovely light, well-risen sponge with bags of flavour.
If you'd prefer to use the creaming method, this will work too!
Are slime cupcakes suitable for vegetarians?
This recipe doesn't contain any meat, poultry or fish and is totally suitable for vegetarians.
Are slime cupcakes suitable for vegans?
These cupcakes are not vegan as they contain milk, dairy margarine and eggs. There is also dairy in most store-bought caramel sauces.
If you want to try making a vegan version of this recipe, you'll need to replace the dairy elements with plant-based alternatives.
For the eggs, you could try one of these options
(each = 1 egg, so multiply as needed for any given recipe).
1 tablespoon of crushed chia seeds or flax seeds mixed with 2 tablespoons of water and left for 10 minutes in the fridge.
3 tablespoons of aquafaba (the water you get in a tin of chickpeas).
3 tablespoons of applesauce (bear in mind this will add sweetness).
Note: I have not tested all of these replacements with this particular recipe, so let me know how you get on.
Are slime cupcakes gluten-free?
These cupcakes are not gluten-free, but you could try switching the wheat flour for a gluten-free alternative. I have tested doing so with this particular recipe, but I always recommend using a good quality brand, which will usually be made from a blend of different flours such as rice flour, and oat flour, raising agents, of course, and usually a binding agent such as xanthan gum.
If making this cake for somebody who needs to avoid gluten in their diet, then you should also check the label of all ingredients to make sure that they don't contain any traces of gluten.
Are slime cupcakes keto-friendly?
These cupcakes are high in carbohydrates so definitely not keto-friendly.
Are slime cupcakes healthy?
These slime cupcakes contain lots of sugar, so are definitely to be enjoyed as a Halloween treat rather than an everyday option.
Is this recipe safe to eat while pregnant?
At the time of writing, NHS advice indicates that there is no need to avoid walnuts while pregnant, but you should always check the latest advice to make sure.
There is nothing else in these Halloween cakes that should present a risk to pregnant people if the ingredients are in good condition and have been stored correctly, and the recipe is cooked hygienically and safely.
Egg safety varies from country to country and you should always seek country-specific advice. The NHS has a great resource that will help review the latest advice regarding foods that are safe to eat while pregnant in the UK.
However, this website does not offer not medical advice and you should always check with your health professional.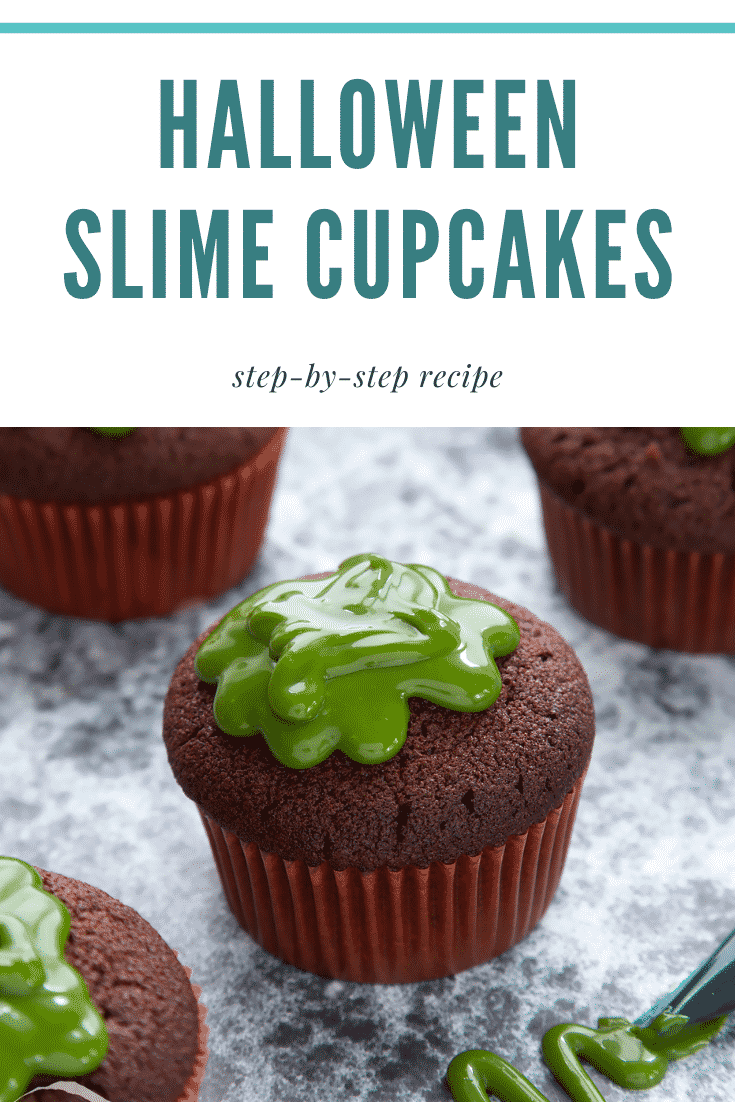 Is it suitable for babies and toddlers?
These cakes are a high-sugar treat. The NHS recommends avoiding giving sugar tto babies and young children.
This website does not offer medical advice: always consult your health professional if you have any concerns.
How should I store slime cupcakes?
Place the cupcakes in a sealed container in a single layer. Don't stack them as they will stick together.
You should place the container in a cool, dry place, such as a pantry, or in the refrigerator.
How long do slime cupcakes keep?
Stored correctly, your slime cupcakes should keep for at least three days. However, they're at their best when enjoyed within 24 hours of making.
Can I leave slime cupcakes out on the counter?
It's best to store your cupcakes in a sealed container somewhere cool.
Left out on the counter they may go stale quickly and won't be protected from ants / flies who may be attracted to the caramel.
Can I make slime cupcakes ahead?
If you need to make these cakes ahead, you could bake the chocolate cupcakes, allow them to cool completely on a wire cooling rack, then pop them in a sealed container somewhere cool overnight.
The next day, you could then core them and fill them with the caramel slime.
Can I keep slime cupcakes in the refrigerator?
Yes, you can store your cupcakes in the refrigerator, if you prefer. Make sure they're in a sealed container so that they don't take on other flavours from the fridge.
Can I freeze slime cupcakes?
Yes, you can freeze these cupcakes.
Place the cupcakes in a sealed container in a single layer (don't stack them as they will stick together) and place in the refrigerator. Once nice and cold, transfer to the freezer.
I prefer to use this method rather than putting the cakes straight in the freezer and it help avoid shocking the caramel which can cause it to crystallise.
They should keep for up to three months in the freezer.
What is the best way to defrost slime cupcakes?
Defrost your cupcakes in a sealed container in the refrigerator.
Can I make this recipe in a different quantity?
You can indeed change this recipe to make more or fewer slime cupcakes
To do so, simply scroll down to the recipe card found at the bottom of this page and click or hover over the servings number. A slider will appear that you can use to adjust the serving number, which will also automatically adjust all the ingredient quantities you need.
Can I make this recipe in a different tin/tray?
You could make this recipe as a single cake in a greased and lined 30cm x 23cm (12" x 9") tray
I haven't testing timings for this but would estimate about 30-45 minutes.
Once cool, you could poke holes in the cake, going to about half-depth using the handle of a wooden spoon. You would then pour on the green caramel to create a sort of green slime poke cake.
Let me know if you try it.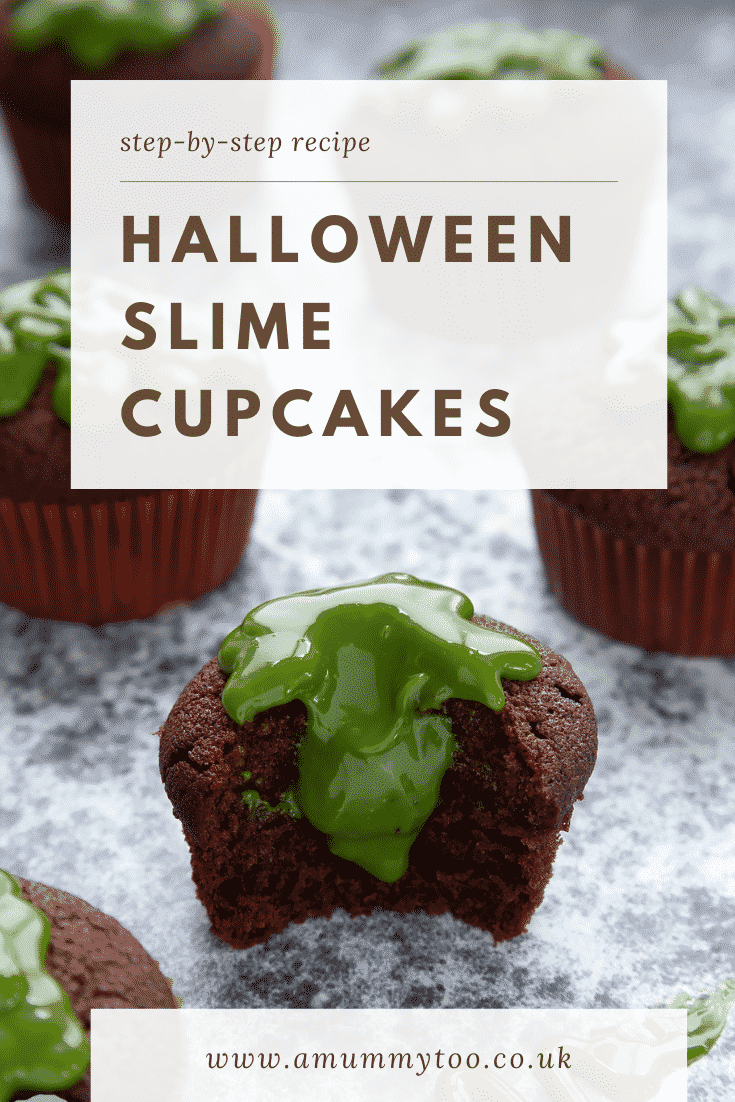 Can I make slime cupcakes in a stand mixer such as a KitchenAid or Kenwood Mixer?
As the cupcake batter recipe uses the all in one method, it's perfect to make in a stand mixer.
Just pop the margarine, oil, caster sugar, milk, cocoa, eggs and self raising flour into the mixer bowl, fit the whisk attachment and, starting slow, whisk until you have a smooth batter.
You might need to scrape the sides of the bowl down once or twice to ensure that all of the ingredients are evenly mixed.
How can I make sure my chocolate cupcakes are perfectly cooked?
Your cupcakes are cooked when they look dry across the top and feel firm and springy to the touch if you press gently on top.
If you're not sure if they're cooked inside, you can push a skewer into one of the cupcakes near the centre of the tray (since heat will reach them last). If the skewer comes out clean, the cupcakes are ready.
Why did my cupcakes turn out dry?
Dry cupcakes can have a number of causes.
It could be that something went wrong when measuring the ingredients - either too little milk/eggs/fat or too much flour/cocoa. To avoid this, I like to read the whole recipe and then weigh out all of the ingredients before I start baking.
Alternatively, it could be that the cakes baked for too long or the oven was too hot. No two ovens behave in exactly the same way, so do keep an eye on your bakes and use the tips above to judge when your cupcakes are ready.
Why are my cupcakes raw in the middle?
If your cupcakes are still raw, they didn't bake for long enough. This can happen because. the oven was too cold, meaning they needed longer, or the oven was too hot, meaning they looked cooked on the outside when they were still raw in the middle.
Make sure to use the skewer test described above to test if your cakes are done, and consider investing in an oven thermometer so that you can see if your oven is running hotter or colder than the dial suggest.
Why didn't my cupcakes rise?
The raising agent in the self-raising flour should cause your cakes to rise. The eggs, too, help with structure and rise.
If your cakes stayed totally flat, it might be that:
You over-whipped the batter making the cakes dense
The raising agent in your flour has lost its effectiveness, meaning it didn't create air bubbles in your batter as it cooked
Your batter sat for took long before baking, meaning that most of the chemical reaction that causes air bubbles to be produced happened in the bowl rather than in the oven
The oven was too cold, meaning the raising reaction happened too slowly to have much effect.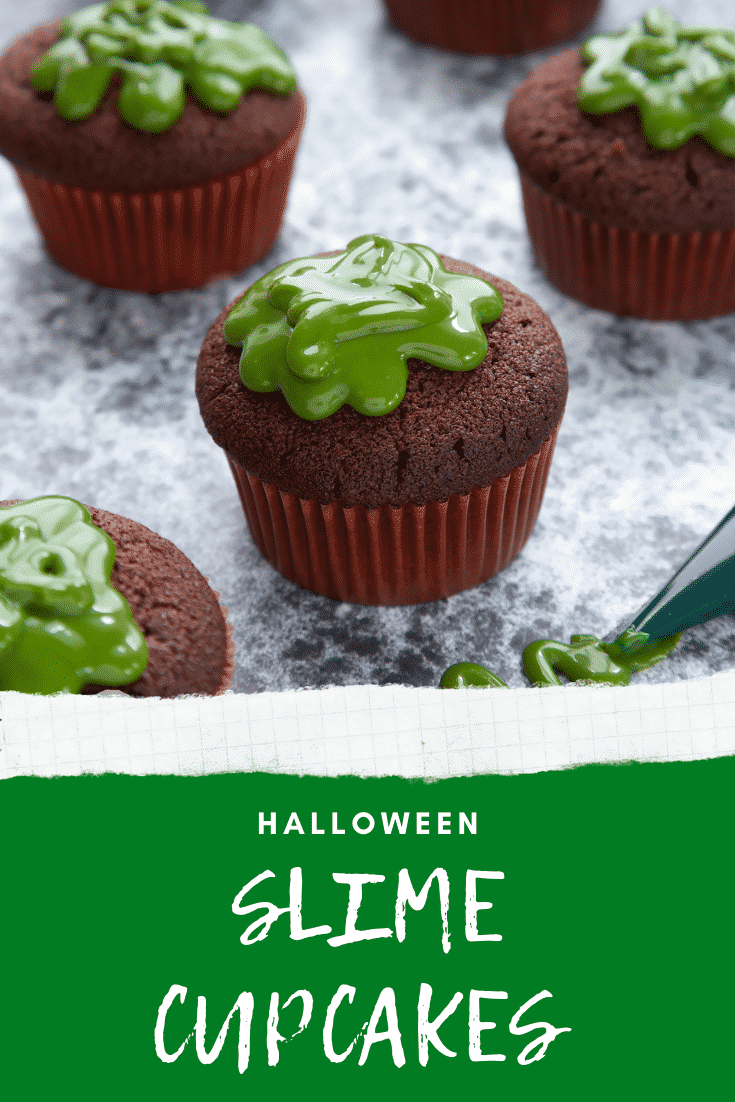 Why didn't my cupcakes sink in the middle?
Cupcakes that rise and fall again are usually the result of a too hot oven.
When the oven is too hot, the cakes can rise too fast on the outside before the centres are set enough capable of supporting the structure of delicate air bubbles, meaning you get a fast rise and a rapid collapse.
This can happen either during baking or after you remove the cakes from the oven. To avoid this, you need to make sure your oven isn't running too hot. Try investing in an oven thermometer.
If your oven temperature isn't the issue, it could be that too much raising agent was used, as this can cause air bubbles to be produced faster than the batter can cope with.
Why didn't my cupcakes overflow from their cases?
Overflowing cupcakes are usually a result of overfilling the cases.
Aim to leave at least 1cm (1/2 inch) from the top of the cases. Sizes do vary a bit, so you might not need every last bit of your cupcake batter. If you end up with spare, why not use it to make a quick mug cake in the microwave?
Alternatively, it could be that too much raising agent was added, or something else went wrong with the ingredient amounts. Try weighing everything out before you start to avoid mistakes.
Can I add/change the flavours in these cakes?
You could add extra flavour to both the sponge and caramle if you wish.
How about a teaspoon of instant coffee in the sponge to create caramel mocha cakes? Or some vanilla in the caramel could taste great!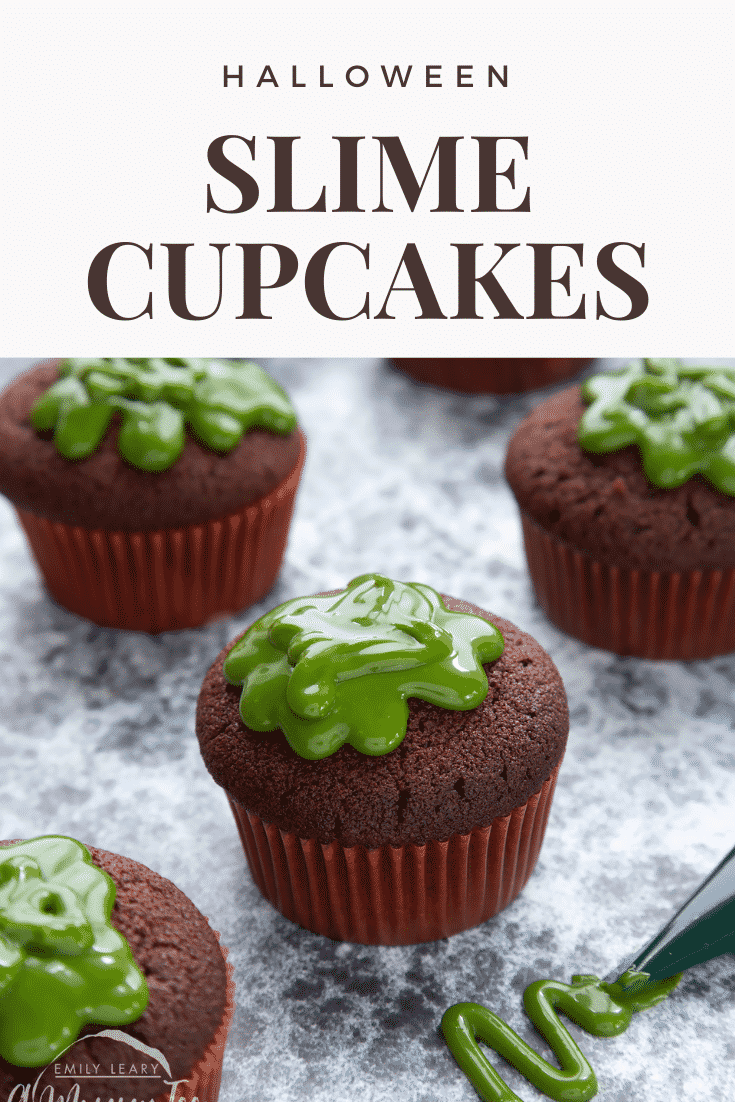 Why do we celebrate Halloween?
The word Halloween is a contraction of the phrase "All Hallows Eve", which falls on 31st October and refers to the day before All Hallows Day aka All Saints Day, which falls on 1st November.
However, while All Saints Day was designated a holy day in the eighth century by Pope Gregory III, many of the traditions of what we now know as Halloween date back much further.
Samhain, which also falls on 31st October, is a pagan religious festival celebrated by the ancient Celts thousands of years ago. In essence, it was believed that the date represented the transition from lighter to darker days and that, at that time, the divide between our world and that of the spirit world was at its thinnest. As such, many traditions developed to ward off evil spirits, including wearing masks and costumes, offering food and more.
Over time, some of these traditions were absorbed into the traditions of Halloween, eventually turning it into the festival of spookiness and spirits we know today.
Print this slime cupcakes recipe
Pin these slime cupcakes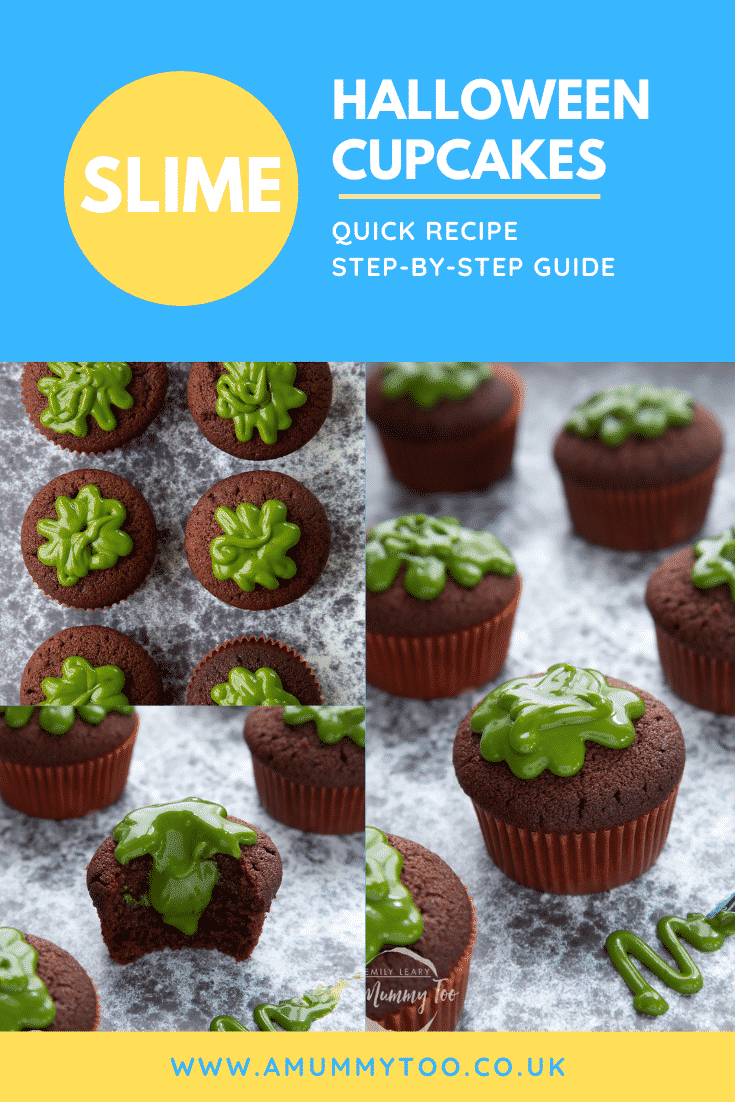 More Halloween recipes to try