We have three Halloween traditions in our household. We have a party (because it almost coincides with JD's birthday), we carve pumpkins (JD draws a pattern on and Mark cuts it out) and we make monster cakes that peer right back at you.
Here's how to make 12 of the little lookers…
Print Recipe
Spookily good monster crispy cakes (recipe)
Spooky, crispy little monster eyes that will get you in the perfect mood for Halloween.
Ingredients
200

g

7 oz marshmallows

30

g

1 oz butter

120

g

4 oz rice crispies

2

tsp

green natural food colouring

12

white chocolate Lindor

white chocolate truffles

A pack of icing pens

including black, green and red
Instructions
Prepare the eyes first by drawing a black circle with icing onto the top of each ball

Next draw round the black circle twice with the green pen

Using a very slightly wet finger (I keep a pot of warm water by me as I work) pat the icing down to smooth it

Finally, using the red pen, draw in some spooky detail from the middle outwards

Set them aside

In a saucepan, gently melt the butter, then add in the marshmallows, stirring continuously with a large metal spoon until completely melted

Keeping the pan over a very low heat, stir in the rice crispies and mix until completely coated

Now add the colouring but try to stop mixing before the colour has distributed completely evenly – it gives a spookier effect

Take off the heat

Line a muffin tray with fairy cake cases and when the mixture is just cool enough to handle, spoon it into the cases – you may have to use your hands as it gets sticky very quickly

Wash any mix off your hands and leaving them slightly damp, push down the mixture in each case so that it's packed firmly – you may have to rinse your hands a few times as you go

Before they set, push an eye into the centre of each cake so that it's set in by a couple of millimetres

Allow to set completely, then lift out of the tray and there you have it – 12 crispy little monsters!
* Note: nutritional information is estimated, based on publicly available data. Nutrient values may vary from those published. Cuisines identify the primary region of inspiration for a dish.
Tried this recipe?
Snap a pic and tag @amummytoo on Instagram, Twitter or Facebook. I can't wait to see your posts!
More Halloween recipes to try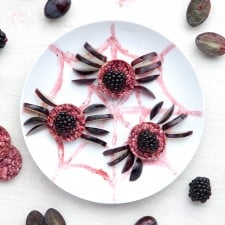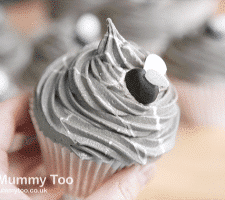 Get Your Kids to Eat Anything
My debut cookbook, Get Your Kids To Eat Anything is available now from all good bookshops!
It's so much more than a cookbook, it's a 5-Phase programme designed to take you through a meaningful, simple and sustainable journey to end fussy eating.


Since its release in March 2019 Get Your Kids To Eat Anything has been changing mealtimes in households across the country and has become an Amazon #1 best-seller.