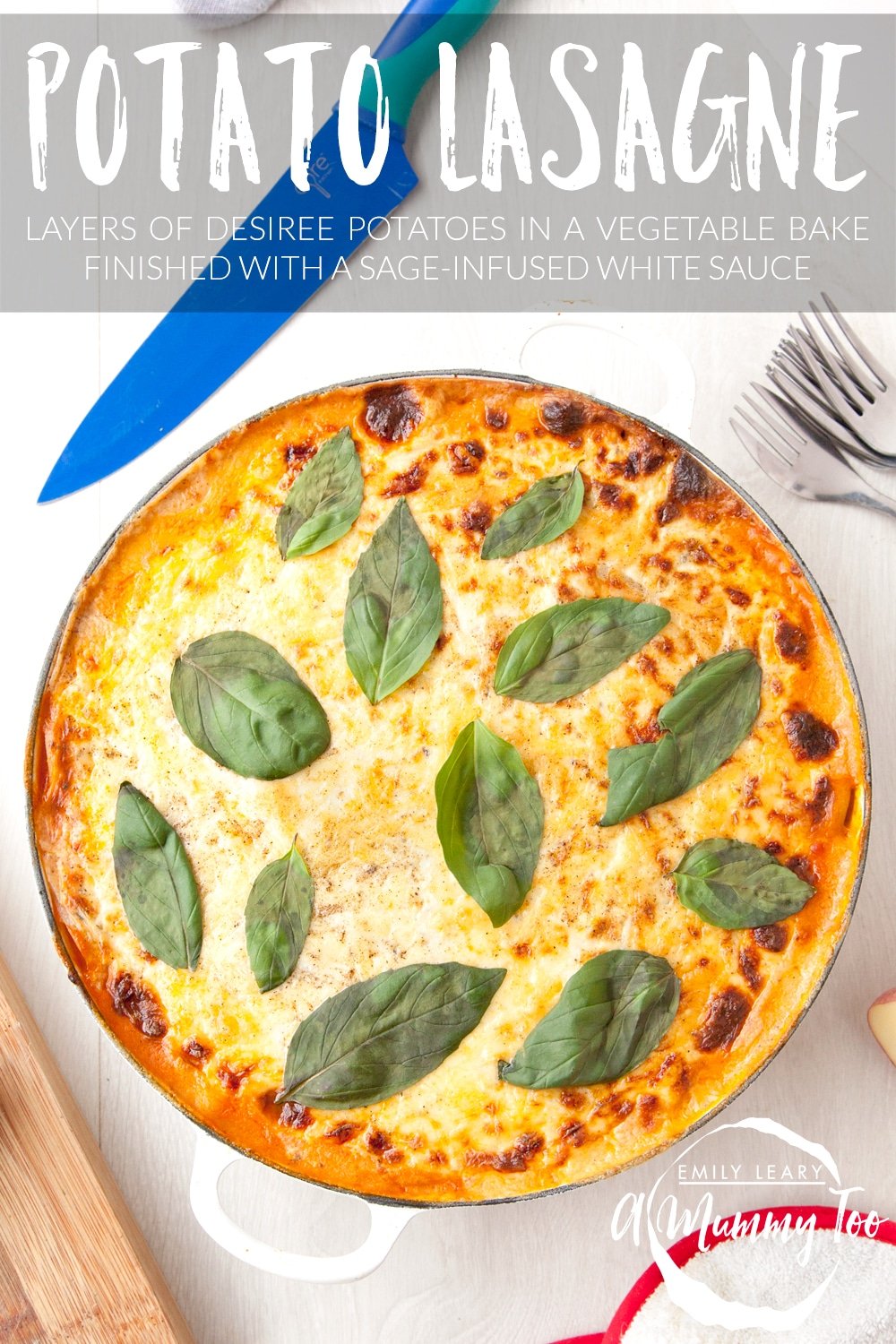 Bake them, mash them, chip them, fry them – we all love potatoes, but when's the last time you stepped right outside the box and got experimental with the humble spud? When's the last time you let potatoes take centre stage and really shine as the star of a fabulous family dish?
If those questions have left you scratching your head, then I'm here to implore you to change that tonight! Potatoes don't come processed or full of additives, they're 100% natural, salt-free, low fat, boast high nutritional content (such as potassium and fibre), are locally grown in the UK and Ireland, and offer a healthy and versatile source for everyday cooking.
A new campaign, Potatoes: More Than a Bit on the Side (see also potato.ie), is looking to raise the profile of this oft-overlooked veg, so I thought I'd get in on the act with this potato lasagne, which is a riff on the traditionally pasta-based dish.
It only takes about 30 minutes to prepare this yummy dish, then you can stick it in the fridge and bung it in the oven when you're ready for a delicious dinner, baked in 30 minutes. It's perfect for time-poor families who want to spend less time in the kitchen and more time relaxing with the ones they love.
Now when you look at that gorgeous, bubbly top and oozing white sauce, you might think this dish is laden with fat, but fear not!
Potatoes are naturally low fat, the tomato and vegetable sauce is prepared with just 15ml of oil, and it's all finished off with just a sprinkling of grated cheese, meaning a portion clocks in at around 380 calories and 12g fat.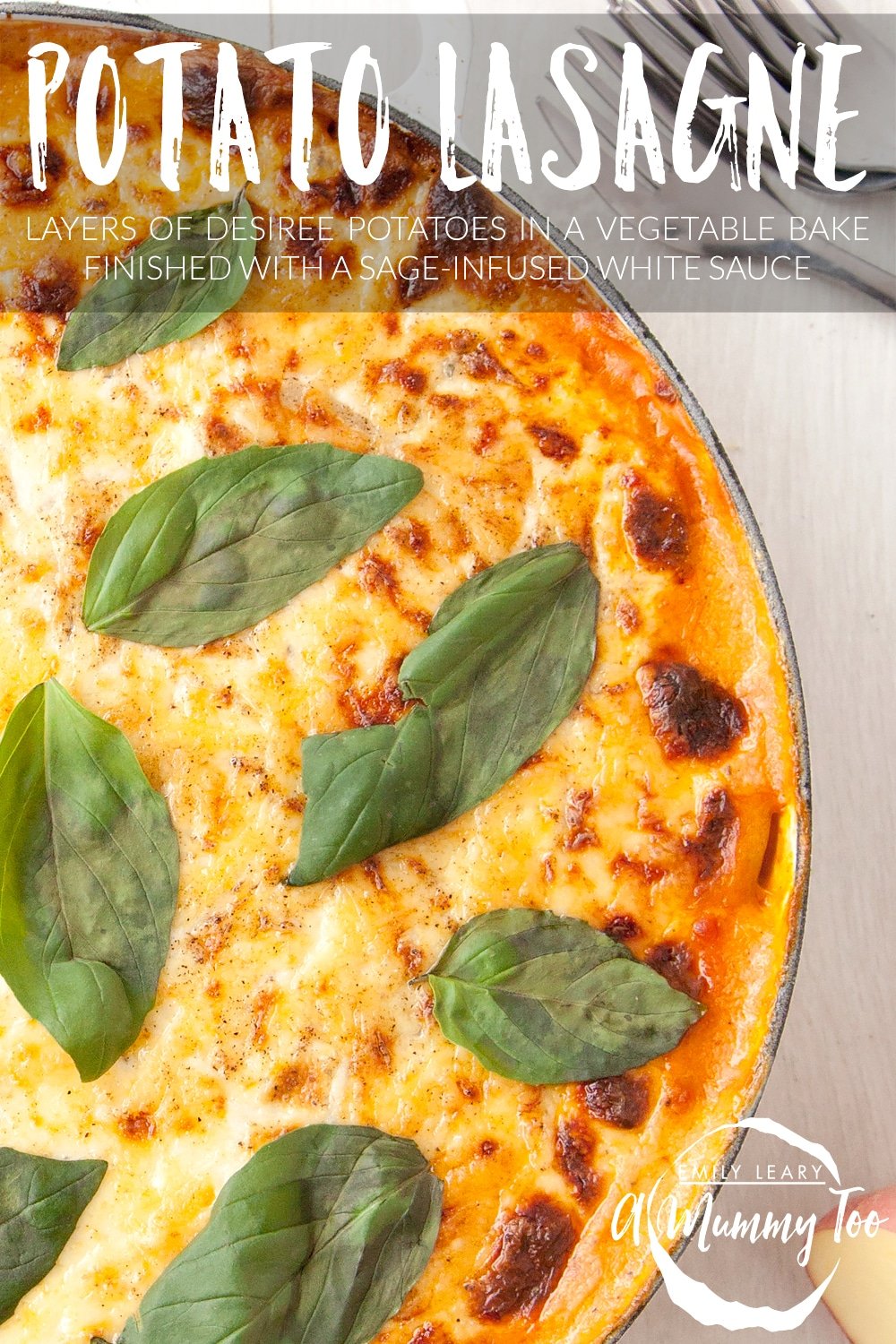 Hungry? Here's how to make it.
Print
Potato lasagne - vegetarian, pasta-free and delicious!
Yield 8
Layers of potatoes in a tomato vegetable bake, finished with sage-infused white sauce.
Ingredients
1 tbsp olive oil
2 cloves garlic, finely chopped
1 large brown onion, finely chopped
2 large courgettes, finely diced
2 peppers, deseeded and finely diced
3 tins of chopped tomatoes
20 leaves fresh basil
2 dried or fresh bay leaves
Salt and pepper
1 1/2 pints milk
5 tbsp plain flour (you can use gluten free flour, if preferred)
1 tbsp butter
2 tsp dried sage
2kg Desireé potatoes
100g mature cheese, grated
Instructions
Warm the oil in a large non-stick pan.
Add the onion and garlic and sweat over a medium heat until translucent.
Add the courgettes and fry for another minute, then add the peppers and fry until everything is soft.
Add the tomatoes then shred half of the basil and add to the pot with the bay leaves.
Bring up to a simmer, then leave bubbling away for about 20 minutes, stirring occasionally until it has reduced, then turn off the heat, season to taste and set aside.
Put the milk, flour and butter in a non-stick pan and whisk over a high heat until it begins to thicken. Add the sage with a good pinch of salt and pepper and keeping whisking gently until it's nice and thick. Take off the heat.
Peel the potatoes, cutting the larger ones in half, cover with freshly boiled water and boil on the stove for 3-5 minutes until just becoming tender.
Drain and leave until cook enough to handle, then cut into thin 2-3mm slices.
To assemble the lasagne, grease a large lasagne tray or casserole dish with a little spray oil. Spread a thin layer of the tomato sauce, then cover with a single, slightly overlapping layer of potato, followed by a layer of the white sauce, then another potato layer. Repeat until you finish with a white sauce topped layer.
Sprinkle the cheese on top of the lasagne, followed by a good dredge of pepper.
Place in the oven at 200C (180C) fan and bake for 30 minutes. Check half way and if the top is looking like it's browning too soon, just cover the dish with a hat of silver foil and return to the oven to finish baking.
Push a sharp knife into the centre of your lasagne to make sure the potatoes are cooked through, sprinkle with the remaining basil leaves, then you're ready to serve.
Courses Potato-based mains
Hopefully you're inspired to try this recipe, but also think about how else you could use potatoes to bring variety and convenience back to your family mealtimes.
Pin it for later NOW!
This is a commissioned post for the AHDB and Bord