Let's face it: mornings can be pretty hectic, and it can be easy to miss out on a decent and nutritious breakfast. So to help you out, here's a list of my favourite easy breakfast bar recipes.

Designed to be made ahead and packed with the good stuff, breakfast bars are a brilliantly convenient way to set you up with some energy to fuel your day, without spending lots of time in the kitchen.
I've rounded up a great selection of bars here, all guaranteed to get your morning off to a delicious start. I hope you find your new favourite breakfast bar recipe below!
And if you're feeling like mixing up your own idea for the perfect breakfast bar be sure to check out my tips below for getting the best flavour and texture!
Made with classic strawberry and toasty oats, these Strawberry Oatmeal Jam Bars sound like a perfect breakfast treat! They even have a buttery oat streusel topping for extra crunch and texture!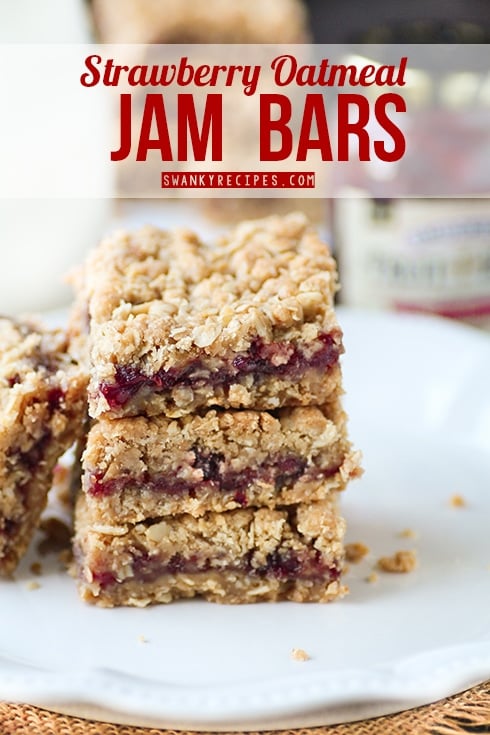 Packed full of flavour and texture, this berry, protein powder and coconut breakfast bar recipe is perfect if you need to up your protein! If you're vegan, swap the honey for maple syrup, and you've got an easy and delicious way to get your plant-based protein!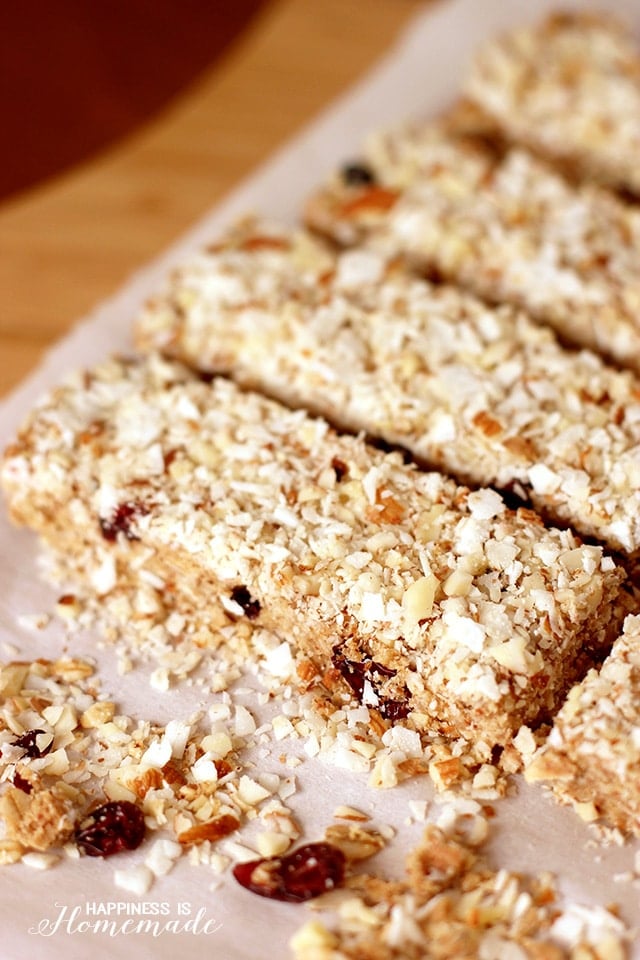 Chocolate-dipped granola bars are one of the best snacks on earth. They're full of flavour, have a moreish chewy texture and are packed full of fibre and other nutrients. So it's a shame they cost so much to grab on the go. Luckily, this Chocolate Dipped Granola breakfast bar recipe is an easy way to make your very own for less!
I might be biased, but I think my Pretty Cherry Oat Bars recipe is my favourite breakfast bar recipe. These fruity, oaty squares are crisp on top, chewy and rich underneath, with bursts of tangy cherries.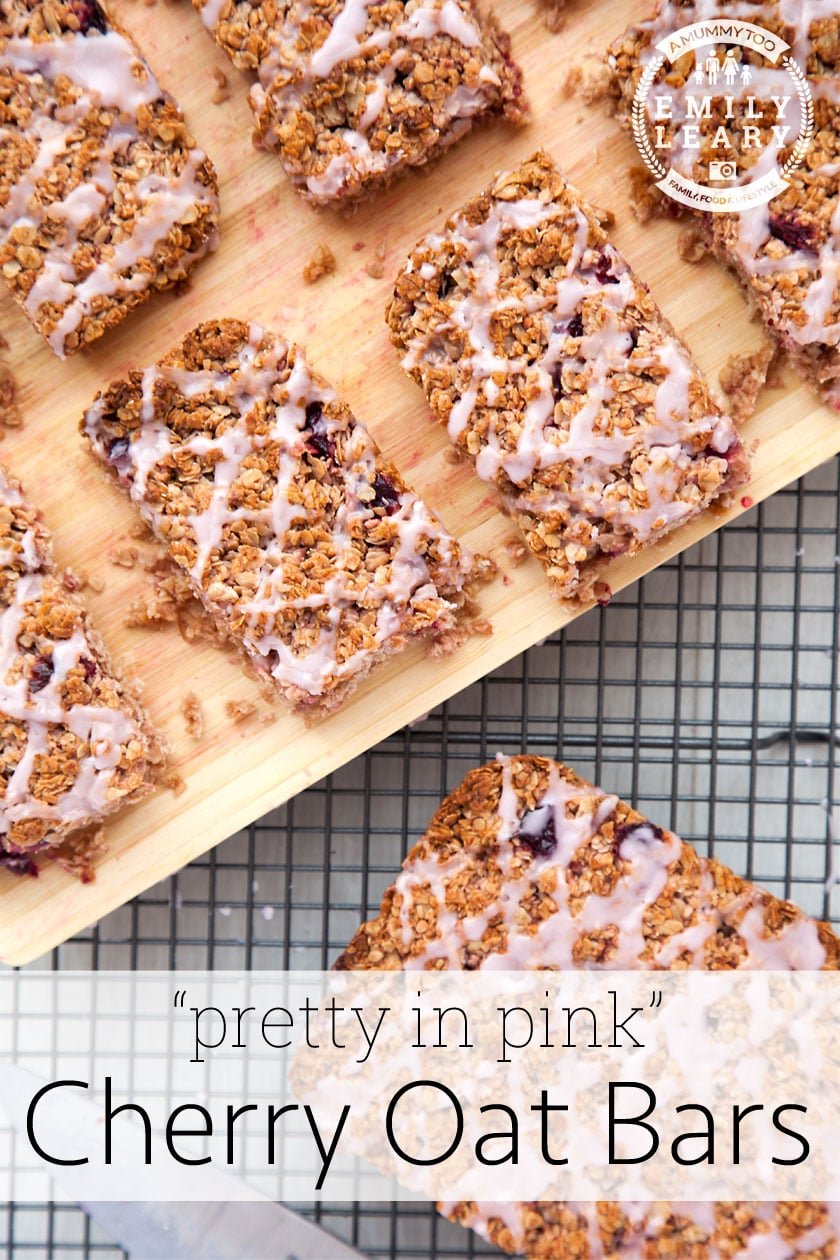 This one is for the Larabars fans or anyone trying to cut down on their gluten intake. With just a few simple ingredients, you can recreate your favourite energy bar for less using this Date and Nut breakfast bar recipe.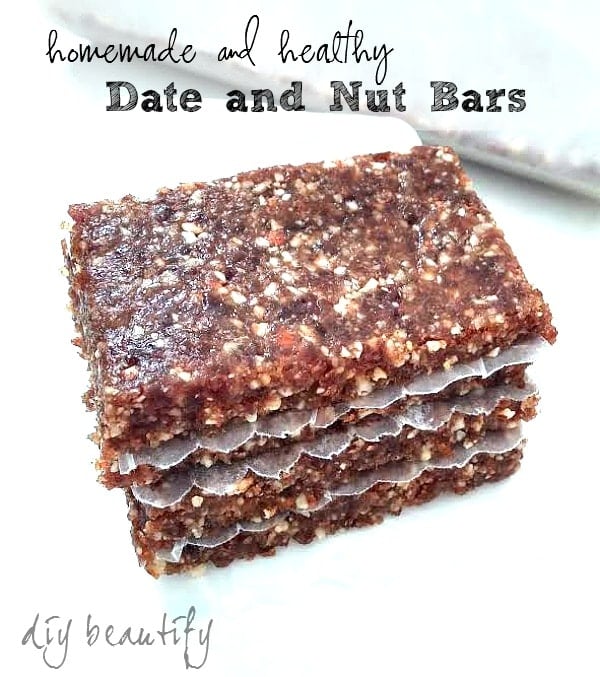 Pretzels for breakfast? Why not! Spoil your inner child and turn classic salty pretzels with this outrageously tasty Chewy Pretzel Peanut Butter Breakfast Bar recipe.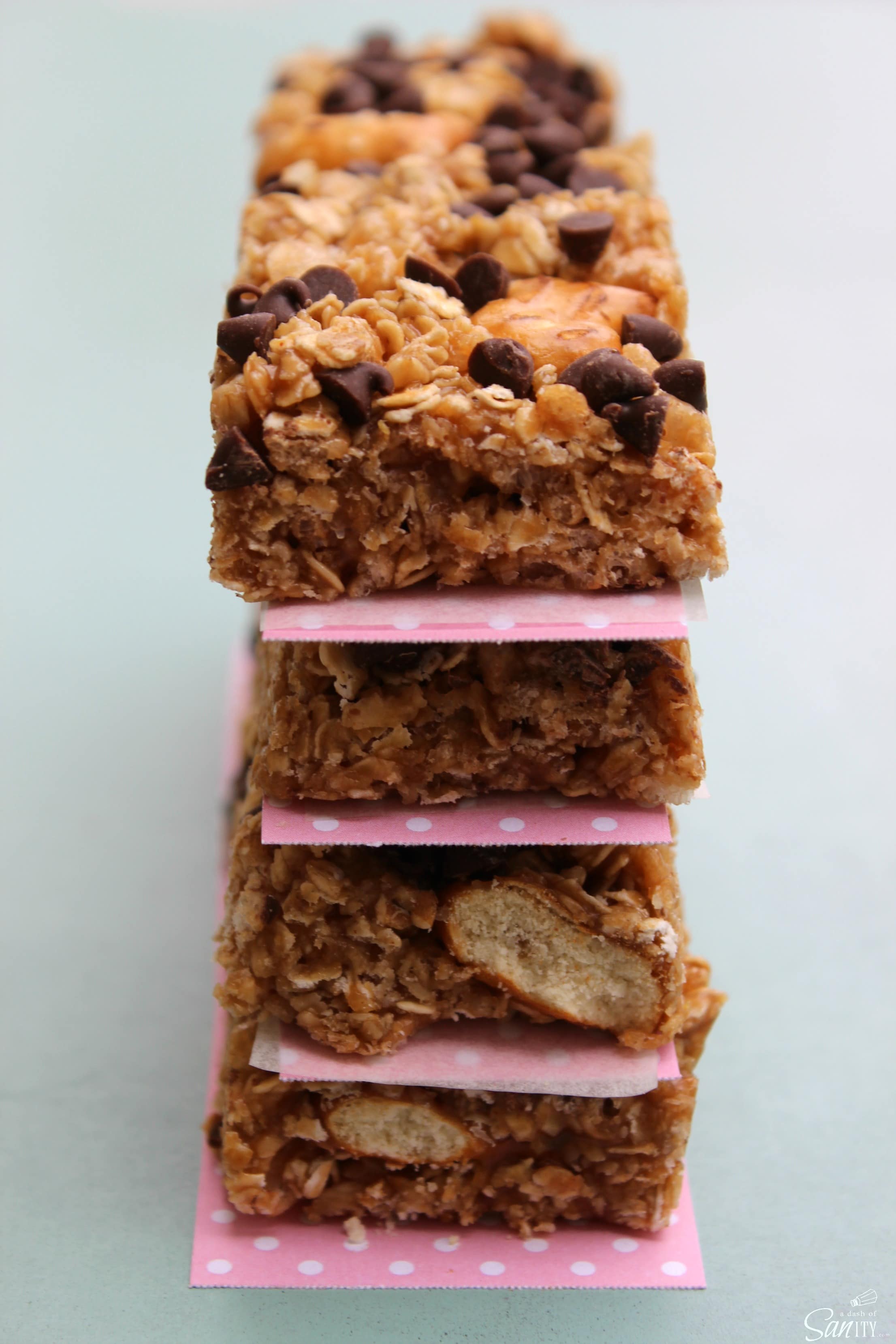 This mouthwateringly moist and tangy breakfast bar recipe is chock full of vitamins, antioxidants and protein from the protein powder, flax, banana and blueberries.
If you're cutting down on sugar but need a boost to fuel your morning, this Reduced Sugar Apricot and Almond Breakfast Bar Recipe is your new best friend. Nutty, chewy with pockets of naturally sweet apricot, they're one of my favourite breakfasts all year round.
Cranberry isn't just for Christmas! Add some extra zing to your morning with this tangy cranberry and oat breakfast bar recipe. Layers of chewy, nutty oat sandwich a jammy sheet of cranberry for the perfect wake up call.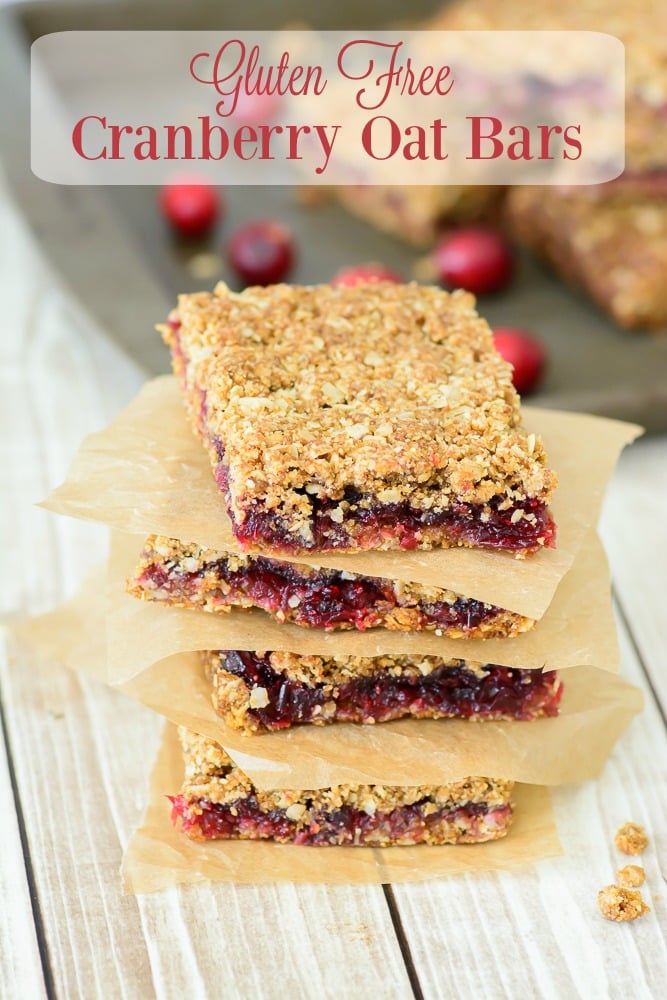 This recipe for fruity bejewelled breakfast bars is surprisingly easy for such beautiful results! Plus, you can swap the honey for maple syrup or agave to make it vegan in a pinch!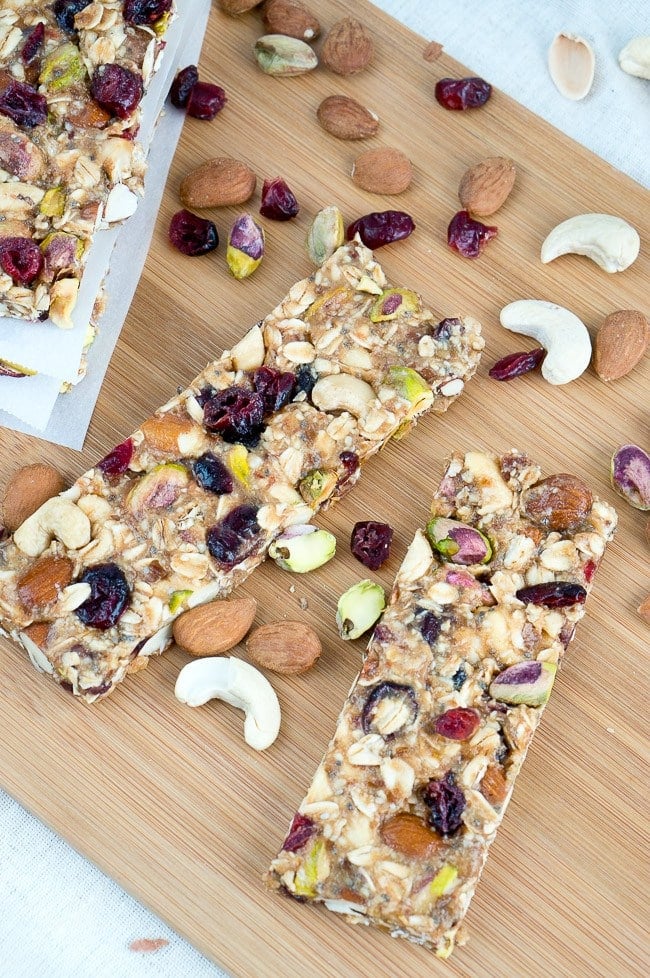 OK, so this isn't technically a breakfast bar recipe, but it's still a great way to start your day! Make these Granola Bites for breakfast, lunchboxes or even just an afternoon snack if you're working from home.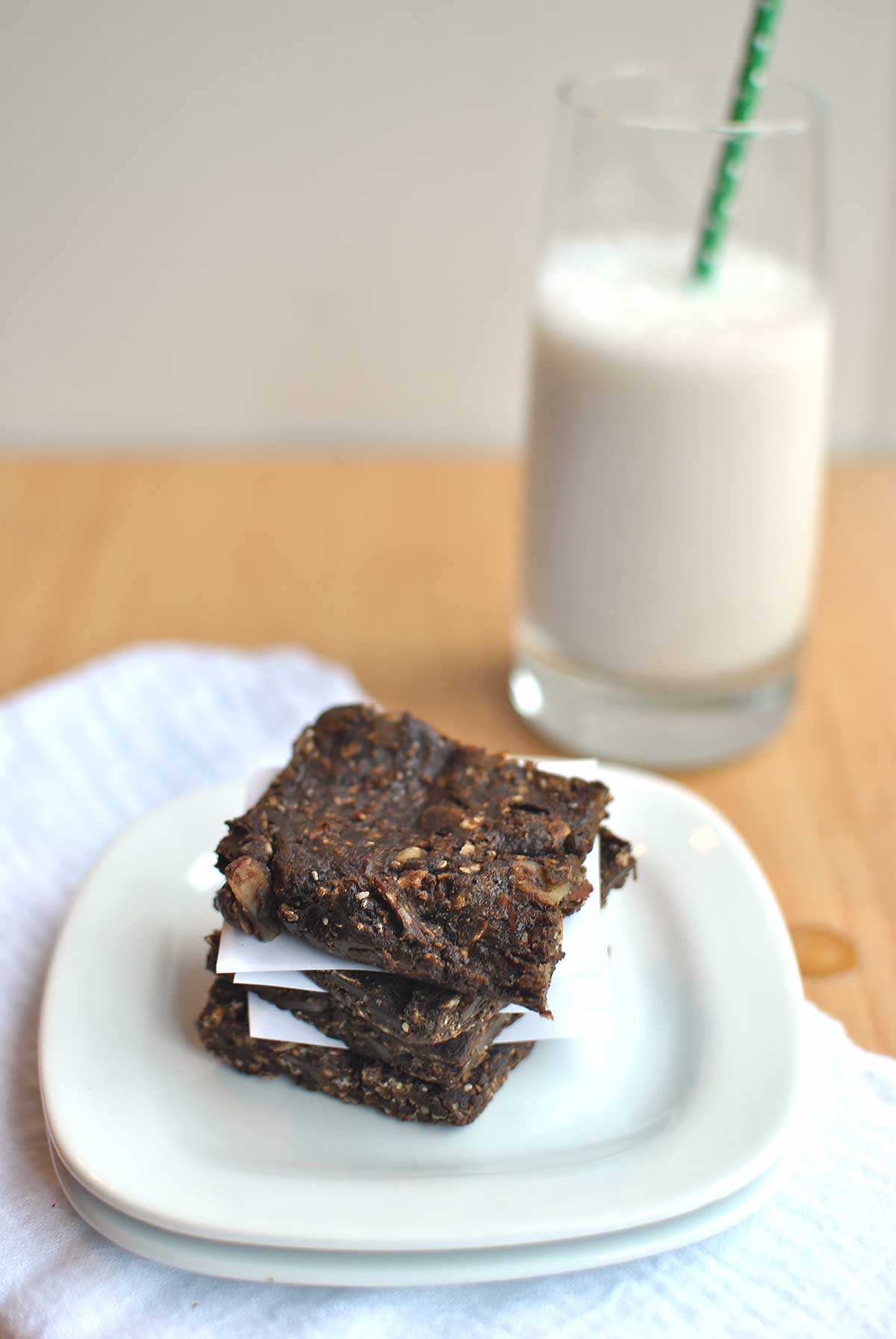 Cookies for breakfast are another childhood dream come true. This recipe combines a breakfast bar with everyone's favourite baked goods to turn fibre into fun. The toasted muesli adds an earthy deep flavour for something much more grown-up than a chocolate chip cookie.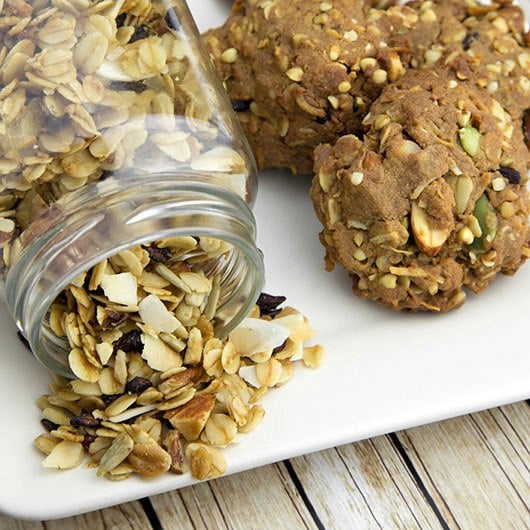 Made using nuts, seeds, and dried fruit, this super pretty and super tasty breakfast bar recipe is totally vegan, paleo and gluten-free!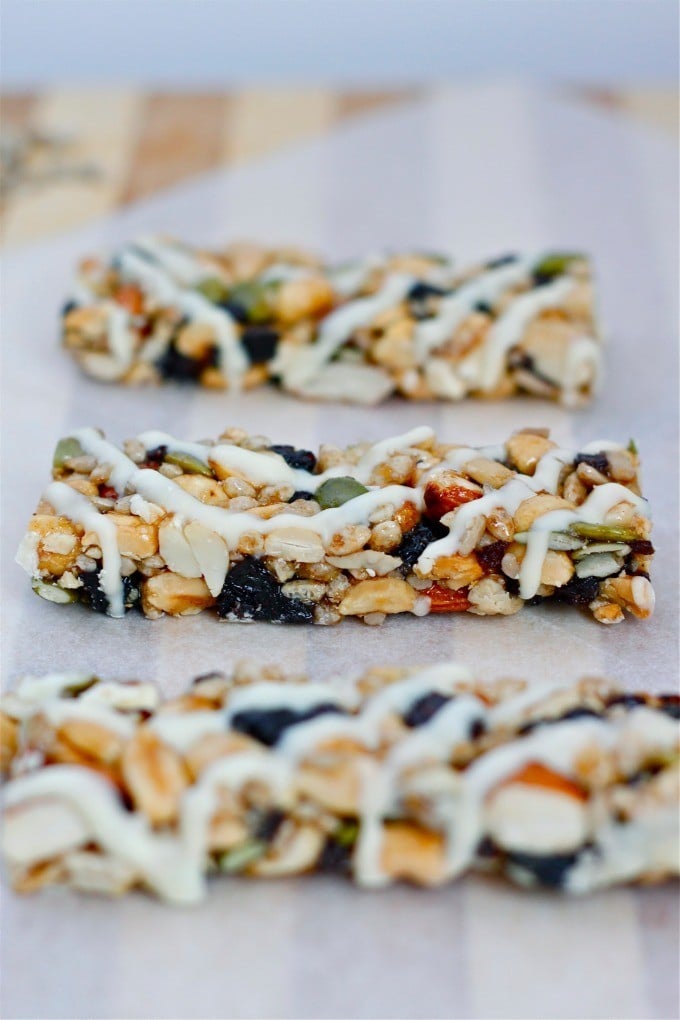 There's such a wide range of breakfast bars to choose from here you're really spoilt for choice. Which one will you be trying first?
Some tips and tricks for creating your perfect breakfast bar.
What type of oats should I use for my base?
There are two main types of oats, rolled oats and steel-cut. Generally, you'll want to use rolled oats as they're easier to work with, but steel-cut can work fantastically too. Try to avoid anything that says 'quick-cook', as they won't give the best texture when baking.
You can also pad out your bars and add extra flavour with wheat germ, chia seed, and flax seed. Or you could add extra cereals and pseudocereals to your breakfast bar recipe, like puffed rice, amaranth and wheat.
How can I add more crunch to a breakfast bar recipe?
Nuts are a great source of protein and flavour. Add them whole if you want to offset a chewy bar, or chop them a little first for a flavour that's in every bite. I particularly like pecans, pistachios, peanuts and cashews but walnuts, almonds, macadamia nuts, brazil nuts, and hazelnuts are all tasty.
Seeds are wonderful too. Try sunflower, pumpkin, chia or flax for plenty of extra health and flavour benefits.
If you want to add some more unusual texture outside of the usual nuts and seeds, you could try using puffed rice or wheat, coconut flakes - or even popcorn!
How can I make my breakfast bars more chewy?
Dried fruit is a great addition to a breakfast bar recipe. Think chopped dates, dried blueberries, dried cranberries, morello cherries, and raisins.
Or, if you want to make things a little more fun, marshmallows are another fun, chewy treat. Using them in a cooked breakfast bar recipe will give you a lovely melty chewy ribbon of marshmallows through your bars.
Adding sweetness
White sugars: granulated, caster or icing will all add sweetness but don't expect to taste anything more than sweetness.
Brown sugar: Light and dark sugars both have a nice subtle flavour, but muscovado and demerara sugar add a real earthy kick.
Natural fruit juices: apple, pineapple and cherry juice are all delicious.
Honey: a distinctive, rich taste that goes fantastically with nuts and fruit.
Agave syrup: a mild flavour with a hint of honey. While it actually contains more calories per tablespoon than sugar (60 vs 48) it's 1.5 times as sweet, so you can use less of it.
Golden syrup: great with oats and cereals, golden syrup also adds a perfect chew to your bars
Maple syrup: natural, tasty and sweet without being overpowering.
Black treacle (molasses): full bodied and rich, treacle goes especially well with fruit-heavy bars
How to add more flavour to a breakfast bar recipe
If you want to punch of the flavour of your dish with minimal effort use a combination of these spices in whatever quantities you think best: cinnamon,nutmeg, allspice and ginger.
For extra flavour vanilla, lemon zest, orange peel and candied ginger are some of my other favourites.
How can I bind my breakfast bars?
Sugars and fats are the usual, but depending on what you want to do I find apple sauce, egg whites or nut butters (peanut butter is fantastic, but almond and cashew butters are a great way to give your bars a more unique taste) and work well.
How can I add more protein to my breakfast bars?
More nuts (either whole, chopped or flour) will add plenty of protein, but protein powder or whey powder can help too if you're looking for a big increase.
What fats should I use in a breakfast bar recipe?
I love coconut oil for its rich flavour, but butter and vegetable oil work well too. You could also use ghee and vegan ghee.
Or you add small amounts of tasty but very hard fats like cocoa butter to your bars. Cocoa butter has a great flavour, but it has a very high melting point. So you would need to melt it over a double boiler and mix it with an oil before adding it to your bar recipe.
What's the best way to add chocolate to my breakfast bars?
Chocolate drops, especially dark chocolate, will put a smile on most faces, or do a mixture of dark, milk and white chocolate if you're feeling fancy. Cacao nibs work great too.
If you prefer, you can also melt some chocolate in a bowl and dip half a cut bar into the chocolate. While the chocolate is still gooey, you can add a further hit of flavour by dipping it in chopped nuts or fruit.
You can also dip the underside of the bar in melted chocolate and leave it to set on greaseproof paper.
6 FUN recipes to make with kids - a FREE family baking eBook!
Have a free copy of my family baking eBook! With 6 easy recipes and bonus activities to get kids into the kitchen - and keep them busy for hours!