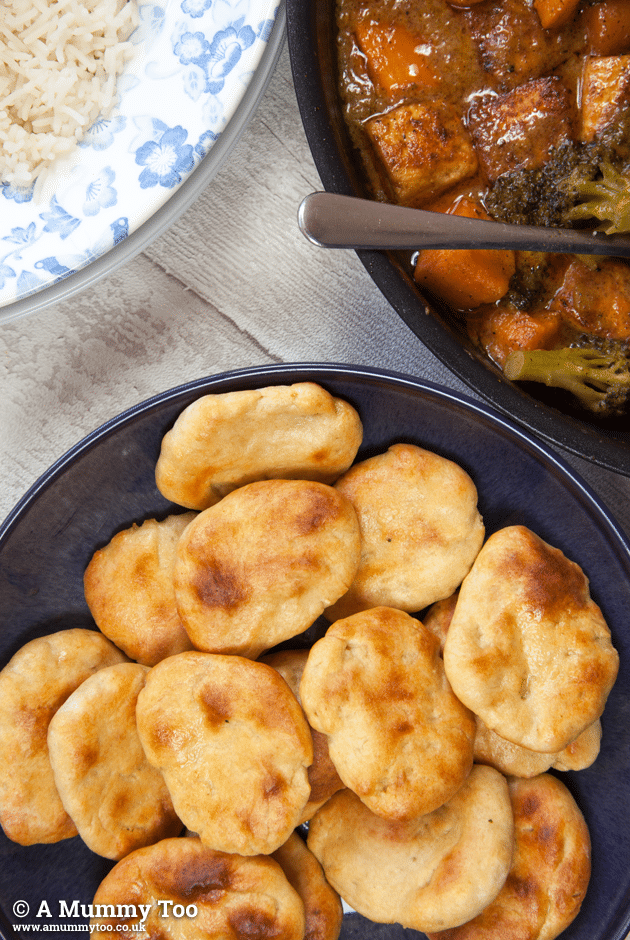 These are fun, chunky little breads that break a little from the traditional style in a bid to cut down the fat - the yoghurt is fat-free and the coating is Flora Cuisine.
This recipe makes 16 breads.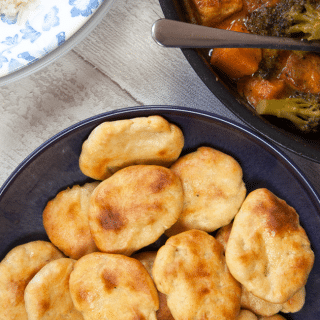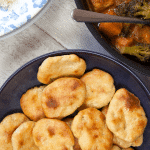 Print Recipe
Reduced-fat mini garlic flatbreads (recipe)
A lower fat alternative to naan bread, made in minutes.
Ingredients
4

tbsp

fat-free Greek yoghurt

the kind with no nasties added

80

ml

warm water

175

g

self raising flour

80

g

plain flour

1/4

tsp

salt

2

tsp

garlic granules

2-3

tbsp

of Flora Cuisine

it's a liquid fat with a yellow hue, specifically designed for cooking and baking - you could use olive oil or low fat margarine
Instructions
Mix the dry ingredients together in a big bowl

Add the yoghurt and warm water and knead until it forms a stiff dough

Form into a ball, put back in the bowl, cover and leave somewhere dark and warm for an hour

Heat the grill on maximum and put in a greaseproof baking tray

Turn out onto a floured surfaced and using a sharp knife, cut into half, then half again, and again etc until you have 16 equal pieces

Roll all the pieces into balls, flatten and shape into ovals

Take the baking sheet out, place all the breads on and put it back under the grill for 4 minutes

Remove the tray when the breads are just starting to form brown spots, turn them all over and put back under the grill

Cook for another 2-4 minutes until brown spots appear

Take the tray out and allow the breads to cool a little on the tray

Meanwhile, melt the Flora Cuisine in a shallow dish

Take each bread in turn, and either brush or dip both sides in the melted Cuisine until lightly covered, then transfer to a plate
* Note: nutritional information is estimated, based on publicly available data. Nutrient values may vary from those published. Information on this website should not be taken as medical advice. Cuisines identify the primary region of inspiration for a dish.
Tried this recipe?
Snap a pic and tag @amummytoo on Instagram or tag @EmilyLearyCooks on Twitter. I can't wait to see your posts!
More delicious curry recipes to try
These little breads would be wonderful served warm with a good curry. Try these!