This courgette spaghetti (that's "zucchini" spaghetti or "zoodles", for my US friends!) from Annabel Karmel is deliciously flavourful and you won't feel like you're missing out on standard, carb-based pasta at all.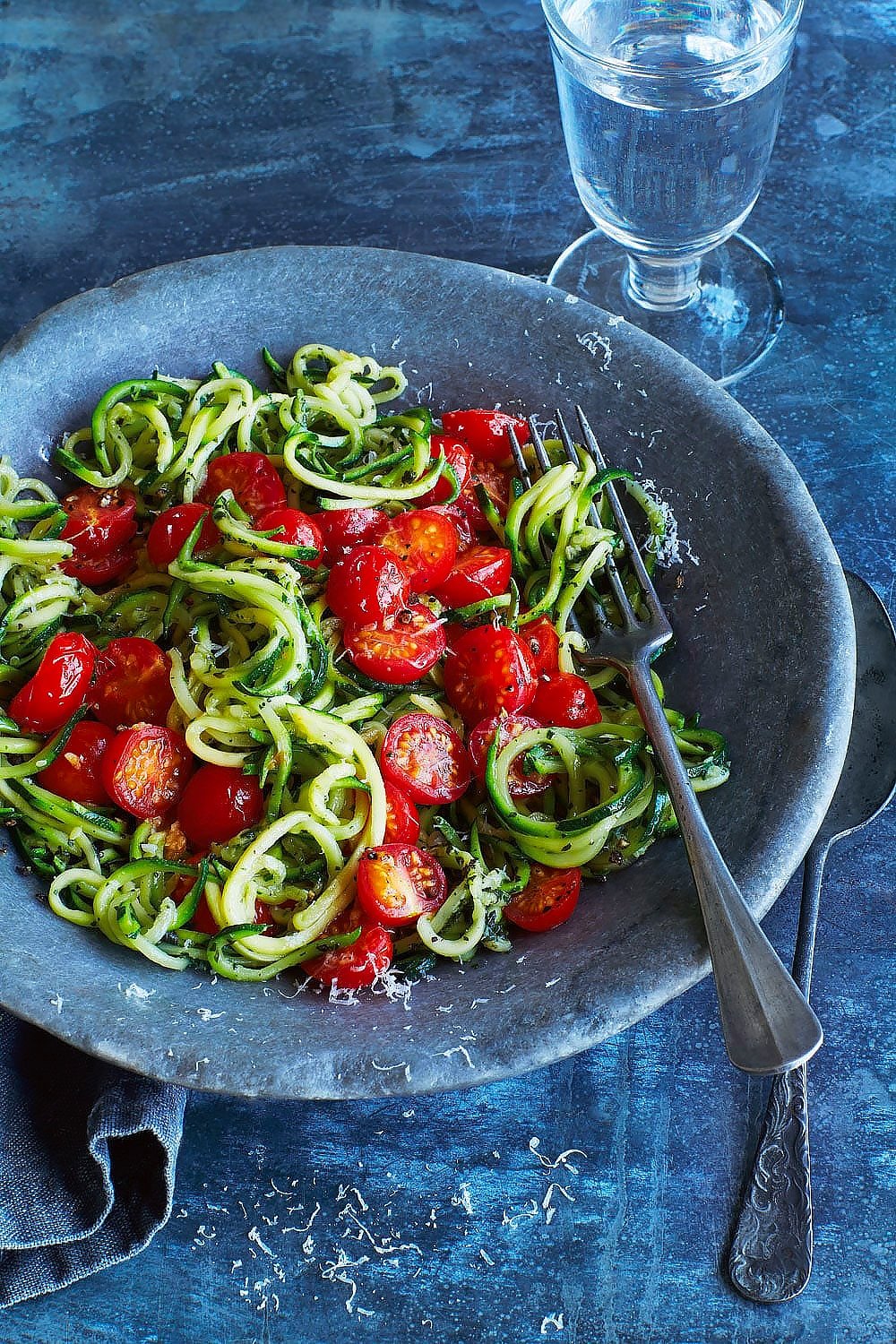 It's from Annabel's cookbook, Busy Mum's Cookbook, which is full of great family-friend recipes.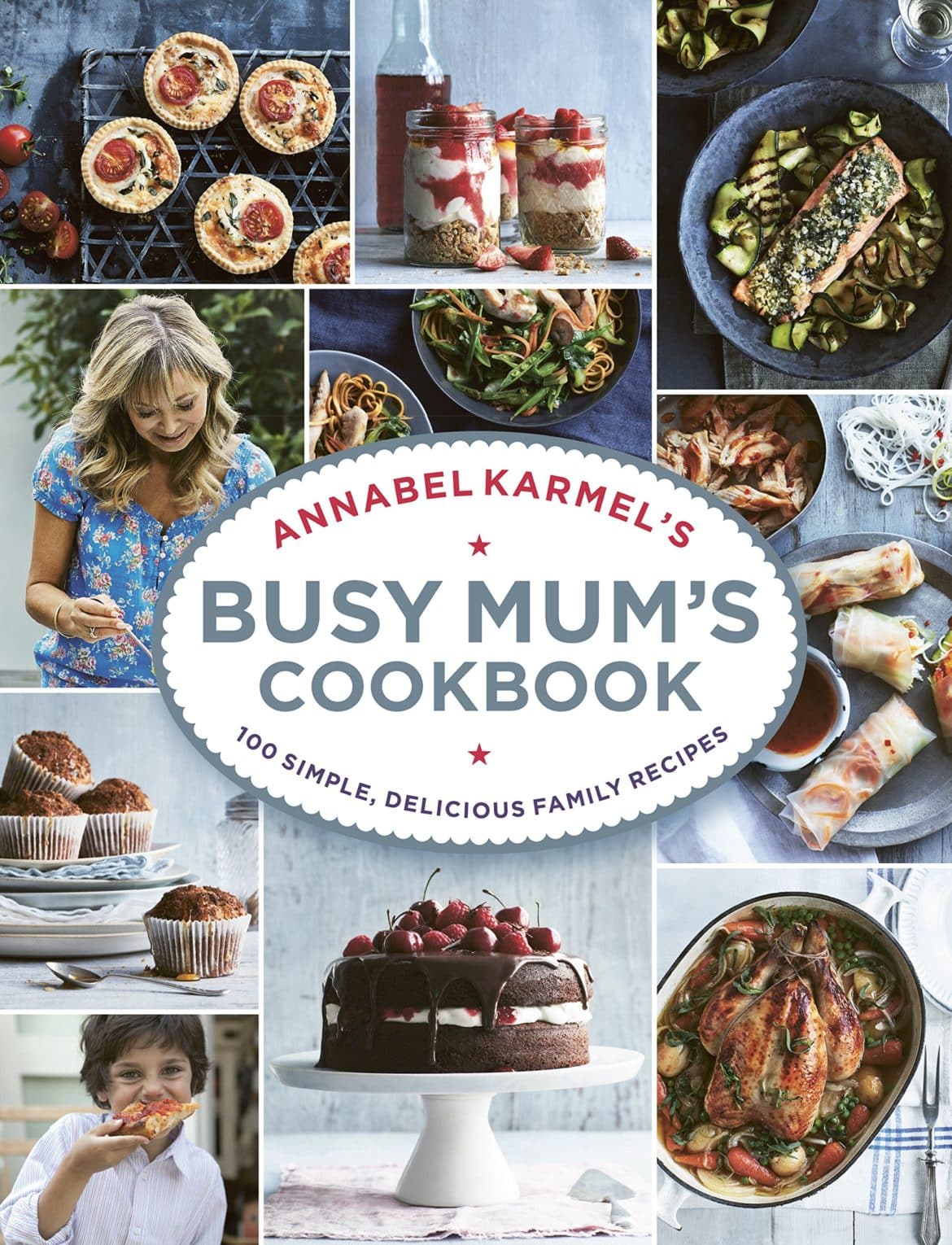 Annabel Karmel's courgette spaghetti is a brilliant alternative to traditional spaghetti, full of vegetables and with a wonderfully smooth taste.
The courgette is lightly pan-fried which means it retains a little crunch - perfect when contrasted to the succulent tomatoes that burst in your mouth with flavour.
It makes for a delicious and low carb meal with a unique texture that I'm sure you'll enjoy.
I had great fun helping Annabel make this recipe, and although I've made courgetti with a spiraliser before, this is the tastiest dish recipe I've tried.
Here's how to make this courgette spaghetti.
Ingredients
Equipment
Instructions
Put the courgettes through a spiraliser to make long spaghetti-like strands.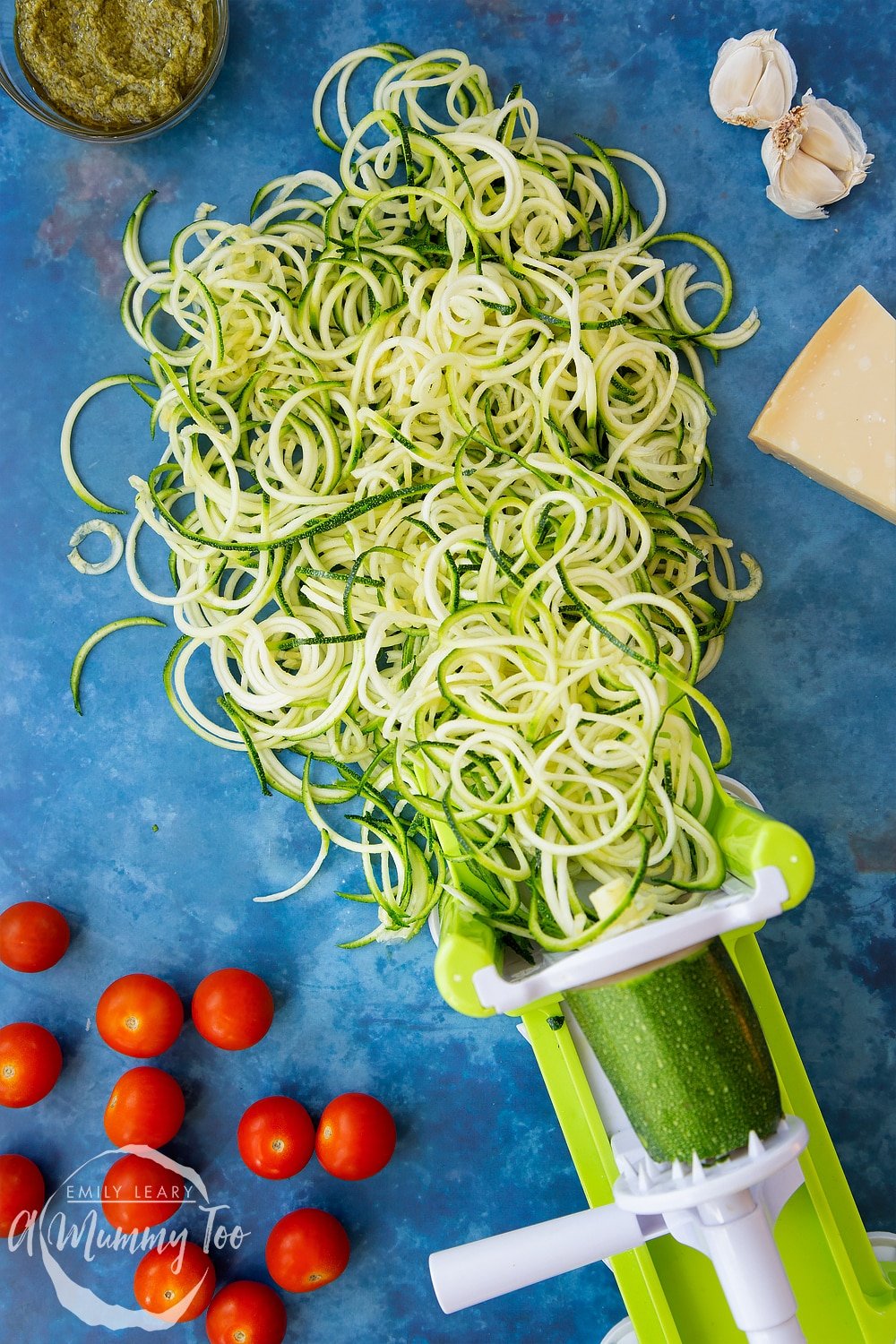 Heat 2 tablespoons of the olive oil in a large frying pan over a medium heat. Add the garlic.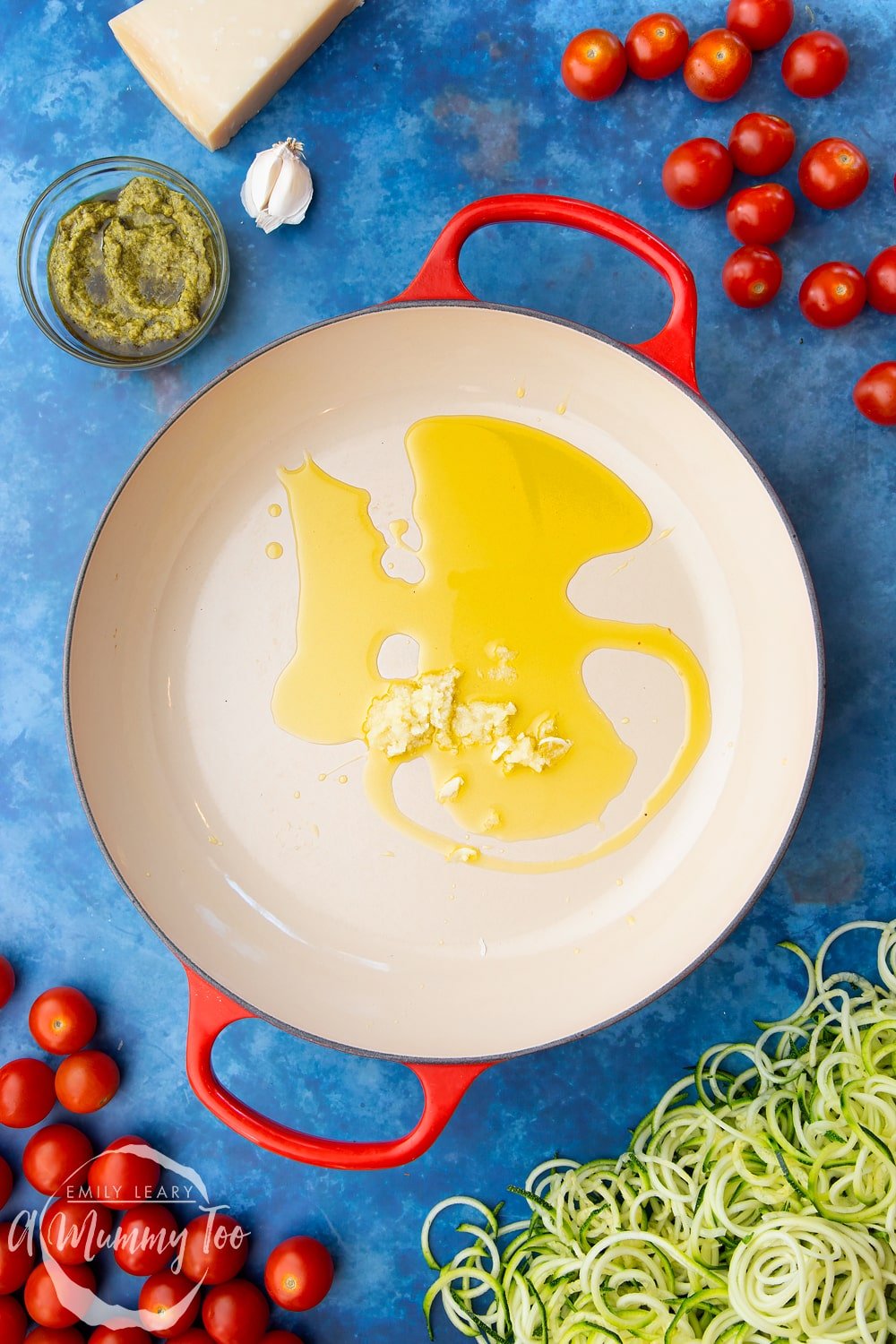 Fry for a few seconds.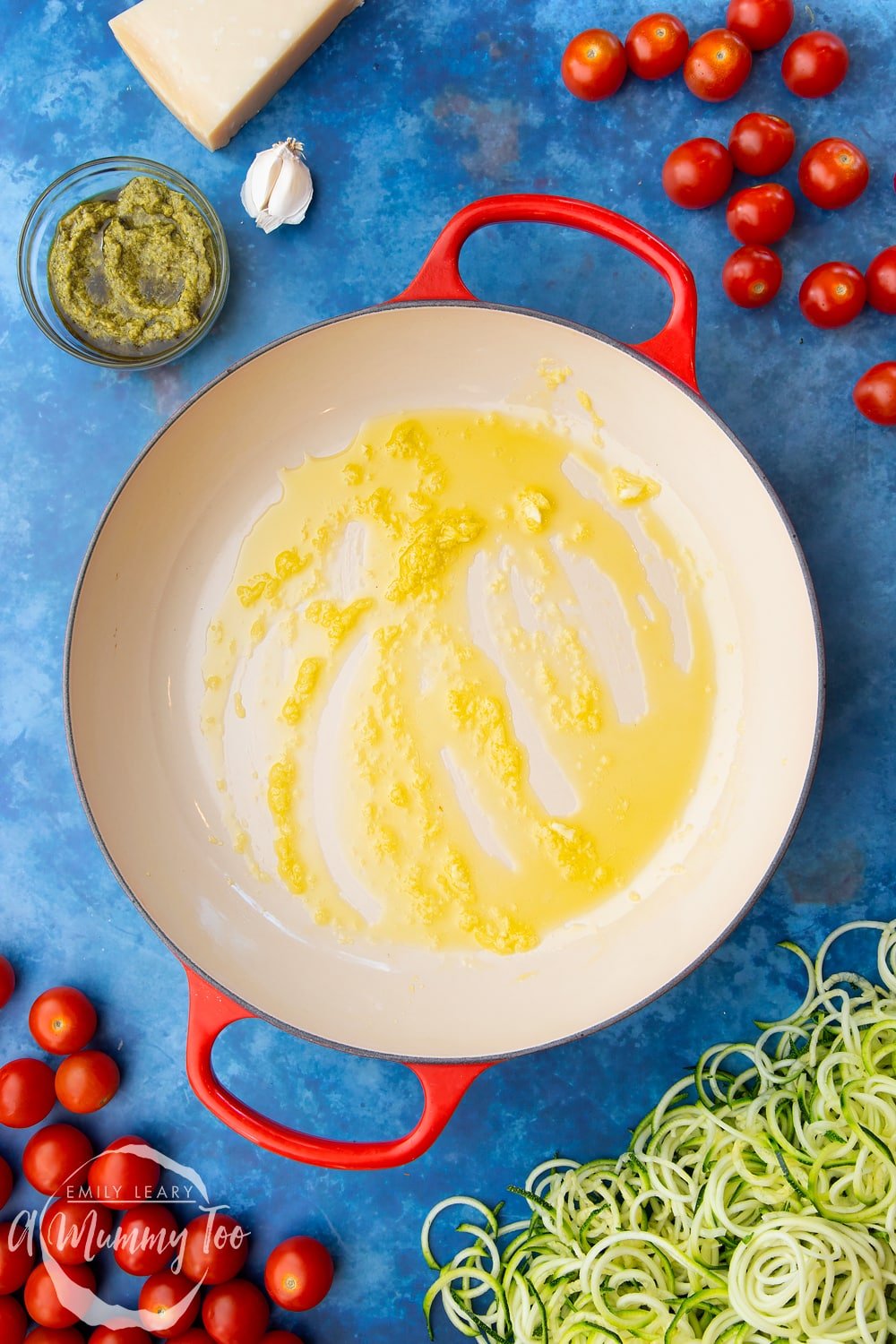 Add the spiralised courgettes to the pan.
Toss over a high heat for 2-3 minutes, until just softening, then remove and set aside on kitchen paper.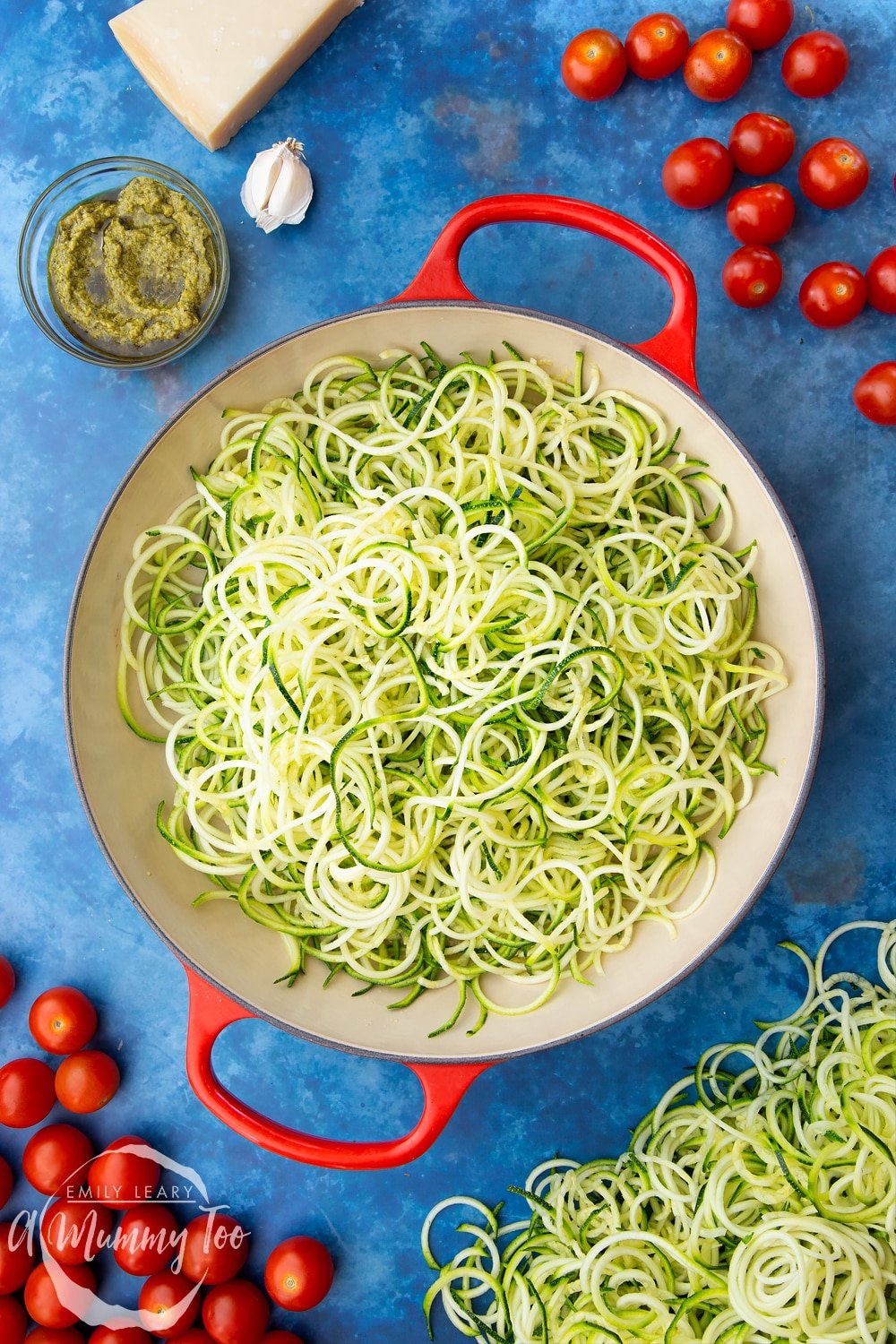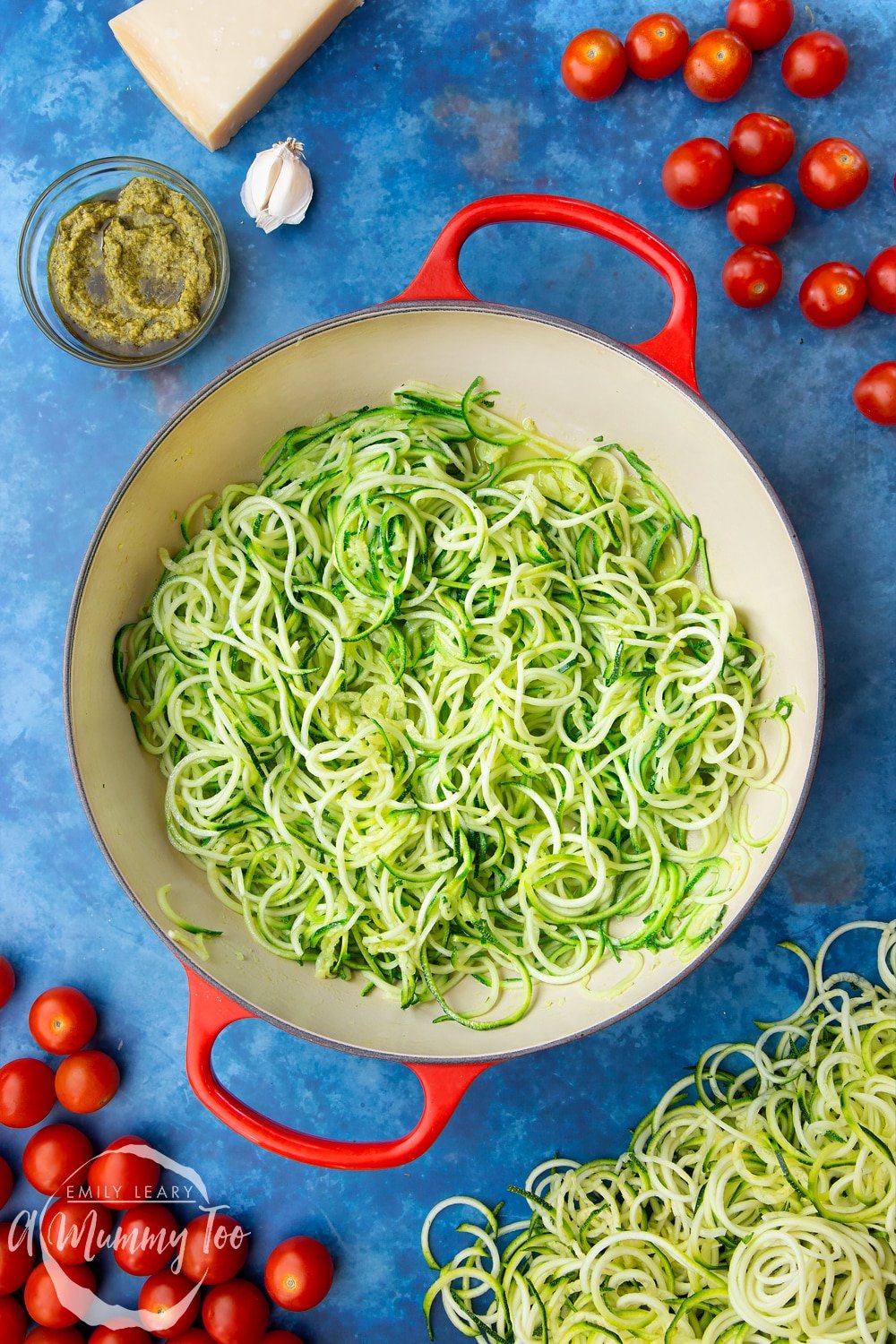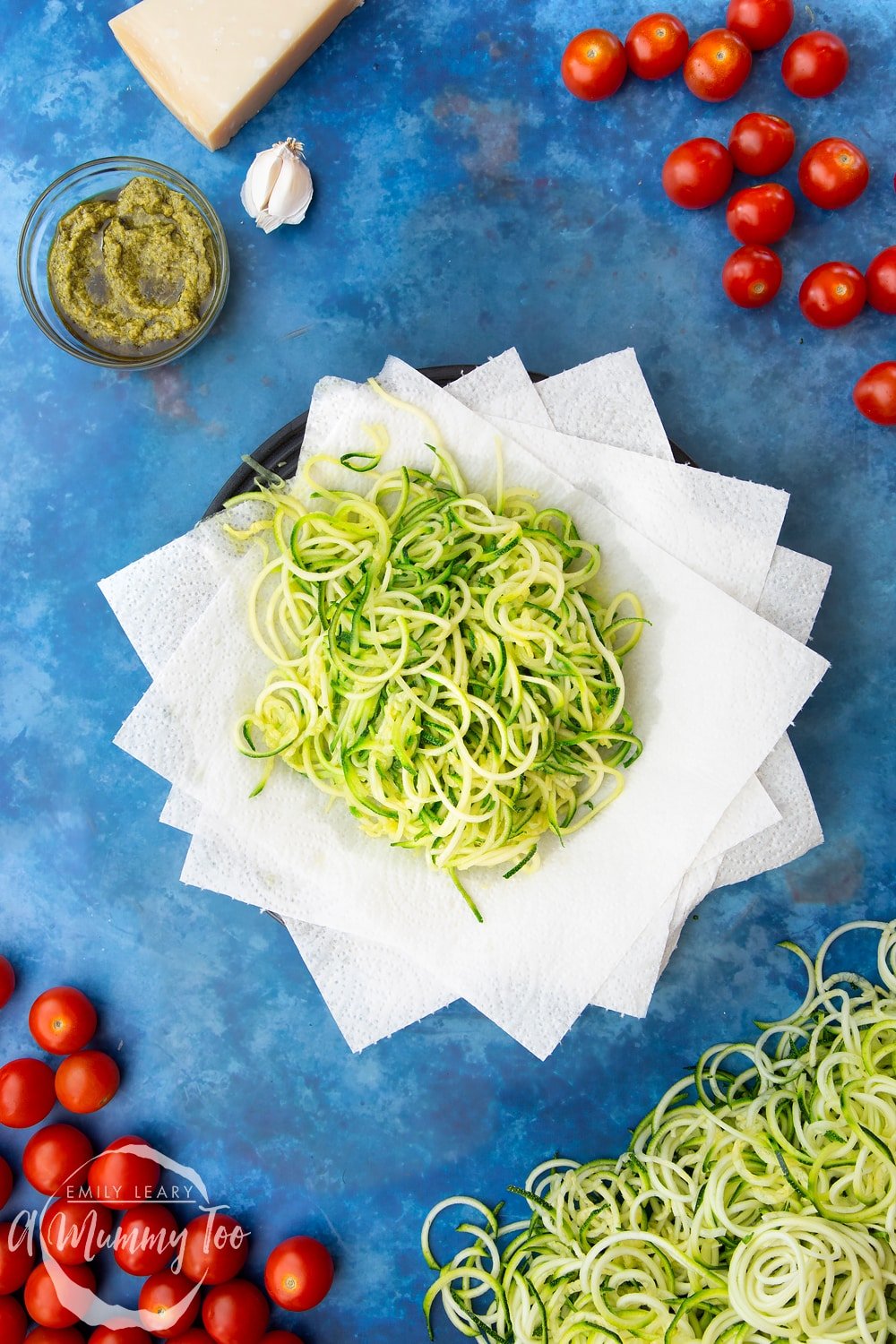 Return the frying pan to the heat, add the remaining olive oil.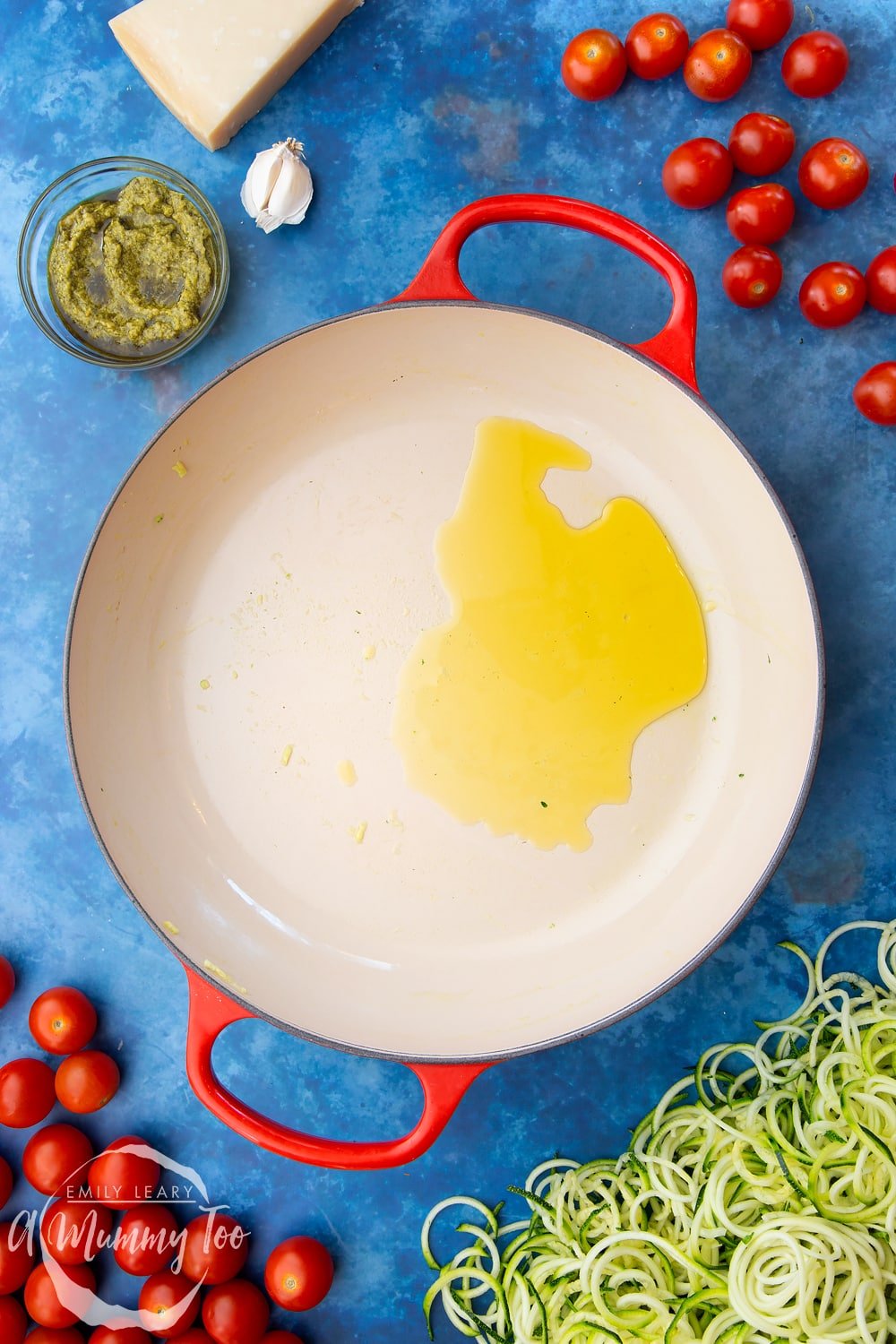 Fry the tomatoes for 2 minutes.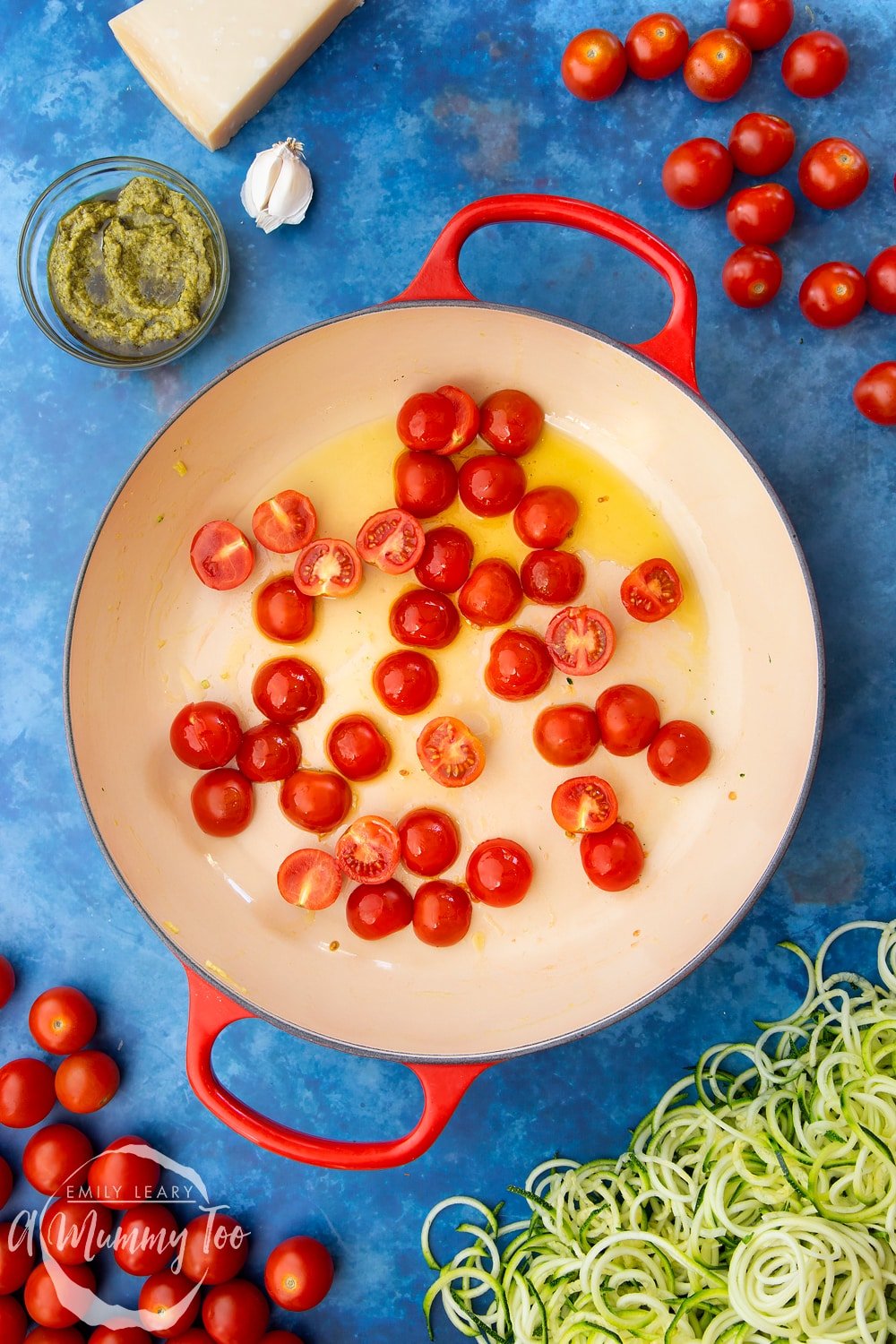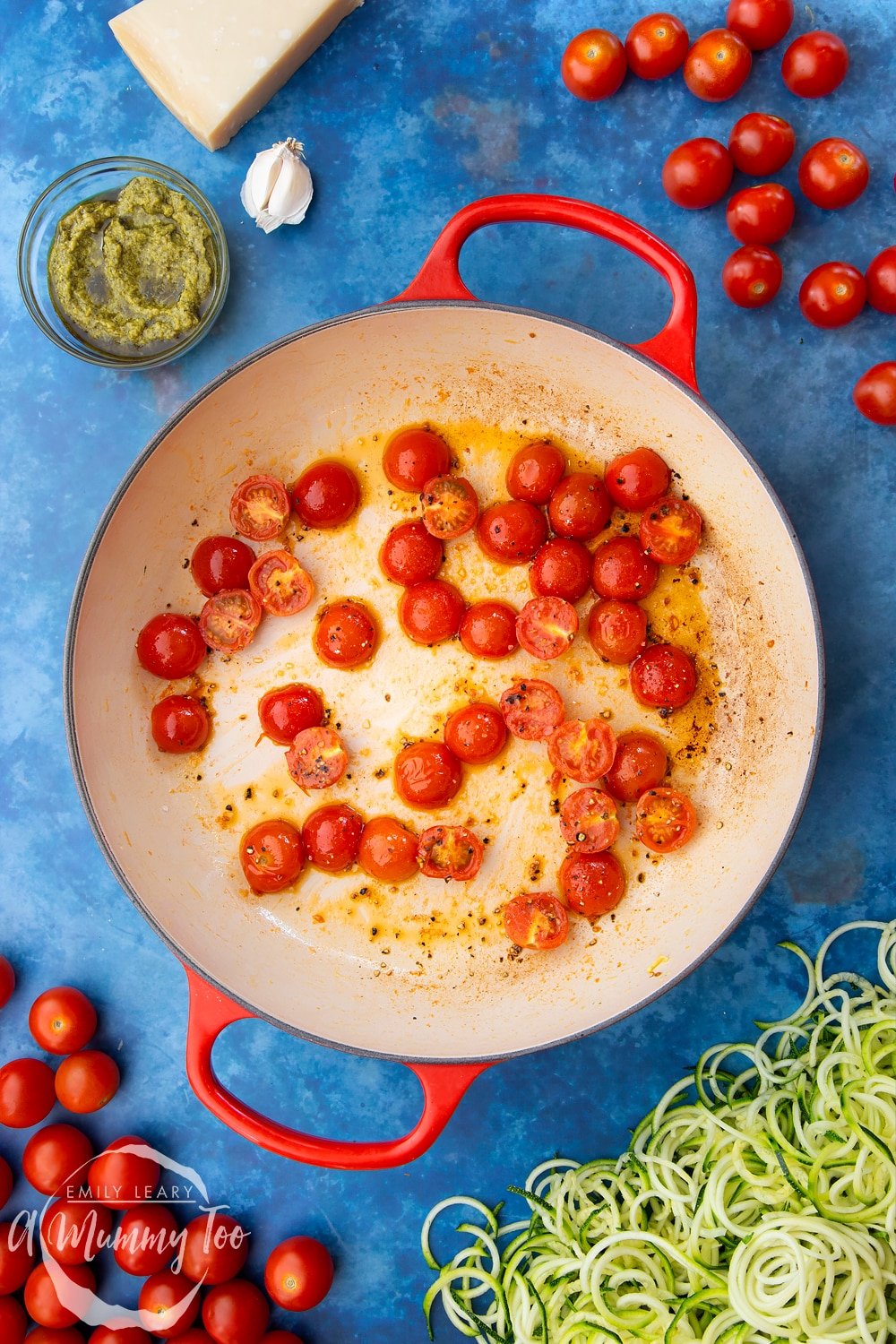 Season, add the spiralised courgettes, pesto and grated Parmesan. Note from Emily: I find that I don't always need all of the parmesan and pesto, so I would recommend adding half, stirring through and then adding the rest if needed.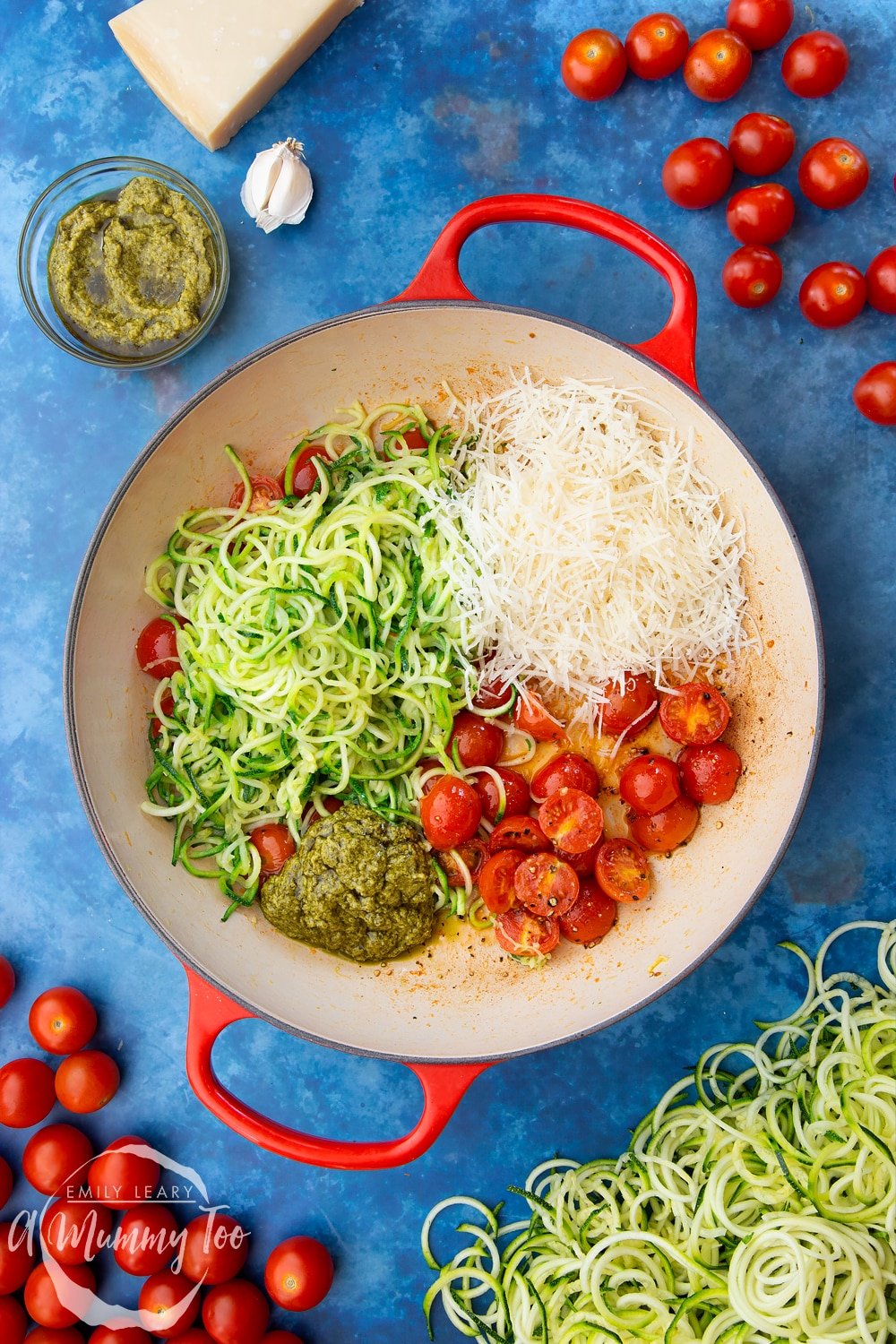 Toss until heated through and serve immediately.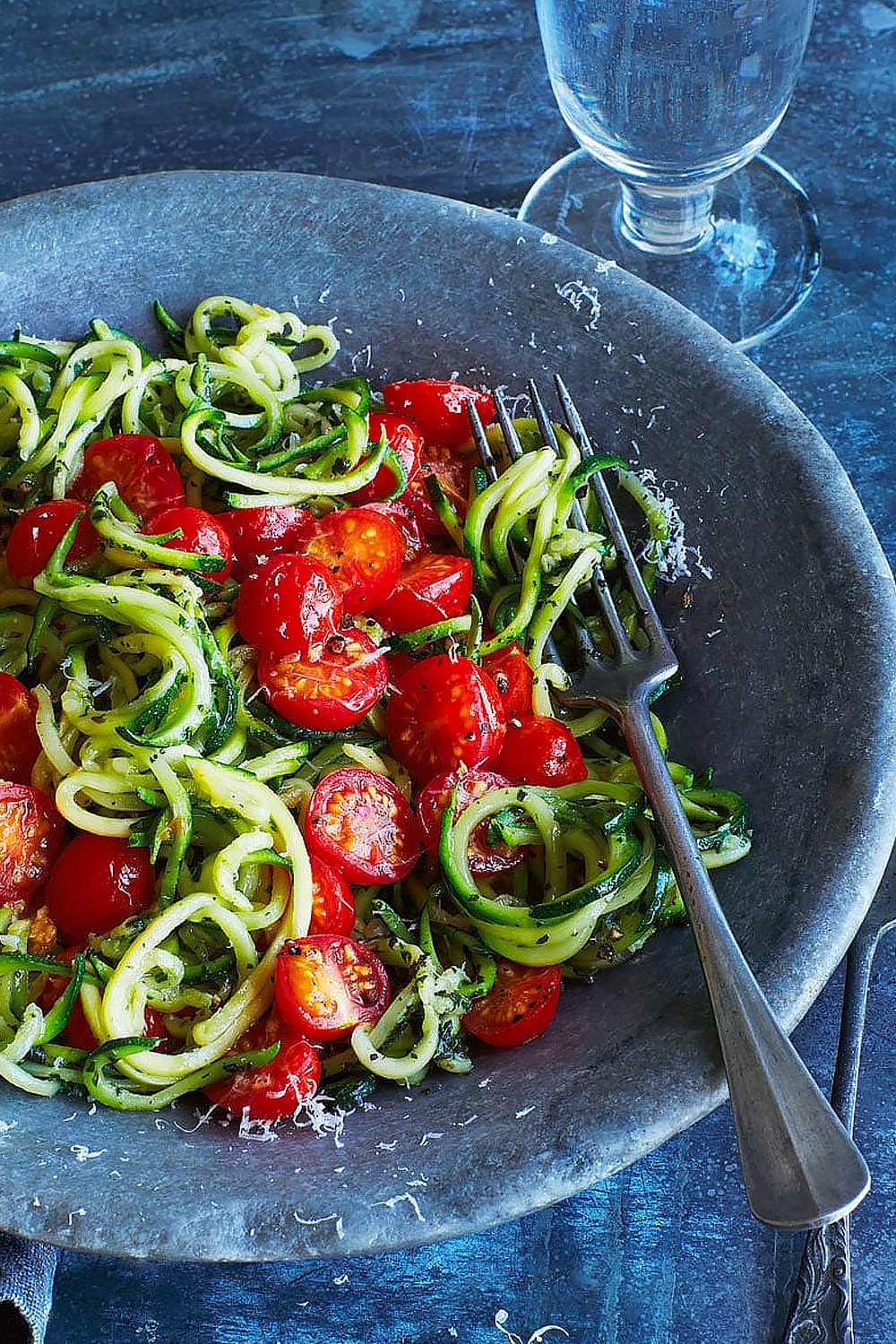 Now hop over to watch my interview with Annabel and learn more about her amazing career so far.
Have you tried courgette spaghetti before?
More tips and tricks for getting perfect courgette spaghetti
Are there other names for courgette spaghetti?
Now there's a can of worms! Parts of the English speaking world, including the UK. calling the beloved long green summer squash a courgette. Meanwhile, other parts, including the USA, tend to call it zucchini.
As a consequence, courgette spaghetti goes by a variety of alternative names.
I've seen it called:
'courgette spaghetti'
'courgetti'
'courgetti spaghetti'
'zucchini spaghetti'
'zucchini noodles'
'zoodles'
'kevin' (not really - I made that one up)
Do I need a spiraliser to make courgette spaghetti?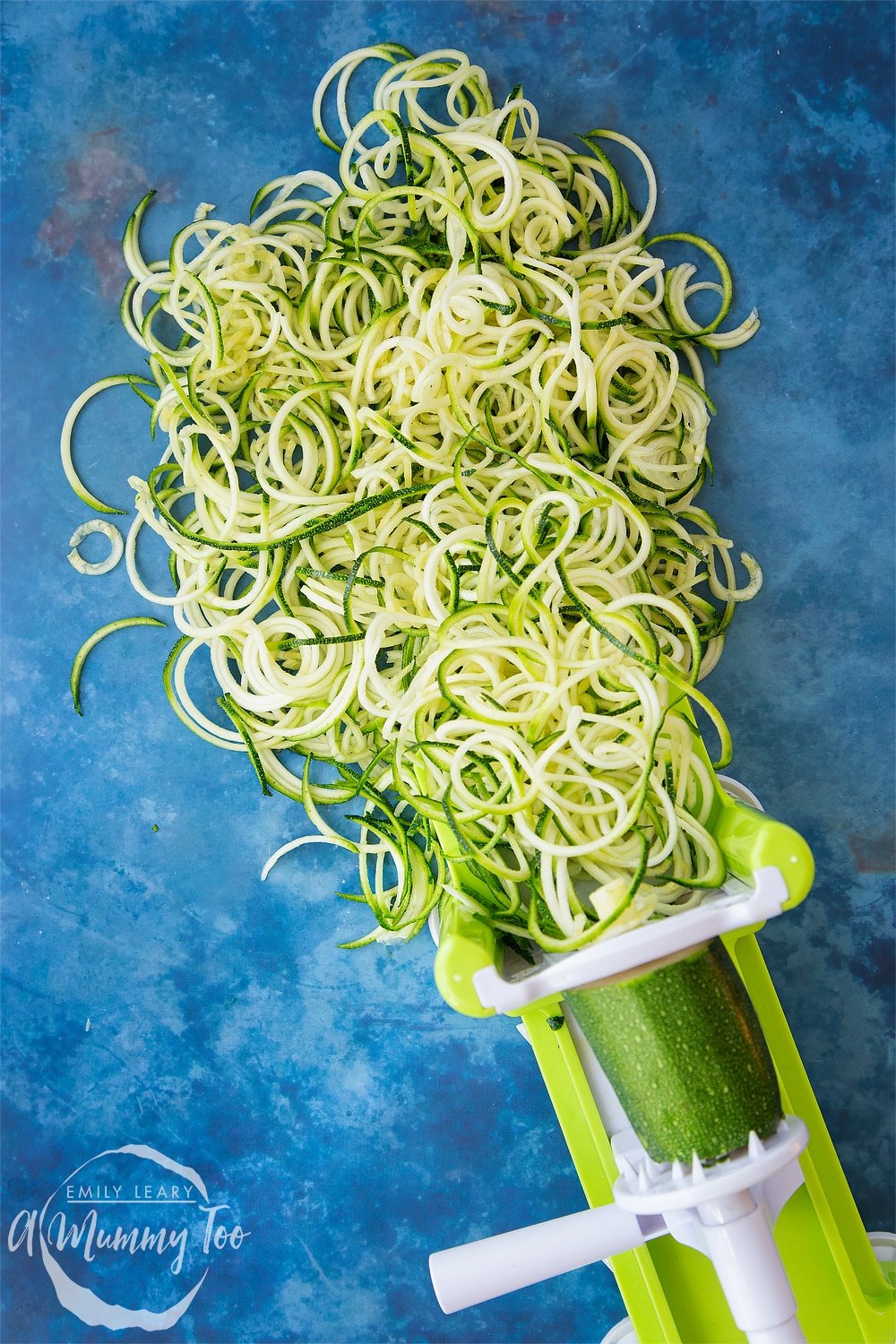 A spiraliser is the ideal tool as it does the job quickly and efficiently, giving you lovely long strands of a consistent thickness.
If you don't have a spiraliser a julienne peeler or mandoline with the correct blade will work, although the strands won't be as long.
A sharp knife and plenty of patience would also do the job in a pinch, and although the strands would shorter, it might be a good way to explore if you like the taste and texture before investing in a specialist tool.
Is this dish gluten-free?
Yes, this dish is gluten-free, as long as you make sure to use gluten-free pesto or make your own.
Is this dish vegetarian?
Parmesan cheese usually contains animal rennet, but if you use a vegetarian hard cheese, then the dish is vegetarian.
Is this dish vegan?
To make this dish vegan, substitute the Parmesan cheese for a vegan cheese that grates well.
Why did my courgette spaghetti go soggy?
It's really important that you only cook the spiralised courgette very briefly, before transferring it some paper towels to drain.
These two steps are vital to ensuring you don't end up with wilted, overly soft noodles.
Can fresh courgette spaghetti be frozen?
While you can just about get away with freezing freshly spiralised courgette, I'd recommend against it.
Freezing uncooked vegetables causes ice crystals to form, which puncture the walls of the plant cells. These then release water while thawing, which makes the veg lose their crunch and seem mushy.
However, if you find you have accidentally made far too much, then put the freshly spiralised zoodles in a ziplock bag, freeze them and then drain off the excess liquid once thawed for the best possible results.
Can courgette spaghetti be eaten raw?
Courgette noodles are actually great totally raw when complemented with the right flavours. Put them in a salad with a tart vinaigrette. Heaven!
Or use them raw in place of any dish where you'd usually use cooked wheat pasta - it works surprisingly well!
Can this courgette spaghetti be boiled? Can it be microwaved? Can it be put in the oven?
This dish is absolutely best heated in a pan and eaten immediately.
For other recipes, you could try boiling spiralised courgette, but it will end up rather watery and soft so cook very briefly and drain well. Ditto for microwaving.
What can I use instead of courgettes?
Butternut squash noodles, also known as 'boodles' could would well in the recipe. Just make sure the noodles are sufficiently cooked.
Other squashes will work well too, or even root veg such as carrot or sweet potato.
When experimenting with different vegetables in this recipe, you might find you need to add a splash of water towards the end of the recipe to loosen the sauce.
Let me know which work for you!
What can I use instead of cherry tomatoes?
If you don't like cherry tomatoes or haven't got any in the refrigerator, you could leave them out entirely, or you could try sundried tomatoes, olives, or chopped sweet peppers.
Again, different vegetables release different amounts of water as they cook, so you may get a different consistency to your finished sauce.
Can I leave out the pesto?
Yes, if you leave out the pesto, you'll still get a delicious courgette spaghetti.
If you want to try something different, you could substitute in a little pasta sauce, or perhaps some cream cheese.
Print for later
And here's the courgette spaghetti recipe for you to print out. Let me know if you try it!
Recipe and photo reproduced with kind permission from Annabel Karmel / Ebury Publishing. Step by step photos shot by me, Emily Leary.
This post was originally published in 2016 and updated in 2019.
Pin Annabel Karmel's courgette spaghetti
More courgette / zucchini recipes you'll love
Get Your Kids to Eat Anything
My debut cookbook, Get Your Kids To Eat Anything is available now from all good bookshops!