Whether you're a veggie or not, there's something incredibly delicious, healthy and satisfying about a meat-free burger. Here's my pick of 24 of the best veggie burger recipes.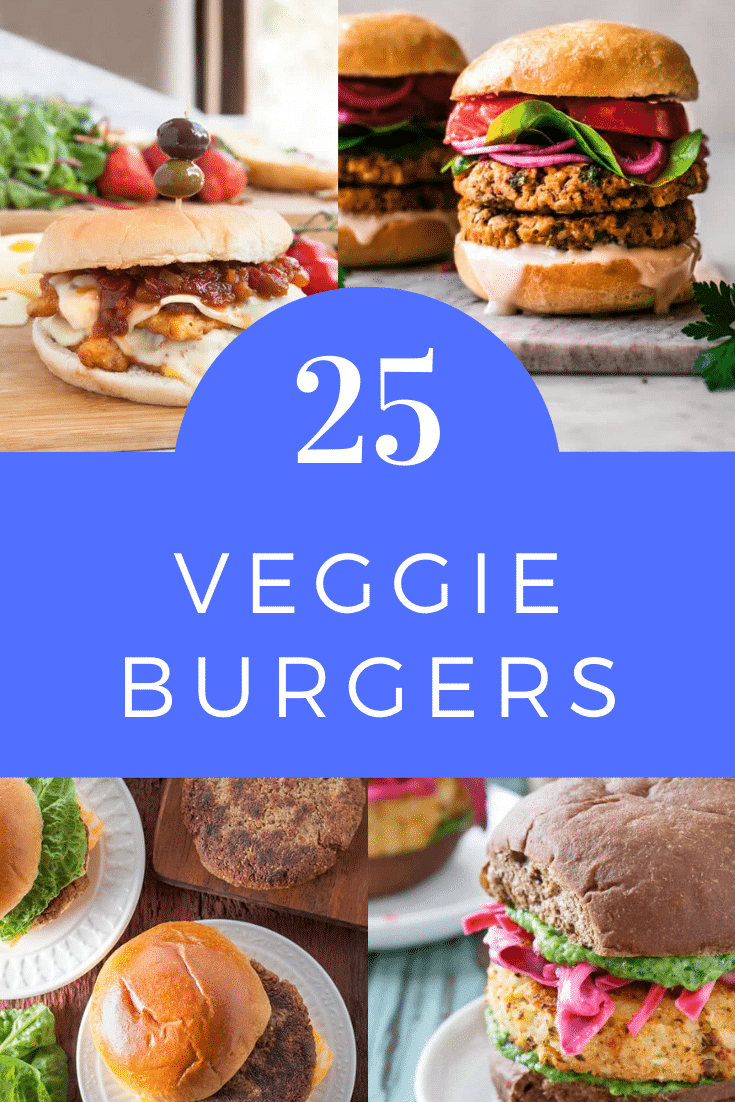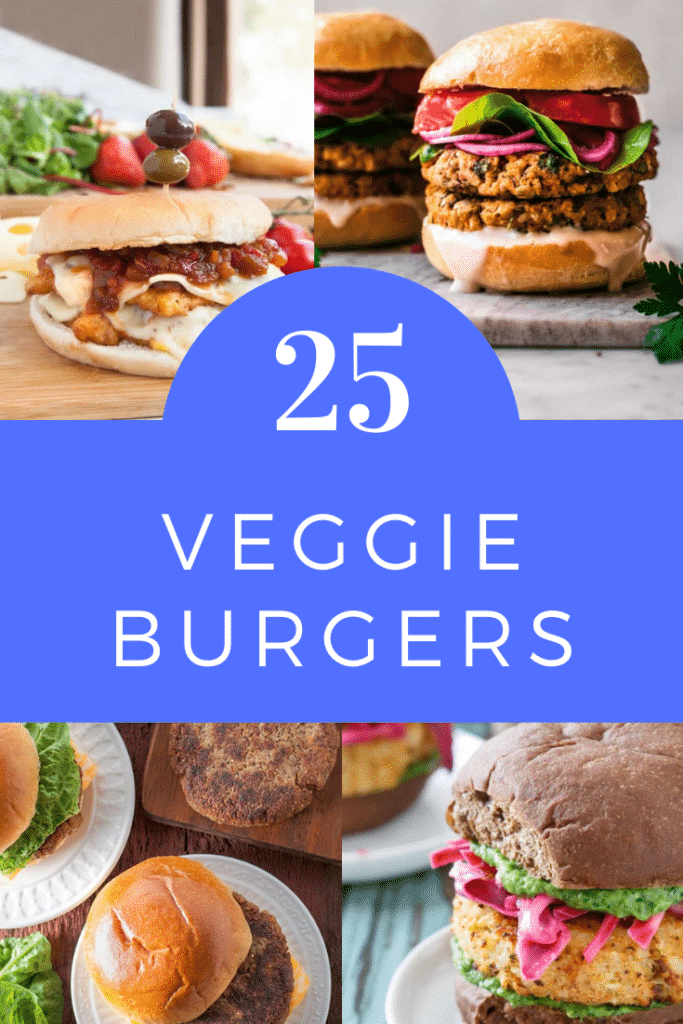 Veggie burgers come in a variety of different shapes, sizes and forms and can be made from all sorts of ingredients, from beans and pulses to greens, nuts and legumes.
Read on for a whole host of delicious veggie burgers you can make easily at home. And be sure to leave me a comment below letting me know which one is top of your list to try.
Classic spicy bean burger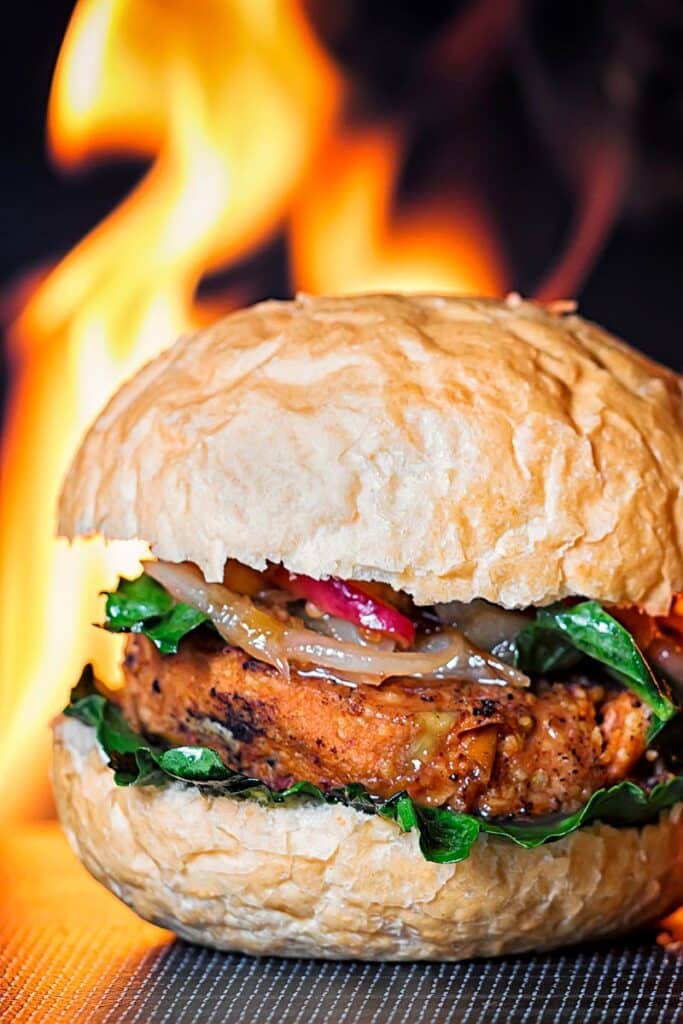 This spicy bean burger features a mix of beans and lentils with a spicy fiery kick - a classic winner. What's more, it comes with a quick and easy salty-sweet peach chutney.
Get the recipe at Krumpli
Indian spiced kidney bean burger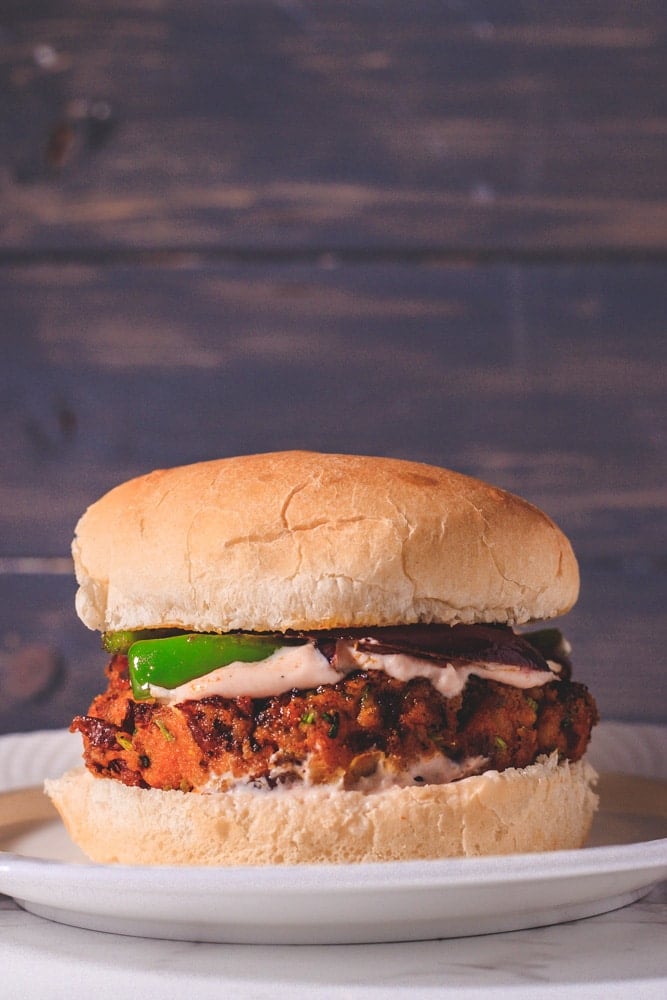 This is an American-style burger made with sweet potato and kidney beans, elevated with Indian spices. Served with creamy yoghurt sauce, sautéed onions and bell peppers, it's a mouthwatering sandwich!
Get the recipe at Spice Up The Curry
Vegan portobello mushroom burger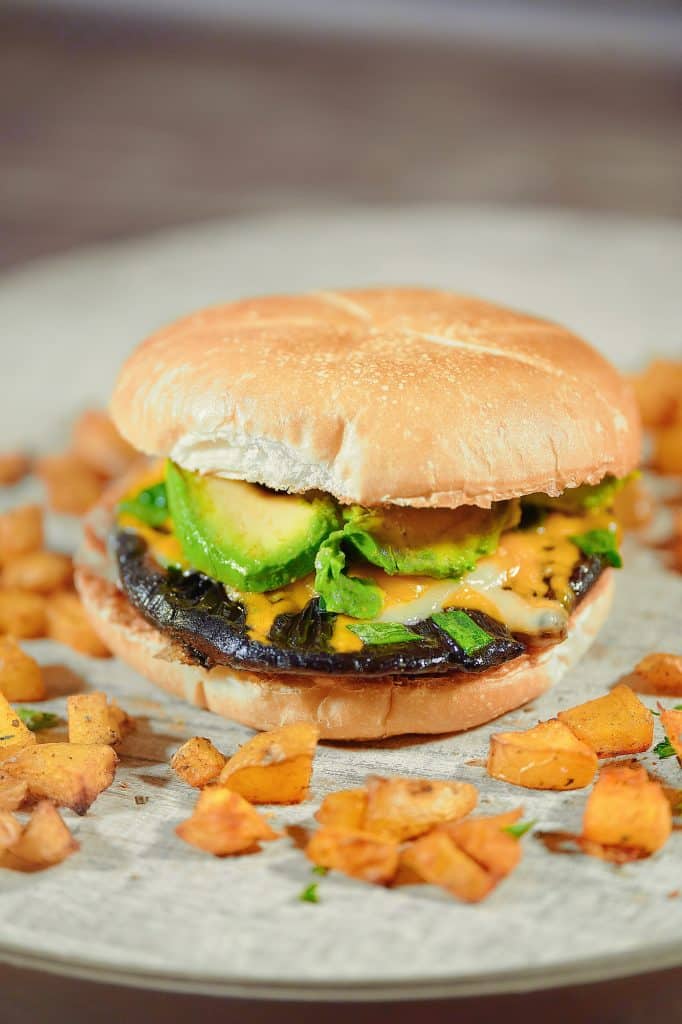 These grilled portobello mushroom burgers are incredibly easy to make, taking just 20 minutes in total. One burger is just 475 kcal including the bun, yet it's totally packed with flavour.
Get the recipe from Wow It's Veggie
Cajun halloumi burger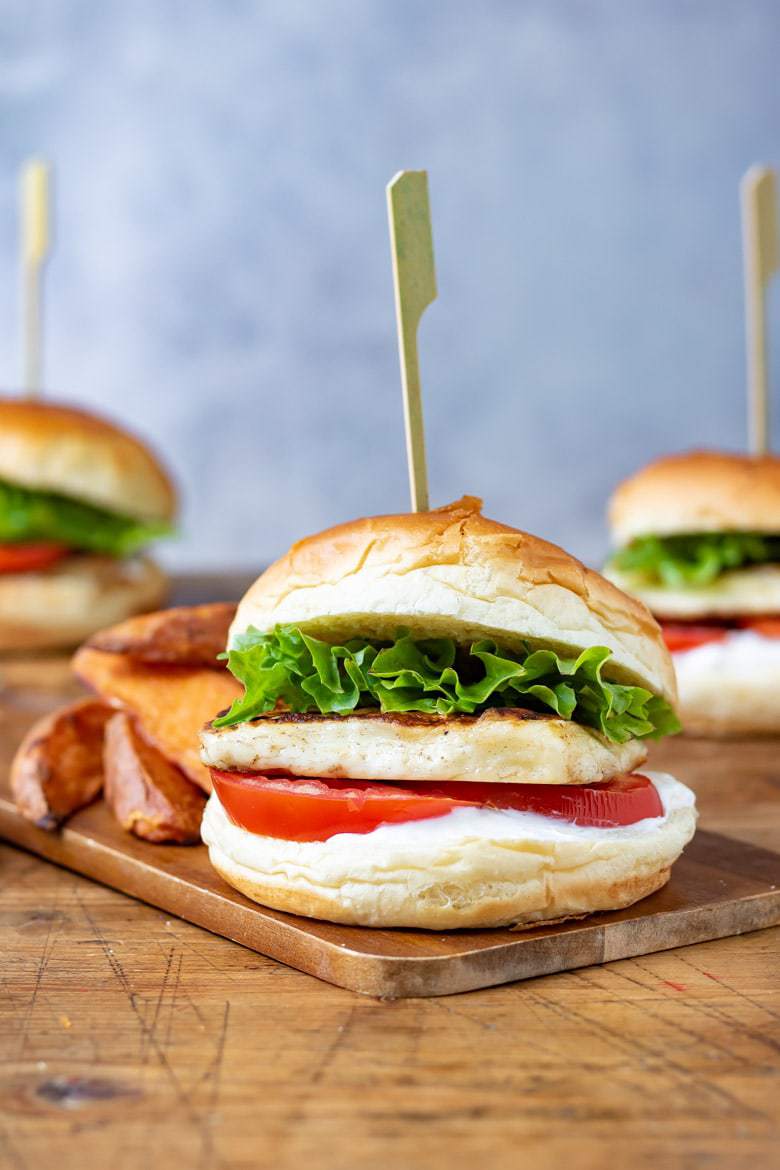 This cajun halloumi burger takes just 10 minutes to make and is an instant dinner hit. Halloumi is a cheese of the gods and hits all the right notes when spiced up and served with tomato and lettuce in a burger bun with garlic yogurt sauce.
Get the recipe from Veggie Deserts
Rice and chickpea patty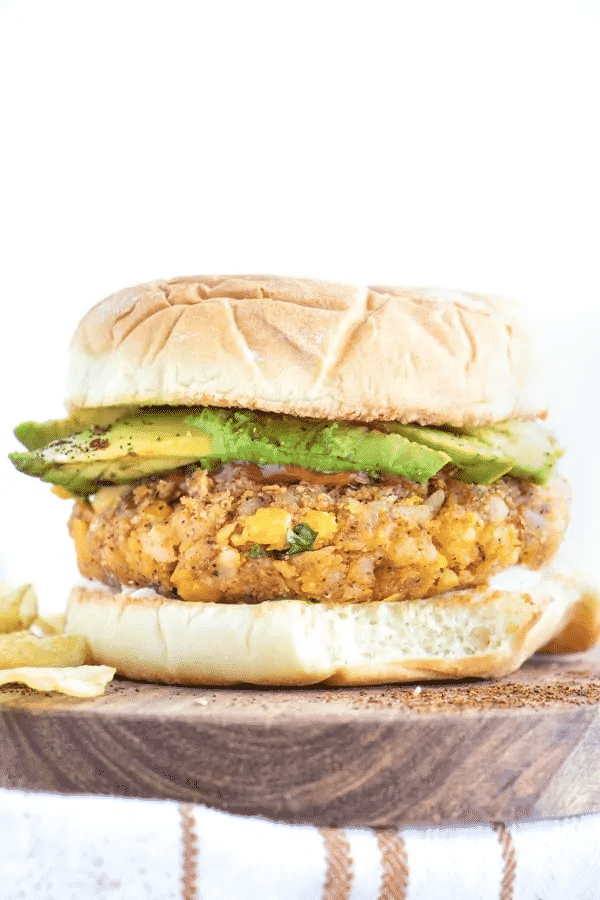 This easy vegan chickpea patty recipe has so much flavour! Made with rice, coriander, breadcrumbs and spices, it's a deliciously satisfying meal, ready in under 25 minutes!
Get the recipe from Be Plant Well
Vegan bhaji burger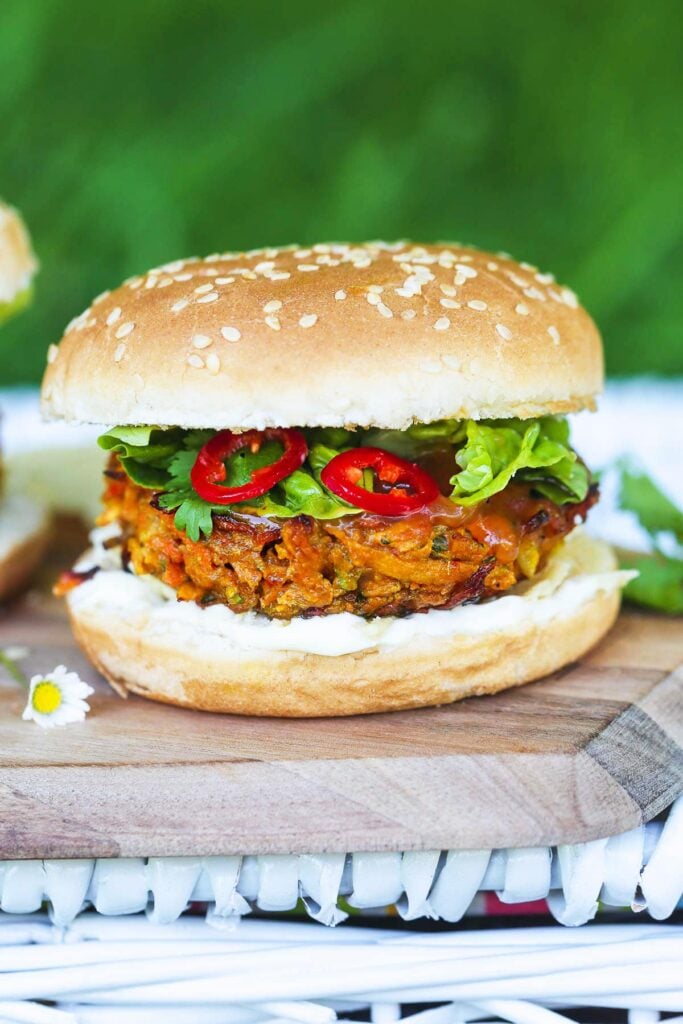 This colourful vegan bhaji burger is inspired by the classic Indian dish. It's made with red onion, sweet potatoes, carrots and plenty of aromatic spices.
Get the recipe from Little Sunny Kitchen
Sweet potato black bean burger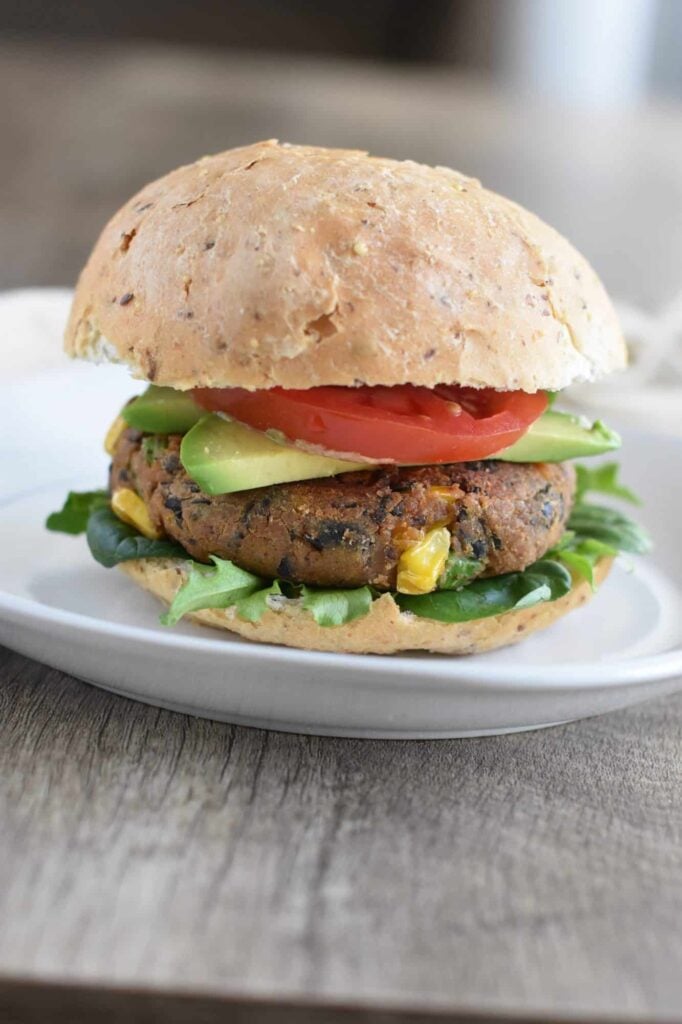 These gluten-free sweet potato black bean burgers combine mashed sweet potatoes and black beans with sweet corn, spicy jalapeno and spices for a flavourful vegan burger everyone will love.
Get the recipe from Watch Learn Eat
Pinto bean burgers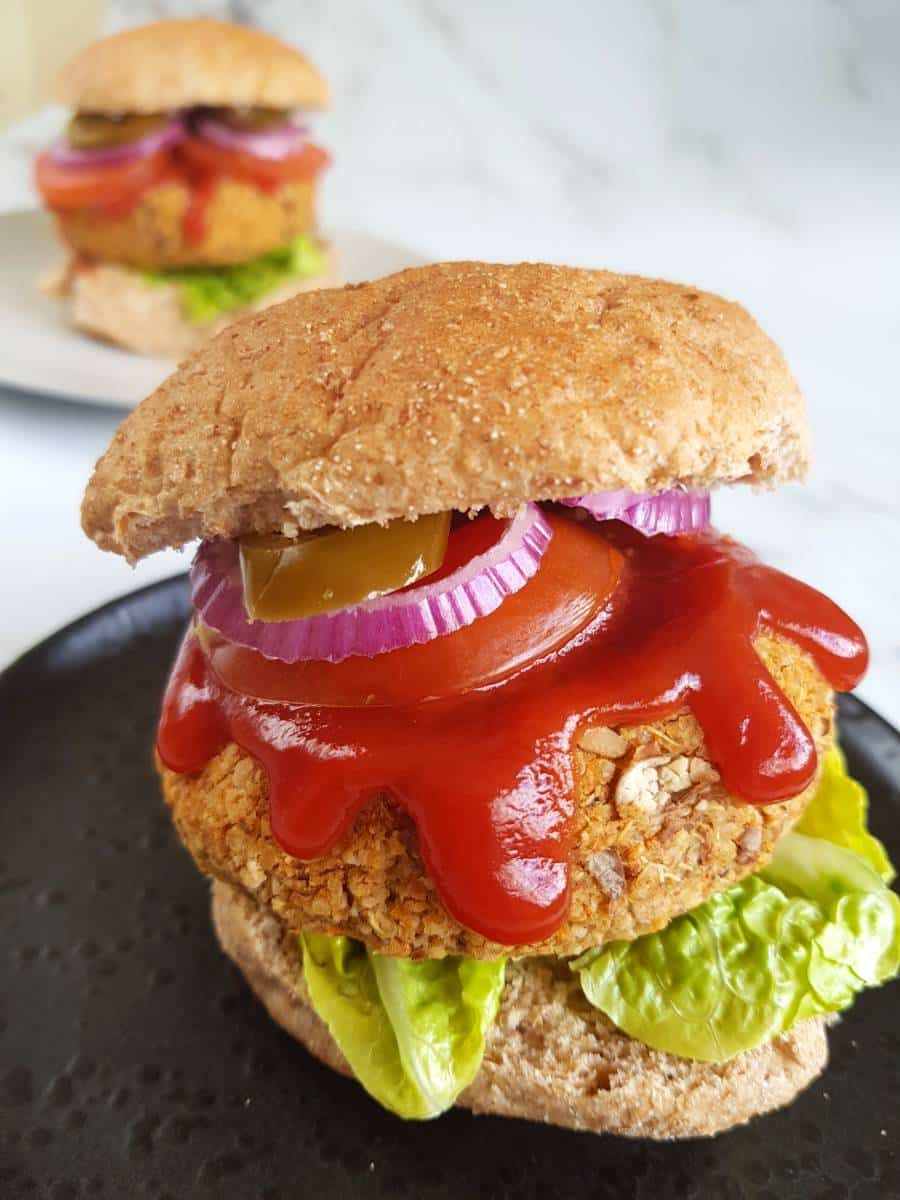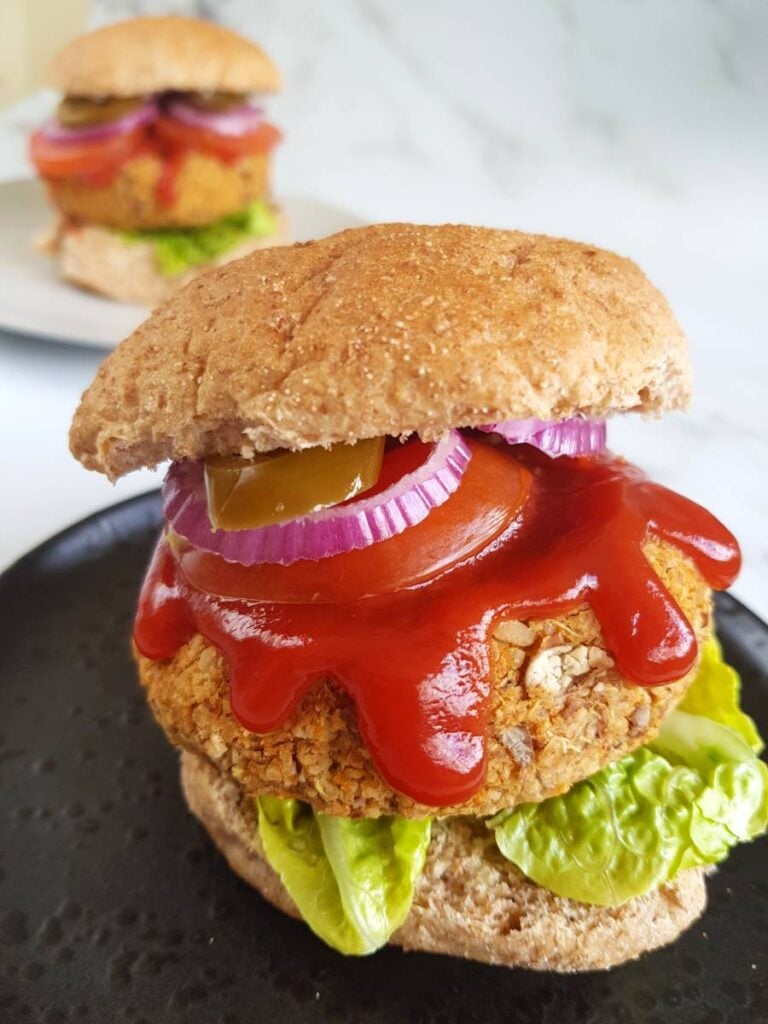 These hearty pinto bean burgers can be baked in the oven or grilled! Super easy, and delicious.
Get the recipe from Hint of Healthy
Chickpea sweet potato burgers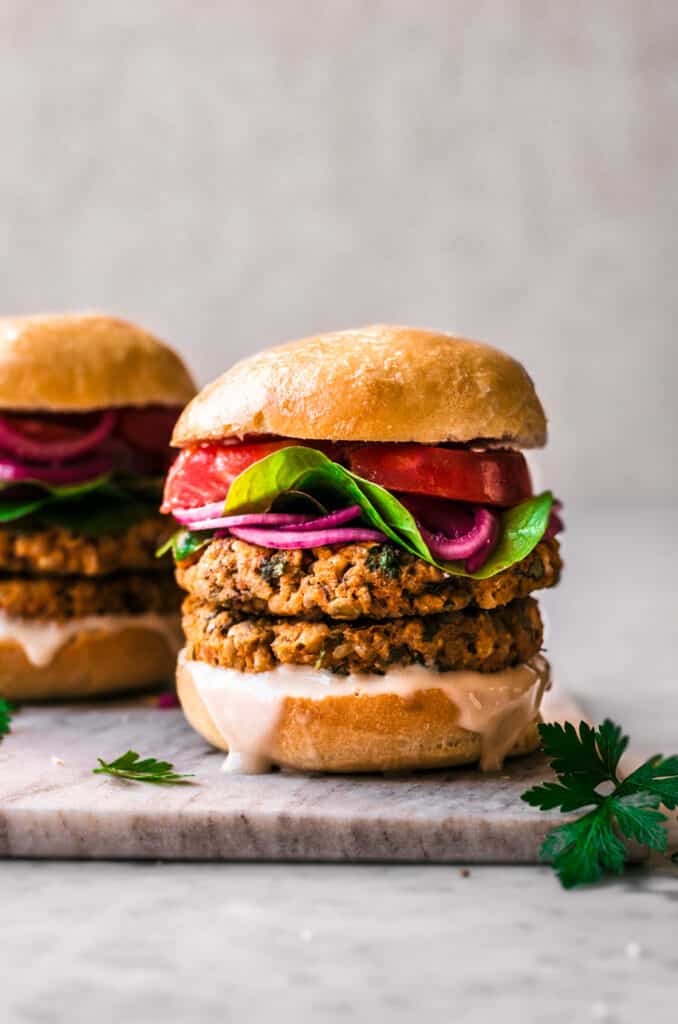 Made with brown rice, onion, walnuts, garlic, fresh parsley and spices, these chickpea sweet potato burgers could be your next healthy, gluten-free, vegan weeknight dinner.
Get the recipe from Occasionally Eggs
Vegan BBQ tofu burger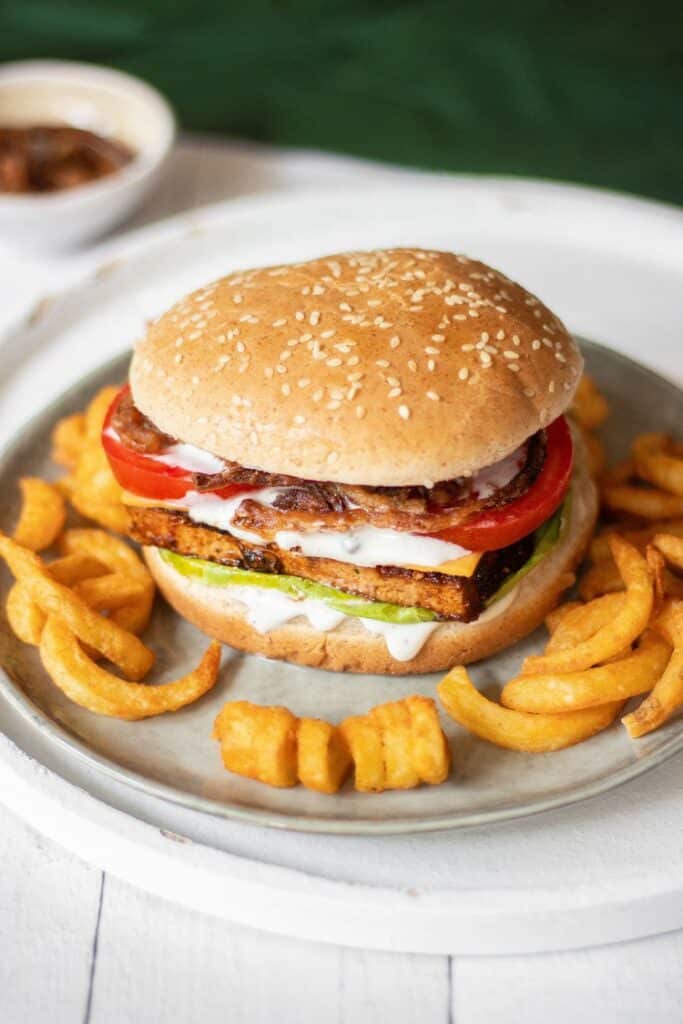 Crispy fried onions, juicy BBQ tofu, garlic aioli and lettuce with fresh tomatoes create an amazing harmony of flavour in this almost-too-good-to-eat vegan burger.
Get the recipe from The Green Loot
Towering black bean burger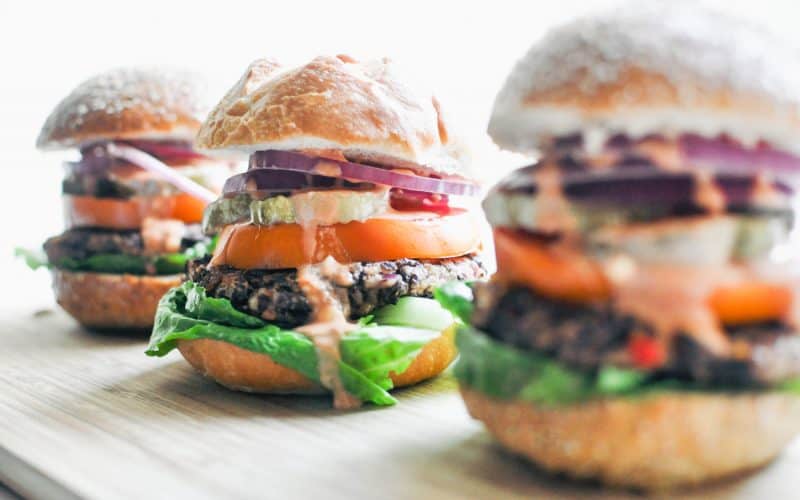 This isn't any black bean burger, it's packed full of feta cheese, bell pepper, onion, garlic and panko breadcrumbs. Sounds good, tastes even better.
Get the recipe on This Healthy Table
Spicy black bean and quinoa burger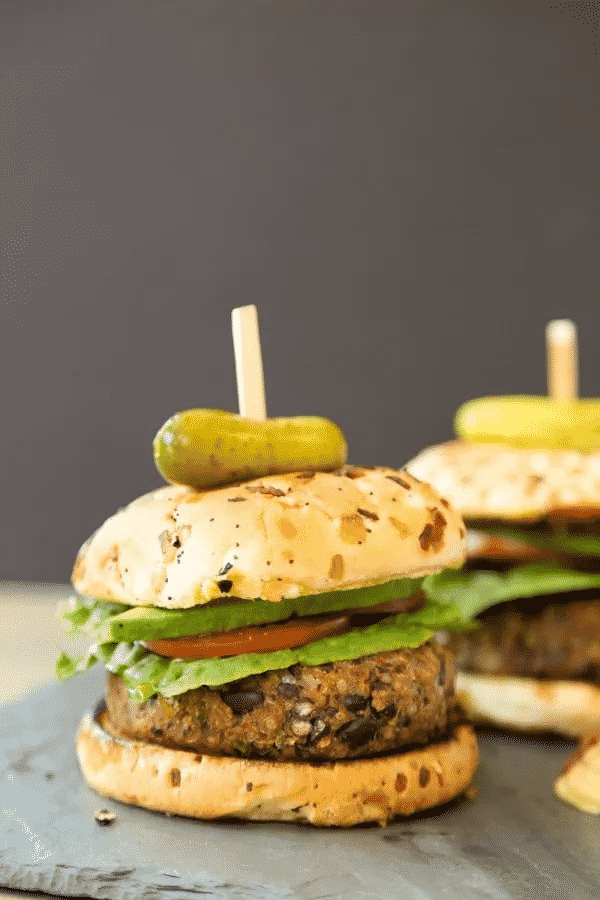 Quinoa is a fantastic source of protein and can add great texture too. This spicy veggie, black bean, and quinoa burger is easy to make and won't fall apart on the grill!
Get the recipe at Veganosity
Buffalo chickpea veggie burgers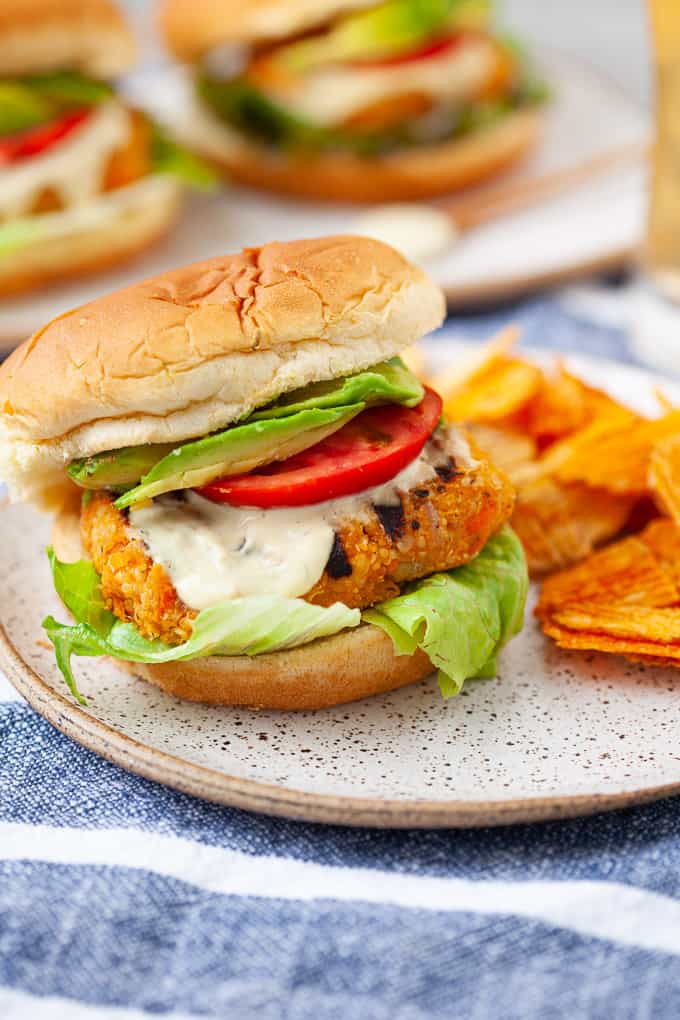 Hot sauce and miso paste are the magic ingredients making these buffalo chickpea veggie burgers taste extra special, while chickpeas and quinoa make sure you leave the table satisfied. A creamy cashew-based blue cheese dressing tops this beautiful burger off perfectly.
Get the recipe at Karalydon
Butternut and chickpea burger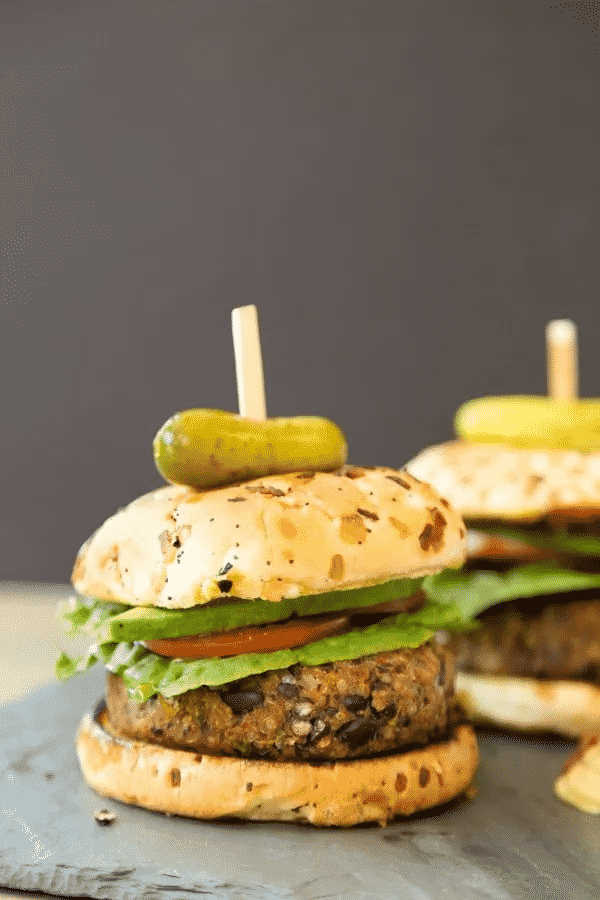 Butternut and chickpea burgers are perfect for autumn when squashes fill the markets. Gently spiced, the crunch from the peanuts takes each bite of this veggie burger to another level.
Get the recipe from Greedy Gourmet
Vegan butter burger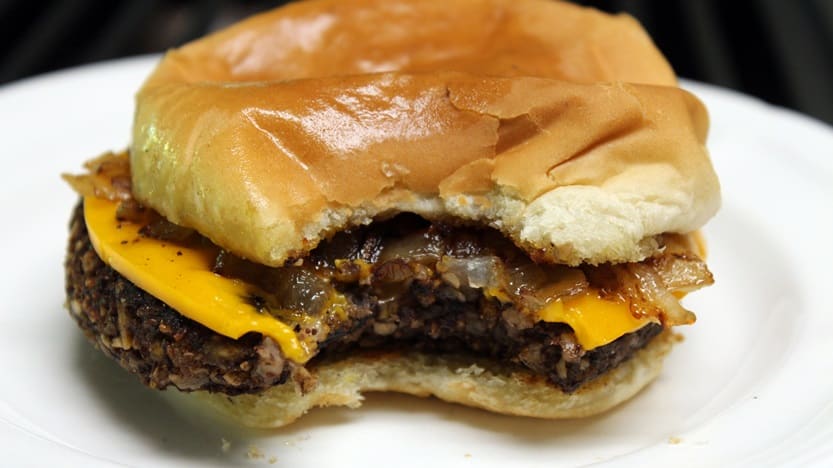 Is it a burger made from butter?! Not quite! You take brown rice, mushroom, beans, onion, oats and spices, bring them together and then fry them in a whole lot of vegan butter. A topping of melted vegan cheese makes this one decadent burger.
Get the recipe from Planted 365
Bean and lentil veggie burgers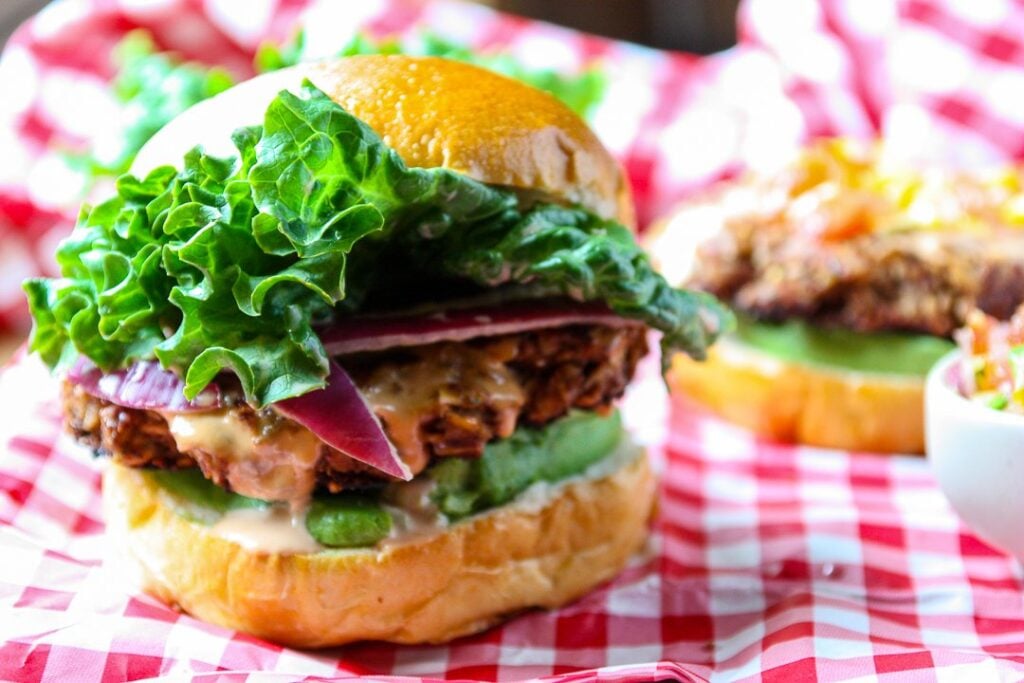 These veggie burgers are made with red beans, lentils and mushrooms, but it's the chipotle mayo and salsa that really gives them their tasty southwestern flair.
Get the recipe from The Food Blog
Moroccan-spiced beet veggie burgers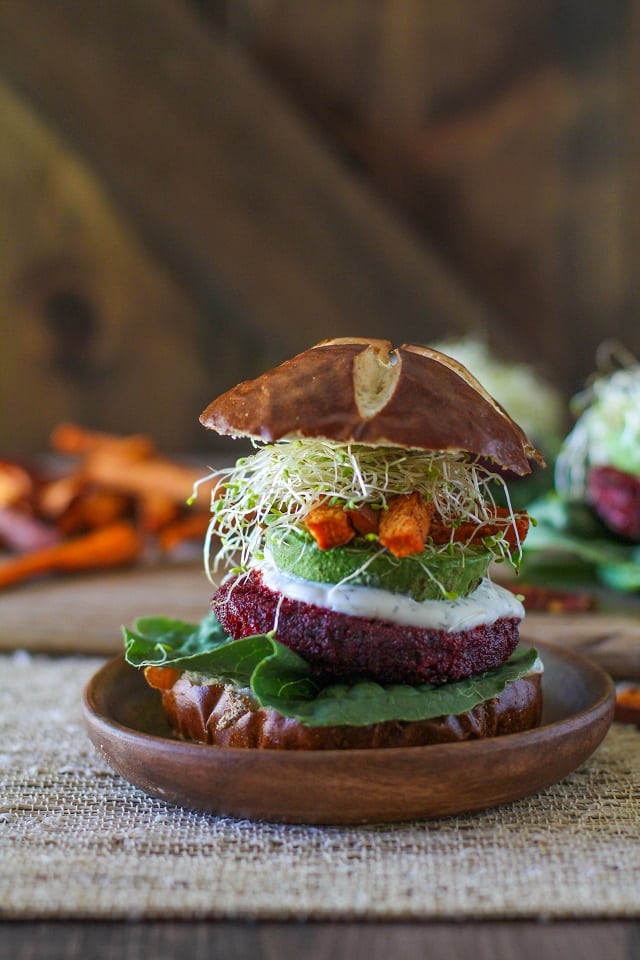 These delicious veggie burgers are made with beetroot, carrots and brown rice, all mixed up with Moroccan spices. Serve on a pretzel bun with herbed goat cheese, avocado, sweet potato fries, and sprouts and you're in for an amazing meal!
Get this recipe from The Roasted Root
Vegan falafel burger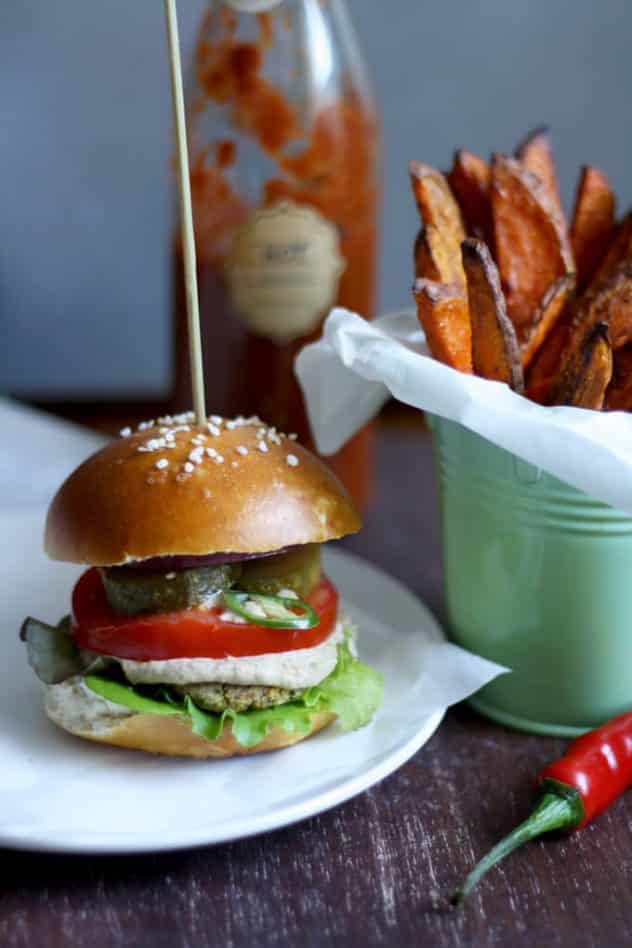 This juicy vegan falafel burger is a twist on the mediterranean class, served in a pretzel bun with creamy tahini sauce and crispy and tender sweet potato fries.
Get the recipe from Happy Kitchen
Southwest black bean burgers
These protein-packed black bean burgers have a southwest flair with a flavourful seasoning combo and added red pepper for a juicy kick.
Get the recipe from Healthy Family Project
Walnut burgers
If you've had enough of bean burgers, these bean-free walnut burgers should do the trick. They have an amazing juicy texture you don't often find in veggie burgers thanks to plenty of mushrooms.
Get the recipe from The Live In Kitchen
10-minute spicy vegan bean burgers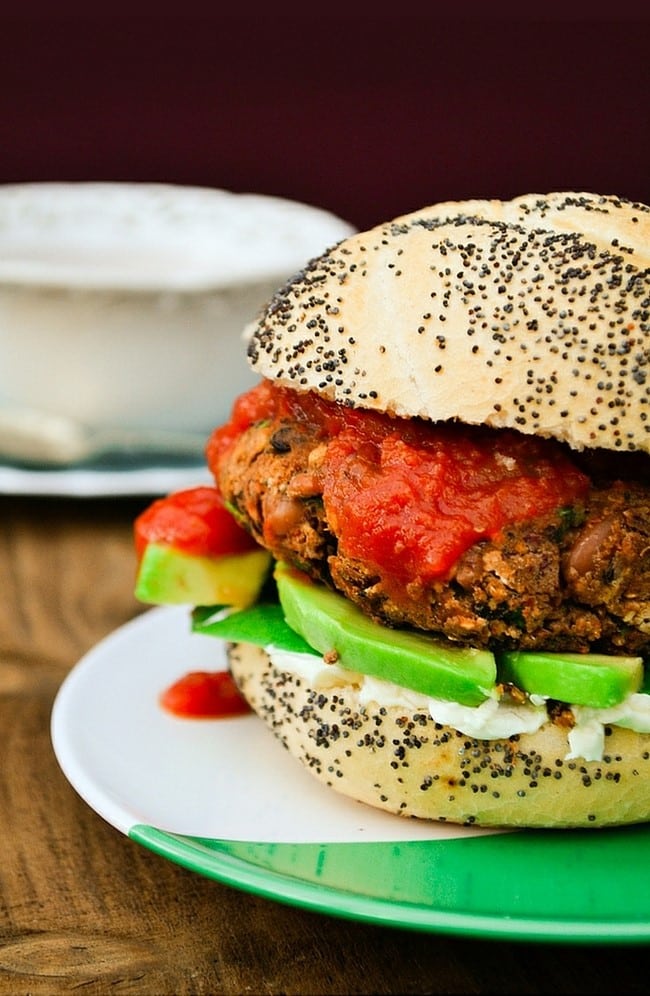 Sometimes you want a burger and you want it now. These spicy bean burgers can be whipped up in 10 minutes ready to cook, and all you'll need is beans, oats, fresh herbs and spices.
Get the recipe from Tinned Tomatoes
Cheddar cauliflower burgers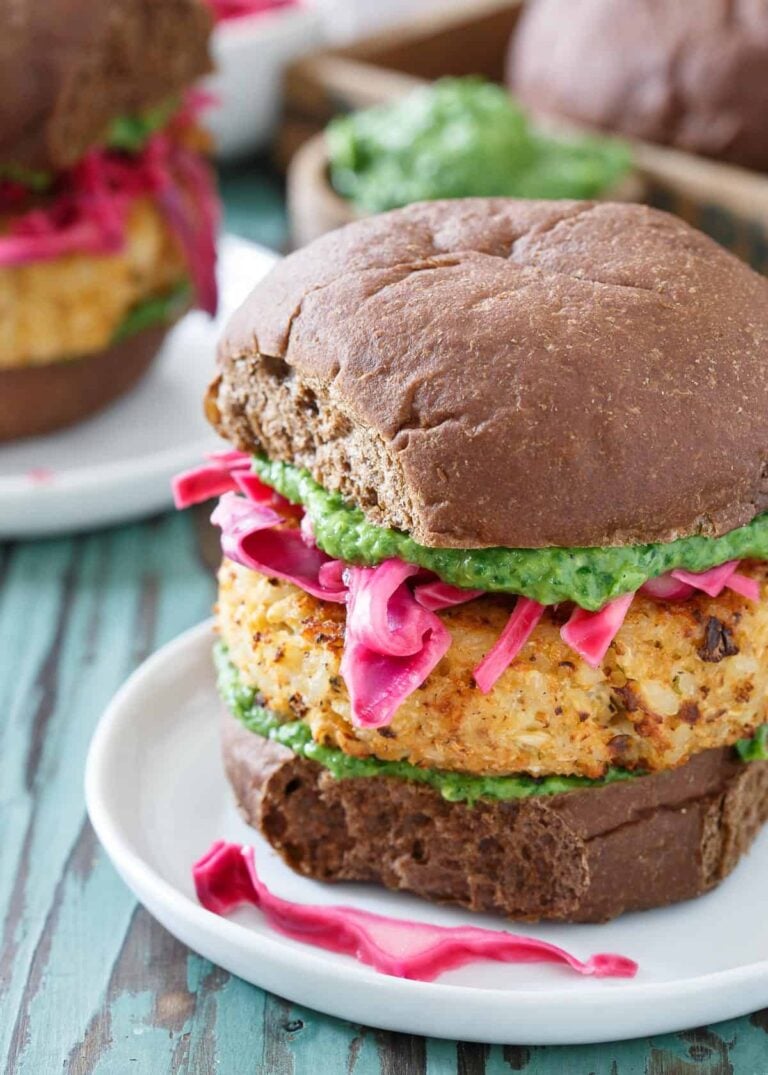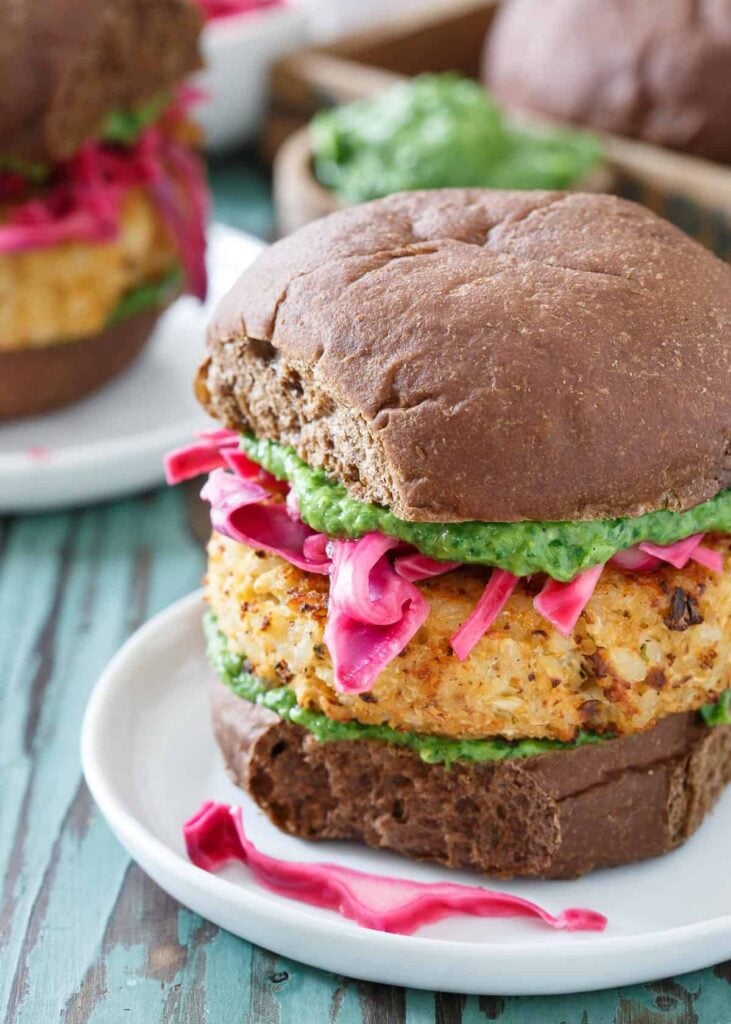 These vegetarian cauliflower burgers are stuffed with cheddar cheese and topped with pickled red cabbage and a zesty, refreshing cilantro pesto. Creamy, salty, zingy - they've got it all!
Get the recipe from Running To The Kitchen
Halloumi burgers with pineapple and avocado
Grilled halloumi cheese is the basis of this amazing burger, dressed up with pineapple, smashed avocado, lime and coriander sauce.
Get the recipe from Everyday Delicious
Keto cauliflower falafel burgers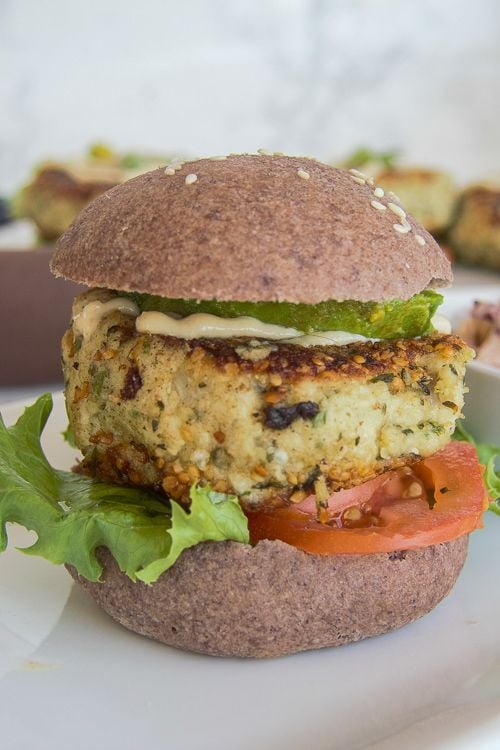 These cauliflower falafel burgers are not only meat-free, they're also made without pulses or grains, so if you're following a keto diet, this could be the burger for you.
Get the recipe from Keto Vegetarian Recipes
---
As you've seen, there is nothing boring about veggie burgers. In fact, there's so much choice, you could be cooking for a loooong time and never eat the same veggie burger twice!
Which one gets your mouth watering the most?
Pin this incredible collection of veggie burger recipes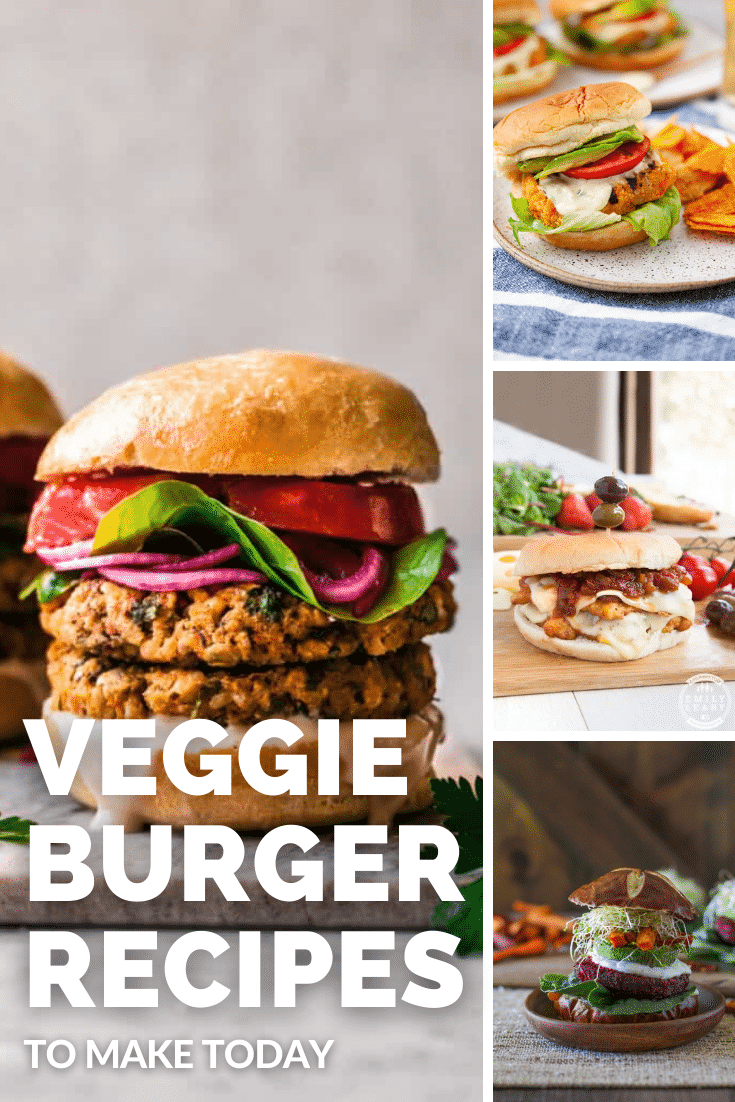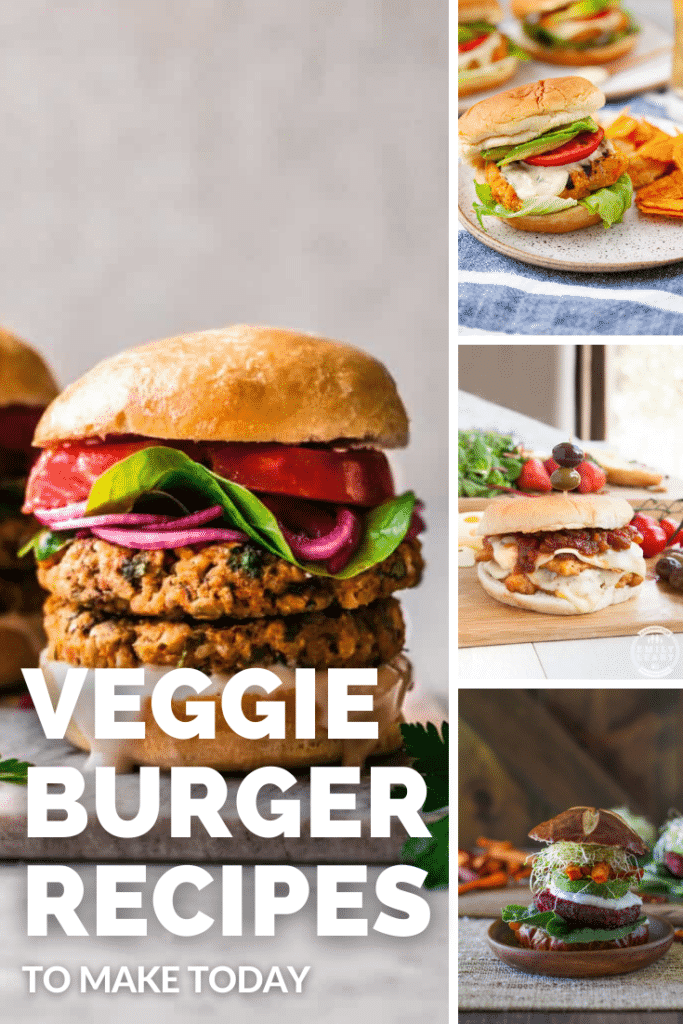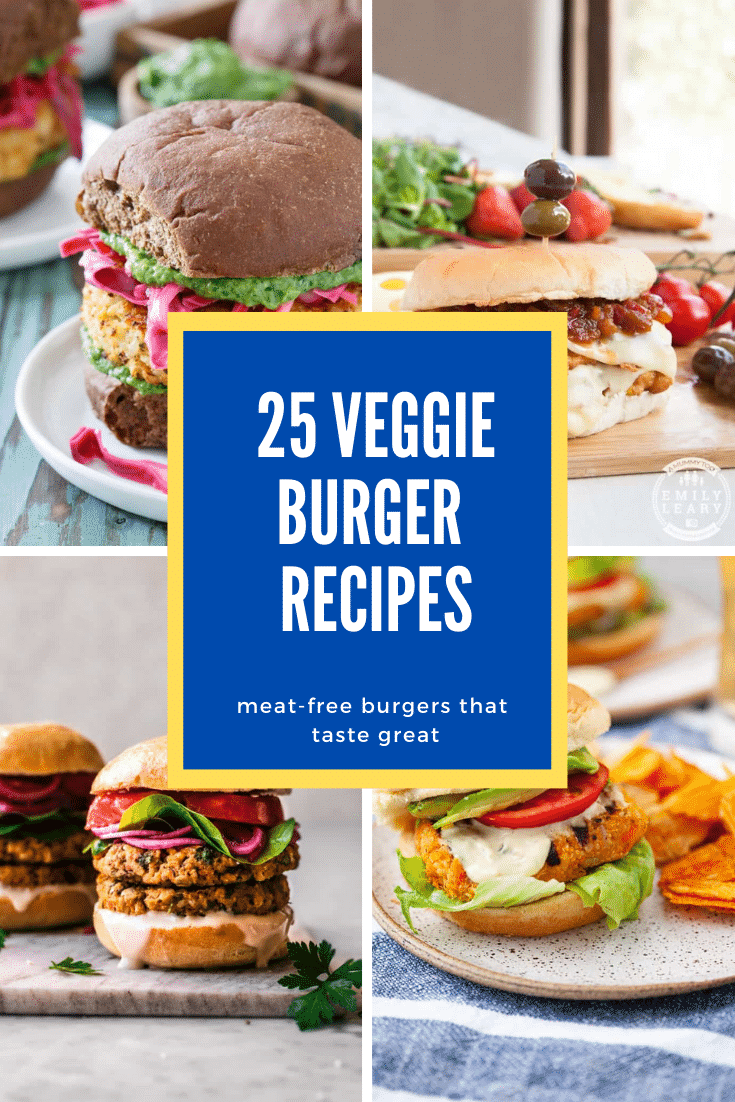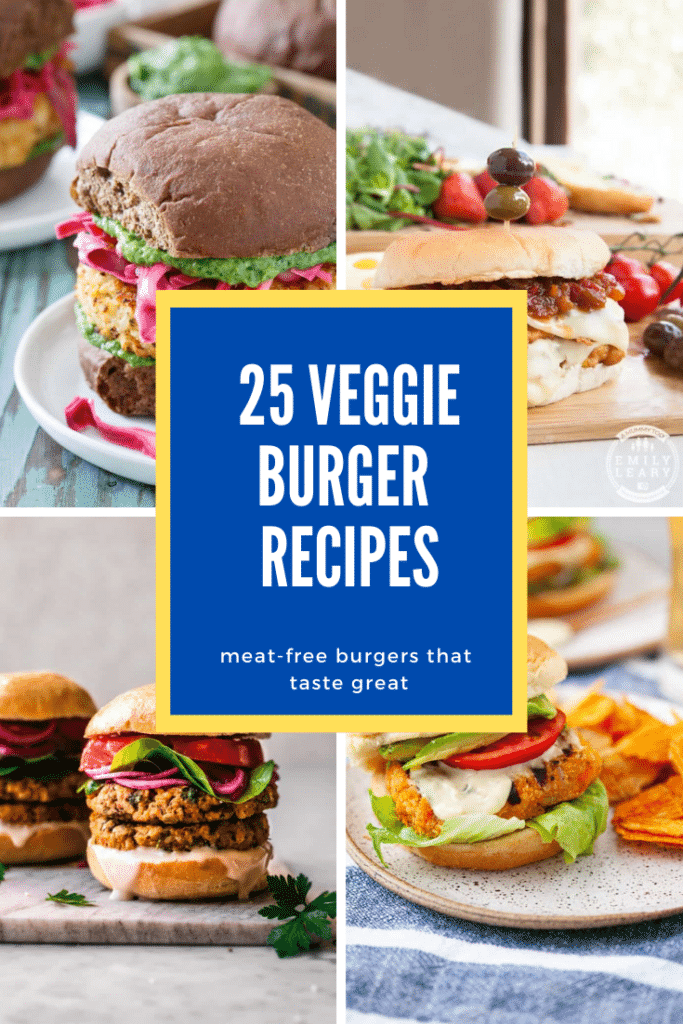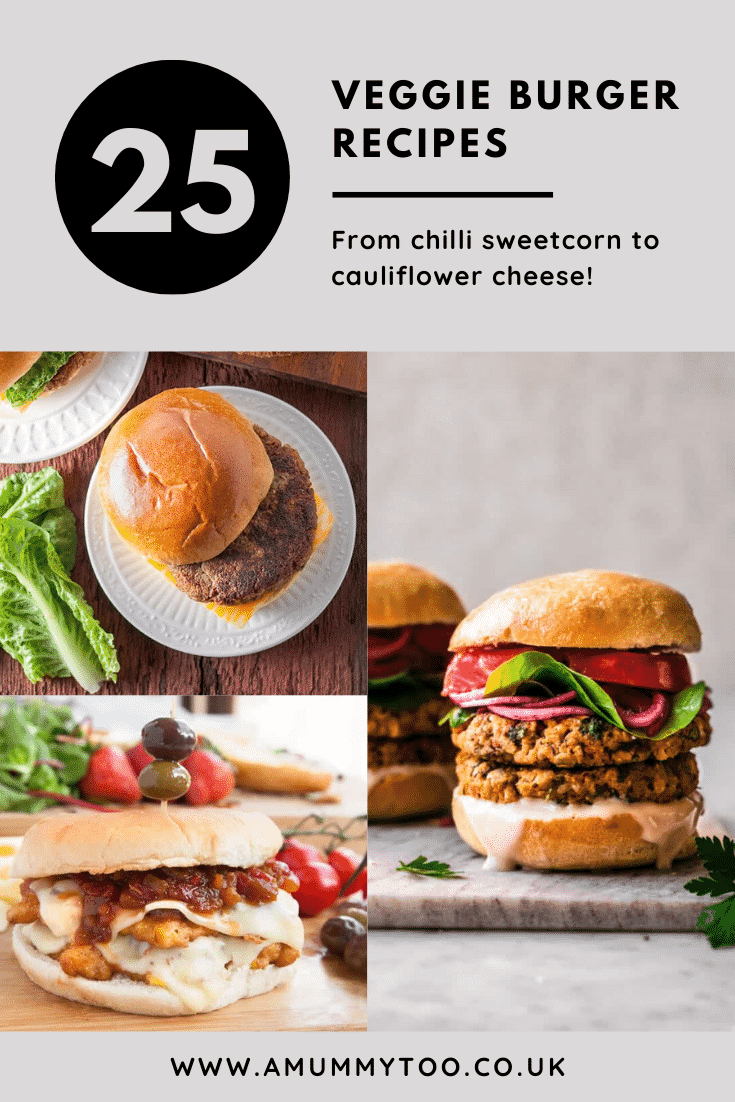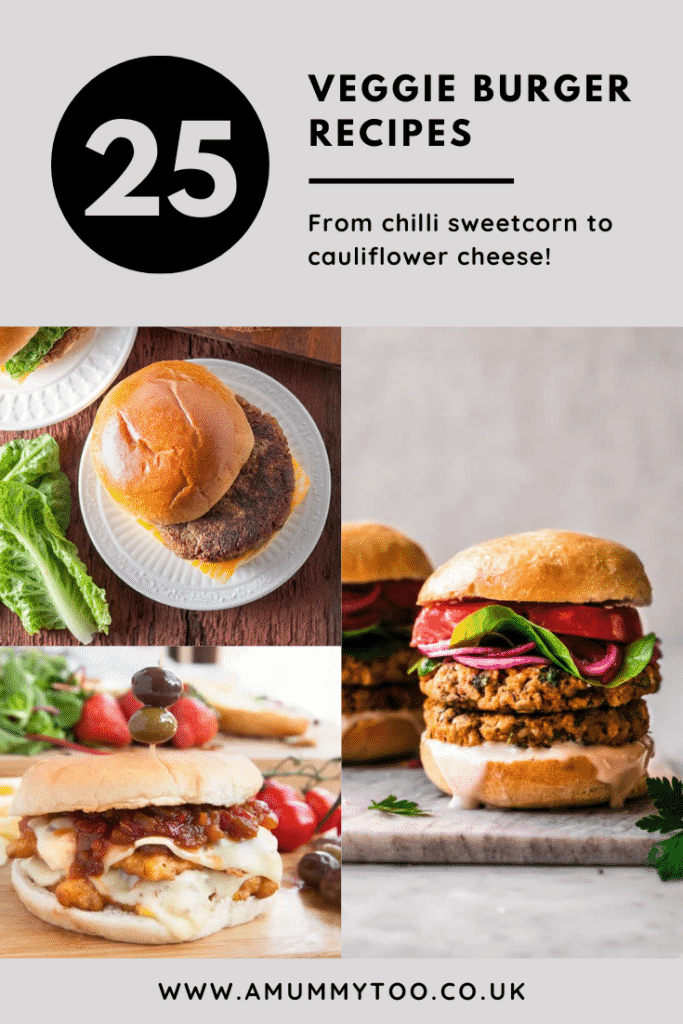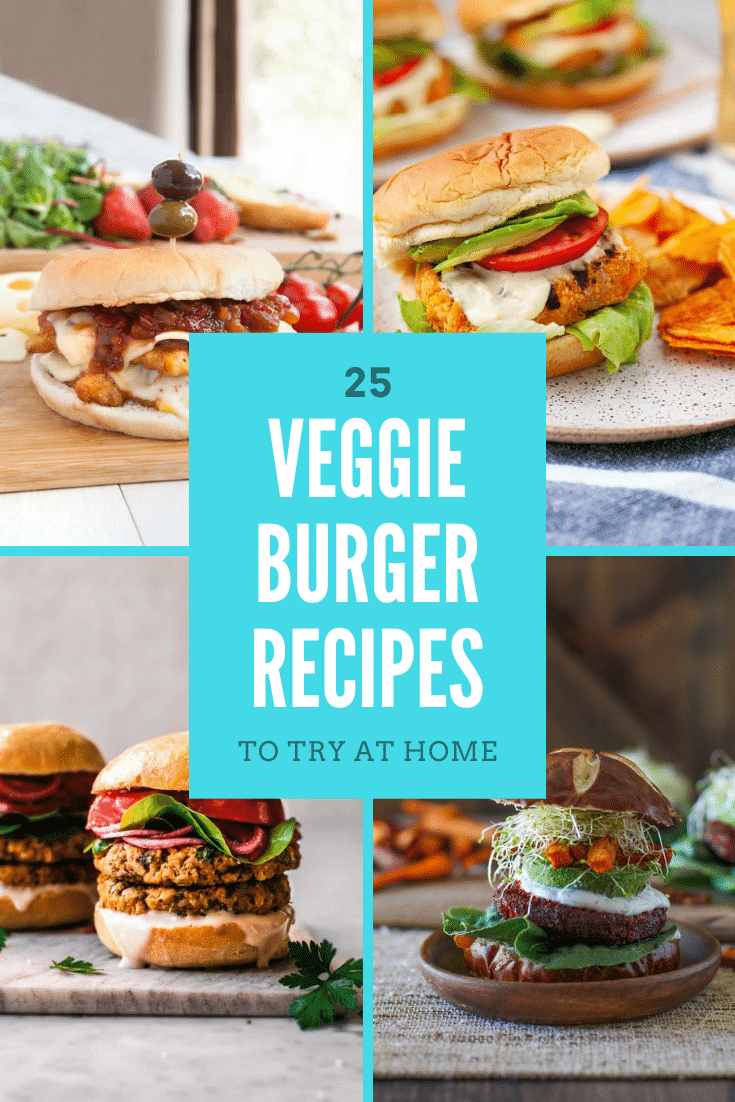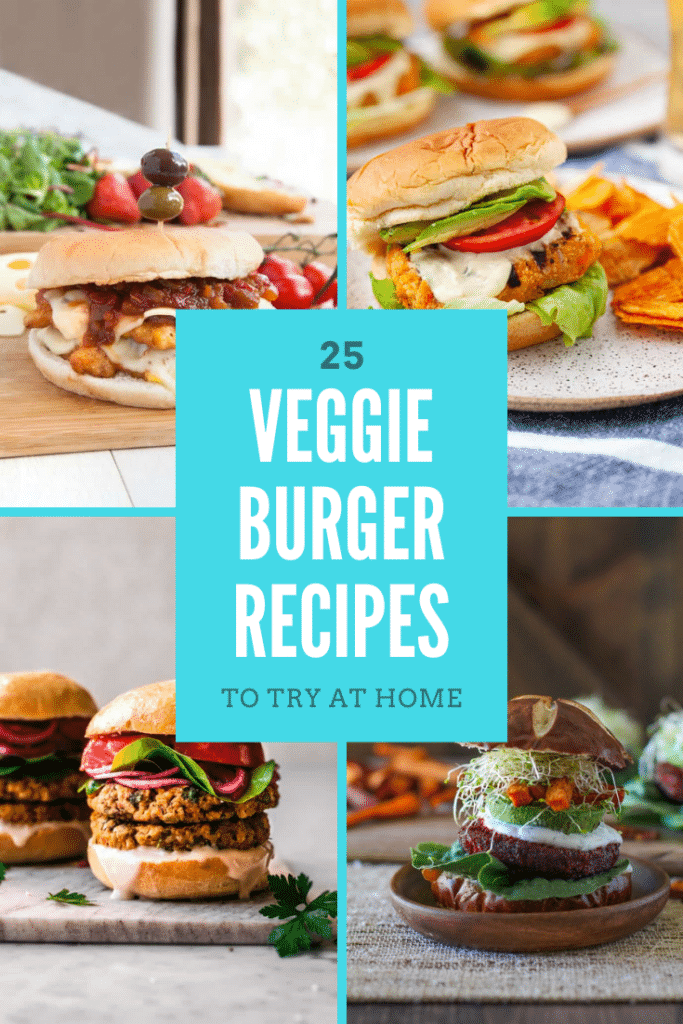 Hungry for more? Try these vegetarian recipes next
Vegetarian Mince Chilli
This is honestly the best vegetarian mince chilli! It's rich, packed with veg and delicious. What's more, it's sure to satisfy even the meat-eaters in your family, thanks to the use of Quorn or soya mince.
Get the recipe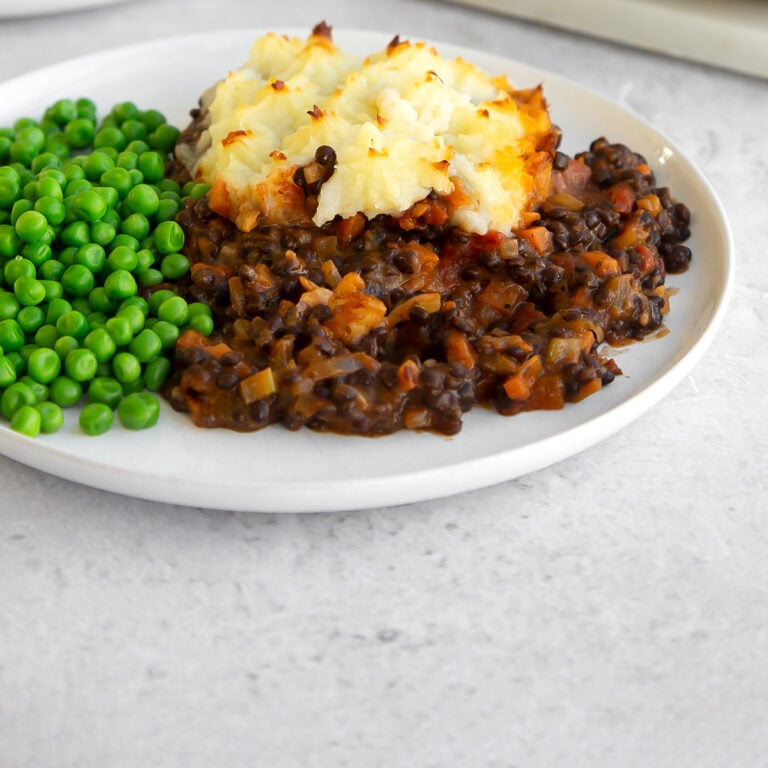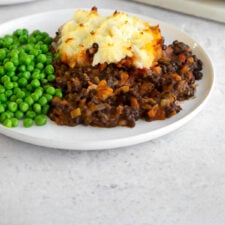 Gluten Free Vegetarian Pie
This delicious gluten free vegetarian pie is made with leeks, pea and Quorn chicken-style pieces in a creamy white sauce, topped with gluten-free shortcrust pastry.
Get the recipe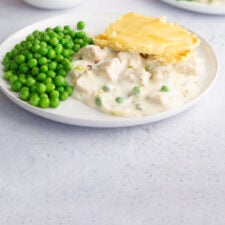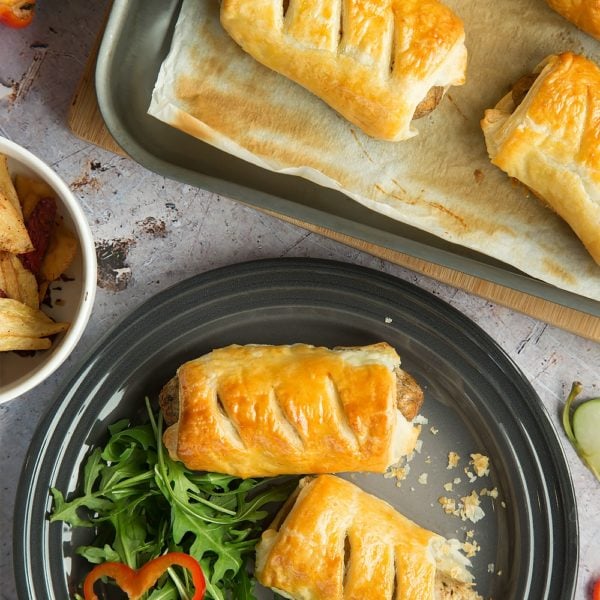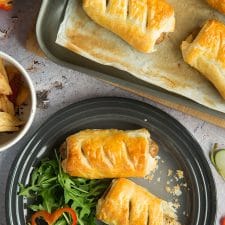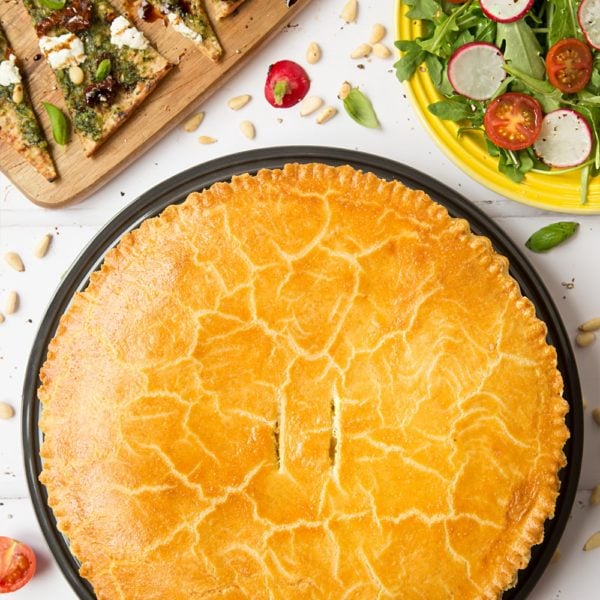 6 FUN recipes to make with kids - a FREE family baking eBook!
Have a free copy of my family baking eBook! With 6 easy recipes and bonus activities to get kids into the kitchen - and keep them busy for hours!