These spooky, gory Halloween cupcakes are a winner for celebrating the spookiest night of the year. They're sure to be a hit with zombies too!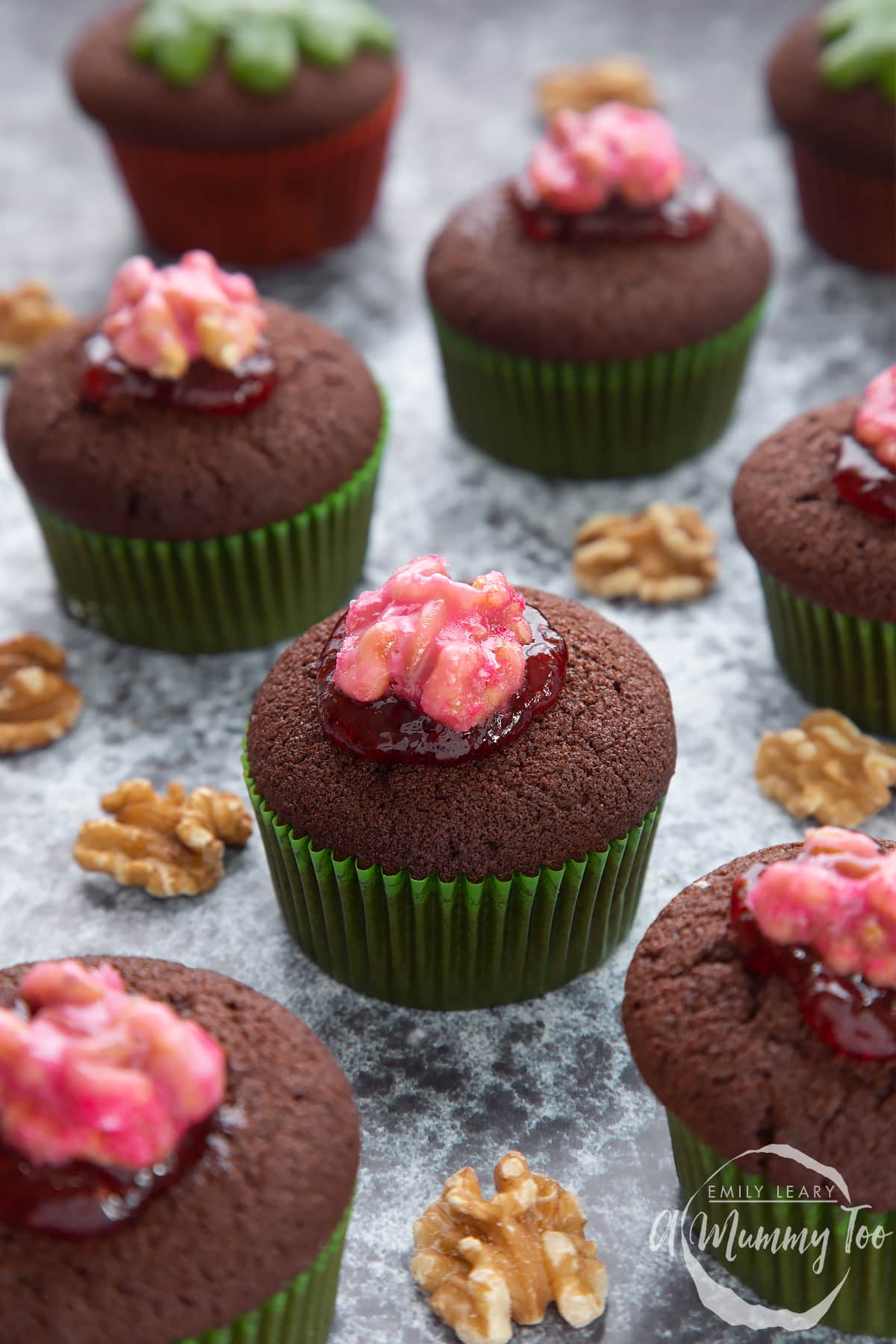 They deliciously soft and chocolatey cupcakes, filled with strawberry jam and topped with pink candied walnuts.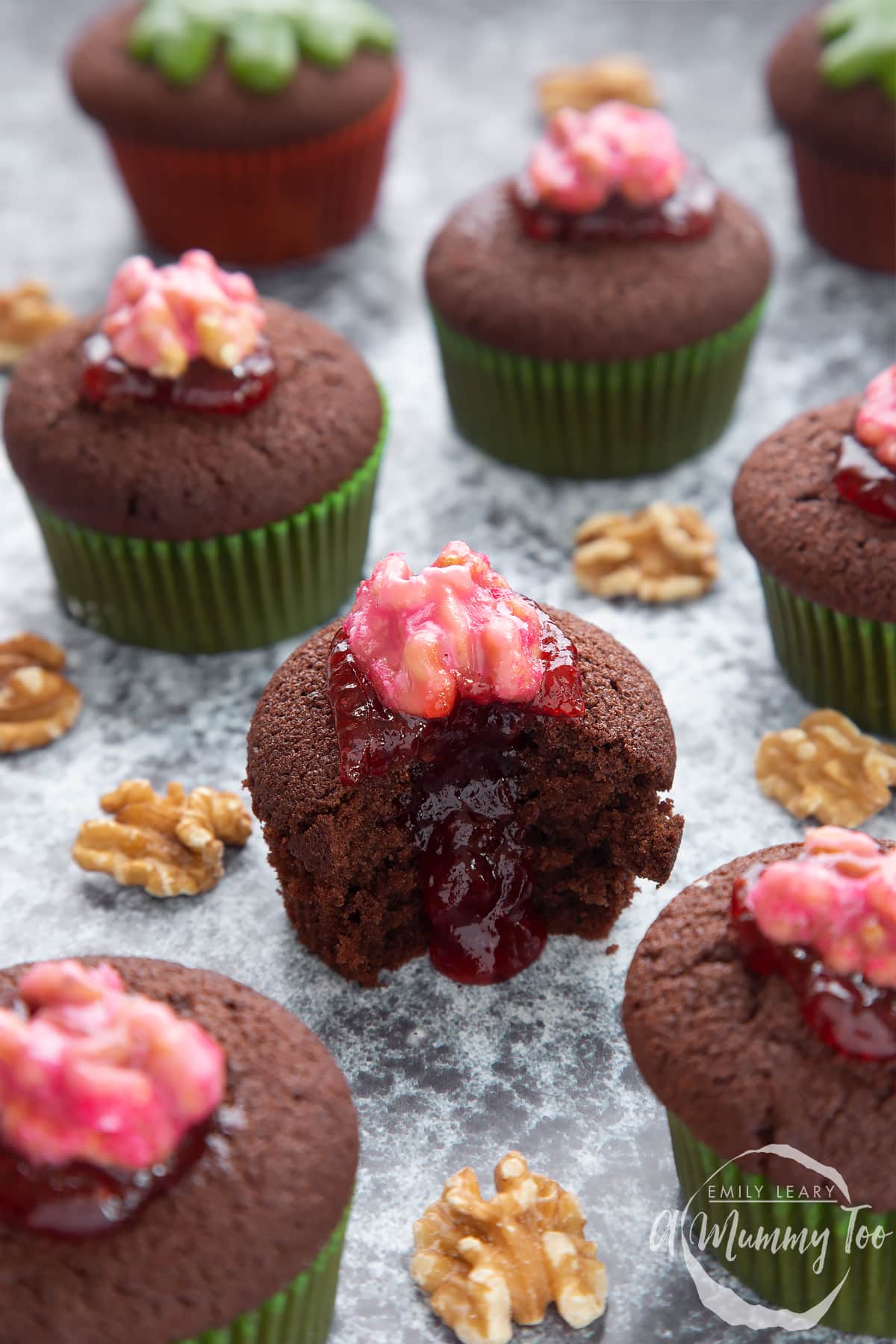 Ingredients
Equipment
Instructions
Make the cupcakes
Preheat the oven to 200C (180C fan).
Put the margarine, oil, caster sugar, milk, cocoa and eggs in a large mixing bowl.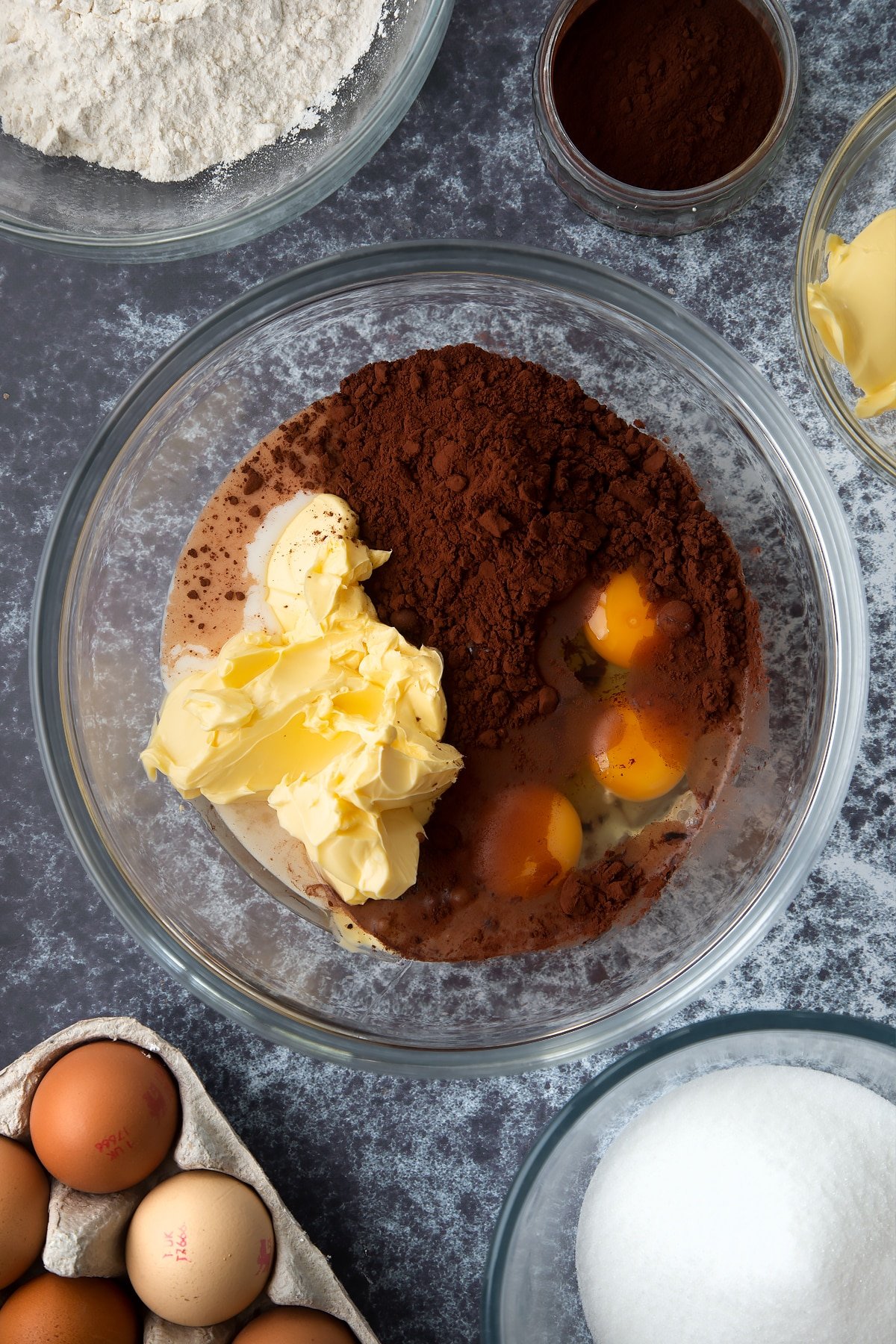 Add the self-raising flour.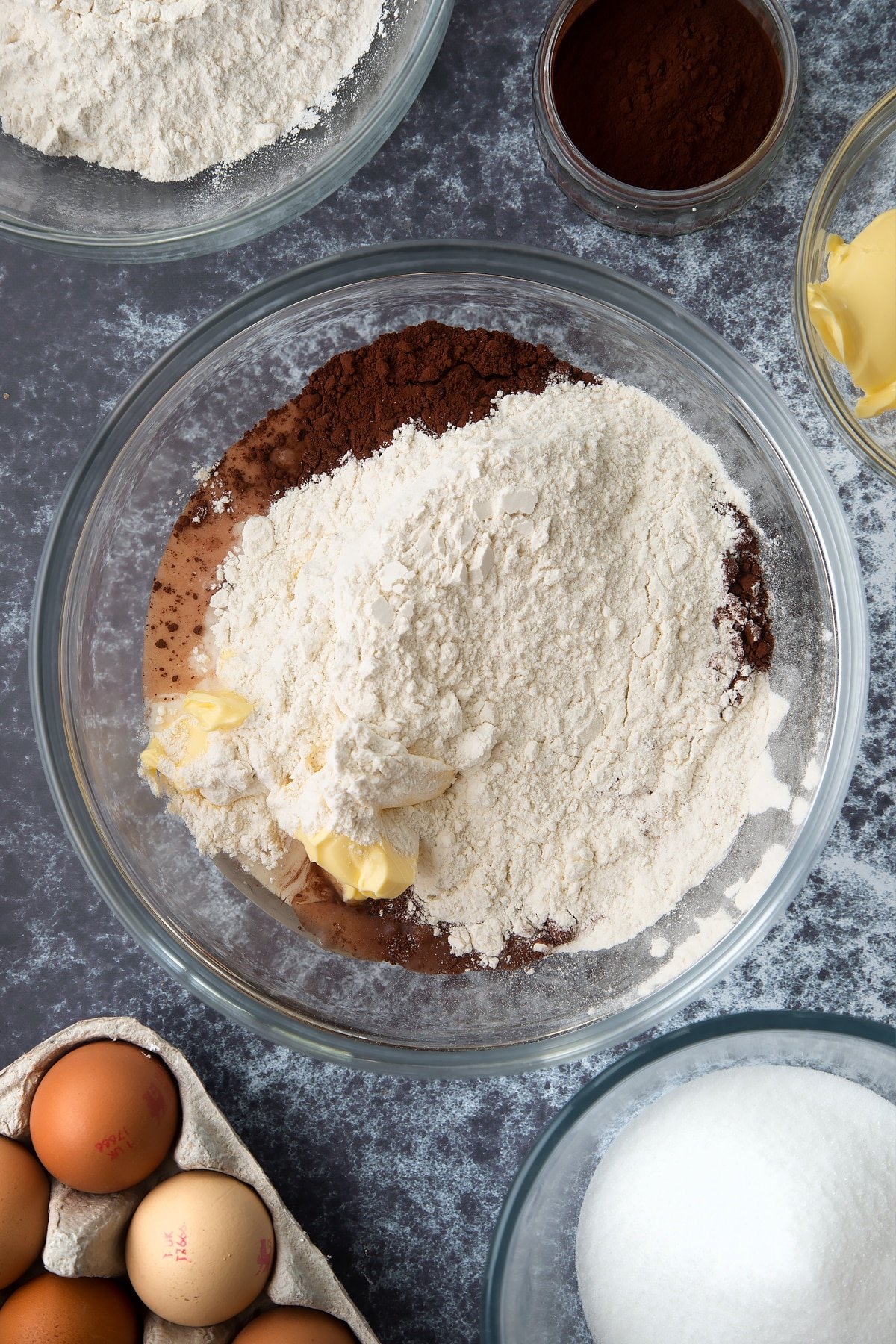 Whisk, starting slowly and then speeding up until you have a light, smooth batter.
Line a 12-hole muffin tray with cupcake cases and spoon the batter evenly between them. I find the easiest way to do this is with a large ice cream scoop. Don't forget to level off.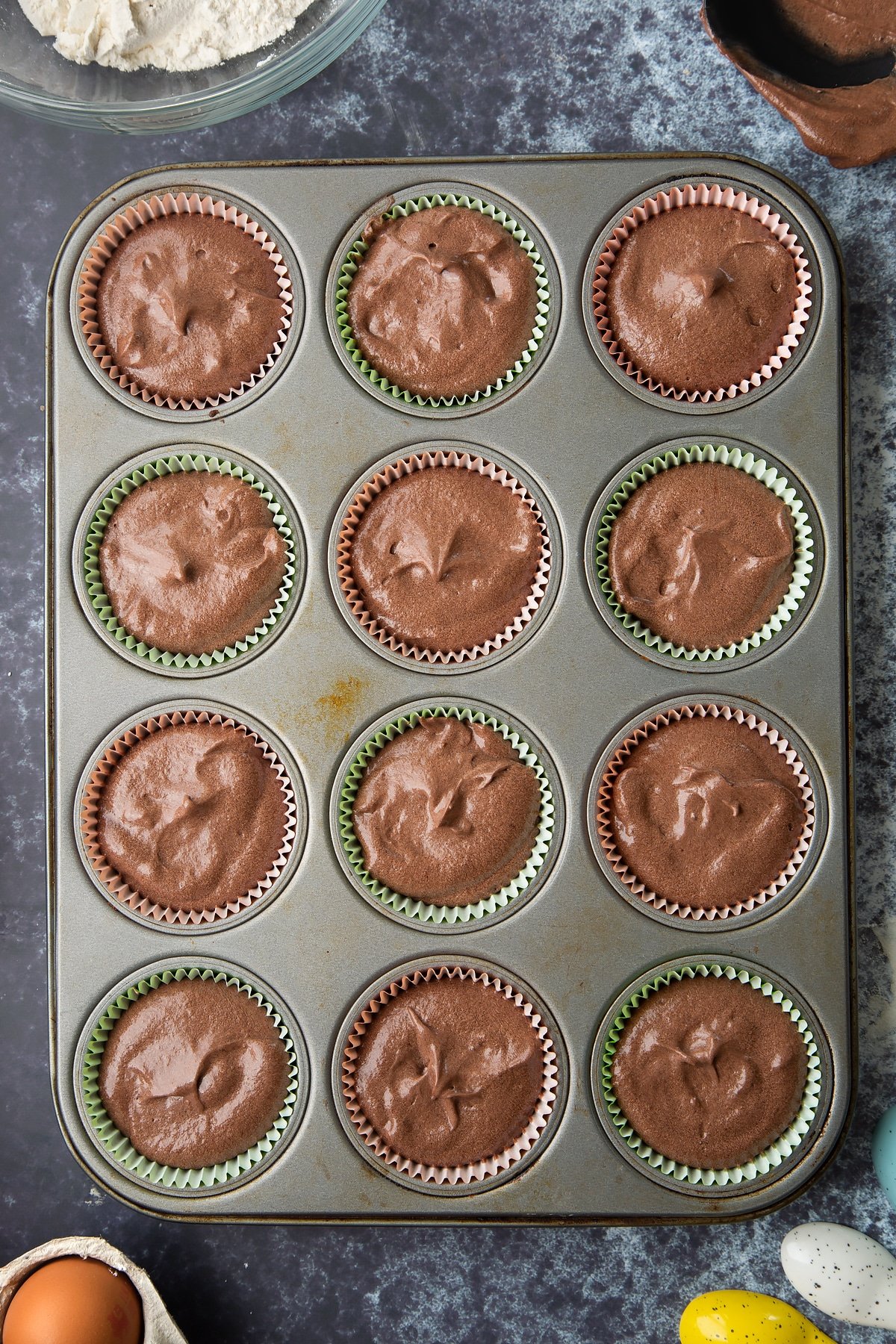 Bake for 20-25 minutes until springy to the touch. If you take them out too soon, they'll sink.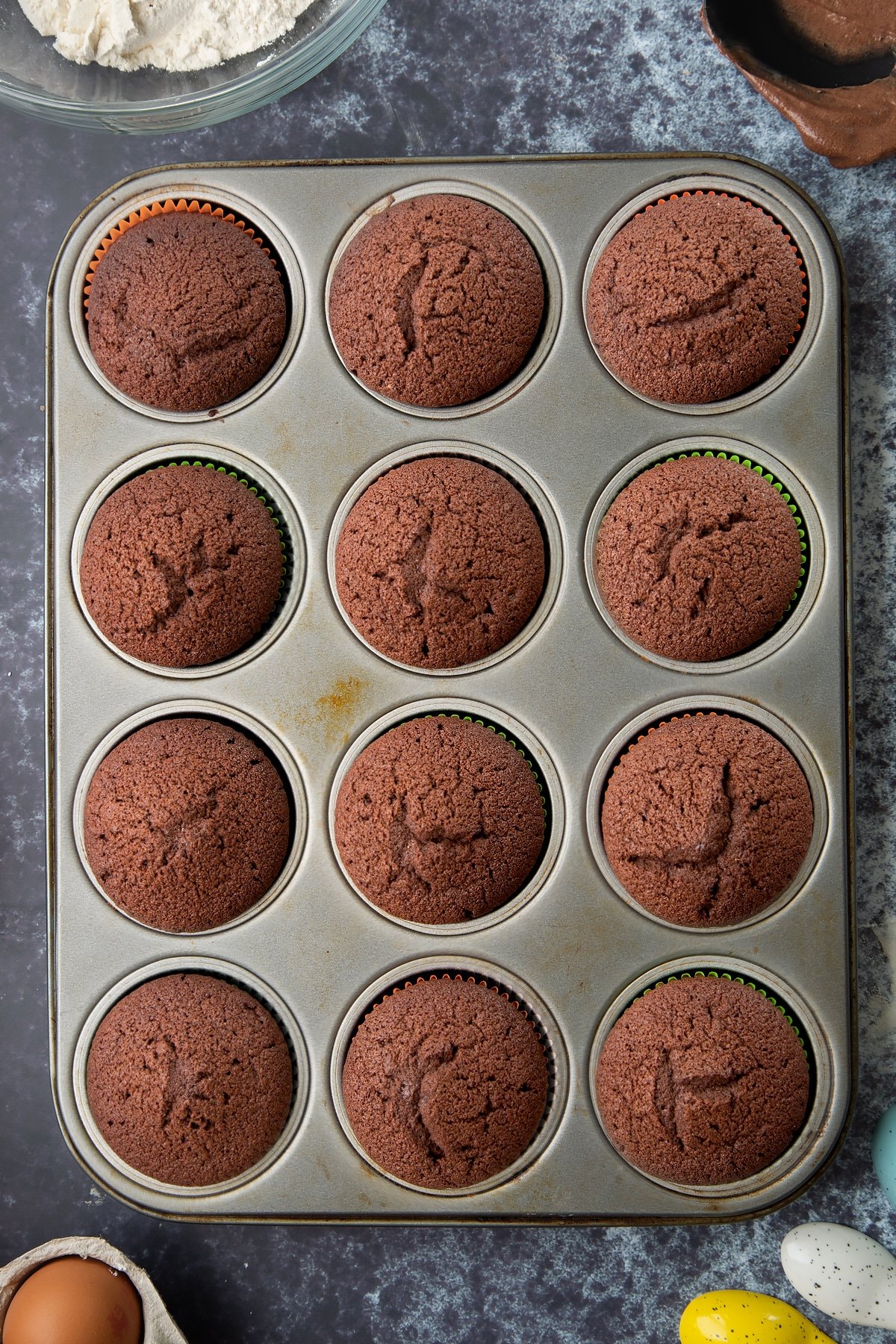 Transfer the cakes to a wire cooling rack and allow to cool completely.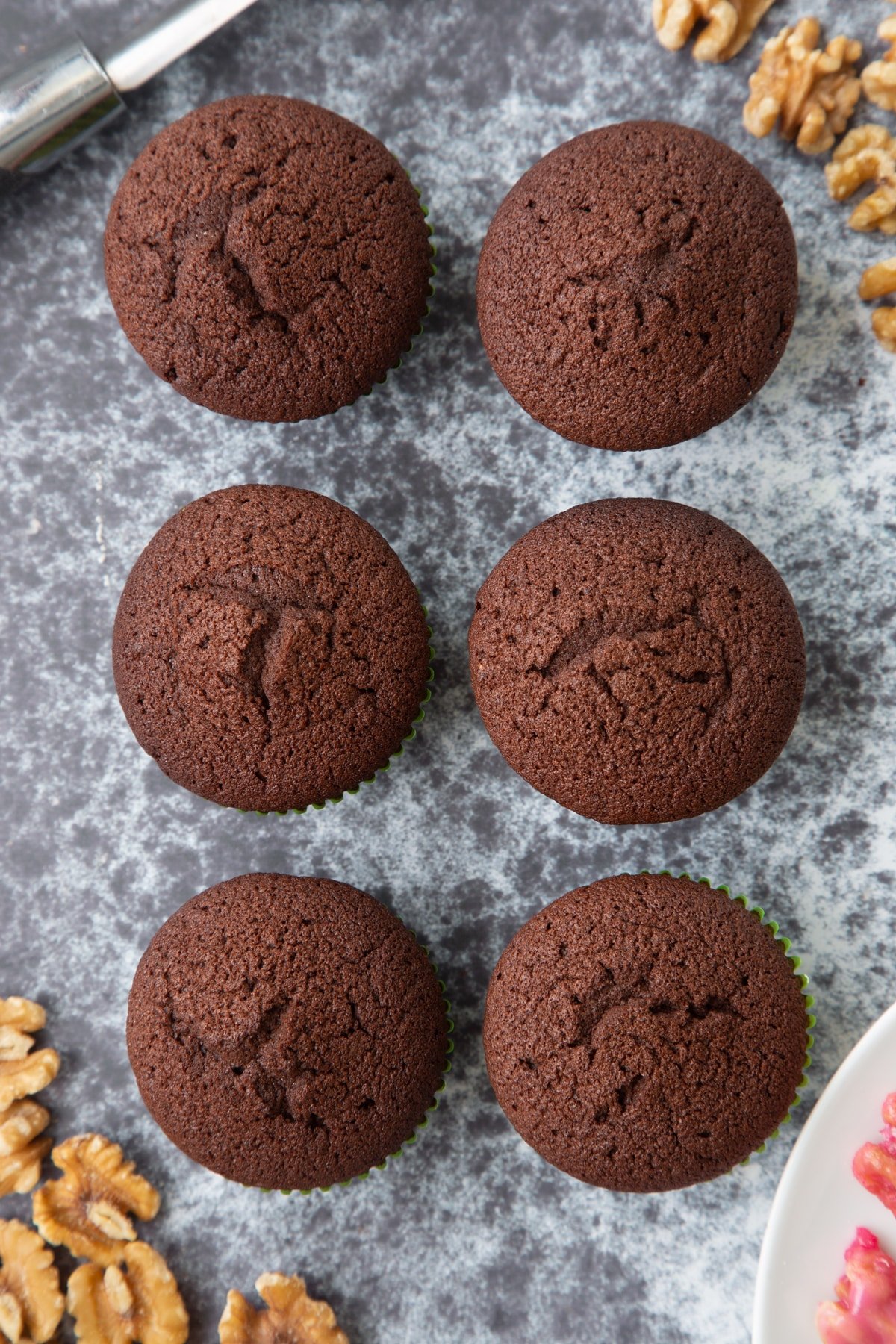 Make the walnut brains
Place the walnuts on a microwave-safe plate.
Put the icing sugar, pink food colouring and 1/2 tsp water in a small bowl.
Mix to give a thick icing.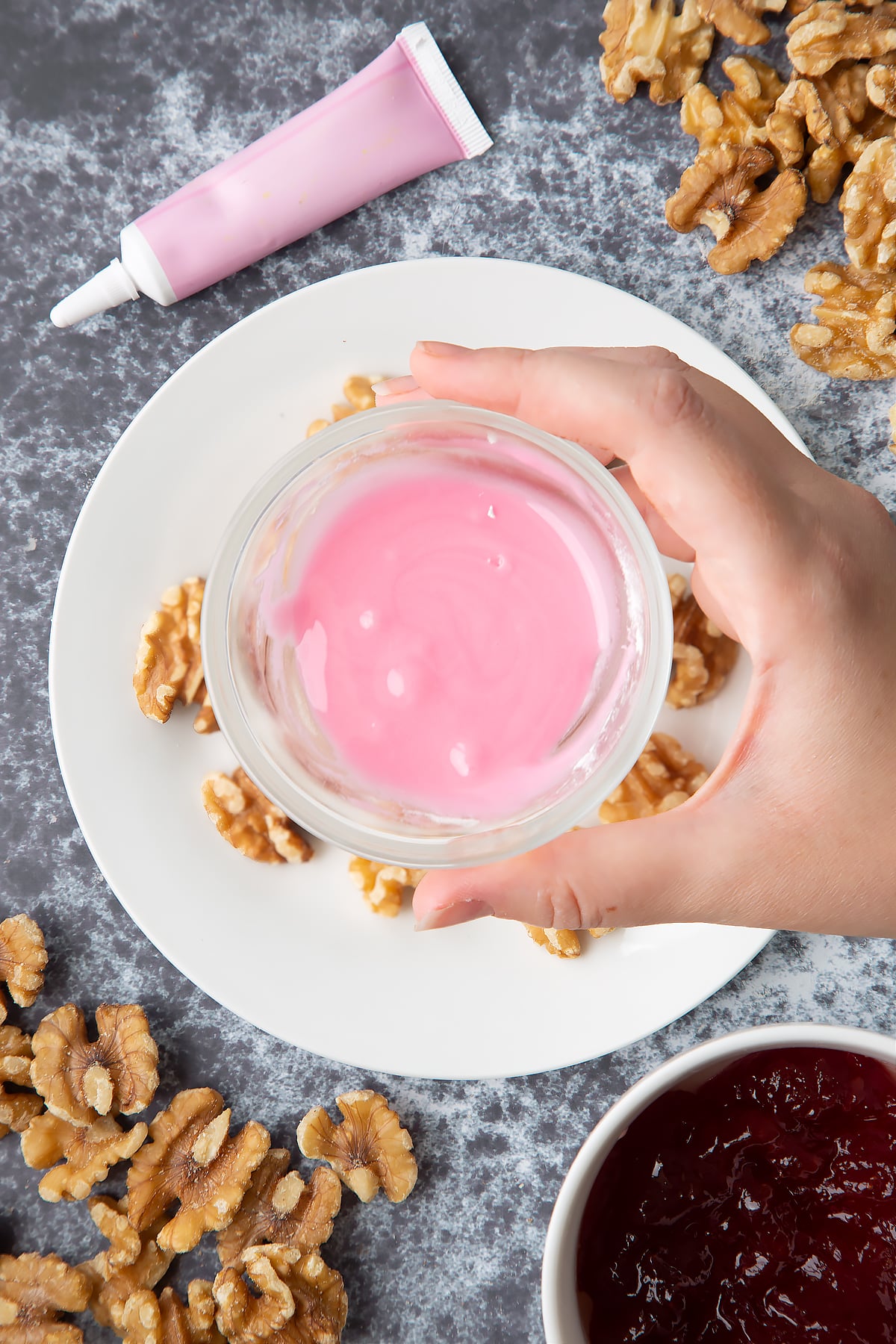 Paint the icing generously over the walnuts.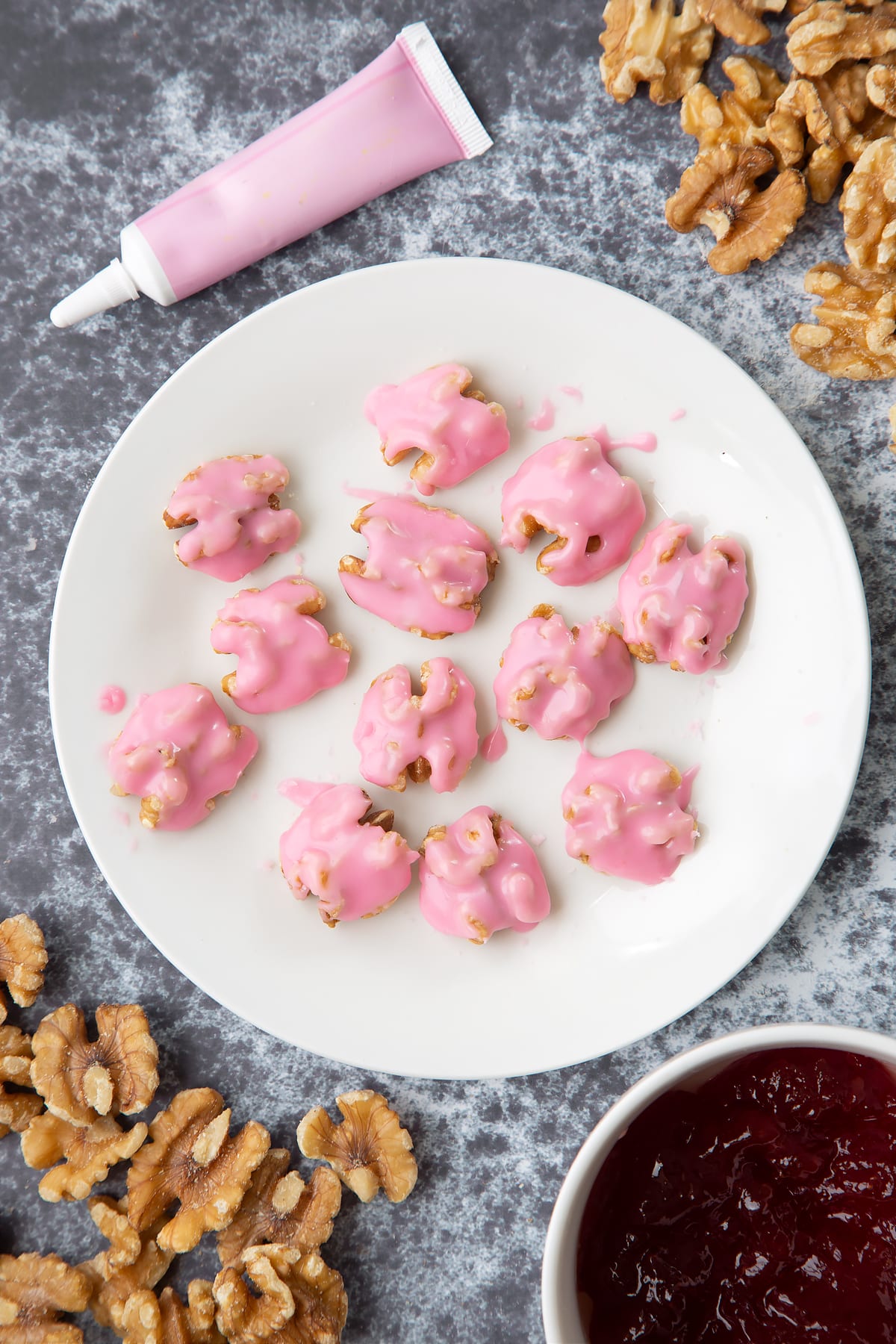 Zap in the microwave in blasts of 10 seconds until the icing has melted over the walnuts, giving them a pink glaze.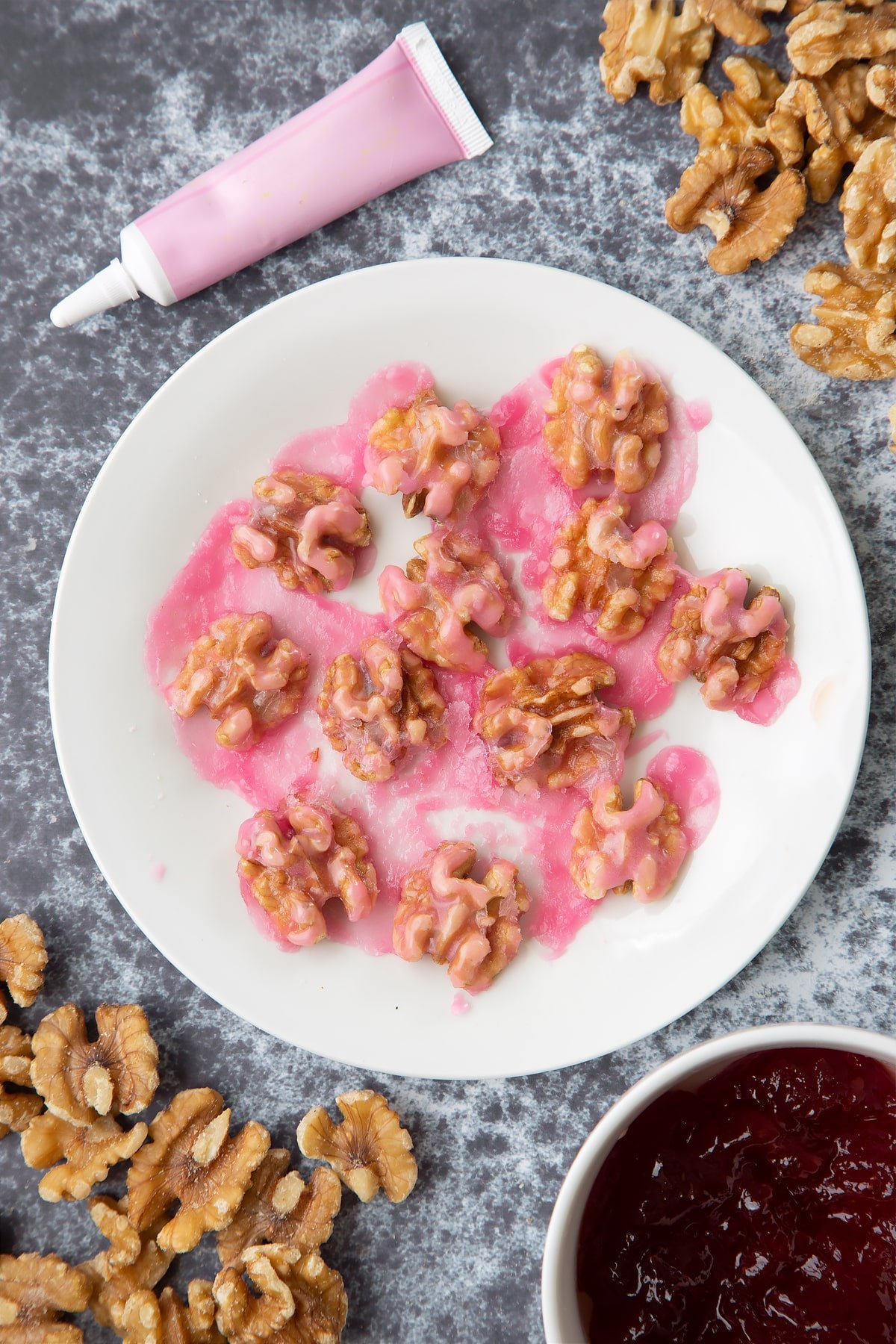 Allow them to cool before removing them from the plate as sugar can get very hot.
Fill the cakes
Use an apple corer to make holes in the cakes to about half way down. You can eat the offcuts!
Spoon or pipe the jam into the cores.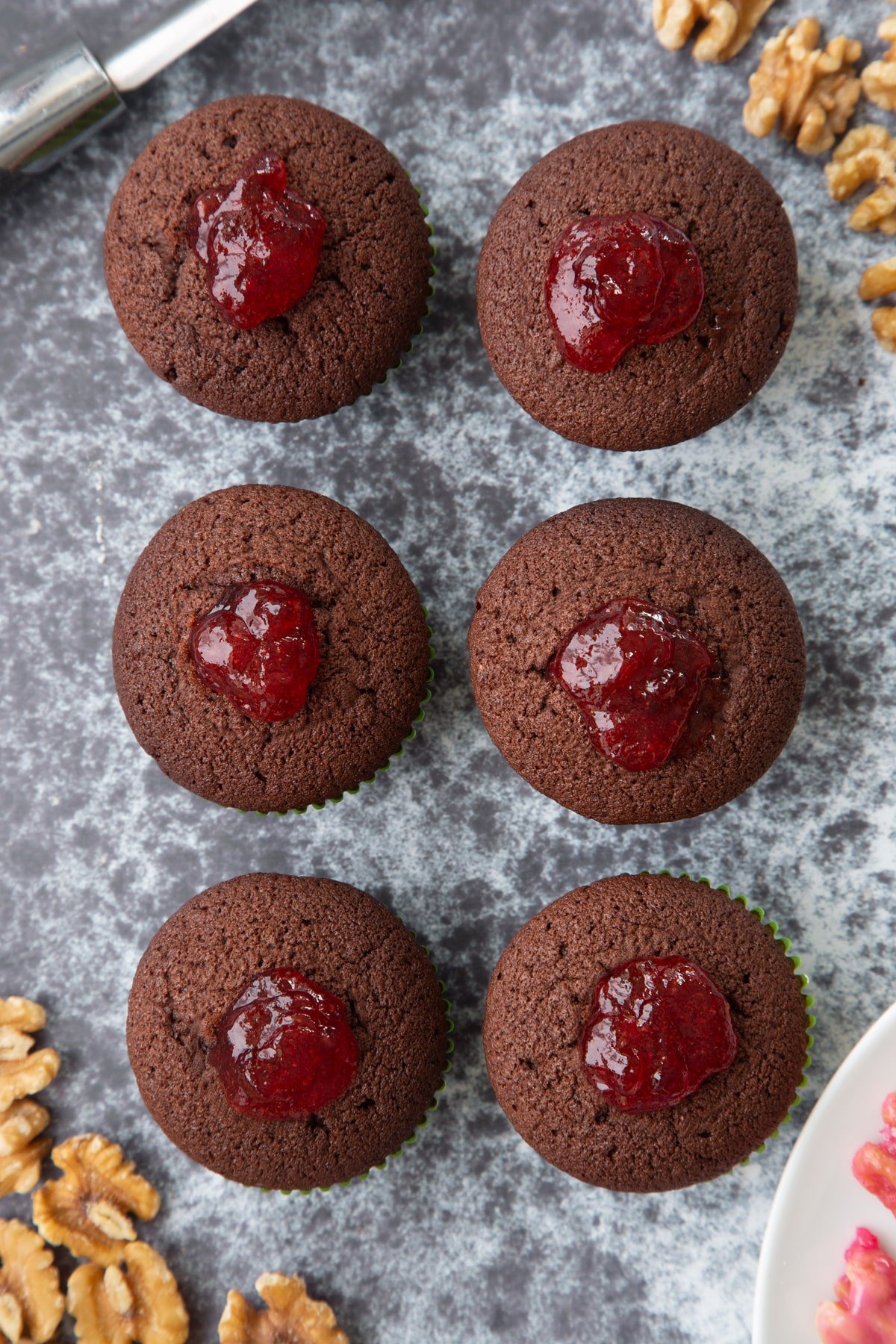 Place a walnut brain on top of each one and you're done!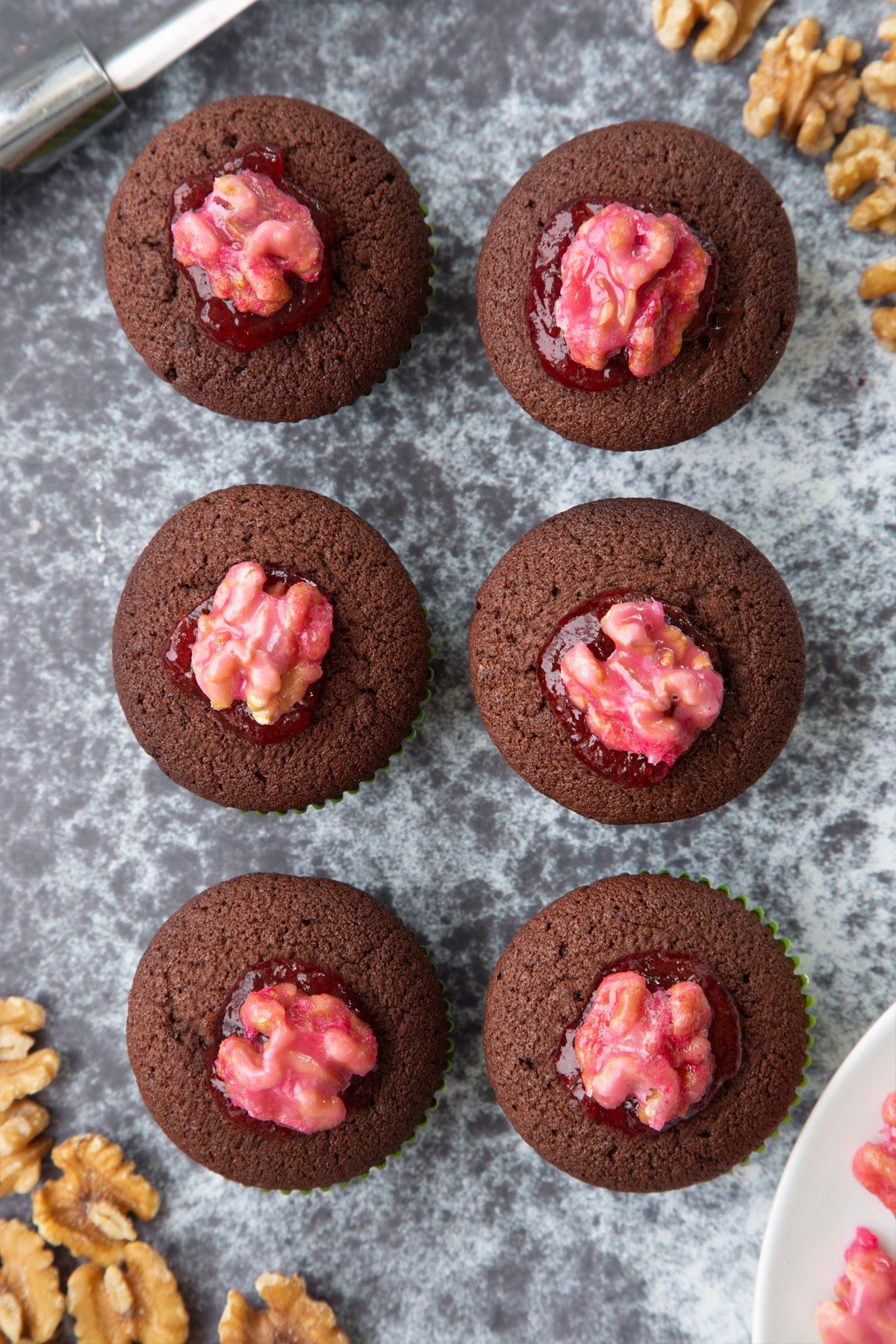 Aren't gruesomely great?!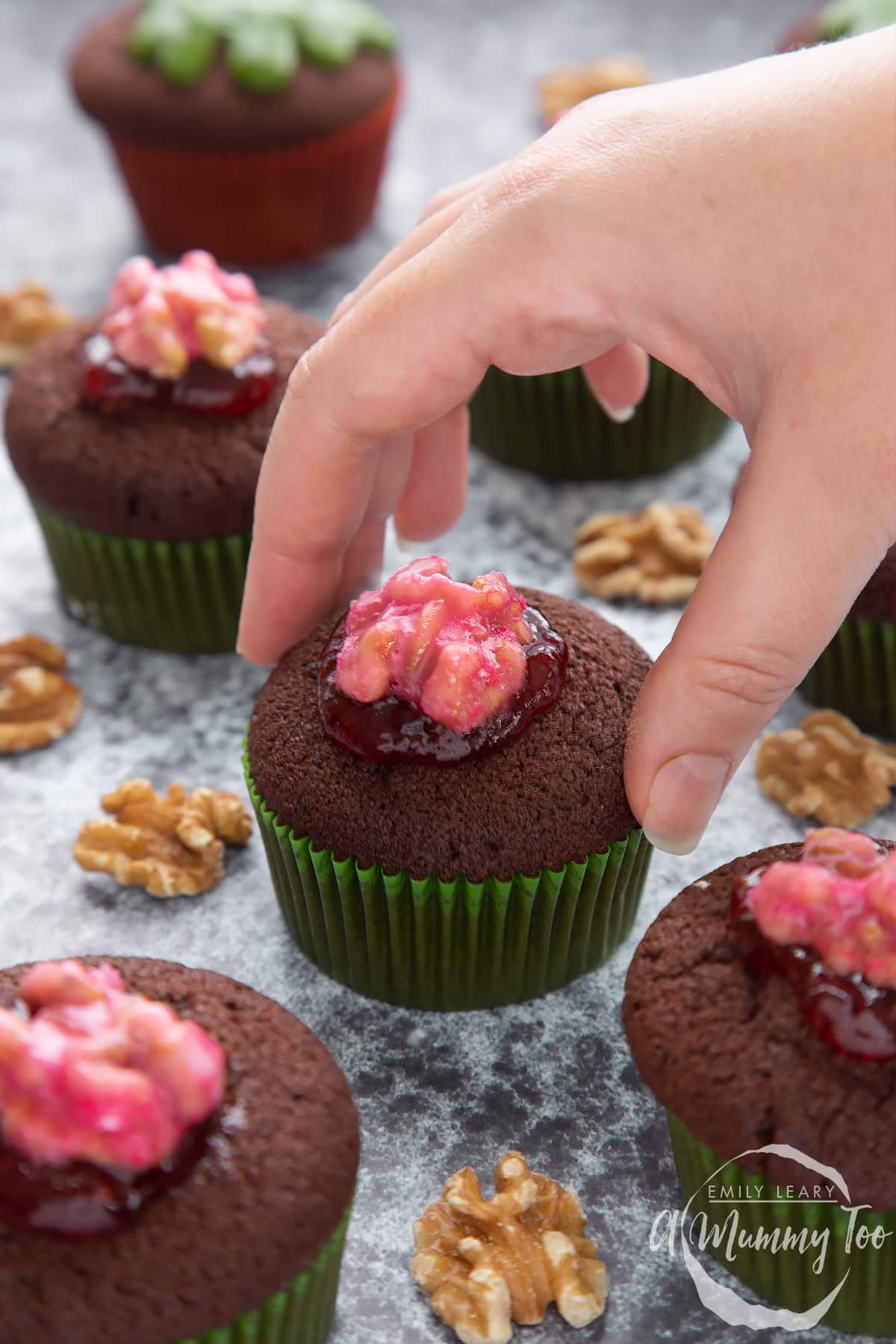 Will you make these brainy treats?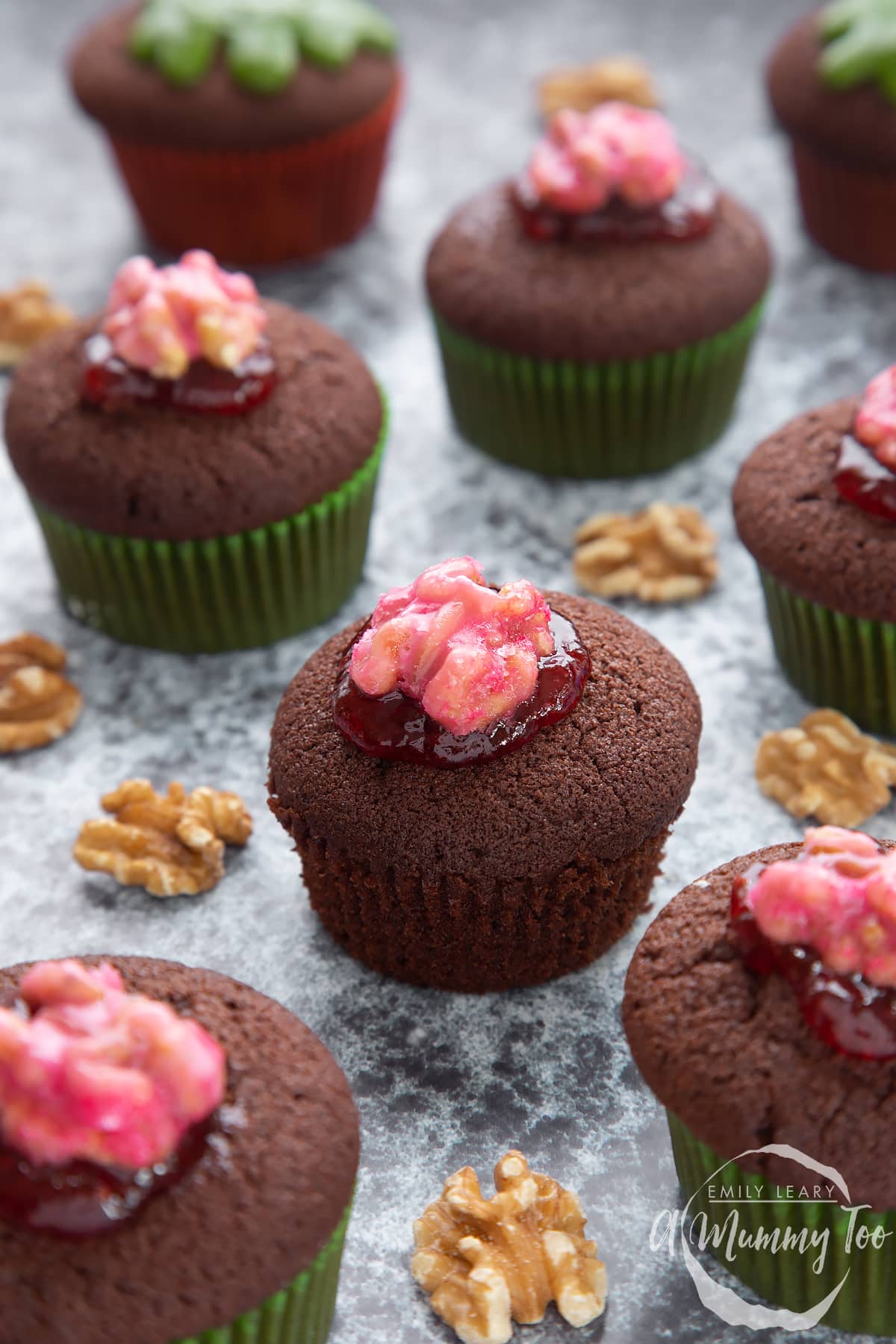 Pointers, tricks and troubleshooting tips for the perfect gory Halloween cupcakes
Are gory Halloween cupcakes easy to make?
These cupcakes are really easy to make.
The sponges are made using the all-in-one method, which means the fat, sugar, eggs, flour and cocoa all go into the bowl at the same time before being whisked to create a lovely, silky chocolate cake batter.
And as realistic as the brains look, they are actually just walnuts coated with pink icing, sitting atop a core of strawberry jam!
Will I need any special equipment to make gory Halloween cupcakes
No, you won't need any special equipment, just standard things you'd expect to find in a home kitchen. You can see a full list in the recipe card below, but the essentials are: weighing scales and measuring spoons, a large mixing bowl and whisk, a muffin tray and cases, an apple corer and a pastry brush.
Where can I buy pink food colouring?
You can find gel food colouring in almost all supermarkets, just look in the baking aisle. If you can't get hold of food colouring in pink, you can use red instead and just use the tiniest dot of gel. Since icing sugar is white, you should get a lovely pink shade.
Do I need to use gel food colouring?
Most supermarkets sells two kind of food colouring: gel (in tubes) or liquid (in bottles). Generally speaking, the liquid is more cheaper gram for gram (or oz for oz!), but it's a false economy, since gel food colouring is much more concentrated and hence better value for money.
Gel food colouring also holds up much better when heated, whereas liquid colouring tends to lose most if not all of its colour when baked.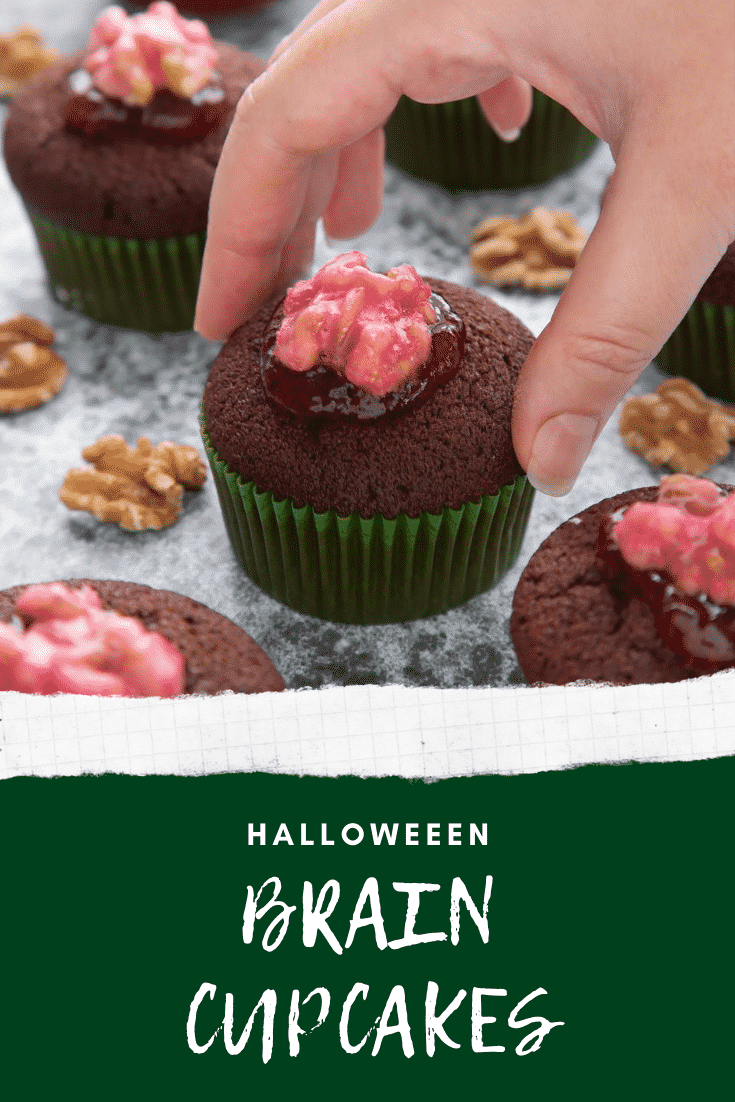 Can walnuts go bad?
It's quite unusual for walnuts to go off before you get a chance to use them.
Unshelled walnuts, properly stored in a sealed container somewhere cool, dry and dark will keep for a long time - about 12 months - even after opening. But even so, they can go bad.
There will probably be a date on the back of your walnuts to tell you how old they are, and that should be your first clue as to whether they're safe to eat.
As with all nuts, the first thing to do is look for visual signs of mould and discard any walnuts that look like they have mould or have discoloured.
Next, smell them. They should smell warm, nutty and slightly sweet. If they smell oily or rancid, discard them. The rancid smell comes from the oils in the nuts.
If all of the above seems ok, taste a walnut. The skin on walnuts can be slightly bitter but the nut as a whole should taste creamy, nutty and slightly sweet. If it tastes bitter or rancid, discard the packet.
If you have any health concerns, you must speak to a qualified medical professional.
Are gory Halloween cupcakes suitable for vegetarians?
There's no meat, fish or poultry in this recipe, so it's suitable for vegetarians. Check the labels on your food colourings as some can contain animal-derived elements.
Are gory Halloween cupcakes suitable for vegans?
These cupcakes contain dairy-based margarine, plus cow's milk and chicken eggs, so they're not suitable for a vegan diet.
I've successfully used a plant-based margarine and plant milk in this recipe before with perfect results. I find unsweetened soya milk works best.
For the eggs, you'll need to use an egg replacer. I haven't tried making these cupcakes egg-free, but you could try one of the following alternatives (each = 1 egg, so multiply as needed for any given recipe).
1 tablespoon of crushed chia seeds or flax seeds mixed with 2 tablespoons of water and left for 10 minutes in the fridge.
3 tablespoons of aquafaba (the water you get in a tin of chickpeas).
3 tablespoons of applesauce (bear in mind this will add sweetness).
Are gory Halloween cupcakes gluten-free?
These cupcakes contain wheat-based self-raising flour, so are not suitable for a gluten-free diet.
If you want to try making them gluten free, you could try using gluten-free self-raising flour.
I haven't tested this recipe with gluten-free flour yet, but I always recommend using a good quality brand, which will usually be made from a blend of different flours such as rice flour, and oat flour, raising agents, of course, and usually a binding agent such as xanthan gum.
If making these cakes for somebody who needs to avoid gluten in their diet, then you should also check the label of all ingredients to make sure that they don't contain any traces of gluten. This includes checking the flavouring and decorative elements, such as the cocoa powder and food colouring.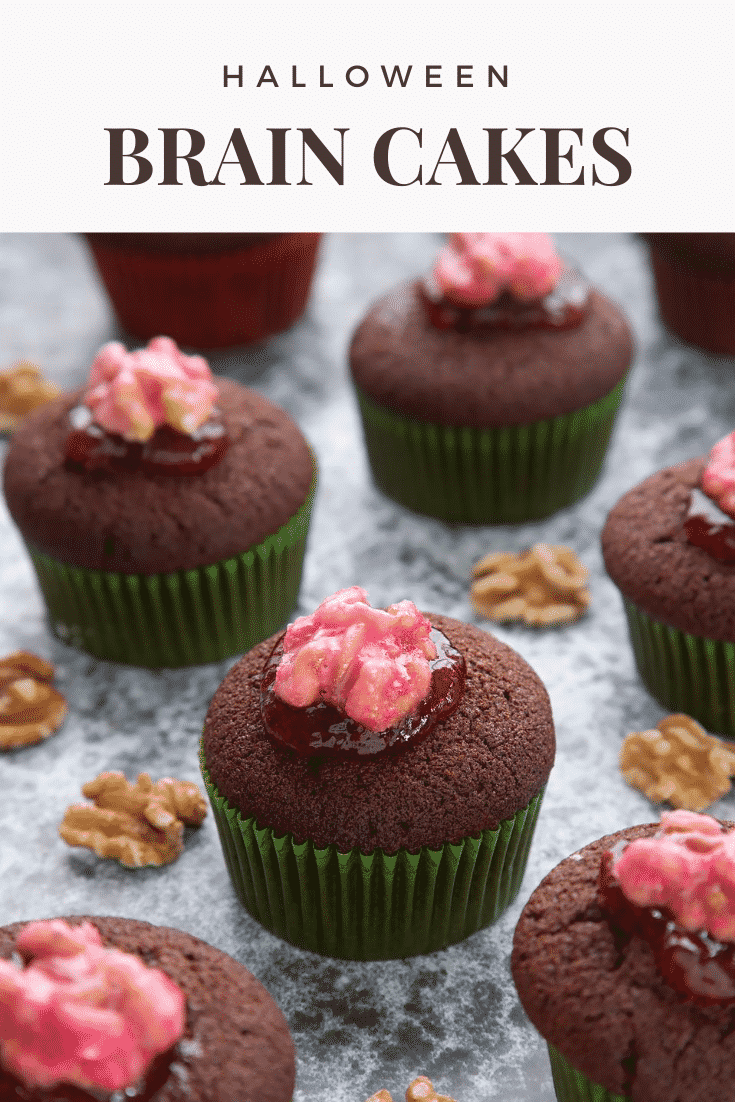 Are gory Halloween cupcakes keto-friendly?
These recipes are made with flour, sugar and jam, all of which make for cakes that are high in carbohydrate and therefore not suitable for a ketogenic diet.
Are gory Halloween cupcakes healthy?
These cupcakes are definitely a Halloween treat. They're high in sugar and fat, so enjoy a sensible portion in moderation.
Is this recipe safe to eat while pregnant?
At the time of writing, NHS advice indicates that there is no need to avoid walnuts while pregnant, but you should always check the latest advice to make sure.
There is nothing else in these cakes that should present a risk to pregnant people if the ingredients are in good condition and have been stored correctly, and the recipe is cooked hygienically and safely.
Egg safety varies from country to country and you should always seek country-specific advice. The NHS has a great resource that will help review the latest advice regarding foods that are safe to eat while pregnant in the UK.
However, this website does not offer not medical advice and you should always check with your health professional.
Is this recipe suitable for babies and toddlers?
These cakes are a high-sugar treat. The NHS recommends avoiding giving sugar to babies and young children.
This website does not offer medical advice: always consult your health professional if you have any concerns.
Can I make gory Halloween cupcakes without jam?
You could leave the jam out, if you like. Just skip coring the cakes and then stick the walnuts to the cakes using a little spare icing.
Alternatively, you could make a chocolate frosting for the cakes, dye it blood-red, frost the cakes and then pop the walnut brains on top.
Can I make gory Halloween cupcakes without nuts?
If you're unable to eat walnuts, you could instead try rolling out a long, thin length of pink sugar paste and then gathering it up into a squiggly ball. You could then press it gently into a brain shape, press the length of a skewer along the middle to create the two "hemispheres".
How should I store gory Halloween cupcakes?
The cupcakes are best placed in a sealed container in a single layer. As they contain jam and nuts, I find they're best stored in the the refrigerator to keep them at their best.
Can I freeze gory Halloween cupcakes?
Yes, you can freeze these cupcakes. Place them in a sealed container in a single layer in the freezer.
If you want to save room once they've frozen, you can remove the cupcakes from the freezer and transfer them to a ziplock bag before putting them right back into the freezer.
How long do gory Halloween cupcakes keep?
These cupcakes should keep for 3-5 days in the fridge or 2-3 months in the freezer.
What is the best way to defrost gory Halloween cupcakes?
To defrost your cupcakes, pop them in a sealed container in the refrigerator overnight. If you're defrosting several at once, remember to place them in a single layer so that they don't end up sticking together.
Can I leave gory Halloween cupcakes out on the counter?
If well covered or sealed in a container and placed somewhere cool and out of direct sunlight, your cupcakes will be ok for a day or two.
However, since the moisture from the jam is in contact with the crumb from the sponge, I recommend keeping them in the refrigerator.
Can I make gory Halloween cupcakes ahead?
If you want to make these ahead, I'd suggest whipping up the cupcake batter, baking and cooling your chocolate cupcakes and then placing them in a sealed container somewhere cool and dry.
The next day, you can core and decorate them with the jam and candied walnuts.
Can I make these gory Halloween cupcakes in a different quantity?
You can indeed alter this recipe to make more or fewer gory cupcakes.
To do so, simply scroll down to the recipe card found at the bottom of this page and click or hover over the servings number. A slider will appear that you can use to adjust the serving number, which will also automatically adjust all the ingredient quantities you need.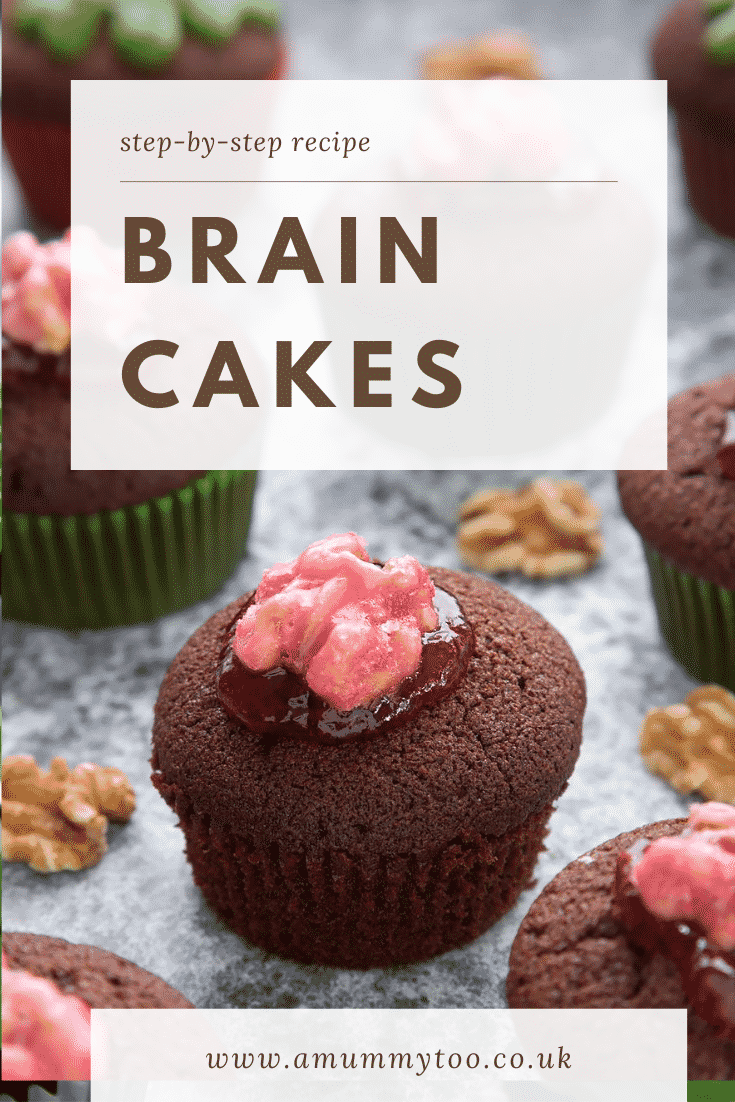 Can I make this recipe in a different tin/tray?
I haven't tested this idea, but it's certainly possible. For example, you could split the batter between two 20cm cake tins, then use some jam to sandwich the cakes, with the rest spread on top, dotted with the walnut "brains".
Can I make this gory Halloween cupcakes in a stand mixer such as a KitchenAid or Kenwood Mixer?
Yes, the batter for this cake uses the all-in-one method, so it's easy to make in a stand mixer. Just put the sugar, margarine, eggs, milk, flour and cocoa into the mixer bowl, fit the whisk attachment and mix until you have a smooth batter.
You'll probably need to scrape the sides down once or twice to make sure everything is evenly mixed.
How can I make sure my gory Halloween cupcakes are perfectly baked?
Your cupcakes should rise and dome, with a very slightly cracked top that looks dry all the way across. If you can see wet tops on your cupcakes when you look through the oven door, they're not ready.
When you're confident your cupcakes are ready, open the door and press your finger on top of one of the central cupcakes. If the sponge feels firm and springs back, the cakes are ready.
If you want to double check, you can push a skewer into the centre of one of your cakes. It should come out clean. If there's any batter on the skewer, your cakes need longer.
Why did my cupcakes turn out dry or burned?
If you bake your cupcakes for too long, you'll dry them out and eventually burn them, so make sure to set a timer.
If duration isn't the issue, then temperature may be. Many ovens run hotter than their dial suggests. Try running your oven 10-20C lower next time, and keeping an eye on your cakes - they're much less likely to overcook if you check on them regularly (through the oven glass - don't keep opening the door).
Finally, a dry cupcake could mean you added too much of the flour/cocoa or too little of the margarine/eggs/milk. Measure your ingredients carefully to avoid mistakes.
Why did my cupcakes turn out wet or undercooked?
And undercooked cupcake means, quite simply, it was taken out of the oven before it was ready.
Sometimes, a cupcake can look deceptively cooked on the outside when not yet set on the inside. Push a skewer into the centre of one of your cakes. It should come out clean. If there's any batter on the skewer, your cakes need longer.
If your cupcakes look on the verge of burning on the outside but are still raw inside, you probably have your oven temp too high. Many ovens run hotter than the dial suggests. Invest in an oven thermometer so that you can diagnose the problem.
Conversely, it could be that your oven is running too cold, which would mean that your cupcakes take longer to bake than the suggested time.
Finally, you may have added too little flour/cocoa or too much margarine/eggs/milk. Measure your ingredients carefully to avoid mistakes.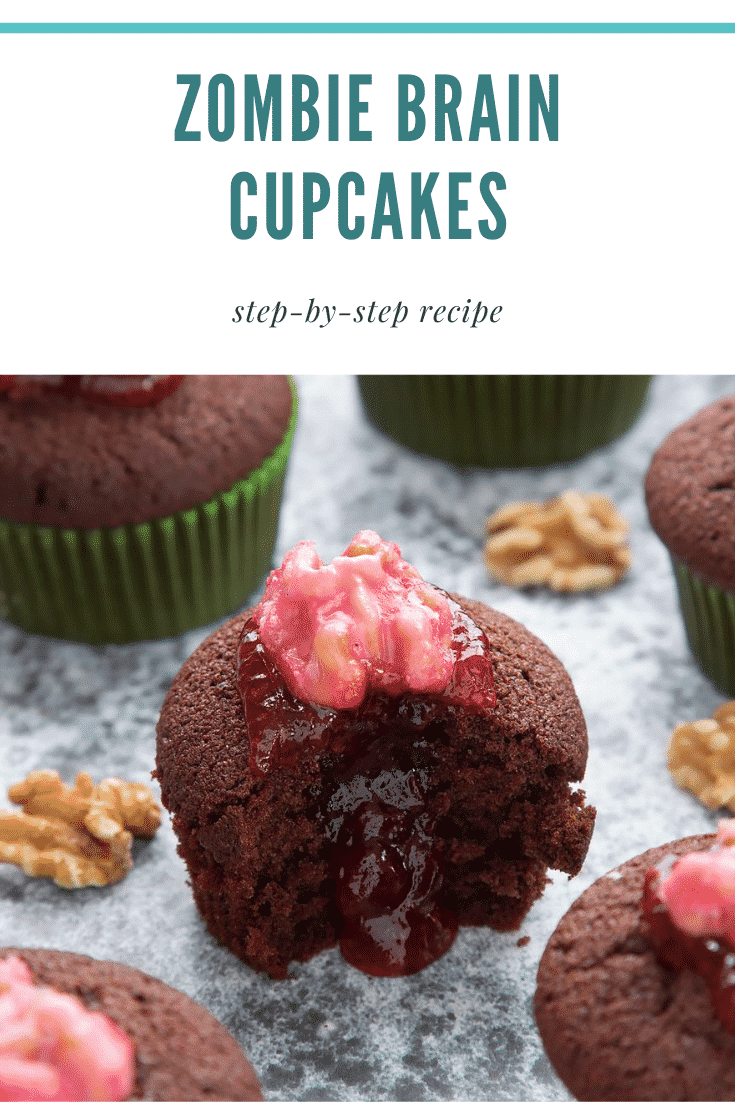 Why didn't my chocolate cupcakes rise?
If your oven is much too cold, the cakes may not rise well. If your oven is much too hot, they may rise too fast for the batter to maintain the height, meaning they flatten back down.
Alternatively, it could be that your raising agent in your self-raising flour simply isn't doing its job anymore. This can happen if the bag has been open a long time. You can still use it in cakes, just treat it as plain flour, adding between 1 and 2 tsp baking powder (depending on whether you think it's lost some of all of it's raising effect) per 225g flour to make it back up to standard.
Finally, it could be that you left your batter sitting out on the counter for too long. As soon as the raising agents in your flour makes contact with liquid, the reaction starts and small bubbles of carbon dioxide are produced. If you wait too long, and especially if you then remix the batter, you will be releasing a lot of that air, meaning they'll be less reaction left to happen in the oven, so the case will be less risen.
Why did my cupcakes sink in the middle?
Cupcakes that sink in the middle are nearly always a result of a too-hot oven.
When the oven is too hot, the cakes rise up on the outside, filled with gas bubbles, but the inside batter isn't set enough to support the sudden growth and the raising agent effect is used up too quickly, so the cakes soon collapse back down.
If this has happened to you while making the gory Halloween cupcakes, you can rescue them by allowing them to cool and then rather than coring the cakes, simply fill the dip with jam. They should still look and taste great.
How can I add/change the flavours in these gory Halloween cupcakes?
You could have great fun tweaking the flavours in these cupcakes. How using blackberry or cherry jam for the core? Or adding some instant coffee, mint or strawberry essence to the sponge batter?
What is the origin of Halloween?
Samhain, which falls on 31st October, is an ancient pagan religious festival, celebrated by the Celts thousands of years ago.
For them, the end of October represented the transition to darker days and they believed that at that time, the divide between our world and that of the spirit world was at its thinnest. As such, many traditions developed to ward off evil spirits, including wearing masks and costumes, offering food and more.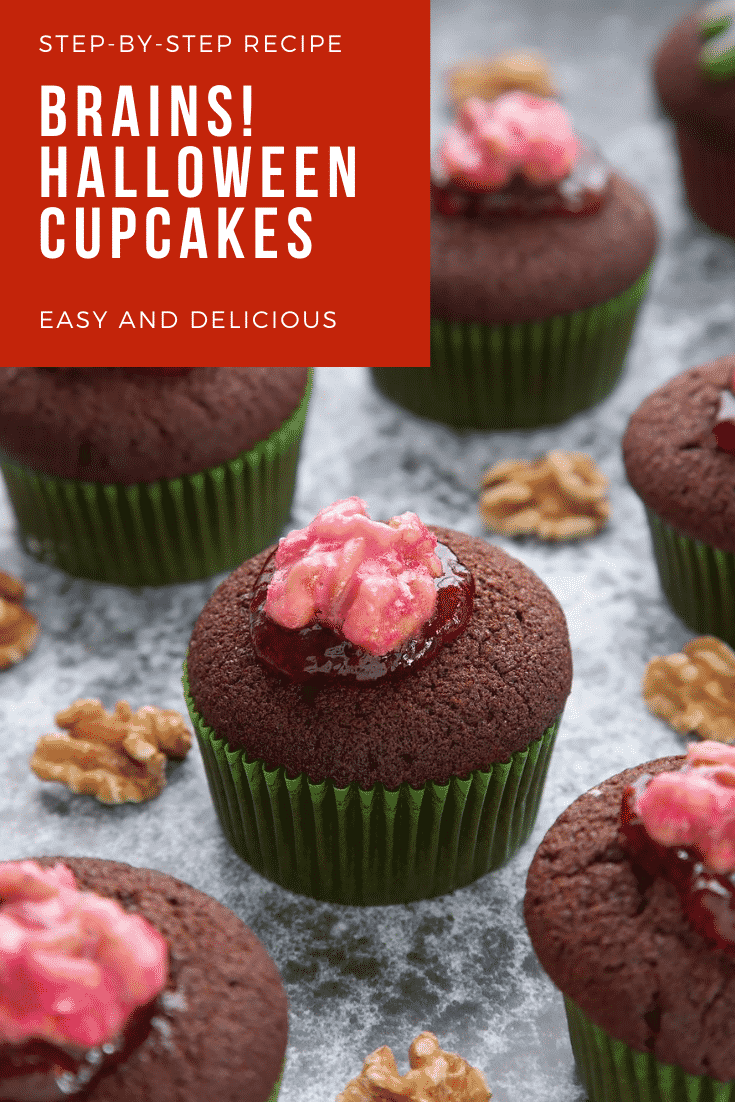 However, the word Halloween has Catholic Origins. It's a contraction of the phrase "All Hallows Eve", which also falls on 31st October and refers to the day before All Hallows Day aka All Saints Day, which falls on 1st November.
All Saints Day was designated a holy day in the eighth century by Pope Gregory III, and since the date is shared, over time, some of the Samhain traditions were absorbed into the traditions of Halloween, eventually turning it into the festival of spookiness and spirits we know today.
Print these gory Halloween cupcakes
Pin these gory Halloween cupcakes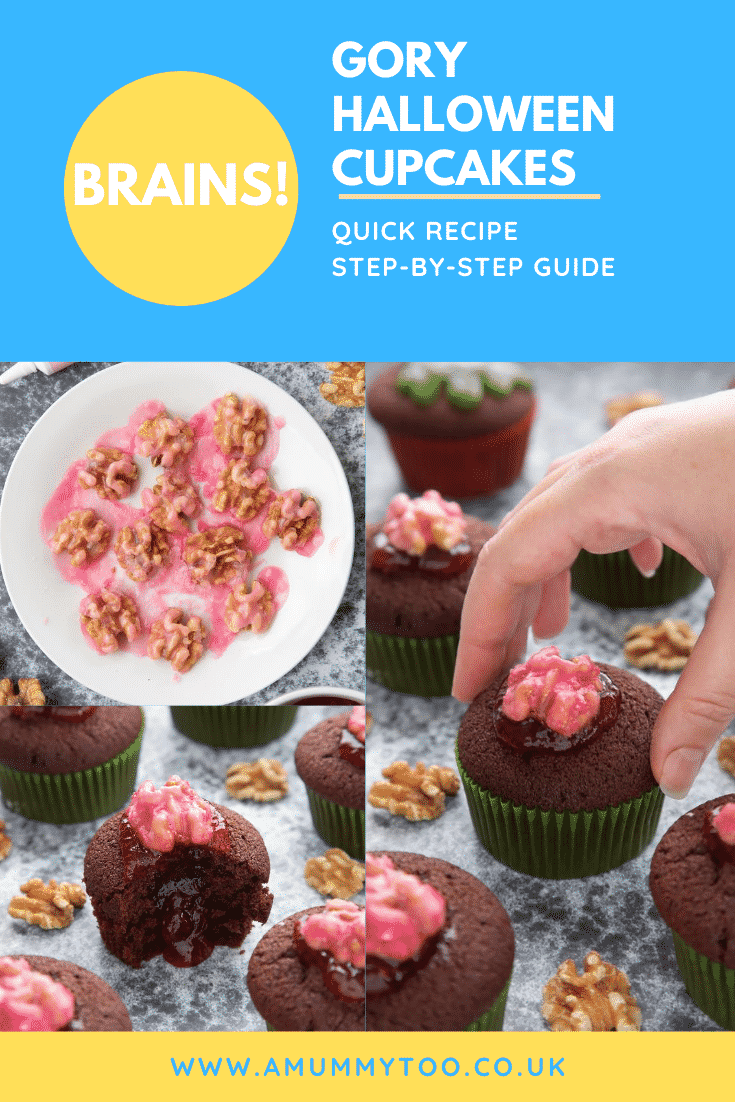 More Halloween recipes to try
Get Your Kids to Eat Anything
My debut cookbook, Get Your Kids To Eat Anything is available now from all good bookshops!