Presenting...deliciously zingy lemon drizzle cupcakes, packed with lemon flavour from top to bottom.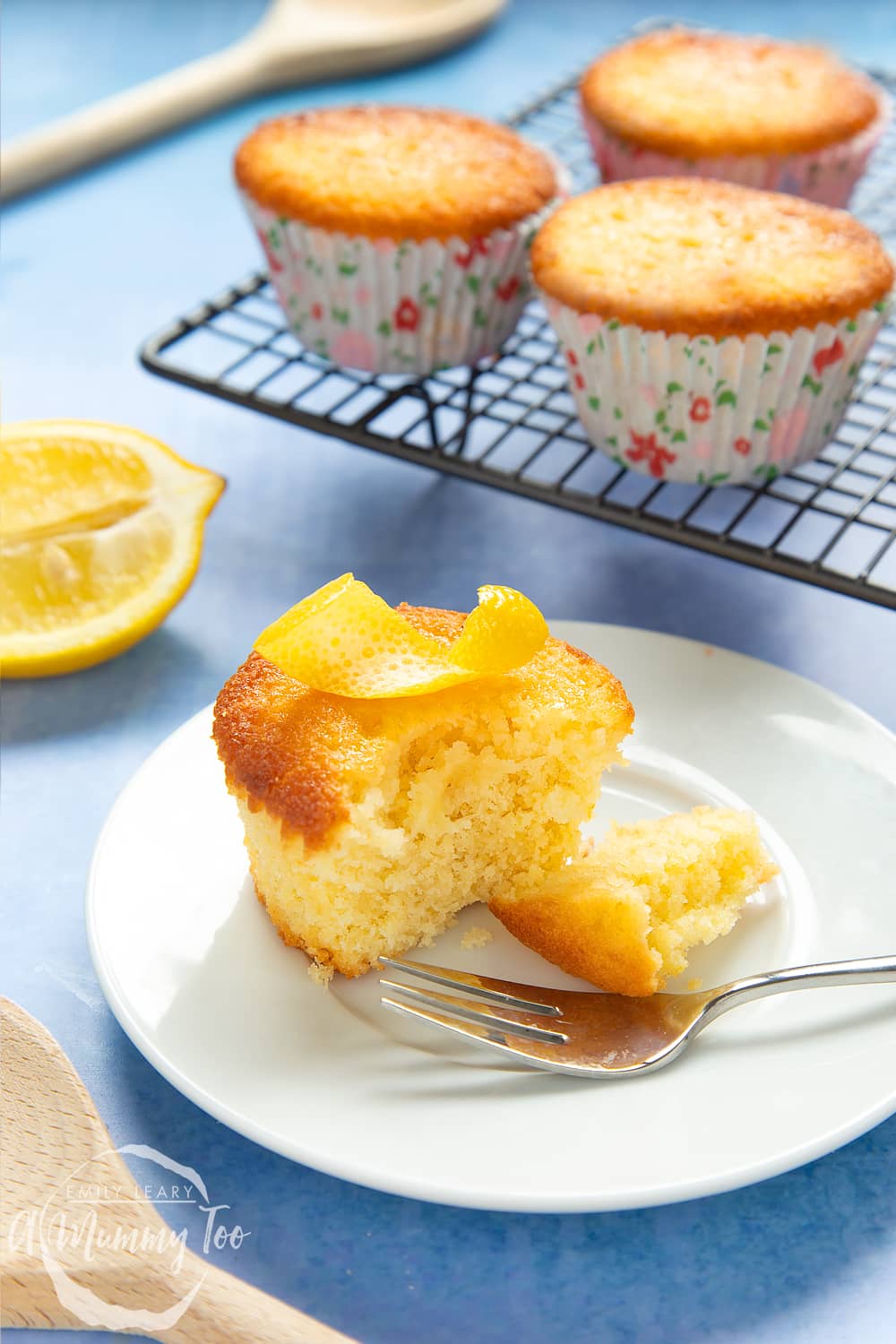 They're quick to make and will satisfy even the pickiest lemon dessert lover!
What I really love about these cupcakes, is that they can be made in a single bowl with really simple ingredients that you probably already have in the cupboards and refrigerator!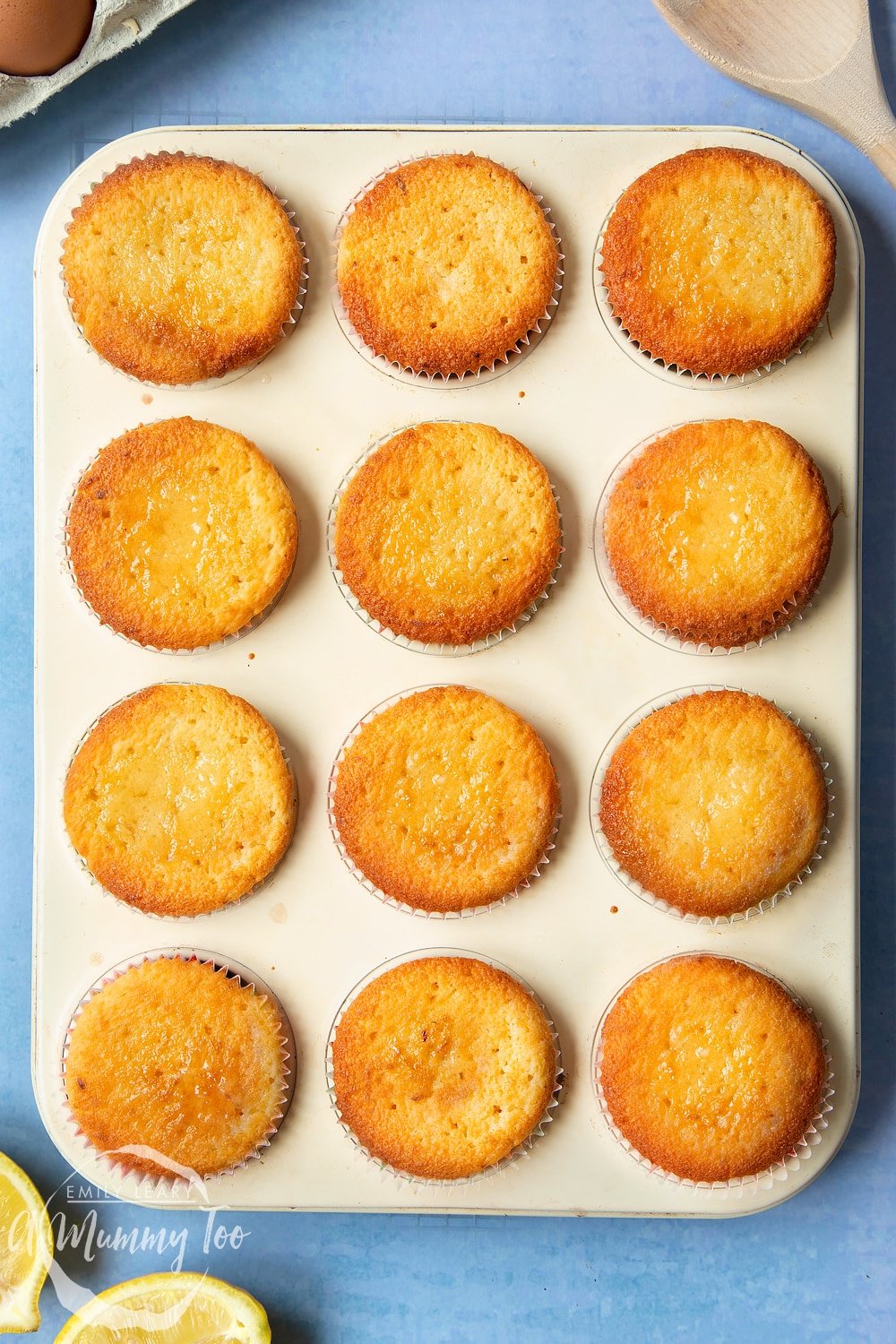 The syrup is super easy to make, too. It's just a case of heating icing sugar and lemon juice in the microwave (or in a saucepan) and then pouring the deliciously zingy drizzle over the cupcakes as they cool.
The texture inside these cupcakes is out of this world, super soft, utterly fluffy and impossibly moreish. And as the title suggests, the flavour is out of this world.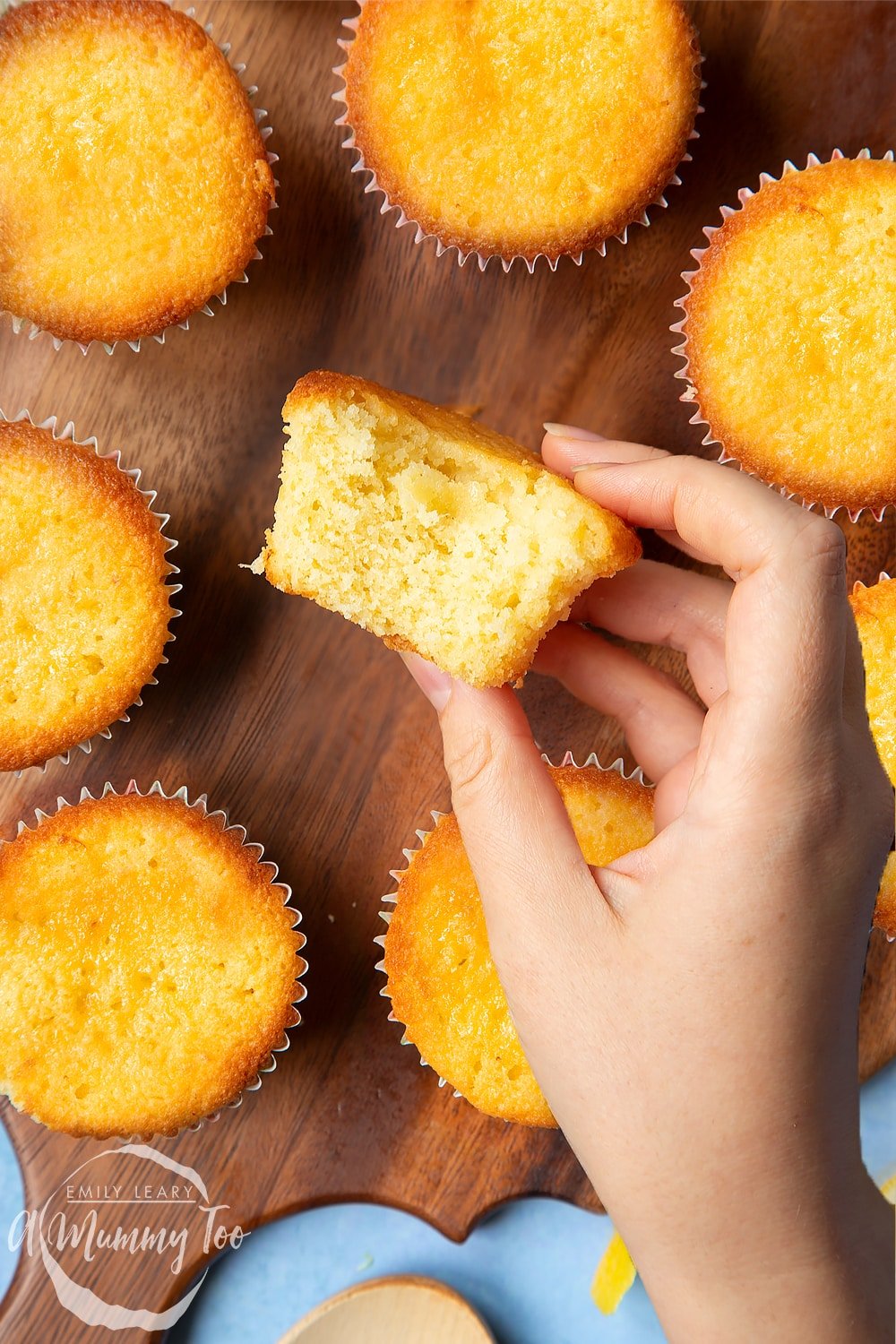 I often find is that lemon cakes, simply aren't lemony enough so this recipe is designed to be a zingy delight packed with sweet lemony flavour. My mouth is watering just writing about them.
So, grab a few simple ingredients and a mixing bowl and let's get making lemon drizzle cupcakes.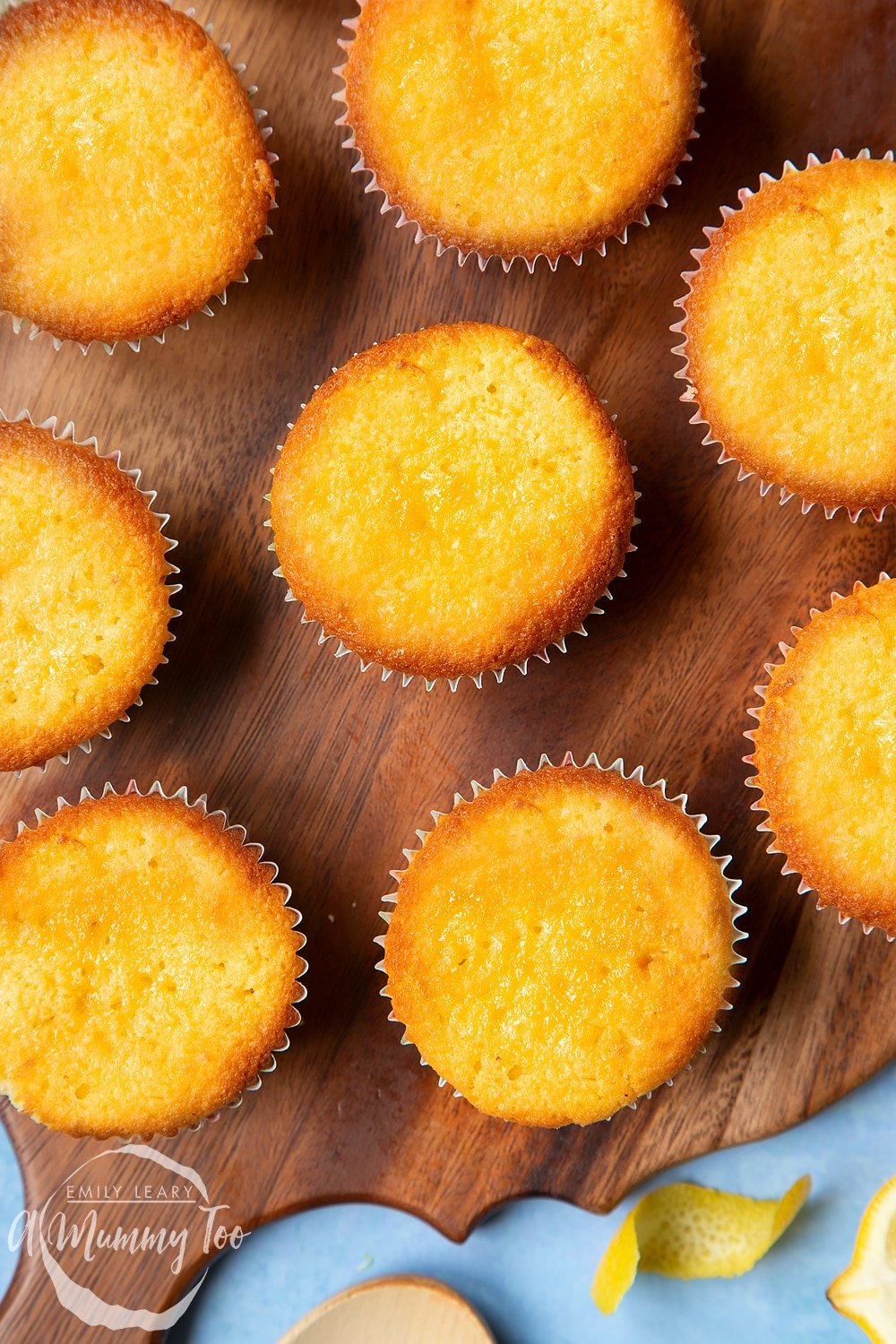 Ingredients
Equipment
Instructions
Preheat the oven to 180C (160C fan, 350F).
Put the sugar and butter (or margarine) in a large bowl.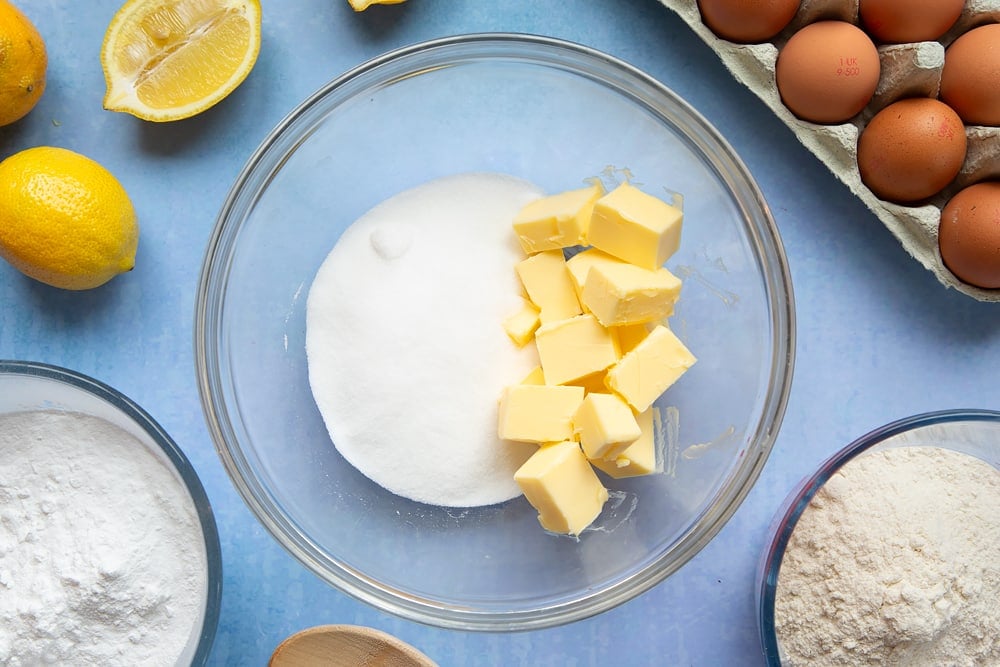 Beat until pale and fluffy.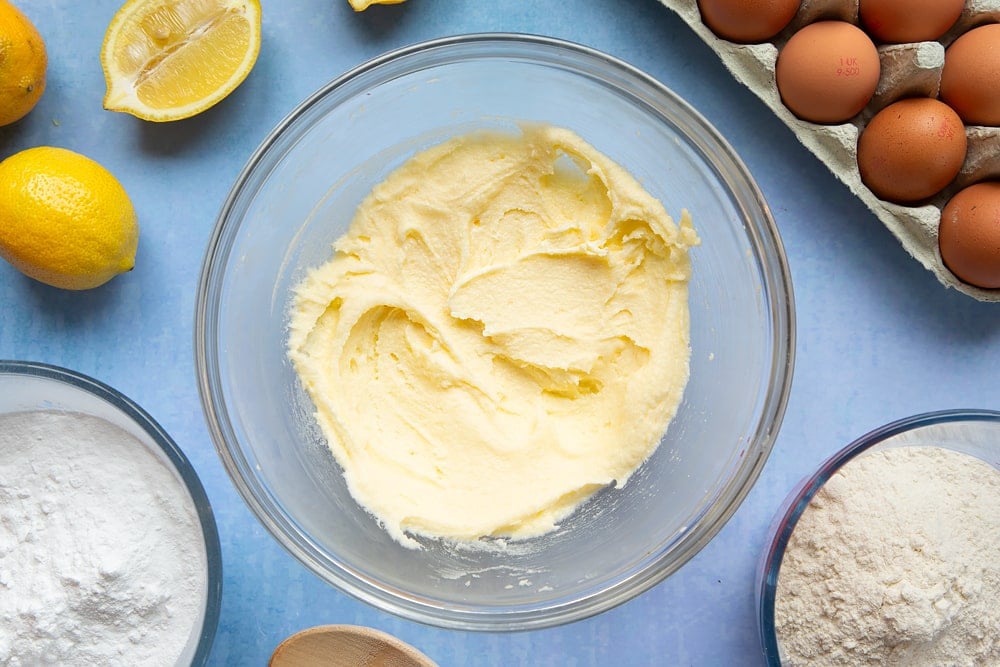 Add the eggs.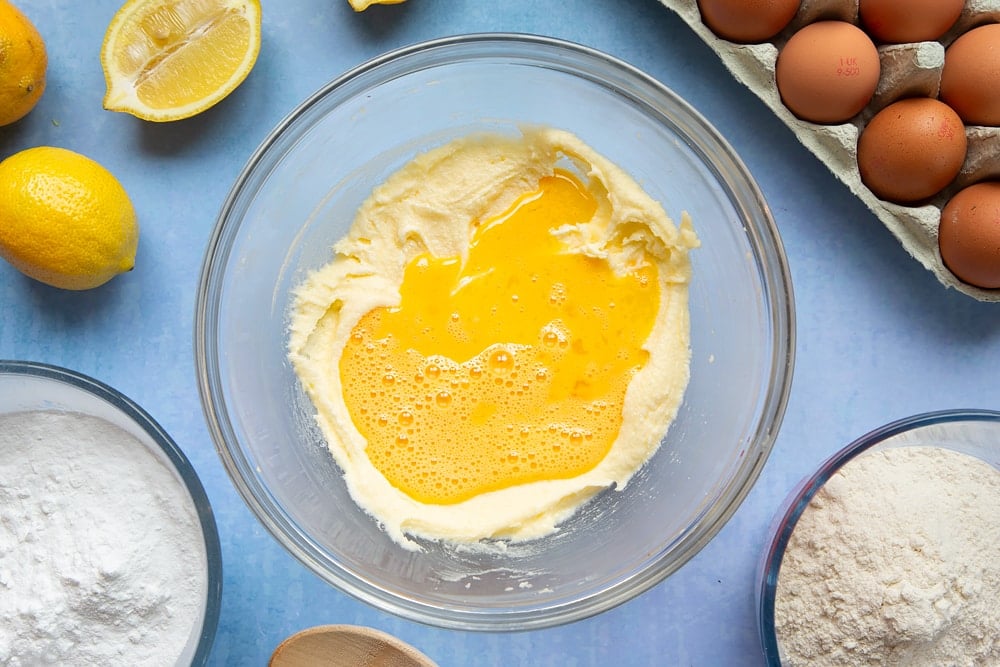 Beat until smooth.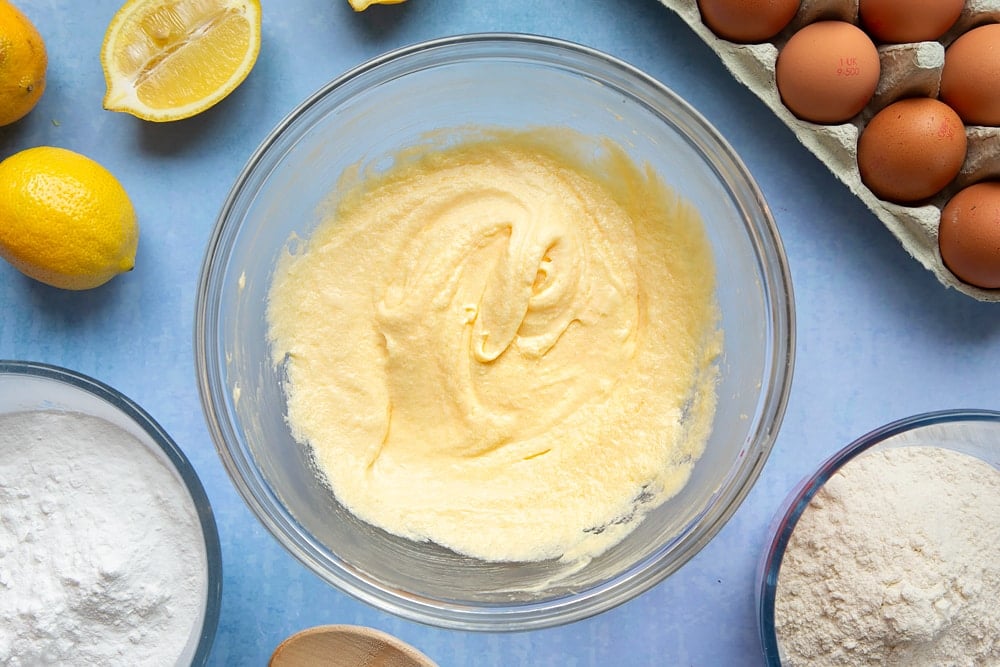 Add in the flour.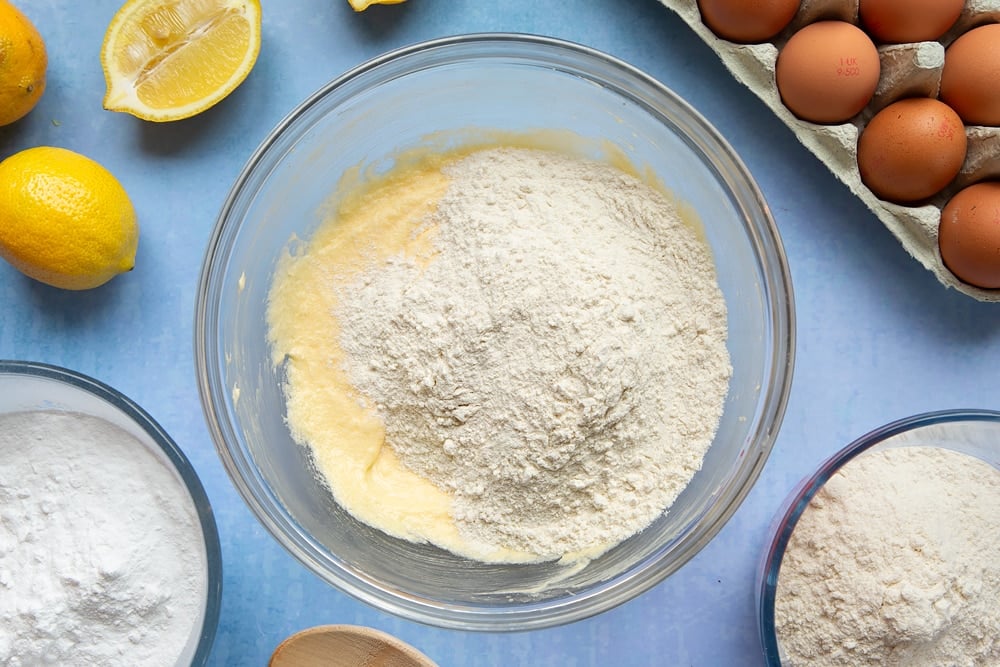 Fold through.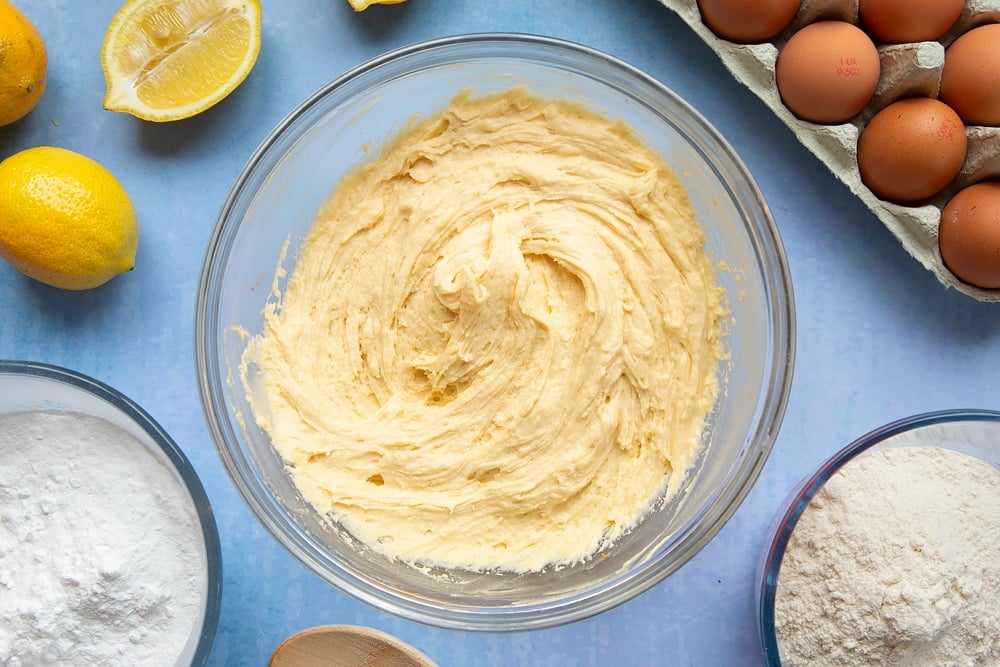 Add the zest of 3 lemons and the juice of 1.5 to the mixture.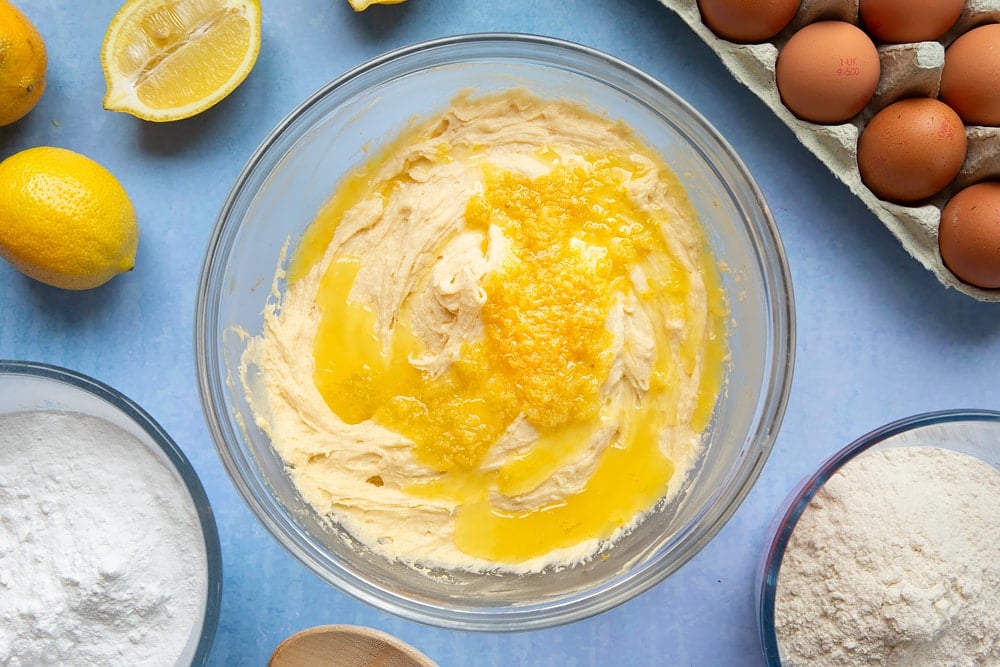 Mix gently.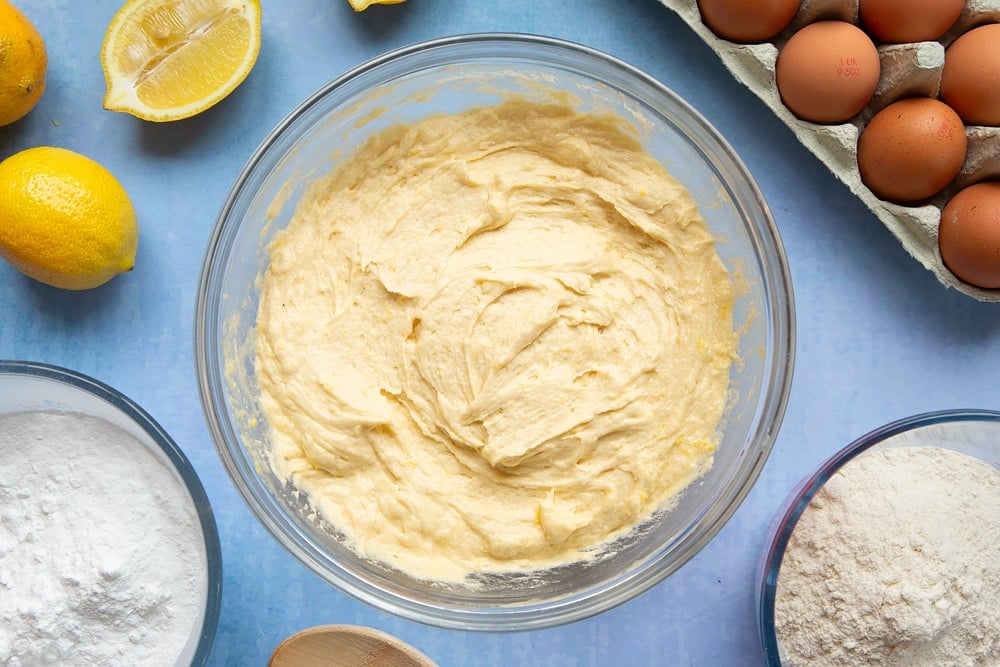 Line a 12 hole muffin tray with muffin cases and spoon the batter into the cases, aiming to fill them evenly.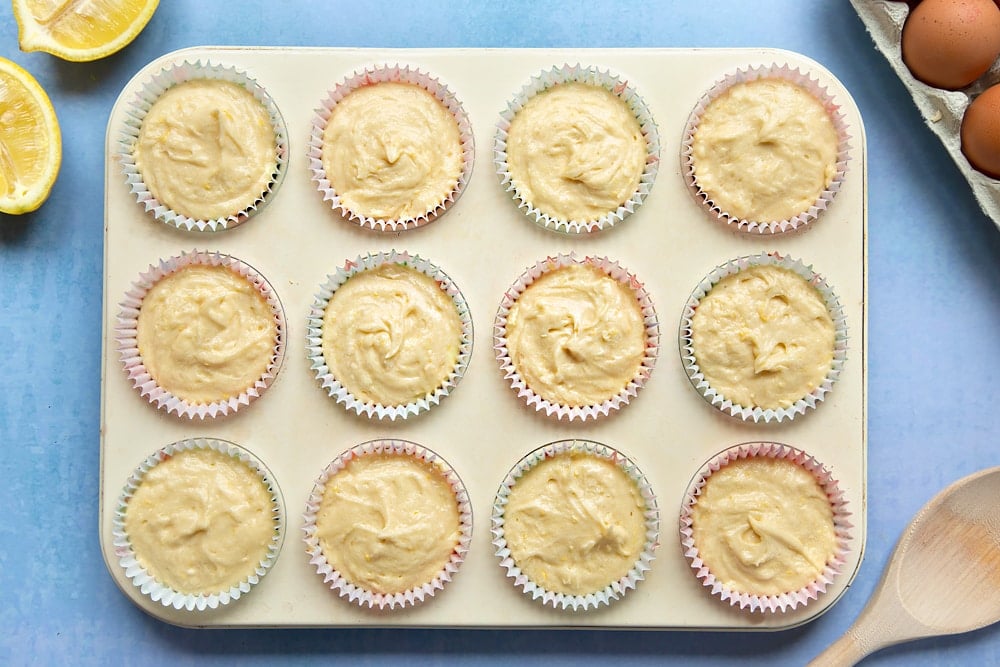 Bake for 15-20 minutes. The cupcakes should be firm and golden on top. You can check if they're cooked through by pushing a skewer into the centre of the palest cake. It should come out clean.
In a small bowl (or saucepan), mix the juice of 2 lemons with the icing sugar.
Pop in the microwave for 60 seconds (or boil on the hob) to produce a hot syrup - handle with care!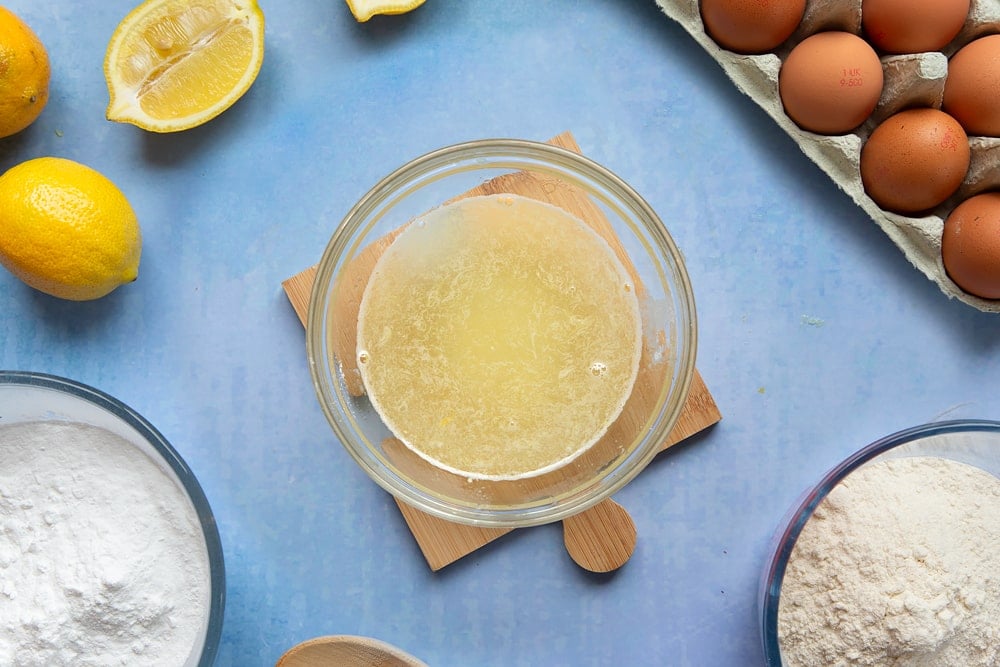 Poke holes all over the hot lemon cupcakes with a skewer to about 2/3 of the way down.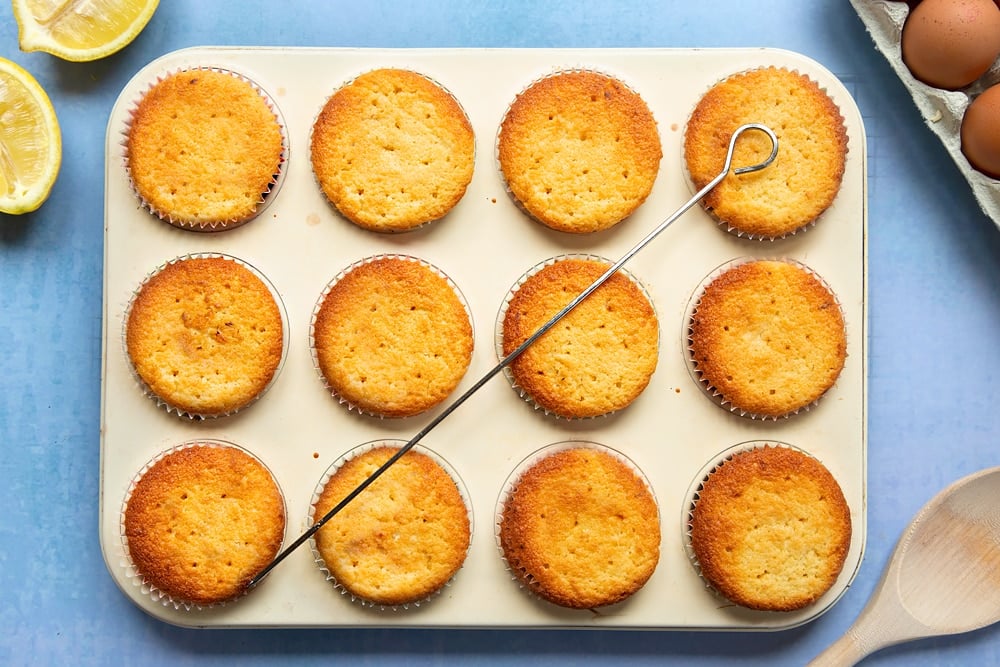 Use a spoon to spread the hot syrup all over the cooling cupcakes.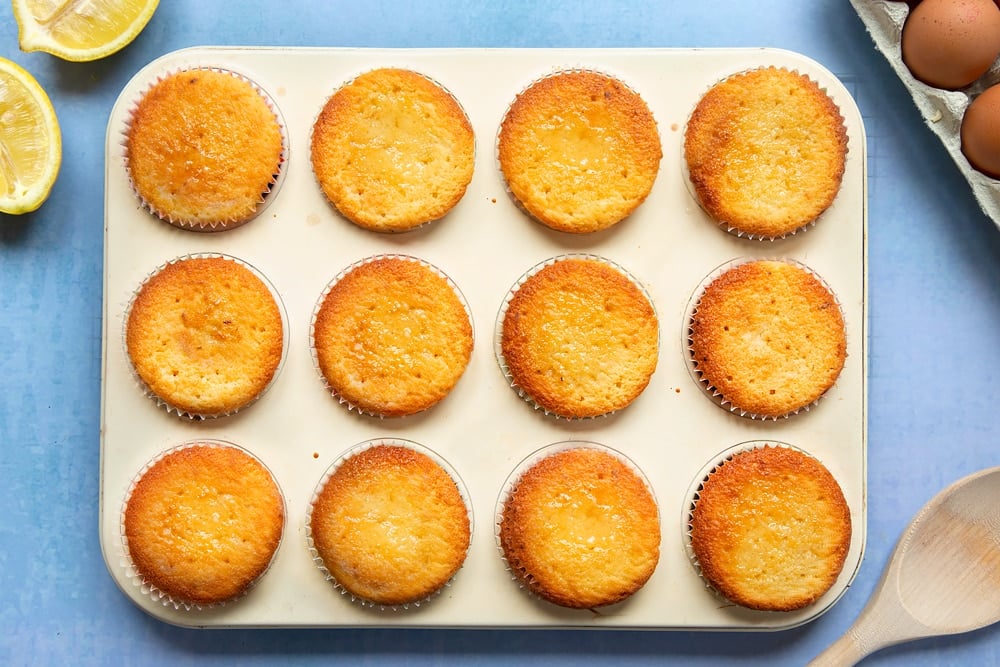 Allow to cool, then enjoy!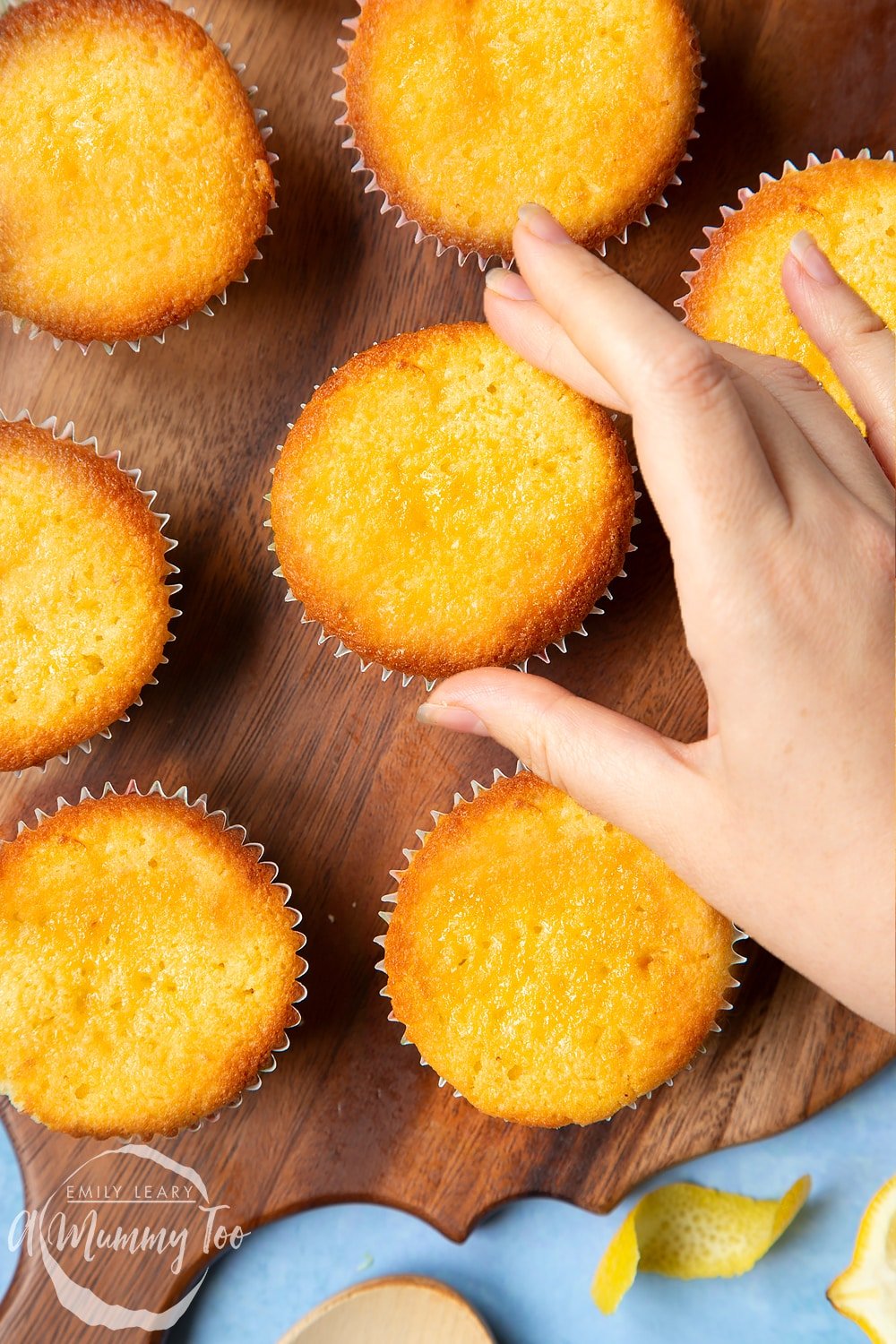 More tips for the perfect lemon drizzle cupcakes
Are lemon drizzle cupcakes easy to make?
Lemon drizzle cupcakes are super easy to make. The batter for the cupcakes can be made in a single bowl with simple ingredients: lemon juice, sugar, butter, self raising flour and eggs!
And the syrup that goes on top of the cupcakes is super easy to make too! You'll simply combine lemon juice with icing sugar and briefly heat to create a syrup that you can drizzle over your cooling cupcakes.
Will I need any special equipment to make lemon drizzle cupcakes?
You won't need any special equipment to make these lemon drizzle cupcakes.
The essentials are: a mixing bowl, weighing scales, measuring spoons, a muffin tray, muffin cases, plus something to juice and zest your lemons.
Even if you don't have a citrus juicer/zester, you can just use a fork and the fine side of your cheese grater.
Where can I buy cupcake cases? Can I use fairy cake cases?
A couple of decades ago, UK supermarket baking aisles only stocked fairy cake cases, which are quite small.
However, about 20 years ago, cupcakes enjoyed a surge in popularity that never really went away, so these days it's easy to find cupcake cases on the shelves.
However, if you can only find the smaller fairy cake cases, just go ahead and use them with a fairy cake tin.
Since fairy cake cases are smaller, you won't be able to fit as much batter in them, so you'll probably get 24 fairy cakes rather than 12 muffins.
How can I tell if my lemons have gone bad?
Generally speaking, a good way to tell if any food has gone off, is to trust your senses and lemons are no exception.
First, look at your lemon. It should have a bright, firm, slightly shiny yellow skin.
If the skin looks shrivelled, hardened or dry, then the lemon may be past its best, but the juice inside could still be good.
If you can see any powdery substance or mould on the outside of your lemon, then it should be discarded immediately.
If your lemon looks fine, then move on to the squeeze test. Your lemon should feel firm and a little bouncy when squeezed. If it's very hard or collapses, it's no good.
Happy with the look and feel? Cut your lemon open.
If everything looks normal, it's time to use your sense of smell. Does it smell like a good fresh lemon or is something not quite right?
If there is anything unusual about the smell, throw them away. If it smells good, you're probably in the clear, but you can always taste some of the juice as a final test.
Uncut lemons brought home from the supermarket should last 1-2 weeks if left on the counter or in the fruit bowl. However, they can last up to two months in the refrigerator, so I would always recommend storing them in your crisper drawer.
Once you have cut a lemon open, it will go bad much more quickly. If you have any cut lemon leftover, you should wrap it well and put it straight into the fridge where it should keep for 2-3 days.
Don't use a lemon that you've left out on the counter for over a couple of hours after cutting.
Are lemon drizzle cupcakes suitable for vegetarians?
Yes, these lemon drizzle cupcakes are suitable for vegetarians as they contain just butter, sugar, eggs, flour, and lemon juice.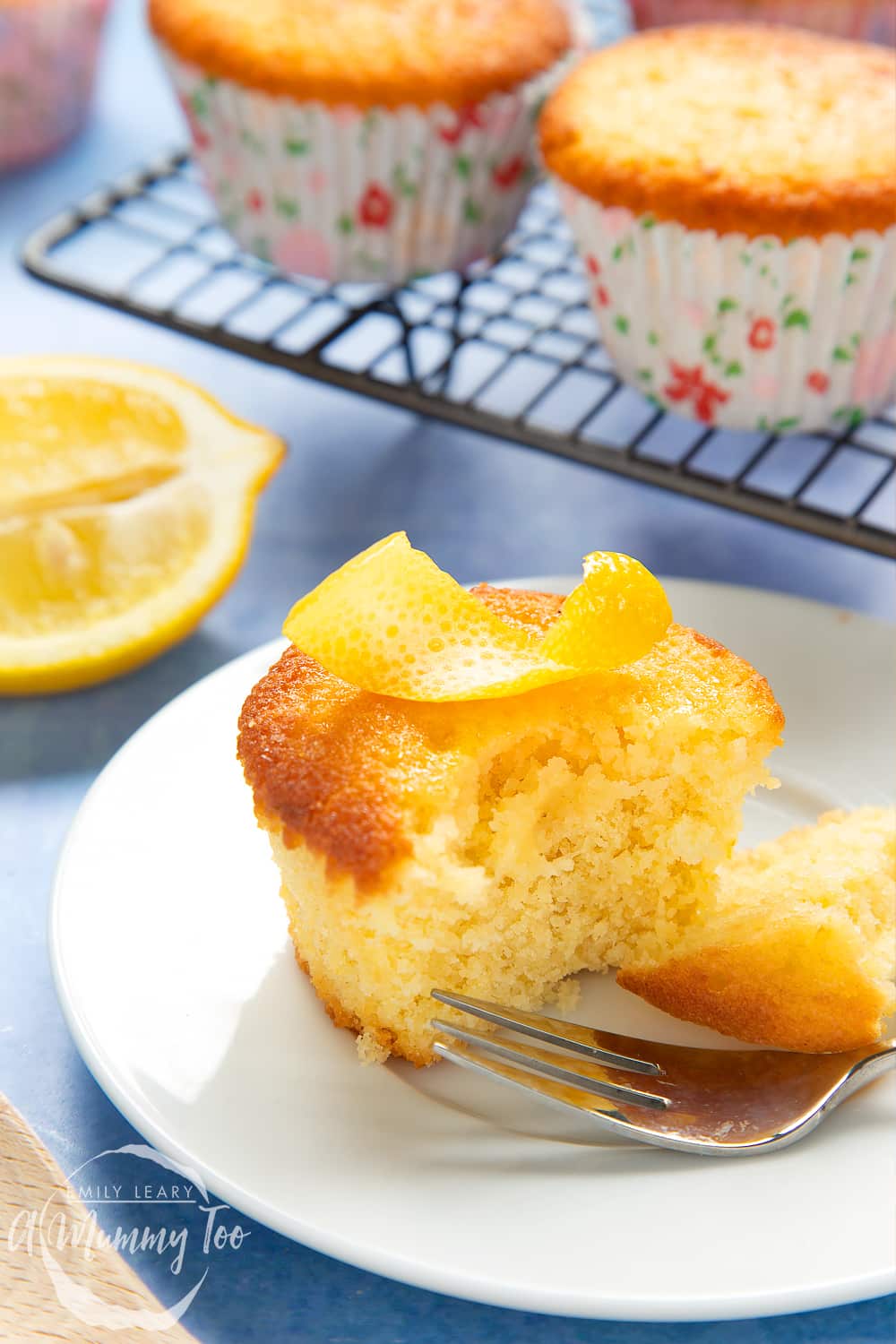 Are lemon drizzle cupcakes suitable for vegans?
This lemon drizzle cupcakes recipe is not suitable for vegans as it contains butter and eggs.
However, if you would like to make it vegan, you can substitute the butter for vegan margarine, and substitute the eggs for a vegan egg replacement.
The following is a list of egg alternatives that should work well with these cupcakes. Each one is equal to 1 egg so you should multiply by three for this particular recipe.
Store-bought egg replacement powder (use as directed on the packet).
1 tablespoon of crushed chia or flax seeds mixed with 2 tablespoons of water and left for 10 minutes in the fridge.
3 tablespoons of aquafaba.
3 tablespoons of applesauce.
Half of a medium-sized banana, very well mashed. It's best to use fairly ripe bananas for this as they will mash more easily and bind your ingredients together more effectively.
Note: I have not tested all of these replacements with this particular recipe, so let me know how you get on.
Is this recipe gluten-free?
These lemon drizzle cupcakes are not naturally gluten-free as they contain wheat flour, but it should be possible to make them gluten-free by swapping the flour.
I have not tried cooking this particular recipe with gluten-free self-raising flour, but I always recommend using a good quality brand; ideally, one that states it can be used as a one-to-one replacement for wheat flour in baking.
This type of gluten-free self-raising flour will usually contain a blend of different flours (such as rice, potato, tapioca, maize and buckwheat) as well as xanthan gum, which helps to bind the batter together.
Is this recipe keto-friendly?
As this recipe for lemon drizzle cupcakes contains flour and sugar, it is not suitable for a keto diet.
Is this recipe healthy?
These lemon drizzle cupcakes are high in sugar and fat, so would not feature as a central part of a healthy diet.
However, unless you have particular medical requirements that indicate a low-sugar or low-fat diet, these cupcakes should be fine to enjoy in sensible moderation as part of a balanced diet rich in fruit and veg.
Are lemon drizzle cupcakes safe to eat while pregnant?
There is nothing in this cupcake recipe that should present a risk to pregnant people if the ingredients are in good condition and have been stored correctly, and the recipe is cooked hygienically and safely.
Egg safety varies from country to country and you should always seek country-specific advice. The NHS has a great resource that will help review the latest advice regarding foods that are safe to eat while pregnant in the UK.
However, this website does not offer not medical advice and you should always check with your health professional.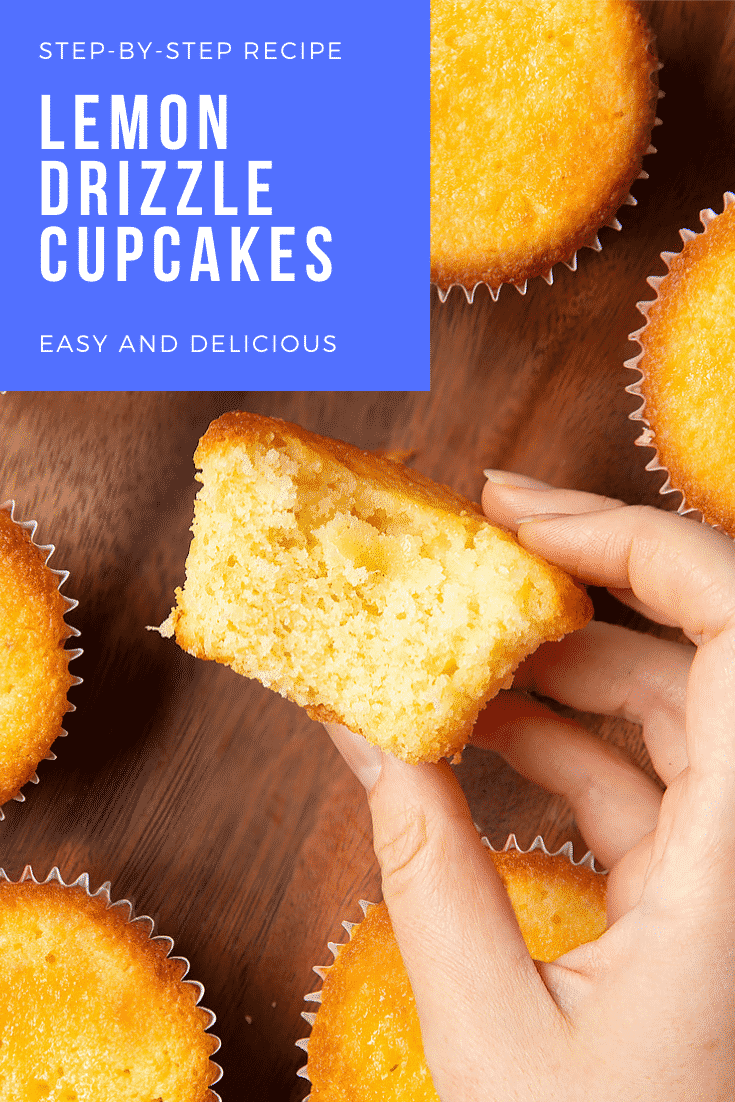 What goes well with this lemon drizzle cupcakes?
These lemon drizzle cupcakes are incredible served on their own, enjoyed with a cup of tea or nibbled as part of a picnic lunch.
If you would like to be extra indulgent, you could pipe, some lemon curd into their centres and serve them with a drizzle of cream.
Can I make this recipe without lemons?
You could make this recipe without lemons and using a water and sugar drizzle and it would simply make nice, moist cupcakes but I think you'd miss the lemon flavour!
I haven't got lemons, can I use something else?
Yes, if you haven't got lemons, you can absolutely use a different citrus fruit.
I would recommend giving oranges, a go, but make sure to replace the lemon juice on a two-tablespoons-per-lemon basis, as there is typically much more juice in an orange.
Can I add extra lemon to this recipe?
These cupcakes are already super lemony, but if you want to add more zest, you can!
I wouldn't recommend adding extra lemon juice to this recipe as they could become too wet or it could upset the balance of raising and binding agents.
How can I decorate my lemon drizzle cupcakes?
If you're a real lemon fan, you could also decorate your lemon drizzle cupcakes with lemon buttercream frosting.
Alternatively, you could make up an additional icing by mixing icing sugar with just a few drops of lemon juice until you have a slightly running paste.
Once your cupcakes are completely cooled, pour the icing over them to create a pretty, white, sweet, lemony layer
How should I store lemon drizzle cupcakes?
Once your cupcakes are fully cooled, place them in a single layer in a sealed container and place the container somewhere cool and dark.
How long do lemon drizzle cupcakes keep?
Stored properly, your lemon drizzle cupcakes should keep for at least three days, although they are best eaten within 24 hours to enjoy them at their best.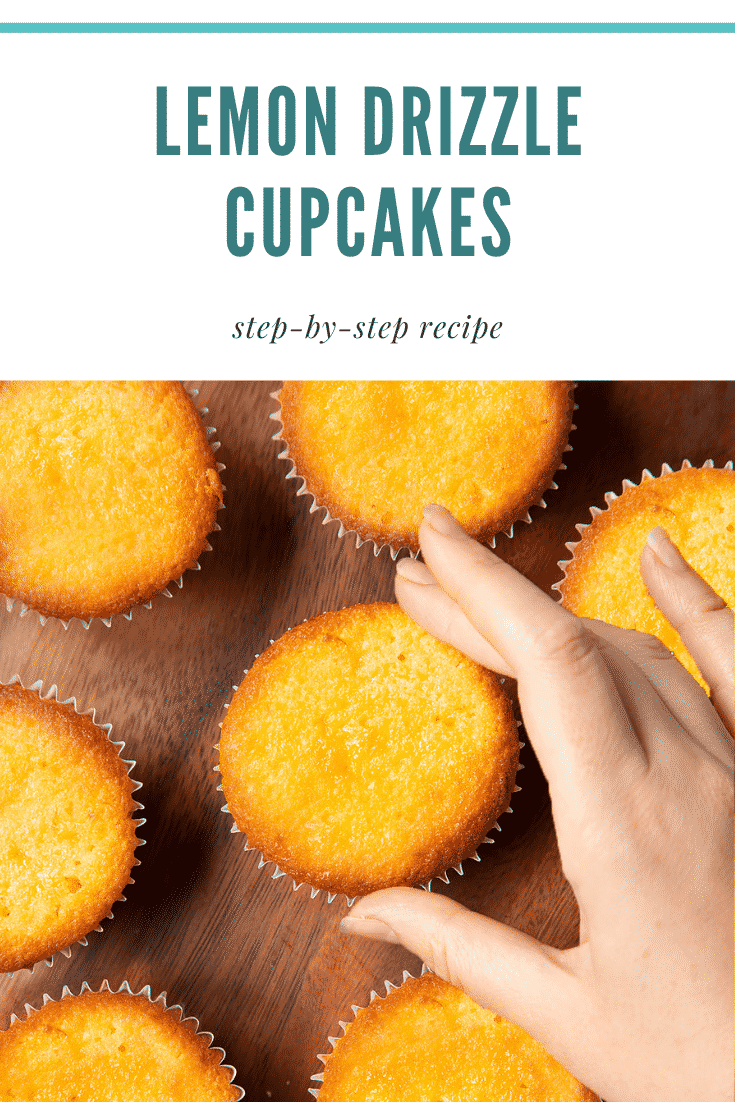 Can I leave these cupcakes out on the counter?
You can leave your cupcakes out on the counter under a cover such as a cake dome, but they will go stale more quickly than if they're placed in a cake tin somewhere cool.
Can I make lemon drizzle cupcakes recipe ahead?
You could make the cupcakes one day and make the drizzle the next, if you like, but I find you get the best results when you pour the syrup over the cupcakes while they are still warm.
Once you've made your cupcakes, store them in an airtight tin ready to enjoy.
Can I keep lemon drizzle cupcakes in the refrigerator?
Most cakes, this one included are better off stored in a tin in the cupboard or pantry, rather than in the refrigerator.
This is because the cool refrigerator can actually negatively affect the crumb and make it seem stale faster.
However, if you have a particularly warm kitchen, then it's absolutely fine to put your cakes into the refrigerator. Just make sure that the container is well sealed so that the cakes do not take on any unpleasant flavours or moisture.
Can I freeze lemon drizzle cupcakes?
Yes, you can freeze these cupcakes. In fact, they actually freeze really well.
Place them in an airtight freezer-safe container in a single layer, put the container in the freezer and they should keep for four to six months,
Aim to leave as little empty space in the container as possible, as this will reduce the risk of freezer burn.
To defrost, remove from the freezer and leave, covered, at room temperature for about an hour.
What is the best way to reheat this lemon drizzle cupcakes?
Like most cakes, these cupcakes are designed to be served at room temperature.
However, if you'd like to re-warm then, then I recommend placing them, covered, on a microwave-safe plate and zapping on medium for as little as 15 seconds.
Bear in mind that when you reheat cake in the microwave, it can become very soft while warm, but then seem hard and stale once cooled, so you'll probably want to eat your cake straight away, assuming it's not too hot.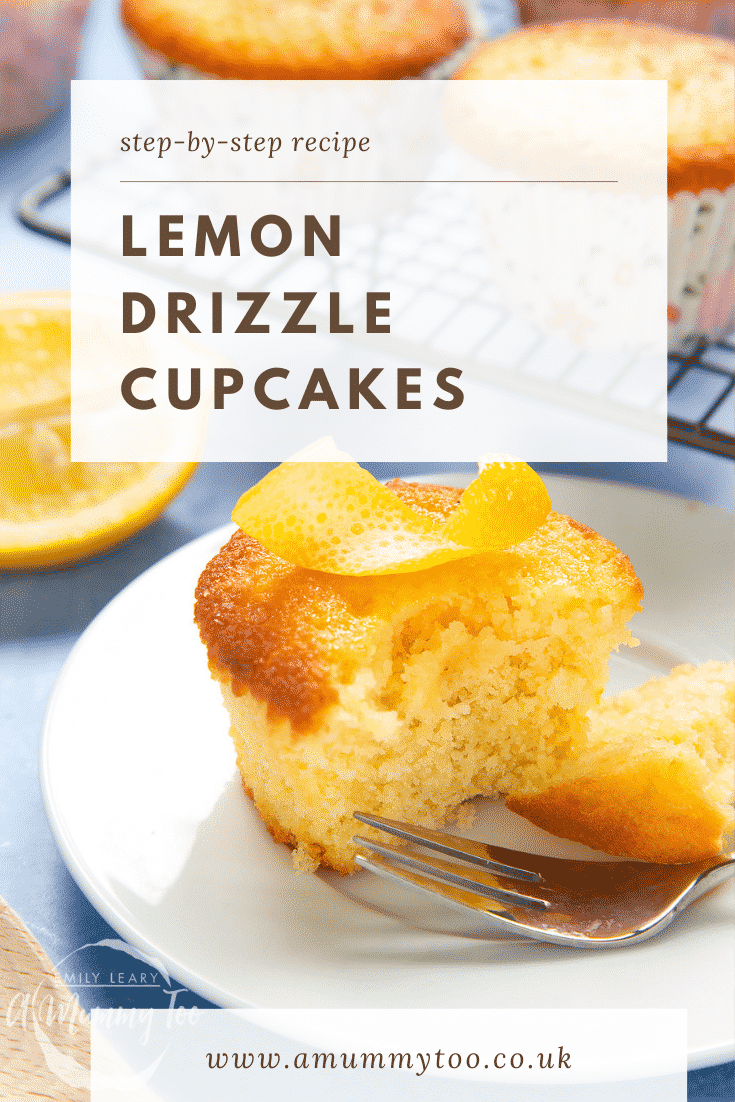 Can I make more / fewer lemon drizzle cupcakes?
It's very easy to adjust this recipe to make more or fewer lemon drizzle cupcakes.
Simply scroll down to the recipe card towards the bottom of this post and hover your mouse (or tap your finger) over the portion number.
You will then be shown a slider, which you can move up and down to change the number of portions the recipe will give. As you do so, all of the ingredient quantities will automatically change accordingly. Clever, right?
If you have any questions about changing the quantities, just ask!
Can I make this recipe as one big cake or in a different tin/tray?
Yes, you can make this recipe as one single lemon drizzle cake. Have a look at this lemon drizzle cake recipe to see exactly what to do.
Can I make lemon drizzle cupcakes in a stand mixer such as a KitchenAid or Kenwood Mixer?
You can make this recipe in a stand mixer, if you wish.
Use a balloon whisk attachment to get plenty of air into the mixture when creaming the butter and sugar together, and continue to whisk as you add the egg.
However, when it comes time to add the flour, be sure to only mix briefly enough to combine everything. Otherwise, you may knock the air back out, as well as potentially toughening the batter by overworking the gluten in the flour
Can I make lemon drizzle cupcakes with a food processor?
I would not recommend using a food processor with a blade attachment to make this recipe.
However, if you have a food processor with a paddle attachment, you can use it to beat the butter and sugar. Again, take care not to over mix the batter once you've added the flour or you may end up with a tough final cake.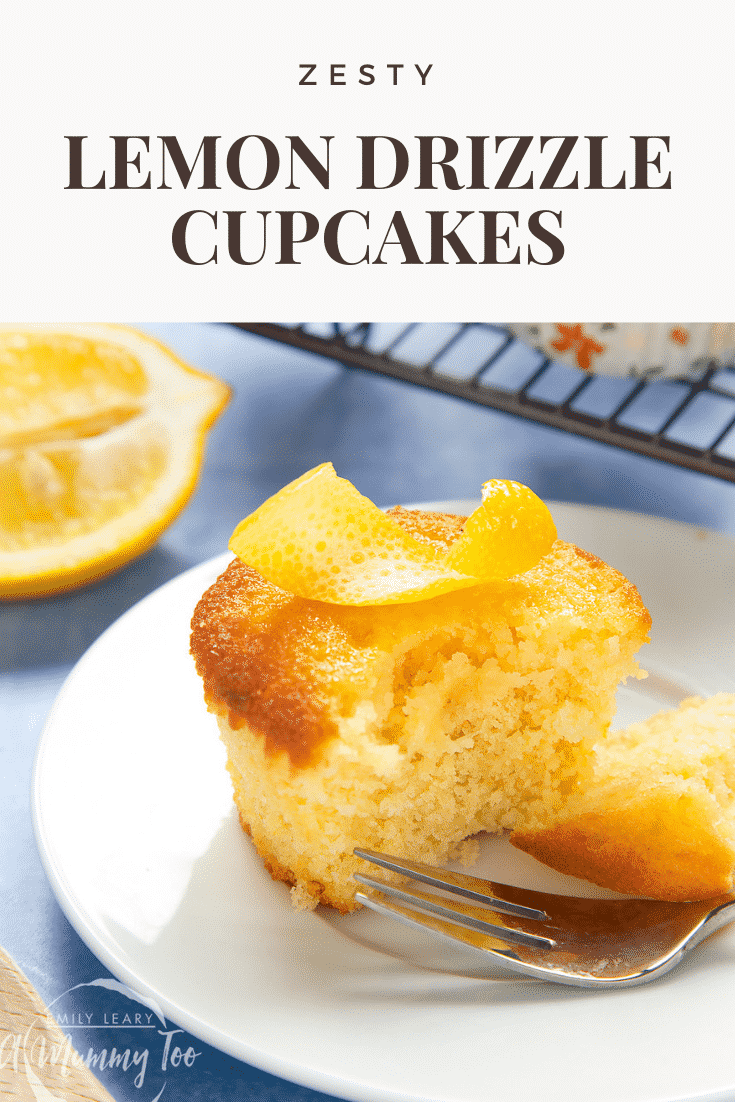 How can I make sure my lemon drizzle cupcakes are perfectly cooked?
The best way to make sure that your lemon drizzle cupcakes are perfectly cooked is to follow this order:
look
touch
skewer
First, judge by eye before opening the oven door.
Your cupcakes should be pale golden and look dry all the way to the centre.
If they have risen but the centre looks even slightly wet and it is not yet time to open the oven door. If you do, your cakes may sink back down again or develop an unsightly crater in the centre.
Once they look dry, all the way across the top. You can open the oven door.
To test your cakes by touch, open the oven door, pull out the tray and press a finger gently onto the top of one of the muffins towards the centre of the tray (taking care not to burn yourself).
If your finger leaves an impression, then your muffin will need at least a couple of minutes longer. If the tops feel firm, then your cupcakes are most likely cooked through.
As a final check, grab a skewer and push it into the centre of a cupcake, almost all the way down to the bottom, then pull it out.
If the skewer comes out with any cake mixture at all on it then the cupcakes are not ready. If it comes out clean then your cakes are ready to remove from the oven.
Why did my cupcakes turn out dry/hard/burned/overcooked?
If your cupcakes turned out dry, then it may be that the quantities of wet and dry ingredients added weren't quite correct. Take special care to follow all of the measurements exactly as they are supplied in the recipe.
Alternatively, it could be that your oven was running too hot or the cakes were in the oven for too long. This would mean that they overcooked and lost too much moisture.
The good news is that adding the lemon syrup should soften them back up again. So unless your cakes are burned or black, they will probably still turn out very edible.
If you regularly have a problem with your cakes turning out overbaked, it may be that your oven is running too hot ie it is heating up more than is suggested on its dial.
This is a really common problem and I would suggest that you invest in an oven thermometer, which will give you a better sense of what's happening inside your oven.
You can also use the oven thermometer to compare the temperature on either side of your oven, as it's often the case that one side heats more than the other!
Why did my cupcakes turn out wet/soft/undercooked?
If your cakes seem sloppy it may be that the quantity of liquid added was incorrect. Take care when measuring out the ingredients to closely match the recipe.
Alternatively, it could be that your cakes didn't bake for long enough. Follow the advice above to make sure that your cakes are fully cooked all the way through before you remove them from the oven.
If you regularly have a problem with your cakes taking longer to bake than recommended in recipes, it may be that your oven is running colder than suggested on its dial.
I'd recommend investing in an oven thermometer so that you can see what's really going on.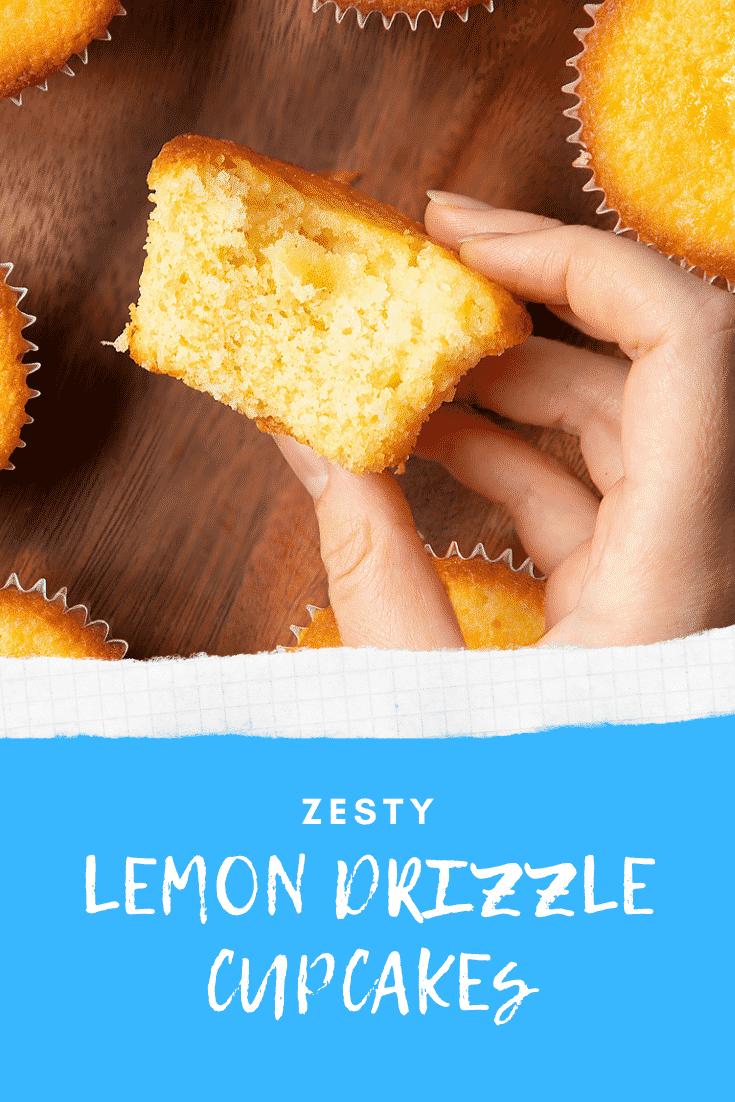 Why didn't my lemon drizzle cupcakes rise?
If your cupcakes didn't rise, it may be that your oven wasn't hot enough, which means that the batter didn't have an opportunity to develop as it cooked.
Alternatively, it could be that your flour has lost its potency. Self-raising flour contains baking powder (cream of tartar and bicarbonate of soda), which reacts in the wet batter to create gas pockets in your cake.
If your flour is well past its Best Before End date, has been open for a long time, or hasn't been stored somewhere cool and dry, it may have lost it's raising quality and you'll need to buy a new packet.
Why didn't my lemon drizzle cupcakes taste lemony?
With all those lemons in the recipe, it certainly should have! It could be that you had a poor quality batch of lemons, or that the quantity added was incorrect.
If necessary, you can always make up some extra syrup to pour over them.
How can I add/change the flavours in these cupcakes?
If you'd like a change from lemon drizzle you can try other citrus fruit, such as lime or orange drizzle.
You could also try adding extra flavours that go well with lemon and might surprise the palate. How about lemon and thyme drizzle cakes?
What is the origin of lemon drizzle cupcakes?
Lemon drizzle cake is a really popular British recipe that has been around for hundreds of years. No one seems exactly sure who first drizzled lemon syrup over sponge, but I for one salute them!
Print this recipe for later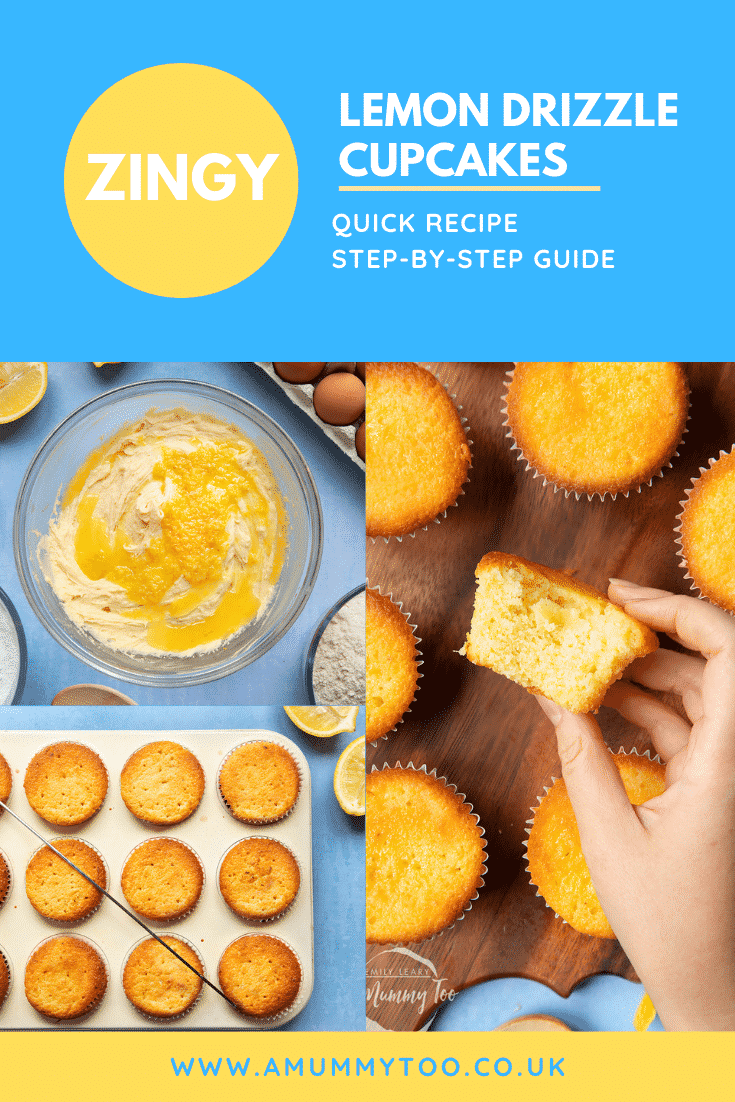 More luscious lemon recipes to try