This weekend saw us walk miles across the leafier bits of Nottingham, catching glimpses of deer. All that meant we needed a hearty meal when we got home – the perfect chance to test out the Panasonic combi oven we were sent and the ceramic roasting tray I got for just £10 from John Lewis in their clearance sale.
I'm delighted with the way this baked pasta dish turned out. It's filling, full of lovely textures and busting with tomatoey tang. The dish's flavour is pepped up with smoked paprika. If you can get your hands on it, I highly recommend sourcing some Bitter Sweet La Chinata, a really delicious, flavourful paprika that smells divine and tastes wonderful. We got ours for review, but Ocado sell it, I believe.
So, here's how to make my smokey halloumi pasta bake – it feeds 4-6, depending on how hungry you are.
Ingredients
300g dried pasta
2tbsp olive oil
250g halloumi
2 cloves garlic
1 medium onion
1 large or 2 small courgettes
160g mature cheese
800g (2 tins) chopped tomatoes
1/2 tsp smoked paprika
Handful of fresh basil
1 tbsp salted butter
Freshly milled black pepper
Medium roasting tray
Instructions
1. Put the pasta on to cook in plenty of boiling, salted water – you want it to cook until just al dente
2. Cube the halloumi, courgette and onion into rough 1/2 inch pieces.
3. Warm 1 tbsp olive oil over a high heat until it just begins to smoke, then chuck in the courgettes and halloumi, fry for a minute, then add the onion.
4. Add the chopped/minced garlic once the halloumi has released some liquid – that way it won't burn and turn bitter.
5. Add the smoked paprika, then fry until the halloumi takes on some colour and the onions are translucent but not browned.
6. Grease the dish well with the butter, then drain the pasta, tip in the pasta and the veg and stir just enough to mix.
7. Top with the tomatoes and don't stir, just level off with a spoon before seasoning well with black pepper.
8. Top with the grated cheese.
8. Bake in the oven at 190C (170C fan assisted) for 30 minutes until the cheese just starts to bubble and brown. (If you have a combi-oven, you can cook it in approximately 10-15 minutes at the same temp but + MEDIUM MICROWAVE. I'm new to combi cooking, so you might want to play with the combi timings/temps a little to see what works for you.)
9. Allow to cool a little while you prepare your salad, then top with basil leaves and drizzle with the remaining olive oil.
10. Serve at the table and enjoy!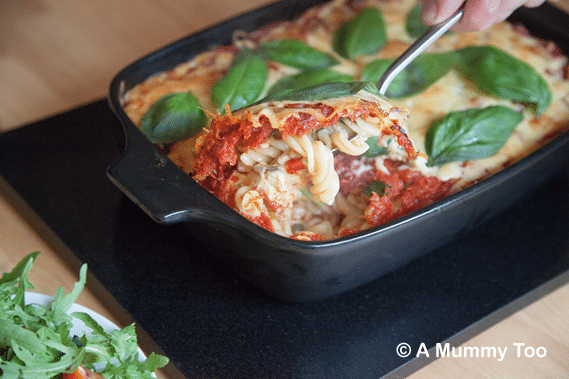 We were sent the Panasonic combi oven and La Chinata parika to trial.